Looking for an effortless cookie recipe that comes together in just one bowl? These easy oatmeal cookies are perfect when you're craving a quick dessert. Chewy in the centers and crisp around the edges.
Other oatmeal cookies variations we love include oatmeal chocolate chip cookies, coconut chocolate chip cookies and pumpkin oatmeal cookies.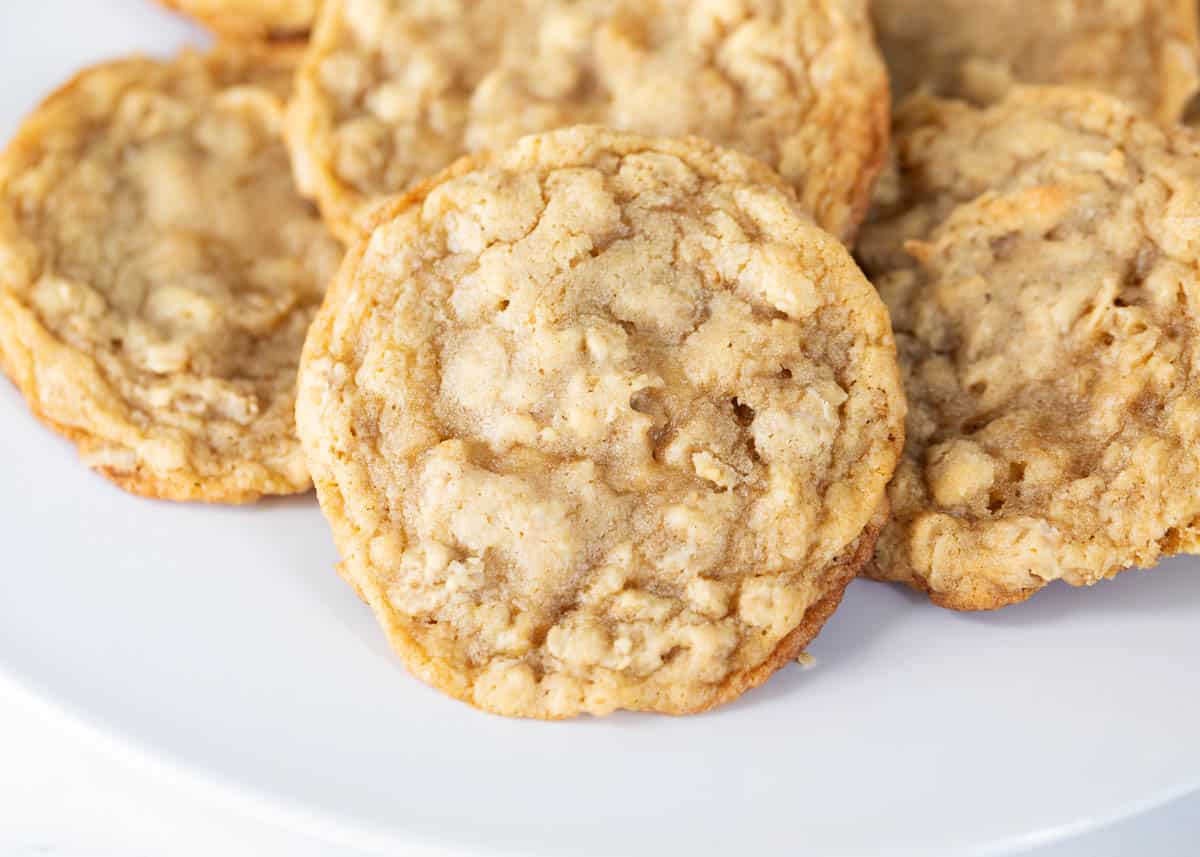 Classic Oatmeal Cookie
Sometimes a good, classic oatmeal cookie just hits the spot! They're one of my favorite cookie recipes that I crave especially during the colder, winter months. There's something about them that is so warm and comforting.
These cookies are so easy to make and even easier to eat. They are everything an oatmeal cookie should be…crispy around the edges and soft and chewy in the center.
The classic version is my favorite, however, there are tons of optional mix-ins that you can add – like white chocolate cranberry oatmeal cookies, oatmeal raisin cookies, chocolate chips, bananas, or even cinnamon chips. All are so delicious!
Why You'll Love Homemade Oatmeal Cookies
People make these simple homemade oatmeal cookies for a variety of reasons, and there are several benefits for baking these delicious cookies! The sweet and chewy cookie with the healthy side as well as warmth can be shared with friends and family!
Taste and texture. Oatmeal cookies are known for their delicious combination of chewiness and a subtle crunch. They have a warm, comforting flavor with a hint of cinnamon and sweetness. Many people simply enjoy the taste and texture of oatmeal cookies.
Nutrition. Oats, a key ingredient in oatmeal cookies, are a good source of dietary fiber, vitamins, and minerals. When you make oatmeal cookies from scratch, you have more control over the ingredients, allowing you to make them as healthy as you like.
Warmth and comfort. Oatmeal cookies are often associated with feelings of warmth and comfort. They are a popular choice for holiday baking or when you want to create a cozy, comforting treat!
Perfect for gifting. Oatmeal cookies make for a thoughtful gift or a homemade treat to share with loved ones. They are often baked as gifts during the holidays or to celebrate special occasions.
Key Ingredients
These oatmeal cookies are made with common pantry staples! People make oatmeal cookies for the flavor, the nutritional benefits of oats, the ability to customize the recipe, the joy of homemade baking, and the comfort and nostalgia associated with these classic cookies. Bake these sweet and savory oatmeal cookies today!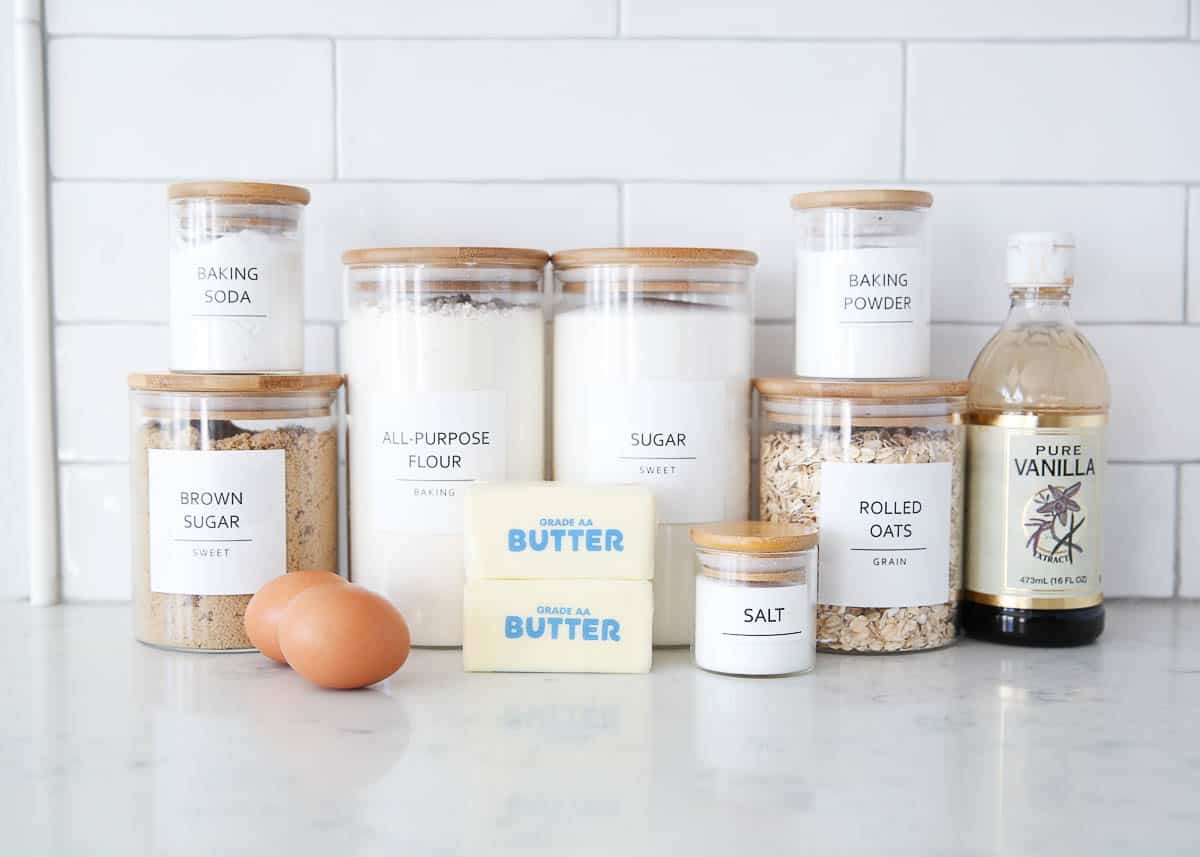 Find the full printable recipe instructions with measurements below.
Old-Fashioned Oats (or "Rolled Oats"): I like to use old-fashioned oats in this recipe. When using them in baking, the oats remain whole in size, making the finished texture a little more chewy.
Butter: The creamy fat is an important element needed to achieve the perfect cookie.
Sugar: Granulated sugar gives sweetness but the brown sugar really makes the flavor shine in these cookies.
Baking staples: All-purpose flour, egg, vanilla, baking powder, baking soda, and salt.
Mix-Ins: Add a cup of chocolate chips, butterscotch chips, or raisins if desired.
Variations
While the classic version is most definitely delicious, it's super easy to fold your favorite mix-ins into the dough. Chocolate chips, raisins, M&M's, butterscotch chips, nuts, or white chocolate chips are just a few ideas.
My kids especially love it when we make oatmeal chocolate chip cookies or oatmeal M&M cookies because you guessed it…chocolate! However, my personal favorite is these chewy oatmeal butterscotch cookies. So delicious!
How to Make Simple Oatmeal Cookies
Made in just one bowl in 20 minutes, this will be the most easy oatmeal cookie recipe you will ever make! Oatmeal cookies are a type of cookie that includes oats as a primary ingredient. They are a popular and classic cookie choice known for their chewy texture and delicious flavor.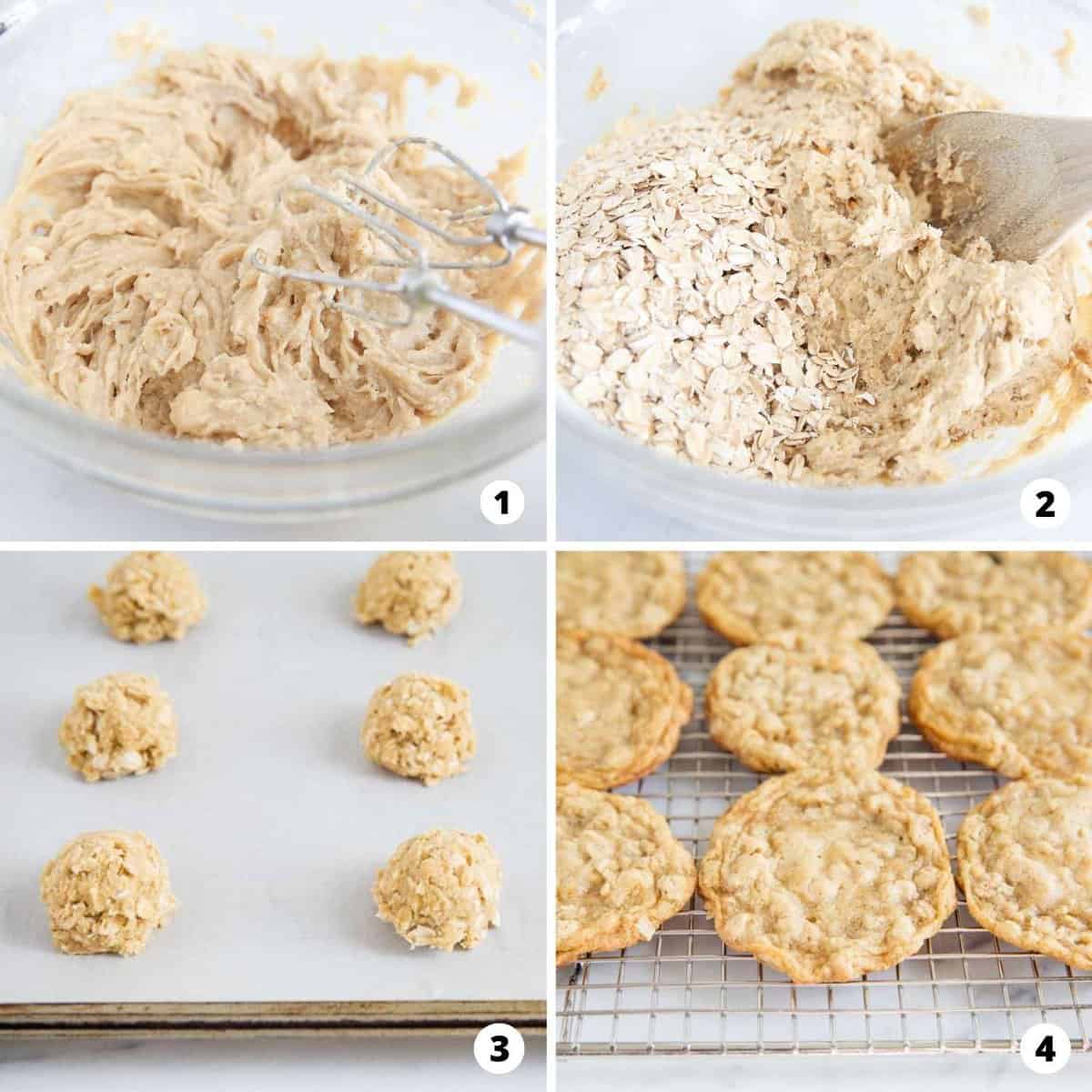 Make dough. In a large mixing bowl, cream together butter and sugars. Use an electric mixer with a paddle attachment or a hand mixer. Then add eggs and vanilla. Stir until combined.
Whisk dry ingredients. Add in the flour, salt, baking soda, baking powder, and cinnamon (if desired). Stir just until combined, then mix in the oats.
Scoop. Scoop cookie dough balls onto the baking sheet or silicone baking mats using a medium cookie scoop.
Bake. Bake at 350°F until edges are just light golden brown, about 8 minutes. Allow to rest for about 2 minutes on a baking sheet, then transfer to a cooling wire rack.
Baking Tip
When you take your oatmeal cookies out of the oven, the centers should look a little underdone. The cookies will continue baking on the sheet. For a softer cookie, take them out a little early. And for a crispier version, bake a little longer.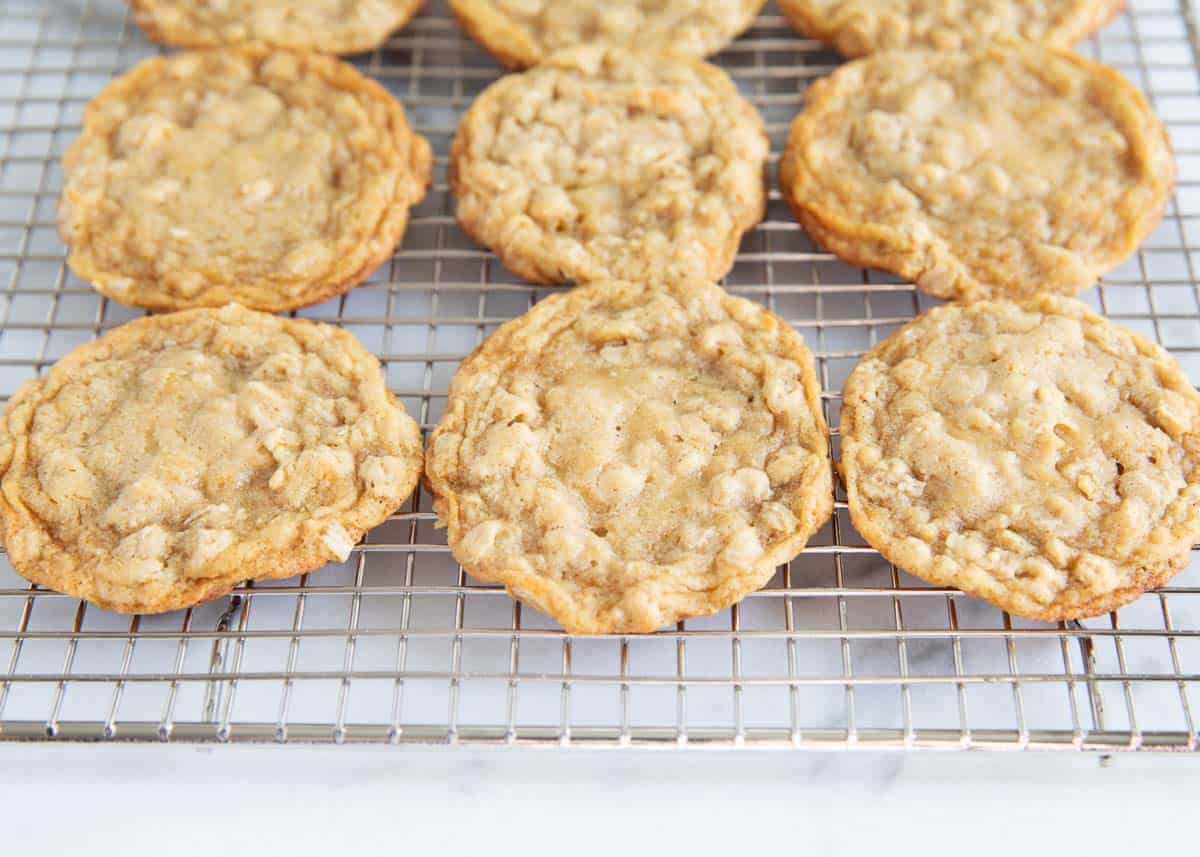 How to Avoid Flat Oatmeal Cookies
These do flatten out a little when baked, however, the texture and consistency are spot on. They are soft and chewy and the edges are perfectly crispy. If your oatmeal cookies have flattened out way too much, it could be one of the main mistakes below:
More flour. Your dough needs more flour. If the dough is too wet, you'll end up with flat and greasy cookies that are too hard.
Butter tip! Too much butter was used, or the butter was too warm. Both create a flat and greasy cookie.
Missed baking soda. You forgot baking soda. This baking agent helps give the oatmeal cookies some height.
Chill Your Dough
If making multiple batches, chill the remaining dough in the fridge until ready to use. This helps ensure that the butter in the dough doesn't get too warm, especially if left out near the hot oven. Also, be sure to use a separate baking sheet for your next batch. Allow the baking sheet to cool before using again.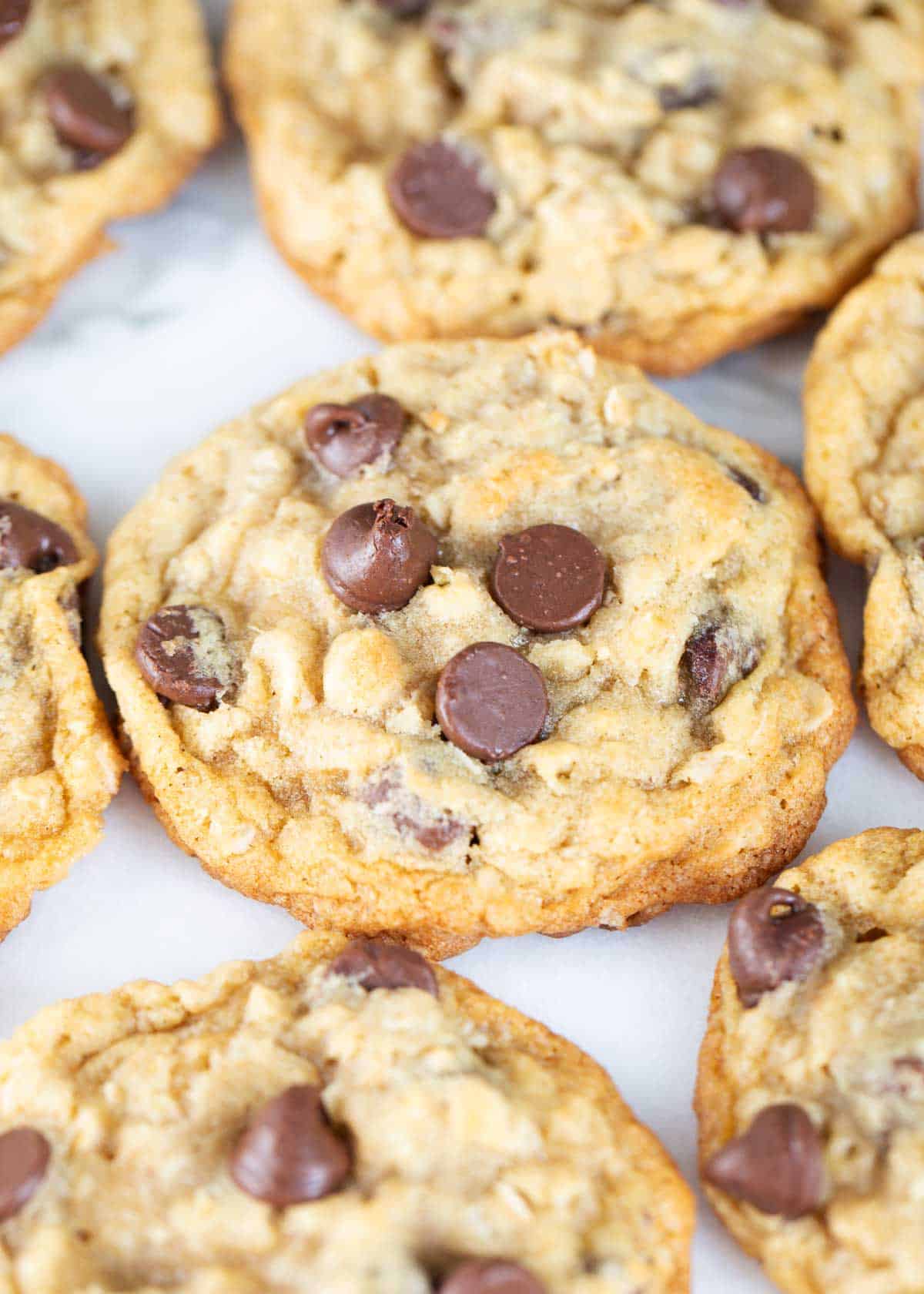 Recipe FAQs
What kind of oats do you use for cookies?
Old-Fashioned Oats (or "Rolled Oats"): Old-fashioned oats are whole rolled oats that have been steamed and flattened. When using them in baking, the oats remain whole in size, making the finished texture a little more chewy.

That's why I like to use old-fashioned oats when making chewy oatmeal cookies. Plus I love how you can still see the whole oatmeal pieces once the cookies are cooked.
Can you use quick oats in these cookies?
Yes, you can, although I prefer old-fashioned. Quick oats are essentially old-fashioned oats that have been roughly chopped. When baking with quick oats, your cookies will have a finer consistency and will often cook faster. Once baked, the texture will look a little less "bumpy".
Can I use salted butter?
Yes you can, I just prefer to control the amount of salt I add. If you're using salted butter, just take away 1/4 teaspoon.
Are oatmeal cookies healthy?
Yes and a no. While oatmeal cookies are on the healthier side using whole-grain oats and reducing the sugar content they are still a cookie with ingredients that contain fat in them. It is always a great alternative to cookies that are on the lighter side compared to other cookies like sugar cookies.
What can I add to oatmeal cookies for more flavor?
You can add a variety of ingredients to oatmeal cookies for extra flavor! Try these simple oatmeal cookies with raisins, chocolate chips, nuts, dried fruits, coconut flakes, and spices like cinnamon or nutmeg for all the great variations. The variations are endless!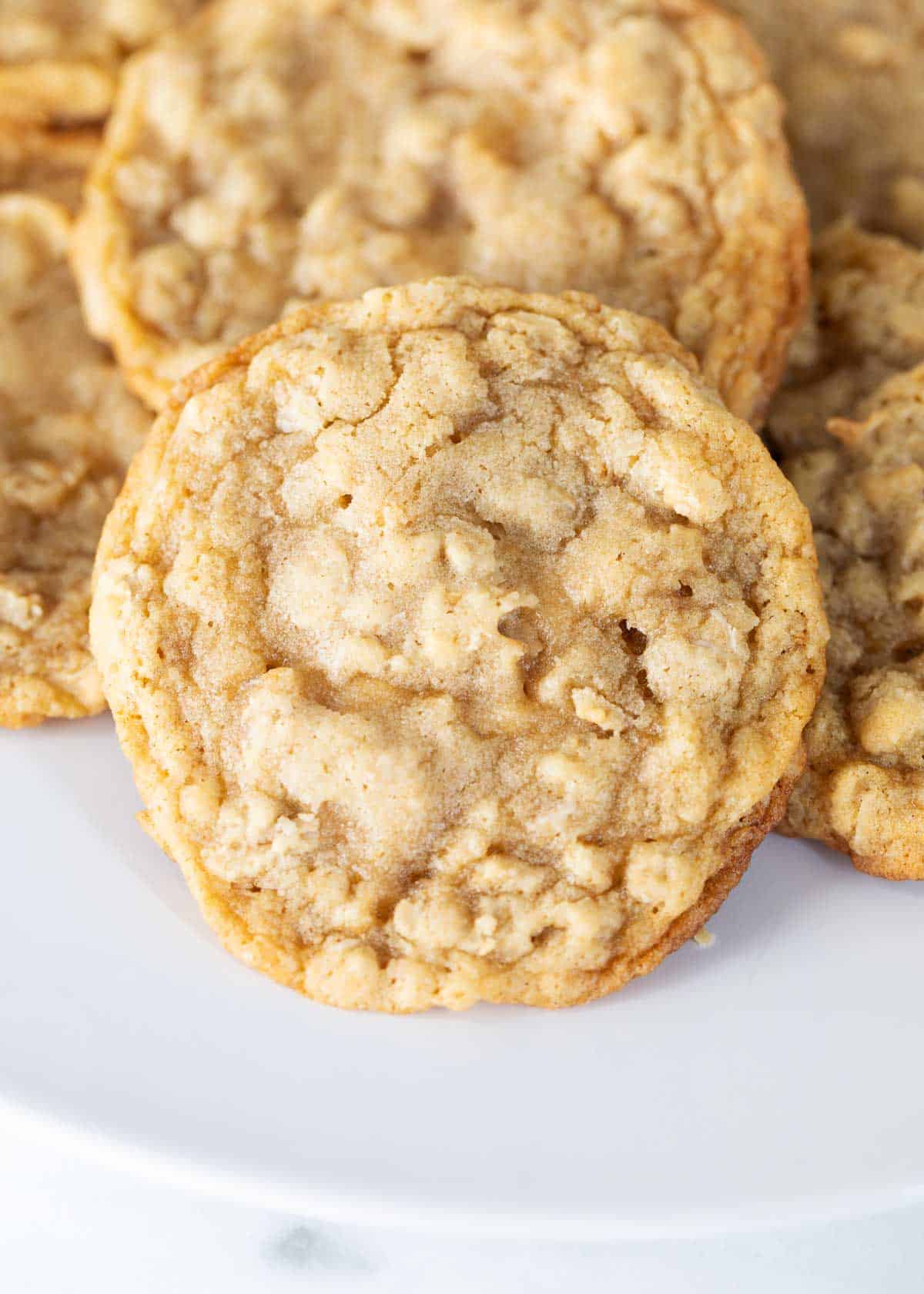 5 star review
"A perfect, simple, easy oatmeal cookie! Made half with and half without raisins. I thank you, and my husband thanks you."

-Stacy
Freezer Instructions
I prefer to freeze the dough versus the whole baked cookies so that the cookies taste more fresh. Simply scoop out the dough with a medium cookie scoop and place on a prepared baking sheet. You are going to flash-freeze the dough for about 30 minutes, or until the dough has hardened.
Then place the dough balls in a zip-top bag or airtight container and store them in the freezer for up to 3 months. When ready to enjoy, place on a baking sheet and let thaw while the oven warms up. The cookies may need to bake for a few minutes longer since the dough was hard and frozen.
HUNGRY FOR MORE? Subscribe to my newsletter and follow on Facebook, Pinterest and Instagram for all the newest recipes!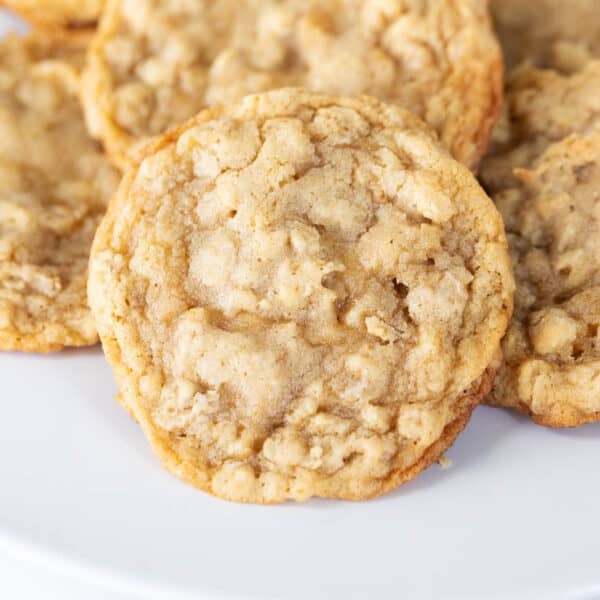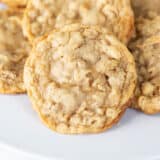 Easy Oatmeal Cookies
These are the BEST oatmeal cookies! Crispy around the edges and soft and chewy in the center. So easy to make and even easier to eat!
Ingredients
1 cup unsalted butter
1 ¼ cups (215 grams) light brown sugar , packed
¾ cup (150 grams) granulated sugar
2 large eggs
2 teaspoons vanilla extract
2 ⅓ cups (315 grams) all-purpose flour
1 teaspoon salt
2 teaspoons baking soda
½ teaspoon baking powder
2 cups (200 grams) old-fashioned oats
Instructions
Preheat the oven to 350°F. Line a baking sheet with parchment paper or a silicone mat.

Cream the butter and sugars in a large mixing bowl. Add eggs and vanilla and mix until combined.

Add flour, salt, baking soda, baking powder (and cinnamon if desired). Stir just until combined. Then mix in the oats.

Use a medium cookie scoop and scoop onto the prepared baking sheets. Bake for 8 minutes, or until the edges are just light golden brown (the centers should look a little underdone). Take them out a little early for softer cookies and bake them a little longer for crispier cookies.

Let cookies rest on the pan for 2 minutes and then transfer to a cooling rack.
---
Notes
Variations:
Mix in 1/2 teaspoon of ground cinnamon for a boost of flavor.
If I have molasses on hand I love adding 1-2 teaspoons. It really brings all the flavors together.
Mix in 1 cup of raisins, chocolate chips or butterscotch chips.
Storage:
Store in a covered container for 3 days.
Freezer instructions: Allow to cool and then place in a freezer bag or container. Freezer up to 3 months. Remove from the freezer an hour before ready to serve, or eat frozen. You can also warm in the microwave for 10 – 15 seconds.
Nutrition
Serving: 1cookie | Calories: 140kcal | Carbohydrates: 20g | Protein: 1g | Fat: 5g | Saturated Fat: 3g | Cholesterol: 22mg | Sodium: 176mg | Potassium: 45mg | Sugar: 11g | Vitamin A: 170IU | Calcium: 15mg | Iron: 0.6mg
Nutrition provided is an estimate. It will vary based on specific ingredients used.
Did you make this recipe? Don't forget to give it a star rating below!