Sweet, juicy, and caramelized grilled pineapple can be made every time you grill. It's a no-brainer side dish or dessert that takes very little prep work and goes with almost everything!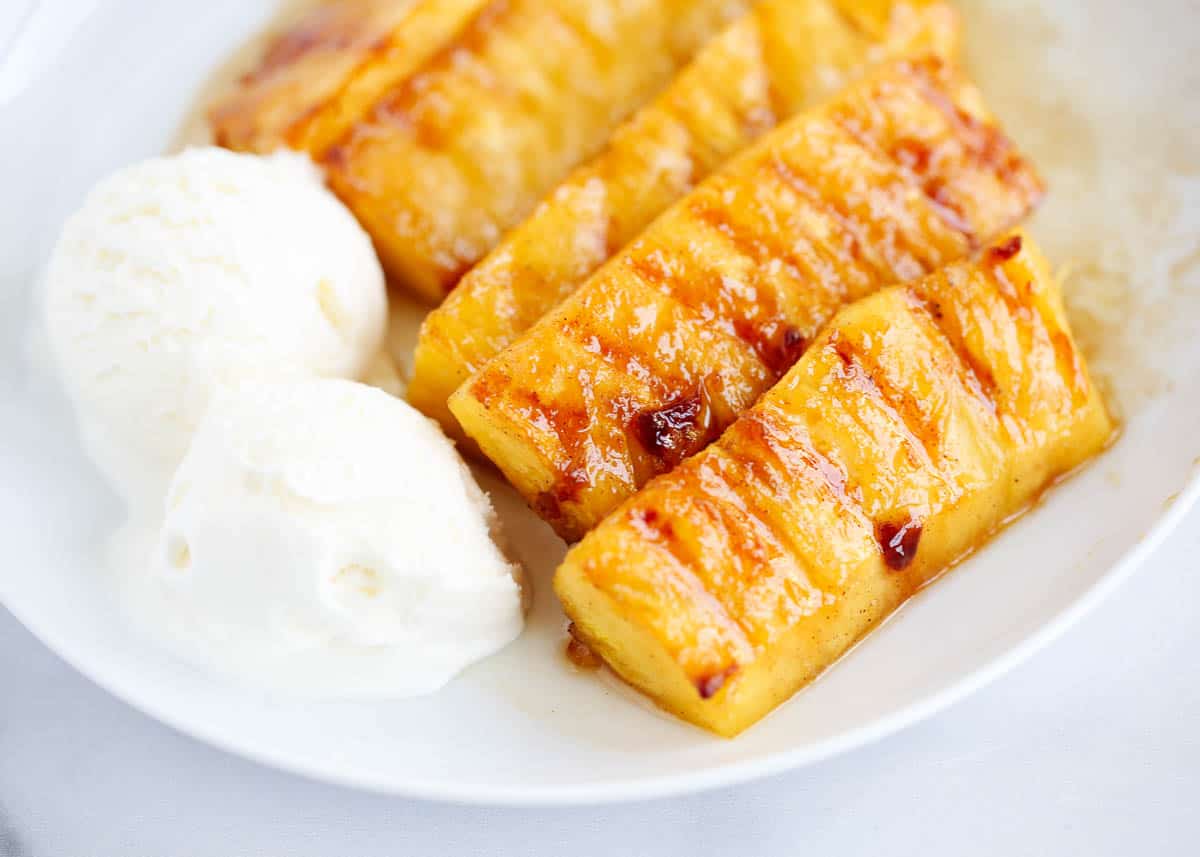 Make Some Room on Your Grill!
As if a pineapple wasn't already one of the best-tasting fruits we've ever had the pleasure of eating, grilled pineapple takes this fine fruit up a thousand notches. Adding a sweet buttery brown sugar and honey glaze on it? Well, that's just unreal.
Who would have thought the simple technique of grilling fruit is enough to alter an already amazing treat into something even better! Sweet and smoky with gorgeous char marks this and my grilled peaches are the perfect side dish for all your summer barbecues whether entertaining a crowd or just grilling with the family.
Whether you add a glaze or not, you'll find plenty of uses for it. We love ours with a scoop of homemade vanilla ice cream!
Why We Love Grilling Pineapple
Versatile. Grill your pineapple slices with or without the glaze for a tasty dessert, or a healthy treat, or use it in plenty of recipes like grilled pineapple salsa.
Delicious. Sweet and smoky with gorgeous grill marks is the perfect way to satisfy a sweet tooth quickly and easily!
Simple. Grilled pineapple can be done with just the pineapple and its natural sugars or dressed up with a sugary glaze. It's an easy way to ramp up any meal!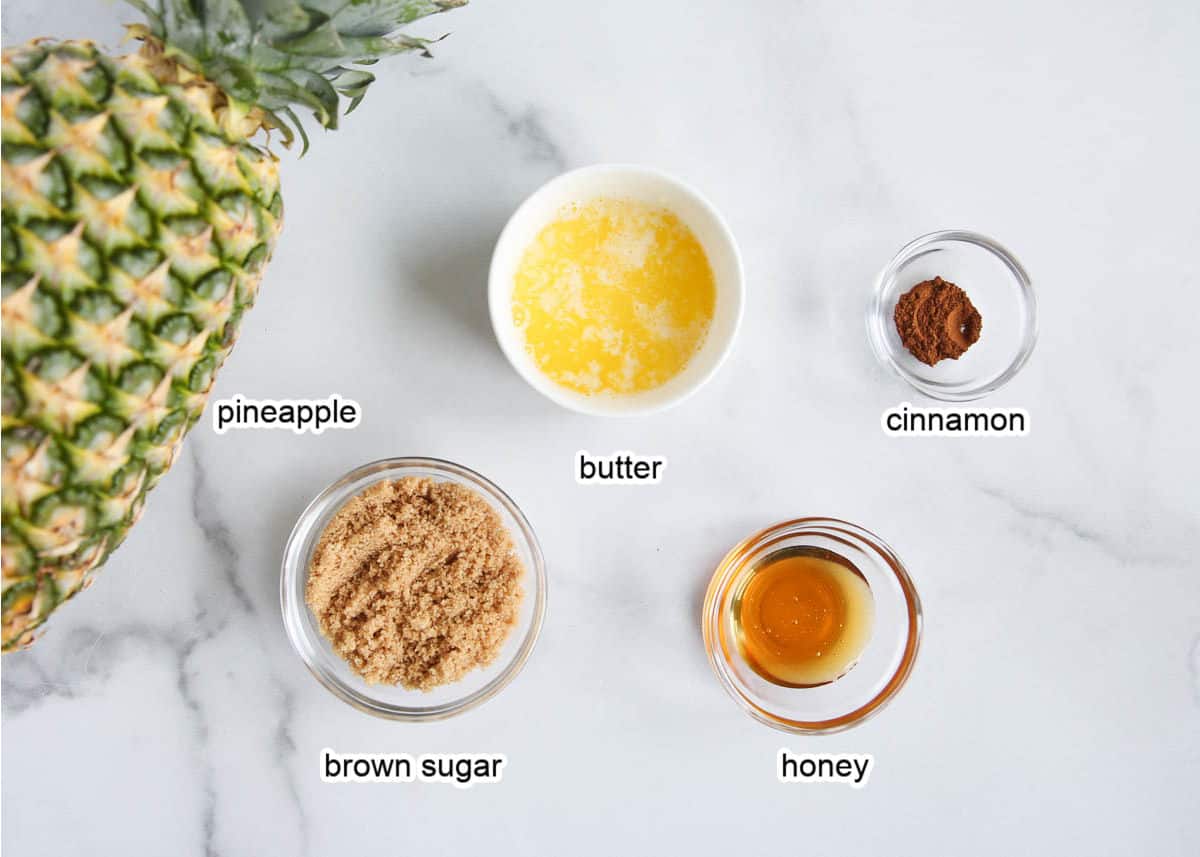 Ingredients Needed
Pineapple: Peel and core the pineapple. Cut it into rings or wedge slices, perfect for putting on skewers. It's up to you!
Salted butter: I like using salted butter for this because the salt gives the sweetness a nice balance. When melted it is the base of the glaze.
Brown sugar & honey: They both work to add amazing flavor and for a crystalized caramelization and a syrupy liquid when added at the end.
Cinnamon: A warm spice that pairs well with literally every other ingredient in this recipe! So good!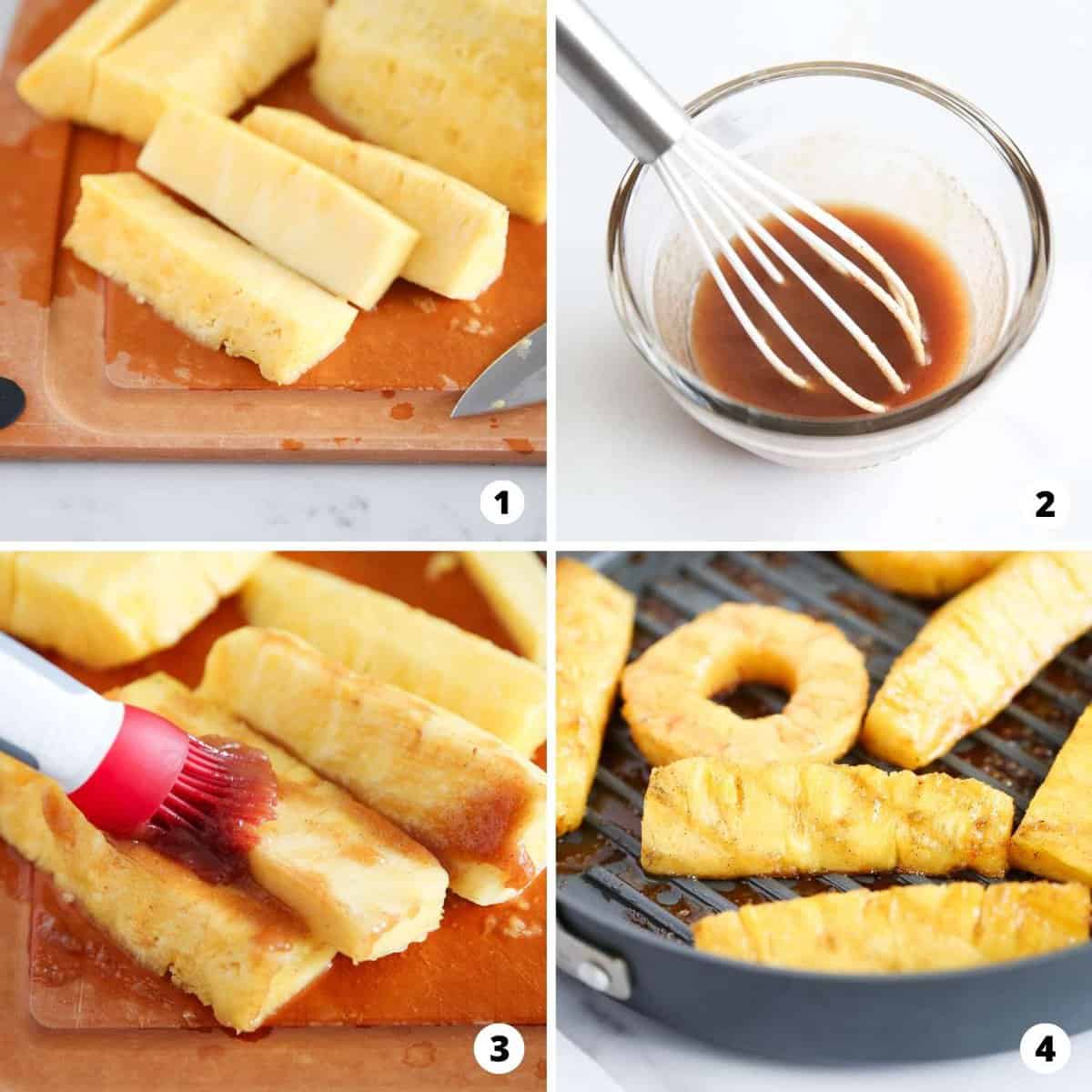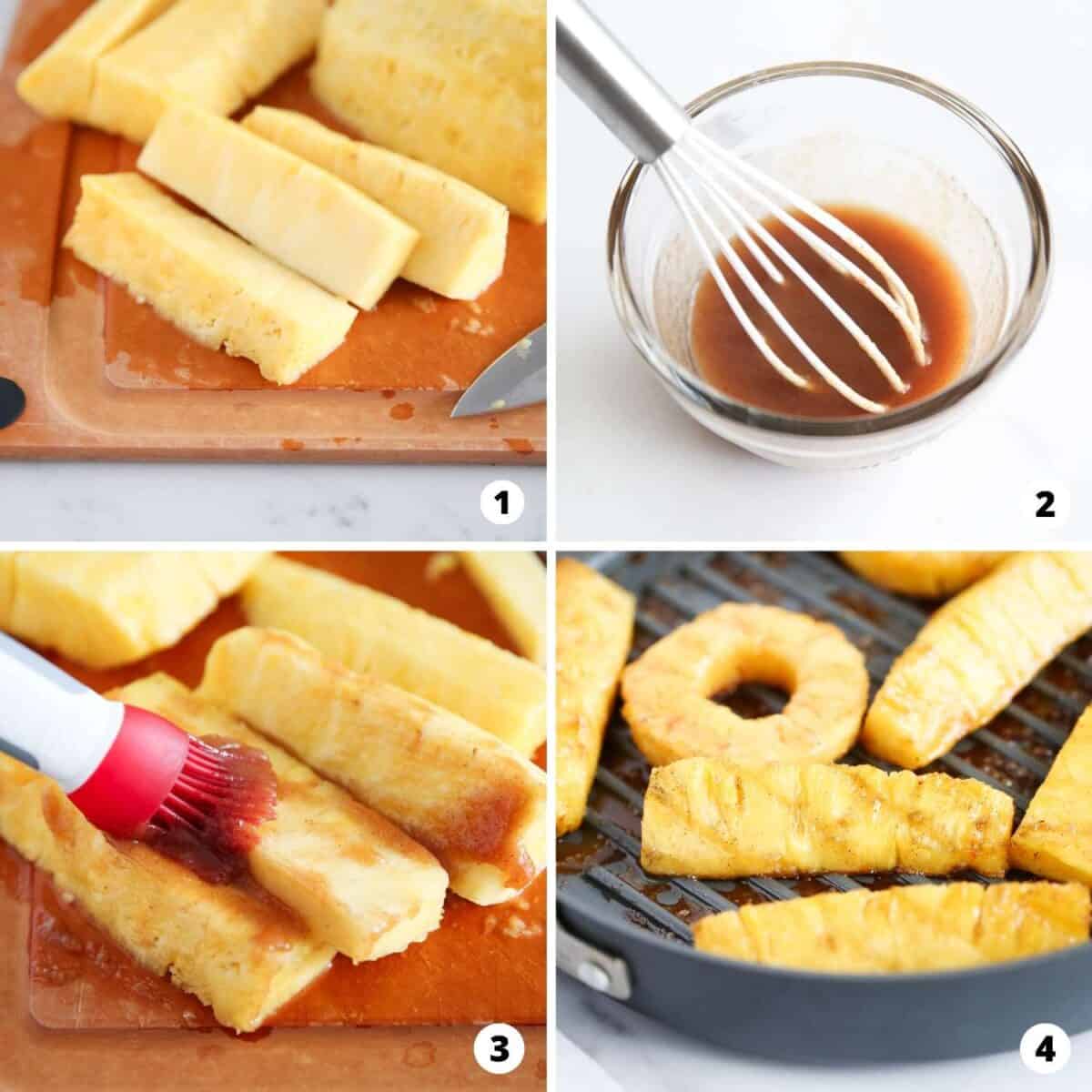 How to Grill Pineapple
Prep the grill and fruit. Cut into pineapple rings or slices and preheat the grill. If you're using a grill pan, spray it with nonstick spray. For this recipe, I do prefer using a grill pan because it collects the juices. Otherwise, they fall through the grill grates and all of that delicious syrupy flavor is gone.
Make the glaze. Combine the melted butter, brown sugar, honey, and cinnamon in a bowl.
Brush to coat. Brush both sides of the slices and keep any remaining liquid for later.
Grill and serve. Place pieces on the grill or grill pan and grill for 3 minutes on the first side. Flip them over and brush the remaining liquid on each piece. Continue grilling until you see the edges start to caramelize. Enjoy immediately!
Tips for Picking the Best Pineapple
At first glance, you want to make sure the stem is nice and green. Not dry, not turning pale, and not shriveled. Next, you want to make sure the exterior is more yellow than it is green or brown.
It should also smell sweet, ripe, and fresh. There is a trick some people use to check to see if it's ripe and that is to pull out one of the stems. If it comes out easily, it's ready. This may be an old wives tale, but worth a shot!
Flavor Variations for the Glaze
Instead of a glaze, sprinkle with cinnamon sugar before or after grilling.
Swap the honey with maple syrup.
Use citrus juice (orange, lemon, or lime juice) to coat the pineapple before grilling. It adds a little bit of tartness!
For a sweet and spicy combo, sprinkle a little cayenne pepper into your mixture.
Best Way to Cut Pineapple for Grilling
How you cut it depends on what you want to use it for. Rings are great for topping burgers, while pineapple spears are great for putting onto skewers and eating them like a popsicle! You could also cut them into chunks and add them to grilled fruit kabobs.
Check out how to cut a pineapple for all the details, tips, and tricks!
A Shortcut
If you're pressed for time, or you just prefer it, go ahead and pick up some pre-sliced pineapple instead!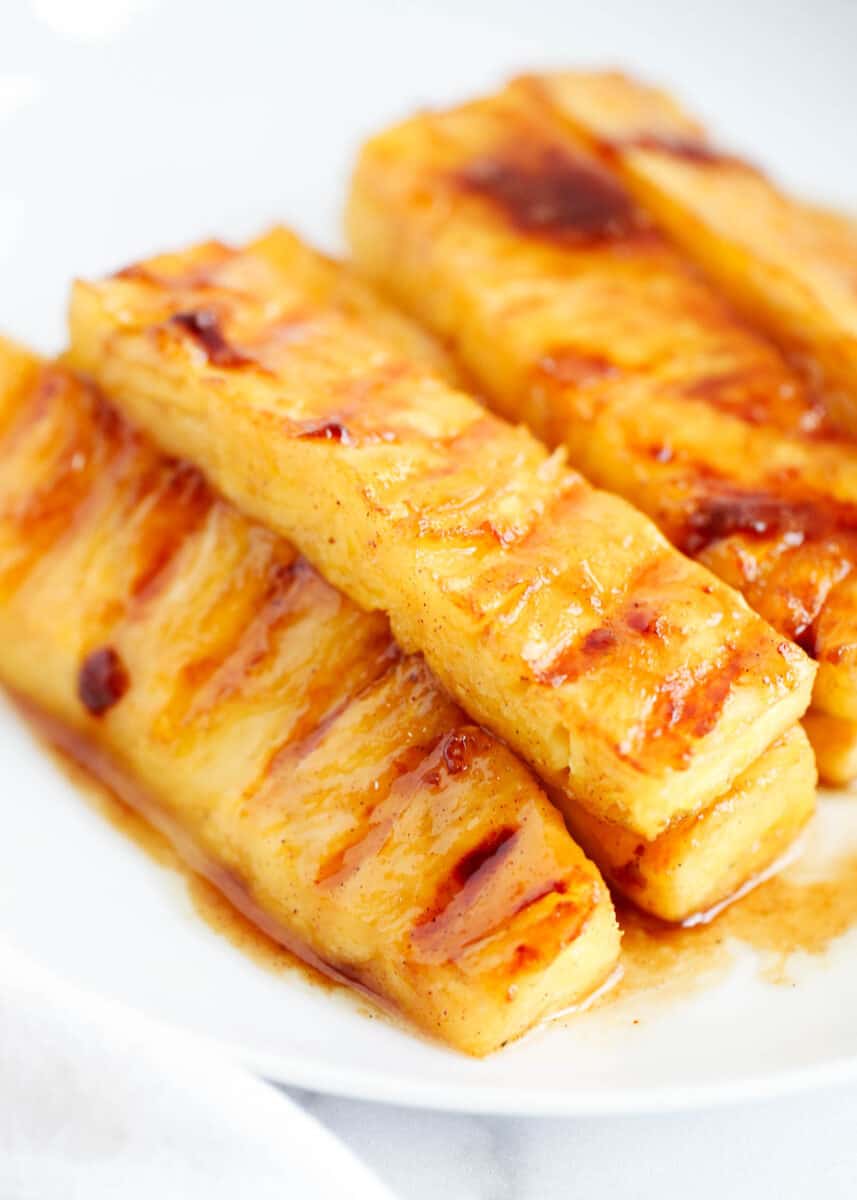 What to Serve with this Grilled Pineapple Recipe
Sweet Creations
Grilled pineapple with a brown sugar honey glaze is an easy dessert that pairs well with whipped cream and fresh mint leaves for an incredible flavor combination.
You could also have it with a scoop of vanilla ice cream or for a treat that tastes like a pina colada, a scoop of coconut ice cream. Don't forget to drizzle some of the leftover sauce from the glaze overtop!
It's a great addition to fruit salad too.
Savory Options
When you use grilled pineapple in savory dishes, you can omit the glaze and grill just the fruit on its own. Sometimes using a little salted butter is all it needs.
Use it to top a teriyaki burger, or any grilled meat. Serve it on the side of grilled chicken, or use it as part of a marinade for pork tenderloin.
When turned into a grilled pineapple salsa it's great as a dip, a side dish, or a topping for bbq chicken tacos or slow cooker pork tacos.
The sky's the limit with grilled fruit!
FAQs
Does pineapple need to be ripe to grill?
Let's just say the riper it is the sweeter it is and the better tasting it will be. You can grill less than ripe pineapple and still get a great sweet, smoky flavor, but it won't be as good. It won't be as juicy, and it may not end up as tender as you'd like.
How healthy is grilled pineapple?
That depends on what you put on it and what you consider healthy. The fruit itself is full of vitamins and minerals, fiber, and a ton of other nutrients. If you turn it into a dessert and add a sugary glaze on top then it's not quite as healthy as it is in its raw state.

But it sure is delicious and life is about balance, right?!
What does grilled pineapple taste like?
It's a more intense version of itself. Along with a smokiness from the char marks. It's sweet and juicy because the heat brings all of that to the forefront. All in all, it's the best.
Do you have to core a pineapple to grill it?
It's much easier to core it first that way you're not concerning yourself with cutting it while it's hot or making it mushy and squeezing all the juices out as you try and slice it.
HUNGRY FOR MORE? Subscribe to my newsletter and follow on Facebook, Pinterest and Instagram for all the newest recipes!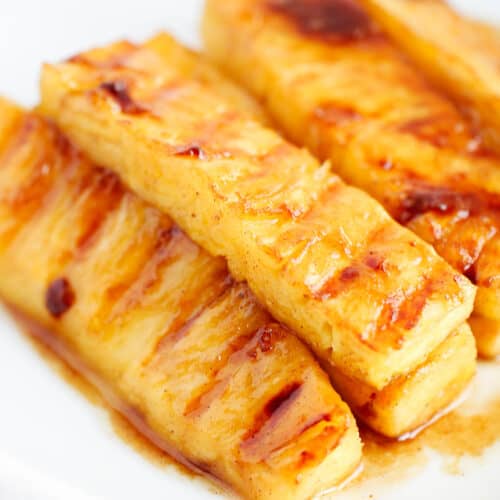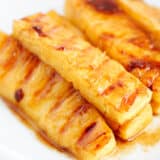 Grilled Pineapple
Sweet, juicy, and caramelized grilled pineapple can be made every time you grill. It's a no-brainer side dish or dessert that takes very little prep work and goes with almost everything!
Ingredients
1 pineapple
4 Tablespoons salted butter , melted
¼ cup light brown sugar
1 Tablespoon honey
¼ teaspoon ground cinnamon
For serving: Vanilla ice cream
Instructions
Preheat a grill or grill pan over medium heat. Spray with a nonstick spray if using a grill pan.

Peel and core the pineapple. Slice into 1/2-inch rings or 3/4-inch thick slices.

In a small bowl, whisk together the butter, brown sugar, honey, and cinnamon. Brush both sides of the pineapple slices with the liquid, reserving the leftover liquid.

Place the pineapple slices onto the grill or grill pan. Grill 3 minutes and flip. Brush any remaining liquid over the top of each slice. Grill until golden and the edges have started to caramelize.

Serve immediately. Add a scoop of ice cream, if desired.
---
Notes
Savory pineapple: To make them savory (like I use in my teriyaki burger), omit the brown sugar, honey, and cinnamon. You can simply place them on the grill or brush them with a little bit of salted butter.
Skewers: You could also cut the pineapple into 2-inch cubes and thread onto skewers before grilling.
For serving: You can definitely eat these on their own, but we love to serve this with vanilla ice cream or a dollop of whipped cream.
Storage: Store in a covered container in the refrigerator up to 3 days. Reheat in a grill pan over medium-low heat.
Nutrition
Serving: 2pieces | Calories: 141kcal | Carbohydrates: 24g | Protein: 1g | Fat: 6g | Saturated Fat: 4g | Polyunsaturated Fat: 1g | Monounsaturated Fat: 1g | Trans Fat: 1g | Cholesterol: 15mg | Sodium: 48mg | Potassium: 136mg | Fiber: 2g | Sugar: 20g | Vitamin A: 241IU | Vitamin C: 54mg | Calcium: 23mg | Iron: 1mg
Nutrition provided is an estimate. It will vary based on specific ingredients used.
Did you make this recipe? Don't forget to give it a star rating below!