Learn how to make a fresh fruit platter with these easy tips. Perfect for entertaining a crowd or enjoying with your family!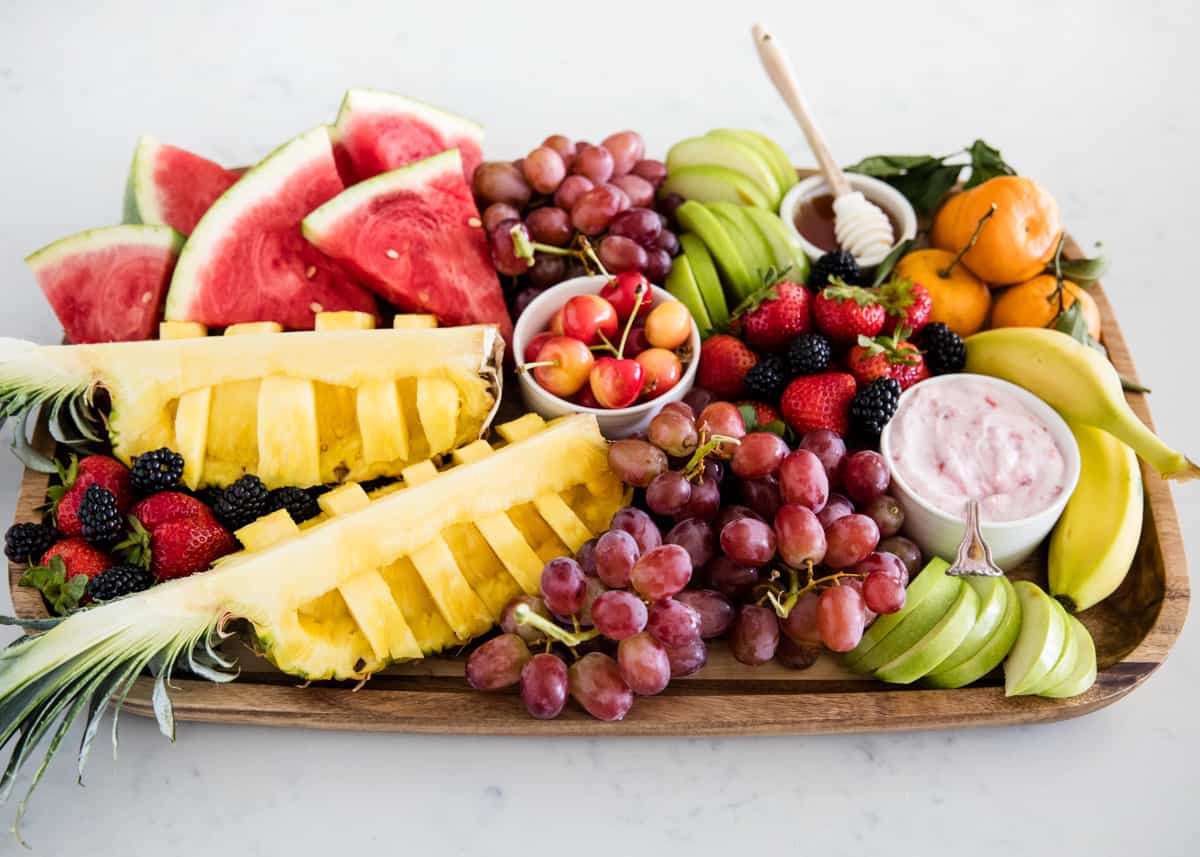 Fresh and Delicious Fruit Platter
There's nothing I love more than a fresh fruit platter. While I do love a good charcuterie board, mezze platter or fruit and cheese platter, sometimes it's nice to have a tray dedicated just to fruit. They are always the show stopper of any party and the first thing to get eaten.
Fresh fruit platters are perfect for entertaining. Whether you're hosting a dinner party, baby shower or holiday gathering, they are always the first to go. It's nice to have a lighter option to snack on so guests aren't already full before the main course.
I'm going to give you some basic tips that you can use to get started, but remember just to take this post as a starting point. Use the fruits you enjoy or have on hand. Arrange it as you go, get creative and have fun!
What to Put on a Fruit Platter
When picking the items, consider what season you're in, as well as the color theme you'd like to go with. I typically like to choose 5-8 varieties to add different colors and textures.
Pineapple
Green or red seedless grapes
Berries
Oranges
Cherries
Kiwi
Banana (cut just before serving)
Granny smith apples (cut just before serving)
Watermelon (not as good if you're making a snack platter and including cheese and crackers too)
Pomegranate and/or seeds (to add a pop of color or finishing touch)
Dragon fruit (for a unique option)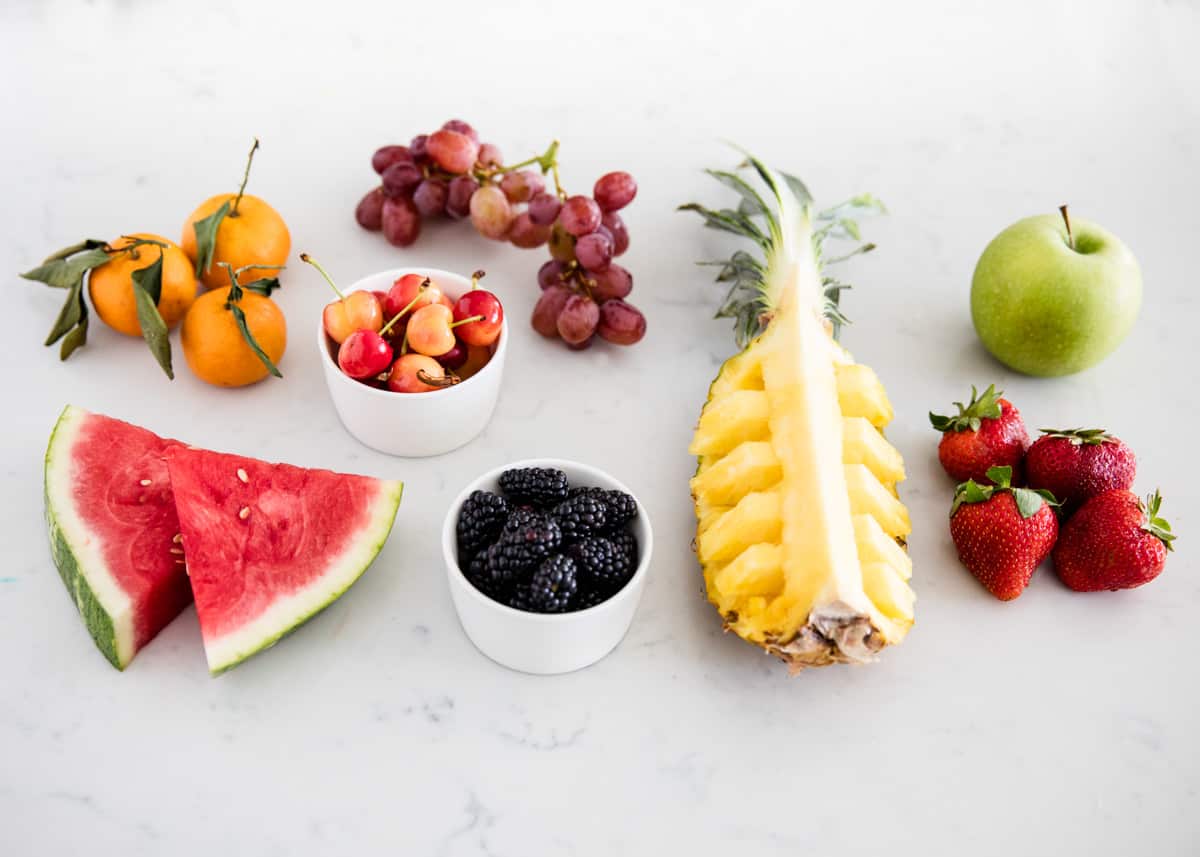 How to Arrange a Fruit Platter
Pick out your platter. My favorites to use are wooden platters, white trays, cutting boards or metal tins. Wipe down and make sure it is food safe.
Wash fruit. Pick out about 6-8 different types and wash under water. I tend to pick what is in season. You can use any type. Just make sure to choose a variety of colors, sizes and textures.
Slice fruit. Prepare and slice it however you prefer. Here is how to cut a pineapple and how to cut a watermelon.
Place 3 bowls onto your platter. I usually add a few bowls for dips or smaller varieties. I'll sometimes even include a decorative focal point, like the pineapple.
Start with bigger items first. Then build around those focal points, splitting up the colors and textures.
Layer in smaller items to fill the gaps. Add in smaller pieces like berries, cherries and grapes to fill in the gaps.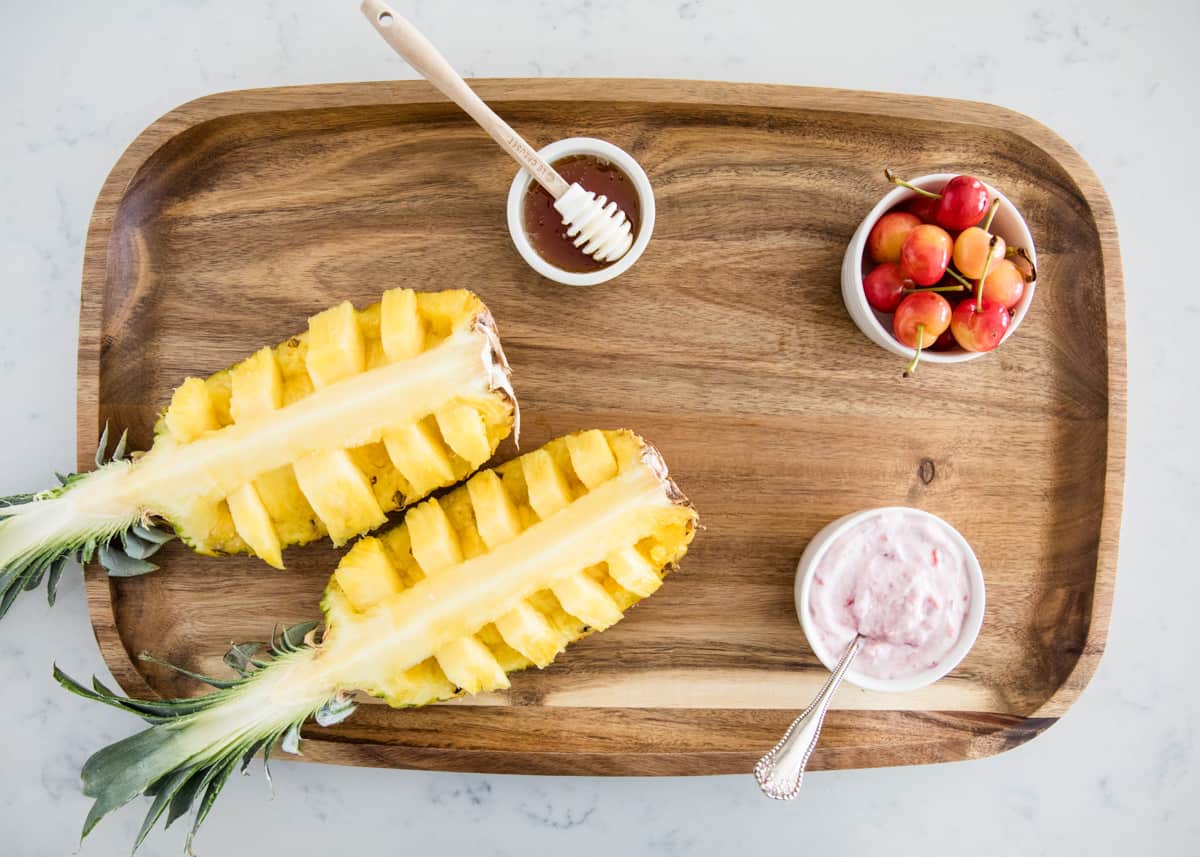 How to Keep a Fruit Platter Fresh
I prefer to make mine just before serving, but occasionally I'll have to make them the morning of or even the night before. Here are a few tips.
Do not cut fruit that will brown fast (like apples and bananas) until ready to serve. Simply place it on the tray where you want it to go, so you don't forget and then cut right before the event.
If you need to cut it ahead of time, squeeze a little lemon juice over the top.
Cover tightly with plastic wrap right away and place in the refrigerator.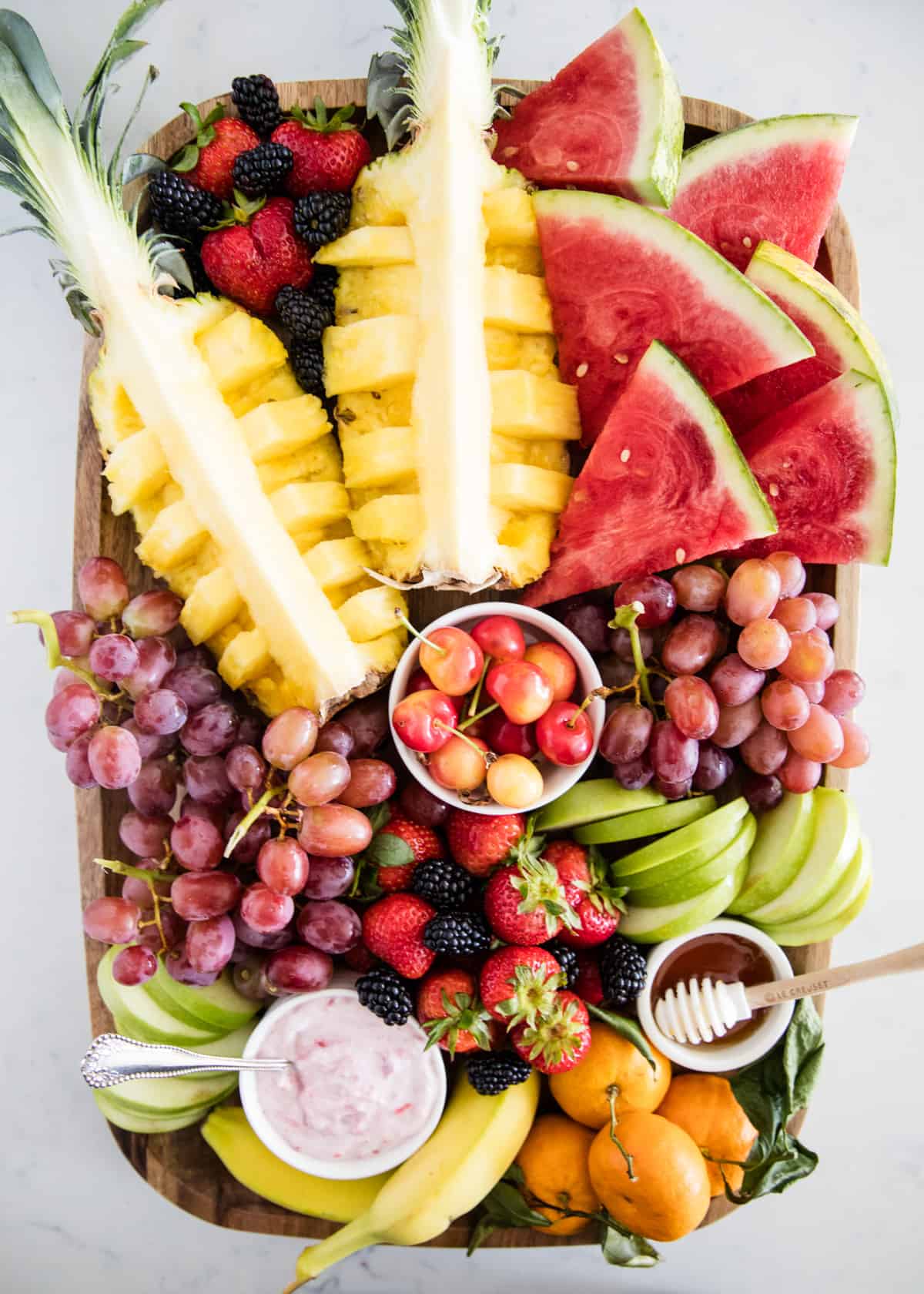 Dips to Serve with Fruit
HUNGRY FOR MORE? Subscribe to my newsletter and follow on Facebook, Pinterest and Instagram for all the newest recipes!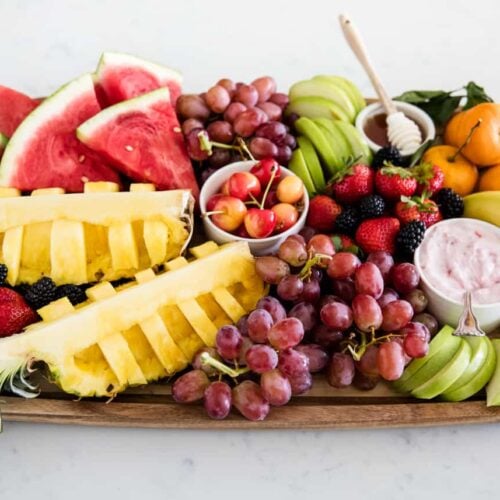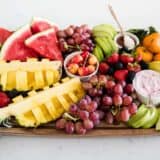 Fruit Platter Recipe
Learn how to make a fresh fruit platter with these easy tips. Perfect for entertaining a crowd or enjoying with your family!
Ingredients
½ pineapple
6 watermelon slices
1 pint strawberries
½ pint blackberries
1 cup cherries
1 apple
5 mandarin oranges
1 banana
Optional dips: Yogurt, honey, fruit dips, chocolate, whipped cream
Instructions
Slice fruit and set aside.

Place 3 small bowls onto the platter. Place a fruit dip, honey or yogurt in 1-2 bowls. Then place smaller fruit such as cherries or berries into the remaining bowls.

Place cut pineapple in the corner of the platter and the watermelon next to it. Then place grapes underneath. Place the oranges and banana at the bottom. Then fill in the empty space with the berries and cut apples. Add more of the other fruit to fill in the gaps.

Add spoons, tongs or toothpicks for serving. Serve immediately or cover until ready to serve.
---
Notes
Optional fruit dips to add to platter:
Nutrition
Calories: 167kcal | Carbohydrates: 42g | Protein: 3g | Fat: 1g | Saturated Fat: 1g | Sodium: 4mg | Potassium: 564mg | Fiber: 6g | Sugar: 31g | Vitamin A: 1311IU | Vitamin C: 98mg | Calcium: 59mg | Iron: 1mg
Nutrition provided is an estimate. It will vary based on specific ingredients used.
Did you make this recipe? Don't forget to give it a star rating below!