This grilled pineapple salsa is super easy to make and jam packed with flavor. Takes only 5 ingredients and 15 minutes!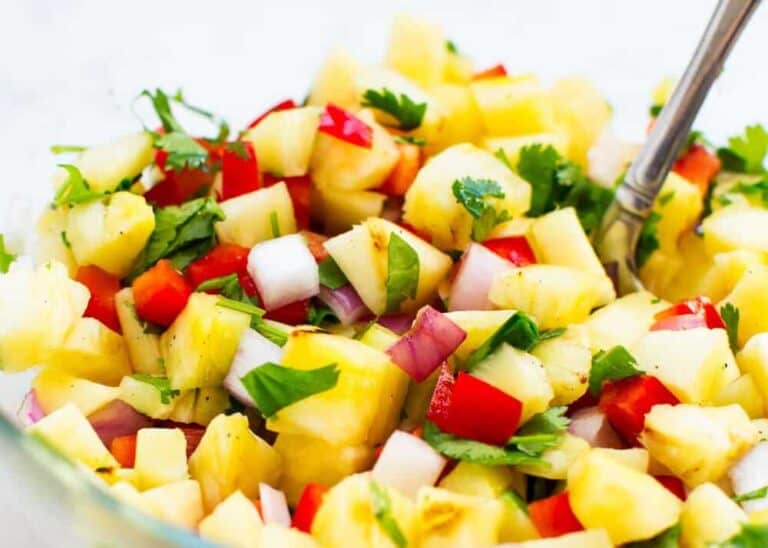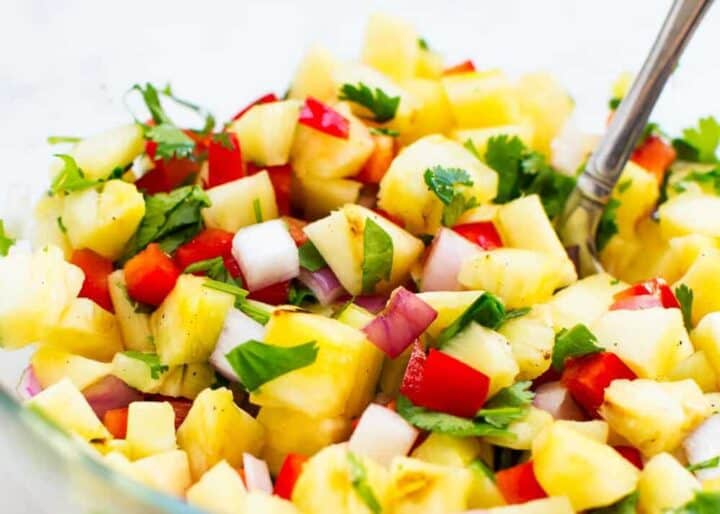 Fresh and flavorful grilled salsa
One of my all-time favorite things to do in the summer is have a BBQ with friends and family. I love grilling out and creating easy and delicious recipes that everyone can enjoy together.
This pineapple salsa is absolutely amazing and is full of fresh flavor. If you've never grilled pineapple before, you have to give it a shot! It's super easy and gives the fruit the most wonderful taste.
This salsa makes a great appetizer or tastes amazing served with grilled chicken, fish or pork. Plus it's made with just 5 simple ingredients in just 15 minutes. You can't beat that!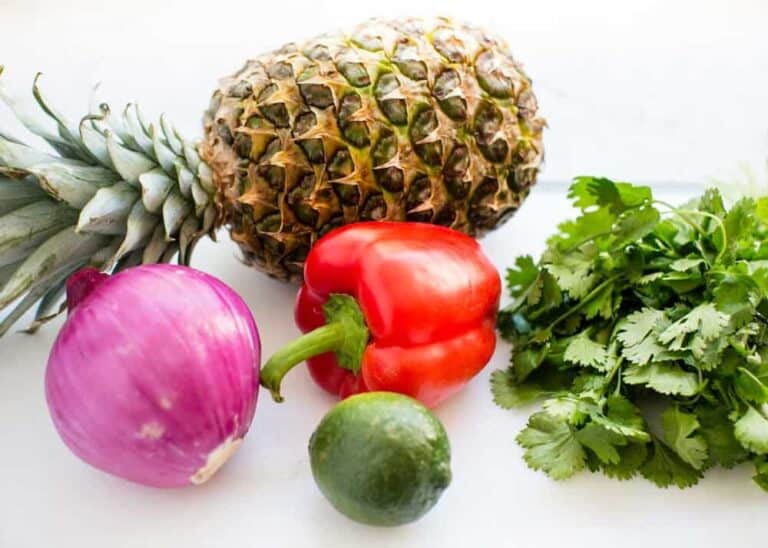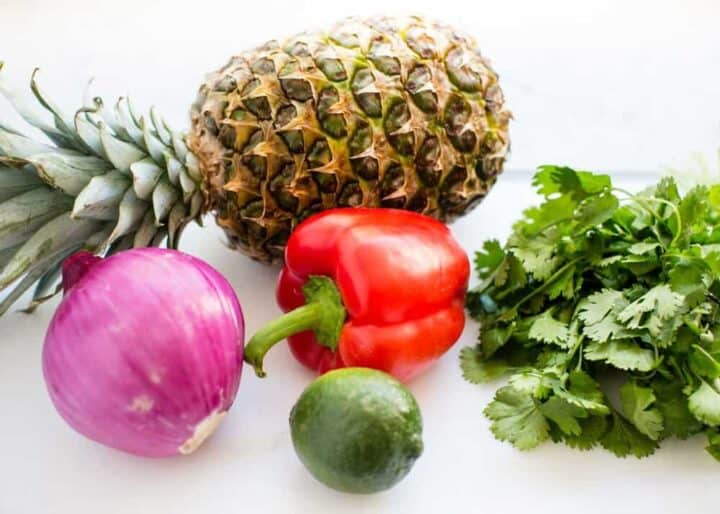 Choosing the perfect pineapple to grill
Wondering how to pick a pineapple that's super juicy and sweet? Below are a few tips that will help you out:
Color: A ripe pineapple will have a bright yellow color from top to bottom. If the color is green, it isn't ripe enough. If the color is orange, it has most likely spoiled.
Texture: You want the texture of your pineapple to be on the softer side. It should give in a little when you press on it.
Smell: Make sure to smell the bottom of the pineapple before putting it in your cart! It should smell sweet and bright.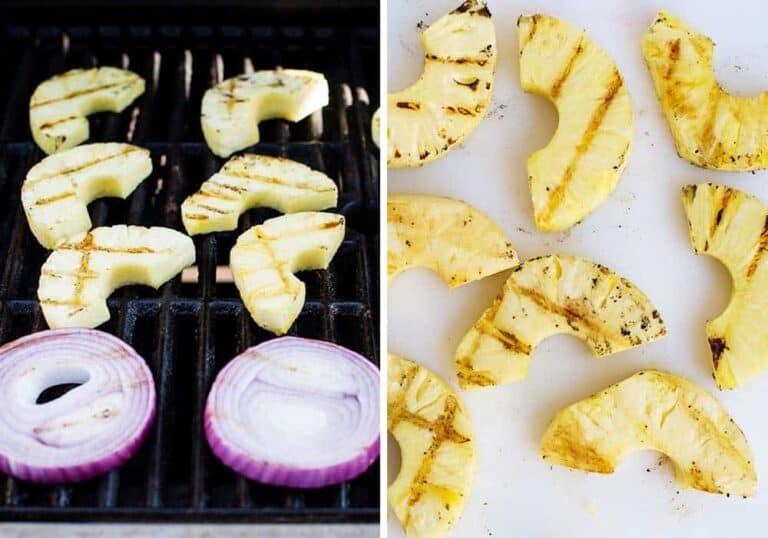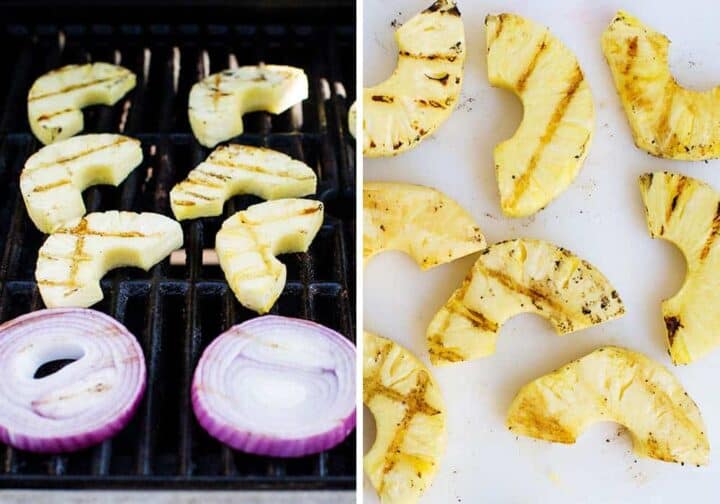 Tips + variations
Make it spicy. To add heat, mix in some chopped jalapeno. You can even grill the pepper as well to give it a nice char.
Chop, chop, chop! To get the most goodness in each bite, you'll want to make sure that you chop all of the ingredients into small, evenly-sized pieces.
Add avocado. For a fun twist, stir in 1 avocado cut into 1/2″ pieces.
Grill the onion. Add the onion on the grill since it's already fired up. It will get a nice caramelized and charred exterior, resulting in terrific flavor.
Non grill method. Although I highly recommend grilling the pineapple/onions for extra flavor, you could skip this part if preferred. Trust me though, it's worth the extra step!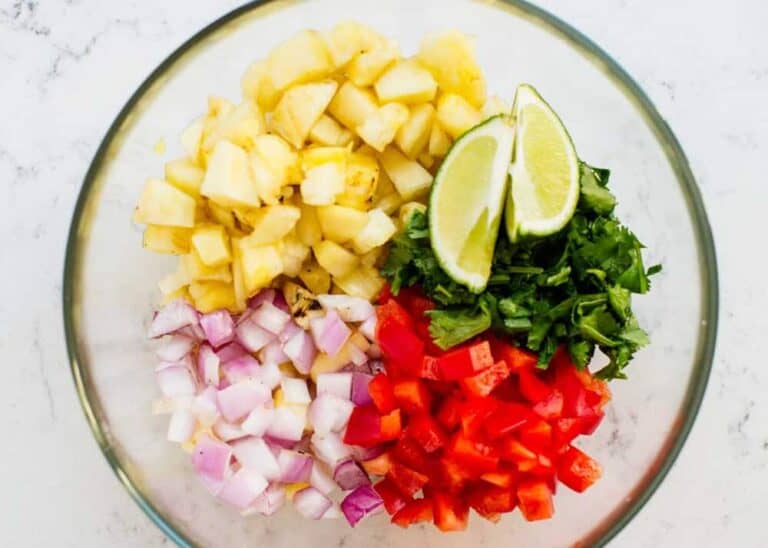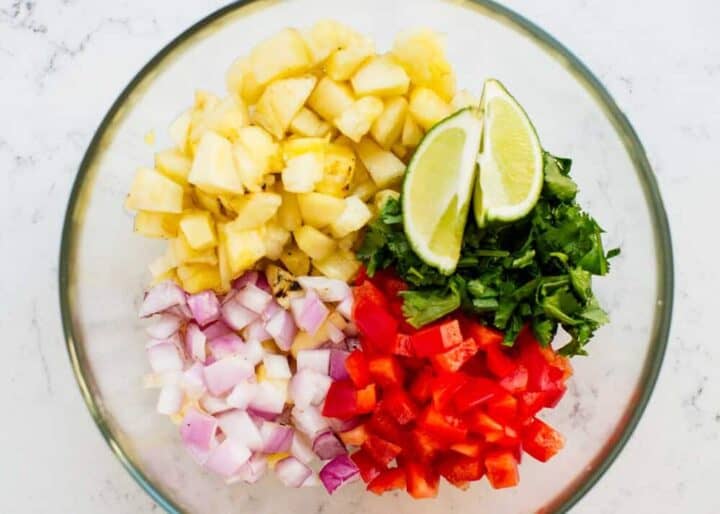 What to serve with it?
Storing leftovers
This recipe tastes best served the first day. The pineapple has the most flavor immediately after grilling and the veggies are still crisp and delicious. You can definitely store leftovers in the fridge for up to 3 days, however the salsa may soften a bit and get a little watered down due to the juices from the pineapple.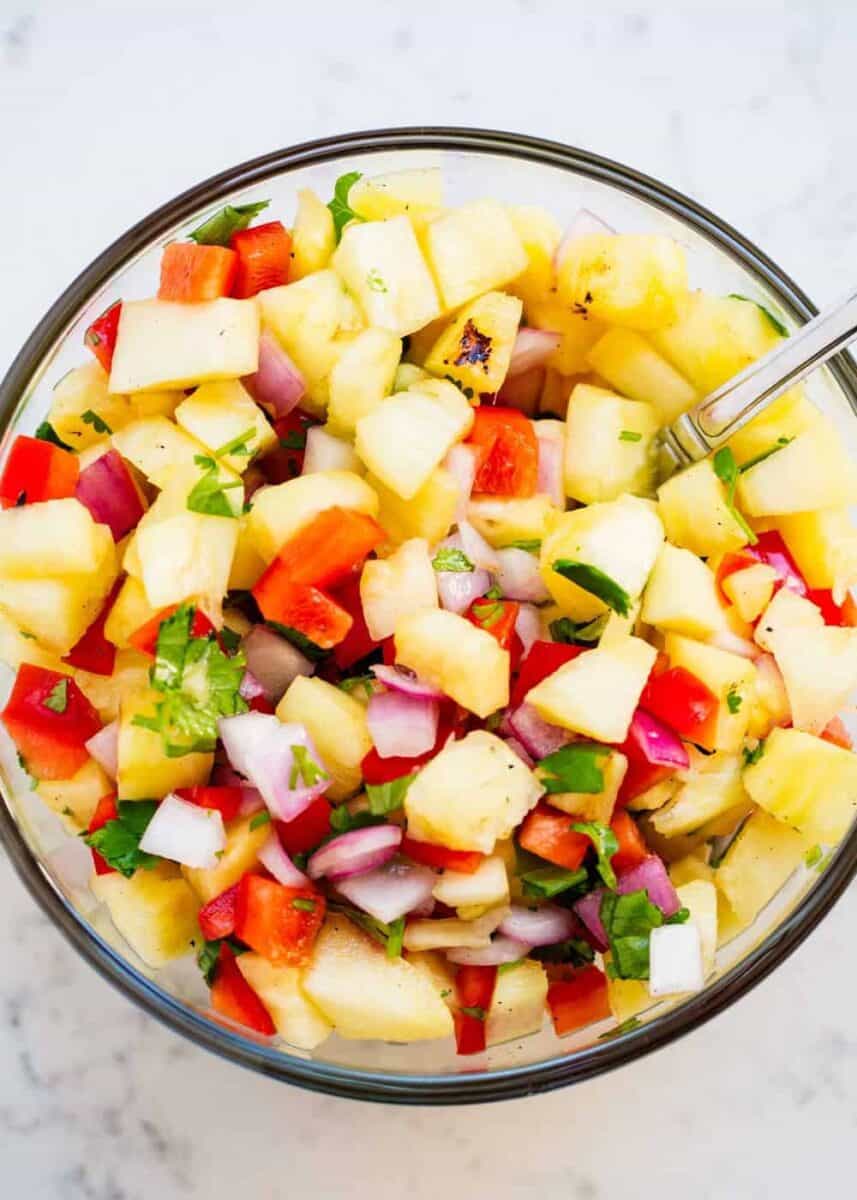 Other easy salsa recipes: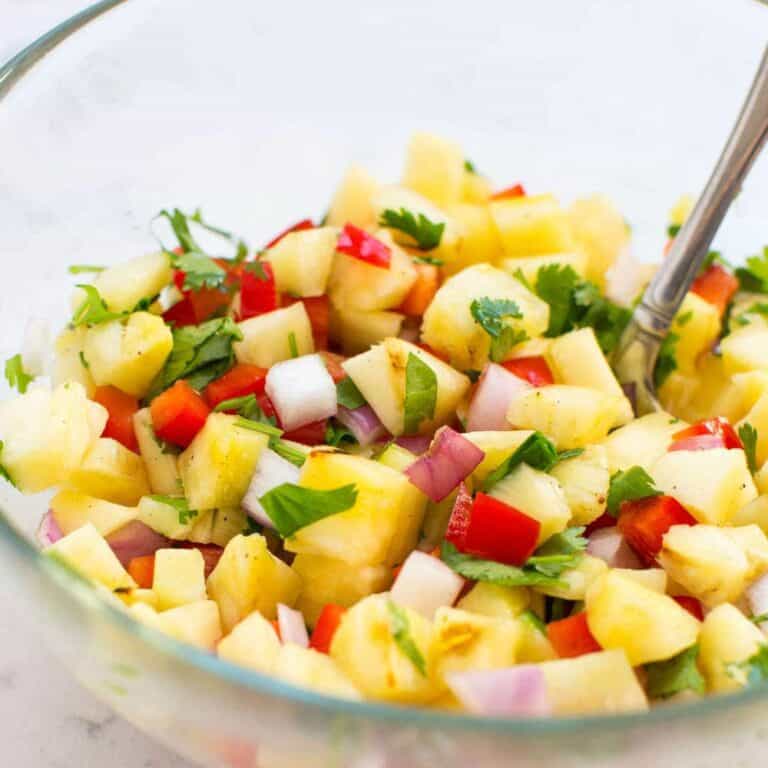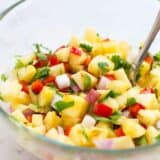 Pineapple Salsa
This grilled pineapple salsa is super easy to make and jam packed with flavor. Takes only 5 ingredients and 15 minutes!
Ingredients
1 pineapple , sliced in circles (for the grill)
1/2 red onion , sliced (for the grill)
1/2 cup chopped red bell pepper
1/4 cup chopped cilantro
1-2 limes , juiced
salt and pepper to taste
Jalapeno , diced fine (optional)
Instructions
Heat the grill to medium-heat. Place the pineapple and onions onto the grill and let cook 1 to 2 minutes per side, or until light grill marks appear. Be careful not to burn it. Remove from the grill and allow to cool.

Once cooled, chop the pineapple into 1/4″ pieces and place in a medium-sized bowl. Next stir in the bell pepper, cilantro and lime juice. Add salt and pepper to taste. For a little heat, add in jalapeno if you'd like.

Stir and then cover and refrigerate until ready to serve.
---
Notes
Avocado: For a fun twist, add in 1 avocado chopped into 1/2 inch pieces.
Calories: 32kcal | Carbohydrates: 8g | Sodium: 1mg | Potassium: 80mg | Fiber: 1g | Sugar: 5g | Vitamin A: 195IU | Vitamin C: 34.5mg | Calcium: 10mg | Iron: 0.2mg
Nutrition provided is an estimate. It will vary based on specific ingredients used.
Did you make this recipe? Don't forget to give it a star rating below!