Jump to Recipe⌄
5 Ingredient Grilled Pineapple Salsa w/ Hebrew National
5 Ingredient Grilled Pineapple Salsa – this grilled pineapple salsa is super easy to make and jam packed with flavor – and only takes 5 ingredients to make. It's perfect for summer BBQs as either an appetizer or also tastes amazing on top of hot dogs.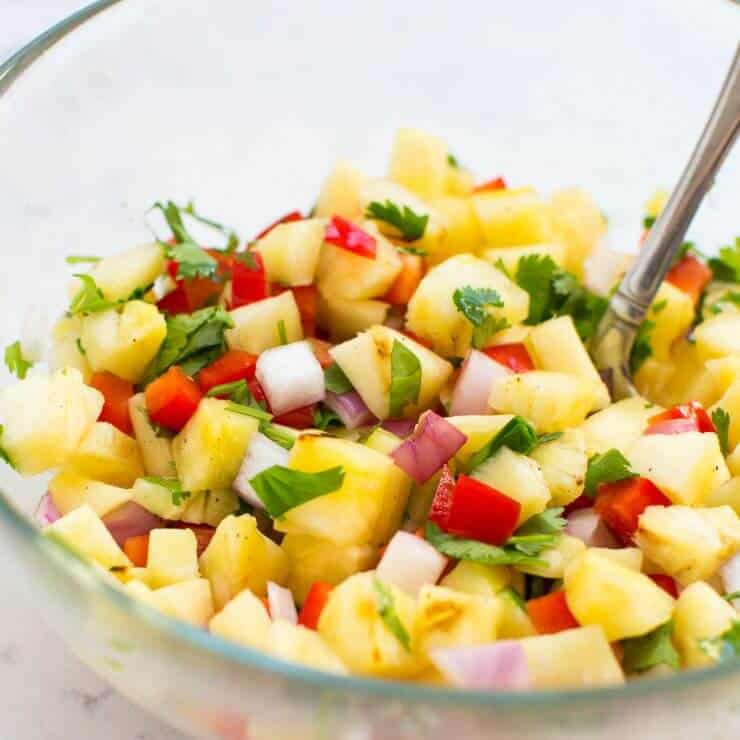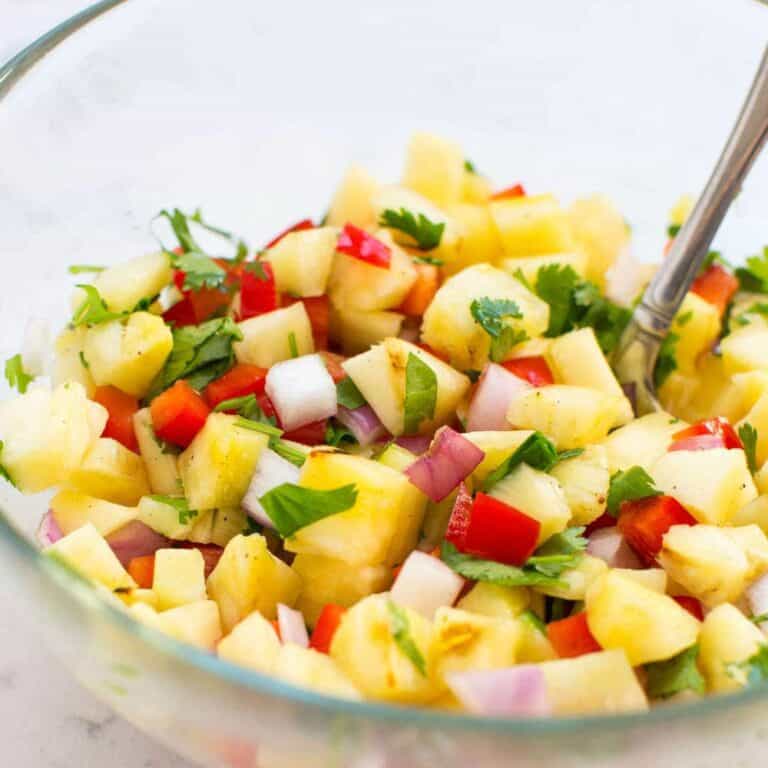 One of my all-time favorite things to do in the summer is have BBQs with friends and family. I love grilling and creating easy and delicious recipes. I was super excited when Hebrew National asked me to be a brand ambassador this year and I can't wait to share more fabulous grilling recipes with you. Their hot dogs are my family's favorite and I love that they are made with 100% premium Kosher beef (no fillers or by-products), which enhances its great taste. I got to fly out to NYC for the day a few weeks ago and it was so great to meet their team and eat some delicious food.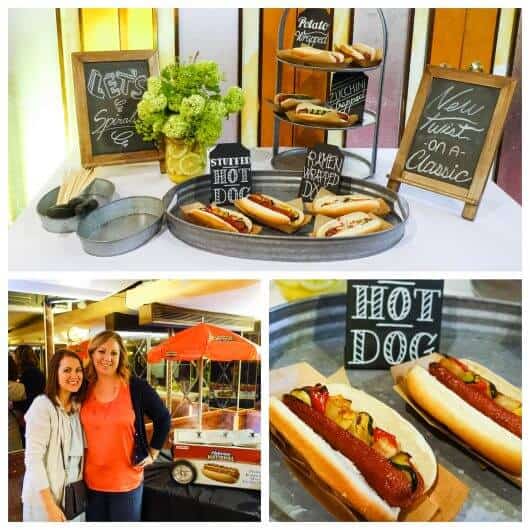 This pineapple salsa is absolutely amazing on top of a hot dog with BBQ sauce drizzled on top. It's like a Hawaiian BBQ Hot Dog. So good!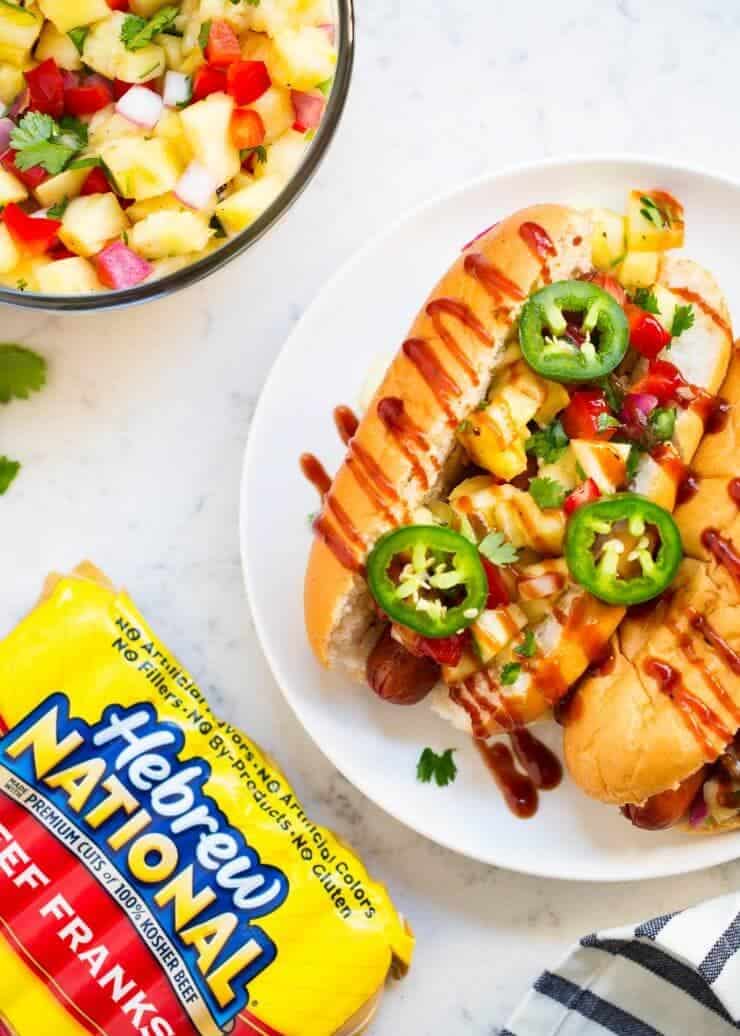 Basically all you need for this recipe is 5 simple ingredients: Pineapple, red pepper, red onion, lime and cilantro.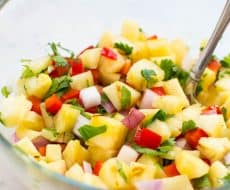 Grilled Pineapple Salsa
Ingredients:
1 pineapple, sliced in circles (for the grill)
1/2 red onion, sliced (for the grill)
1/2 cup chopped red bell peppers
1/4 cup chopped cilantro
1-2 limes, juiced
Salt and Pepper to Taste,
Jalepeno, diced fine (optional)
Directions:
Heat the grill to medium heat. Place the pineapple and onions onto the grill and let cook 1 to 2 minutes per side, or until light grill marks appear. Be careful not to burn it. Remove from the grill and allow to cool. Once cooled, chop into 1/4″ pieces and place in a medium size bowl.
Next stir in the bell peppers, cilantro and lime juice. Add salt and pepper to taste. For a little heat, add in jalepeno if you'd like.
Stir and then cover and refrigerate until ready to serve.
For a fun twist, stir in 1 avocado cut into 1/2″ pieces. Serve the first day.
All images and text ©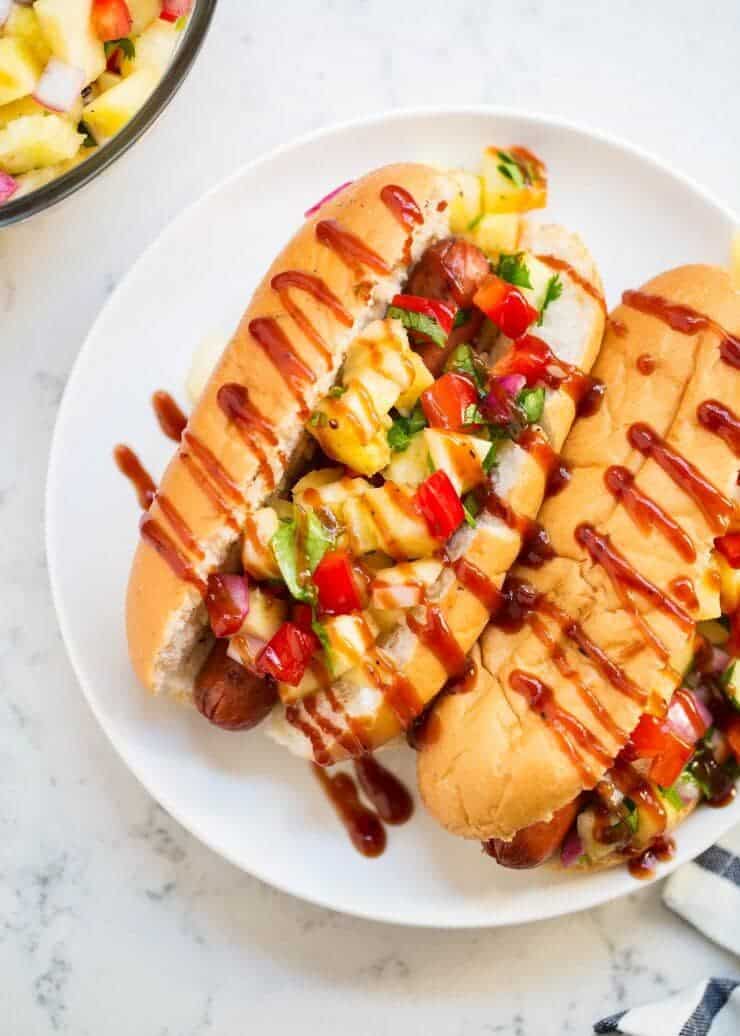 This pineapple salsa also tastes amazing with an avocado mixed in! I mixed one in the next day and loved it with tortilla chips.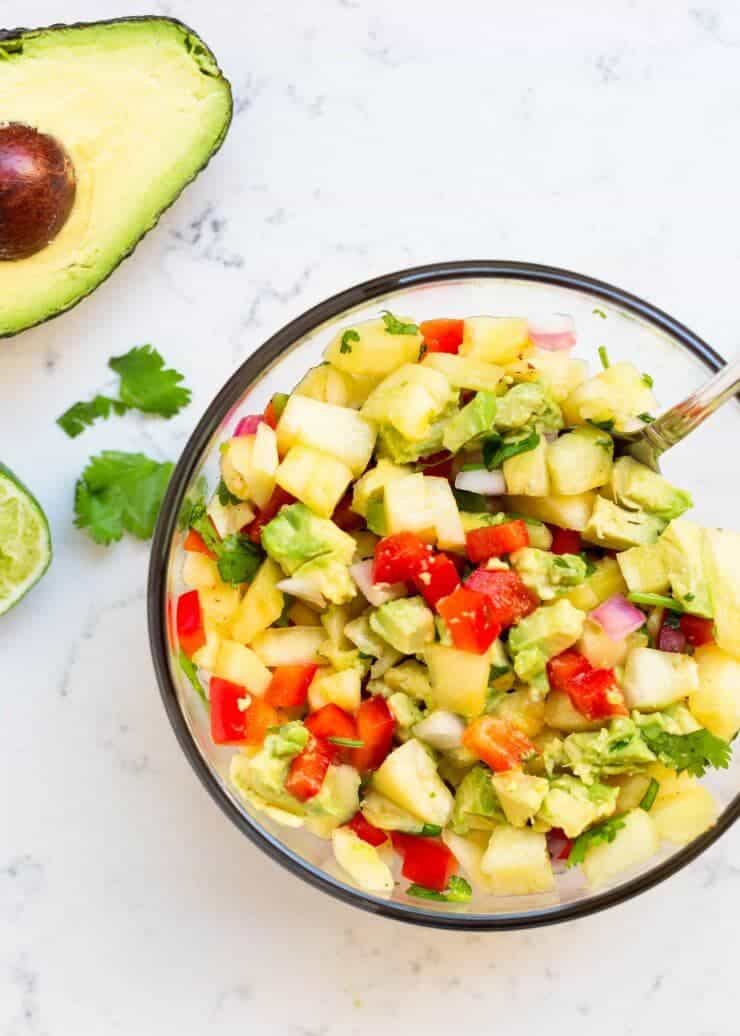 Try it out and let me know how you like it! Yay for summer!!
This post is brought to you by Hebrew National. Check out their website or follow them on Facebook and Pinterest for more recipe inspiration.