This horchata recipe is a perfect drink to pair with all your Mexican-inspired dishes! Whether you're hosting Cinco de mayo or spending a day by the pool, you'll love this refreshing, cinnamon and vanilla-infused sweet beverage served on ice!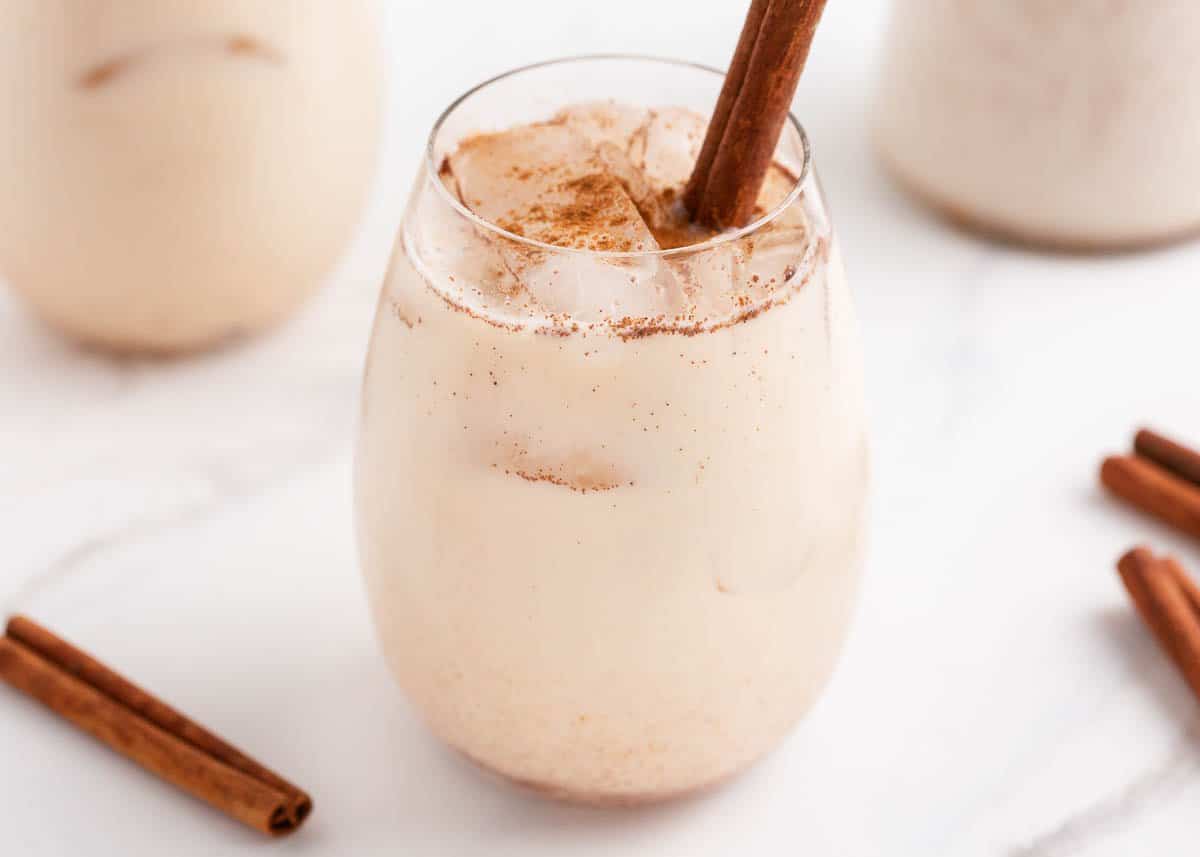 Homemade Horchata Recipe
With Cinco De Mayo around the corner, the wheels are already in motion thinking about all the Mexican dishes I'll be preparing. This year I'm including this authentic Mexican Horchata drink on the menu!
There are many versions of Horchata depending on where you live, as every country and every household makes it a little differently. This horchata recipe is by far my favorite and rivals anything you'd find at a Mexican restaurant!
It's delicious, smooth, slightly sweet, and uber refreshing which is perfect for warm sunny days on the patio. It comes together easily with ingredients you've probably already got and because we're making it without powder, we just need to soak the rice overnight. Other than that, it's so simple!
What is Horchata?
Horchata is the Mexican name given to this type of dairy-free, plant-based milk drink. It's made from soaking rice and cinnamon sticks overnight and then used to make a refreshing creamy drink.
I say it's Mexican because in Latin America they use rice and grains and seeds but numerous countries around the world have their version of this drink. For example, in Spain, they use tiger nuts!
Even within Mexico, you'll find people use different ingredients, flavors, and even methods to prepare their horchata recipes.
Some use almonds or coconut for flavor. Some will strain the water used to soak it and use fresh water for the drink itself, and others will use whole milk instead of evaporated milk. There is no one right way, but there sure is the best way and this one is it!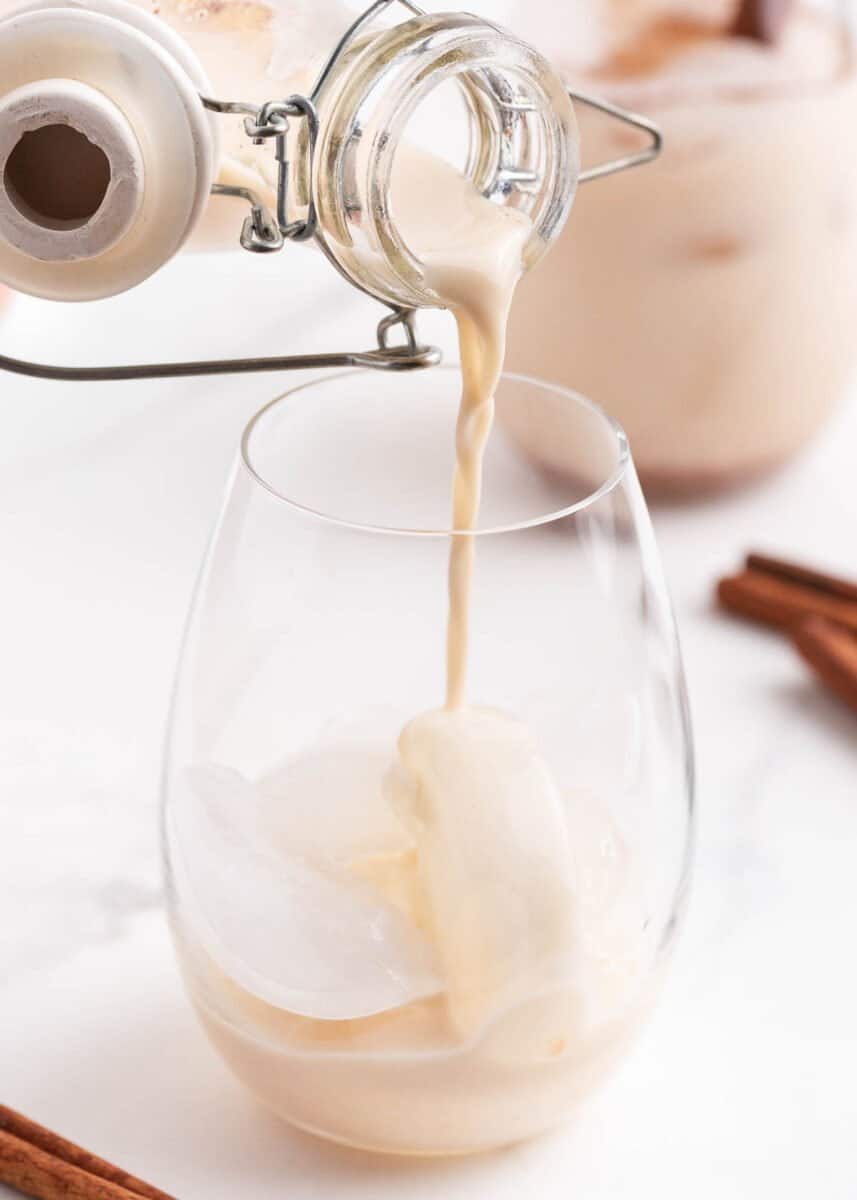 Horchata Recipe Ingredients
Rice – We're using uncooked white rice for this horchata recipe. Not to worry, it gets soaked overnight and absorbs much of the water making it soft and no longer dry.
Water – Used to help soak the ingredients absorbing the flavors and softening the rice.
Cinnamon stick – This gets blended along with the rice and then discarded. It infuses the water with the flavor of cinnamon.
Evaporated milk – A bit like condensed milk without the added sugar. Evaporated milk is concentrated milk with a reduced amount of water.
Sugar – Used to sweeten up the Horchata. Since cinnamon, rice, and evaporated milk are quite savory, the sugar brings a nice balance.
Vanilla extract & ground cinnamon – Flavor enhancers that get added to the drink before serving. So good!
How to Make Horchata
Blend ingredients. To a highspeed blender, add the rice, cups of water, and cinnamon stick. Blend until the ice breaks up. Pour it into a pitcher or bowl and let it sit and soak overnight.
Strain the rice. Grab a fine mesh strainer or cheesecloth and lay it across the opening of a clean pitcher. Pour everything through and allow the liquid to separate from the rice and cinnamon stick remnants. Discard the rice mixture.
Add flavor. To the pitcher with the rice milk, stir in sugar, vanilla, cinnamon, and evaporated milk. Give it a little taste test and adjust the sugar and cinnamon as needed.
Chill. This drink is best served nice and cold. Place the entire pitcher in the fridge for 1 hour then serve immediately over ice cubes in individual glasses. Enjoy!
Horchata Recipe Tips
Use a high-powered blender. Uncooked rice and cinnamon sticks are harder to blend but need to be ground enough to impart lots of flavors.
Use cinnamon sticks. They're stronger than ground cinnamon which will give the horchata added taste. Ground cinnamon is great for adding after. It's easier to add ground cinnamon little by little.
Serve chilled. Room temperature horchata is just not the same! Although, serving it warm like tea could be a great idea in the cooler months :)
Double or triple the recipe for a larger crowd. This recipe makes enough to serve 6 people. If you're throwing a Cinco De Mayo bash or a Mexican-themed dinner party, you may want to make more. Trust me, it'll be gone quickly!
Don't skimp on the soaking time. This is how you get the most flavor infused into the water.
Variations
To make this a dairy-free or vegan beverage use almond milk or coconut milk instead of evaporated milk.
Swap the sugar in this horchata recipe with honey or maple syrup to sweeten it.
For a fruity twist, add fresh strawberries and make it a strawberry horchata!
You can substitute evaporated milk for sweetened condensed milk. It comes with added sugar, so don't add the sugar until you've tasted it first. You may not need any at all.
What to Serve with Horchata
Complete your menu with these Mexican-inspired recipes!
FAQs
What type of rice is best for making this horchata recipe?

Any short grain or long-grain white rice will do. Basmati or jasmine rice are popular and are readily available in most grocery stores.
How can I store leftover horchata?

Keep it in the pitcher and cover it for easy access or pour it into any jar with a lid. Store it in the fridge for up to 3 days. Stir again before serving!
What does horchata taste like?

If you've ever had flavored rice milk, this horchata recipe has similar notes to it. It's smooth and creamy thanks to the evaporated milk and it's flavored with cinnamon and vanilla, with just the right amount of sweetness.

Some might compare it to egg nog! It's not as creamy, and there aren't any eggs in horchata, but the cool, creamy, and refreshing spiced drink has slight similarities.
Can horchata be made with brown rice?

You bet! Any short grain brown rice will do. No changes to the instructions are needed to turn this into a brown rice horchata recipe.
More Mexican Treats
HUNGRY FOR MORE? Subscribe to my newsletter and follow on Facebook, Pinterest and Instagram for all the newest recipes!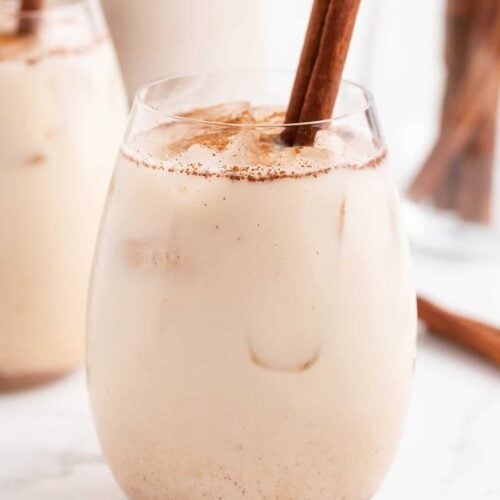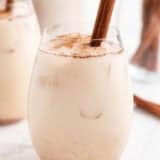 Horchata Recipe
This horchata recipe is a perfect drink to pair with all your Mexican-inspired dishes! Whether you're hosting Cinco de Mayo or spending a day by the pool, you'll love this refreshing, cinnamon and vanilla-infused sweet beverage served over ice!
Ingredients
1 cup uncooked long grain white rice , rinsed
4 cups water
1 cinnamon stick
1 cup evaporated milk
4-8 Tablespoons granulated sugar , plus more to taste
2 teaspoons vanilla extract
½ teaspoon ground cinnamon
Instructions
In a blender, blend the rice, water, and cinnamon stick for about 1 minute. or until the rice breaks up. Pour into a pitcher and let sit overnight.

Pour the rice mixture through a very fine mesh strainer or cheese cloth into a separate pitcher. Discard the rice.

Stir in the milk, 4 Tablespoons sugar, vanilla, and cinnamon. Taste and add more sugar and cinnamon, as desired. Chill in the refrigerate for 1 hour.

Add ice to cups and pour horchata over top. Serve immediately.
---
Notes
Storage: Store in a covered pitcher in the refrigerator for up to 3 days.
Nutrition
Calories: 222kcal | Carbohydrates: 42g | Protein: 5g | Fat: 3g | Saturated Fat: 2g | Polyunsaturated Fat: 1g | Monounsaturated Fat: 1g | Cholesterol: 12mg | Sodium: 55mg | Potassium: 170mg | Fiber: 1g | Sugar: 16g | Vitamin A: 104IU | Vitamin C: 1mg | Calcium: 133mg | Iron: 1mg
Nutrition provided is an estimate. It will vary based on specific ingredients used.
Did you make this recipe? Don't forget to give it a star rating below!