Jump to Recipe⌄
Churro cupcakes w/ cream cheese frosting
With Cinco De Mayo coming up I thought it would be fun to turn my snicker doodle cupcake recipe into CHURRO cupcakes. What's not to love about churros? I don't even want to count the number of churros I ate on my last trip to Disney land! ;) They are one of my absolute faves. Now imagine churros topped with cinnamon cream cheese frosting… yes please!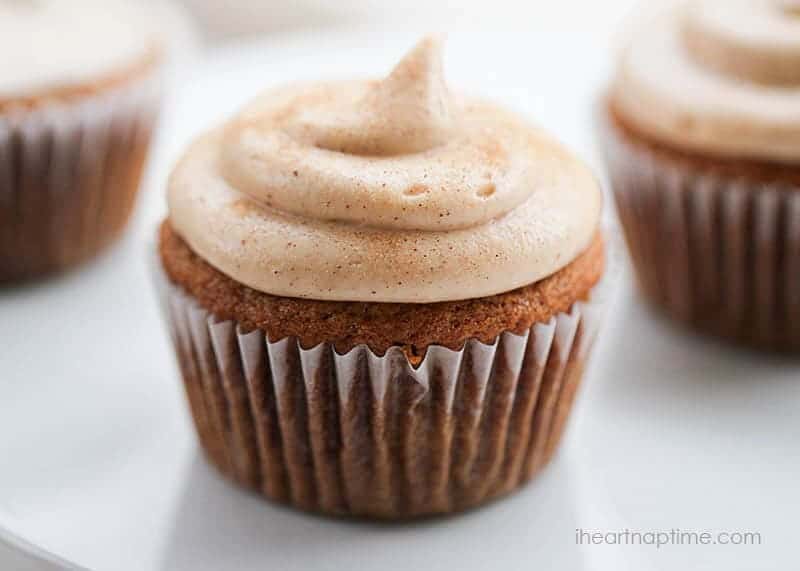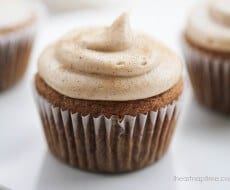 Churro cupcakes w/ cream cheese frosting
Ingredients:
Cupcakes—
2 egg yolks + 1 egg at room temp
1/2 cup sour cream
1/2 cup salted butter, softened
2 tsp vanilla
1 1/2 cups all purpose flour
3/4 cup sugar
1/4 cup brown sugar
1/2 tsp baking soda
1/2 tsp baking powder
1/2 tsp salt
1 1/2 tsp cinnamon
Frosting —
5 ounces cream cheese, softened
1/4 cup salted butter, softened
2 cups powdered sugar
1 tsp vanilla
1/2 tsp cinnamon
Cinnamon Sugar to top cupcakes—
1 tsp cinnamon + 1 tsp sugar mixed together in a small bowl
Directions:
1. Preheat oven to 350 degrees.
2. Whisk the eggs in a large bowl and then combine with butter, sour cream and vanilla.
3. In a separate bowl, combine flour, sugar, brown sugar, baking soda, baking powder, salt and cinnamon. Stir ingredients and then combine with the wet ingredients. Mix ingredients for about one minute, or until smooth.
4. Pour batter into cupcake liners and bake for 16-20 minutes, or until a tooth pick comes clean. Do not over bake!
5. Allow cupcakes to cool.
6. For the frosting, combine cream cheese and butter in a large bowl. Beat with mixers until smooth. Slowly add in powdered sugar and continue to mix. Add in vanilla and cinnamon and continue to mix until smooth and creamy.
7. Frost cupcakes and sprinkle cinnamon sugar on top.
All images and text ©
It would be so fun to top these cupcakes with mini churros! I didn't have any on hand, but that would be so fun for a Cinco De Mayo Party don't you think? ENJOY!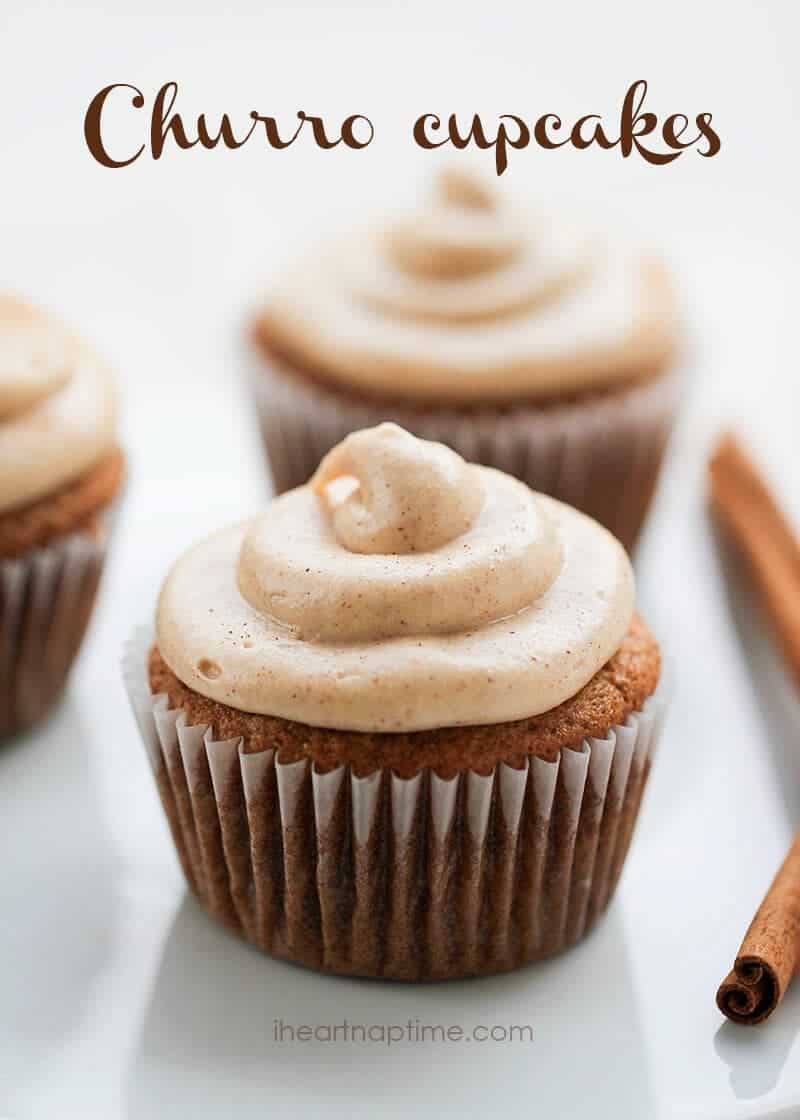 Looking for more cupcake recipes? You'll love these: