These easy homemade churros are to die for and are the perfect treat! Sweet, simple and so fun to make. Pairs great with homemade raspberry sauce!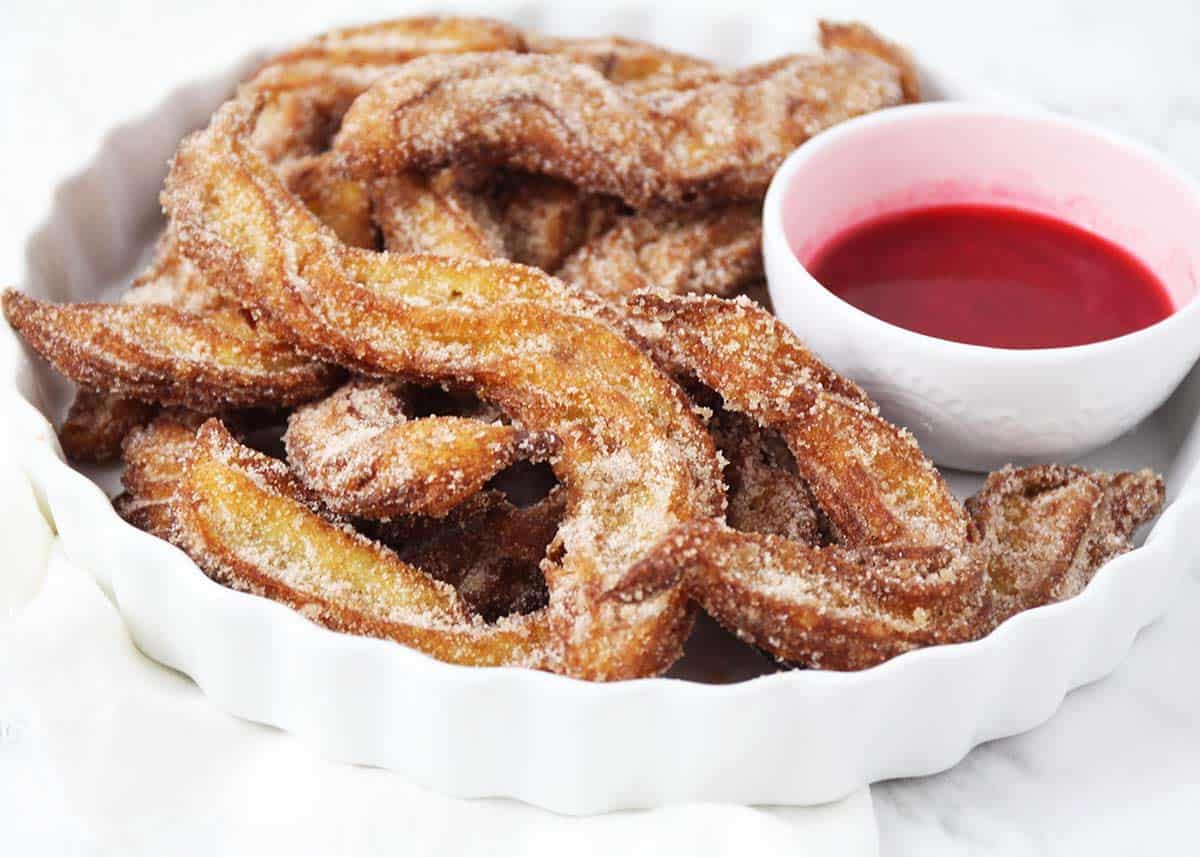 Cinnamon Sugar Churro Recipe
I love anything filled with cinnamon sugar. It's one of the best flavor combinations and tastes so delicious! If you love homemade churros, you'll also love my dessert cinnamon crescent rolls, monkey bread, cinnamon swirl quick bread, and cinnamon roll sugar cookies.
Churros are one of my absolute favorite desserts, except when I am making my beignets recipe! The fried pastry dough topped with the delicious cinnamon sugar mixture is seriously a match made in heaven. Then try dipping them in my sweet raspberry sauce…talk about perfection!
These easy homemade churros are beyond delicious and also super fun to make. Definitely give them a try…you won't regret it!
Ingredients
It doesn't take many ingredients to make this easy churros recipe. All of the ingredients are fridge and pantry staples…so you will most likely already have them on hand!
Find the full printable recipe with specific measurements below.
Butter: Room temperature butter is soft and easily mixed together.
Salt: Helps balance the flavors.
Flour: All-purpose flour thickens the churro dough.
Eggs: This is the binder that holds the churro dough together.
Oil: Heat vegetable oil for cooking the churros in small batches. The hot oil will help cook the churros on the outside leaving the inside nice and soft.
Cinnamon and Sugar: The blend of sugar and cinnamon is a sweet and savory taste that is perfect for this dessert!
How to Make Churros
I'm especially excited about this recipe because it's so simple to whip up. The dough comes together in a pan on the stove, then is scooped into a large piping bag. From there, all you do is pipe out strands of dough into boiling oil and let the churros cook on each side for a few minutes. Then roll in the cinnamon sugar mixture.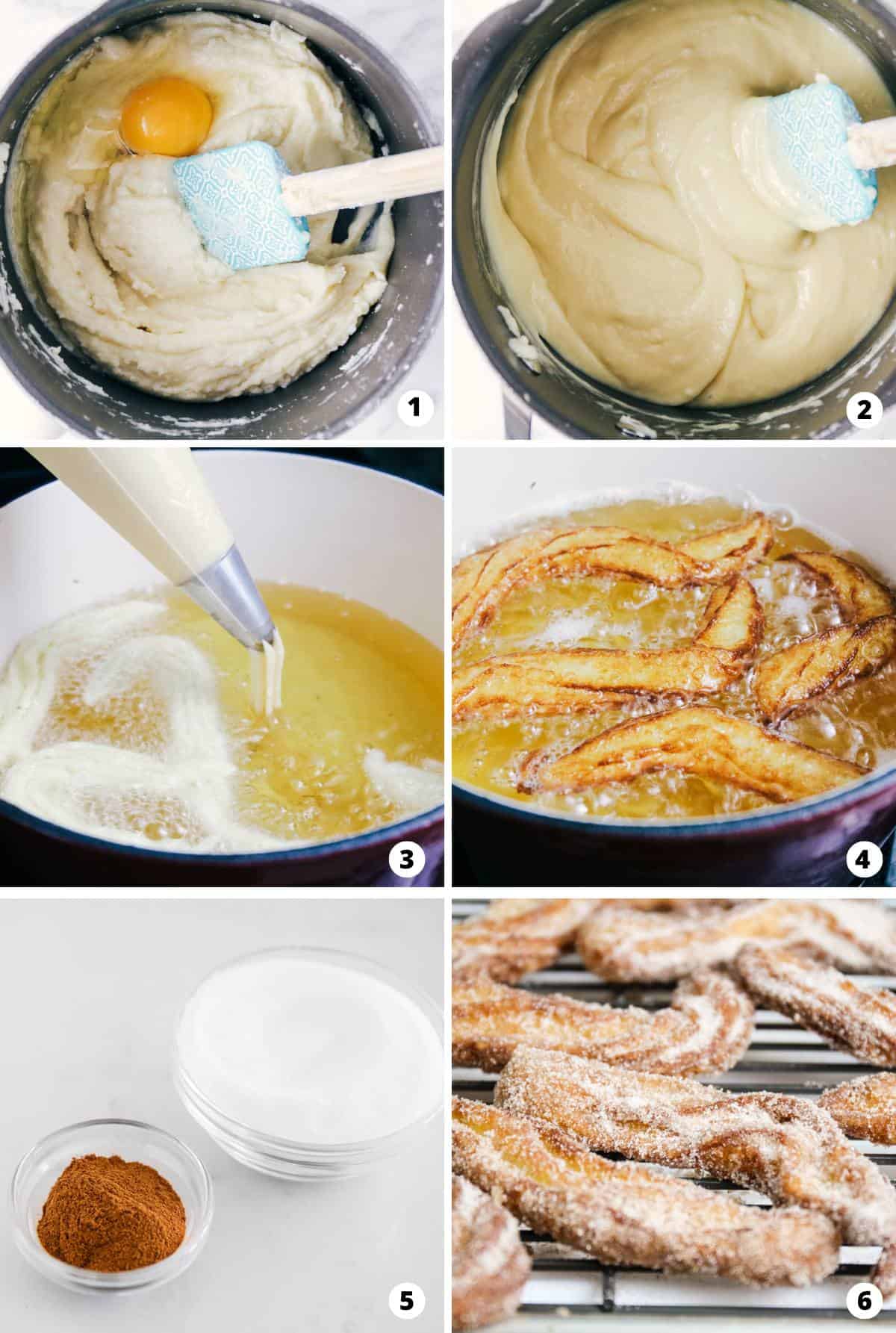 Make the pastry dough. You start with a very simple pastry dough that comes together in just a few minutes. Mix together all the ingredients.
Scoop dough. When your dough is all mixed, scoop it into a pastry bag with a large open star tip and then you're ready to make the homemade churros!
Heat oil. While you're mixing the dough, heat your oil to 365°F. I find a candy thermometer is really helpful for that step. From there, you just pipe 6-inch pieces of dough into the oil (I use scissors or a knife to get it to detach from the pastry bag) and let them cook for a minute or two on each side.
Pastry bag. Use a pastry bag and star tip to make this churros recipe. You could just use a plastic baggie with the corner snipped off. But I think the pastry bag and open-star tip approach has a lot going for it. Not only does it make them extra pretty with the classic churro shape, but it also makes the whole process tidy and super easy!
Roll in cinnamon sugar. Then let them drain on some paper towels. Once they've drained for a minute, roll them in cinnamon sugar and you're done!
Rest and serve. Let them rest on wire racks to help cool them and let the extra sugar fall off.
Recipe FAQs
What dough are churros made of?
They are made with a choux pastry. This means it is paste-looking dough that puffs up when baked or fried.
Are churros traditionally fried or baked?
It depends on your preference for frying or baking churros. Normally, churros are deep-fried in oil like a funnel cake but can also be baked or even use in an air fryer.
What is the difference between Spanish and Mexican churros?
Spanish and Mexican churros are very similar. Spanish churros are coated in sugar and served with a chocolate dipping sauce. Mexican churros are coated in both cinnamon and sugar mixture. They can be dipped in chocolate sauce, dulce de leche, caramel, or whipped cream.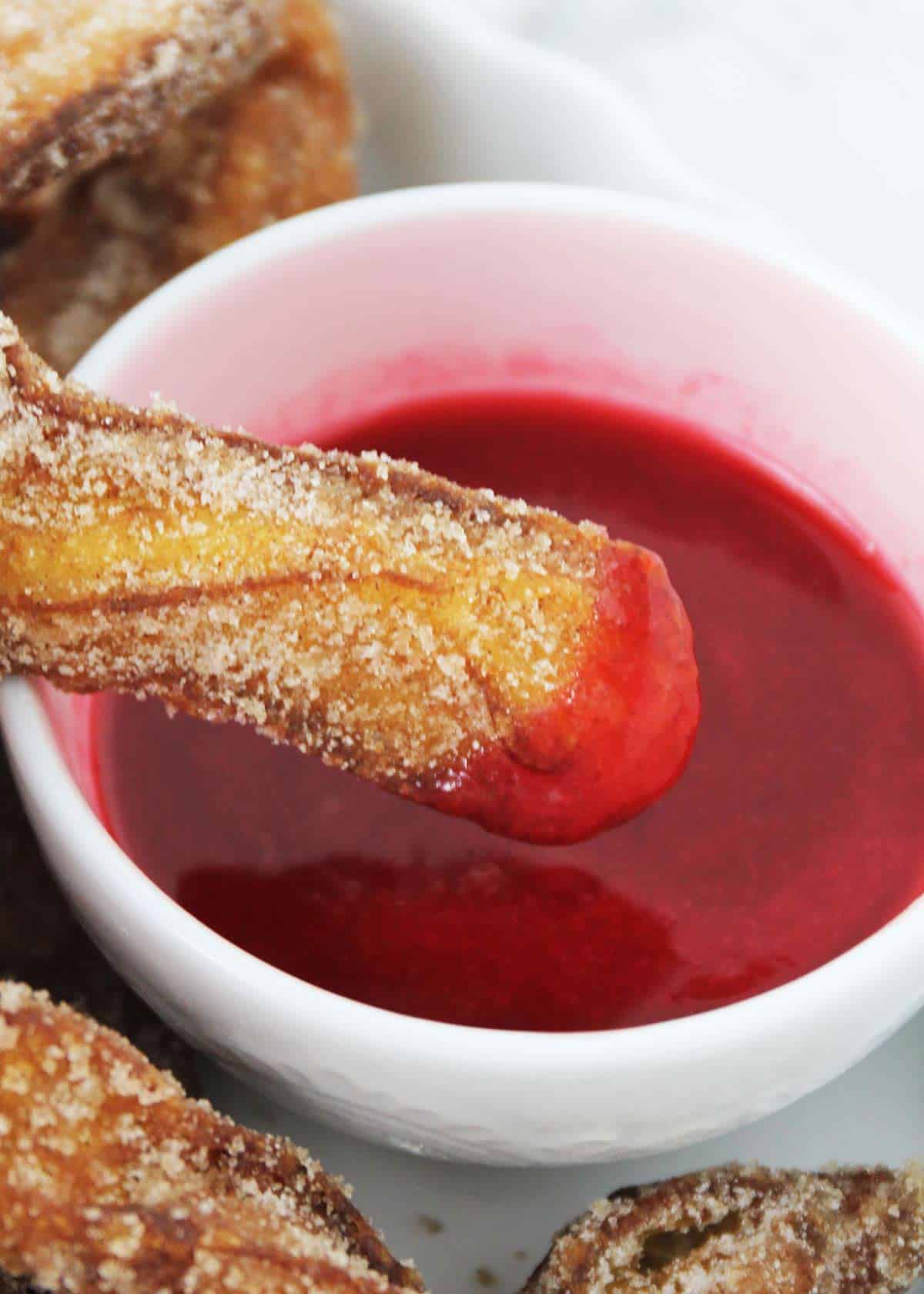 Raspberry Sauce
My favorite way to serve them is with some raspberry sauce that I whip up on the side for dipping. The tart raspberry sauce is a delicious contrast with the sweet, simple churros. The sauce is also quick and easy and cooks for just a few minutes on the stove.
Cornstarch: This will make a slurry of thickness to help build the homemade raspberry sauce.
Sugar: Added for sweetness and to balance the tart taste of the raspberries.
Water: Works with the cornstarch and gives the sauce some liquid.
Raspberries: Frozen raspberries are perfect to blend together. Once heated through, then strained through.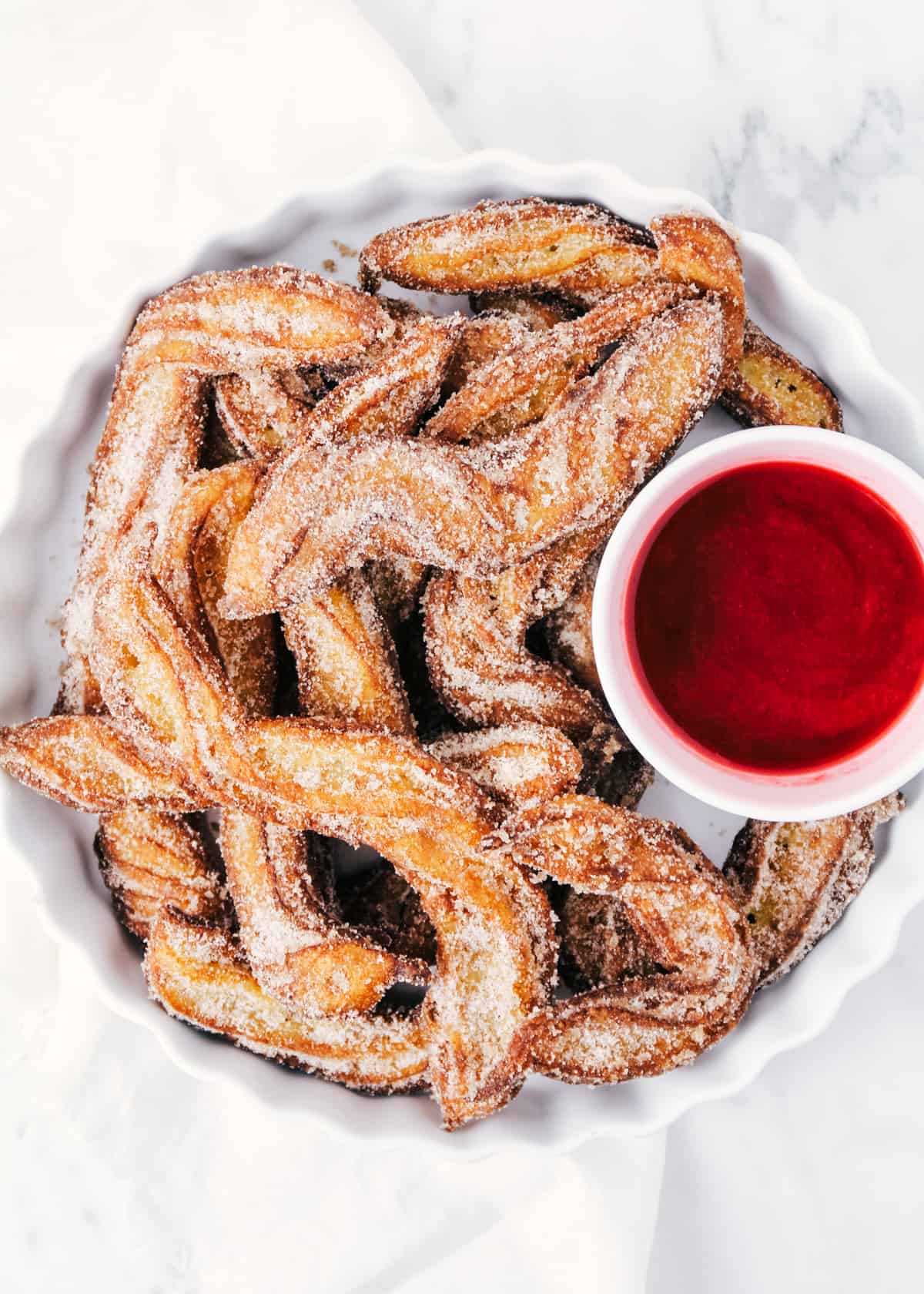 5 star review
"This was absolutely amazing. My kids loved them and said they taste better than the ones they make in Disney Florida! And it was too easy. The surprised look on the kids' faces was priceless!"

-Iman
Storing and Reheating
Place any leftovers in an airtight container at room temperature. Place a paper towel or parchment paper in the bottom of the storage container.
More Yummy Treats
HUNGRY FOR MORE? Subscribe to my newsletter and follow on Facebook, Pinterest and Instagram for all the newest recipes!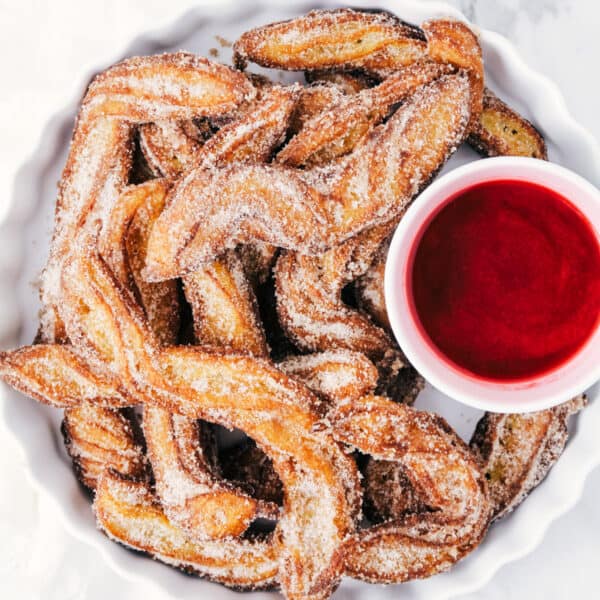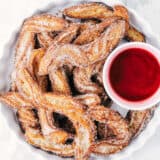 Homemade Churros
These easy homemade churros are to die for and are the perfect treat! Sweet, simple and so fun to make. Pairs great with homemade raspberry sauce!
Ingredients
For the Churros:
1 cup water
½ cup butter , cut into pieces
¼ teaspoon Kosher salt
1 cup all-purpose flour
3 eggs
oil for frying , I used canola oil
½ cup granulated sugar
1 teaspoon ground cinnamon , more or less to taste
For the Raspberry Sauce:
2 teaspoons corn starch
3 Tablespoons granulated sugar
⅓ cup water
12 ounces frozen raspberries
Instructions
Churros;
Add the water, butter and salt to a medium saucepan and heat over medium-high heat, stirring occasionally until the butter is melted. Remove from heat. Add the flour all at once and stir to form a dough. Add the eggs one at a time, stirring well after each addition, until the dough is smooth. Scoop the mixture into a piping bag fitted with a large open star tip.

Heat the oil in a pot over medium-heat until it reaches 365°F. While you're waiting for the oil to heat, prepare an area to drain the churros. I usually use a cooling rack lined with paper towels.

Mix together the sugar and cinnamon in a shallow dish and set aside.

Carefully pipe 6-inch lengths of dough into the oil, being careful not to crowd the pot. Let cook 2-3 minutes on each side, or until golden brown. Remove and let drain for 1-2 minutes, then roll in the cinnamon sugar mixture.
Raspberry Sauce:
Whisk together the corn starch, sugar and water in a medium saucepan. Add the raspberries and stir to combine. Heat over medium heat, stirring frequently, until the mixture reaches a boil. Let boil one minute, then remove from heat. Strain through a fine mesh strainer (if desired) to remove the seeds.
---
Notes
If you don't have a pastry bag or tip, you could use a plastic baggie with the corner snipped off. When adding the churro dough to the oil, I use scissors or a knife to get the dough to detach from the pastry bag.
Nutrition
Serving: 1churro | Calories: 183kcal | Carbohydrates: 23g | Protein: 2g | Fat: 9g | Saturated Fat: 5g | Cholesterol: 61mg | Sodium: 133mg | Potassium: 69mg | Fiber: 2g | Sugar: 12g | Vitamin A: 305IU | Vitamin C: 7.4mg | Calcium: 20mg | Iron: 0.9mg
Nutrition provided is an estimate. It will vary based on specific ingredients used.
Did you make this recipe? Don't forget to give it a star rating below!
Originally written by Alicia from The Baker Upstairs for I Heart Naptime.