50 of the BEST Mexican food recipes that are easy, flavorful and quick to make. Whether you're looking for side dishes, soups, healthy Mexican food or even desserts, you'll find it all here!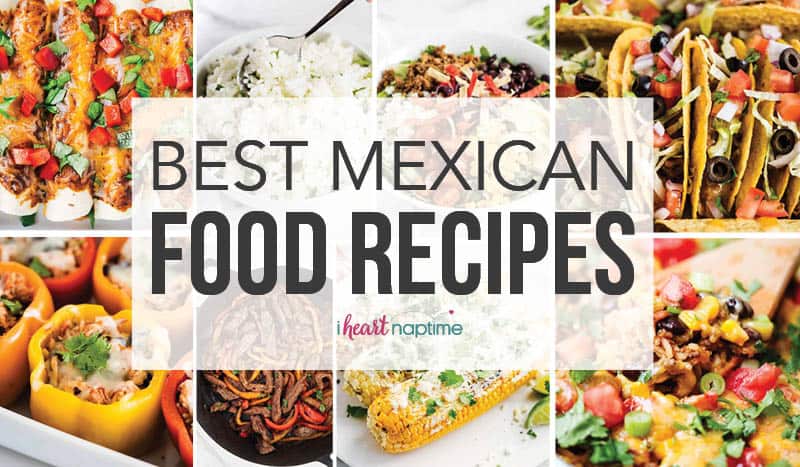 Delicious and Easy Mexican Recipes
Mexican food is BY FAR my favorite type of cuisine. All of the flavors, textures and fresh ingredients make each dish the absolute perfect combination of deliciousness. And don't even get me started on chips and salsa…I could indulge in that tasty Mexican appetizer ALL day long.
This list of Mexican food includes all of your favorite authentic recipes like enchiladas, tacos, taquitos and fajitas. It also includes a few non-traditional recipes that put a fun spin on how you typically enjoy the classics.
So the next time you're craving Mexican, try any of these delicious and easy recipes below. Whether you're celebrating Cinco de Mayo or need a new dinner idea for Taco Tuesday, you'll find it all here. Trust me, this is some of the best Mexican food you've ever tasted!
Mexican Side Dishes
You may not immediately think about side dishes when you think of Mexican food, but they are just as delicious as the main course! Whether it's rice, veggies or bread, any of these sides would taste amazing alongside your favorite Mexican entrees.
Healthy Mexican Food
Healthy food doesn't have to be boring, and these healthy Mexican recipes are a true testament to that statement. They are lighter alternatives that are definitely not lacking in flavor. You won't even believe something this delicious can be good for you!
Mexican Soup Recipes
Who doesn't love to cozy up with a warm bowl of Mexican soup? Each of these recipes are hearty, flavorful and packed with your favorite Mexican ingredients. You'll have a hard time choosing just one!
Mexican Dinner Recipes
These are the traditional Mexican recipes that you would order at your favorite Mexican restaurant. But instead of ordering out, make them at home instead! They have the same authentic flavors you know and love and are super easy whip up.
Mexican Dessert Recipes
You can't forget about dessert! Mexican flavors pair wonderfully with all types of treats, whether it's cake, cupcakes, cookies and more. Each of these desserts below are divine!