Light and airy with a crisp glossy exterior and a soft and chewy interior, these meringue cookies melt in your mouth and are delightfully sweet!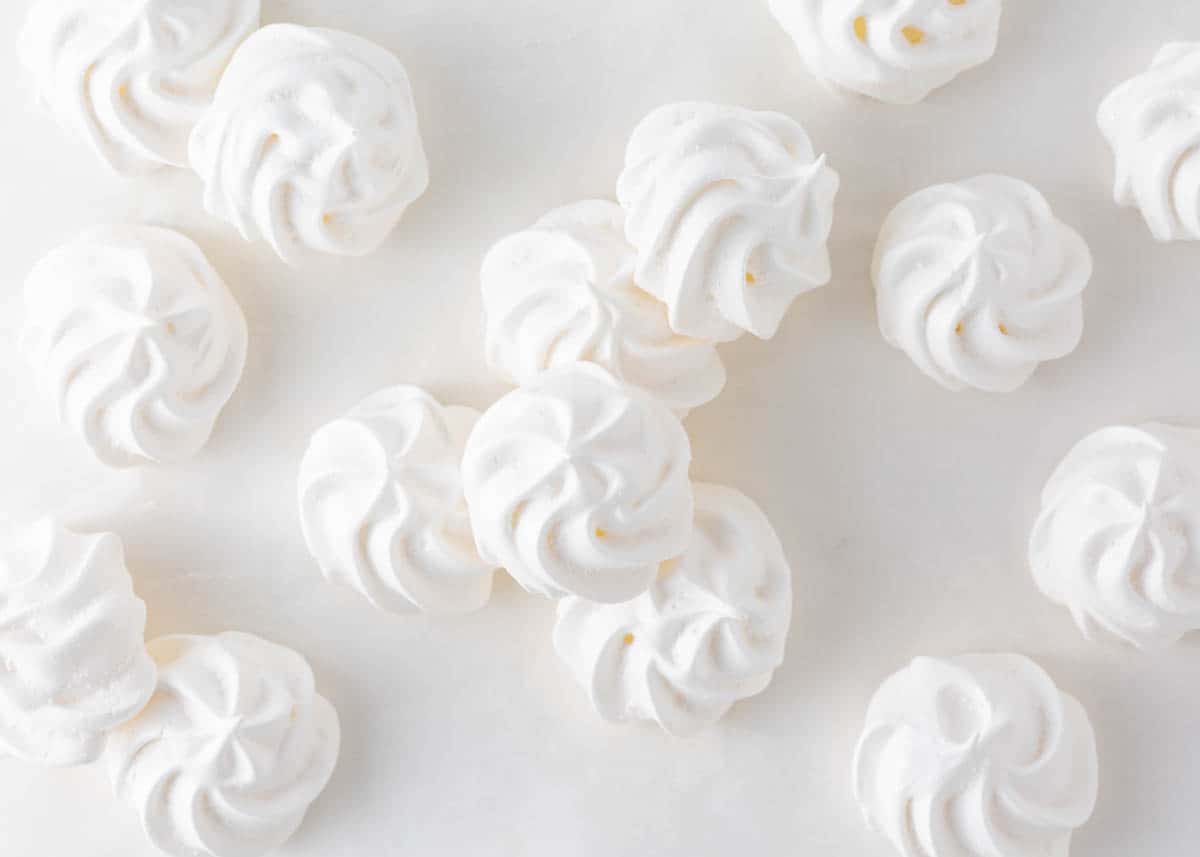 Light, Airy, and Easy!
Meringue cookies are recognizable by their pillow-like appearance and are the baked cookie version of what you'd find on top of a lemon meringue pie!
As elegant and impressive as they look, they're so easy to make. If you've ever made divinity candy you know all about beating egg whites to stiff peaks! There is a technique to it, but I will walk you through it.
Next time you put together a tray of Christmas cookies, along with my cinnamon roll cookies, shortbread cookies, and soft sugar cookies, you will now be able to include these beautiful homemade vanilla meringue cookies too!
Why This Recipe Works
Different than the rest. These cookies look like meringue kisses, are naturally gluten-free, and add a different texture to any dessert tray. They're unlike any other cookie!
A few simple ingredients. Meringue cookies are made with just 5 simple ingredients. Cream of tartar may be the only thing you have to go out and get.
Versatile. We're making traditional vanilla meringue cookies, but you can add all kinds of different flavors and toppings to them.
Easy to make. It's all about creating the optimal environment for whipping the egg whites and baking these cookies. The actual process is super easy!
Recipe Ingredients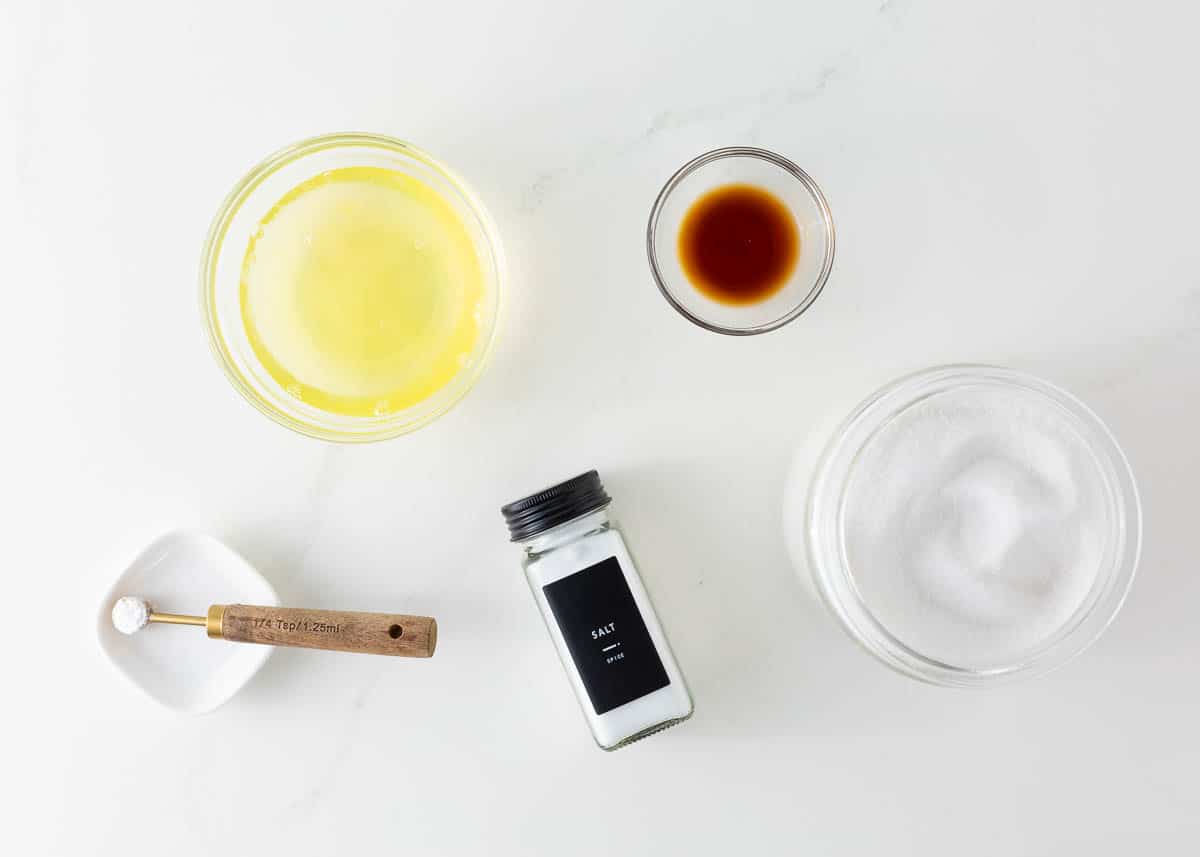 Find the full printable recipe with specific measurements below.
Large egg whites, room temperature: It's important to make sure there is no yolk present in the egg whites. Do your best to separate them in a small container first, that way you can tell if any yolk has contaminated the white before adding it to the bowl. Then, keep the egg yolks for tomorrow's breakfast.
Cream of tartar: This is what helps to keep the structure of the meringue cookies. The stiff egg whites create the structure but the cream of tartar helps to hold it.
Pinch of salt: Enhances the flavor and balances the sweetness.
Granulated sugar: Provides sweetness in the meringues.
Pure vanilla extract: Since there are so few ingredients, try and use good quality vanilla. Artificial vanilla can sometimes taste like alcohol.
Variations and Flavorings
Don't stop at vanilla meringue cookies! Have fun with different flavors and toppings, depending on the occasion.

Almond extract, orange extract, or mint extract would be great alternative flavors. You can even add a bit of gel food coloring to change their overall appearance. The more drops you use in the meringue batter, the more vibrant they'll be!

Use cocoa powder to make them chocolate meringue cookies or drizzle some melted chocolate on top. You could always add sprinkles or mini chocolate chips!
How to Make Meringue Cookies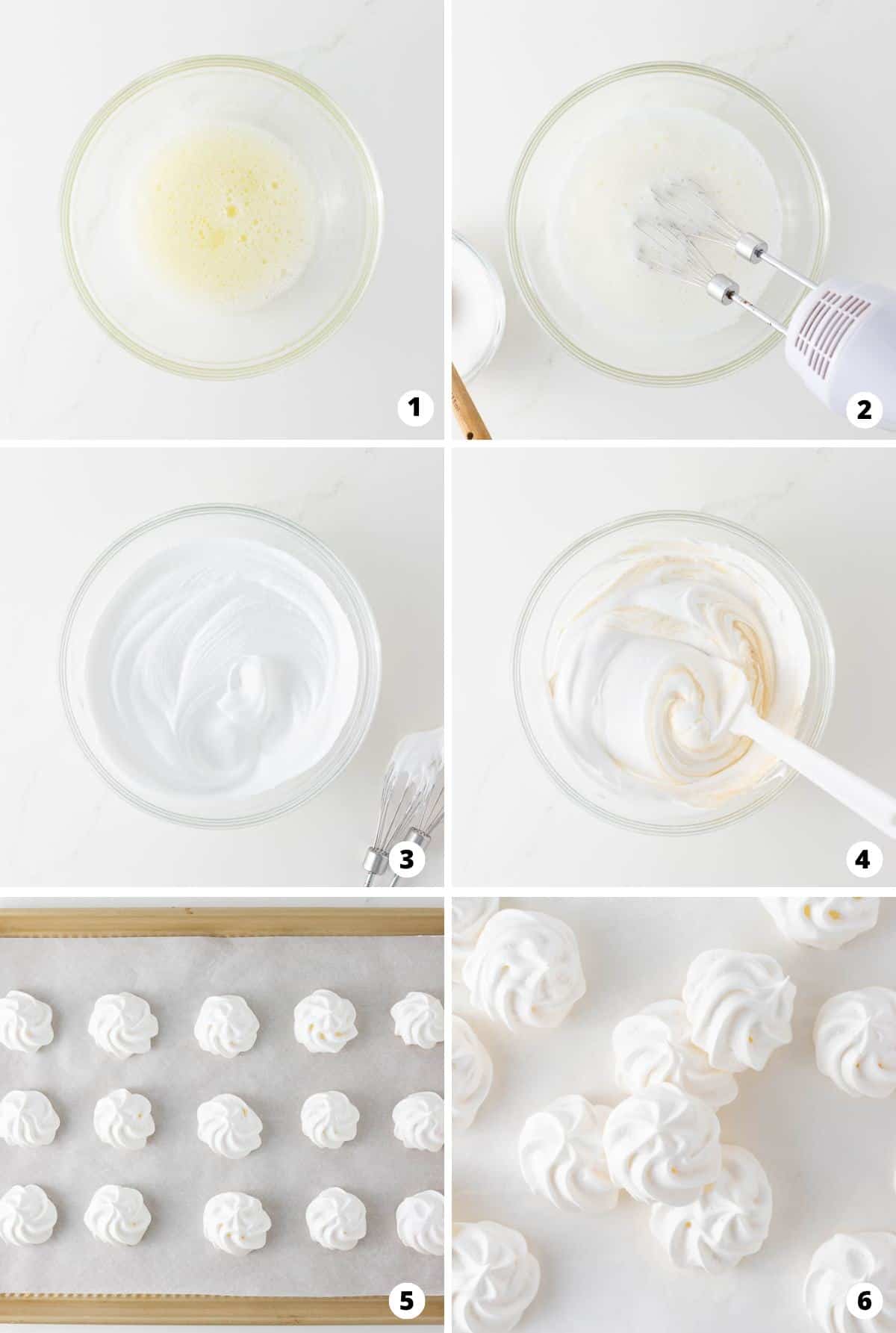 Beat the egg whites until foamy. Add room temperature egg whites, cream of tartar, and salt to a mixing bowl, or the bowl of a stand mixer, and use the whisk attachment to beat on low speed until the mixture starts to foam.
Increase speed and add sugar. With the mixer running at a higher speed, gradually add the sugar 1 Tablespoon at a time until it is incorporated.
Make stiff peaks. Continue beating the meringue batter until stiff, glossy peaks form. This means the meringue should hold its shape when the beaters or whisk attachment is lifted out of the bowl.
Fold in vanilla. Use a spatula to gently fold in the vanilla extract and any coloring you are using. Be careful not to overmix, you don't want to lose any of the trapped air.
Pipe the meringue batter. Add the mixture to a large piping bag fitted with a #32-star tip. Pipe about 1 1/2-2-inch dollop of meringue onto a parchment-lined baking sheet. Leave room between each one.
Bake, cool, enjoy. Transfer the prepared cookie sheet to a preheated 225°F oven to bake on low for 1 hour until the meringue cookies look dry on the outside. Turn off the oven, but do not remove the cookies. Let them sit there for another 30 minutes. Then, open the door slightly to allow the cookies to cool completely.
Coloring Meringue
Gel food coloring is highly concentrated which means a little goes a long way. If you're wanting a lighter, softer color, start with a couple of drops and swirl it in with a toothpick then mix it in with a whisk to distribute the color. Decide from there whether you want to add any more color.
Expert Tips for Perfect Meringue Cookies
Optimal environment. As easy as they are to make, they can be finicky if it's too humid or rainy outside. The excess moisture won't allow the cookies to hold their shape as well. So, wait for a clear day to make them.
Clean bowl and mixers. It is super important that you start off with not only room temperature eggs but also a VERY clean bowl and beaters. There should be no residual grease on either one or it will alter the consistency of the whipped egg whites. Or prevent them from whipping at all.
Test for consistency. Take some of the meringue mixture and rub it between your fingers. If it is still gritty, it needs another minute of beating for the sugar to completely dissolve. This is why we only add a bit at a time.
Do not overbake. Vanilla meringue cookies are known for their beautiful bright white color. If you notice they are turning golden brown, turn off the heat!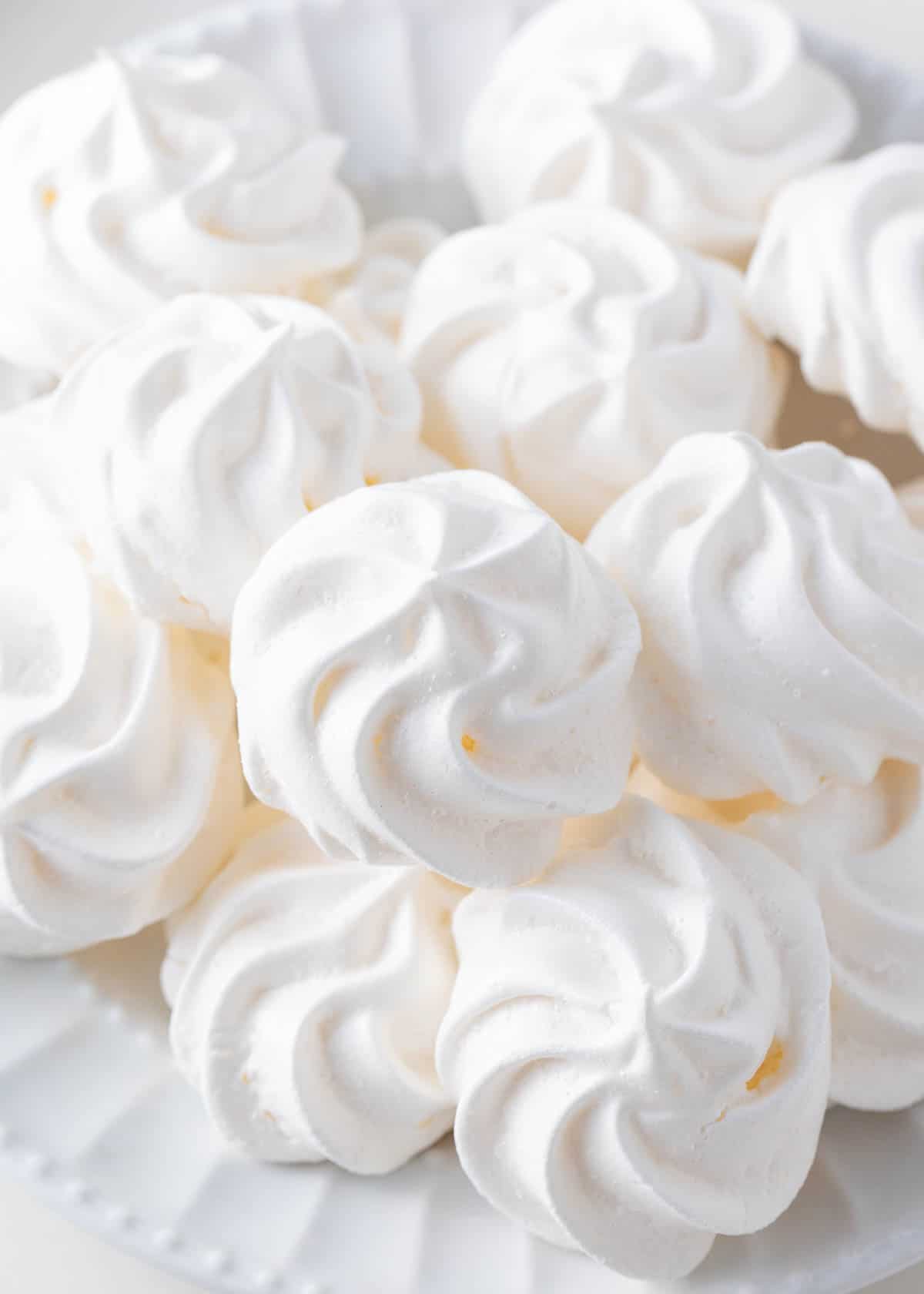 Recipe FAQs
Is there a cream of tartar substitute I can use?
White vinegar or lemon juice can be used as an alternative. All 3 options contain the acid needed to keep the structure.
Is it possible to overbeat egg whites?
Actually, yes! Therefore, stop once you reach stiff glossy peaks. You'll leave just enough mixing room to fold in the vanilla and any coloring, but that's it!
How do I know if my meringue cookies are done?
Gently try and lift one off of the baking sheet. It should come off easily and be completely dry.
Why can't I take the meringue cookies out of the oven right away?
The extreme change in temperature can cause your meringue to crack. We allow the cookies to adjust to the lower temperature in stages, so they continue to dry out without cracking.
How to store meringue cookies?
Keep them airtight at room temperature for up to 5 days.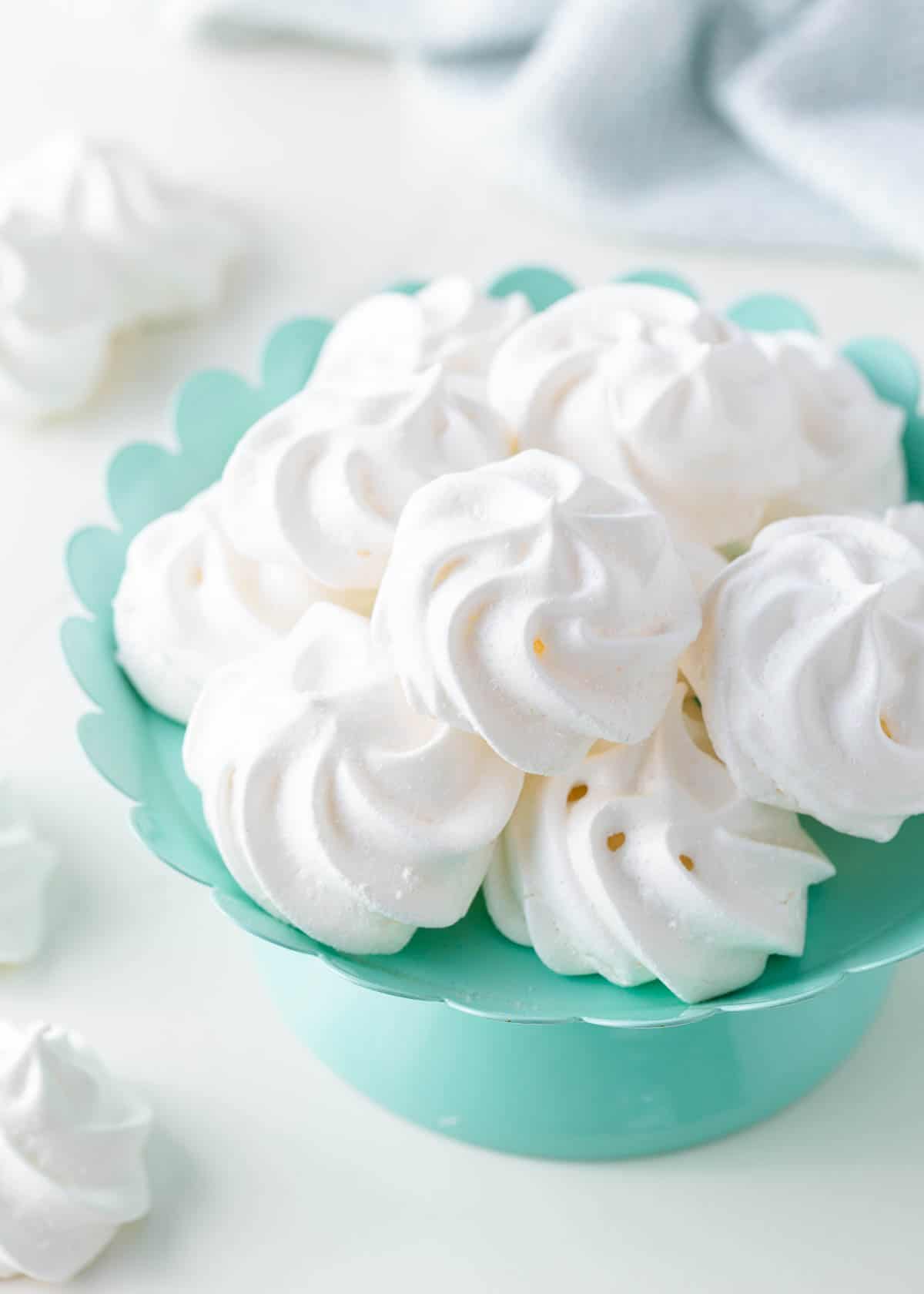 HUNGRY FOR MORE? Subscribe to my newsletter and follow on Facebook, Pinterest and Instagram for all the newest recipes!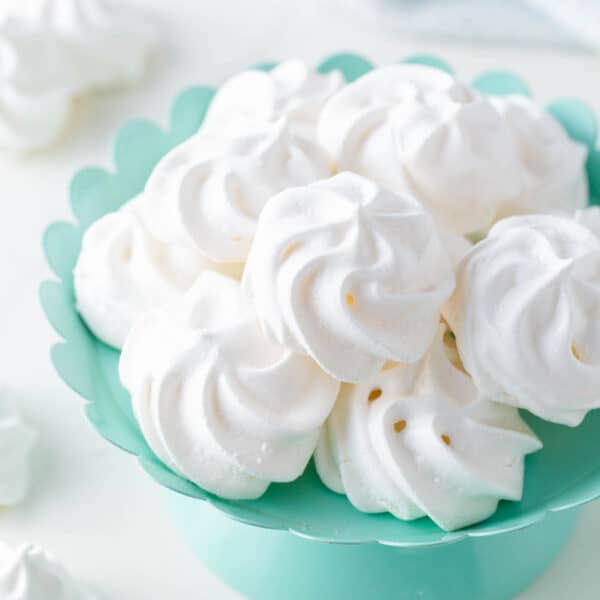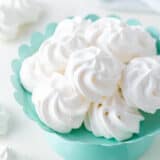 Meringue Cookies Recipe
Light and airy with a crisp glossy exterior and a soft and chewy interior, these meringue cookies melt in your mouth and are delightfully sweet!
Ingredients
4 large egg whites , at room temperature
½ teaspoon cream of tartar
Pinch salt
1 cup granulated sugar
1 ½ teaspoons pure vanilla extract (you can also try other flavor extracts)
Instructions
Preheat the oven to 225°F. Line a baking sheet with parchment paper.

Make sure your mixing bowl and beaters are completely clean and free from any grease or residue, as this can prevent the egg whites from properly whipping. If the egg whites are not at room temperature, let them sit 15 to 20 minutes before whipping.

In a large mixing bowl, add the egg whites, cream of tarter, and a pinch of salt. Using an electric mixer If that egg whites were not at room temperature, let them sit 15 to 20 minutes., beat on low speed until they become foamy. Increase the speed to high.

With the mixer running, gradually add the sugar, about 1 tablespoon at a time, to the egg whites. Continue beating until all the sugar is incorporated and the mixture forms stiff, glossy peaks. The meringue should be thick and hold its shape when the beaters are lifted.

Gently fold in the vanilla and food coloring, if using. Be careful not to deflate the meringue while folding.

In a large piping bag fitted with a large round or a #32 star tip, add the meringue mixture (you can also spoon the mixture directly onto the baking sheet if you prefer). Pipe or spoon 1 1/2 to 2 inch dollops of meringue onto the prepared baking sheet, leaving some space between each cookie.

Place the baking sheet in the preheated oven and bake 1 hour, or until the meringue cookies look dried on the outside. Turn the oven off (do not open) and leave the cookies in the oven 30 minutes more. To test if they're done, gently lift 1 cookie off the baking sheet – it should come off easily and be dry to the touch.

Open the oven door slightly and let the cookies cool completely to help prevent cracking. Once completely cooled, gently remove the meringues from the parchment paper and enjoy.
---
Notes
Note: If it's a rainy or humid day, these cookies won't hold their shape as well. It's best to wait for a clear day to make them. Tip: Test to make sure the meringue is ready by rubbing a small bit of the mixture between your fingers. If it's smooth it's ready. If it still feels gritty, the sugar isn't fully dissolved and you need to mix a minute longer. Serving: One of my favorite ways to serve them is to make the cookies a little bigger and then once they're cooled serve with whipped cream and diced strawberries (with a little sugar mixed in) on top. Storage: Store the cooled meringue cookies in an airtight container at room temperature up to 5 days.
Nutrition
Calories: 29kcal | Carbohydrates: 7g | Protein: 0.5g | Fat: 0.03g | Sodium: 7mg | Potassium: 12mg | Sugar: 7g | Calcium: 0.4mg | Iron: 0.01mg
Nutrition provided is an estimate. It will vary based on specific ingredients used.
Did you make this recipe? Don't forget to give it a star rating below!