This homemade soft caramel recipe is one you'll reach for again and again. Perfect for making a batch of sweets to gift a teacher, friend or just to eat!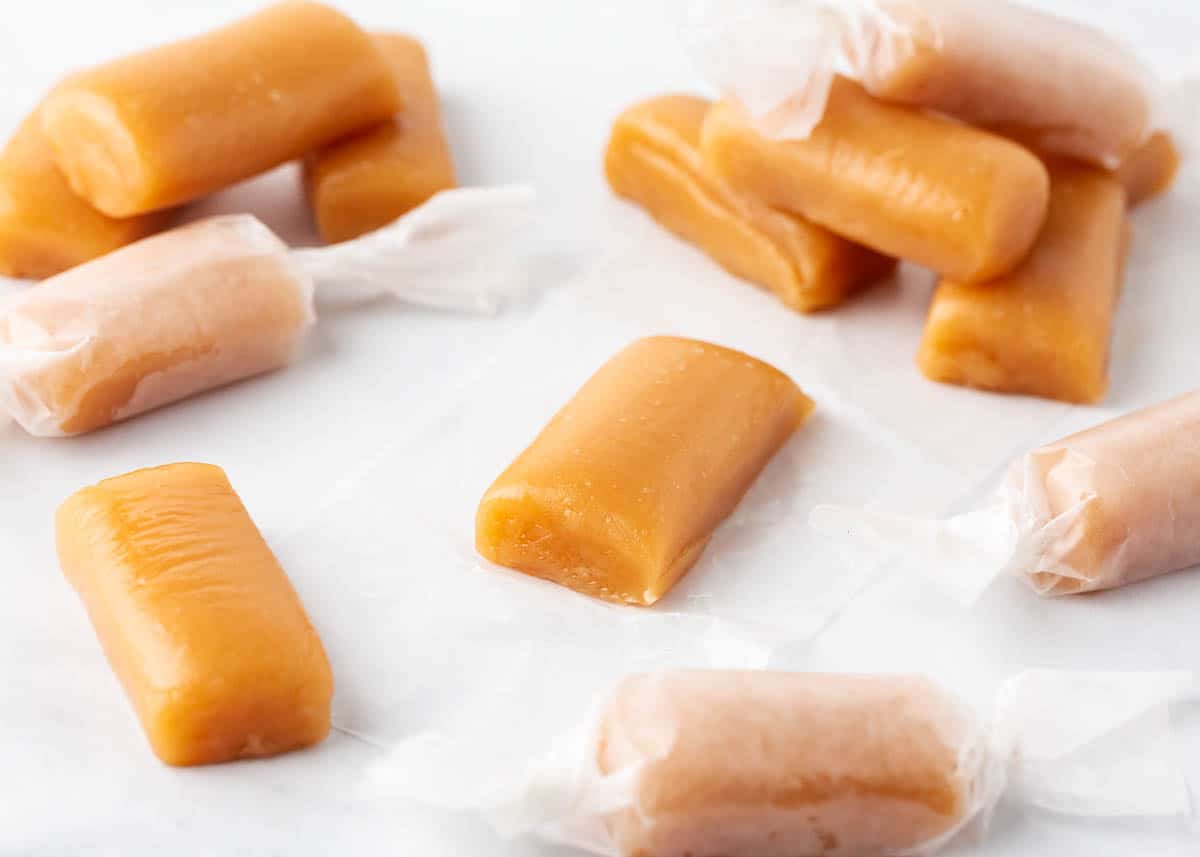 Best Soft Caramel Candy
I'll admit it, I love a good dessert. I particularly have a soft spot for anything caramel-flavored, like these Rolo cookies, my chocolate fudge caramel brownies or my homemade Twix bars.
I can still remember the first time I had candy made from a homemade caramel recipe. It was wrapped in this wax paper that crinkled when I opened it. The flavor was unlike anything I ever had before and so chewy!
It was about a thousand times better than those hard candies that are supposed to be caramel from the store. I was hooked! To this day, I still hardly ever buy caramel candy from the store. It can't hold a candle to the real deal!
This is my go-to recipe and makes the absolute best soft caramel. Seriously every bite is perfection. Sometimes I take the easier route and make microwave caramels, but hey, it's still homemade right?!
Ingredients
Making homemade caramel candy does take a bit of time, but the ingredient list is relatively short and simple.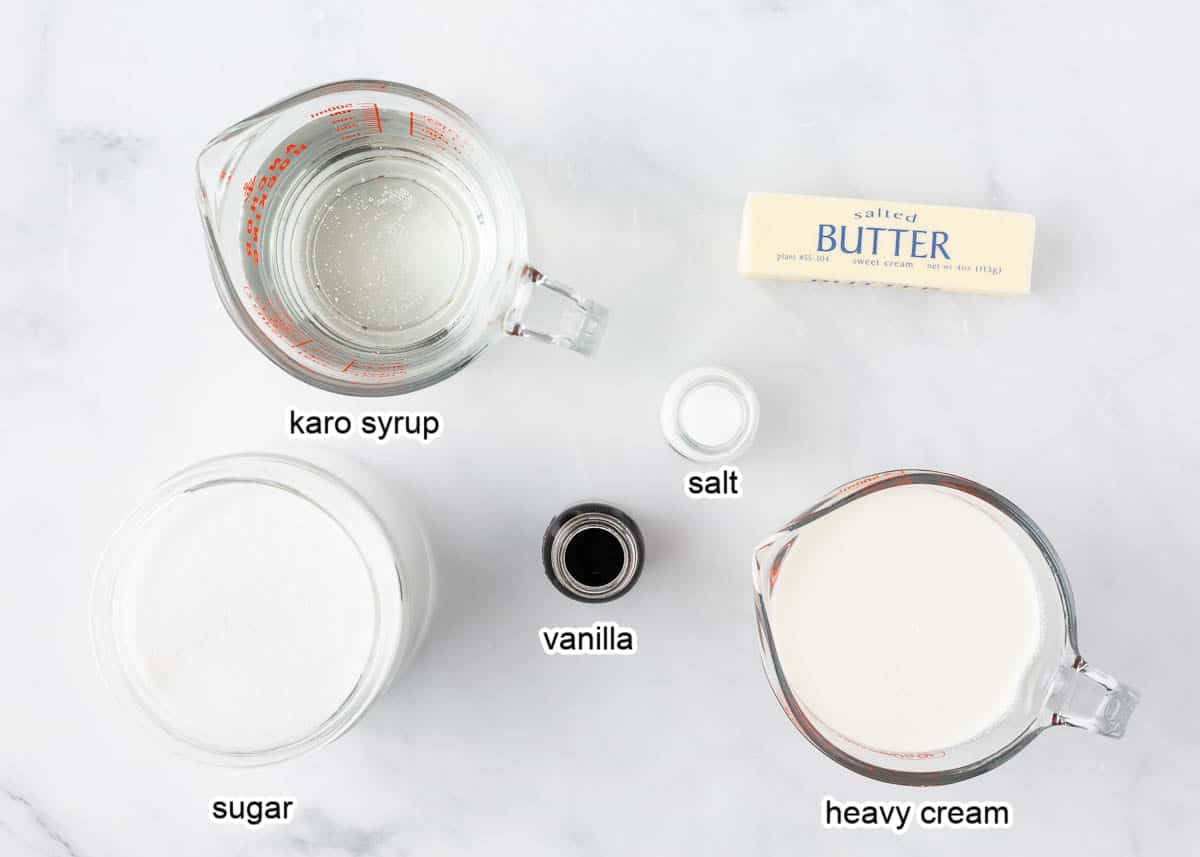 Find the full printable recipe with specific measurements below.
Sugar. Make sure to use white sugar for this recipe. If you use brown sugar, you'll end up with butterscotch, not caramel!
Corn syrup. Although some people say you can use either dark or light corn syrup, I prefer to use the light syrup. It has a more mellow flavor, whereas the dark one tastes more like molasses.
Salt. Any type of salt should work fine. However, I am a little partial to sea salt, especially with caramel!
Butter. This helps give the caramel that warm, rich flavor. Make sure to use salted butter. I like to add it when it's room temperature.
Heavy whipping cream. Again, this is the only type of cream that will really work. You can find this in the refrigerated dairy section, next to the half and half.
Vanilla extract. If you have been hoarding away your really good vanilla extract, use it for these homemade soft caramels! You don't need a lot (1 tsp), but it'll go a long way.
How to Make Homemade Caramel Candy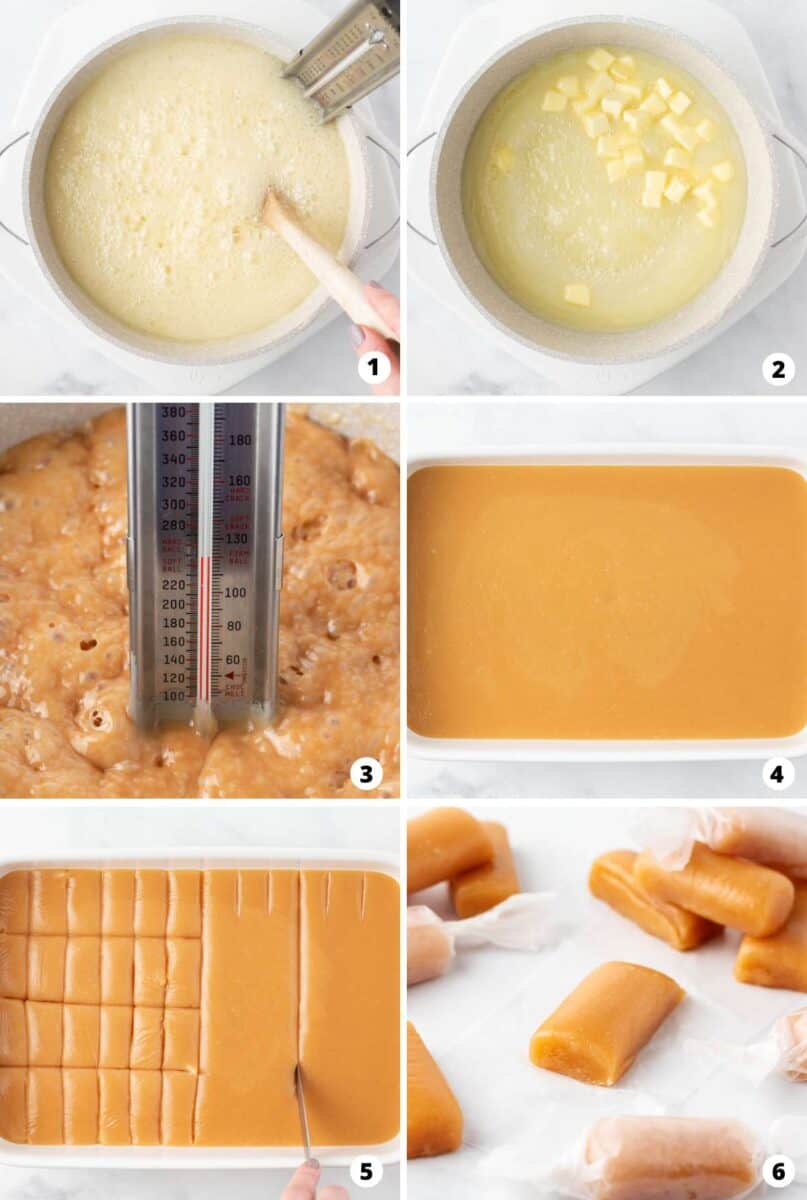 Simmer. Start by adding sugar, syrup and salt in a large saucepan over medium heat. Stir until mixture is boiling and sugar has dissolved. Slowly mix in the cream and keep stirring (don't let it stop boiling).
Add. Then mix in the butter and stir it into the mixture. Keep mixture at a boil for about 15-20 minutes, stirring constantly.
Check temperature. Keep a close eye on the temperature to see when it reaches the soft ball stage. Once it reaches 245°F immediately remove from heat and pour into a buttered 9×13″ baking dish.
Cool. Allow the caramel to sit on the counter until it hardens (preferably overnight).
Cut. Once the caramel has set, use a buttered or plastic or sharp knife and begin cutting. For a rectangular shape, cut into 12 vertical rows and then cut 4 caramels from each row.
Wrap. Using wax paper or cellophane, cut into 3×6-inch squares and wrap each piece inside.
Why did my caramels turn out hard?
If you overcook the caramels or the pan gets too hot, they can become hard. Keep a close eye on the caramel to make sure it doesn't burn or overcook.
How do you keep caramels soft?
Make sure to wrap the caramels in wax paper and store them in a covered container.
How do you fix hard caramels?
If your caramels become too hard, you can try placing them back in the saucepan and add a few Tablespoons of water and stir until the temperature reads 244°F.
Why are my homemade caramels too soft?
If they are too soft, then the mixture didn't get hot enough. Place the mixture back in the saucepan with a 2 Tablespoons of water and cook until it reach 244°F.
How long do caramels last?
Wrapped caramels will stay soft in a covered containers at room temperature for about 2 weeks.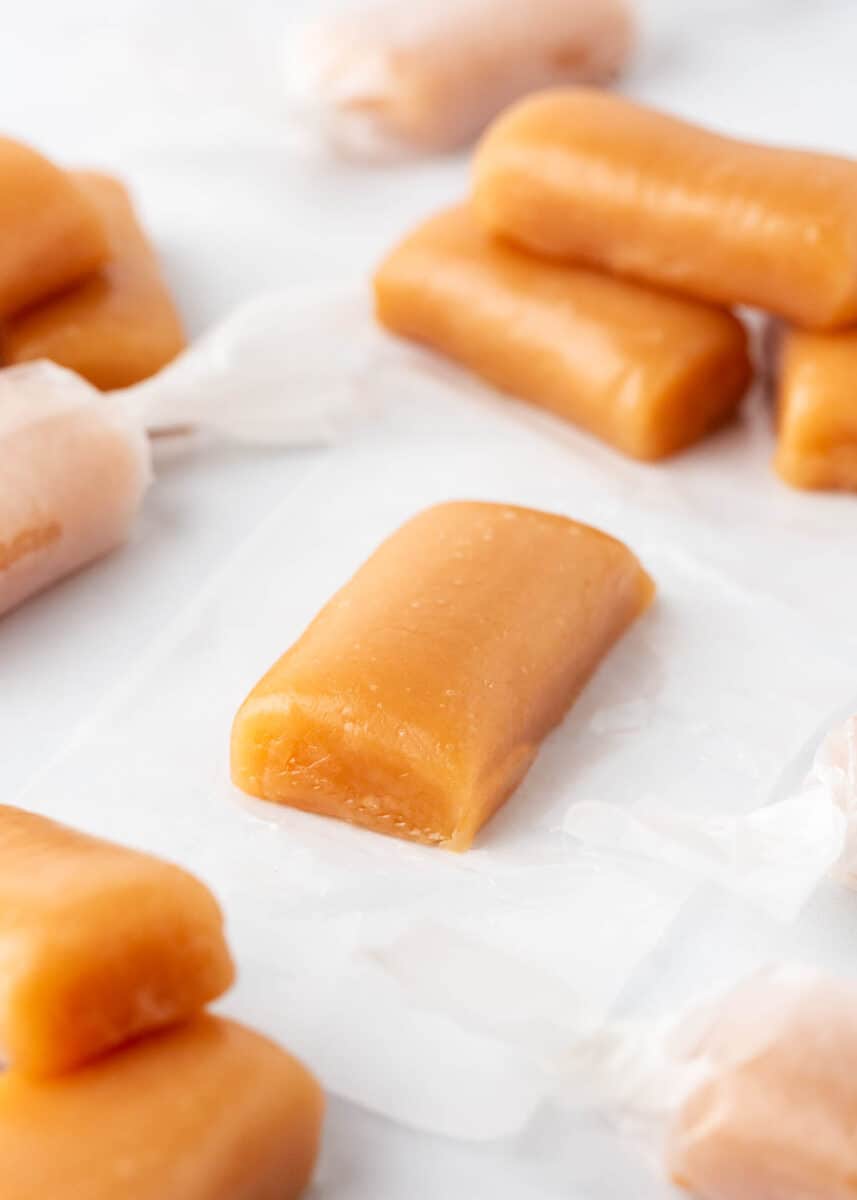 Expert Tips
If you haven't made it before, making homemade caramel candy may seem a bit daunting. You can do it, though! Here are some helpful tips for you to follow to get the best caramel recipe and texture possible:
Be generous when buttering your pan. The last thing you want is to finish the recipe and have half of your caramels stuck to the baking dish!
Stir continually. You will definitely get your arm workout in while you make this recipe! It's important to stir constantly so your caramel doesn't burn or get stuck to the pan.
Have a candy thermometer on hand. You want the mix to get to 245°F before it's removed from heat. Don't let it get any hotter than this or it will burn!
Test to see if the caramel is done. Even with a candy thermometer on hand, you'll want to make sure the soft caramel mixture is ready. To do so, scoop out a teaspoon of the mixture from the pan, then drop it into a glass of ice water. If it forms a soft ball, it's done. If not, keep it on the heat for another minute or so, then try again.
5 star review
"I've made these caramels several times. They are easy to make and delicious . You can package them in different ways to make this homemade treat even more special. Find precut papers or make your own from parchment, then place in a nice box or bag, add a ribbon."

– Judy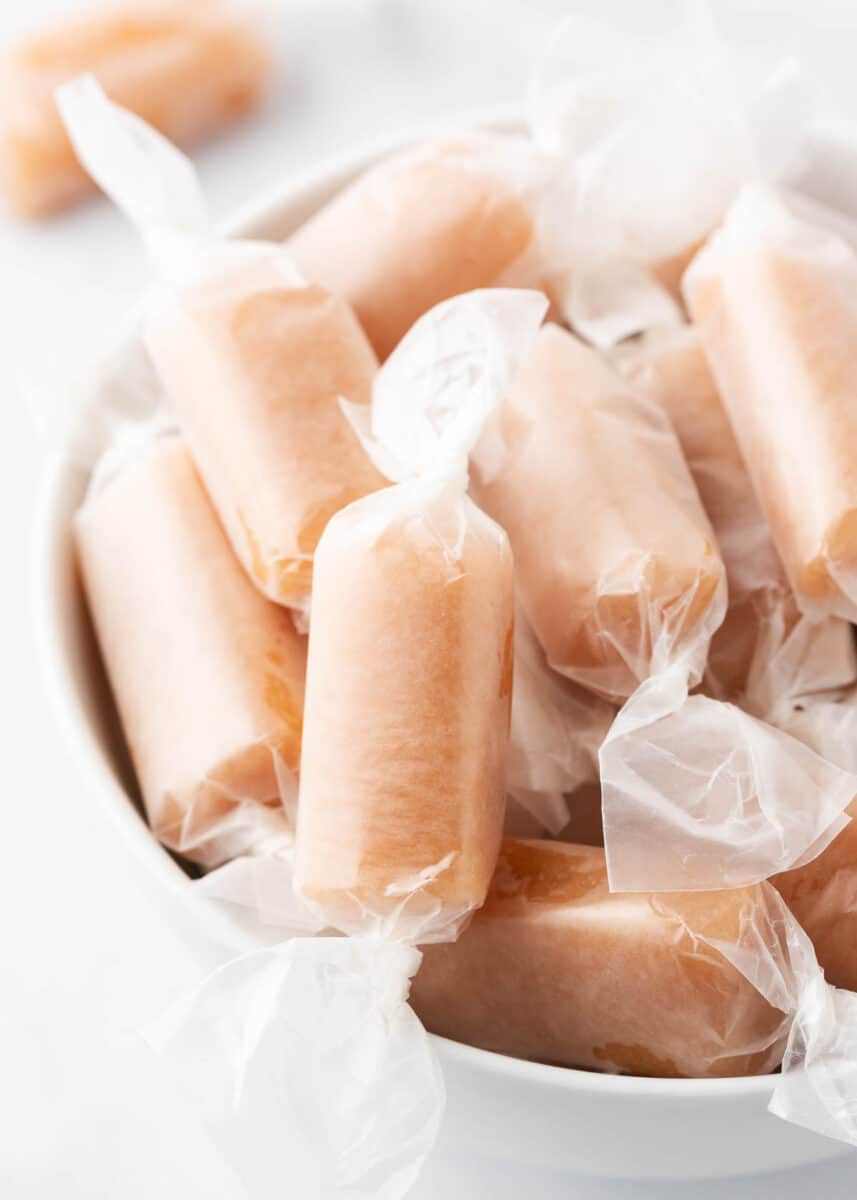 HUNGRY FOR MORE? Subscribe to my newsletter and follow on Facebook, Pinterest and Instagram for all the newest recipes!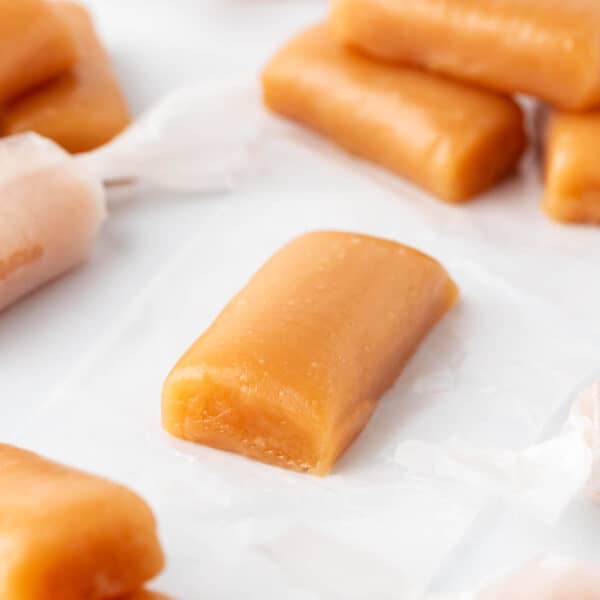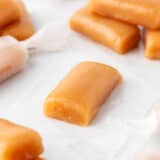 Caramel Candy Recipe
This homemade soft caramel recipe is one you'll reach for again and again. Perfect for making a batch of sweets to gift a teacher, friend or just to eat!
Ingredients
2 cups granulated sugar
2 cups light Karo syrup
¼ teaspoon table or fine salt
2 cups (1 pint) heavy whipping cream , at room temperature
½ cup salted butter , cubed
1 teaspoon vanilla extract
Instructions
Line a 9×13-inch baking dish with parchment paper or generously butter and set aside so it is ready. Fill a small glass with ice water.

In a large, stainless steel pot, whisk together the sugar, Karo syrup, and salt over medium-high heat until bubbling the sugar has dissolved. In a very slow trickle, whisk in the cream, being careful not to stop boiling. Whisk in the butter.

Whisking constantly, keep the mixture at a boil 15 to 20 minutes, or until the temperature on a candy thermometer reads 240°F to 245°F (firm ball stage). To be certain the caramel is ready, drizzle 1 teaspoon into the ice water. Roll it between your fingers and if it forms a firm (yet pliable and little sticky) ball, it's ready. If it's still liquid, keep boiling and whisking.

Immediately remove from heat and whisk in the vanilla. Then pour into the baking dish. Don't let it overcook or the caramels will be too hard. Let sit on the counter to cool and until set. Usually, I will make in the evening and let sit overnight.

Once set, use a buttered or plastic knife to cut into 12 vertical rows, Cut 4 caramels from each row. Cut wax paper into 3×6-inch squares and then wrap the caramel inside. Caramels will stay soft for 2 to 3 weeks.
---
Notes
Note: Here's an easy way to test if the caramel is ready. Place a teaspoon of caramel into a small glass of ice water. If the caramel forms a firm ball, it's ready. If it's still liquid, keep boiling and stirring. I like to use a candy thermometer as well to make sure it has reached 245°F. For best results: Do not double this recipe, use a candy thermometer and follow the tips in the post above. Storage: For best results, store in a covered container for up to 2 weeks.
Nutrition
Calories: 115kcal | Carbohydrates: 18g | Fat: 4g | Saturated Fat: 3g | Cholesterol: 18mg | Sodium: 30mg | Potassium: 22mg | Sugar: 17g | Vitamin A: 195IU | Vitamin C: 0.2mg | Calcium: 21mg
Nutrition provided is an estimate. It will vary based on specific ingredients used.
Did you make this recipe? Don't forget to give it a star rating below!