This homemade vanilla cake is an impressive yet simple one-bowl recipe that makes even a beginner baker feel like a professional! A soft tender cake infused with the heavenly flavor of vanilla that pairs well with any frosting!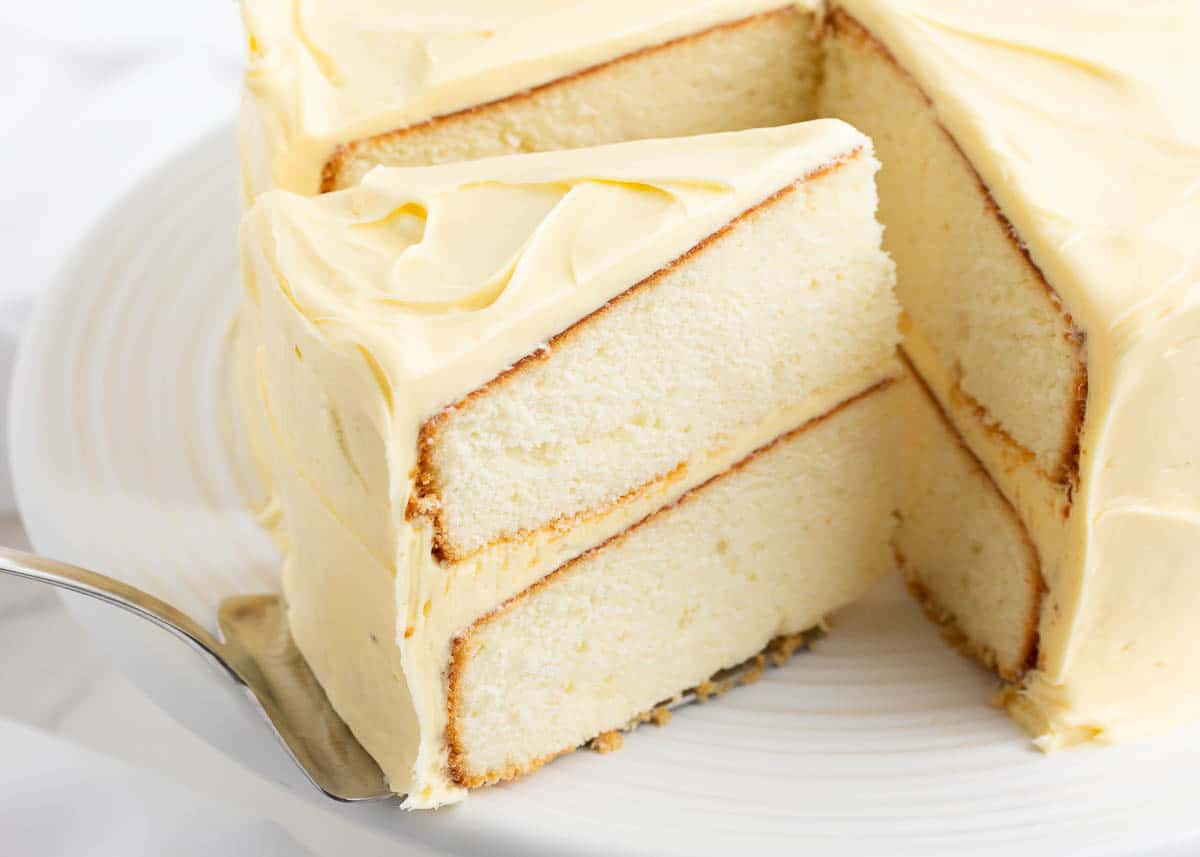 Vanilla Cake From Scratch
I've shared with you the best chocolate cake recipe and as fond of chocolate, as I am, I'm not ashamed to admit I love this vanilla cake! The beautiful vanilla flavor is infused in every morsel and it's only matched by a firm but tender crumb.
My favorite reason to make it, however? Just because I want to eat cake. It was a good day when I realized you don't need a special reason to make a cake, my vanilla cupcakes from scratch or even crème brûlée!
More often than not I'll stick with using a classic buttercream frosting or a chocolate buttercream frosting for certain occasions, but if you're looking for something a little different I'm including a ton of options for you.
Why You'll Love This Easy Vanilla Cake Recipe
Take your vanilla cake to the next level with this delicious, quick, and easy dessert recipe! It is so simple to make but looks elegant and with all the flavor. Pair it with your favorite frosting and you have the perfect combination!
Delicious. When you use a good quality vanilla extract or vanilla bean you notice the difference in flavor and it takes it up a notch.
Easy. Making a layered cake from scratch is so much easier than you might think!
Simple ingredients. There's nothing complicated in this recipe. You probably already have what you need in your kitchen!
Versatile. Vanilla cake can be used for anything but is also great with any type of frosting!
Ingredients Needed
This classic vanilla cake recipe is the ideal base for a variety of frosting flavors which makes it the perfect choice for literally any occasion! It's perfect for frosting because it is a more sturdy cake. Use it for all your birthday cakes, holidays, showers, and graduations.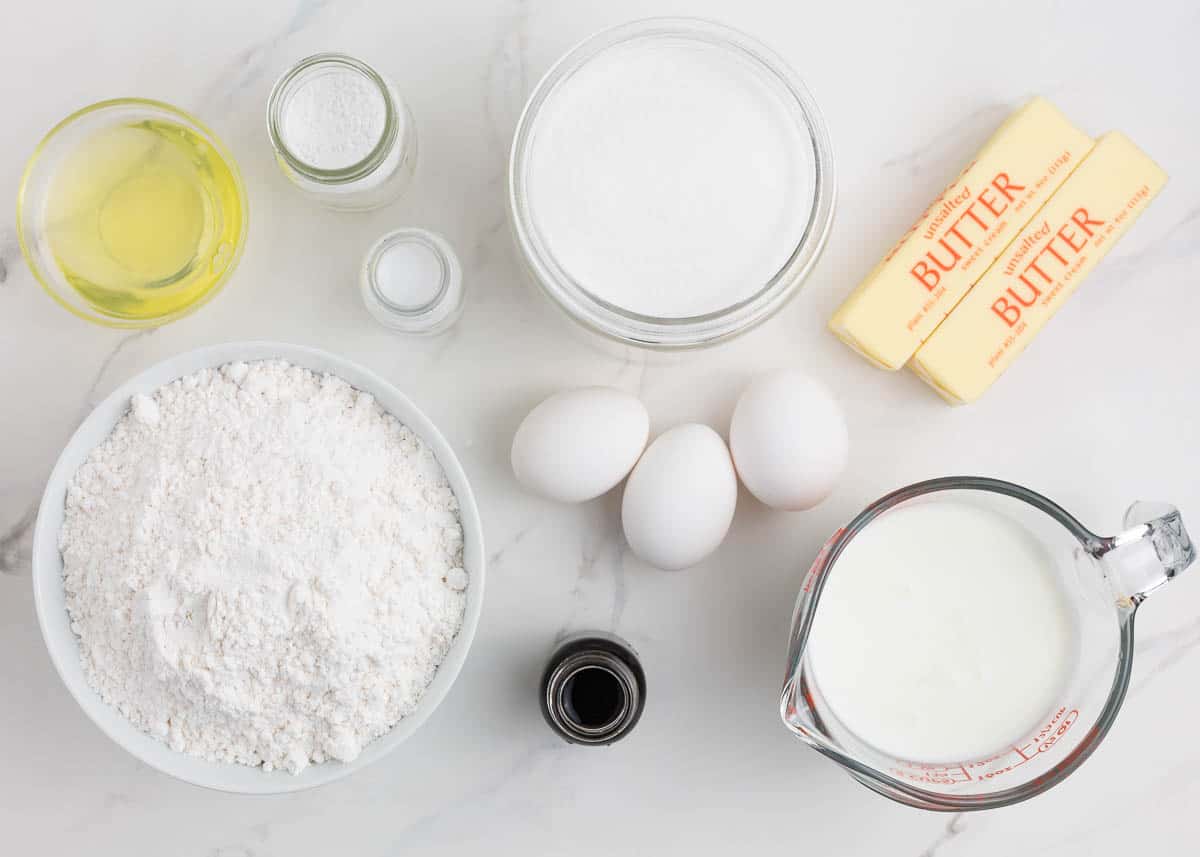 Find the full printable recipe with specific measurements below.
Flour: I use cake flour in this recipe as I find it lends a softer texture, however, you can use all-purpose flour too. You'll end up using less all-purpose and may find the cake is slightly denser, but either choice is great.
Granulated sugar: A dessert needs sweetness!
Baking powder: A leavening agent that will react so nicely with the acid in the buttermilk. It will help to keep it light and fluffy.
Fine sea salt: We're using unsalted butter which allows us to control the amount of salt we use. It helps to bring out flavors.
Unsalted butter, at room temperature: It needs to be soft enough to cream, so if you've forgotten to take it out of the fridge, here are some tips on how to soften butter.
Buttermilk at room temperature: A sour tangy milk that adds richness and moisture to all kinds of baked goods including this cake and my recipe for buttermilk pie. Here's how to make buttermilk using any milk you have on hand.
Pure vanilla extract: Since the vanilla flavor shines through it's important to use a good quality pure vanilla extract, that doesn't have an overpowering alcohol flavor. You can also use vanilla beans. The flecks of vanilla throughout the cake are just a bonus!
Eggs & egg whites: Using both whole eggs for binding and moisture along with egg whites for a light, fluffy, airy consistency to the cake batter results in the perfect balance of softness and structure.
DIY Ready-Made Cake Mix
The best part about this recipe is that you can pre-measure all of the dry ingredients and keep the vanilla cake mix stored in a jar to have on hand whenever you need a quick cake or homemade vanilla cupcakes. Simply bring the wet ingredients to room temperature and mix away!
How to Make Vanilla Cake
The "paste" or "reverse creaming" method makes a well-structured cake without having to cream the butter and sugar first. It's a simple technique that I will walk you through.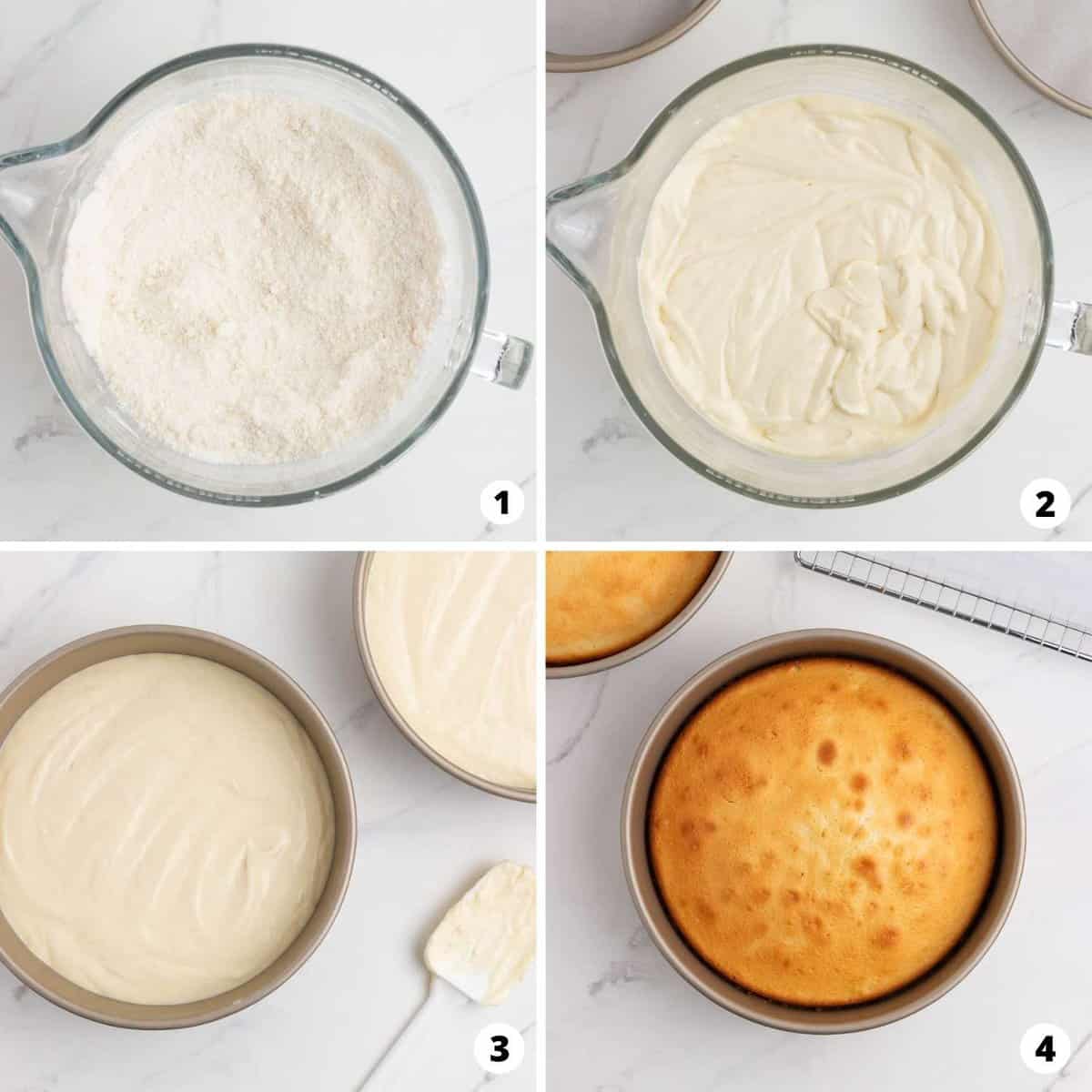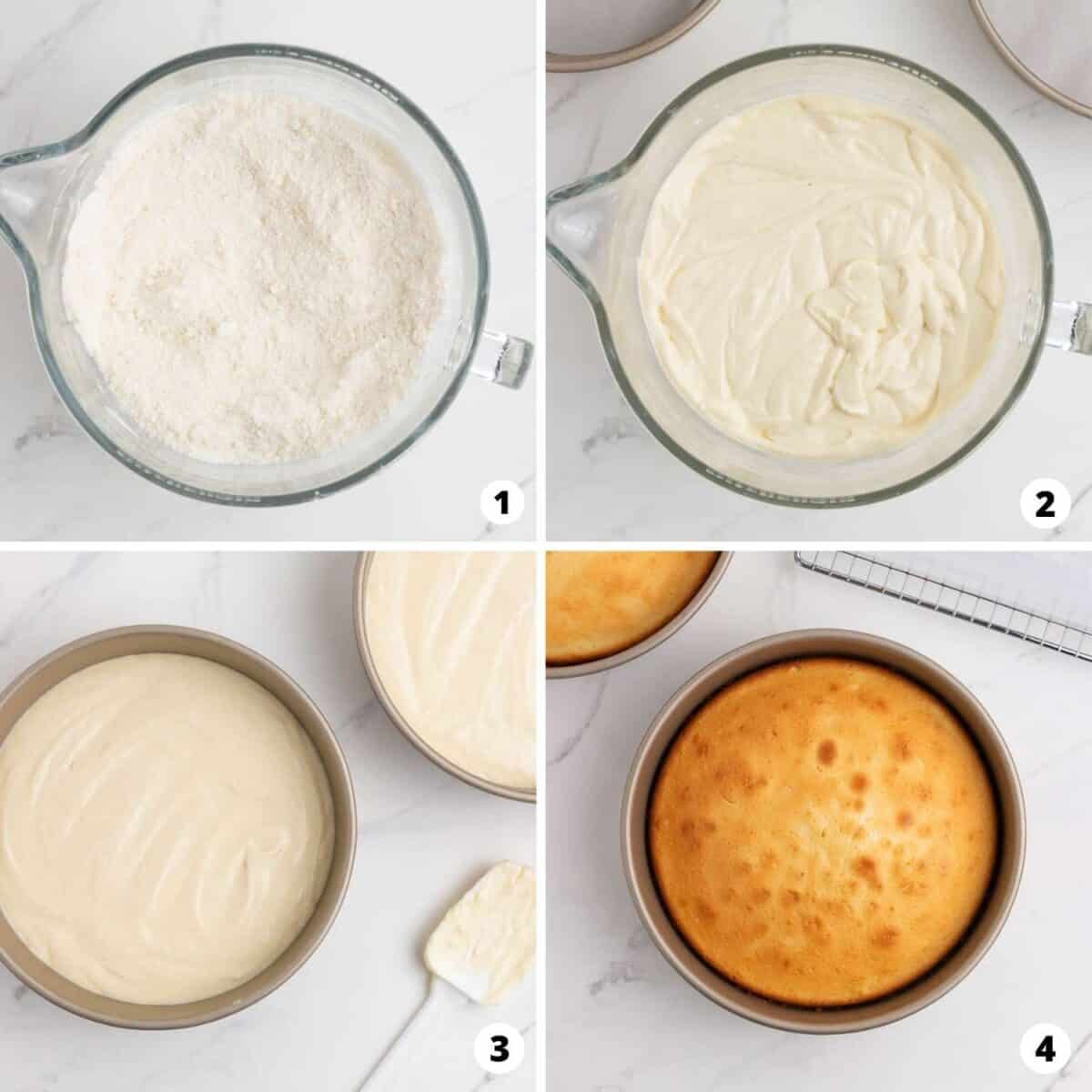 Combine dry ingredients. In the bowl of a stand mixer with the paddle attachment mix the flour, sugar, baking powder, and salt. If using a hand mixer, whisk that together on low speed.
Add wet ingredients. We are using a reverse creaming method for this cake (more information on this here). Turn the mixer up to medium and beat in the butter for 1 minute until it's combined and coarse. Mix in the buttermilk and vanilla on low speed until combined. Then you'll add in 1 egg at a time followed by the egg whites until the batter is smooth.
Pour batter evenly. Pour into both prepared cake pans and smooth out the tops to ensure a level cake.
Bake for 25-30 minutes. Bake the batter until golden brown around the edges. Insert a toothpick into the middle of them. If it comes out clean, they're done. Let them sit and cool for 5 minutes in the pans before transferring them to a wire rack to finish cooling.
How to Separate Egg Whites
Since this recipe uses whole eggs plus egg whites for an extra fluffy texture, it's important to separate the yolks from the whites ensuring as little yolk as possible is left in the whites. Here's how to do this using 1 egg at a time and two small bowls:
Crack the eggs. Gently tap the egg on the side of one of the bowls until there's a crack.
Holding the shells properly. Carefully pull it apart into two halves making sure that one of the halves of the shell still contains the yolk. You'll want to hold that eggshell upright so that the yolk sits inside it.
Separate the yolk and egg whites. Some of the egg white will naturally fall into the bowl underneath. From there, using the two eggshell halves, pass the yolk back and forth between the two shells allowing the rest of the egg white to fall into the bowl. Again, be careful not to allow any yolk to fall in with it.
Store the yolk. Once you feel like it's mostly separated, place that remaining egg yolk into a separate bowl or container and use it to make scrambled eggs tomorrow morning!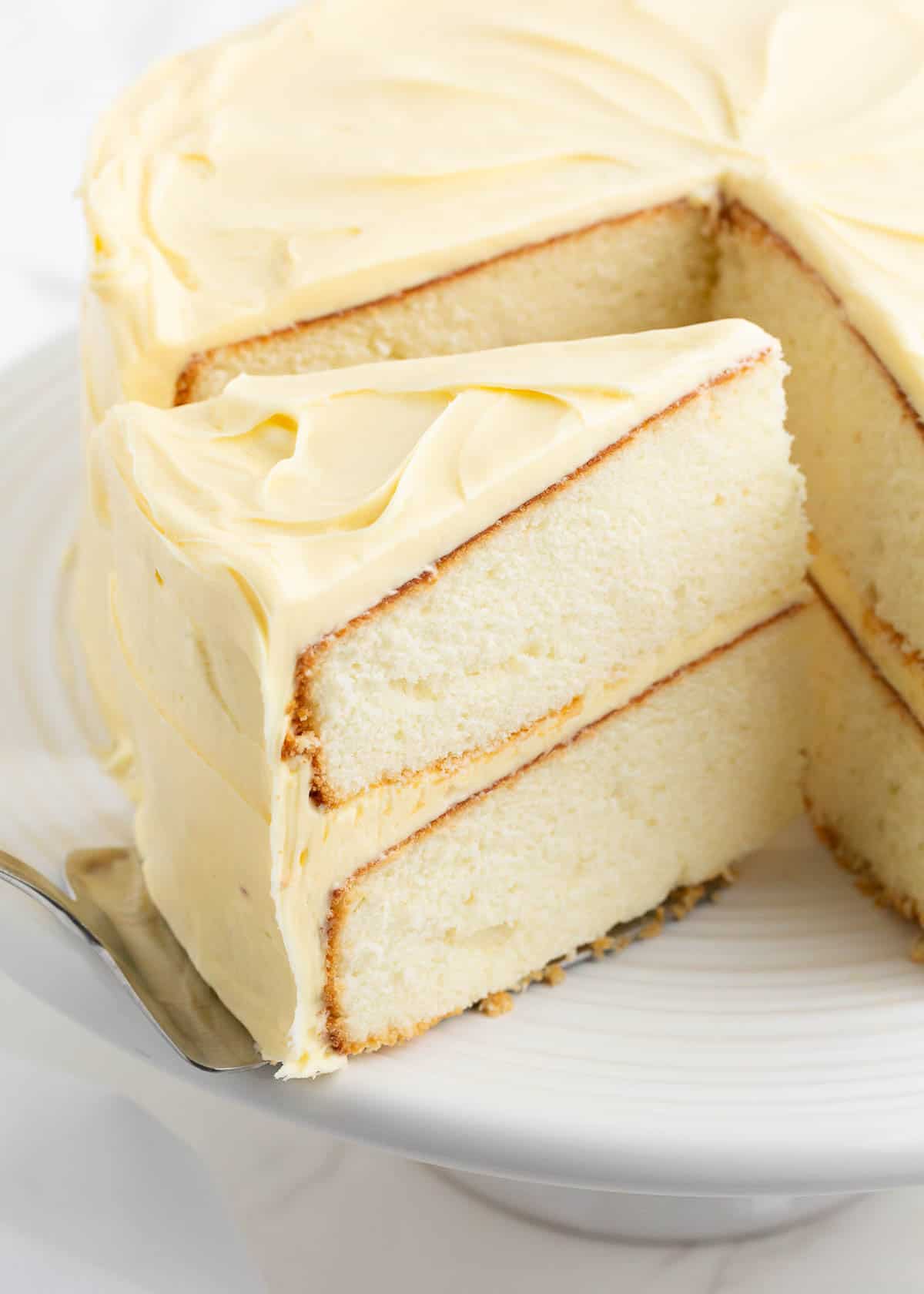 Vanilla Cake Frosting Flavors
These frostings are all so good it is hard to choose just one! Celebrate in style with either a buttercream, cream cheese, or a classic frosting to go on top of this homemade vanilla cake recipe. You may have to make this cake over and over again with different frosting and flavors.
Buttercreams: Try this Raspberry buttercream, Cinnamon buttercream, Cream cheese frosting, and German chocolate cake frosting for a sweet and fluffy frosting.
Cream cheese frostings: Strawberry cream cheese frosting, Cinnamon cream cheese frosting, Caramel cream cheese frosting, and Lemon cream cheese frosting for a soft and creamy flavor of frosting.
Traditional frostings: Coconut pecan frosting, Vanilla frosting, and Coconut frosting are classic favorite frostings that have a sweet and savory flavoring.
Recipe Tips
This is the best vanilla cake recipe! It is straight forward with pantry staple ingredients. Here are some helpful tips to help make this homemade vanilla cake perfect every time!
Only spray the parchment paper on the bottom of the pans with spray, not the sides. Otherwise, they'll become too dark too quickly.
Wait until the cake has completely cooled before frosting it. Then, once it's frosted, put it in the fridge to set.
Level the cakes before frosting. If you have a cake leveler it may make your life a bit easier, but if not, I've got you. Use a serrated knife to carefully slice off that rounded top of the cake to ensure a flat-level surface. This makes it much easier to stack the cakes once you've added frosting.
Frost the cake using an offset spatula which will help with an even smooth layer of frosting without taking any crumbs off with it.
Recipe FAQs
What size cake does this batter make?
This is enough batter for one 9 x 13 baking dish baked for 45-50 minutes or two 9-inch round pans which would be baked for 25-30 minutes.

It's also enough to make 24 cupcakes baked for 25-30 minutes.
Is a white cake a vanilla cake?
Similar, but no! A white cake doesn't use any egg yolks, which is why there is no golden hue. It also contains a clear vanilla extract for the same reason. This is why they are as white as they are.

A vanilla cake uses a combination of whole eggs plus egg whites, so you're getting a subtle golden hue, a bit of added moisture, and a slightly deeper flavor.
So, what's a yellow cake?
They use more egg yolks than vanilla cake for a deeper yellow color.
5 star review
"Beautiful recipe, it turned out super moist and not to heavy, the recipe was easy to follow. I will be making this again. Thank you for sharing this."

-Shannon
HUNGRY FOR MORE? Subscribe to my newsletter and follow on Facebook, Pinterest and Instagram for all the newest recipes!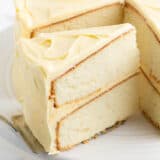 Homemade Vanilla Cake
The best vanilla cake is an impressive yet simple one-bowl recipe that makes even a beginner baker feel like a professional! A soft tender cake infused with the heavenly flavor of vanilla that pairs well with any frosting!
Ingredients
3 ¾ cups (390 grams) cake flour , or 3 cups (360 grams) all-purpose flour
2 cups (400 grams) granulated sugar
1 Tablespoon baking powder
½ teaspoon fine sea salt
1 cup (2 sticks) unsalted butter , at room temperature
1 ½ cups (340 grams) buttermilk , at room temperature
1 Tablespoon pure vanilla extract
3 large eggs , at room temperature
2 large egg whites , at room temperature
Instructions
Preheat the oven to 350°F. Line the bottoms of 2 9-inch cake pans with parchment paper and spray only the parchment with nonstick cooking spray. Do not spray the sides of the pans.

In a stand mixer fitted with a paddle attachment, stir together the flour, sugar, baking powder, and salt.

Turn the mixer to medium and beat in the butter for 1 minute, or until the butter is combined and the mixture is coarse in texture.

Reduce the speed to low, and mix in the buttermilk and vanilla for 1 minute, or until combined. Turn the mixer to medium and beat 30 seconds. Scrape the sides of the bowl.

Turn the mixer to low, and add 1 egg at a time until each is combined. Pour in the egg whites and mix on medium-high for 30 seconds, or until the batter is smooth. Pour the batter evenly into the pans and smooth out the tops.

Bake 25 to 30 minutes, or until golden brown around the edges and a toothpick inserted into the center comes out clean.

Remove from the oven and let cool 5 minutes in the pans before transferring the cakes to a rack to cool completely.
---
Notes
Make ahead: Measure out all of the dry ingredients and keep them stored in a sealed jar as a great gift or to make a quick cake or cupcakes when the mood strikes.
Vanilla: Use a really good vanilla extract or vanilla bean paste, since this cake relies heavily on its flavor.
Dark edges: If your oven runs hot, your cake may develop dark edges (especially if you spray the sides of your pan with nonstick spray). If this happens, simply wrap the cake in plastic wrap and wait 24 hours to frost.
Variations: This batter is enough to make:
1 9×13-inch baking dish (bake 45 to 50 minutes)
24 cupcakes (bake 30 to 35 minutes)
3 8-inch round cake pans (25 to 30 minutes)
Frosting: Freezing cake layers makes it easy to frost without losing a lot of the crumb, but isn't necessary if time doesn't allow. Two of my favorites are classic buttercream frosting and chocolate buttercream frosting.
Nutrition
Serving: 1g | Calories: 497kcal | Carbohydrates: 79g | Protein: 10g | Fat: 17g | Saturated Fat: 10g | Polyunsaturated Fat: 1g | Monounsaturated Fat: 4g | Trans Fat: 1g | Cholesterol: 79mg | Sodium: 137mg | Potassium: 213mg | Fiber: 2g | Sugar: 35g | Vitamin A: 523IU | Calcium: 87mg | Iron: 1mg
Nutrition provided is an estimate. It will vary based on specific ingredients used.
Did you make this recipe? Don't forget to give it a star rating below!