These adorable Mickey Mouse beignets are simple to make and addictingly delicious. A fun way to enjoy a tasty Disneyland treat at home!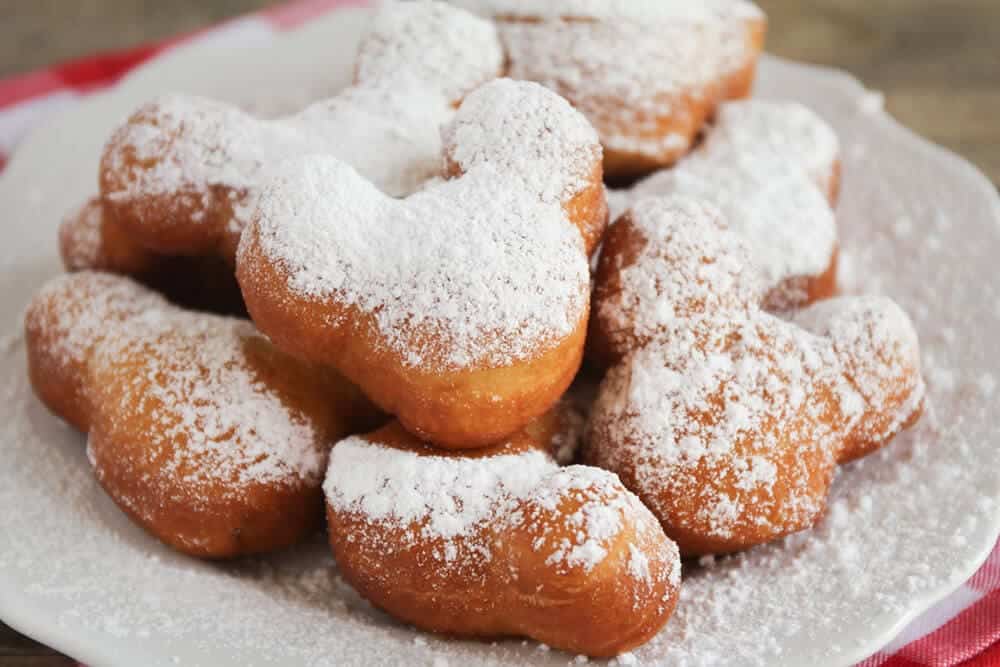 Table of Contents
Disneyland Mickey Mouse Beignets
Beignets are on my list of most favorite things ever. The fried pastry dough is heavenly and tastes perfectly chewy and crisp. I'm a sucker for any type of fried dough and also love churros, fry bread, donuts and this funnel cake recipe! So delish!
I still remember the first time I ever tried a beignet. My husband and I were newlyweds and visited Disneyland over the holidays. I had never heard of New Orleans beignets before, and that first bite of pillow-y fried dough dusted with powdered sugar was pure heaven. If you haven't tried them before, this recipe is the perfect way to get started!
Lately, my daughter has been obsessed with all things Mickey Mouse, so I thought it would be fun to make these beignets Mickey-shaped. Disney recently posted their recipe and the homemade version definitely lives up to the reputation. They're chewy and crisp on the outside, and so light and soft on the inside. They are little bites of heaven and you will definitely not be able to stop snacking on them!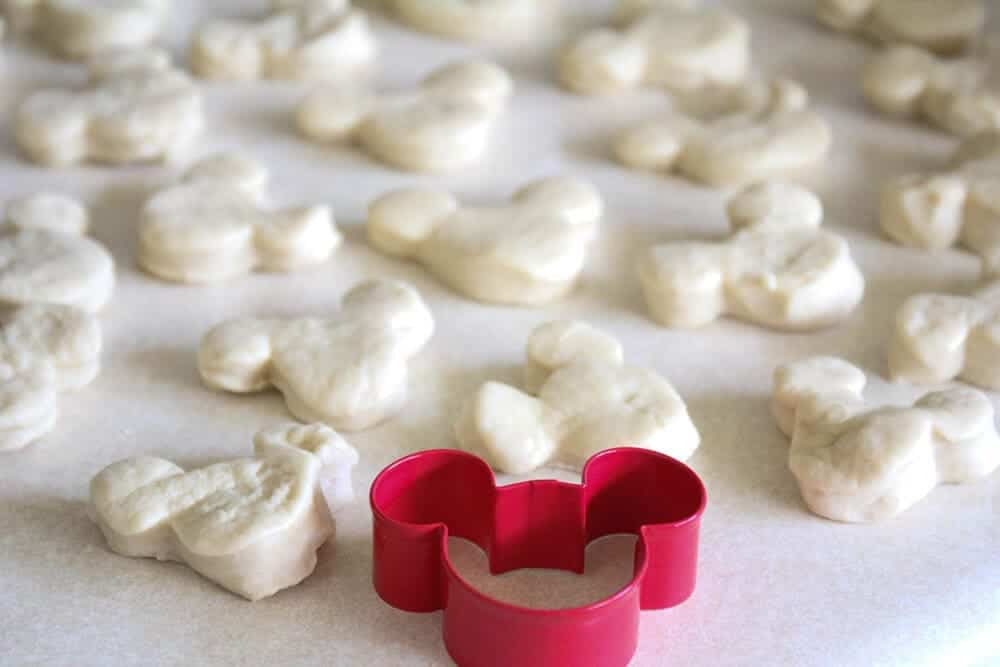 How to Make Mickey Beignets
Make the Dough. They start with a simple yeast dough that is mixed up quickly and allowed to rise for about two hours. Once the dough has risen, it's rolled out and cut into Mickey Mouse shapes. My cookie cutter is the 4″ Wilton brand and I found it on Amazon.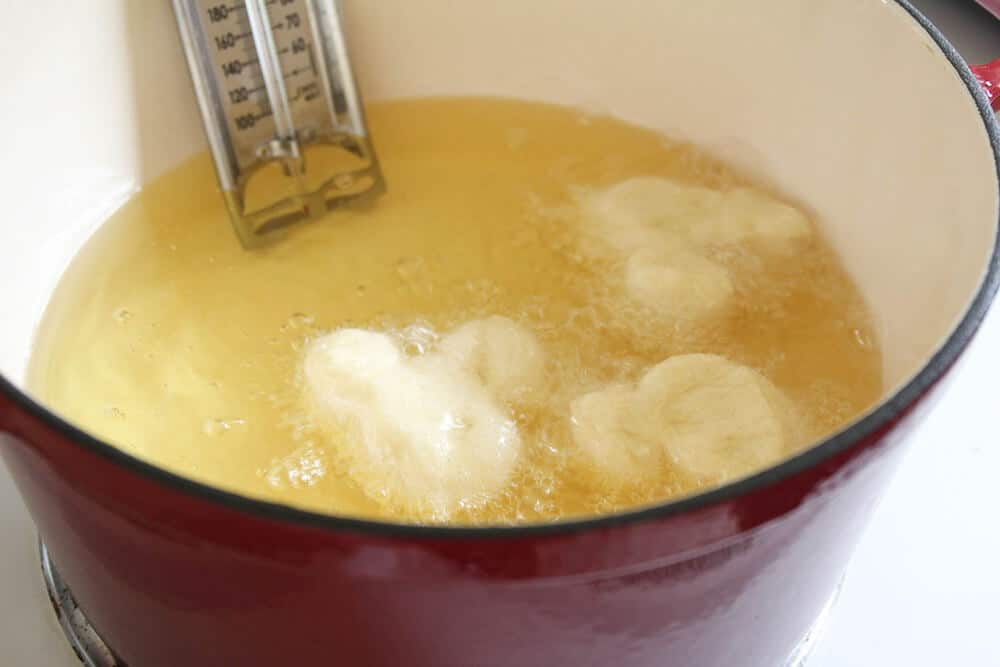 Heat the Oil. Now it's time to fry the beignets. Heat the oil in a heavy pot or dutch oven. It's a good idea to keep an eye on the temperature of your oil. You want it to stay right around 350ºF so the beignets will brown nicely and get cooked through without getting burned. If the oil is getting too hot, turn down the heat.
Fry the Beignets. Place the dough cut outs into the heated oil to fry. It only takes 30-60 seconds per side for the beignets to get golden brown. If your beignets are bigger than mine were (about 3 inches), they may take longer to cook. I only cook a couple at a time so they don't stick together.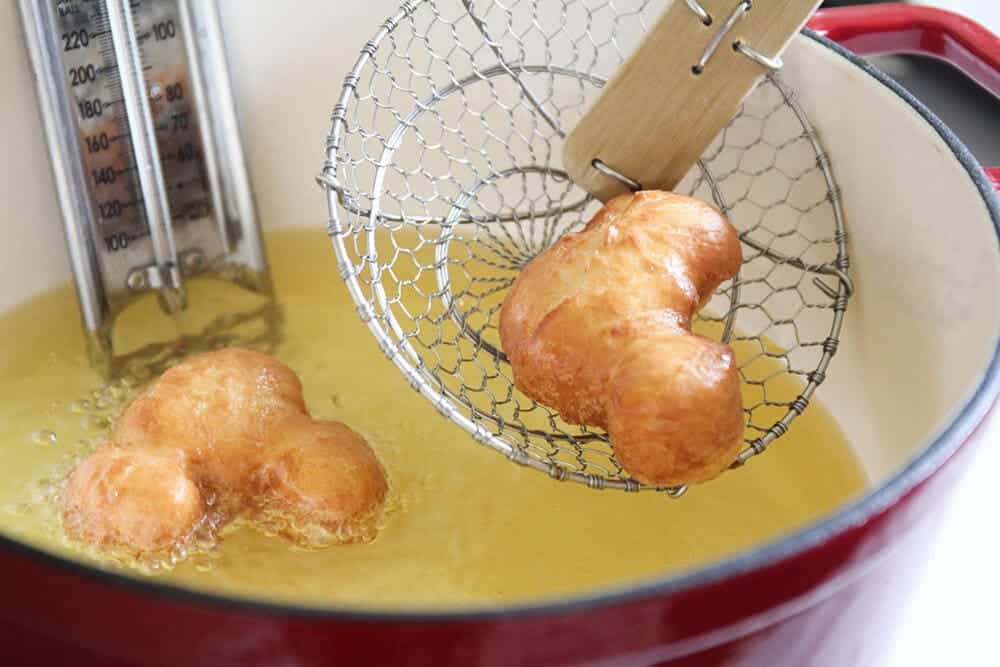 Let Cool. After they're done, let them cool down on some paper towels for about 5 minutes. They already look fantastic! Perfectly puffy and golden.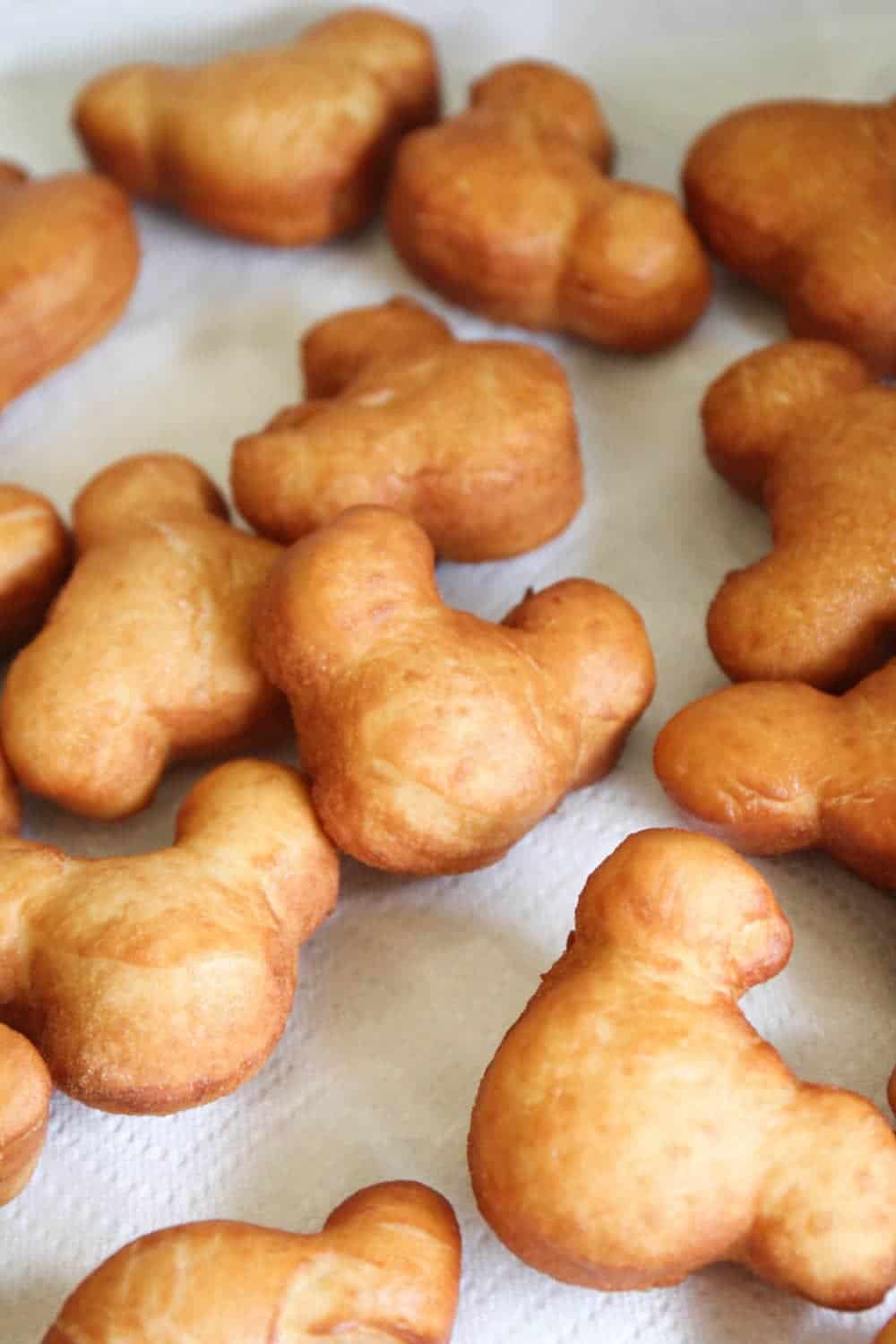 Dust with Powdered Sugar. The final step is to dust them with powdered sugar. You can sprinkle it over the top, like I did, or you can toss them in a paper bag with some powdered sugar instead. Either way works great. Then dig in!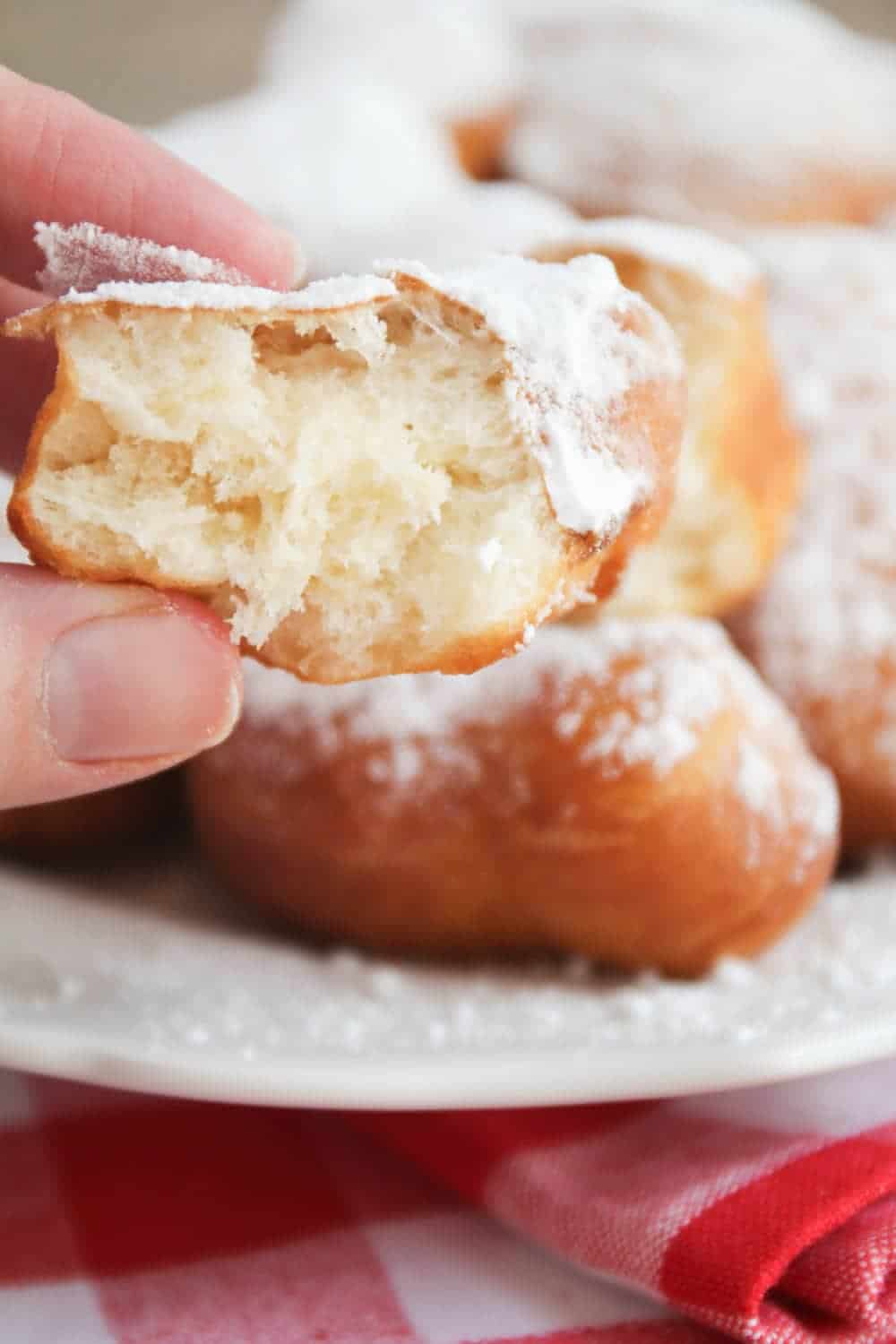 More Disney Treats
HUNGRY FOR MORE? Subscribe to my newsletter and follow on Facebook, Pinterest and Instagram for all the newest recipes!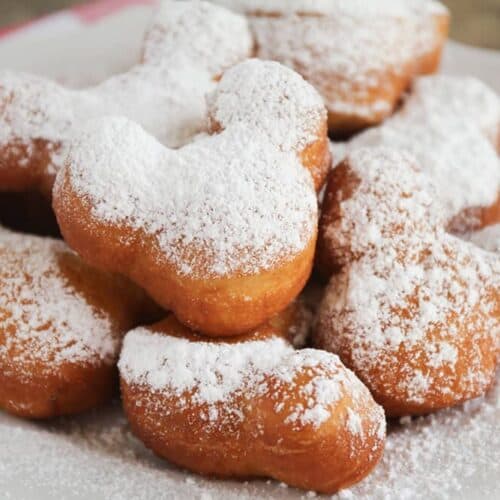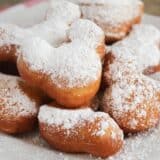 Mickey Mouse Beignets
These adorable Mickey Mouse beignets are simple to make and addictingly delicious. A fun way to enjoy a tasty Disneyland treat at home!
Ingredients
¾ cup warm water
1 teaspoon active dry yeast
¼ cup granulated sugar
1 egg , whisked
¾ teaspoon salt
½ cup heavy cream , or evaporated milk
2 Tablespoons shortening
3 ½ (445 g) cups all-purpose flour , more or less as needed
Vegetable oil , for deep frying
Powdered sugar , for dusting
Instructions
Sprinkle the yeast over warm water and stir to dissolve. Let sit for about 5 minutes, or until it turns foamy.

Combine the sugar, egg, salt, heavy cream and shortening in a large mixing bowl. Pour in the yeast mixture and stir to combine. Use a dough hook attachment with a stand mixer or a dough whisk and then mix in 2 cups of the flour.

Add additional flour, 1/4 cup at a time, until the dough begins to pull away from the sides of the bowl and forms a soft dough that is slightly tacky to the touch. Form the dough into a ball, place in a greased bowl. Cover and let rise about 1 hour, or until doubled.

When the dough has risen, heat the oil in a heavy pot or dutch oven to 350ºF. Roll the dough out on a floured surface a little less than 1/2 inch thick. Cut with a floured cookie cutter into Mickey Mouse shapes. Carefully lower the cut outs into the oil and cook for 30-60 seconds on each side, or until golden brown. If the oil begins to get too hot, turn down. Remove with tongs or a slotted spoon and drain on paper towels for 5 minutes.

After the beignets have cooled slightly, dust with powdered sugar. Serve immediately. These are best served warm the first day.
---
Notes
This recipe will make 24 beignets with a 2″ cookie cutter and 12 beignets with a 4″ cookie cutter. This recipe is adapted from Disney Recipes. Try dipping in these sauces: Hot fudge: https://www.iheartnaptime.net/hot-fudge/ Caramel sauce: https://www.iheartnaptime.net/homemade-salted-caramel-sauce/
Nutrition
Calories: 105kcal | Carbohydrates: 16g | Protein: 2g | Fat: 3g | Saturated Fat: 1g | Cholesterol: 14mg | Sodium: 78mg | Potassium: 31mg | Fiber: 1g | Sugar: 2g | Vitamin A: 83IU | Calcium: 7mg | Iron: 1mg
Nutrition provided is an estimate. It will vary based on specific ingredients used.
Did you make this recipe? Don't forget to give it a star rating below!
Photography contributed by Alice from The Baker Upstairs for I Heart Naptime.