Roasted brussel sprouts with cranberries, pears and a sweet honey glaze! Crispy, caramelized and completely delicious. These are the best brussel sprouts I've ever had!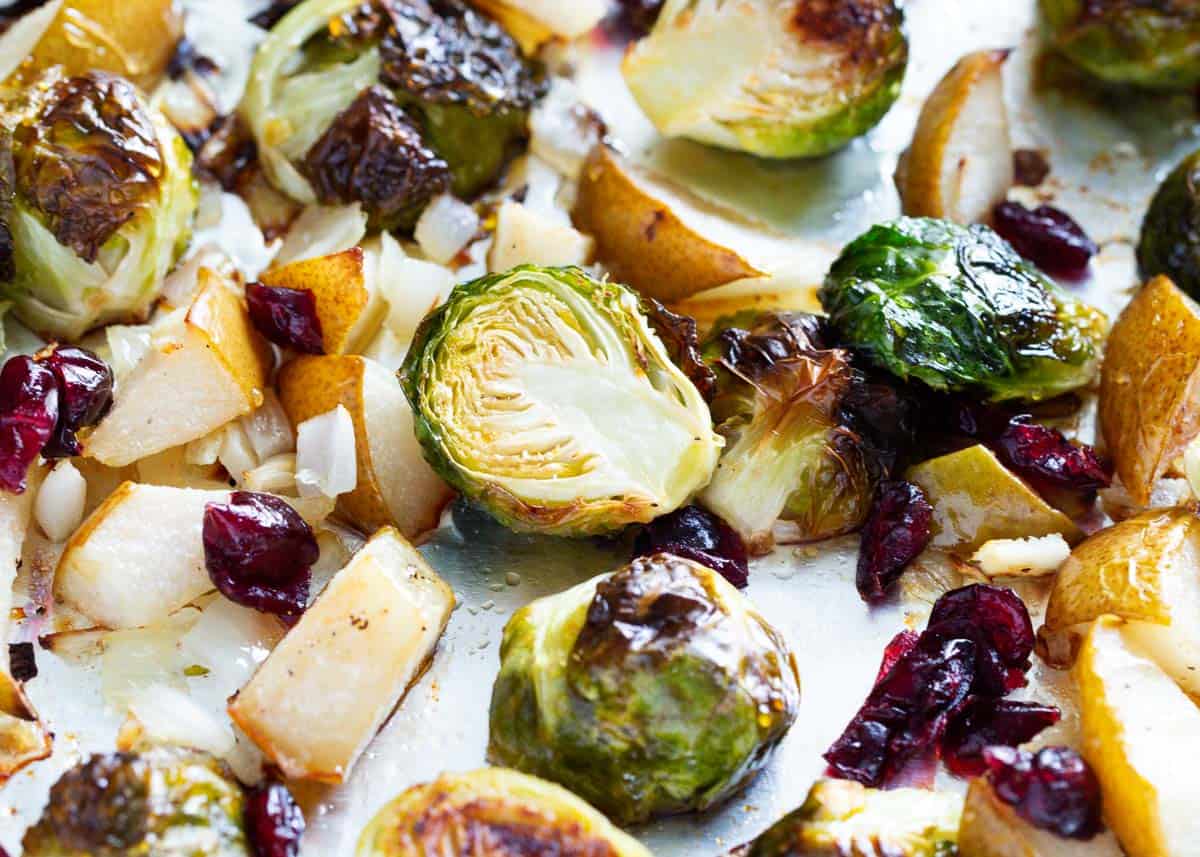 The Perfect Side Dish
Roasted veggies are one of our favorite side dishes. So easy, healthy and delicious. We love to roast all types of vegetables, like broccoli, carrots or mixed veggies.
These are the perfect side dish for fall and winter. They would also make a great addition to any holiday meal. They are just screaming Christmas dinner with the red and green colors, don't you think?
I found this recipe in the book: The Seasoned Life by Ayesha Curry. Ayesha says "the sweetness of the pear, the tartness of the dried cranberries and the caramelized edges of the brussels sprouts make for smiling faces".
I have to agree… there's just something amazing that happens when roasting vegetables in the oven. I even turned my husband on to these roasted brussel sprouts who usually won't touch them!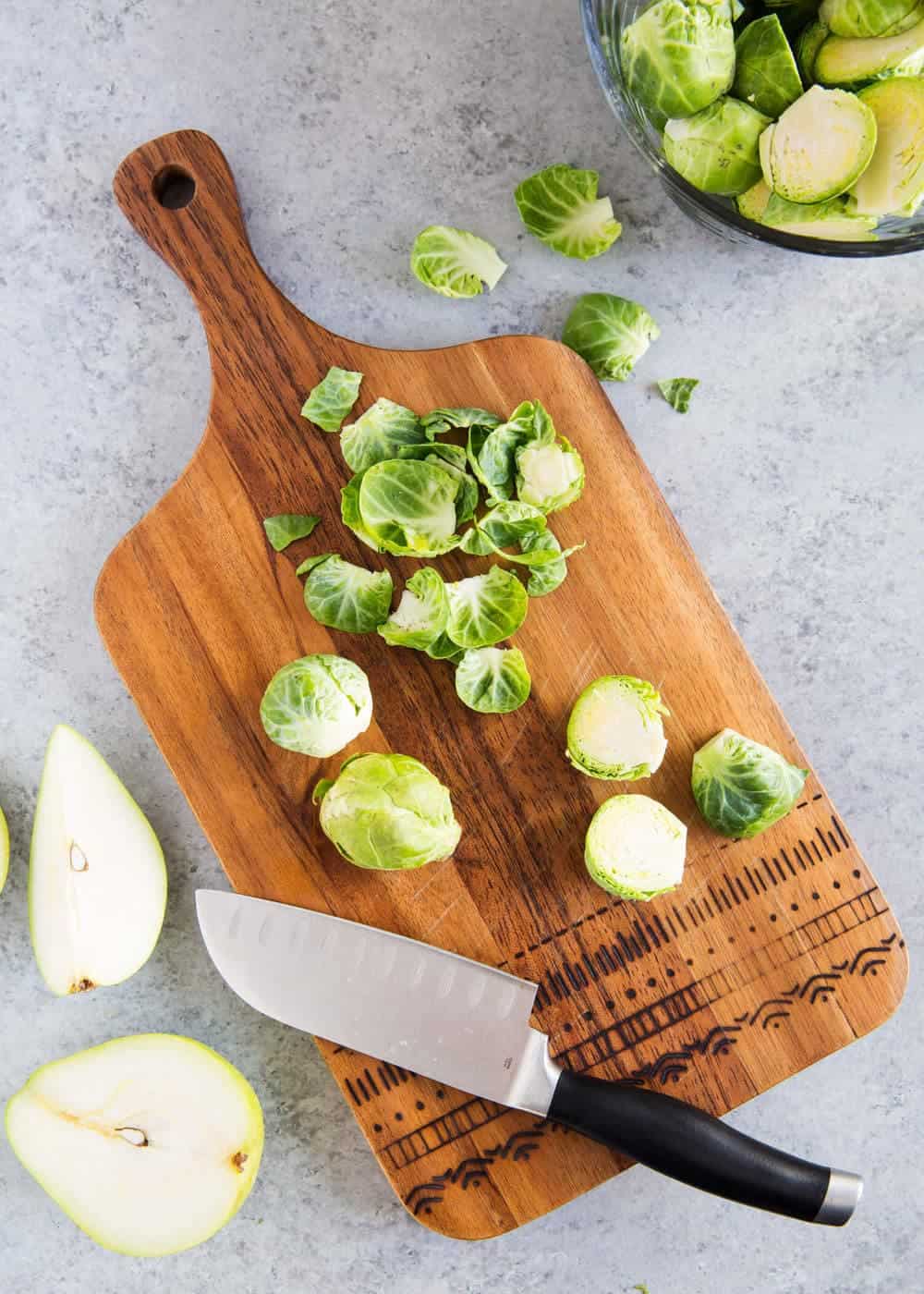 Should I Cut them in Half to Roast?
Yes, when making roasted brussels sprouts in the oven, I always cut them in half (and cut off the ends too). This not only helps them to cook faster, but also helps them to get crispier. I've found that all of the brussels cook more evenly when cutting them in half vs. cooking them whole.
How Long do you Roast Brussel Sprouts?
I've found that baking them for about 25 minutes in the oven (at 450°F) gives them the perfect texture. They are crispy on the outside but tender on the inside. And the pears get perfectly caramelized too. When roasting, just remember to flip them halfway through (about 12-13 minutes into baking). This will ensure they cook evenly and don't burn on one side.
Tips For Making Them Crispy
High heat. One of the main keys to obtaining the perfect, crispy texture is the oven temperature. The brussels need to roast at a high heat in order to crisp up. That's why I cook them at 450°F.
Well-coated. You also want to make sure that they are well-coated with the glaze. This will help them to crisp up nicely.
Cut in half. Finally, I always cut them in half prior to roasting in the oven. Doing this helps them cook evenly and allows the insides to crisp up as well.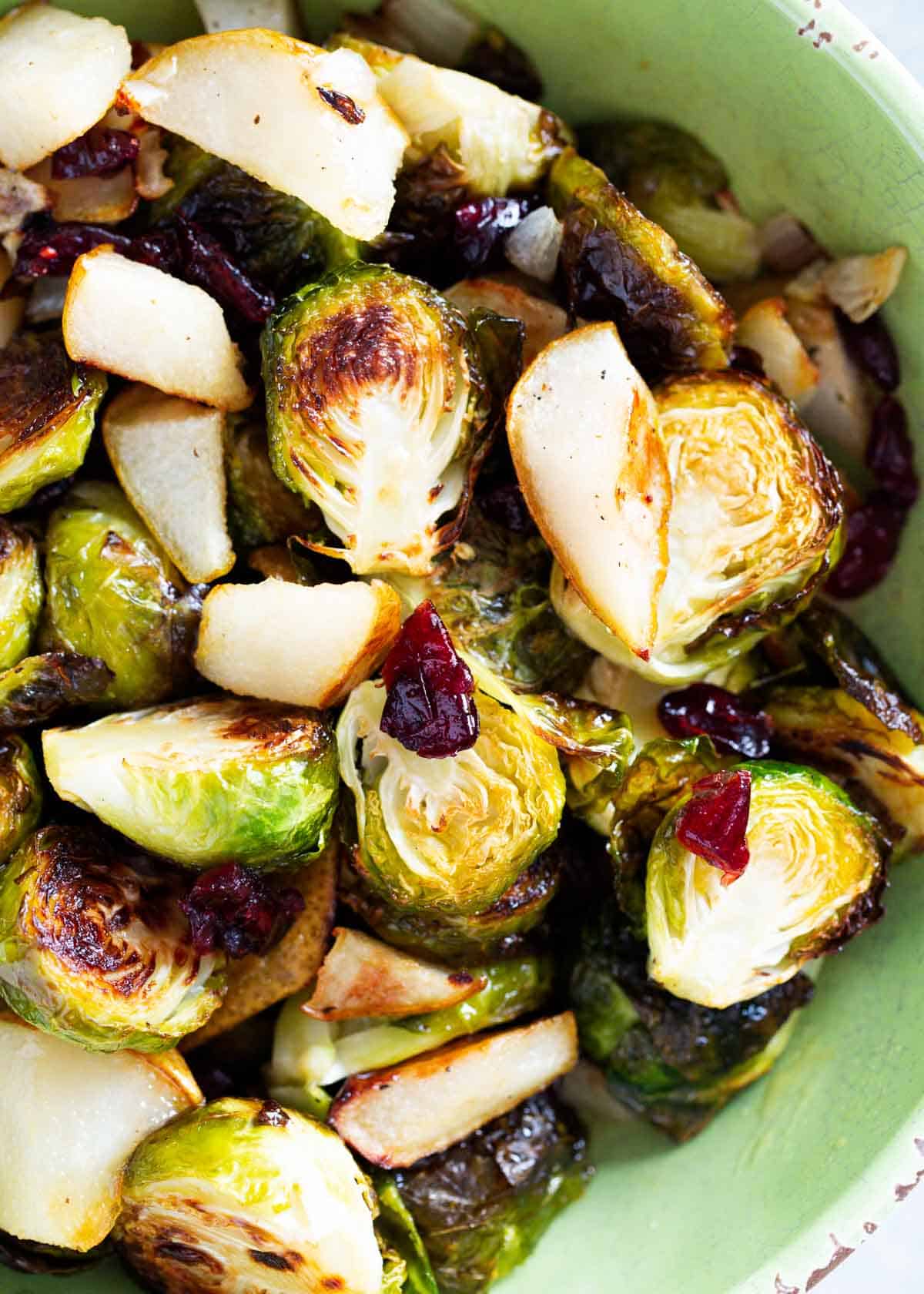 More Side Dishes to Try
HUNGRY FOR MORE? Subscribe to my newsletter and follow on Facebook, Pinterest and Instagram for all the newest recipes!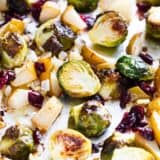 Roasted Brussel Sprouts with Cranberries
Roasted brussels sprouts with pears, cranberries and a sweet honey glaze! Crispy, caramelized and completely delicious. These are the best brussels sprouts I've ever had!
Ingredients
Instructions
Preheat the oven to 450ºF. Line a rimmed baking sheet with foil or parchment paper and set aside. Trim the stems off the brussel sprouts and then cut in half.

Combine the brussel sprouts, pears and onions on the baking sheet. Add the olive oil, salt and pepper and toss to combine.

Bake for 25 minutes, or until the brussel sprouts and pears have caramelized. Toss half way through. Remove pan from oven and squeeze lemon juice over the top. Drizzle the honey over top and sprinkle on the cranberries. Stir and serve while hot.
---
Nutrition
Calories: 157kcal | Carbohydrates: 28g | Protein: 4g | Fat: 5g | Sodium: 29mg | Potassium: 529mg | Fiber: 6g | Sugar: 15g | Vitamin A: 870IU | Vitamin C: 101.6mg | Calcium: 58mg | Iron: 1.7mg
Nutrition provided is an estimate. It will vary based on specific ingredients used.
Did you make this recipe? Don't forget to give it a star rating below!