Get tender, crispy steamed vegetables on your plate quickly and easily with one of these simple methods. Toss with a little butter, garlic, and lemon pepper for a flavorful and nutritious side dish in minutes!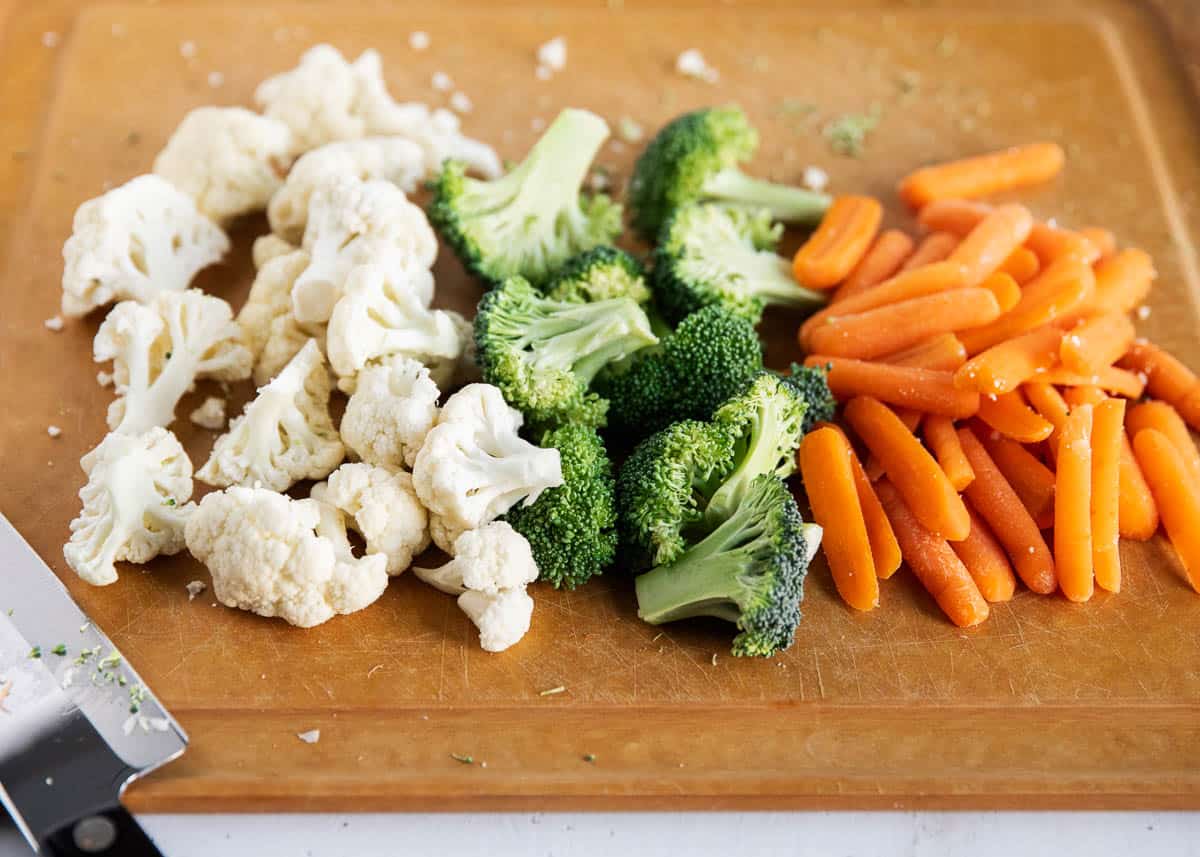 The Easy Way to Steam Veggies
On days when you just don't have the time to make oven-roasted vegetables, you now have this simple steamed version to fall back on! Ready in just 15 minutes, these steamed vegetables are perfect to add to a baked teriyaki chicken bowl or serve with steak and potatoes.
Gone are the days of steamed veggies being flavorless soggy afterthoughts. Learn how to steam vegetables that bring their natural juices and sugars while maintaining a perfectly crunchy, tender bite.
There are no rules as to what veggies to steam, so gather the ones your family loves, and choose either the stovetop, the steam basket, or the microwave method. All of these take the guesswork out of how to get your kids to eat veggies. They'll love the seasoning and I don't know any kid that doesn't love a tender vegetable covered in butter or a sprinkling of Parmesan!
What Vegetables Can I Steam?
Once you know how to make steamed vegetables you can technically steam any veg! Popular vegetables include broccoli, cauliflower, and carrot but you can also steam Brussels sprouts, leafy greens, potatoes, green beans, sweet potatoes, and more.
The time it takes to make this steamed vegetables recipe will vary, though, as potatoes will take longer than a leafy green like spinach. Once you learn to how to perfectly steam vegetables, you can apply your preferred method to any veggie in only a few easy steps.
How to Steam Vegetables
While you don't need any fancy gadgets to make steamed vegetables for a healthy side dish there are a few popular methods for steaming including using a steamer basket, using the microwave, or just using a covered pan. Here are the three popular methods for steaming vegetables.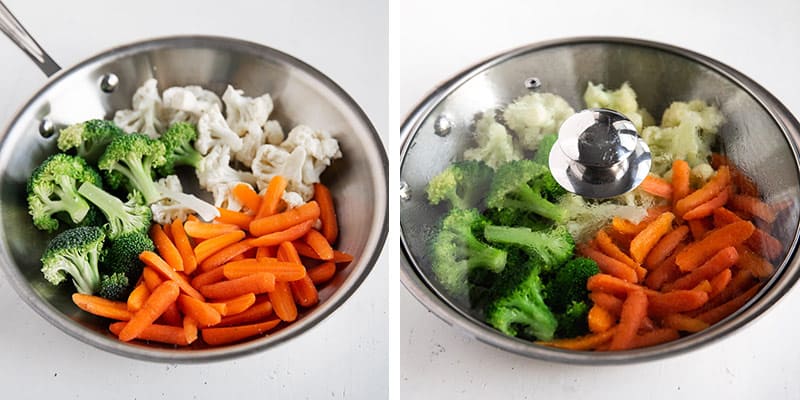 Find the full printable recipe with specific measurements below.
Covered pan without a steamer: Place vegetables in a large skillet and cover with water. Place lid on the skillet and cook for up to 5 minutes. Remove the lid and let the water evaporate. Toss in the butter (or olive oil), minced garlic, and lemon pepper. Continue cooking until veggies are tender. Add salt and pepper to taste.
In a steamer basket: To your pan, add 1 inch of water and place the collapsible steamer basket inside. Then, add more water and bring to a boil. Toss the veggies into the basket and cover. Reduce heat to medium and cook until tender.
Microwave steaming method: To a microwave-safe bowl, add vegetables and water. Place in the microwave until fork tender. About 3-4 minutes. Sprinkle with butter, salt, and pepper.
How Long to Steam Vegetables
Depending on the type of vegetable you are steaming, the times may vary. Generally speaking, root veggies take longer. Small veggies will of course cook quicker, as will vegetables containing more water like zucchini. Below is a guide to help you determine how long to cook your vegetables.
Tough dark leafy greens such as beet greens, kale, and collard greens: 3 minutes
Delicate leafy greens like spinach: 3 minutes
Green peas: 3 minutes
Broccoli florets, cauliflower florets, and green beans: 5 to 7 minutes
Broccoli stem, sweet potatoes, turnips, potatoes, carrots, all types of squash: 8 to 20 minutes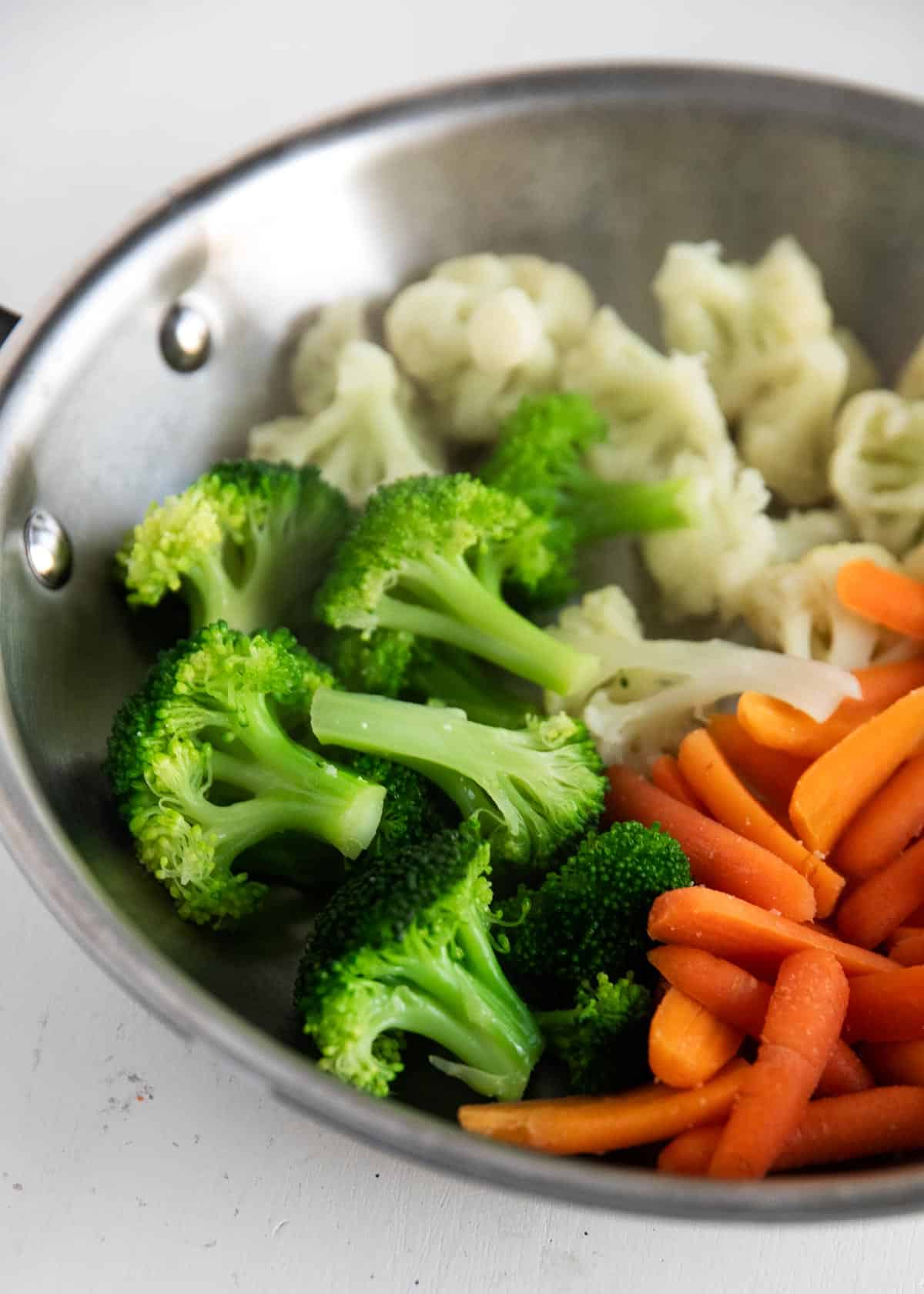 5 star review
"Yum! This looks so delicious and perfect for dinner tonight! My family is going to love this recipe! So excited to make this!"

-Beth
Expert Tips
These helpful tips make these vegetables even easier to cook! Making sure the size, the length of time for certain vegetables, and using fresh or frozen veggies all make a difference. Learn the importance of these tips and make the perfect steamed vegetables for dinner tonight!
Size of vegetables. Most people cut their veggies into bite-sized pieces. But if not, and you're just tossing them in all willy-nilly, just remember that bigger veggies take longer to cook.
Uniform sizes. With the above being said, whether you cut your vegetables big or small, just make sure to keep them all the same size. That way your steamed vegetables will cook evenly.
Root veggies cook longer. Cook your root veggies together at the same time.
Mixed veggies. If you are planning on mixing veggies, add the ones that take longer first. Then add the other ones in later.
Avoid over-steaming. Until you get used to making steamed vegetables like a pro, a good rule of thumb is to use a timer. Soggy veggies are not on the menu!
Fresh or frozen. You can use either. Frozen will have more water that needs evaporating, which means they may get soggy quicker. Just keep an eye out for that and do not leave them covered for longer than necessary.
Frequently Asked Questions
How do I steam vegetables without a steamer?
It's easy to steam vegetables on the stovetop in a covered pan or covered in the microwave. Add about 1/3 cup of water to your skillet or microwave-safe bowl. Cover and steam for a few minutes depending on the type of vegetable you are steaming.
Can I make Instant Pot steamed vegetables?
The magic of the Instant Pot pressure cooker strikes again! You can use the IP just as you would a steamer basket on the stove. Set the valve to sealing, pressure cook on HIGH pressure or MANUAL, and set it for 0 minutes. Yes, you heard that right! By the time it comes to pressure, it would have already had a chance to steam up nicely. Do a quick release and season as desired.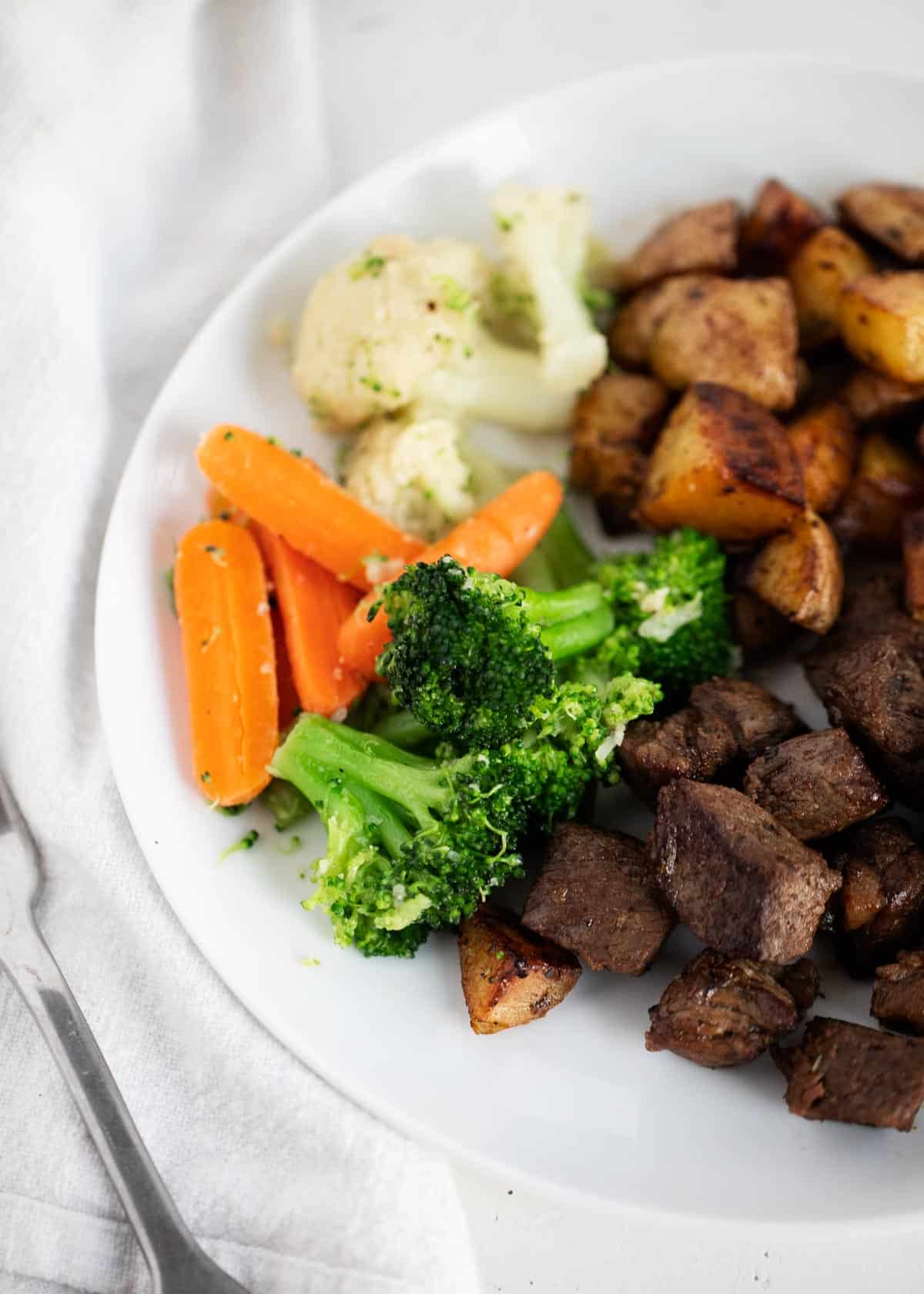 Storing the Best Steamed Vegetables
Storing steamed veggies is simple and easy! Place the vegetables into an airtight container and store them in the refrigerator for up to seven days. These make a great meal plan side dish too!
HUNGRY FOR MORE? Subscribe to my newsletter and follow on Facebook, Pinterest and Instagram for all the newest recipes!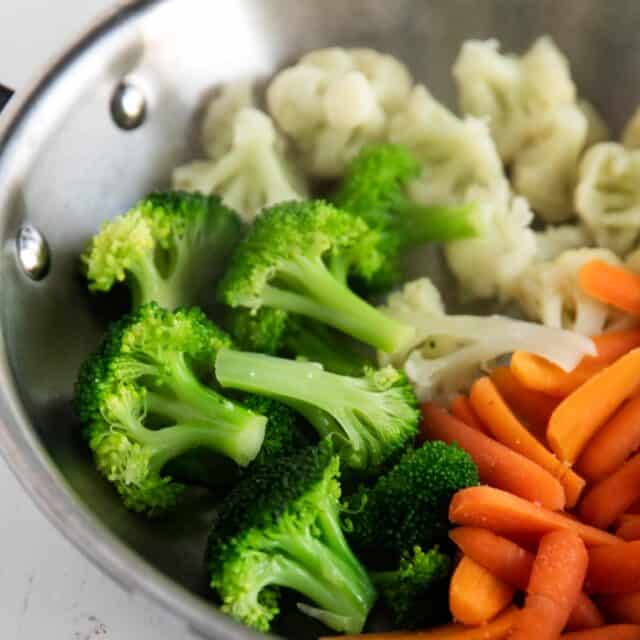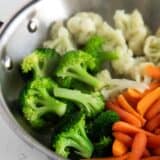 Steamed Vegetables
Get tender, crispy steamed vegetables on your plate quickly and easily with one of these simple methods. Toss with a little butter, garlic, and lemon pepper for a flavorful and nutritious side dish in minutes!
Ingredients
3-4 cups fresh vegetables , trimmed and cut into uniform pieces
1-2 Tablespoons butter , or olive oil
1 teaspoon minced garlic , optional
¼ teaspoon lemon pepper
Instructions
Stove top
Place vegetables in a large skillet and cover with 1/3 cup water. Cover and cook for 3-5 minutes. Root vegetables will take double the time. Remove lid and let water evaporate.

Add the butter or olive oil, minced garlic and lemon pepper. Cook an additional 2-5 minutes, or until tender. Salt and pepper, to taste.
In a steam basket
Add 1-inch of water to your pan and then place the steamer basket inside. Add 1 cup water and bring to a boil. Add vegetables to a basket and cover. Reduce heat to medium and cook 4-5 minutes, or until tender.
Microwave
Place vegetables and water in a microwave safe bowl. Microwave 3-4 minutes or until vegetables are fork tender. Season with butter, salt and pepper.
---
Notes
Tip: Add a fresh squeeze of lemon juice and sprinkle 1/4 cup parmesan cheese on top to add a special twist!
Nutrition
Serving: 0.5cup | Calories: 76kcal | Carbohydrates: 12g | Protein: 3g | Fat: 2g | Saturated Fat: 1g | Cholesterol: 5mg | Sodium: 60mg | Potassium: 193mg | Fiber: 4g | Sugar: 1g | Vitamin A: 4679IU | Vitamin C: 10mg | Calcium: 23mg | Iron: 1mg
Nutrition provided is an estimate. It will vary based on specific ingredients used.
Did you make this recipe? Don't forget to give it a star rating below!