Super Soft Sugar Cookies + Baking Tip
Super Soft Sugar Cookies …tried and true recipe that has been made hundreds of times!
I'm excited to share with you a new sugar cookie recipe today. I've been using this recipe for several years, and these really are the best! They are a family favorite! They remind me of the Lofthouse cookies my mom used to buy for me as a kid, but better. I have to tell you, I tried making a new version over the weekend and they did not turn out well. I came right back to this recipe. These ones always come out super soft and fluffy… just the way sugar cookies should be.
Be sure to subscribe to my free weekly emails HERE for more yummy recipes :)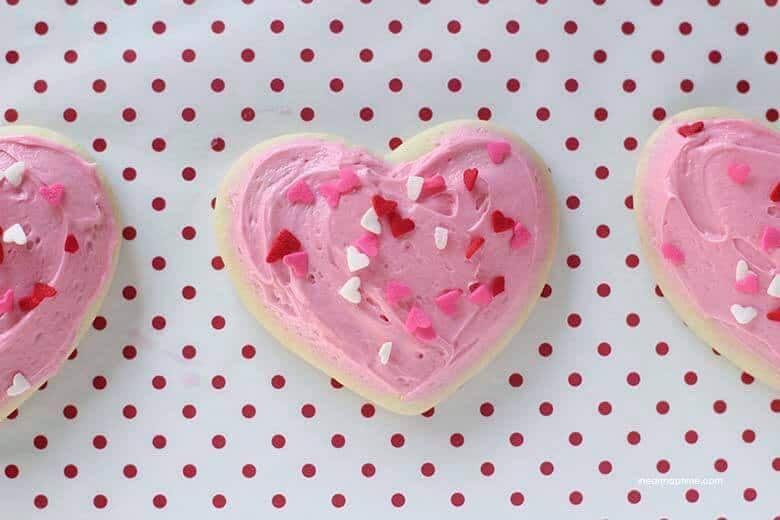 MY OTHER RECIPES
I love soft sugar cookies topped with LOTS of frosting and a few sprinkles on top. :)
Super Soft Sugar Cookie Recipe Video
Be sure to subscribe and follow on social, so you never miss a recipe!

Facebook | Instagram | Pinterest | Twitter

Never miss a post: Free email subscription HERE
Super Soft Sugar Cookie Printable Recipe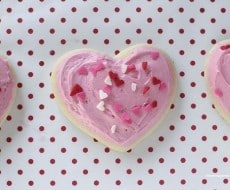 Soft Sugar Cookies
Ingredients:
1 cup margarine or butter, at room temp
1 3/4 cup sugar
2 eggs, at room temp
1 tsp vanilla
1 cup sour cream
1/4 tsp lemon or almond extract
5 1/2 cup flour
1 tsp baking powder
1 1/2 tsp baking soda
1/2 tsp salt
Optional: I use 2 different frostings with these cookies. I'll give you both of them, because they are both super yummy!
Buttercream frosting:
 3/4 cup of butter
3 1/2 cup powdered sugar
3-4 TB heavy cream
1 tsp vanilla
food coloring and sprinkles
Cream cheese frosting:
8 oz cream cheese, softened
1/2 stick of butter, softened
3 cups powdered sugar
2 tsp vanilla
Directions:
Cookies:
1.In a large bowl mix together margarine and sugar. Beat until creamy. Add in eggs, vanilla, lemon extract and sour cream and mix together until combined.
2. In a separate bowl mix together flour, baking soda, baking powder and salt. Slowly add dry ingredients to the wet ingredients. Mix just until combined.
3. Split dough in two and place in saran wrap. Refrigerate dough for 1-2 hours.
4. Once dough has been chilled roll out dough on a bakers mat or parchment paper. Add another 1/4 – 1/2 cup flour if dough is still sticky. Cut with floured cookie cutter.
5. Bake at 350 degrees for 8-9 minutes.
Frosting:
1. For both the butter cream and cream cheese frosting combine all listed ingredients, mix with an electric mixer until smooth. Frost on cooled cookies and serve:)
All images and text ©
Tip for the super soft sugar cookie recipe 

Before rolling out your dough, separate in two sections and wrap dough in saran wrap dusted with powdered sugar.
Roll out your dough on a baking mat or between two pieces of parchment paper (so you don't have to peel up the shapes).
Dust cookie cutter with powdered sugar or flour and cut out shapes. Slowly remove the excess dough.
Carefully place mat on baking sheet, then bake.
Seriously I wish I would have learned this tip sooner. Now you'll always have perfect shaped cookies. Thanks to an awesome friend for the tip! Have you done this before? My sugar cookies are forever changed. ;)
Looking for more sugar cookie recipes? Check out these: