Jump to Recipe⌄
Baked Beef Ravioli
Hey friends! I'm up on my way to EVO, so I have a special guest for you today. Let's give a big welcome to Rachel from Thriving Home. She will be sharing this yummmy baked beef ravioli.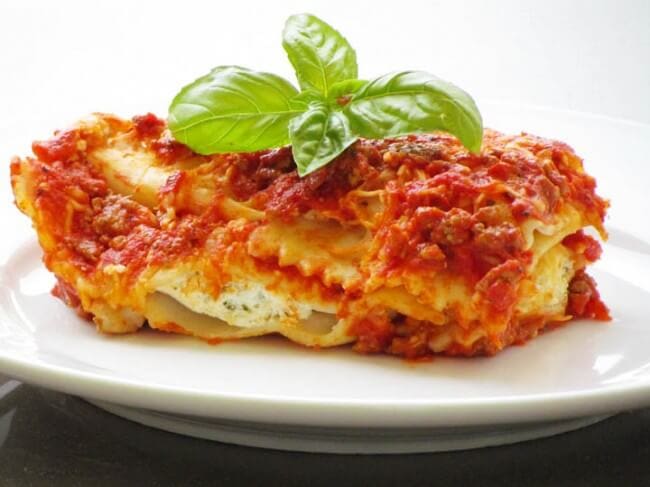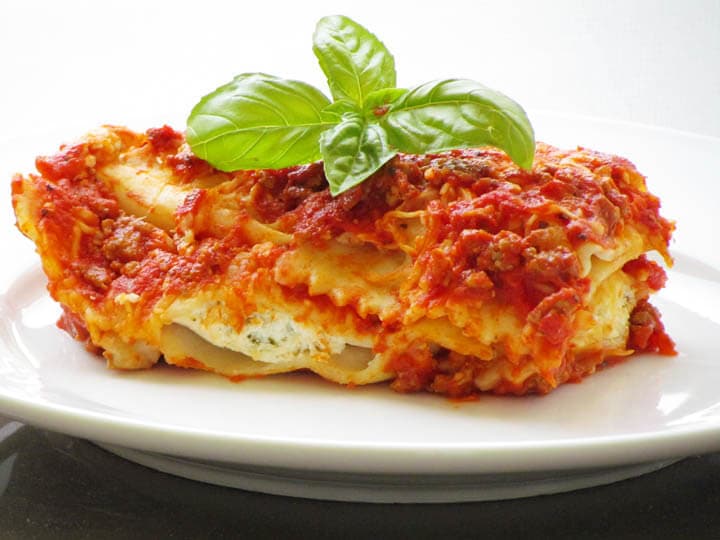 Hi everyone! Rachel here from Thriving Home. I'm so excited to share one of my favorite kid-friendly recipes with you today. Since my local, grass-fed organic beef was delivered a few weeks ago, I've been thumbing through some "oldies but goodies" beef recipes and came upon Beefy Baked Ravioli. This recipe is one that my freezer club–that's my small group of friends who cook and swap healthy freezer meals for each other once a month–has been making for years. I don't know a man, woman or child alive who wouldn't like this lasagna of sorts.
There are several things I think you'll love about this recipe, besides that it's comfort food at its best…
1 – Using the cheese ravioli enables you to skip the ricotta cheese/egg mixture step which saves time and mess. I buy the fresh or dried cheese ravioli at Trader Joe's because there are no additives or preservatives unlike many of the frozen varieties.
2 – You can easily transform Beefy Baked Ravioli into a cheaper, easier, and vegetarian meal by leaving out the meat and adding in some chopped spinach, thus making it similar to my Spinach Lasagna Roll-Ups. You might need to rename it, though. :)
3 – It freezes beautifully! That means it's easy to make in bulk for your own family or to share with a friend, neighbor, or new mom who could benefit from a meal.
Freezer Meal Tip: Be sure to double this recipe and freeze the second one before baking for later. It's a perfect weeknight meal and even provides leftovers for another meal or two. When ready to bake, thaw in the fridge overnight. Baking time may take longer because it will be so cold, so factor in another 20-30 minutes to the cooking time.
Here's a shot of our Beefy Baked Ravioli after we devoured most of it for dinner…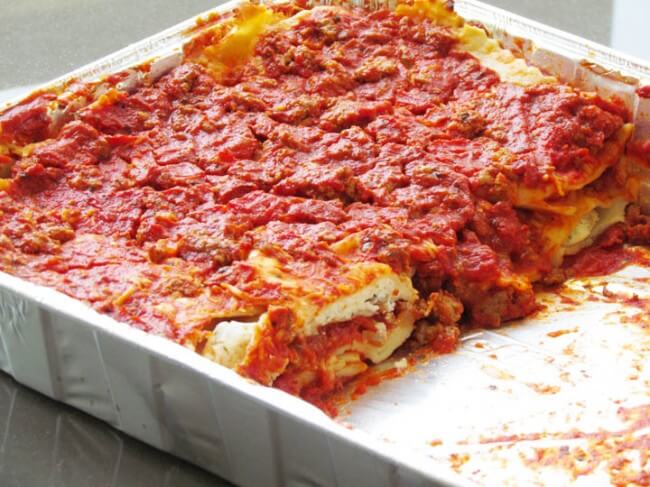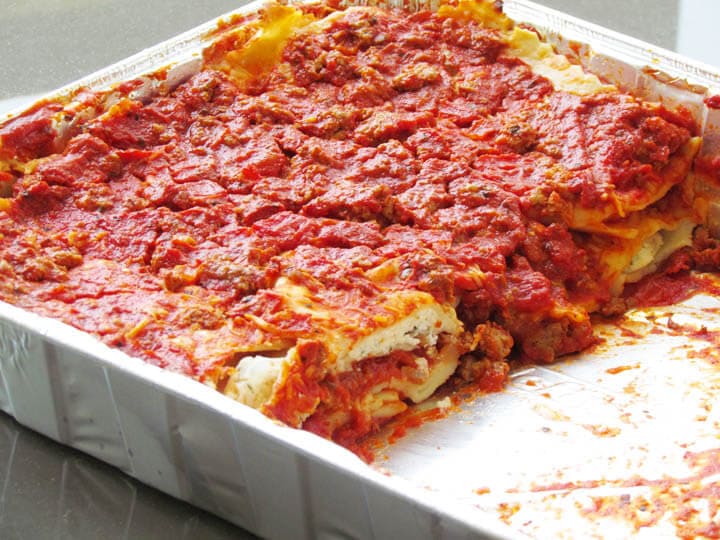 I hope you'll give Beefy Baked Ravioli a try and love it as much as our friends and family do!
Baked Beef Ravioli Ingredients:

1/2 medium-sized onion, diced
2-3 garlic cloves, minced
1 lb ground beef (preferably grass-fed, organic)
1/2 lb pork sausage (preferably local, organic)
2 jars spaghetti sauce (approximately 28 oz. each; I like Newman's Own Marinara)
1 can (15 oz) crushed Italian tomatoes
2 cups shredded mozzarella cheese
2 cups shredded Italian mix cheese (Romano, Parm, Asiago, etc)
2 packages (10 oz.) fresh cheese ravioli, cooked al dente (I use Trader Joe's)
grated Parmesan cheese, optional for serving

Directions:

1. Preheat oven to 375 degrees. Spray a 9×13 pan with cooking spray.

2. In large skillet over medium heat saute onions until soft. Add garlic and stir for 1 minute but don't let it burn. Next, add beef and sausage to onions and garlic and turn up heat to medium-high. Cook until browned and no longer pink. Drain grease, then stir in sauce and crushed tomatoes.

3. Spread thin layer of meat sauce into bottom of baking dish. Arrange a layer of cooked ravioli over the sauce. Sprinkle mozzarella cheese and Italian cheese over the ravioli. Repeat layers, ending with the last of the sauce on top.

4. Cover with aluminum foil. Bake for 45 minutes until hot throughout. Take foil off and bake about 15 minutes more or until bubbly at edges.

5. Let rest for about 10 minutes before slicing. Sprinkle with Parmesan cheese before serving.

All images and text ©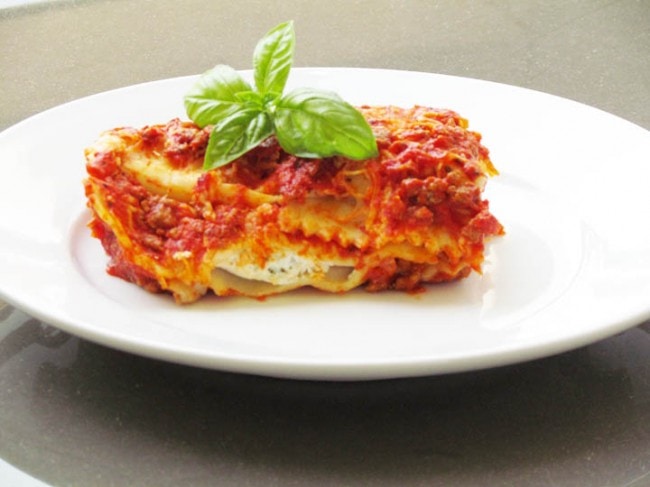 Rachel is a mom of three young kids, works part-time as a Family Events Coordinator, and co-authors Thriving Home with her creative mom friend, Polly. Thriving Home features healthy, kid-friendly recipes, DIY and creative projects, parenting resources, and much more. Check out some of their most popular posts here. You can follow Thriving Home on Facebook, Pinterest or via RSS feed.