Layers of Mostaccioli pasta, San Marzano tomatoes, melted mozzarella, and Parmesan cheese come together in this Italian-inspired baked mostaccioli ready for serving your family and guests a wholesome flavorful meal!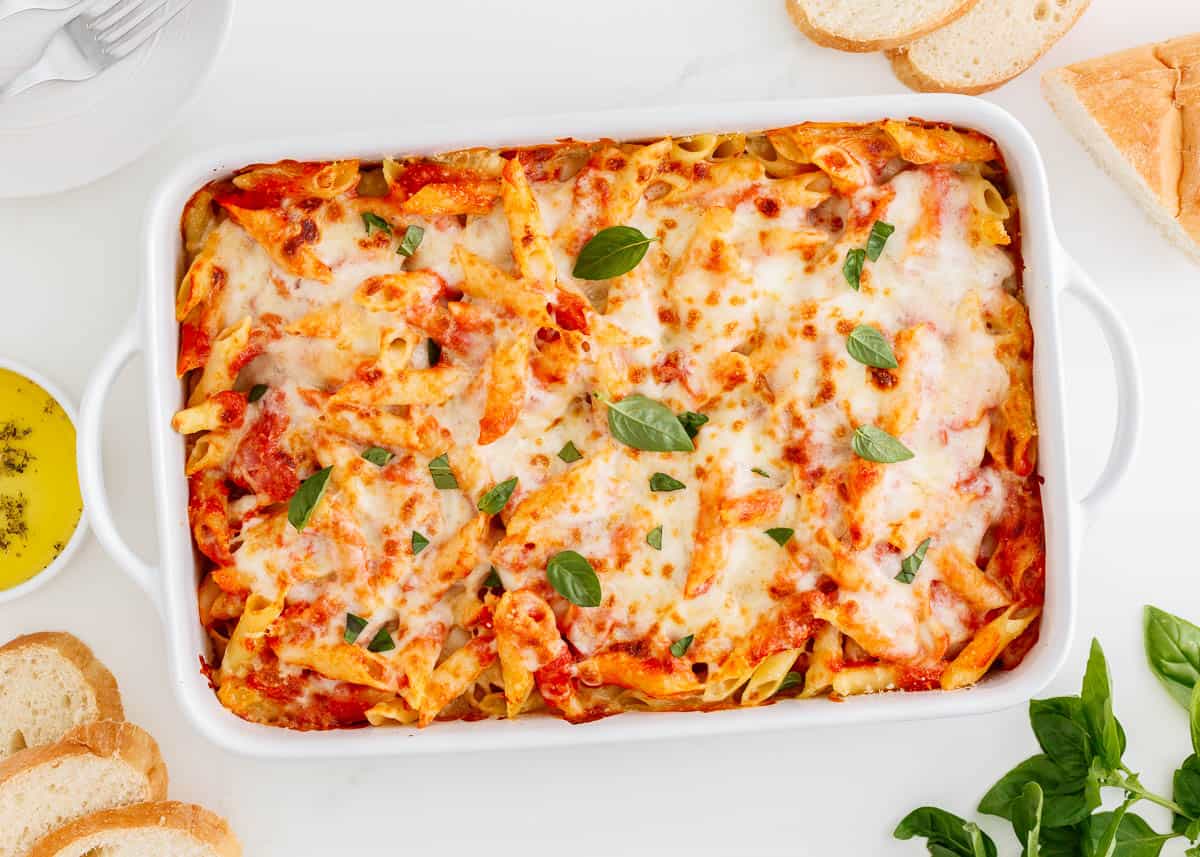 Cheesy, Saucy, and Bold!
As a family of 6, it's not always easy to find a dish that the whole family will love. However when it comes to baked pasta, whether it's baked spaghetti, baked ziti, or this baked mostaccioli recipe, seconds are requested and plates licked clean!
Mostaccioli pasta bake is my take on a classic Italian recipe. It's a filling and satisfying vegetarian version layered with tender noodles, melty cheese, and a tasty sauce rich with the flavors of San Marzano tomatoes. Then it's all baked until golden and bubbly.
Serve baked mostaccioli with a basket of easy garlic bread and a side Italian salad for a complete Italian-inspired meal!
Why This Recipe Works
Hearty and flavorful. Baked pasta mostaccioli has everything we love in any pasta dish. A rich tomato sauce, melted mozzarella, and perfectly tender noodles.
Simple ingredients. There is nothing complicated in the list of ingredients and what's even better is that most of it is customizable!
Make ahead and freezer friendly. Like any good casserole or baked pasta dish, you can prepare it or freeze it for later.
Serves a crowd with leftovers. Whether for your family on a busy weeknight or guests on the weekend, this dish can serve up to 8 people! If you're lucky enough for leftovers it heats easily the next for lunch or dinner.
Recipe Ingredients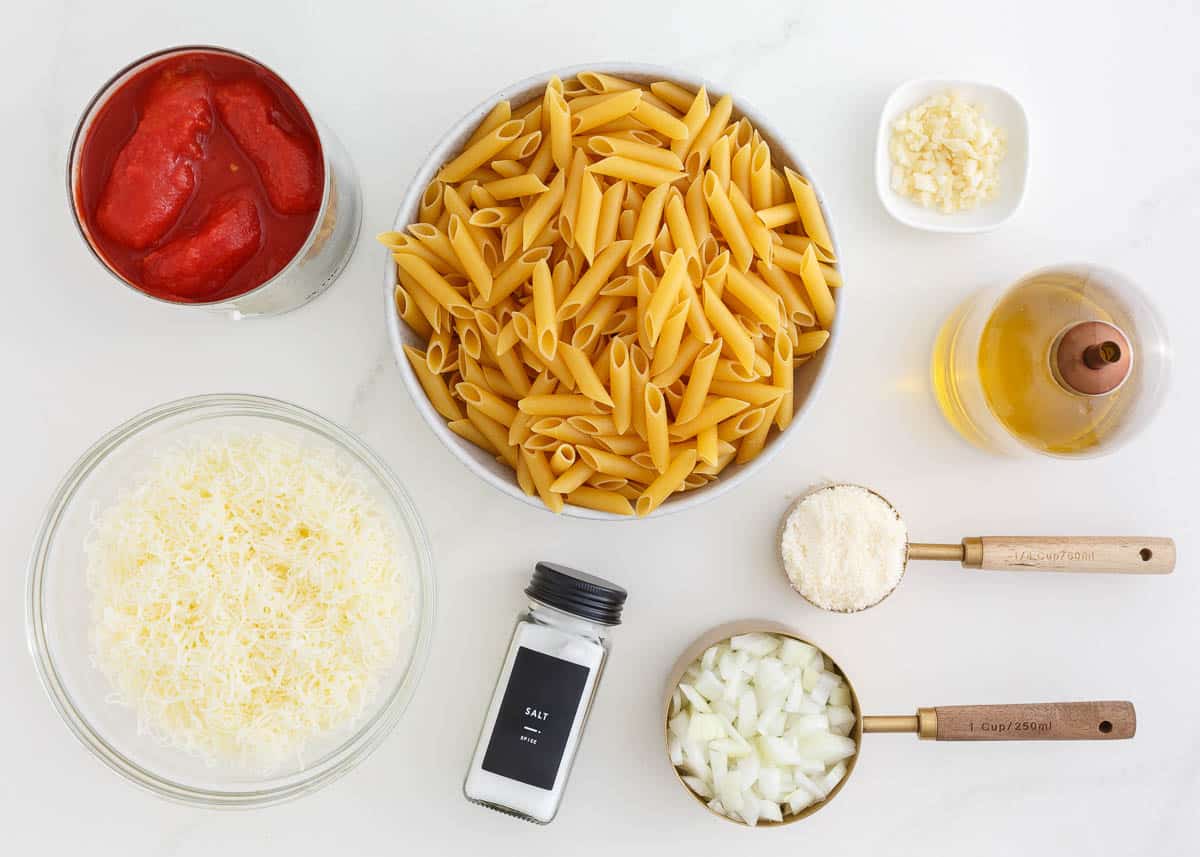 Find the full printable recipe with specific measurements below.
Olive oil: We need some oil to saute the onions and garlic and olive oil is my go-to as it's neutral-tasting, healthy, and traditionally used in most Italian dishes.
Onion & garlic: Aromatics that will help build the layers of flavor in the sauce.
Tomatoes: You want a can of whole peeled tomatoes. I love San Marzano tomatoes as they are authentically Italian and less acidic than regular canned tomatoes.
Salt: To enhance the overall flavor of the sauce.
Uncooked mostaccioli noodles: Mostaccioli pasta looks like penne, however, it is smooth and without ridges. Mostaccioli pasta is the popular choice for this recipe, however, you can use a different pasta.
Mozzarella & Parmesan: Freshly grated mozzarella and Parmesan will melt nicely and taste fresher than pre-shredded cheese. It's what gives the pasta its cheesy goodness!
Variations
You can customize baked mostaccioli by adding meat or veggies if you'd like! There are so many ways to make this simple dish your own.
Meat: Italian sausage, ground beef, or ground turkey can all be used to make it a meaty sauce.
Veggies: Toss in some spinach, mushrooms, zucchini, or bell peppers.
Sauce: If you prefer to use marinara sauce or spaghetti sauce you can. Of course, you can also use regular canned whole tomatoes if you can't find San Marzano tomatoes.
Extra seasoning: To give your sauce some different flavor, add black pepper along with the salt. Sprinkle in some Italian seasoning, fresh parsley, or red pepper flakes for heat!
How to Make Baked Mostaccioli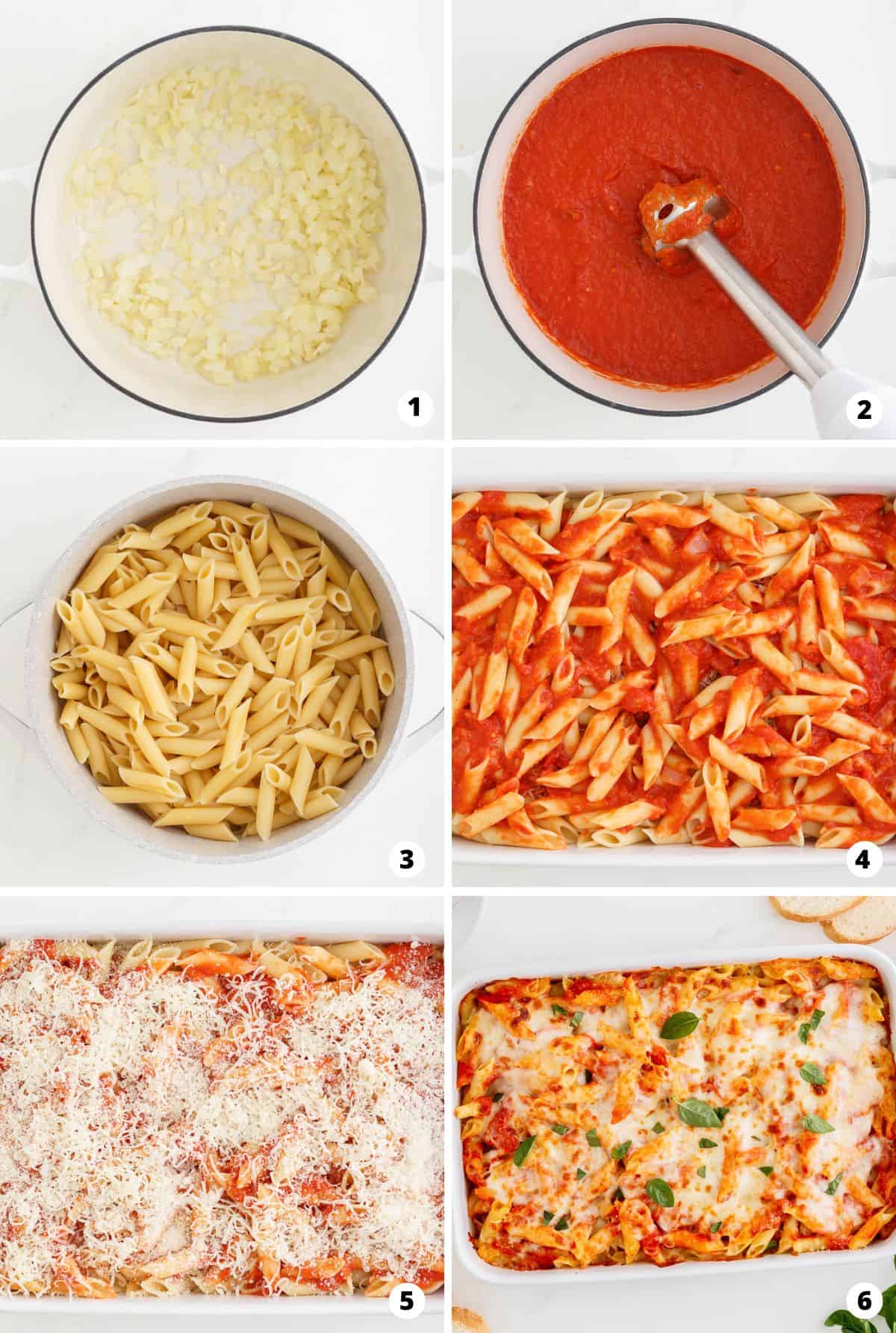 Cook onions and garlic. Cook the aromatics until softened. Start with the onions for the first 5 minutes and then add the garlic for just 1 minute more. Garlic cooks quickly and can burn easily, so just be careful that it doesn't start to brown.
Add tomatoes. To the same pot, add the tomatoes to the pot, but as you release them from the can, use your hands to break them up. Add salt, then bring it to a low boil and reduce to a simmer for 30 minutes. Once the tomatoes are cooked, use an immersion blender to puree until smooth and creamy.
Cook pasta. In the meantime, cook the pasta in a large pot of salted water until al dente, according to package instructions (this usually means 1-2 minutes less than instructed). Al dente means it'll still have a bit of a bite to it so that it's not overcooked while it bakes in the oven.
Start layering. To the bottom of a casserole dish, spread a thin layer of the sauce. Add 1/2 the pasta on top, then half the sauce, and some of the cheese.
Finish layering. Repeat the layers one more time finishing with a sprinkle of Parmesan cheese. Cover with foil.
Bake and serve. Bake in a preheated oven set to 350°F until the cheese has melted and the sauce is bubbly. I like to place the finished baked mostaccioli under the broiler for an extra minute to give it that extra golden cheesy topping. Enjoy!
Expert Tips
Freshly grated mozzarella. I can't stress it enough, grate your own fresh mozzarella! It makes a difference.
Cook noodles to al dente. Warm noodles absorb the sauce and will continue to cook in the oven. If they start completely cooked, they will be mushy when they come out of the oven. Brush up on more tips for cooking pasta.
If using marinara, or another kind of sauce, be sure to go for the good quality stuff. There are so few ingredients in this easy, baked mostaccioli that each ingredient stands out.
When under the broiler, keep an eye on it. If 1 minute isn't golden enough for you, try another 1-2 minutes but no more. Don't walk away, it can burn if you're not watching it.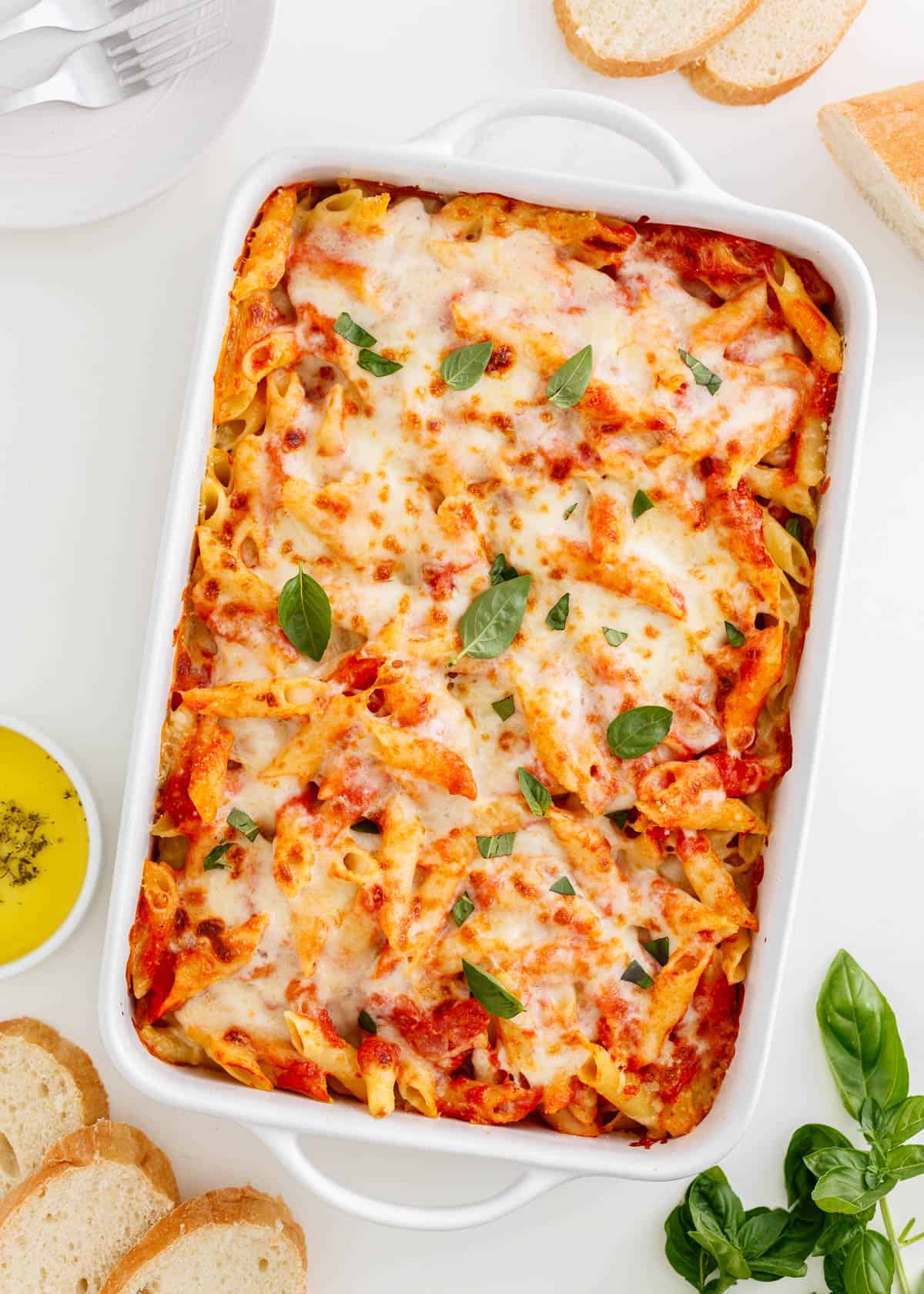 Recipe FAQs
What is mostaccioli?
In a nutshell, mostaccioli is a type of pasta noodle. It's a tube with ends cut diagonally, very much like penne. However, unlike penne, the outside of the noodles is smooth without ridges.

The baked mostaccioli dish itself isn't widely known in Italy, as it's very much Italian-American. If you were to ask Italians what mostaccioli is, they'd tell you they were a type of Christmas cookie originating in Southern Italy. Naples to be exact!
Can I use a different type of pasta?
Absolutely! As with most of my baked pasta recipes, the noodles themselves are interchangeable. Chicken Parmesan pasta, for example, uses rigatoni or penne, so both can be used in this baked mostaccioli as well.

Caprese pasta bake uses ziti, penne, or rigatoni and all three can also be used in this dish.
What's the difference between penne and mostaccioli?
It's a type of smooth pasta, sometimes referred to as penne lisce. Although not the same, they can pass for one another.
Make Ahead and Storing
Make ahead. Prepare the baked mostaccioli in advance by assembling it completely without baking it. Cover with aluminum foil and keep it in the fridge for up to 48 hours. When ready to bake, remove the foil and bake for a total of 35-45 minutes. You'll need to account for extra time as it's going in straight from the fridge.
To Freeze. Cover the baking dish with foil. I like to use disposable foil dishes for times like these. Transfer it to a freezer-safe zip-top bag and keep frozen for up to 1 month. Thaw on the counter for 1 hour or overnight in the fridge then pop it in the oven to bake.
To reheat leftovers: Loosely cover the dish with foil to prevent the baked mostaccioli from drying out and bake at 350°F for about 15 minutes until heated throughout.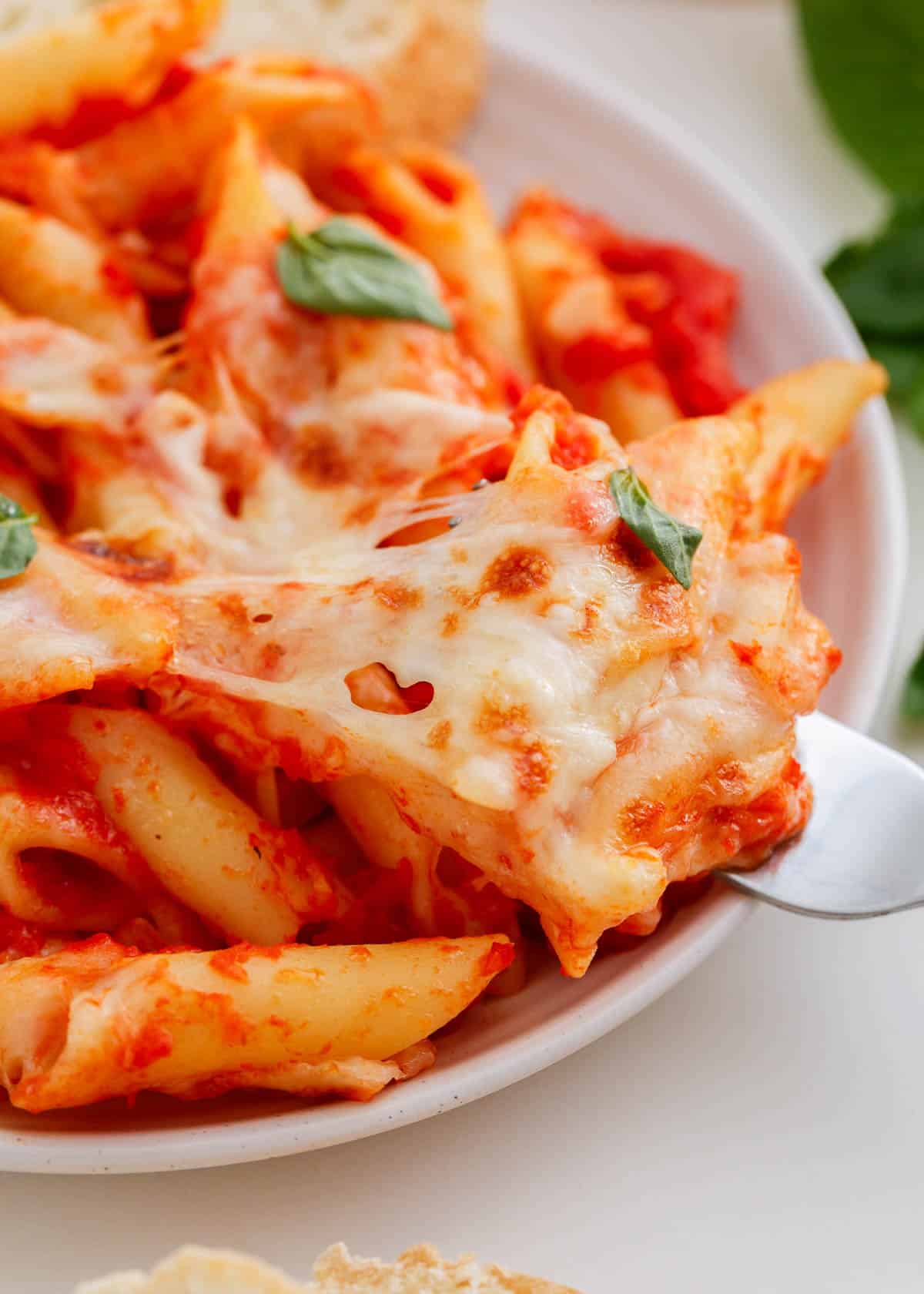 HUNGRY FOR MORE? Subscribe to my newsletter and follow on Facebook, Pinterest and Instagram for all the newest recipes!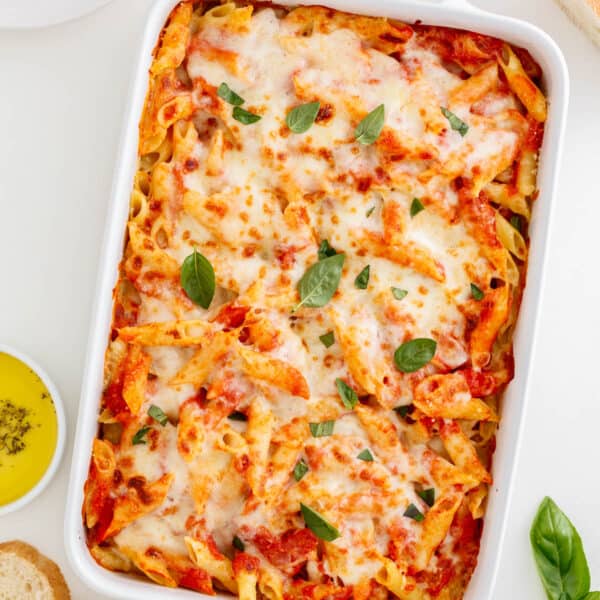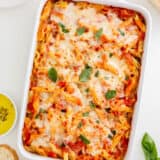 Baked Mostaccioli
Layers of Mostaccioli pasta, San Marzano tomatoes, melted mozzarella, and Parmesan cheese come together in this Italian-inspired baked mostaccioli ready for serving your family and guests a wholesome flavorful meal!
Ingredients
2 Tablespoons extra-virgin olive oil
1 cup chopped yellow onion
3 cloves garlic , minced
1 (28-ounce) can whole, peeled San Marzano tomatoes
1 teaspoon Kosher salt
1 pound uncooked mostaccioli
2 cups grated fresh mozzarella cheese
¼ cup parmesan cheese
fresh basil , for topping
Instructions
Preheat the oven to 350°F. Spray a 9×13-inch baking dish with nonstick cooking spray.

In a large pot, heat oil over medium heat. Stir in onions and cook 5 minutes, or until softened. Add garlic and cook 1 minute more, being careful not to brown.

Using your hands, break up the tomatoes when adding to the pot. Add salt. Bring to a low boil and reduce heat to low. Simmer 20-30 minutes. Using an immersion blender, blend the sauce until smooth and creamy.

Cook the mostaccioli according to package directions. Drain.

In the baking dish, spread a thin layer of sauce. Layer 1/2 pasta, 1/2 sauce, 1 cup of the cheese. Repeat the layers with remaining ingredients and sprinkle the parmesan over the top. Cover with foil.

Bake 30 minutes, or until cheese is melted and bubbly. You can broil the last minute to make the top golden, if desired. Serve with fresh basil on top.
---
Notes
Marinara. You can replace the tomatoes with your favorite marinara sauce. Also, feel free to add in 1 teaspoon Italian seasoning. Cheese. Grate your own mozzarella cheese! Freshly grated cheese melts way better than the pre-shredded bags and makes all the difference! Make-ahead: To make in advance, simply assemble, cover with foil, and place in the fridge. The dish will keep in the fridge for about 2 days. When ready to bake, simply remove the foil and bake at 350°F for 35 to 45 minutes. Reheating leftovers: Loosely cover with foil and cook in the oven at 350°F until warmed throughout. The foil helps to keep the mostaccioli from drying out. I've found that it takes about 15 minutes to heat all the way through. Freeze: Place 1/2 of the pasta mixture in an 8×8-inch baking dish and cover with foil. Place in a zip-top bag and freeze. When ready to cook, remove from the freezer and thaw on the counter 1 hour or in the refrigerator overnight. Preheat the oven and bake for 35 to 45 minutes.
Nutrition
Calories: 347kcal | Carbohydrates: 45g | Protein: 15g | Fat: 11g | Saturated Fat: 5g | Polyunsaturated Fat: 1g | Monounsaturated Fat: 5g | Cholesterol: 24mg | Sodium: 521mg | Potassium: 183mg | Fiber: 2g | Sugar: 3g | Vitamin A: 214IU | Vitamin C: 2mg | Calcium: 197mg | Iron: 1mg
Nutrition provided is an estimate. It will vary based on specific ingredients used.
Did you make this recipe? Don't forget to give it a star rating below!