This fresh chopped salad is made with 5 key ingredients in less than 10 minutes! Customize with all your favorite mix-in's and dig in!
This recipe starts with a salad base of greens, tomatoes, cucumbers, sunflower seeds and feta. Then from there, you can build upon it with any extras like chopped olives, chickpeas, bell peppers, sliced avocado and shredded chicken. Oh, and you can't forget the homemade croutons for an added crunch!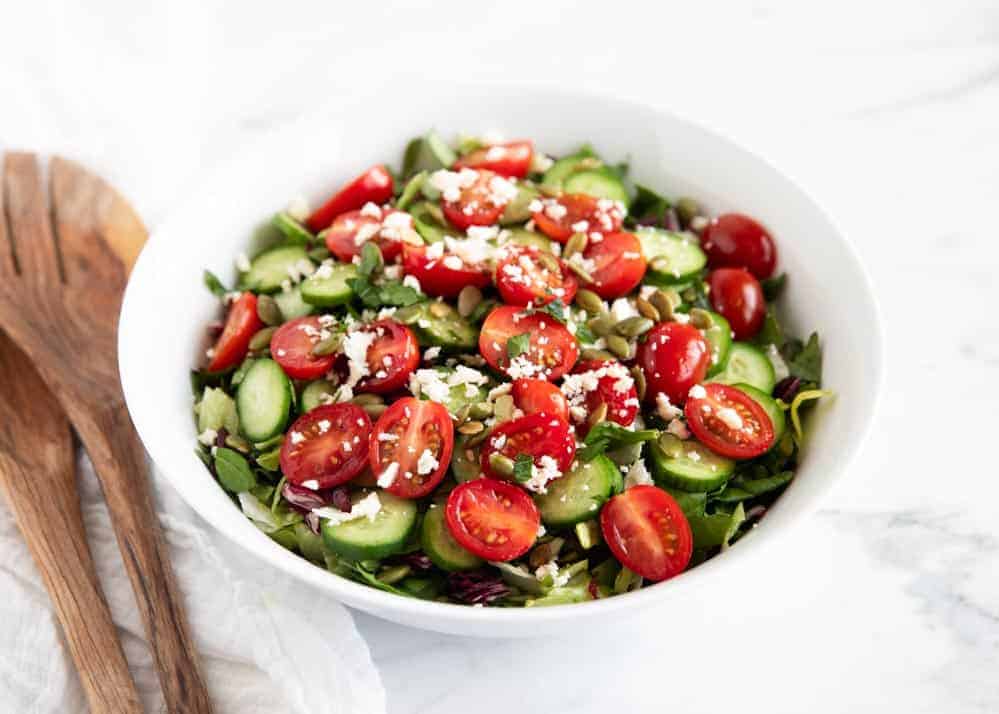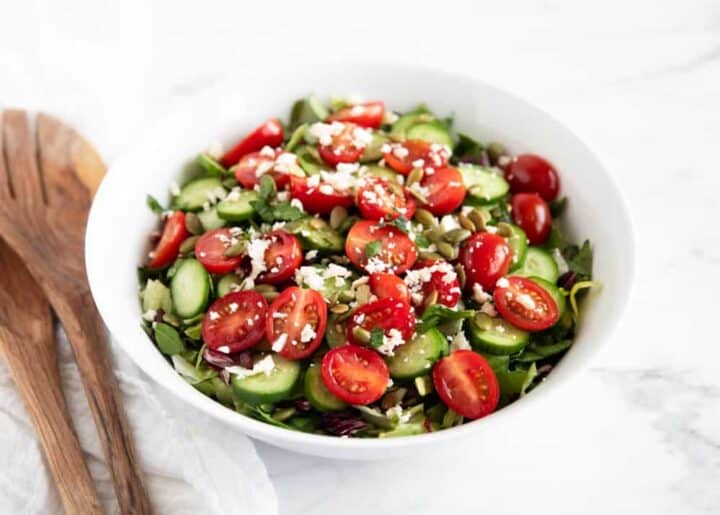 One of my favorite things to make during the Spring is a big chopped salad with all my favorite finds from the farmers markets. The best part about a tossed salad is that you can completely customize it based on what you have on hand or what's in season. I also love that the lettuce is chopped up smaller and much easier to eat. There's just something about a chopped salad that's so much better than a regular salad!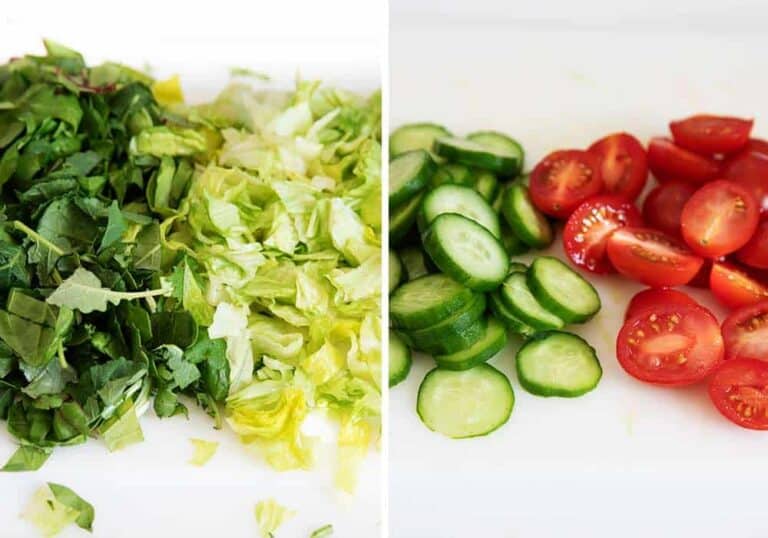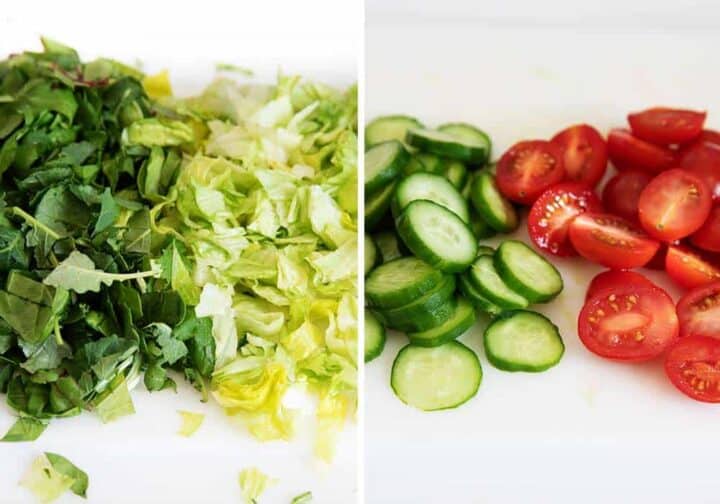 Ingredients
There are so many things you can mix into your chopped salad depending on what you have on hand and what you're in the mood for. I typically like to pick 1-2 from each category below:
Greens: mixed salad greens, romaine, iceberg lettuce, spinach, bibb lettuce, kale
Veggies: tomatoes, bell peppers, cucumbers, carrots, broccoli, corn, radishes, radicchio
Beans: kidney beans, garbanzo beans
Cheese: feta or bleu cheese, mozzarella cheese, cubed provolone or cheddar cheese
Nuts and seeds: sunflower seeds, sliced almonds, cashews, walnuts or pecans
Protein: grilled chicken or steak, crumbled bacon, hard boiled egg
Dressing: Vinaigrette, balsamic, ranch, poppy seed dressing or cilantro lime dressing
Extras: mushrooms, pickled onions, olives, croutons, tortilla strips, wonton strips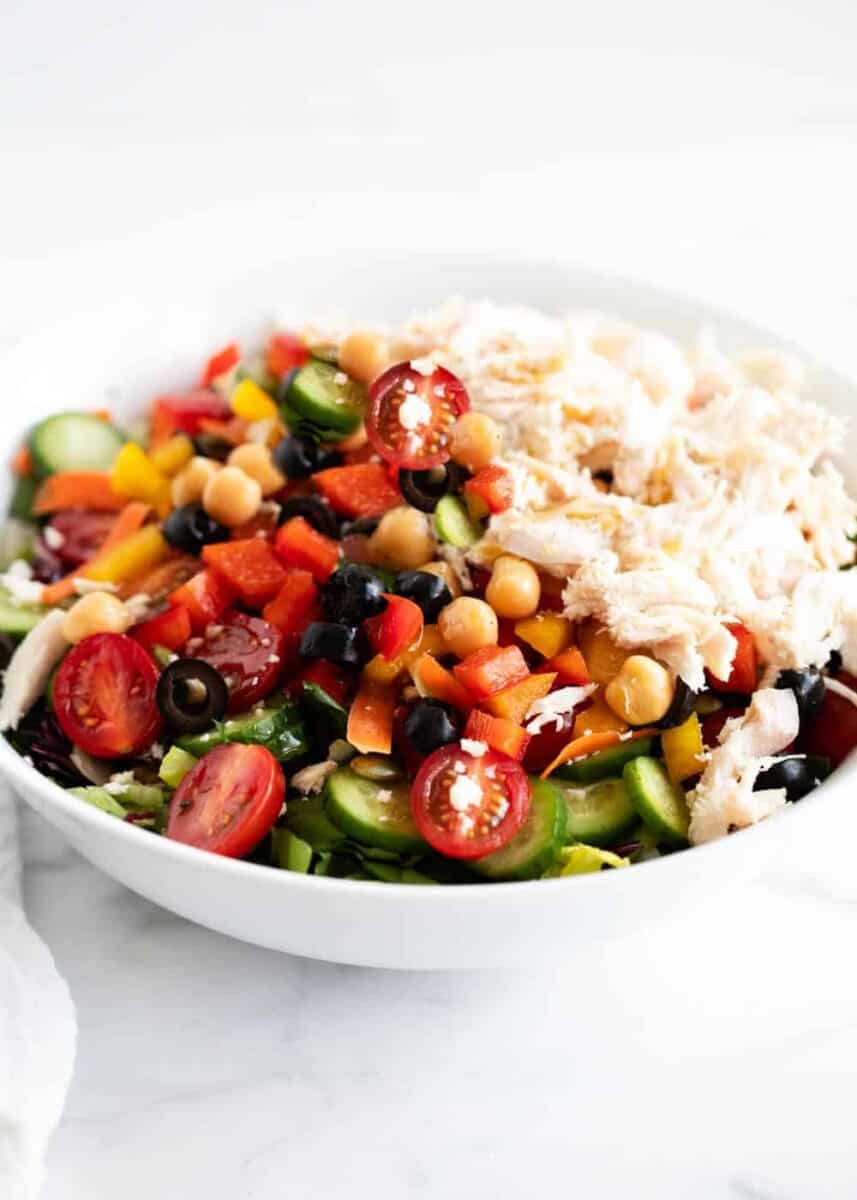 Tips for the best chopped salad
Use a large bowl. You need a bowl that's big enough so that when you toss the salad, it doesn't overflow out of the bowl. It's a small detail, but makes a big difference.
Dry veggies. Make sure to dry your veggies completely after washing them. Excess water can make your salad a bit soggy.
Finely dice. This is what's so magical about a chopped salad. Everything is diced into super small pieces, leaving you with the perfect bite every time. It takes a little bit of extra work, but trust me, it's worth it.
Produce. Use vegetables that are in season! Fresh tomatoes and cucumbers taste great in the summer and use root vegetables like carrots or radishes in the fall.
Homemade dressing. Making the dressing from scratch is an easy way to elevate your salad. The flavor and consistency always outshines store-bought dressing in my opinion. A few of my favorites to make are ranch or an easy vinaigrette.
Side or main. The beauty of this recipe is that you can make it as simple or complex as you'd like. If serving as a side dish, I usually stick with the base ingredients. It can also be served as a main meal by adding a protein source and a few more toppings.
Toss well. After drizzling on the dressing, use tongs to toss the salad until all areas are coated. It may take a few tosses before everything is properly mixed together.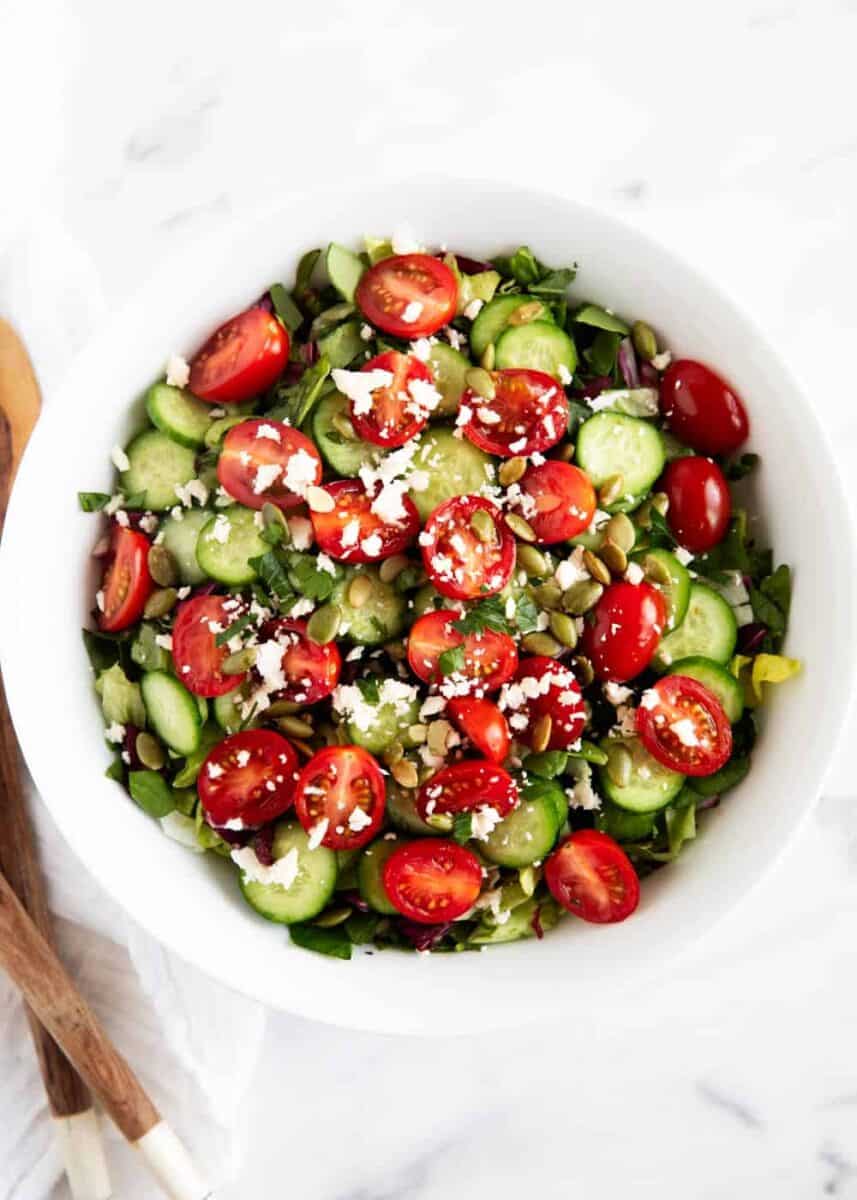 Other fresh salad recipes: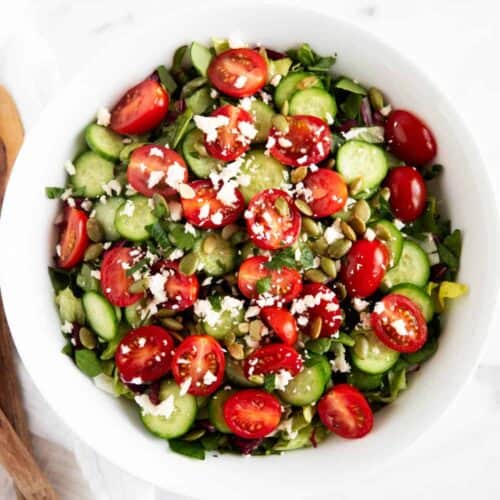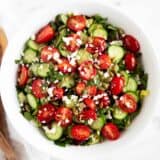 Chopped Salad
This fresh chopped salad is made with 5 key ingredients in less than 10 minutes! Customize with all your favorite mix-in's and dig in!
Ingredients
8 cups mixed greens , chopped fine
1 pint cherry tomatoes , sliced in half
1 cup chopped cucumbers
1/4 cup sunflower seeds , or sliced nuts
1/4 cup feta cheese
Optional mix-ins: chicken, olives, garbanzo beans, bell peppers, extra veggies
For serving: Vinaigrette, ranch or balsamic
Instructions
Chop the greens extra fine and place in a large bowl. Next add the sliced tomatoes, chopped cucumbers, sunflower seeds and cheese. Add additional mix-ins if desired.

Drizzle the dressing over top and then toss with salad tongs. Serve immediately.
---
Notes
Extra mix-ins (calories not included in count):
Greens: mixed salad greens, romaine, iceberg lettuce, spinach, bibb lettuce, kale
Veggies: tomatoes, bell peppers, cucumbers, carrots, broccoli, corn, radishes, radicchio
Beans: kidney beans, garbanzo beans
Cheese: feta or bleu cheese, mozarella cheese, cubed provolone or cheddar cheese
Nuts and seeds: sunflower seeds, sliced almonds, cashews, walnuts or pecans
Protein: grilled chicken or steak, crumbled bacon, hard boiled egg
Dressing: Vinaigrette, balsamic, ranch
Extras: mushrooms, olives, croutons
Calories: 111kcal | Carbohydrates: 10g | Protein: 5g | Fat: 6g | Saturated Fat: 1g | Cholesterol: 8mg | Sodium: 139mg | Potassium: 494mg | Fiber: 1g | Sugar: 4g | Vitamin A: 1550IU | Vitamin C: 46.6mg | Calcium: 81mg | Iron: 1.9mg