The easiest no-bake brown butter rice krispie treats take a nostalgic classic and turn it up a few notches with one simple change. Our favorite irresistible sweet, salty, buttery, caramelized treats have had a makeover and we are here for it!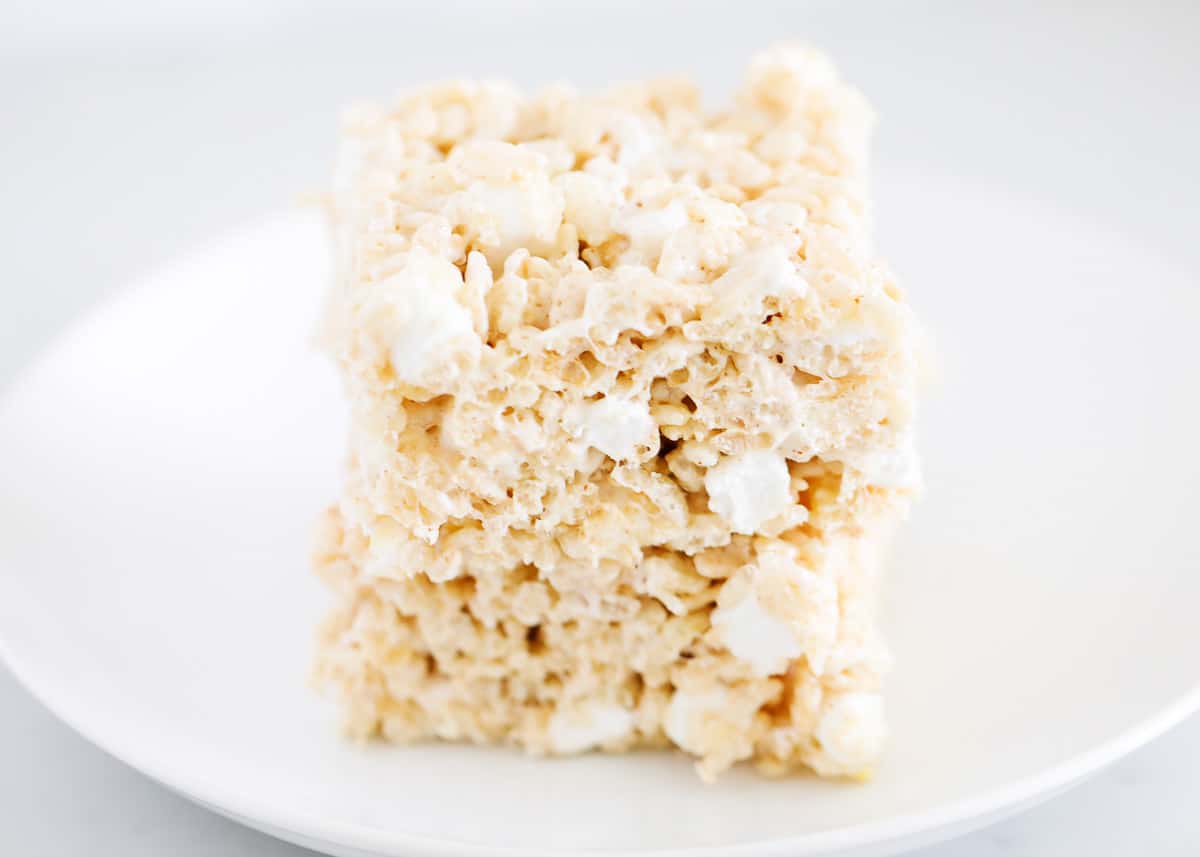 A Delicious Twist
Want to level up your classic rice krispie treats recipe? Brown the butter! It makes them SO delicious! It's pretty ambitious to make changes to a tried and true classic but believe me, it's so worth it. A simple swap of butter for salted brown butter and you'll wonder why these weren't a thing when you were growing up!
If I had to choose my top 5 favorite no-bake desserts, brown butter Rice Krispies would be on the list for sure. They're chewy and marshmallowy just like traditional rice treats but it's the addition of brown butter with its signature nutty flavor and darker color that takes it to new heights.
It's the kind of dessert or snack that works when you're in the mood to make something delicious (or eat something delicious) but you want it quick, easy, and without having to turn on the oven. We love these scotcheroos for those reasons, too!
Ingredients for Brown Butter Rice Krispie Treats
These are always a crowd favorite with the kids. They're gooey when ripped apart, they're sweet, buttery, and crispy! Such a no-fuss budget-friendly treat to have on hand for parties, bake sales, school lunch boxes, and gatherings of any kind.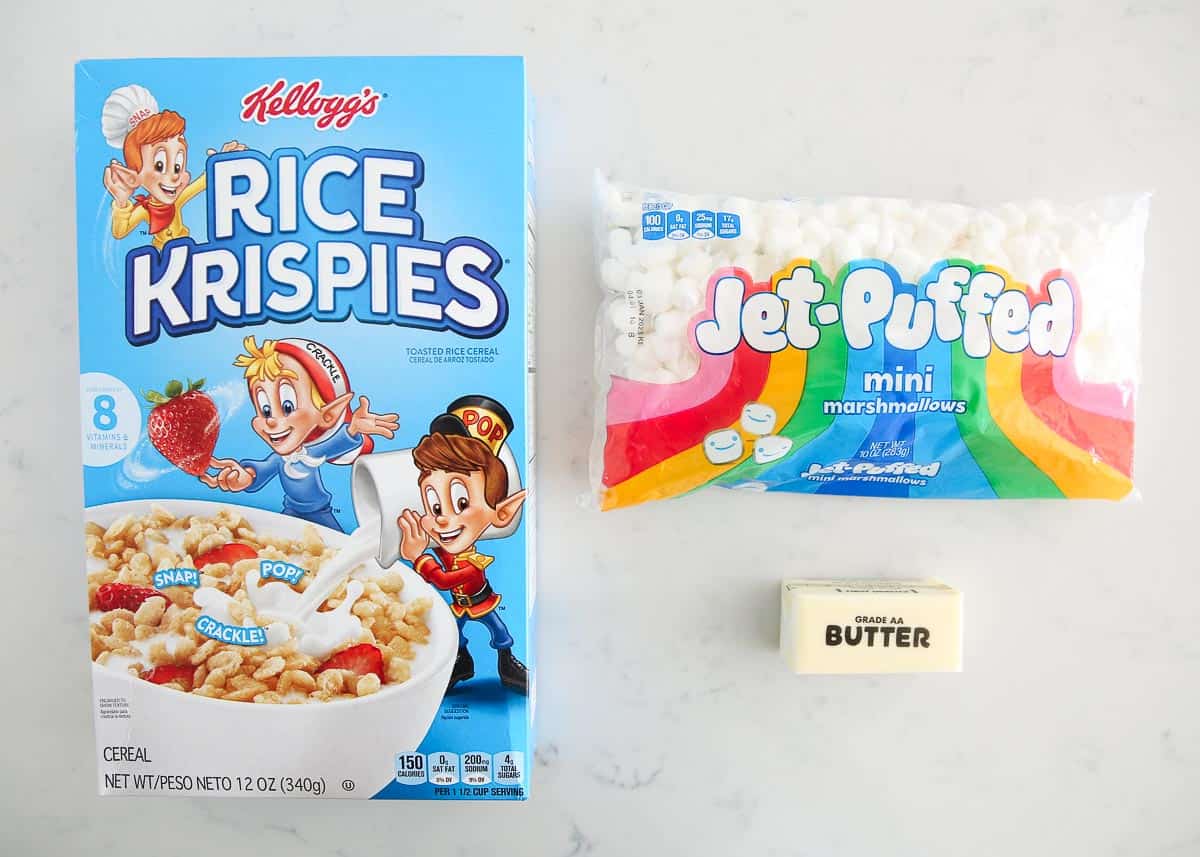 Find the full printable recipe with specific measurements below.
Salted butter: It's a delicious balance to the sweetness plus it gives it that salty caramelized flavor. This gives the sweet treat a balance of sweet and salty in every bite.
Mini marshmallows: The mini bag marshmallows melt quicker and fit perfectly in the
Rice Krispies cereal: Purchase a 12-ounce box of Rice Krispie cereal for the base. You will use about half the box. This is what you will be biting into and making the treats out of.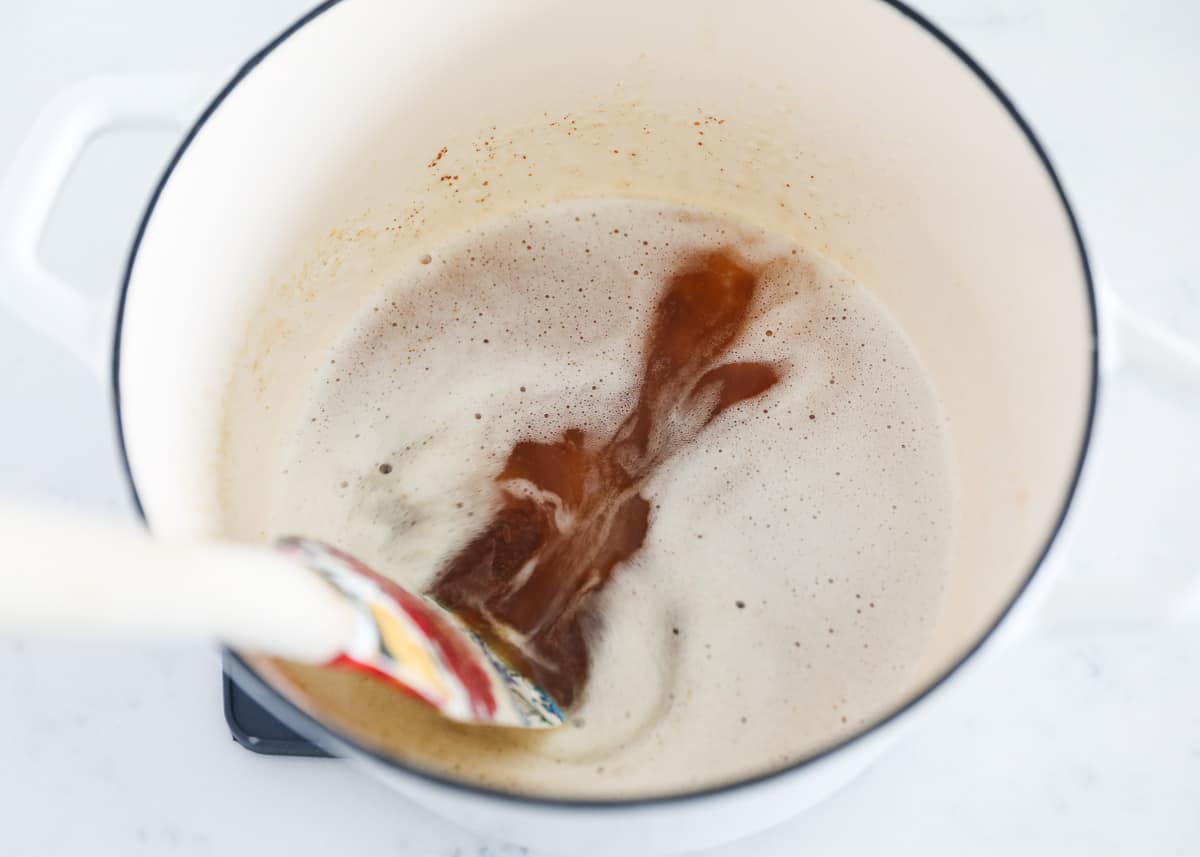 A Simple Brown Butter
Browning butter isn't tricky by any stretch and once you know how to make brown butter you'll find any excuse to use it, like in these brown butter chocolate chip cookies or brown butter blondies.
All it takes is a watchful eye and you're in for a game-changing ingredient to add to so many desserts! One bite of these brown butter rice krispie treats and you may never go back to regular rice krispies again!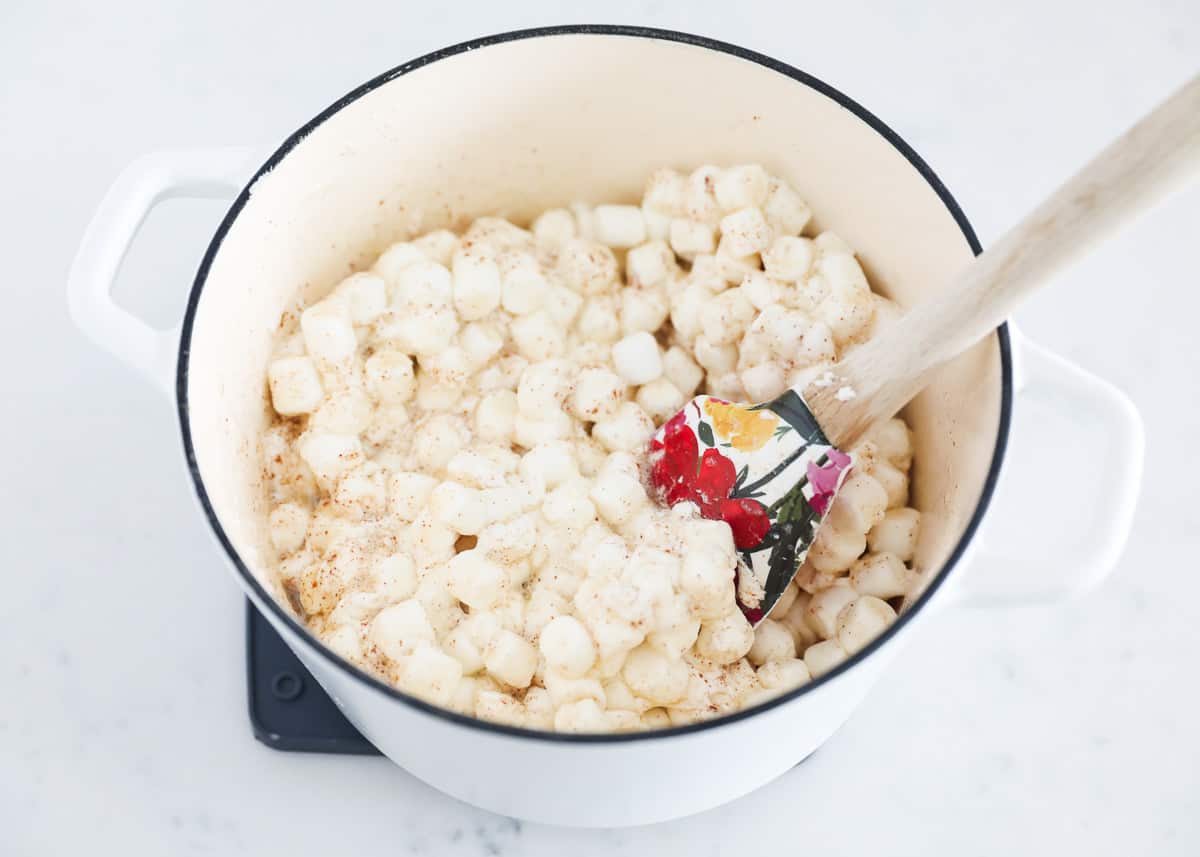 Tips for the Best Brown Butter Rice Krispies
These helpful tips and ideas will make this simple recipe even easier! Follow these guidelines to know what is best when making brown butter rice crispy treats. It is a great recipe that is easy to make!
Grease the pan. Before you begin use cooking spray in the large pot. Marshmallows are super sticky and it helps to avoid any issues.
Avoid burnt butter. By continuing to swirl it and keeping an eye on it. There is a fine line between brown butter and burnt butter. Remove it from the heat once it gets to a delicious golden brown color with a nutty aroma.
Keep the bits of milk solid. You may find at the bottom of the dutch oven some bits of pieces. It's great for flavor (unless of course, they're too dark and burnt, in which case toss them).
This recipe yields. About 16 squares or 9 larger ones are cut depending on the size.
To avoid sticking. Use a wooden spoon or rubber spatula coated in butter, a bit of wax paper, or parchment paper when pressing down into the prepared baking pan.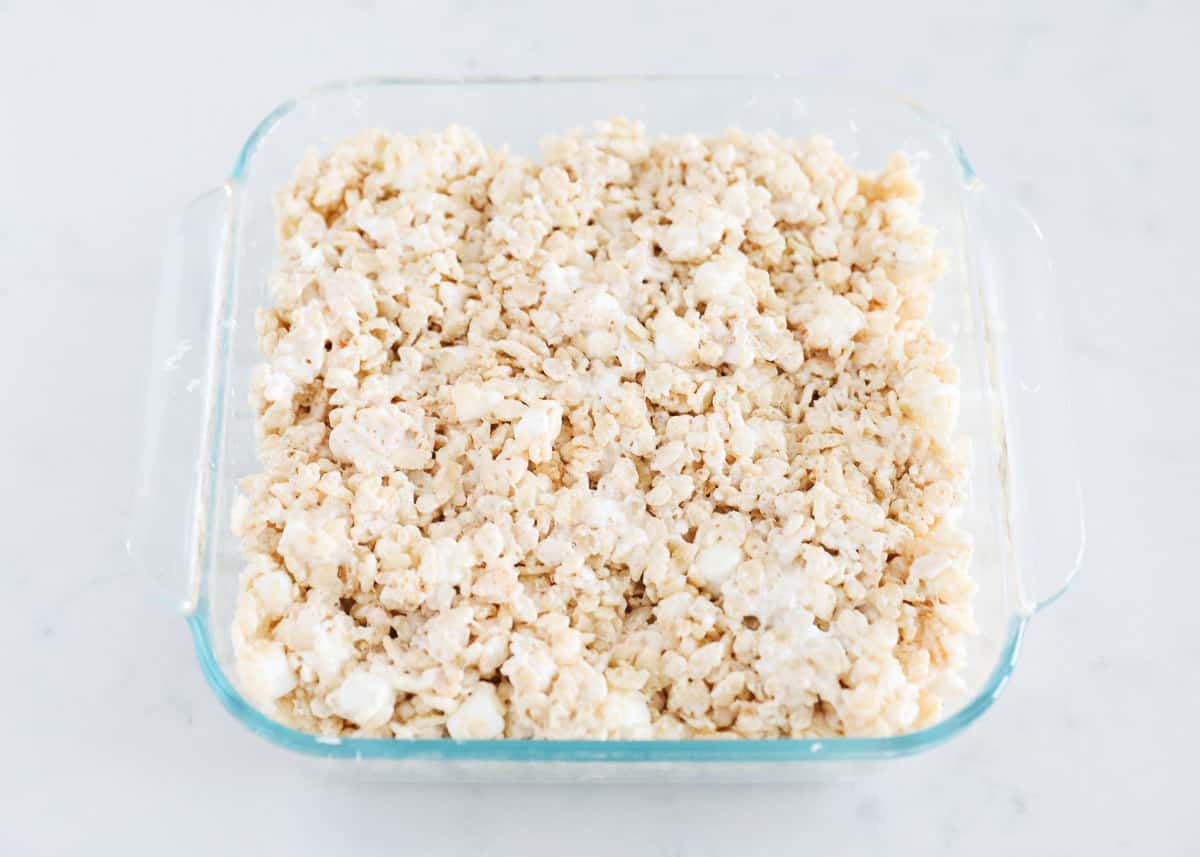 Variations
For any of the add-ins, you'll want to stir them in when you're mixing everything together once melted. The best rice krispie treats have a little extra fun inside them. Try these variations to take your rice krispies to the next level!
Add color! Add food coloring or sprinkles for a festive holiday idea, as I did with these red, white, and blue rice krispies.
Extra crunch. For added crunchy textures and fun flavor, mix in M&Ms, butterscotch chips, white chocolate, or chocolate chips.
Nut butter. Add your favorite like I do in these peanut butter rice krispies treats.
Salty and sweet. Sprinkle flaky sea salt on top for an extra bit of saltiness. If you've never used it before, you're welcome. It'll forever change the way you do sweets.
Vanilla extract. Adding a bit of vanilla to the brown butter will give your rice krispies even more of a caramel flavor.
Gluten-free: For gluten-free, vegan, or dairy-free versions, you'll want to make sure to check your packages for certifications.
Homemade marshmallows. Take this up a notch and use homemade marshmallows. That would be AMAZING!
5 star review
"The brown butter adds so much additional flavor that you wouldn't get otherwise. We love these!"

-Katie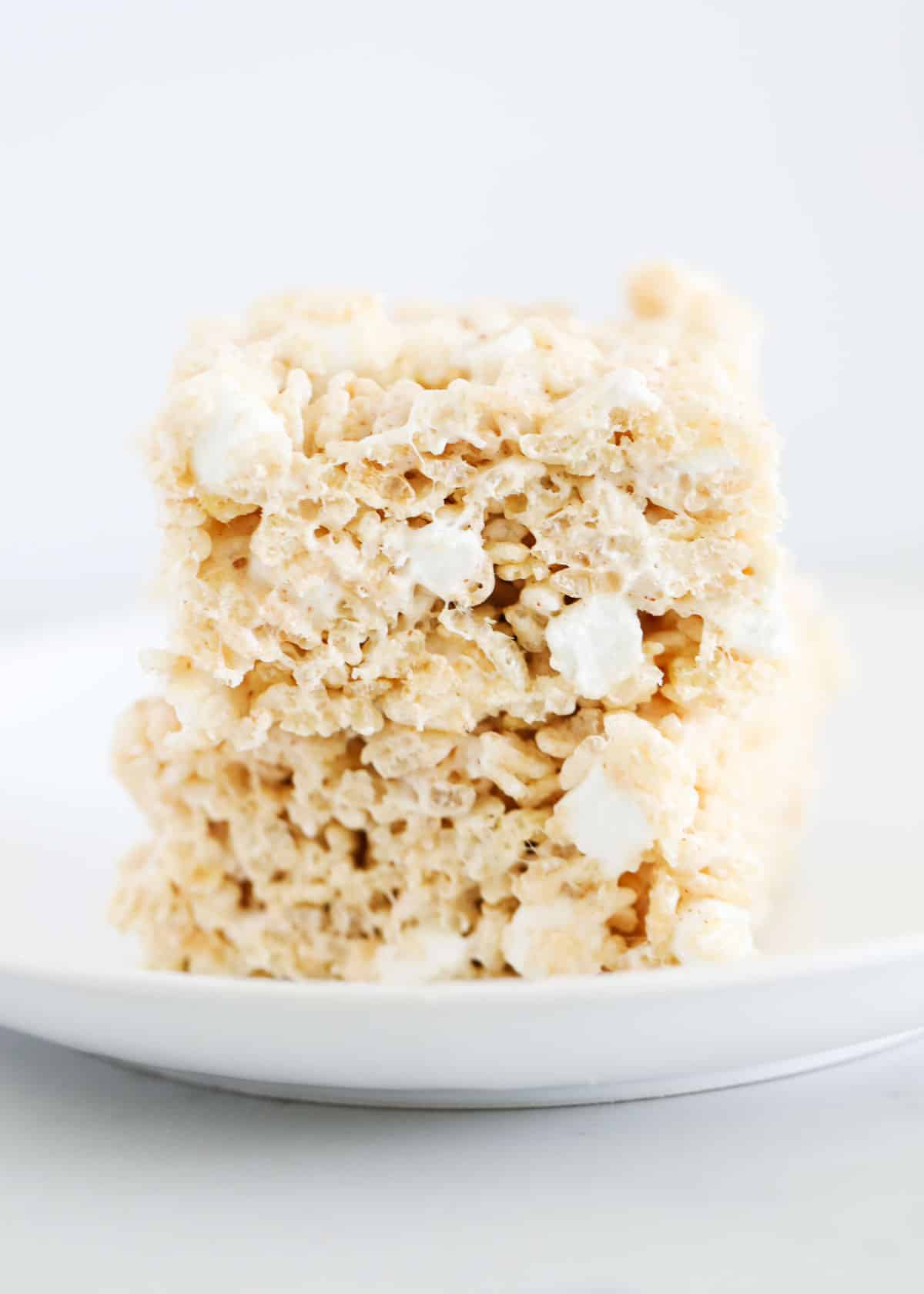 Recipe FAQs
What is the brown stuff on my rice crispy treats?
This would show the brown butter throughout the treats. The brown butter gives a sweet texture, taste, and color to the rice crispy treats.
Why was Rice Krispies discontinued?
Due to a supply chain crisis that affected the food industry. The main ingredient of barley malt extract was hard to find during certain times.
What can I use instead of Rice Krispies for Rice Krispie Treats?
Any other cereal will work great to replace the rice krispie cereal.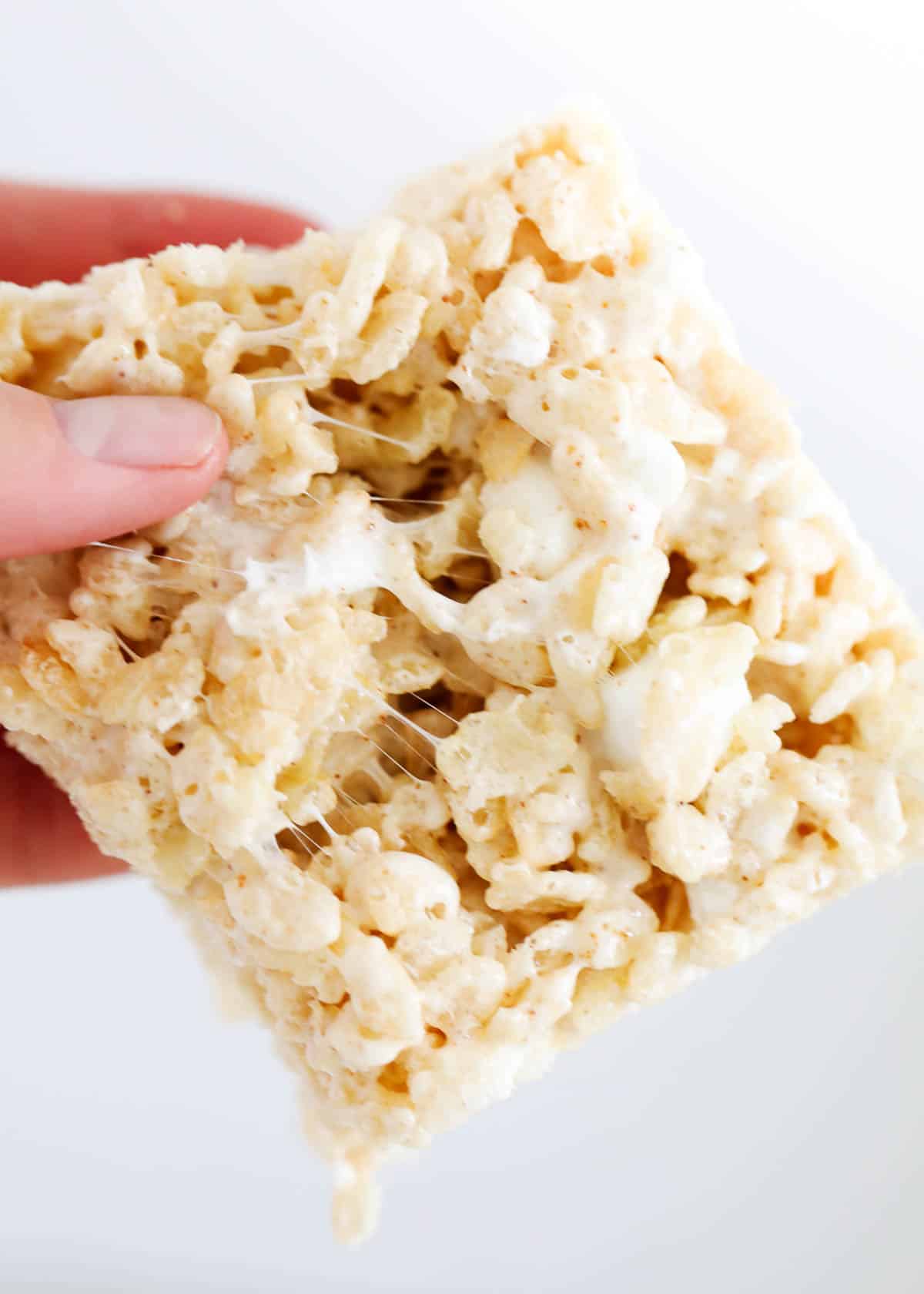 Storing & Freezing
To store: Keep leftover squares in an airtight container at room temperature. If left out uncovered they will become hard and lose their chewy consistency.
To freeze: Wrap each piece individually and store them in an airtight freezer-friendly bag for up to 3 months. This way you can just take out as many as you need later on.
More Easy No Bake Desserts
HUNGRY FOR MORE? Subscribe to my newsletter and follow on Facebook, Pinterest and Instagram for all the newest recipes!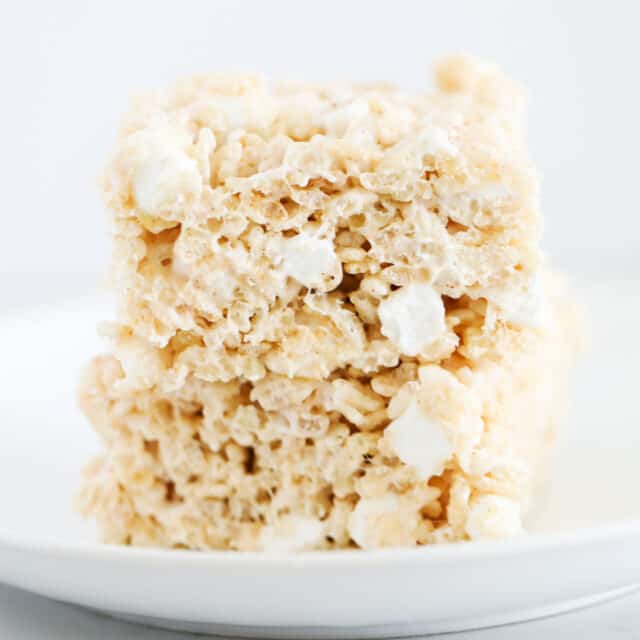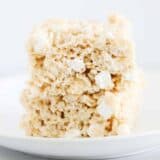 Brown Butter Rice Krispie Treats
The easiest no-bake brown butter rice krispie treats take a nostalgic classic and turn it up a few notches with one simple change. Our favorite irresistible sweet, salty, buttery, caramelized treats have had a makeover and we are here for it!
Ingredients
6 Tablespoons salted butter
16 ounce mini marshmallows
6 cups rice krispies cereal (about 1/2 a box)
Instructions
Line a 9×9″ baking dish with foil and butter. Place the cereal and 2-3 cups of the marshmallows in a large bowl. Set aside.

Melt butter in a large saucepan over medium-low heat. Once melted, continue cooking the butter for about 2 more minutes, until it has turned golden brown. To prevent it from sticking to your pan, make sure to swirl it around using the pan handle. The butter will turn a golden amber color and will put off a nutty aroma. That's when you'll know it's done. Remove the pan immediately from the heat (so that it doesn't burn) and let sit just a minute.

Add 7-8 cups marshmallows to the pan and stir until they melt. Once they are almost melted, pour over the rice krispies in the bowl. Mix until completely coated with the marshmallow mixture.

Add mixture to baking dish and press down with a spoon coated in butter or wax paper to compact and level out surface.

Allow to cool and then slice into 16 squares (or 9 large squares). I find using a plastic knife to cut them works best. Store in a covered container.
---
Notes
Storing: These rice krispies will keep for up to 3 days if stored in an airtight container or bag. To freeze, wrap each treat individually in plastic wrap and then store in a freezer container up to 3 months. Variations: For holidays you can add food coloring or sprinkles. For extra flavor you can mix in M&M's, butterscotch chips or chocolate chips. You could also sprinkle flaked salt on top. Mix in right when you're stirring the mixtures together.
Nutrition
Serving: 1square | Calories: 198kcal | Carbohydrates: 38g | Protein: 1g | Fat: 4g | Saturated Fat: 2g | Cholesterol: 11mg | Sodium: 146mg | Potassium: 19mg | Sugar: 19g | Vitamin A: 1170IU | Vitamin C: 9.8mg | Calcium: 3mg | Iron: 4.8mg
Nutrition provided is an estimate. It will vary based on specific ingredients used.
Did you make this recipe? Don't forget to give it a star rating below!