Halloween Rice Krispie Treats are fun Halloween treats that bring color and festivity to any party! Made quickly and easily with homemade rice krispie treats and food coloring, these adorable balls can be turned into monsters, mummies, and more!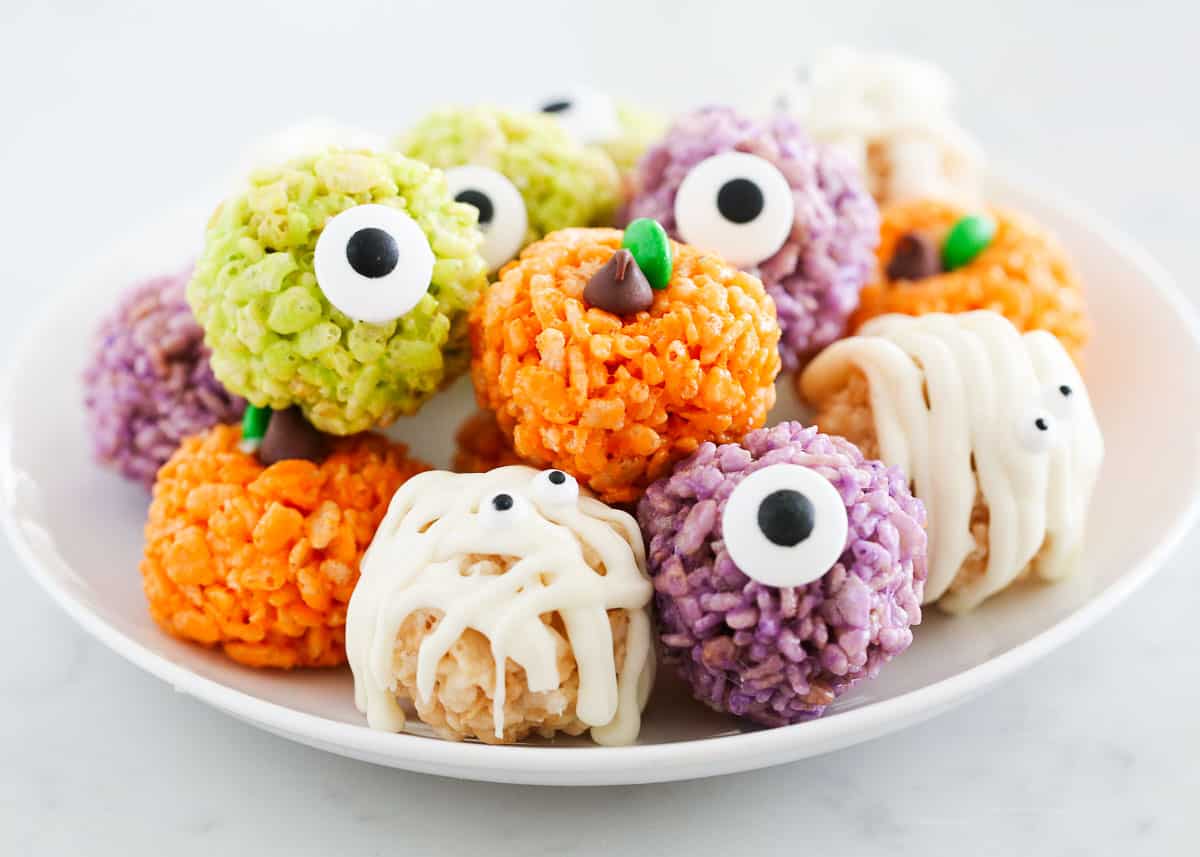 Easy Halloween Dessert
When it comes to Halloween desserts I always like to make sure they're kid-friendly recipes. Whether it's my Halloween candy popcorn, Halloween sugar cookies, or Halloween Oreo balls, I'd rather they be fun and festive rather than spooky or scary!
This is why these Halloween rice krispie treats are as adorable as they are! They're so easy to make, fun to look at, and tasty to eat. The kids love turning them into little pumpkins, monsters, and mummies!
Monster rice krispie treats are made with a base of homemade rice krispie treats, some food coloring, and small or large candy eyes. These couldn't be easier to make and are the perfect way to add some color and creativity to your Halloween party dessert table!
Why This Recipe Works
Simple ingredients. These Halloween treats are made with 5 ingredients. There is nothing complicated about this recipe, so some kids can do it all themselves!
Customizable. Use different colors for different occasions! You might want to skip the eyes for Easter or Christmas, but adorable little balls coated in sprinkles, M&Ms, chocolate chips, or chocolate drizzle would be cute too!
No bake dessert. With 10 minutes of prep time and 25 minutes of cool time, these Halloween Rice Krispie treats are ready to serve in 35 minutes. No need to turn on the oven at all!
Recipe Ingredients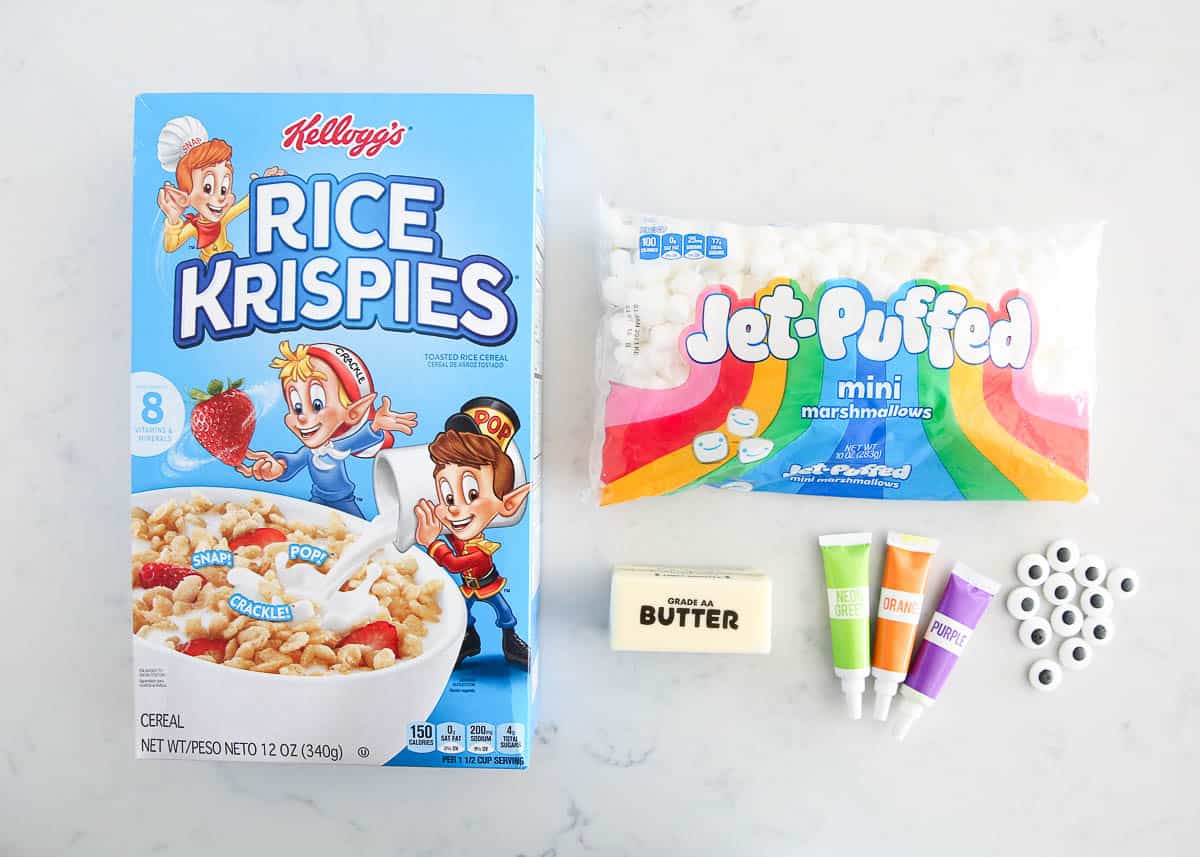 Find the full printable recipe with specific measurements below.
Rice Krispies cereal: You'll need about 1/2 a box, so if you're running low, now's the time to go out and grab a full box. Puffed up rice cereal is nice and light so it has a nice crisp crunch to it!
Mini Marshmallows: I use mini marshmallows because I find they melt faster and are easier to measure than counting large marshmallows. Once melted they help to bind the cereal together.
Butter: Salted butter is used to add a buttery flavor, helps keep them nice and moist, and the bit of salt is a nice balance to the sweetness.
Gel food coloring: For this specific recipe, the colors orange, purple, and green were used, but again, you can make this Halloween Rice Krispies your own!
Candy Eyes: I use large Wilton eyes and stick one on each of the cereal treats, but you can use smaller ones if you prefer.
How to Make Halloween Rice Krispie Treats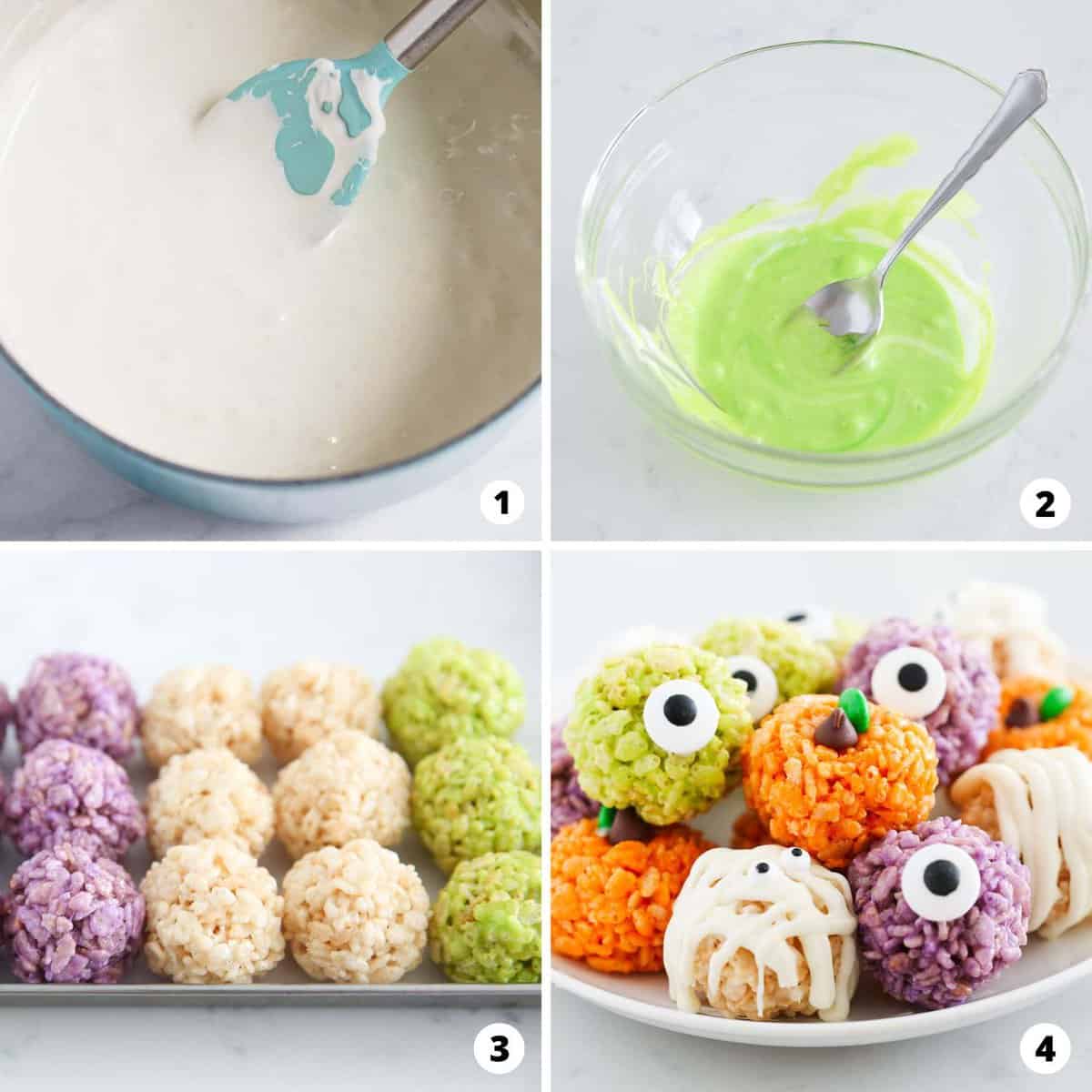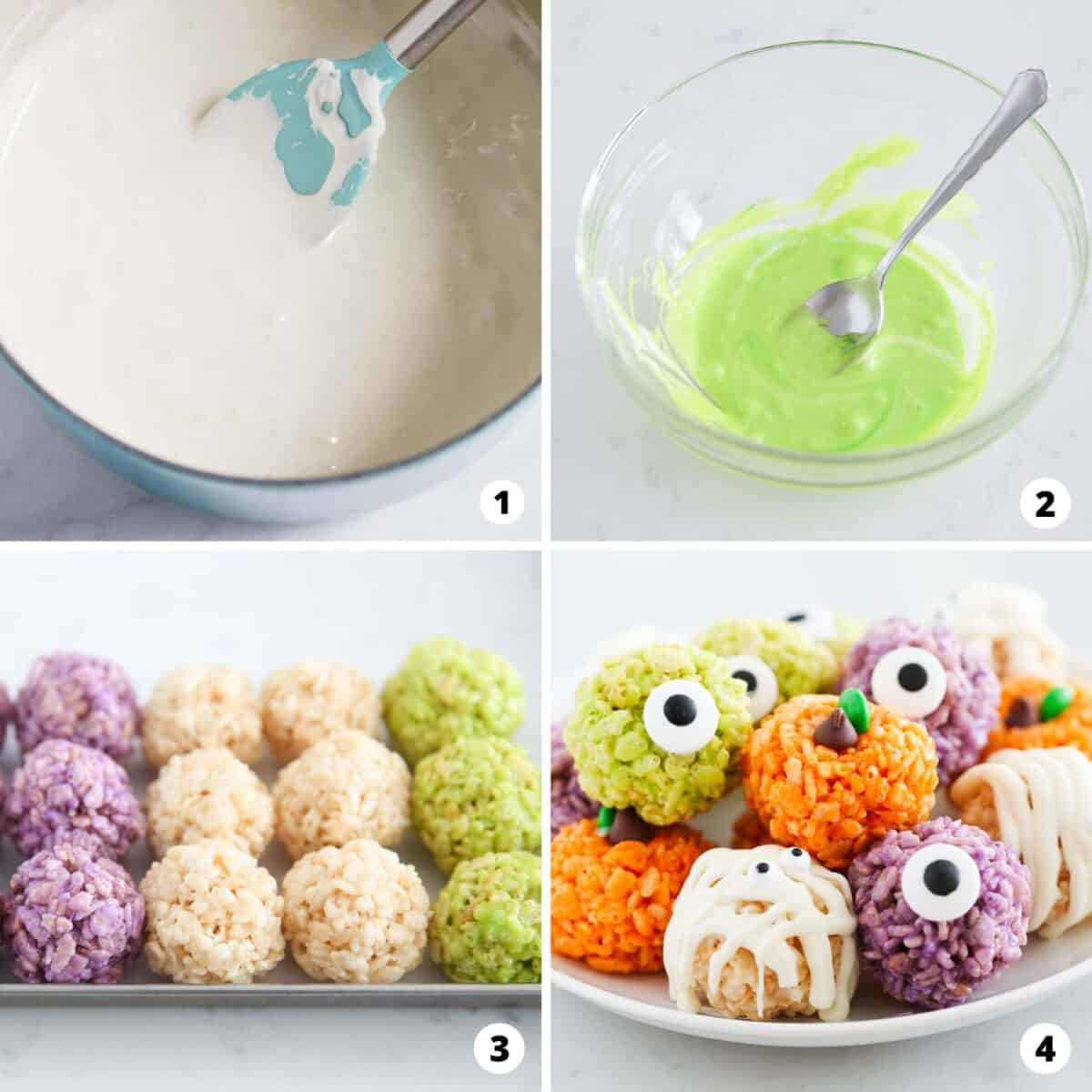 Melt the marshmallows. In a large saucepan, gently melt the butter over medium-low heat. Stir in the marshmallows until they are almost melted and fully incorporated with the butter (they will continue to melt while the saucepan is still hot). Remove from the heat.
Add the food coloring. If using multiple colors, divide the mixture into 2 bowls (or 3, depending on how many colors you're using). Add a few drops of coloring into the marshmallow mixture and mix until combined.
Stir in the cereal. Make sure to distribute even amounts of cereal into each bowl, if more than one color is being used. Stir the cereal into the colorful marshmallow mixture until the rice krispies are completely coated.
Shape them into balls. Grease your hands with a bit of butter or nonstick cooking spray to prevent sticking, and shape the cereal mixture into 1 1/2-inch balls. Place them onto the parchment-lined prepared pan and press the eye candy into the center of each one.
How to Decorate Rice Krispies Treats for Halloween
Mummy Rice Krispies Treats. Turn traditional Rice Krispies without any food coloring into mummies by drizzling a simple vanilla icing back and forth overtop the ball to mimic the mummy wrap. Then, add two small eyes!
Pumpkin Rice Krispies Treats. Add a chocolate chip on top of an orange ball and pipe a bit of green frosting beside it for the leaf. You can also use a piece of a pretzel, a green Mike n Ike candy, or a mini Reese's peanut butter cup.
Spiders. These can be done with a bit of black frosting and some creativity. You can use black food coloring for the body and pretzels dipped in melted chocolate for the legs.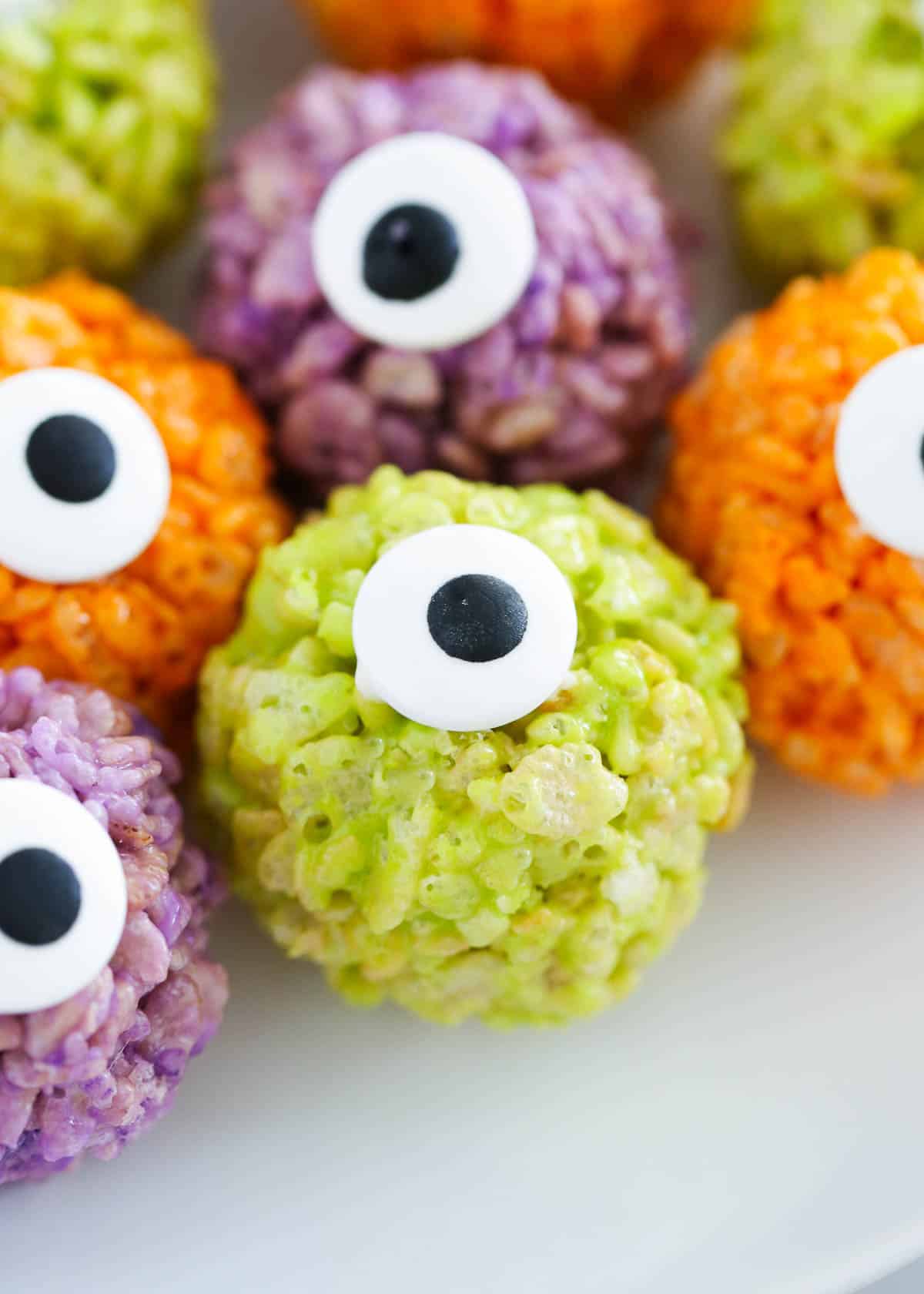 Expert Tips
If you're serving a larger crowd, it's easier to make a double batch rather than divide up the mixture into separate bowls. That way you can make a batch for every color.
Make sure to line your baking sheet with parchment or wax paper. These will stick once completely cooled and set.
It's also helpful to use a buttered spatula when mixing marshmallows and cereal.
To make these a little bit easier for kids to work with, you can melt the butter in a microwave-safe bowl instead of a saucepan.
Halloween party. Complete your festive spread with these white chocolate strawberry ghosts, mummy hot dogs and Halloween punch!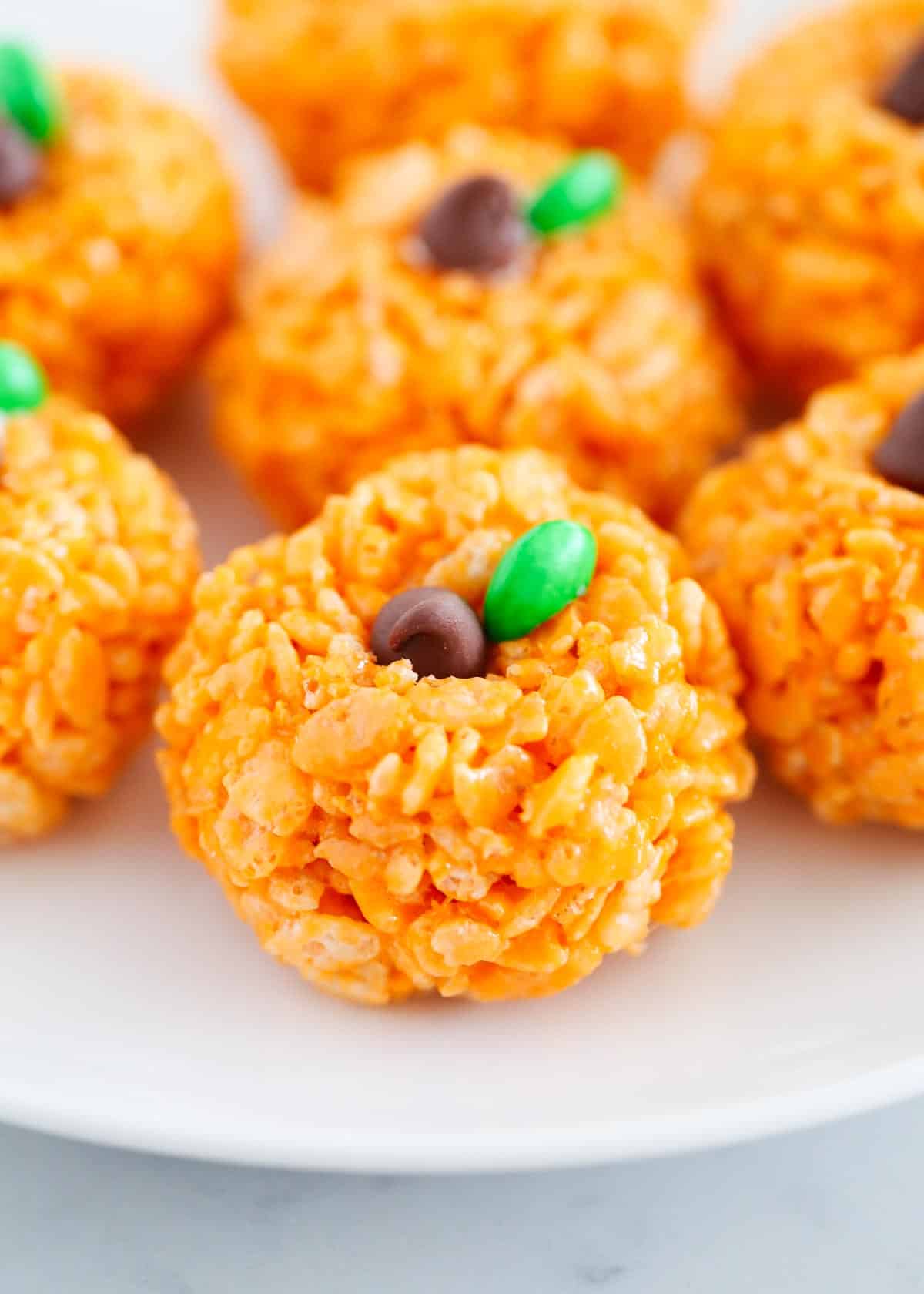 Recipe FAQs
What is a substitute for marshmallows in Rice Krispie Treats?
Although I've never tried it myself, some people have had success with using honey and peanut butter! It will, of course, change the flavor of your dessert, but it might also be great. Try it and let me know!
Can I use marshmallow fluff instead?
No, as fluff and melted marshmallows aren't the same. The fluff is not meat to solidify or firm up. Melted marshmallows will hold the structure of the treats because they will become solid again, once they are set.
Is gel food coloring or liquid food coloring better?
There is no right or wrong way to go. Gel food coloring is a bit pricier, but it is also more concentrated, so you'll need fewer drops. The gel is also a bit more vibrant because of this, but liquid food coloring works too.
How to store leftover Halloween Rice Krispie treats?
Keep them covered in an airtight container at room temperature for up to 3 days.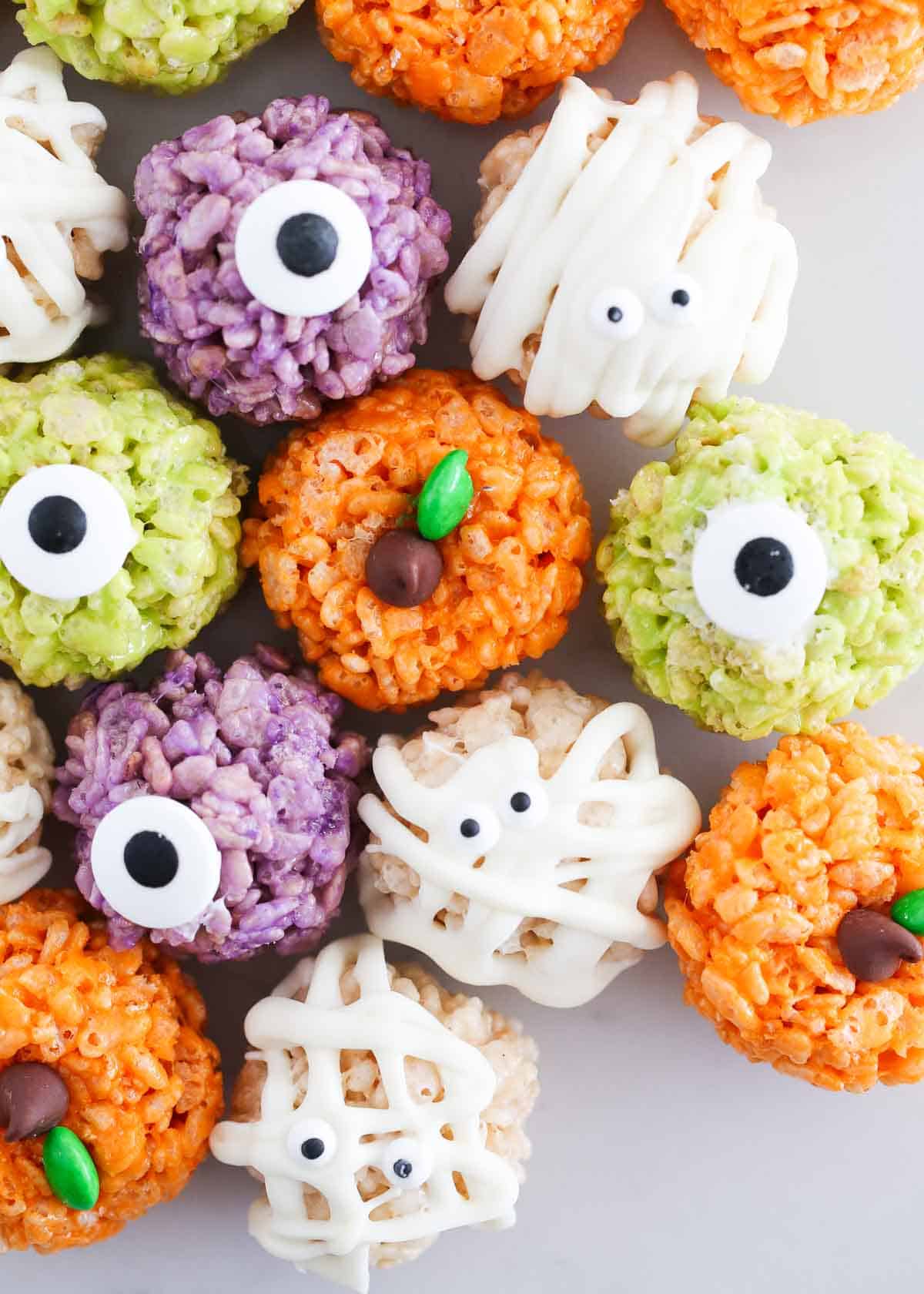 HUNGRY FOR MORE? Subscribe to my newsletter and follow on Facebook, Pinterest and Instagram for all the newest recipes!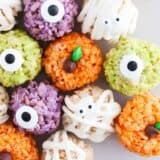 Halloween Rice Krispie Treats
Halloween Rice Krispie Treats are fun Halloween treats that bring color and festivity to any party! Made quickly and easily with homemade rice krispie treats and food coloring, these adorable balls can be turned into monsters, mummies, and more!
Ingredients
4 Tablespoons salted butter
10 ounces mini marshmallows
5-6 cups rice krispies cereal (about 1/2 box)
Wilton candy eyes , I used the large ones
Instructions
Line a baking sheet with parchment paper. Set aside.

In a large saucepan, melt butter over medium-low heat. Stir in marshmallows until almost melted. If doing multiple colors, divide mixture into 2 bowls (or make an additional batch of the recipe).

If adding food color, add a few drops into the marshmallow mixture and mix until combined.

Stir in the rice krispies until completely coated in marshmallow mixture.

Using buttered hands, shape into 1 1/2-inch balls (about .6 ounces). Press the candy eye into the center of the ball.
---
Notes
Variations: You can make different types for the holidays or special occasions just by switching up the food coloring and adding sprinkles or extras like M&M's or chocolate chips. Storage: Rice krispies will keep for up to 3 days if stored in an airtight container or bag.
Nutrition
Serving: 1g | Calories: 102kcal | Carbohydrates: 19g | Protein: 1g | Fat: 3g | Saturated Fat: 2g | Polyunsaturated Fat: 0.2g | Monounsaturated Fat: 1g | Trans Fat: 0.1g | Cholesterol: 7mg | Sodium: 74mg | Potassium: 11mg | Fiber: 0.05g | Sugar: 10g | Vitamin A: 595IU | Vitamin C: 5mg | Calcium: 2mg | Iron: 2mg
Nutrition provided is an estimate. It will vary based on specific ingredients used.
Did you make this recipe? Don't forget to give it a star rating below!