Jump to Recipe⌄
Coke Floats + giveaway!
Today I'll be sharing these delicious Coke Floats with some fun and easy ways to get ready for game day!
I think when it comes to football, there are two different kinds of spectators. There are the spectators (like my husband) who know all the rules and can appreciate the amount of skill and hard work the players are putting in, and who just love watching some great sports being played. And then there are the other spectators (like me) who don't really understand what's going on most of the game, but who love all the delicious game day food and all the hilarious commercials. Whichever team you're on, watching the big game together as a family is a great way and have fun together as a family!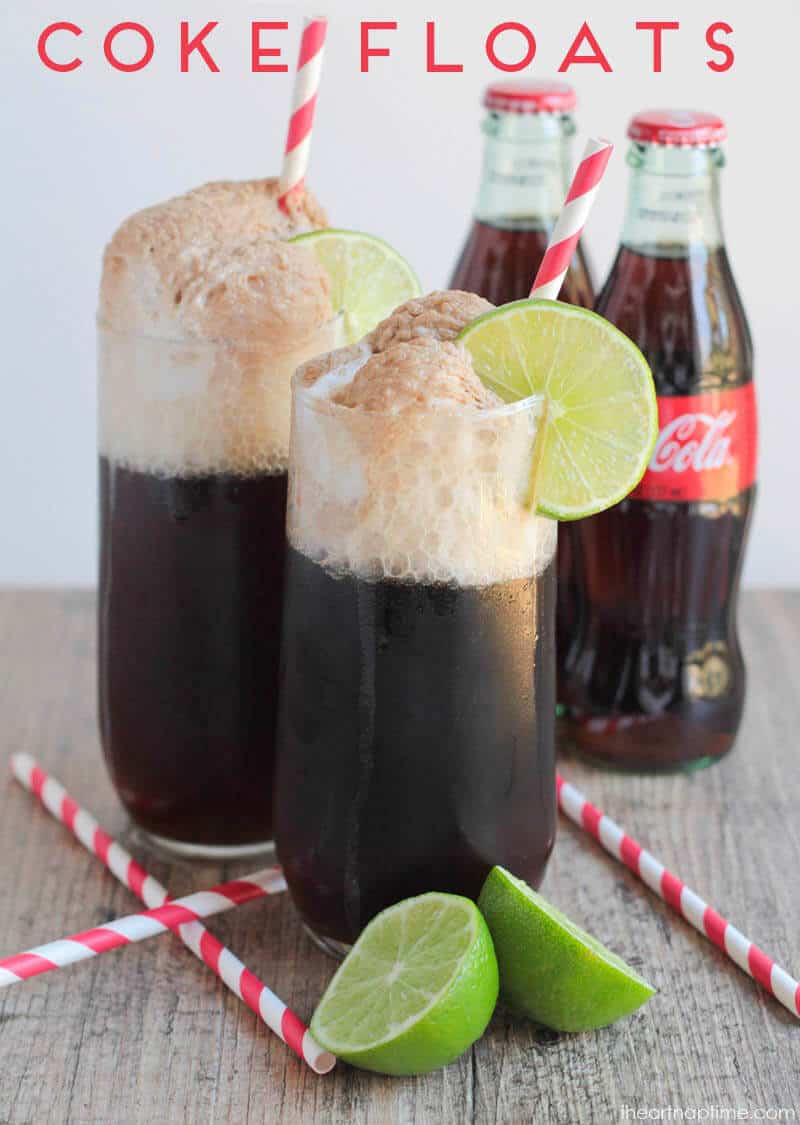 This year I'm excited to be teaming up with Coca Cola and Ritz Crackers for their Home Bowl promotion, available at retailers nationwide and at www.homebowl.com . They have everything you need to plan an awesome game day party, from customized invitations with Evite, to delicious recipes and fabulous decoration ideas. They even have a game day party calculator to help you decide how much you need to purchase for your big party!

MY OTHER RECIPES
Best of all, 3 winners will be able to have their dream Home Bowl spread brought to life with a prize package valued at $350! See below for all the details you need to enter!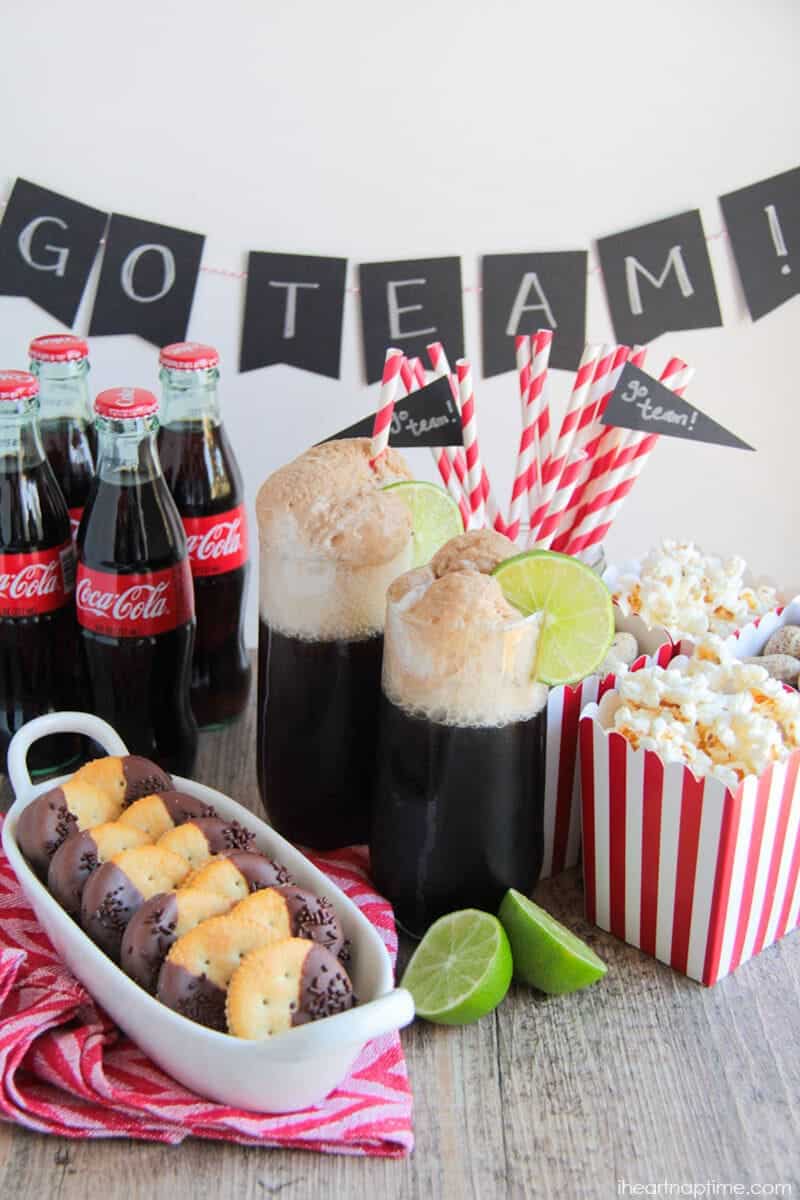 Coca Cola is always a game day favorite with my family, and these Coke floats are an extra special way to celebrate! I love the combination of flavors, with the sweet coconut, tangy lime, creamy ice cream, and that classic Coca Cola taste. The best part is that they are incredibly quick and easy to make, which means you can get back to watching the game (or the commercials) and enjoying time with your family.
FYI we've found the coconut syrup here or a specialty stores.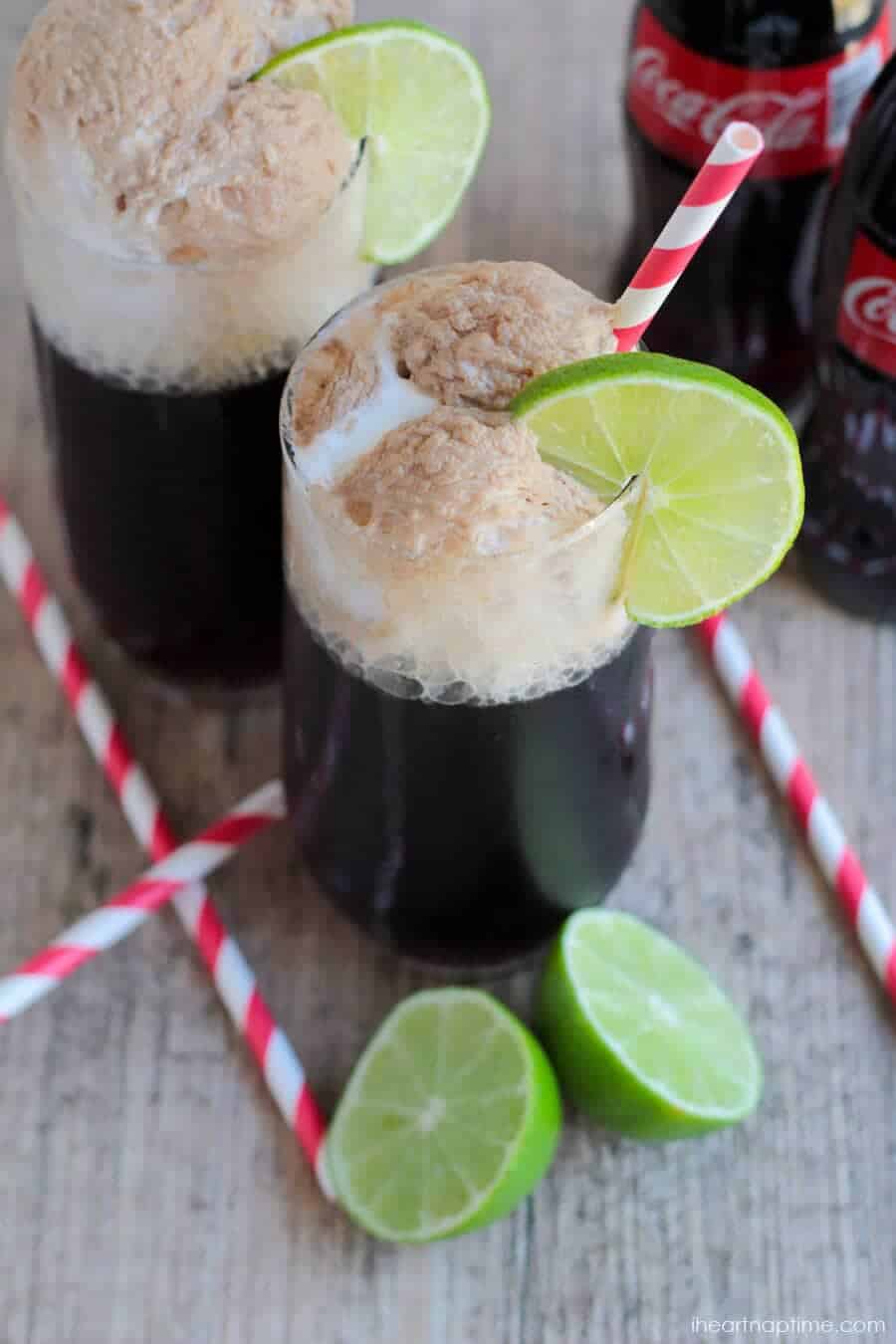 Planning a great game day party really doesn't have to be complicated or expensive. Adding just a few fun touches can make your party extra special. I made a cute banner for my game day table using black card stock, a silver sharpie marker, and baker's twine. It only took a few minutes and made for a festive backdrop!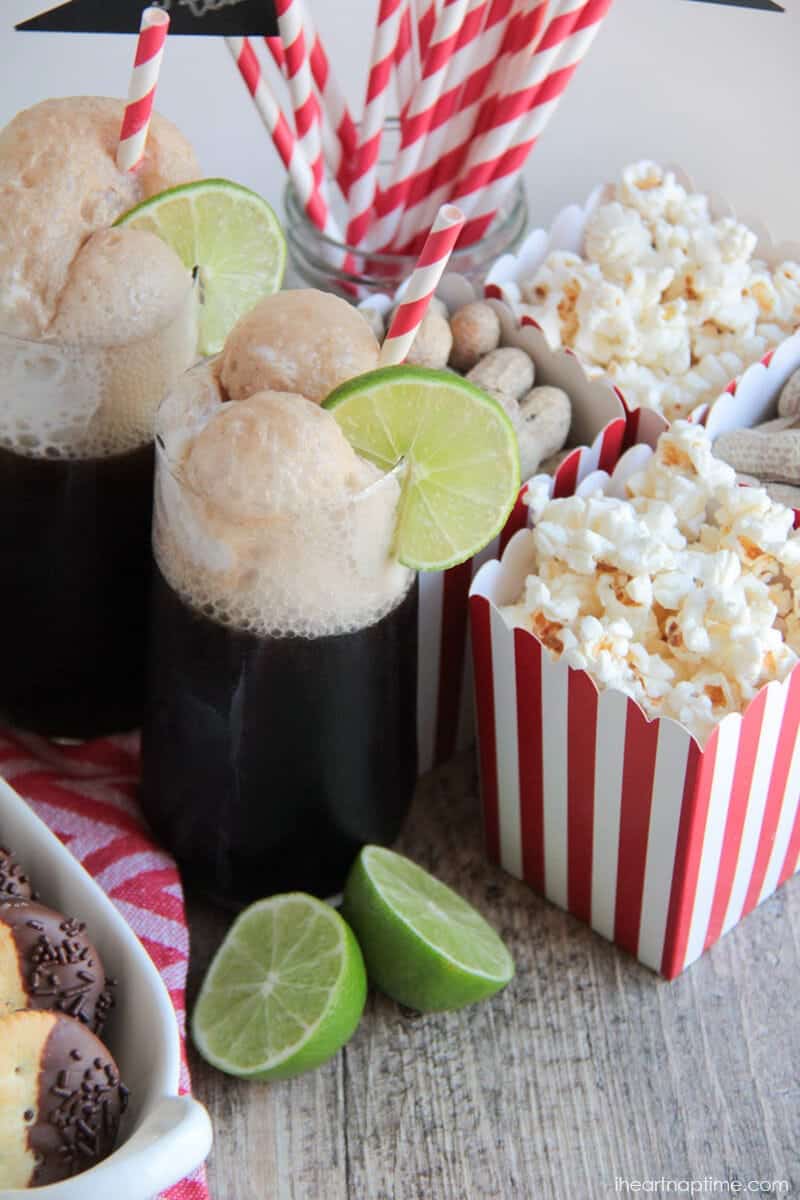 I found these cute and inexpensive popcorn boxes at my local party store, and filled them with popcorn and peanuts for some fun and easy game day snacks! I  love how the striped paper straws (also from my local party store) make everything festive and fun.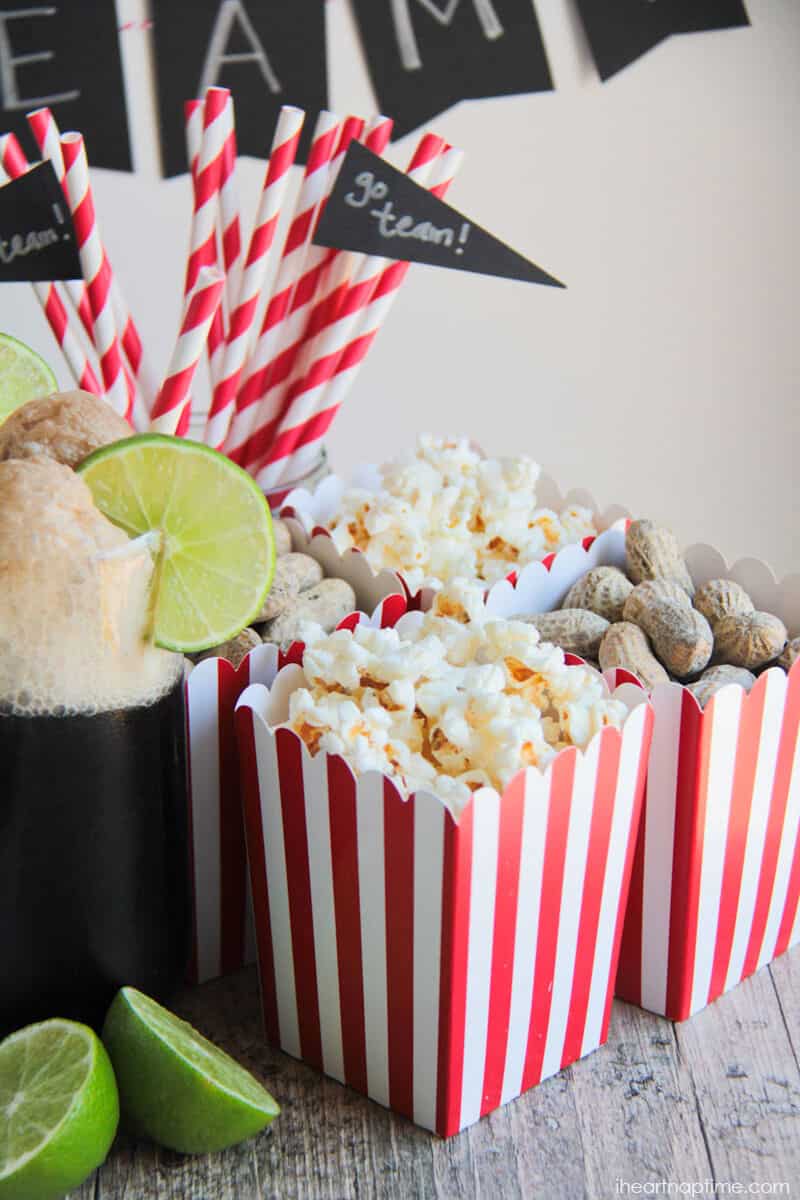 This giveaway is now closed. Please find the winners HERE.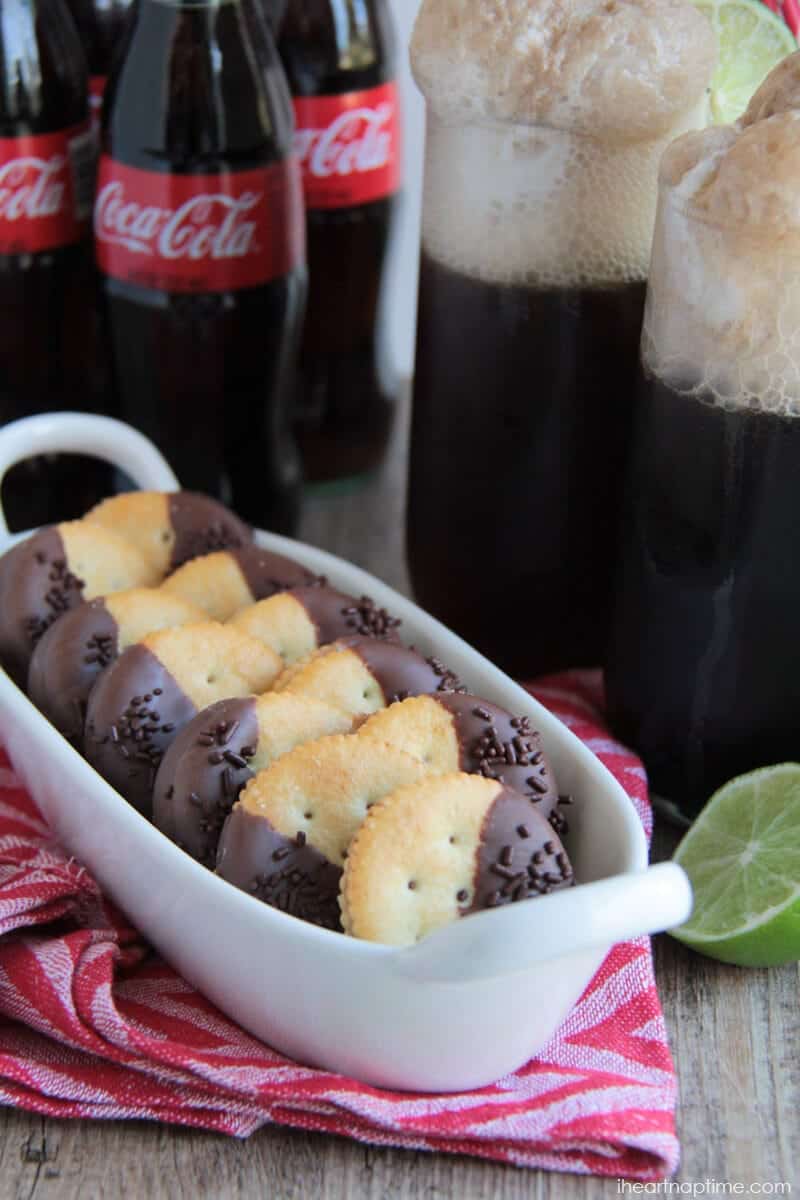 Good luck friends!
This prize was provided by The Coca-Cola Company. The Coca-Cola Company is not a sponsor, administrator or connected in any other way with this program.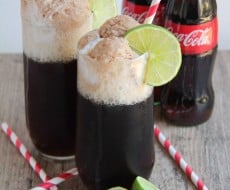 Coke Floats
These coke floats are great! A nice refreshing drink that is sure to make you want seconds!
Print
Ingredients
12 ounces 1 can ice cold Coca Cola
2 tablespoons coconut syrup
1/4 of a fresh lime
1 scoop vanilla ice cream
Instructions
To make each float, pour 2 tablespoons coconut syrup into the bottom of a tall glass. Add the Coca Cola, then squeeze 1/4 of a lime over the top. Mix well. Add a scoop of vanilla ice cream and serve.
Nutrition Facts
Coke Floats
Amount Per Serving
Calories 350 Calories from Fat 63
% Daily Value*
Total Fat 7g 11%
Saturated Fat 4g 20%
Cholesterol 29mg 10%
Sodium 66mg 3%
Potassium 131mg 4%
Total Carbohydrates 74g 25%
Sugars 69g
Protein 2g 4%
Vitamin A 5.6%
Vitamin C 5.9%
Calcium 8.4%
Iron 2.1%
* Percent Daily Values are based on a 2000 calorie diet.