With just 4 ingredients, these classic melt-in-your-mouth sweet cream cheese mints can be made to suit all kinds of special occasions from Christmas, to Easter, to weddings, and more!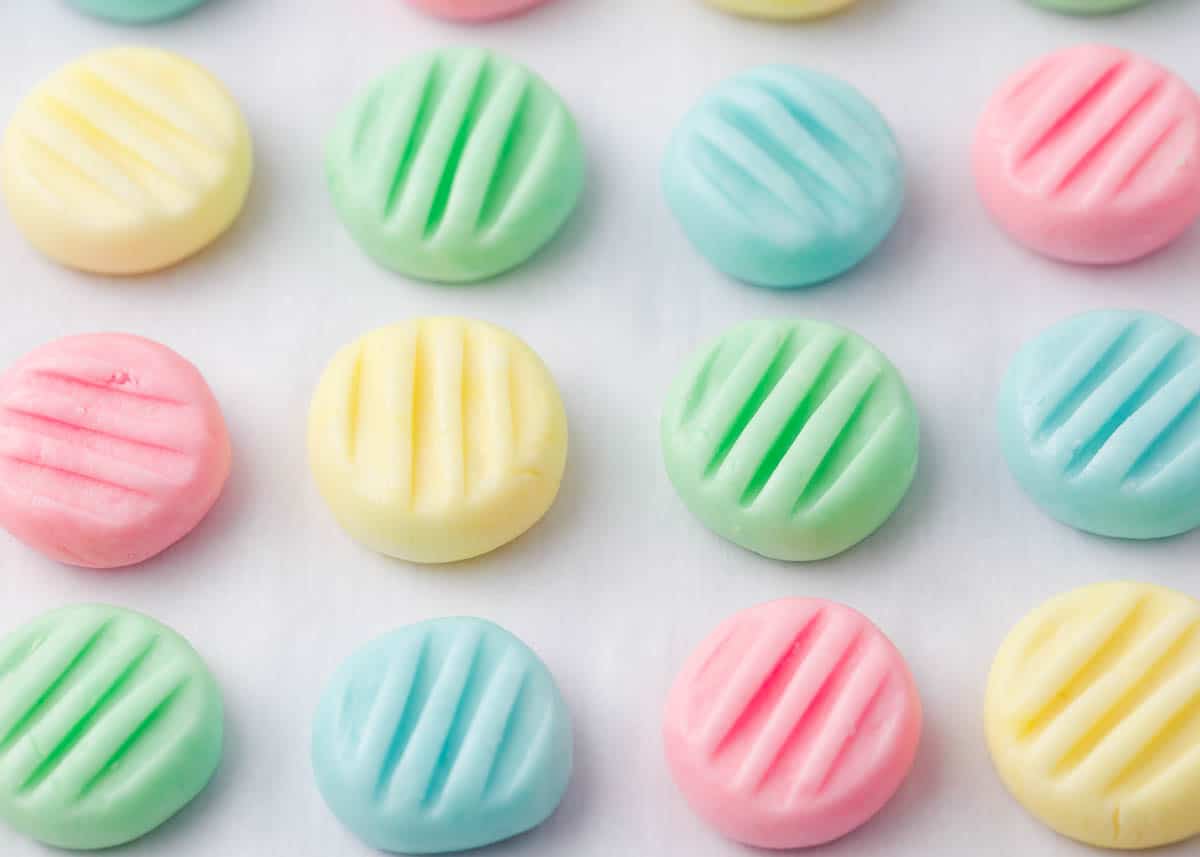 No-Bake Holiday Candy
These cream cheese mints often called cream cheese wedding mints or baby shower mints, are the kind of nostalgic treat you'd expect to find in grandma's candy dish!
Creamy mints are one of my favorite no-bake candy recipes that uses just a handful of ingredients, and 10 minutes of prep time, and the rest is just waiting for them to set. They're sweet, buttery, and just melt in your mouth, so it's hard to stop at just one!
They're a traditional candy popular at weddings and baby showers so you'll often see them in pastel colors. The coloring is optional, and flexible based on the occasion!
You can also flavor cream cheese mints however you like and since this year I'm adding them to my Christmas dessert board, I think mint is just perfect for the holidays. You could also try substituting with an almond extract.
Why This Recipe Works
Addicting. This cream cheese mint recipe produces the kind of treat that never gets left behind. They're sugary and solid on the outside, but once you bite into them, the center is creamy and melts in your mouth!
Super easy. This is a fun activity the whole family can get involved in. There's no turning on the oven, or using any heat source, so it's safe for even the youngest kids!
For every occasion. These are great desserts for all kinds of parties. Birthday parties, graduations, anniversaries, showers, Easter, Valentine's Day, and of course Christmas. They travel well, so when wrapped up in a little decorative packaging, they make the perfect neighbor Christmas gift!
Recipe Ingredients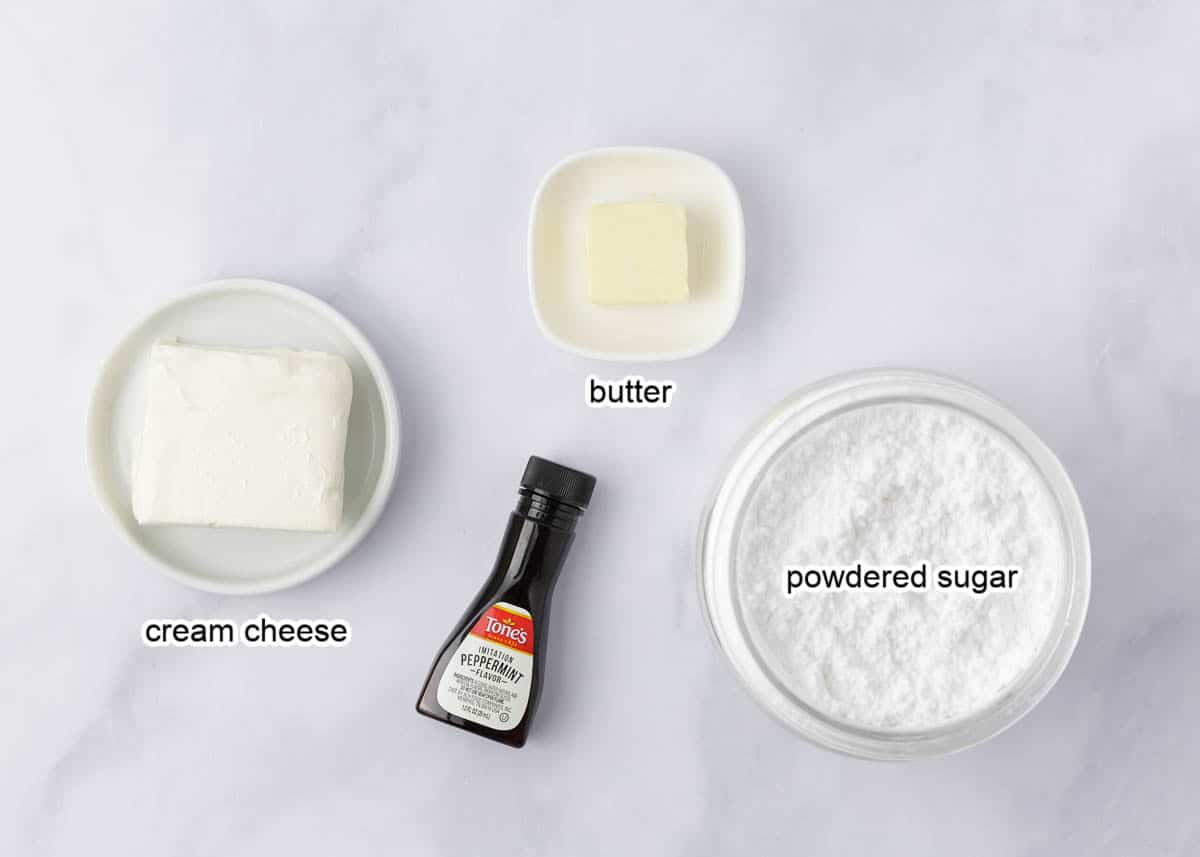 Find the full printable recipe with specific measurements below.
Cream cheese: Here are tips on how to soften cream cheese if you forgot to take it out earlier. Having it soft is key! Use the full fat brick-style not the spreadable kind from a tub, which contains too much water.
Butter: You'll be creaming the butter too, so it also needs to be taken out of the fridge to soften ahead of time.
Powdered sugar: Also known as confectioner's sugar, this is what adds the yummy, sweet element and it also helps to preserve and solidify the candy (kind of the way it does for cream cheese frosting).
Peppermint extract: Can usually be found where you'd find vanilla extract, almond extract, or orange extract (hint: you can actually swap any of these flavors for peppermint extract!). You can use it more or less depending on how minty you like it.
Food coloring: Have fun with it. If you choose to use food coloring for added flare, you can use one, two, or a few. Gel food coloring is more concentrated than liquid food coloring, so you'll need less of it to make them vibrant.
Add Some Chocolate!
Dip each mint halfway into some melted white chocolate or dark chocolate. Mint and chocolate are a delicious pairing!
You could also add sprinkles for the holidays, or instead of pressing them down with a fork, use the back of a teaspoon and fill the groove with melted chocolate.
How to Make Homemade Cream Cheese Mints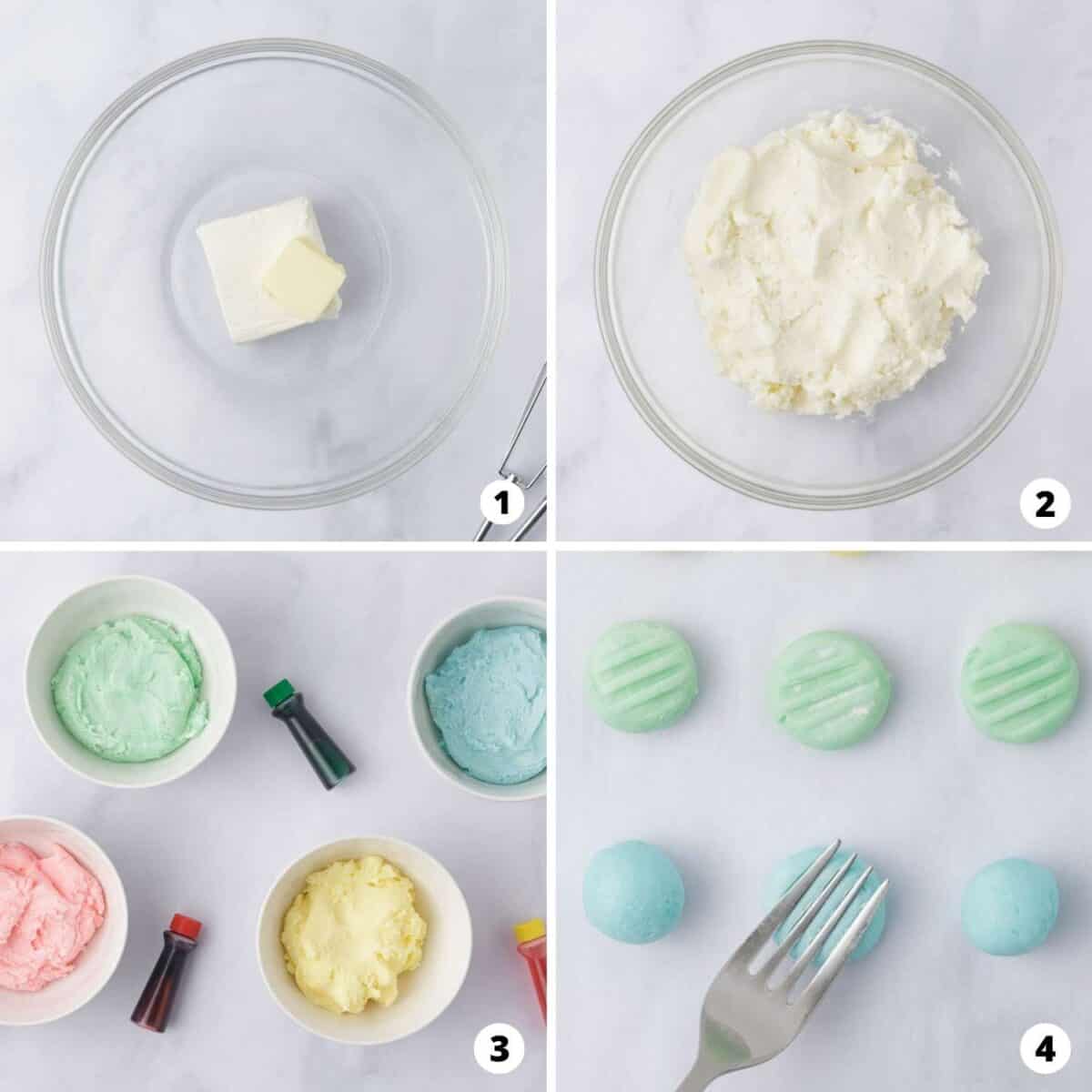 Combine butter and cream cheese. In a large bowl, use an electric mixer to beat them both until creamy and smooth.
Add the powdered sugar. Turn the mixer on low and gradually add 1 cup of powdered sugar as you mix. Add in the extract and the rest of the powdered sugar. It should be the consistency of play-dough.
Mix in food coloring. If you plan on adding some color, divide the dough equally into the number of colors you plan to use. Drop the food coloring into each bowl and mix until the desired color has been reached. Cover each bowl and refrigerate for 30 minutes.
Form the mints! Scoop out 1 teaspoon of dough and roll it into a ball. Place it onto a baking sheet lined with parchment paper. Dip a fork into powdered sugar and gently press it into the ball to flatten it. Repeat with all remaining dough. Allow them to dry for 2 hours at room temperature.
Candy Molds
If you have candy molds you like to use, like flowers, candy canes, or other festive designs, you can roll the dough balls in powdered sugar and press the dough into the molds. Remove them and lay them on the prepared baking sheet to set.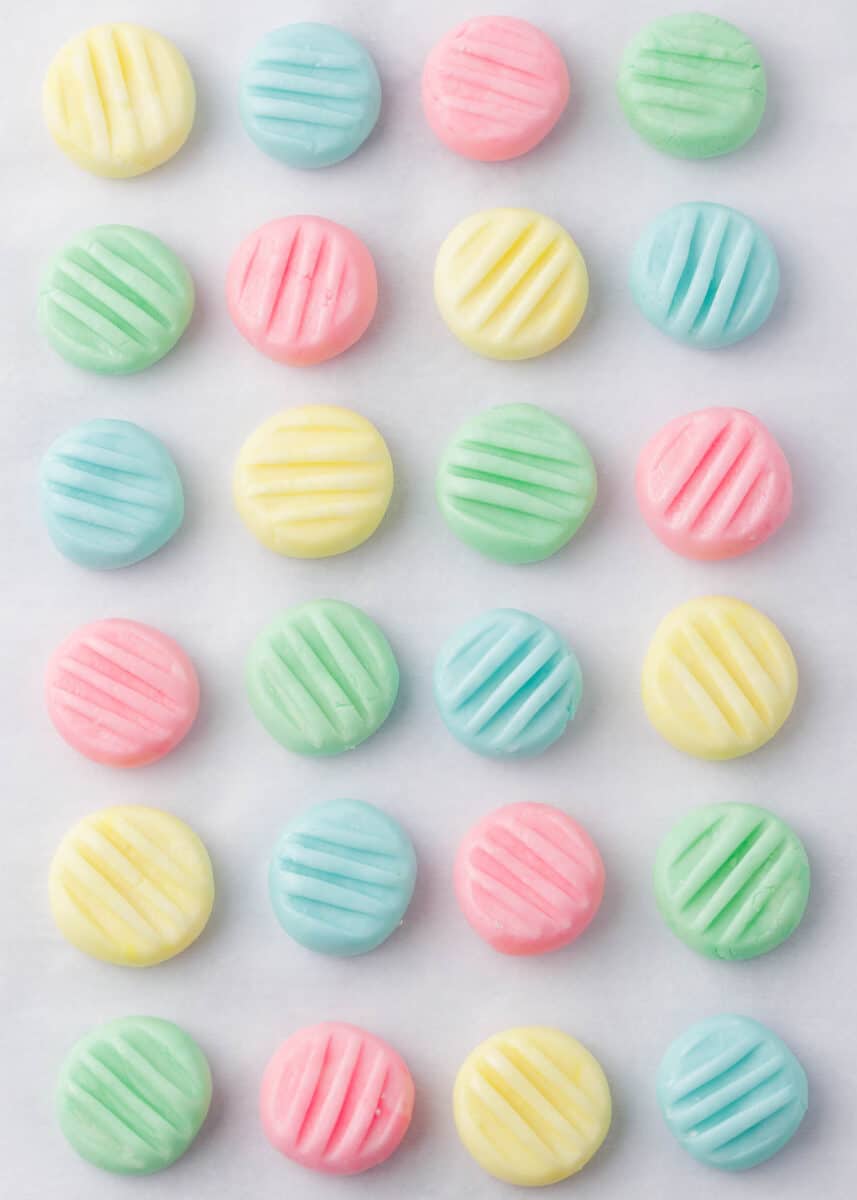 Expert Tips
If your dough mixture is sticky, add more powdered sugar until it feels like play dough.
To avoid the ridges from the fork prongs, you can use the bottom of a glass to flatten it instead.
Cream cheese butter mints are meant to be firm, so give them the time they need to set. They won't make great gifts if they're all melted into one lump!
Peppermint extract is not mint extract! Mint is usually reserved for savory pairings, whereas peppermint is perfect in sweets.
Recipe FAQs
What do cream cheese mints taste like?
Despite their name, they do not taste like cheese! There is a slight tangy element, but it's there to help with consistency. The powdered sugar is front and center, so they are sweet!

Depending on what flavor, and how much of it you use, will also determine what it ends up tasting like.
Can I make these into other shapes?
As mentioned above you could use a candy mold which makes them very festive for showers and holidays. You could also roll the dough into a log and and cut into squares like a butter mint. These are so versatile!
How long will they last in the fridge?
When stored properly in an airtight container, they will stay fresh for up to 1 month. I like to separate the layers with wax paper so they do not stick together when stored.
Can I freeze butter mints?
Definitely! They can be kept in the freezer for 3 months+. Double the batch and keep some for later!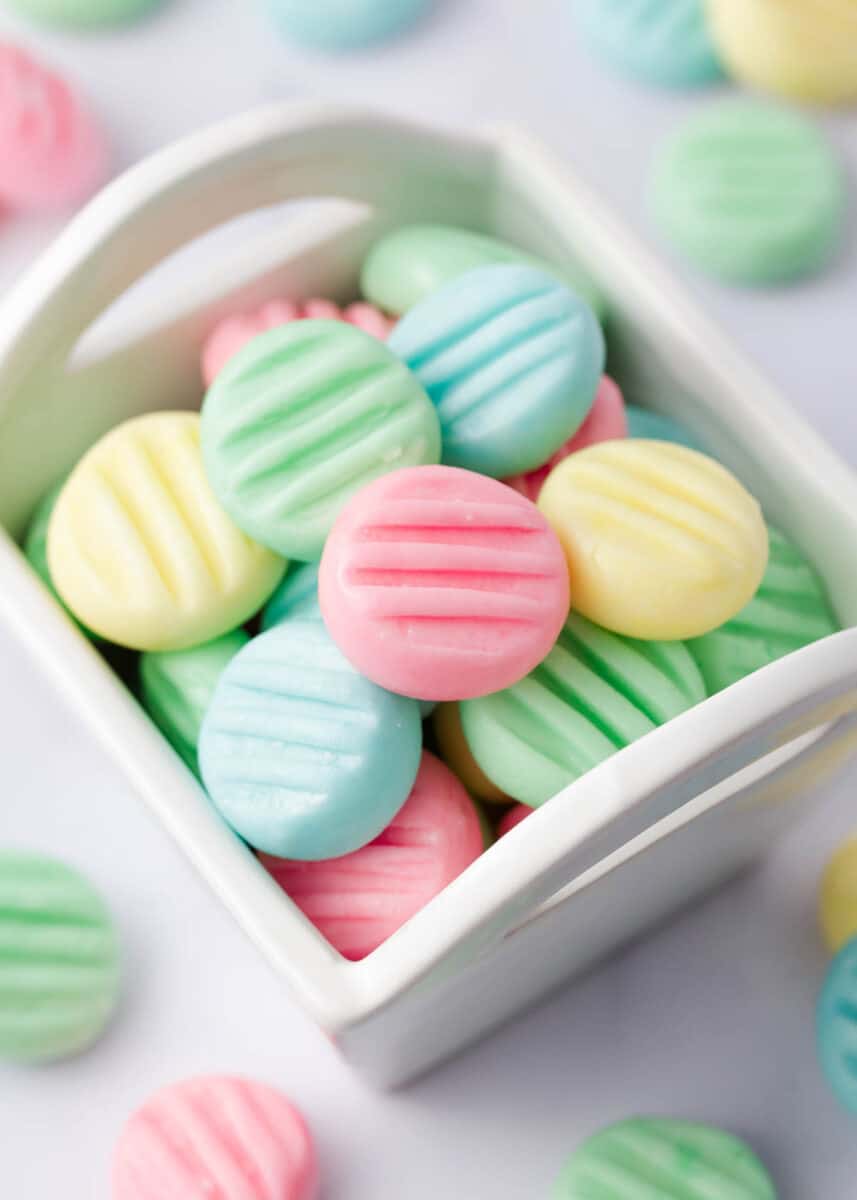 HUNGRY FOR MORE? Subscribe to my newsletter and follow on Facebook, Pinterest and Instagram for all the newest recipes!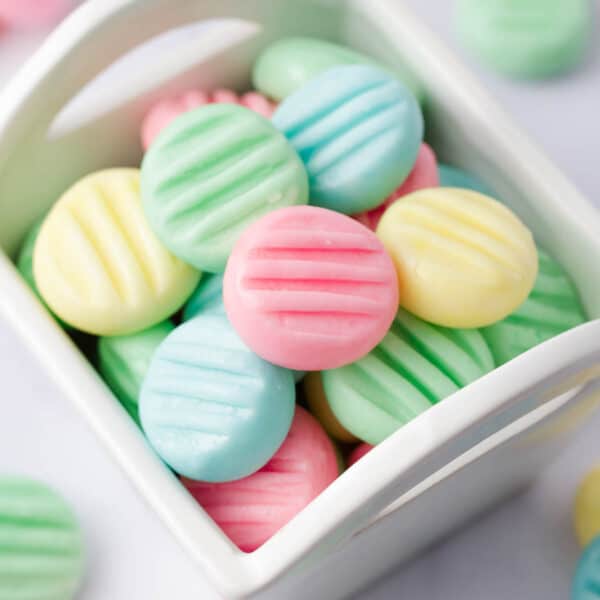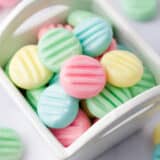 Cream Cheese Mints
With just 4 ingredients, these classic melt-in-your-mouth sweet cream cheese mints can be made to suit all kinds of special occasions from Christmas, to Easter, to weddings, and more!
Ingredients
4 ounces cream cheese , softened
1 Tablespoon salted butter
4 cups powdered sugar , divided, plus more for pressing
½ teaspoon peppermint extract , plus an additional 1/2 teaspoon if desired
Food coloring , optional
Instructions
In a large bowl, beat the cream cheese and butter until smooth with an electric mixer.

Keep the mixer on low and gradually add in 1 cup powdered sugar. Continuing to mix, add the extract and the remaining 3 cups powdered sugar. If the mixture is still sticky add a little more powdered sugar. It should be the consistency of playdough.

Divide into separate bowls (depending on how many colors you'd like). Mix in desired food coloring until well combined. For darker colors that use more food coloring, you may have to add a bit more powdered sugar to keep the mixture from becoming gummy. Cover and refrigerate 30 minutes.

Roll 1 teaspoon dough into small balls and place on parchment paper. Dip a fork into powdered sugar and gently press on top to flatten each ball. Let dry 2 to 3 hours at room temperature.
---
Notes
Molds: You can also press the dough into molds if you have some. I like to roll the ball in powdered sugar and then press into the mold. Chocolate: Another fun idea is to dip them half way in melted white or dark chocolate. You could also add sprinkles for the holidays. Instead of pressing them with a fork, you could also create an imprint on the top with a teaspoon and fill with melted chocolate. Storage: Store mints in a covered container in the refrigerator up to 1 month or in the freezer up to 3 months. I like to place a piece of parchment paper in between each layer.
Nutrition
Serving: 1mint | Calories: 47kcal | Carbohydrates: 10g | Protein: 0.1g | Fat: 1g | Saturated Fat: 1g | Polyunsaturated Fat: 0.04g | Monounsaturated Fat: 0.3g | Trans Fat: 0.01g | Cholesterol: 3mg | Sodium: 9mg | Potassium: 3mg | Sugar: 9g | Vitamin A: 37IU | Calcium: 2mg | Iron: 0.01mg
Nutrition provided is an estimate. It will vary based on specific ingredients used.
Did you make this recipe? Don't forget to give it a star rating below!