Homemade Microwave Caramels made in 6 minutes with only 5 ingredients! No candy thermometer needed. These will be the easiest candy you will make this holidays!
These Microwave Caramels are soft, chewy and SUPER easy to make! I seriously love how homemade caramels taste and these have that delicious flavor. I love pretty much any dessert that has caramel like this microwave caramel corn, caramel brownies and caramel apple pie bars.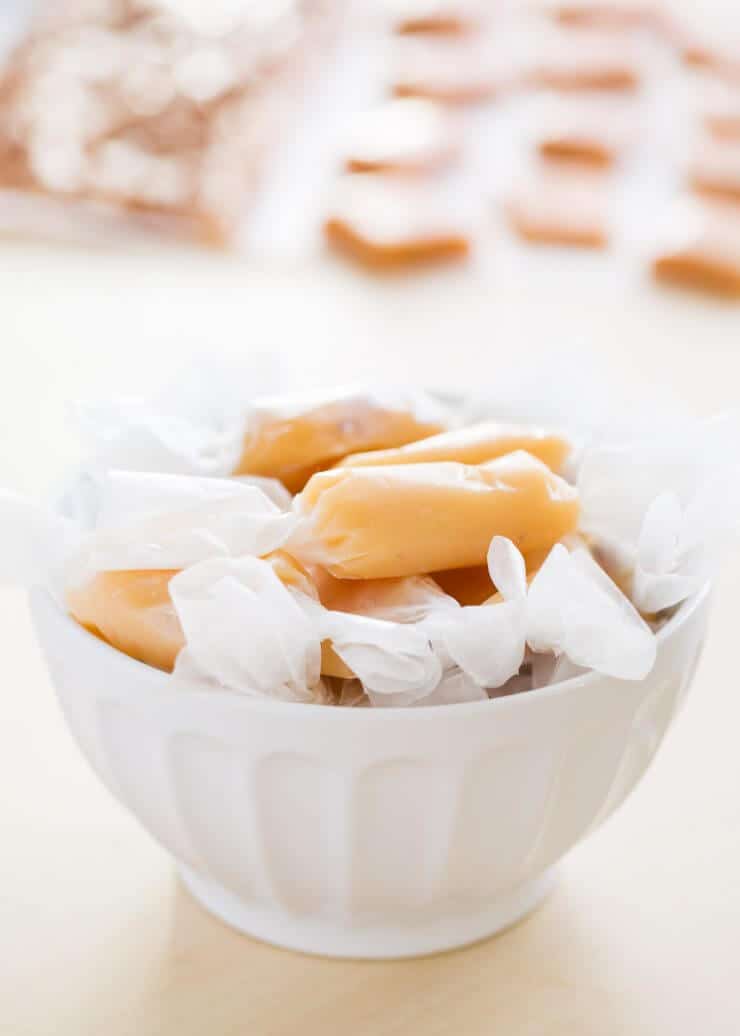 These microwave caramels are pretty dang close to my grandma's homemade caramel candy recipe in my cookbook but so much easier to make. I still love making those every year, but they take quite a bit of time (and stirring), so it is nice to have this recipe on hand for when you need a quick treat. The best part about this recipe is you only need to stir it once. Seriously it couldn't be any easier. They are so soft, chewy and have the perfect flavor! Everyone always asks for this recipe.
Ingredients for caramels
There's only a 6 basic ingredients in this recipe, I bet you have most of these already in your pantry.
Butter (I like to use salted for that extra salty flavor)
Sweetened condensed milk
Karo syrup (use light)
Sugar
Pure vanilla extract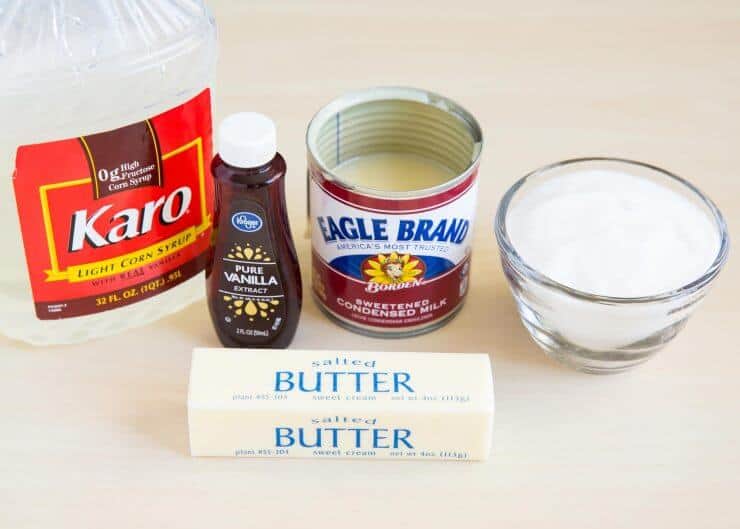 How to make
You seriously won't believe how easy these caramels are to make! It's done in one bowl in your microwave.
Melt the butter in a large microwave-safe bowl. Then you'll add the sugar, corn syrup and sweetened condensed milk and stir until smooth.
Place in the microwave and cook for six minutes, stirring half way in between.
Allow to set and then slice and wrap in wax paper.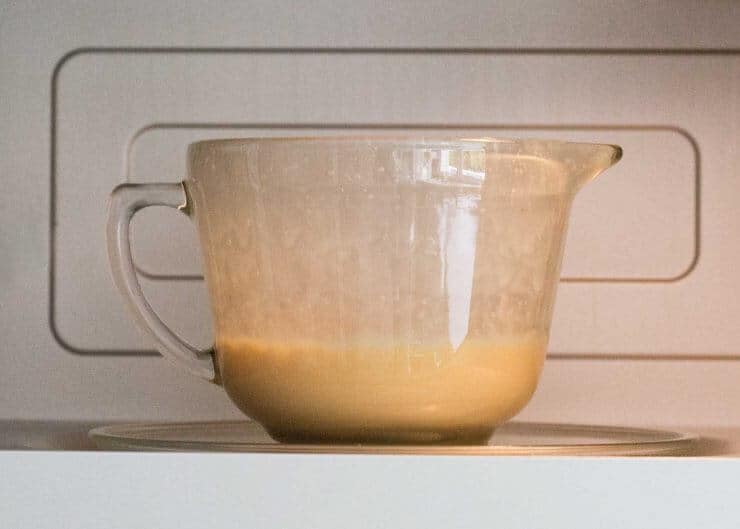 Tips
Test the caramel by dipping a spoon in the caramel and then dipping in cold ice water. If it comes out the caramel texture (a soft ball), it's ready. Then pour it in your dish and allow to set. If it's too soft, microwave another 30 seconds.
I love using a plastic knife to cut the caramels. I've tried fancy knives and for some reason the plastic knives work better.
Once the caramels are cut make sure to wrap them in your wax paper squares and then place in an airtight container to prevent them from drying out.
If you're adding nuts, make sure to add right away before the caramel starts to harden.
Dip in chocolate or drizzle over top with a little sea salt for a more gourmet caramel.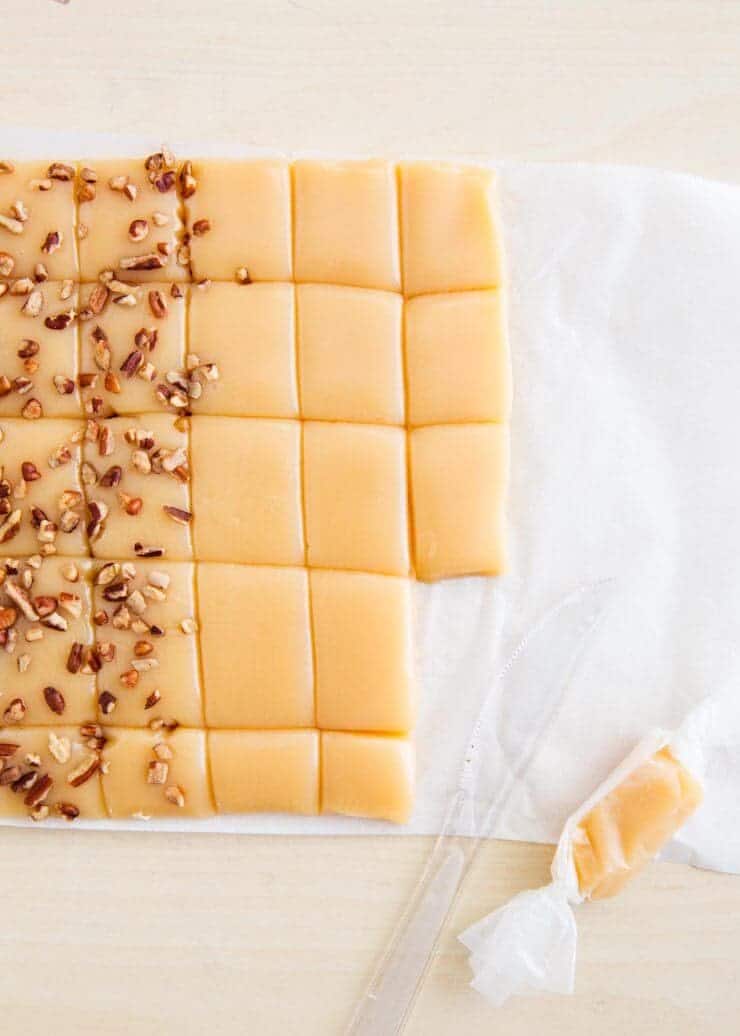 More candy recipes
Homemade treats are my favorite to pass out around the holidays. Everyone always loves them. Here's a few of my other favorites.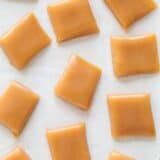 Microwave caramel recipe
Homemade Microwave Caramels... made in 6 minutes with only 5 ingredients! These will be the easiest candy you will make this holidays!
Instructions
Line an 8×8″ pan with parchment paper. Run a stick of butter over the top to prevent the caramels from sticking. Set aside.

Melt the butter in a large 8-cup microwave-safe bowl. Add the sugar, corn syrup and sweetened condensed milk and stir until smooth. Place in the microwave and cook for six minutes, stirring half way in between.

To test if the caramel is ready, place a spoon into the caramel and then dip into a cup of cold ice water. If it resembles a soft ball (the texture you'd want your caramels to be), then it's ready. If it's still too soft, cook for an additional 30 seconds to 1 minute. You don't want to overcook or they will be too hard. Then remove from microwave and stir in vanilla and a pinch of sea salt. Add pecans if desired.

Pour caramel into prepared pan and allow to set. Sprinkle with sea salt if desired. You may place in the refrigerator for 20 minutes to cool them quicker.

Cut with a plastic knife and then wrap in wax paper to prevent the caramels from sticking. Enjoy! :)
---
Calories: 49kcal | Carbohydrates: 8g | Fat: 1g | Cholesterol: 3mg | Sodium: 14mg | Potassium: 15mg | Sugar: 8g | Vitamin A: 40IU | Vitamin C: 0.1mg | Calcium: 11mg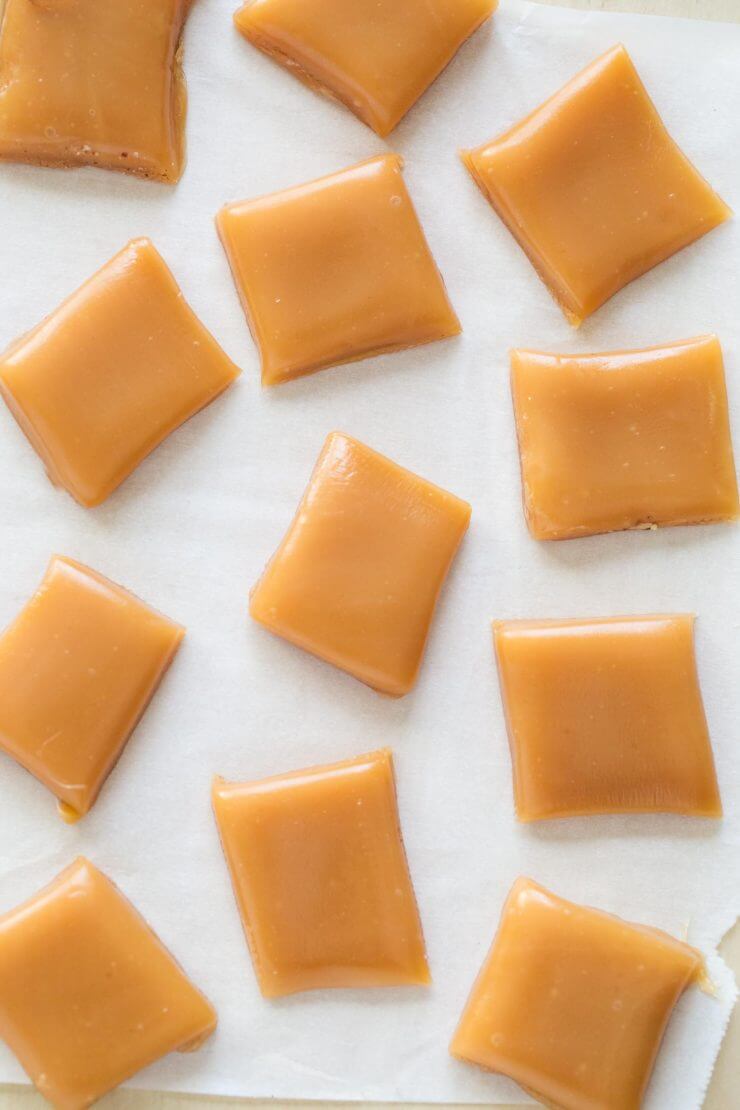 ENJOY! :)