Jump to Recipe⌄
Homemade Toffee
Homemade Toffee… this rich and buttery toffee takes about thirty minutes to make and is super easy too! Perfect for parties, holiday gifts, and snacking!
I'll be honest – this holiday season has totally snuck up on me! I swear, just yesterday it was September and I was trying to figure out Halloween costumes for the kids. And now, all of a sudden, it's Thanksgiving! Christmas is right around the corner, and the days are flying by.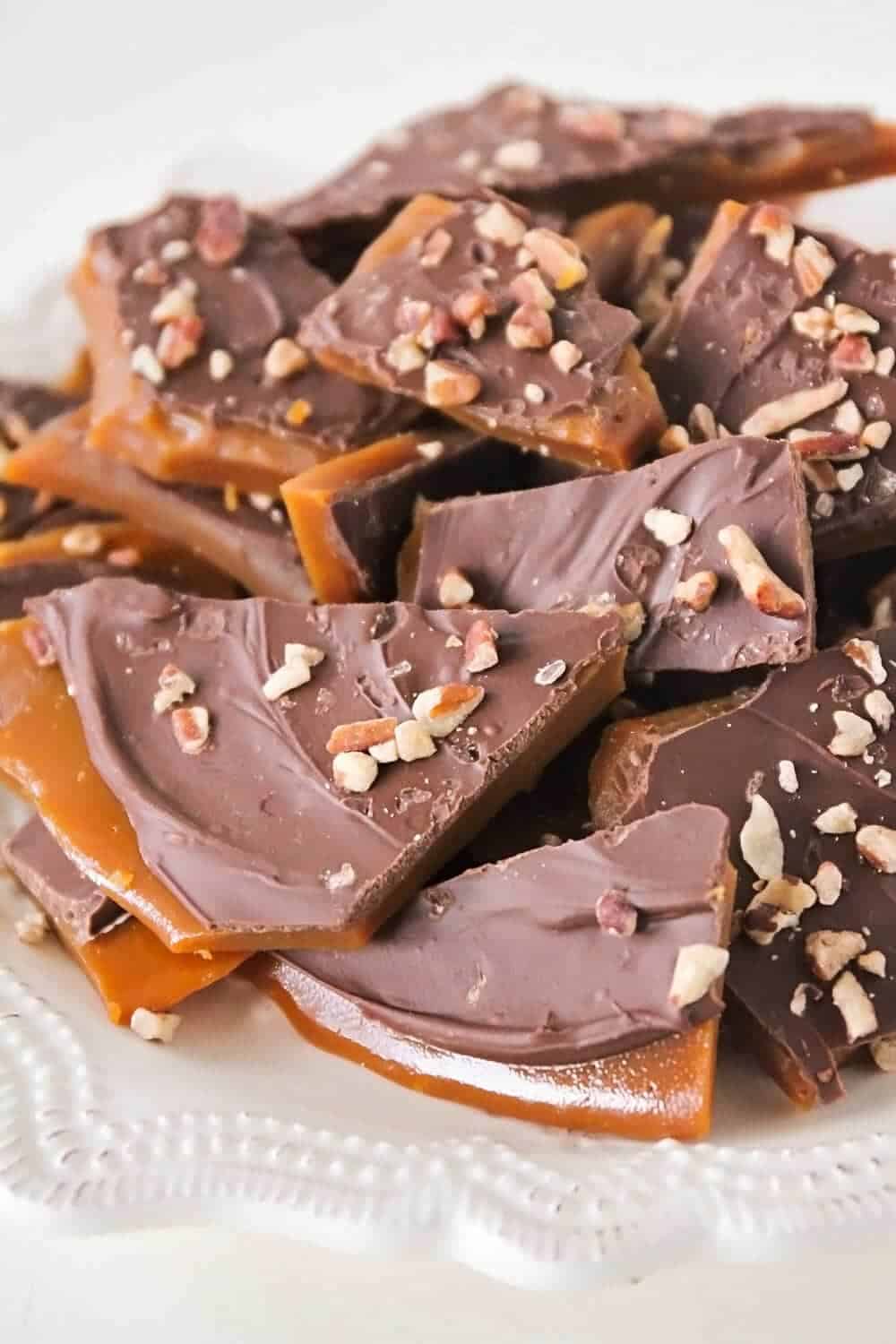 This is my family's first holiday season in a new city, and we're trying to maintain as many of our previous traditions as possible while building new ones. One of our favorite things to do during the holidays is to make homemade treats for family and friends. This homemade toffee is perfect for gift giving, and so simple to make, too!
I'm definitely a candy making novice, but this recipe is simple enough that it's perfect for beginners. I would definitely recommend having a candy thermometer on hand to make things easier. They're inexpensive (I think mine was in the $6-7 range) and they take a lot of the guesswork out of candy making.
You'll start by adding butter, sugar, water, and salt to a saucepan and bringing the mixture to a boil over medium heat. Keep a close eye on the toffee as it cooks (don't walk away and get sucked into Facebook!). The toffee mixture will start out pale yellow, then deepen into a rich caramel color. Mine was perfect at 285 degrees on my candy thermometer (a minute or two after I took this picture). Be careful not to let it get too dark, or it will have a burned taste.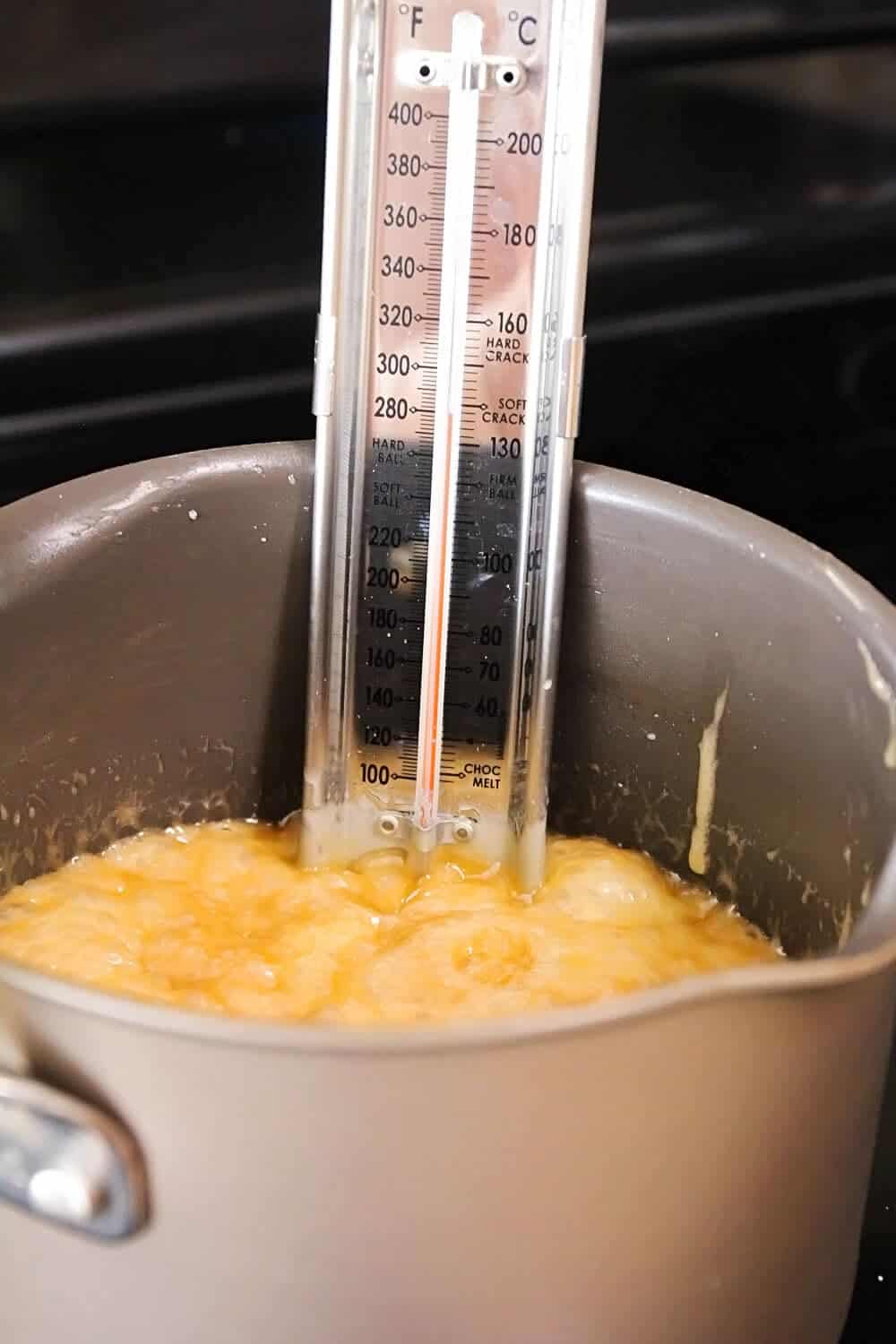 When it's reached 285 degrees, remove the pan from the heat and stir in the vanilla. The toffee will be bubbly and incredibly hot, so be carefully not to burn yourself!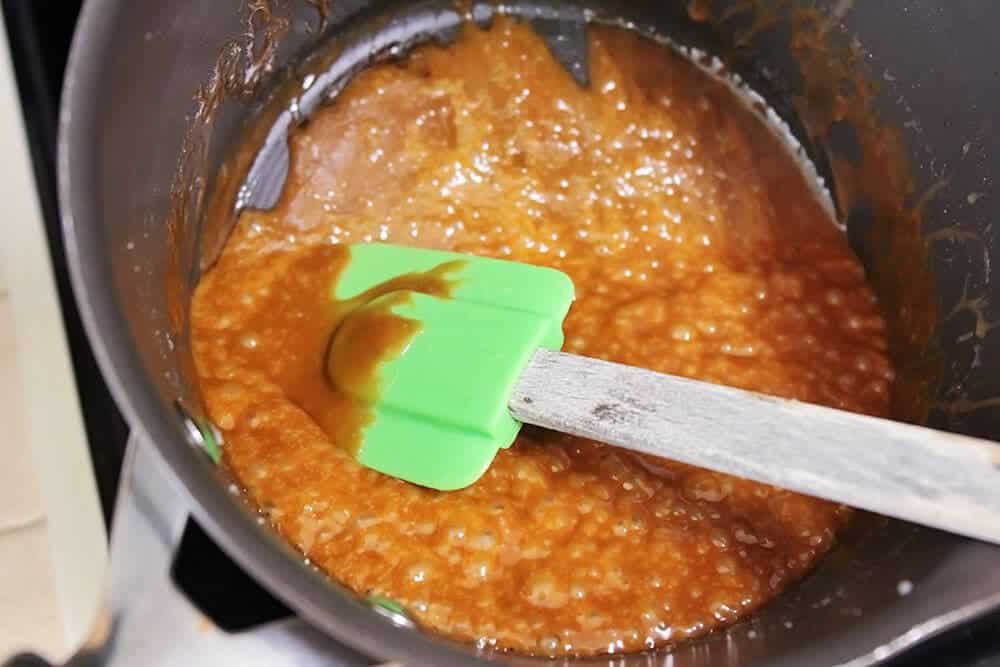 Pour the toffee out onto a greased or parchment lined baking sheet, and let it cool 5 minutes.
Sprinkle the toffee with chocolate chips and let it sit for 10 minutes so they can melt.
When the chocolate chips are starting to melt, spread them over the toffee with an offset spatula, trying to make a smooth and even layer. I used semi-sweet chocolate chips because I wanted a little more of a dark chocolate taste, but milk chocolate chips would work well too.
Finally, sprinkle with chopped pecans. You could definitely substitute other nuts for the pecans. I think almonds, peanuts, or walnuts would work well too.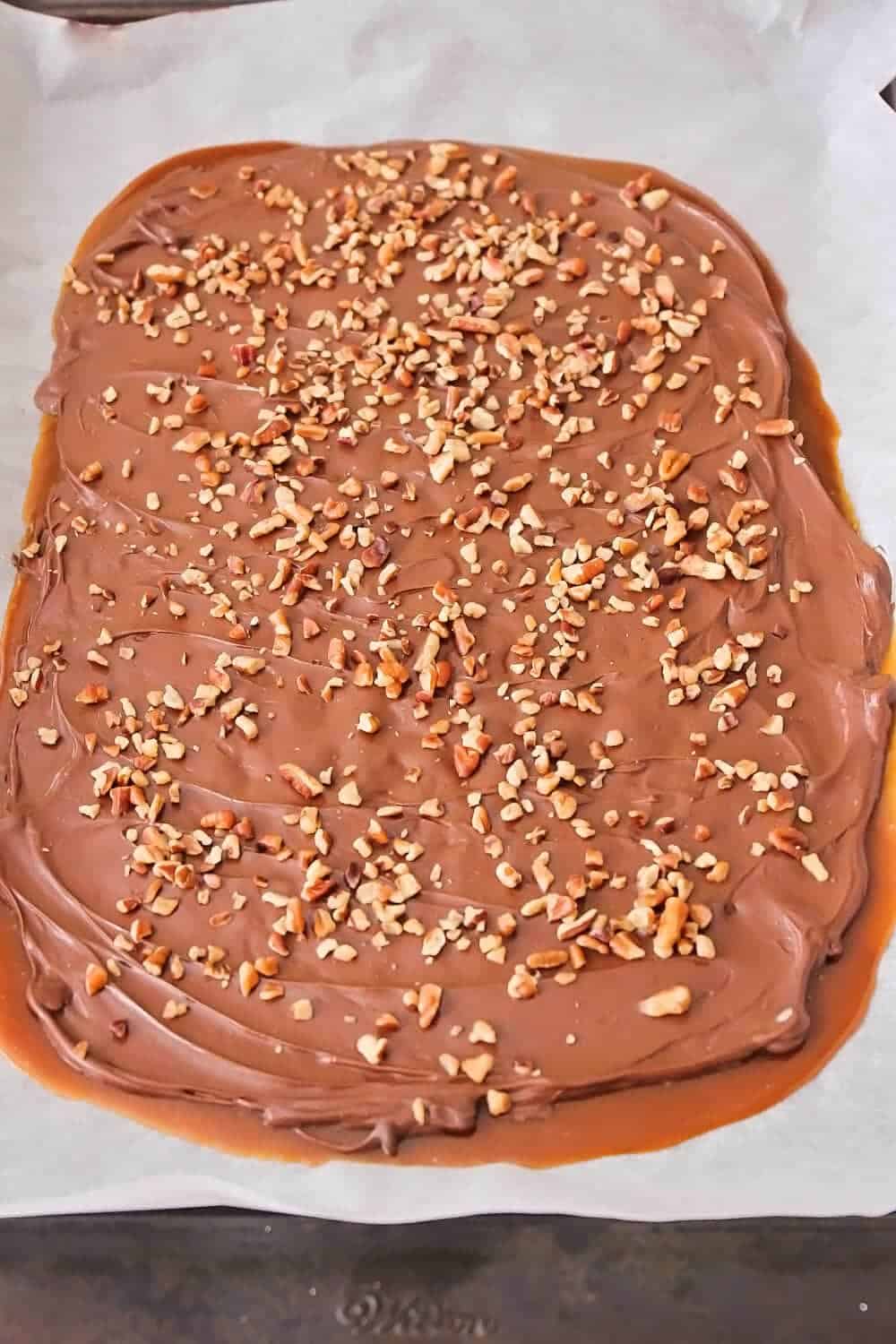 Let the toffee cool completely, then break into pieces and enjoy! This toffee is a new holiday favorite at our house, and one we'll be sharing with friends and family this year. I hope you'll try it and love it too!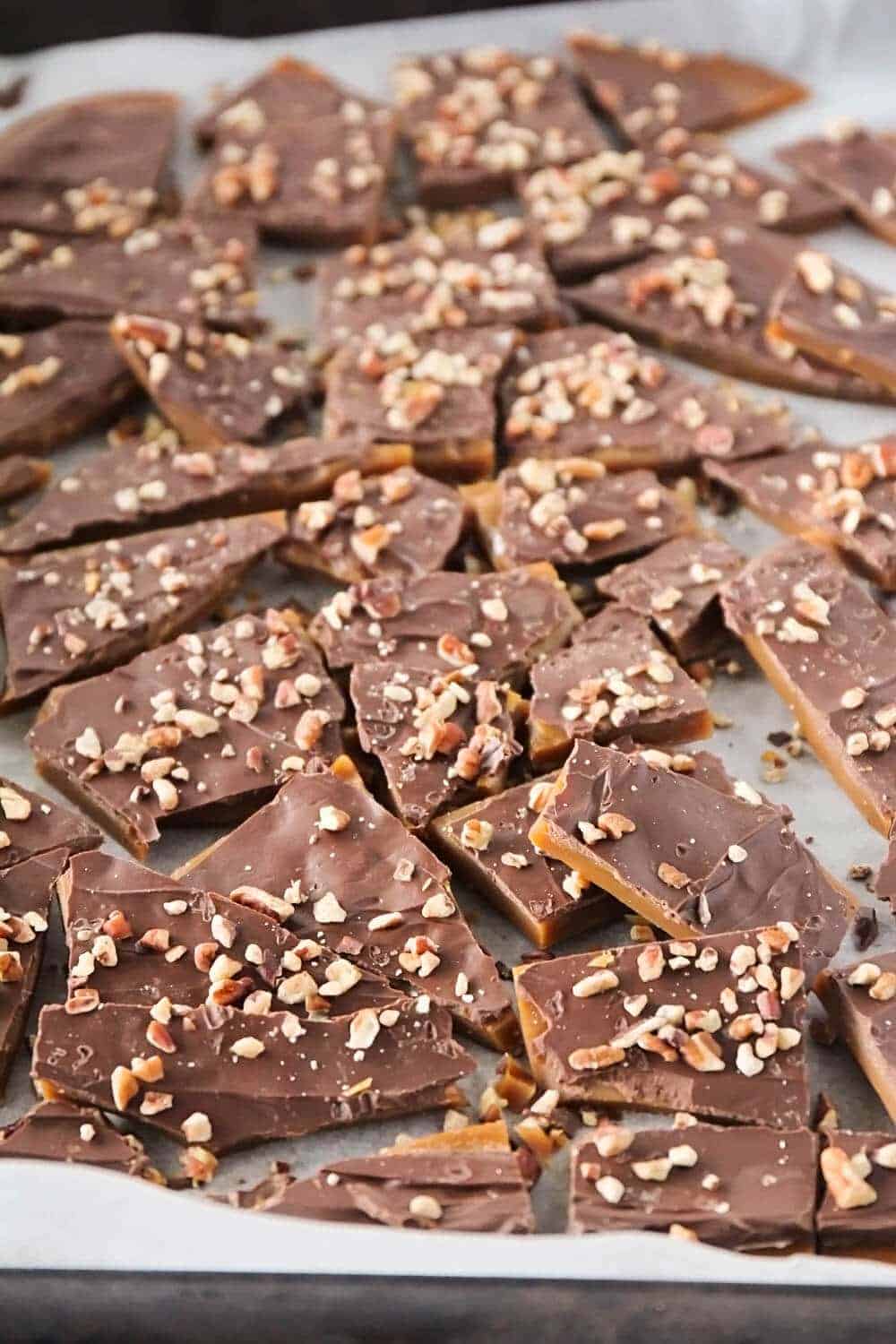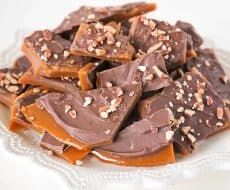 Homemade Toffee
Ingredients:
1 cup (8 ounces) butter, cut into pieces
1 cup sugar
2 tablespoons water
1 teaspoon salt
1 teaspoon vanilla
1 cup chocolate chips (milk chocolate or semi-sweet)
2 tablespoons chopped pecans
Directions:
Prepare a baking sheet by buttering or lining with parchment, and set aside.
Add the butter, sugar, water, and salt to a medium saucepan. Heat the pan over medium heat, stirring frequently, until the butter has melted and the sugar has dissolved.
Continue to heat over medium heat until the mixture has reached 285 degrees and has turned a rich caramel color. Remove from heat and stir in the vanilla.
Pour the toffee mixture onto the prepared pan and allow it to spread. Let the toffee cool 5 minutes, then sprinkle with the chocolate chips and allow to sit for 10 minutes.
Spread the melted chocolate chips with an offset spatula and sprinkle with chopped pecans. Let the toffee cool completely, then break into pieces and enjoy.
All images and text ©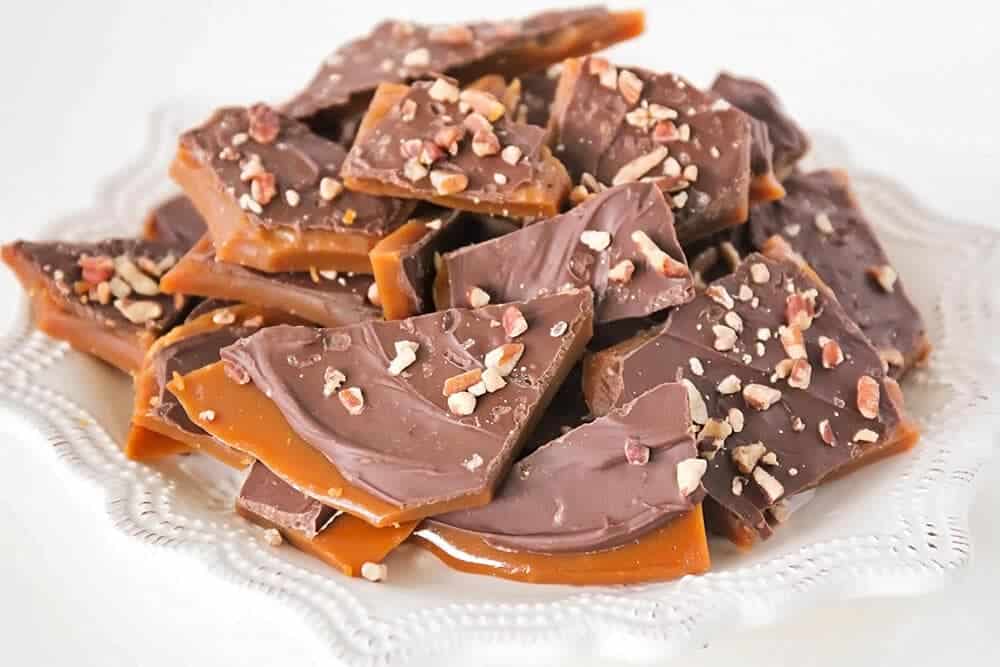 Thanks, Alicia!

If you love this sweet, easy-to-gift holiday treat, you'll enjoy these too!