This rich and buttery homemade toffee is easy to make and only takes about thirty minutes from start to finish. Perfect for parties, holiday gifts, and snacking!
Easy Toffee Candy
We always make a batch of this homemade toffee during the holidays. It's such an easy toffee candy recipe and is perfect for beginners. Microwave caramels, Christmas crack toffee, peanut brittle and slow cooker rocky road candy are at the top of our list too!
One of our favorite things to do during the holidays is to make homemade treats for family and friends. This homemade toffee is perfect for gift giving, and is so simple to make too!
I'm definitely a candy making novice, but this recipe is simple enough that it's perfect for beginners. I would recommend having a candy thermometer on hand to make things easier. They're inexpensive and they take a lot of the guesswork out of candy making.
What are the Ingredients for Toffee?
I love that it doesn't require a ton of ingredients to make this. I usually always have all of them on hand too, which makes it so easy and convenient.
Butter: Unsalted butter works best. I like to chop it up until cubes before adding to the pan so that it melts quicker and more evenly.
Sugar: White granulated sugar is best for this recipe.
Vanilla: I recommend a high quality pure vanilla extract for the best flavor.
Chocolate Chips: Semi sweet or milk chocolate chips are my favorites.
Pecans: Chop the pecans into small pieces before using. You may also use chopped almonds if preferred.
Salt: Using unsalted butter allows us to control the amount of salt used in this recipe. Adding a hint of salt is the perfect compliment to the sweet, caramelized flavor.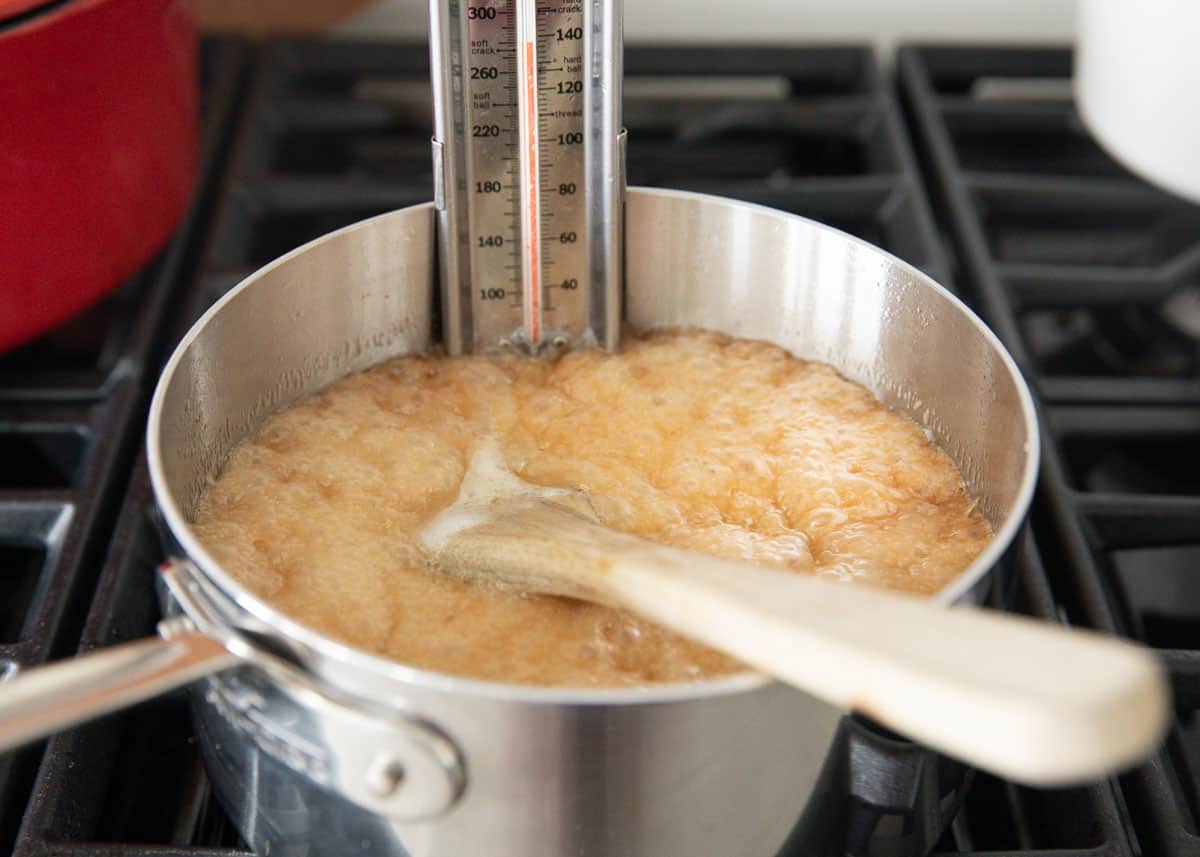 How to Make Toffee
To make this homemade toffee recipe, you'll start by adding butter, sugar, water, and salt to a saucepan and bring the mixture to a boil over medium heat. Keep a close eye on the toffee as it cooks (don't walk away).
The mixture will start out as a pale yellow color, then deepen into a rich caramel tone. Mine was perfect at 285°F on my candy thermometer (a minute or two after I took the above picture). Be careful not to let the mixture get too dark, or it will have a burned taste.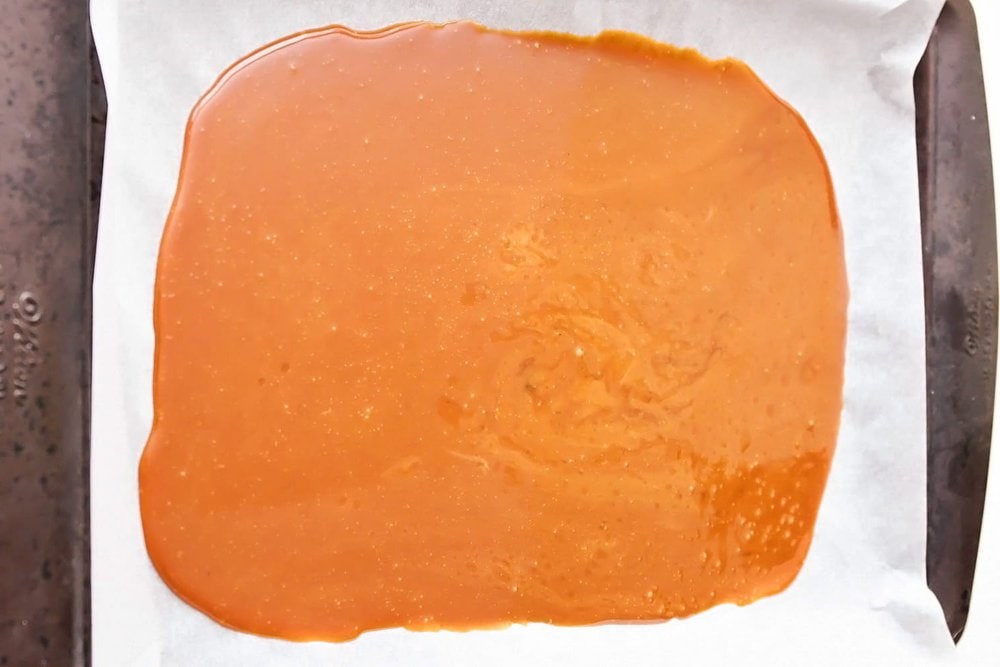 When it's reached 285 degrees, remove the pan from the heat and stir in the vanilla. It will be bubbly and incredibly hot, so be careful not to burn yourself! Pour the mixture out onto a greased or parchment lined baking sheet, and let it cool 5 minutes.
Then sprinkle the toffee with chocolate chips and let it sit for 10 minutes so they can melt.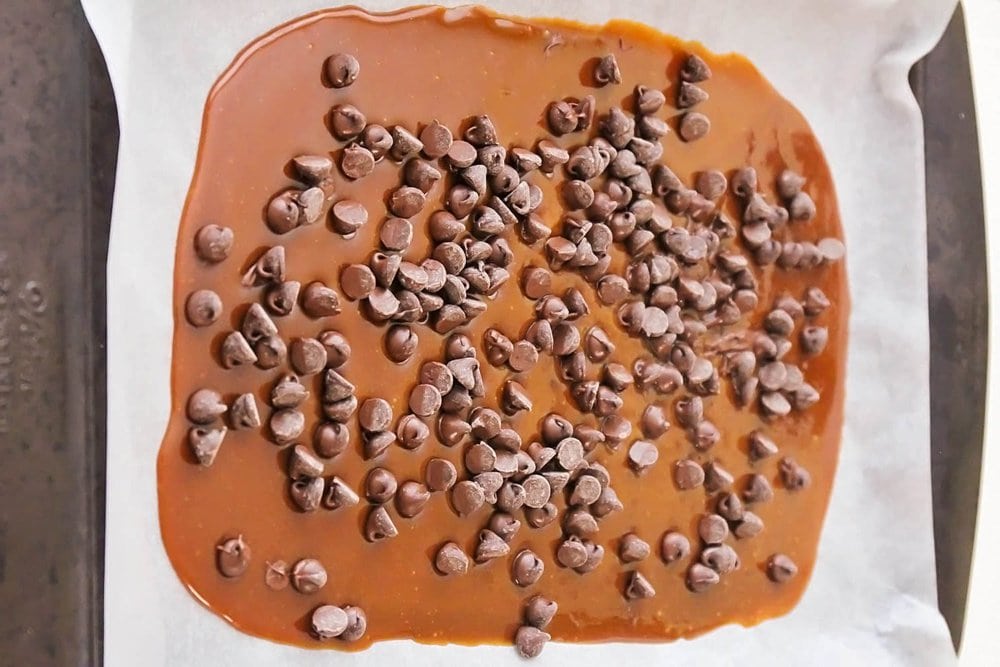 When the chocolate chips are starting to melt, spread them over the toffee with an offset spatula, trying to make a smooth and even layer. I used semi-sweet chocolate chips because I wanted a little more of a dark chocolate taste, but milk chocolate chips would work well too.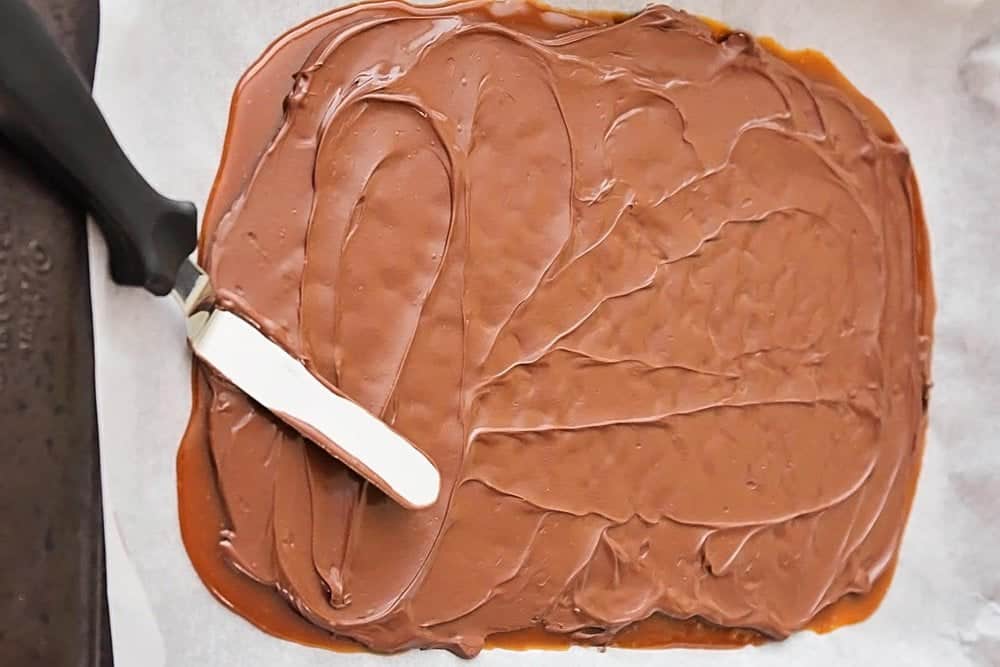 Finally, sprinkle toffee with chopped pecans. You could definitely substitute other nuts for the pecans, such as almonds, peanuts or walnuts. All would be yummy! Let the toffee cool completely, then break into pieces and enjoy!
5 star review
Oh I can't thank you enough for your toffee recipe! I am an experienced baker and have had many more failed attempts at toffee than successes. Your recipe is the fail-proof recipe I have been searching for! Such an easy and tasty recipe!

– Emma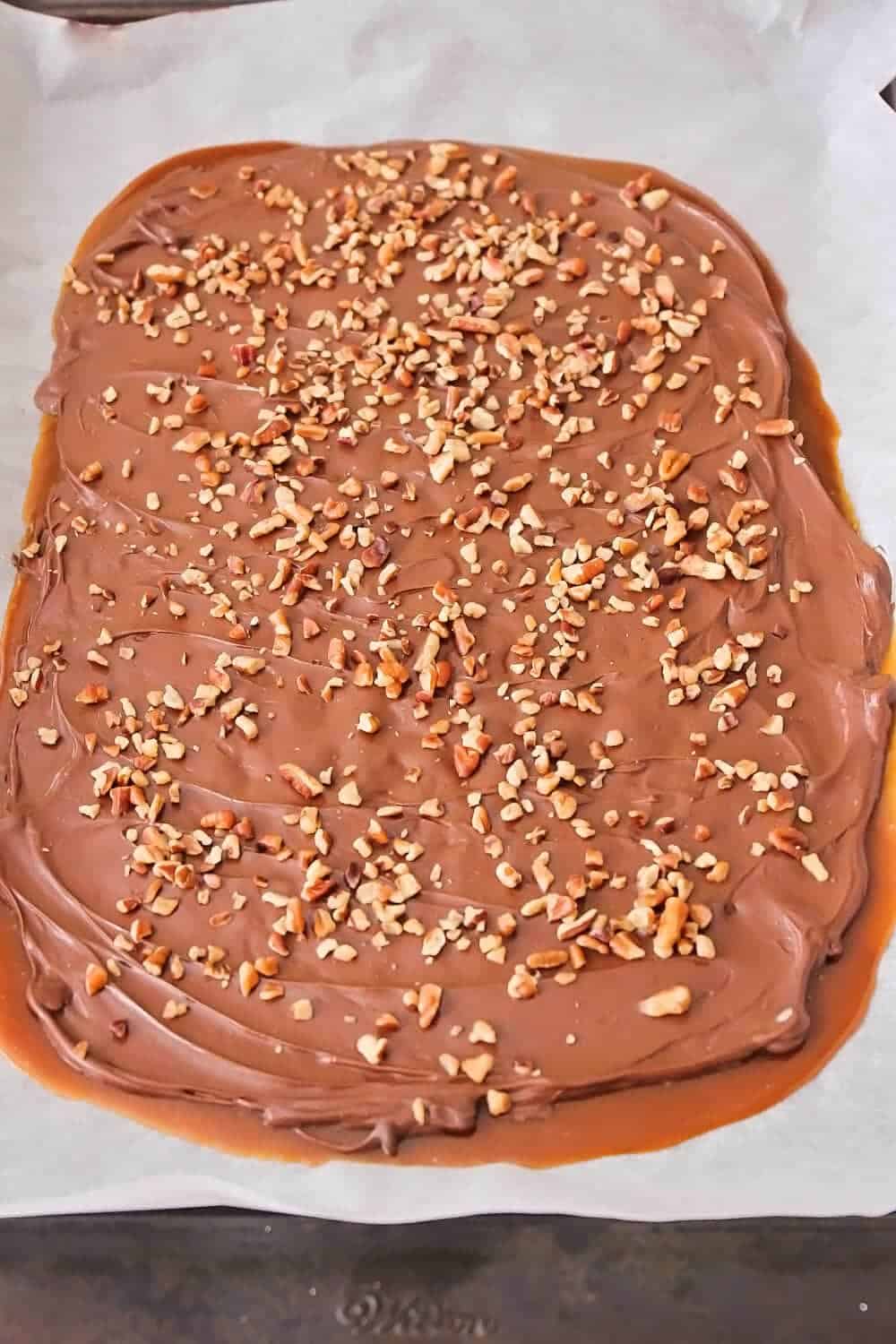 How Do You Store Homemade Toffee?
To store, place in an airtight container or zip top bag. I like to layer my toffee between wax paper sheets to prevent sticking. Depending on how big your toffee pieces are, you may need to use two container or bags.
How Long Does it Last?
This toffee candy is good for at least two weeks if stored at room temperature. If your home is a bit on the warm side or if you're holding onto it for gift-giving, I would store it in the fridge. It should last for a couple more weeks if you stick in the refrigerator!
TIP: If you're looking for a way to use up leftovers, try making these delicious toffee cookies. Just chop into toffee bits, then fold them into the dough. The toffee adds the perfect chocolate and caramel flavor!
Can it be Frozen?
Yes! I actually love snacking on frozen homemade toffee. I usually make 2 batches…one to enjoy right away and one to stick in the freezer. When I'm craving a chocolate sweet treat, I'll grab a piece (or two)!.
To store in the freezer, just place in an airtight container or bag. It should keep in the freezer for a couple of months.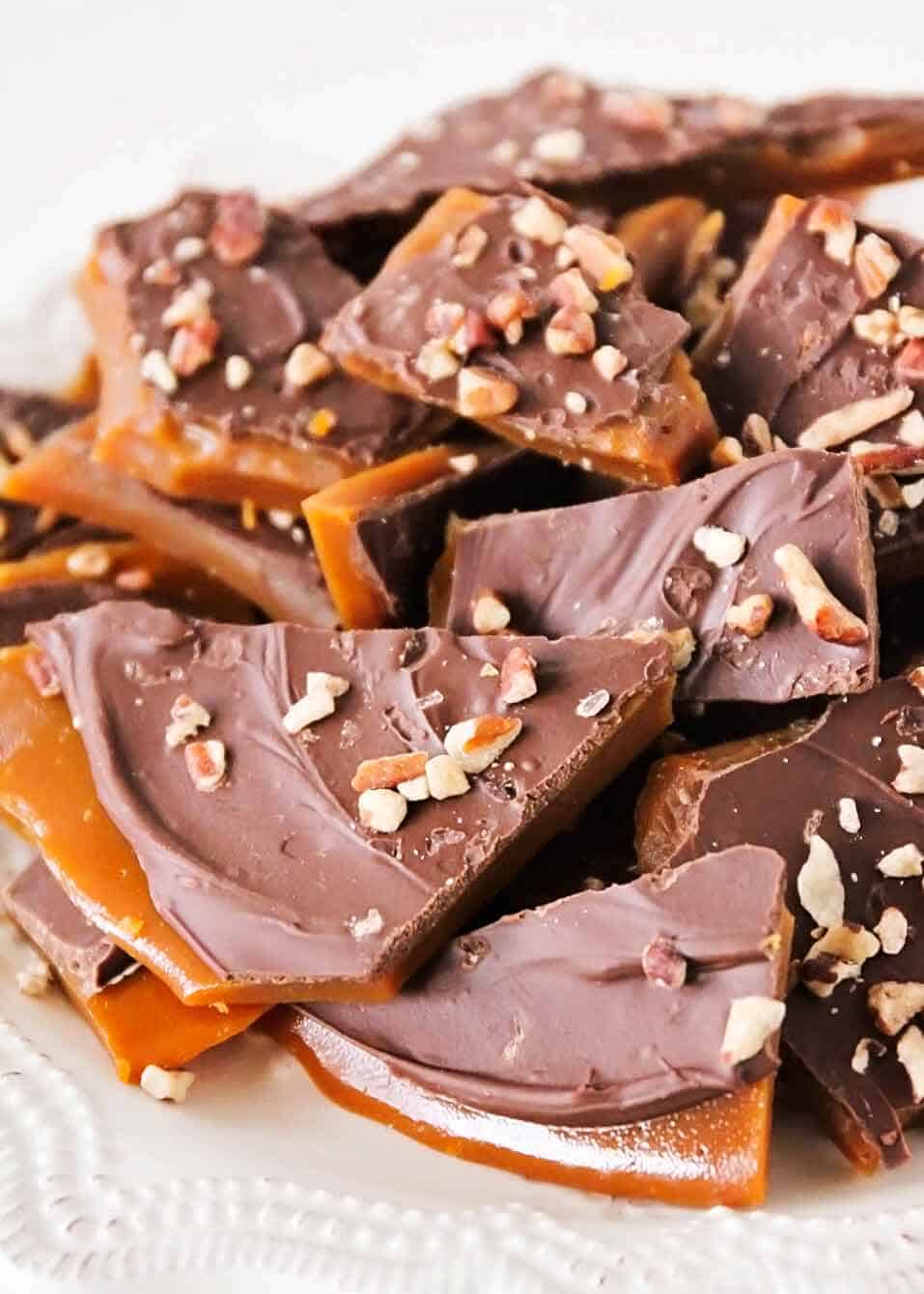 More Candy Recipes You'll Love: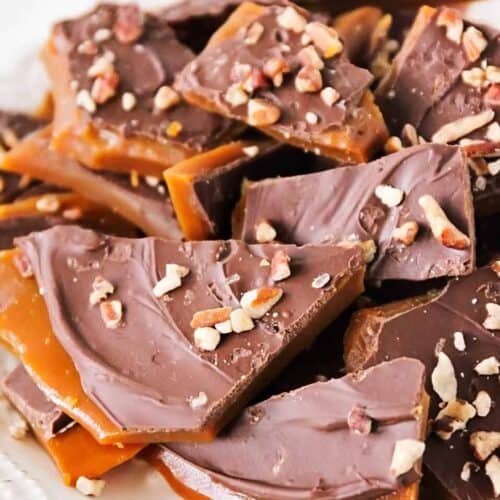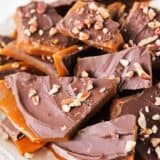 Homemade Toffee
This rich and buttery toffee takes only thirty minutes to make and is super easy, too! Perfect for parties, holiday gifts, and snacking!
Ingredients
1 cup unsalted butter (8 ounces, cut into pieces)
1 cup granulated sugar
2 Tablespoons water
1 teaspoon Kosher salt
1 teaspoon vanilla extract
1 cup chocolate chips (milk chocolate or semi-sweet)
2-4 Tablespoons chopped pecans , or almonds
Instructions
Prepare a baking sheet by buttering or lining with parchment paper and set aside. Add the butter, sugar, water, and salt to a medium saucepan (with a heavy bottom).

Heat the pan over medium-low heat, stirring frequently with a wooden spoon, until the butter has melted and the sugar has dissolved. Leave the spoon in the pot and then clip on a candy thermometer at this point if desired (being careful to not let it touch the bottom).

Continue to cook over medium heat until the mixture has reached 285°F and has turned a rich caramel color. Only stir every so often at this point, you don't want to disturb the process too much. When it turns a caramel color immediately remove from heat and stir in the vanilla.

Pour the mixture onto the prepared pan and allow it to spread. Let the toffee cool for 5 minutes, then sprinkle with the chocolate chips and allow to sit for 10 minutes.

Spread the melted chocolate chips with an offset spatula and sprinkle with chopped pecans or almonds.

Let the toffee cool completely, then break into pieces and enjoy.
---
Notes
Storing and freezing: Store in an airtight container or bag for up to two weeks. I like to layer the toffee between wax paper to prevent sticking. You may also freeze the toffee for about 2 to 3 months.
Calories: 173kcal | Carbohydrates: 16g | Fat: 12g | Saturated Fat: 7g | Cholesterol: 25mg | Sodium: 203mg | Potassium: 9mg | Sugar: 15g | Vitamin A: 305IU | Vitamin C: 0.1mg | Calcium: 15mg | Iron: 0.2mg
Nutrition provided is an estimate. It will vary based on specific ingredients used.
Did you make this recipe? Don't forget to give it a star rating below!
Originally written by Alicia from The Baker Upstairs.