Jump to Recipe⌄
Creamy chicken pasta
I have a super yummy dish to share today: Creamy chicken pasta. This has to be one of my new favorite meals. I've made it a few times now and have gotten several requests for the recipe. Everyone loved it!
This recipe was inspired by a dish at the Italian restaurant Biaggis. I loved it so much I had to recreate it at home. Their dish also had peas and bacon crumbs (which I thought was yummy) but I decided to omit those. Feel free to mix in your favorite veggies to create a dish YOUR family will love.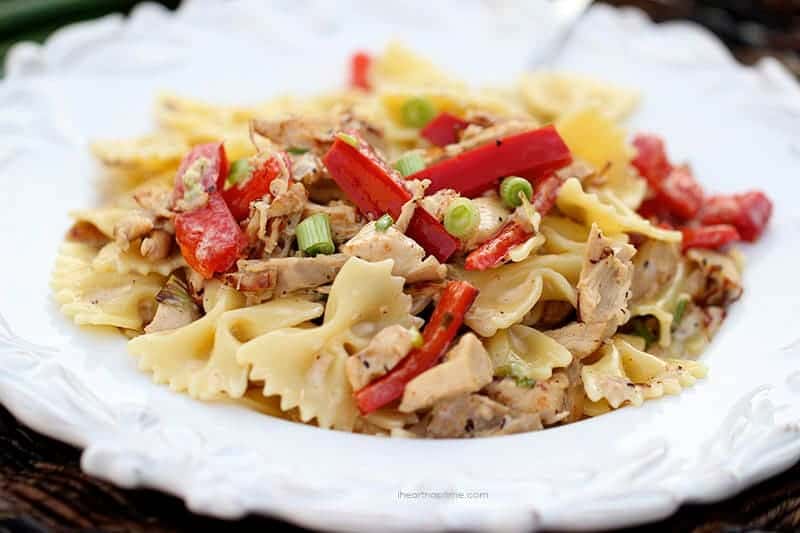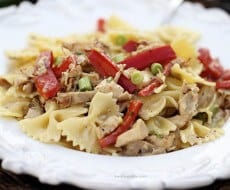 Creamy lemon chicken pasta
Ingredients:
1 lb box farfalle pasta
2 cups shredded cooked chicken (I used a rotisserie)
1 TB lemon pepper
1 teaspoon creole (or your favorite seasoning)
1-2 TB olive oil
1/4 cup green onion (sliced thin)
1 red bell pepper (sliced thin)
2 1/4 cups heavy whipping cream
1-2 tsp flour (more if needed)
2 cloves minced garlic
1/4 tsp dried basil
S&P to taste
Parmigiano (optional)
Directions:
1. Combine chicken, 1 TB lemon pepper and creole in a bowl. Cover and place in the refrigerator.
2. Boil pasta according to package directions and then drain.
3. In a large skillet heat the oil over medium heat. Saute the chicken, green onions and the red bell peppers.
4. Once peppers are tender add in the garlic and turn the stove to low. Pour in cream and flour. Stir until smooth and let simmer until the sauce begins to thicken. Add in another teaspoon of flour if needed.
5. Add in the 1/2 tsp of lemon pepper and a dash of salt and pepper. More to taste.
6. Pour the chicken and sauce over cooked noodles and enjoy with parmigiano.

MY OTHER RECIPES
All images and text ©
Enjoy with warm garlic bread!
What's your favorite pasta dish?
If you liked this post, you'll love these too: