Tender farfalle noodles coated in a creamy and rich white pasta sauce with sautéed onions, peppers and shredded chicken. Your family will be begging for seconds of this creamy chicken pasta recipe!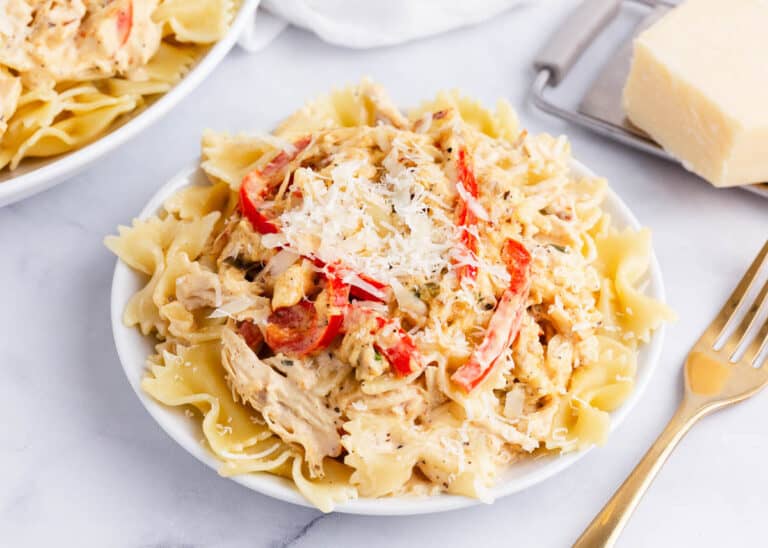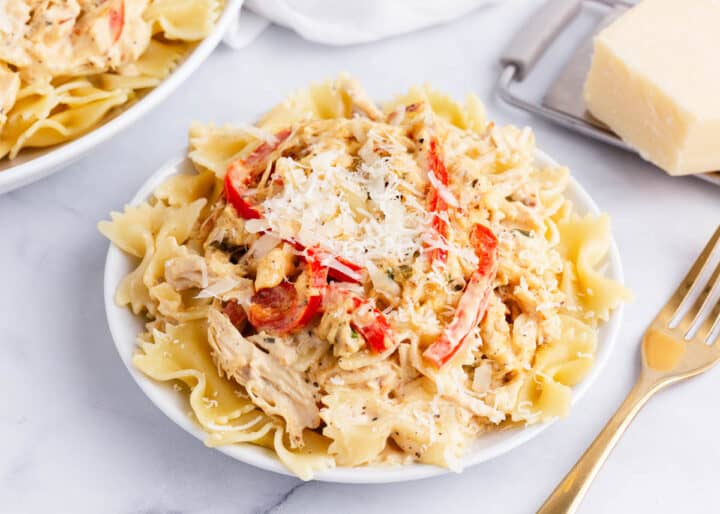 A Delicious Twist on Alfredo
My family loves pasta dishes, so we're always looking for new recipes to try. This recipe was inspired by a dish at the Italian restaurant Biaggi's. I loved it so much that I had to recreate it at home.
The creamy white sauce and flavorful seasonings are what makes this dish. It's a yummy twist on the classic chicken alfredo, but with added lemon pepper and creole seasoning. It packs a punch of flavor in each bite and is rich and comforting, just like any pasta dish should be!
The original Biaggi's recipe also had peas and bacon crumbs (which I thought was yummy), but I decided to omit those. Feel free to mix in your favorite veggies to create a dish YOUR family will love. And don't forget to serve with warm garlic bread or breadsticks!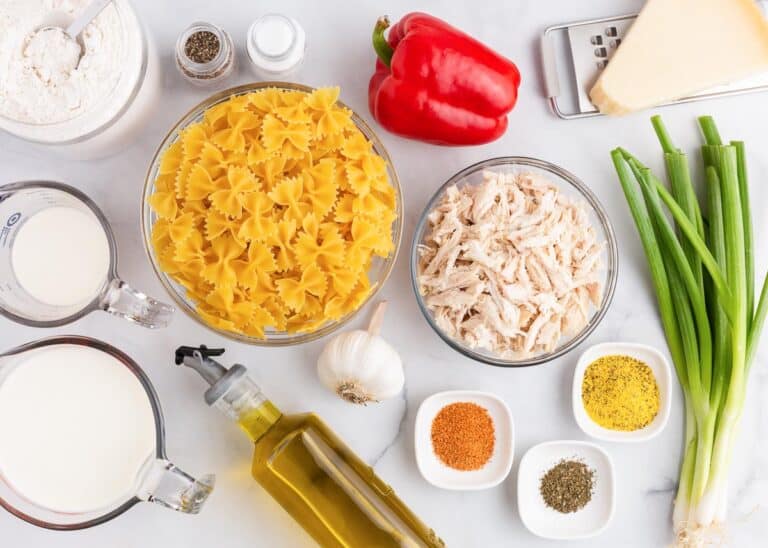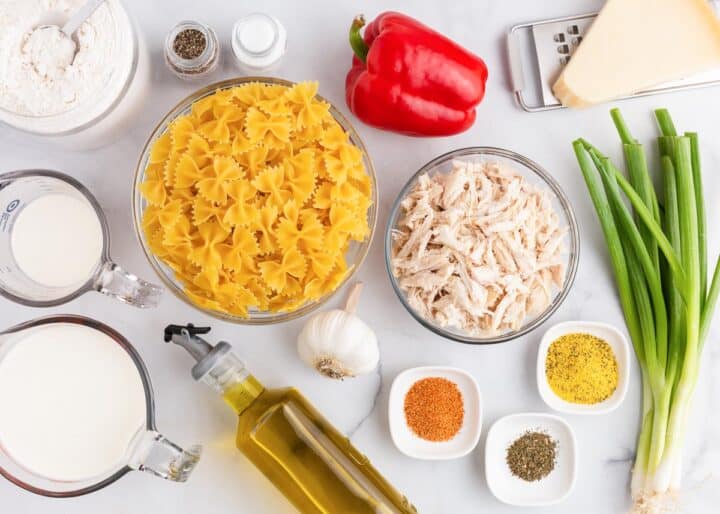 Tips for the Best Creamy Chicken Pasta
Salt your pasta water. This is a small detail that makes a big difference. When cooking pasta, I always like to add about a Tablespoon of kosher salt per pound of pasta to the water. It helps enhance the flavor even more.
Thickening the sauce. The key to a thick and creamy sauce is to use heavy whipping cream and a teaspoon or two of flour. The full fat cream yields the best results and the flour is used to help thicken it up even more. The sauce will continue thickening as it cooks, so start with a teaspoon of flour and then add in a little more as needed.
Rotisserie chicken. I'm all about simplifying recipes, so I love using rotisserie chicken in this dish. It's super easy to shred and is one less step to worry about. Plus the chicken gets mixed with the lemon and creole seasonings, so it still has plenty of flavor.
Freshly shaved cheese. This isn't a necessity, but trust me, adding freshly shaved parmigiano cheese takes this dish to a whole new level. It tastes amazing paired with the creamy sauce and gets a little melty from the heat of the pasta. You won't regret it!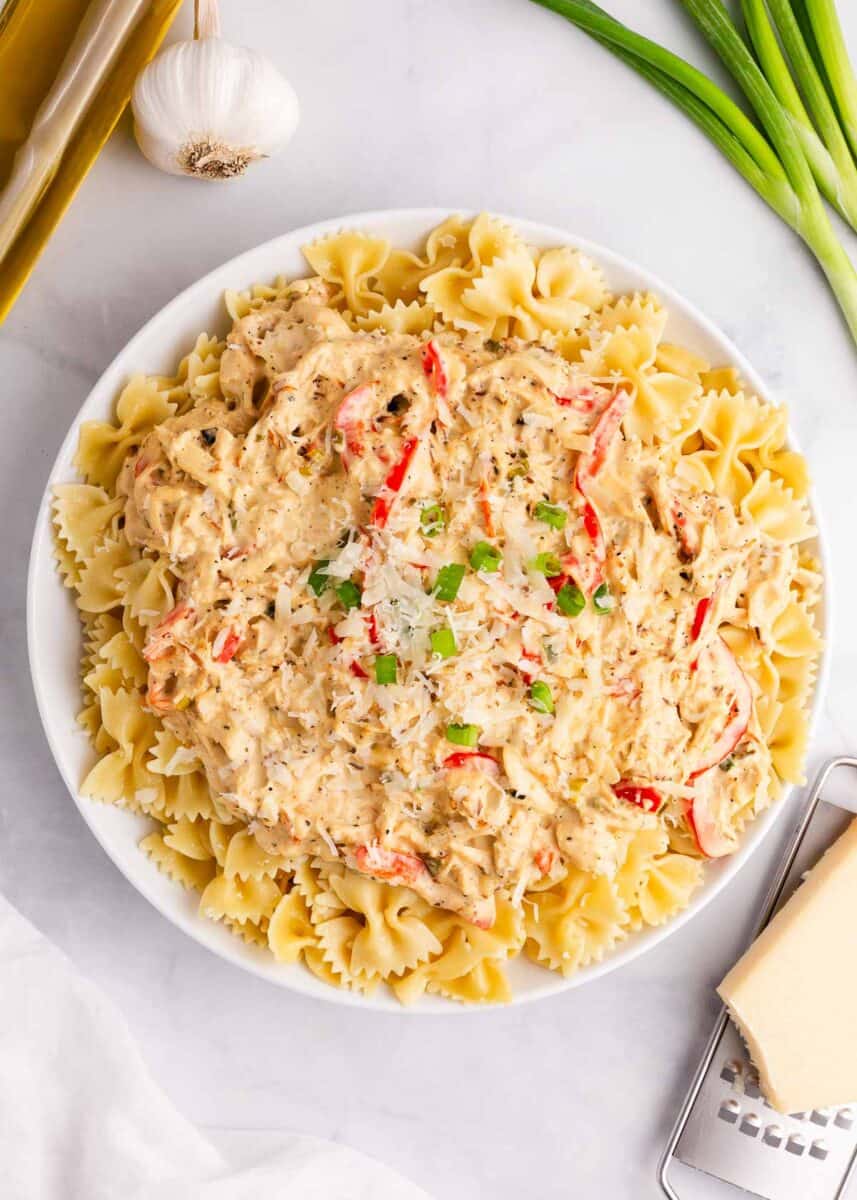 Variations
Noodles: Other varieties like fettucine or penne pasta would also taste delicious.
Meat: Swap the chicken with shrimp for a fun twist, or exclude the meat all together to make vegetarian.
Vegetables: Feel free to add in other veggies when sautéing the onions and peppers. Mushrooms, tomatoes, broccoli, peas or spinach are all great additions.
Bacon: A sprinkle of crispy bacon crumbs is an easy way to add more flavor to this dish. Easily cook the bacon in the oven while the pasta cooks on the stove.
Lemon: A squeeze of fresh lemon juice is a way to brighten up the sauce and enhance the lemon pepper flavor even more.
Make lighter: Swap the heavy whipping cream with half and half to lighten the sauce.
Cheese: If you prefer a cheesy sauce similar to homemade alfredo, stir in 1/2-3/4 cup freshly grated parmesan cheese while the sauce simmers.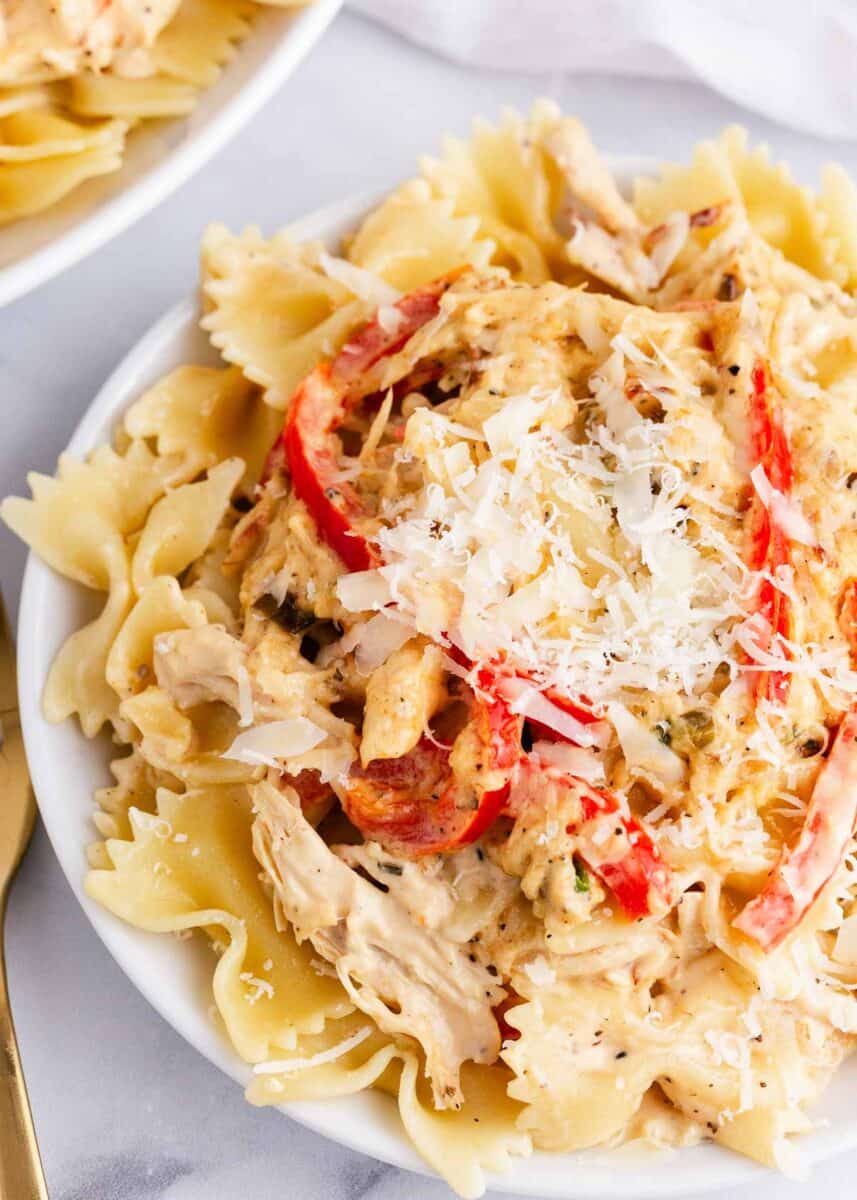 More Pasta Recipes: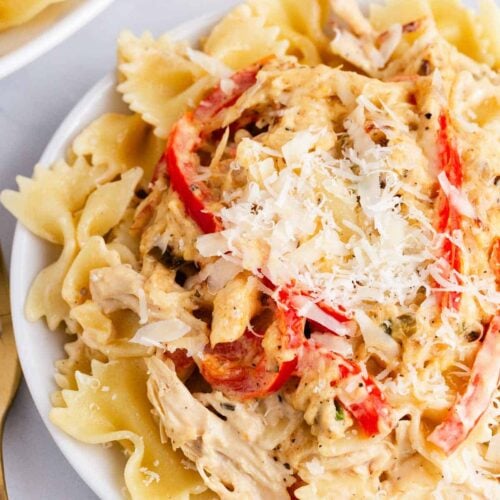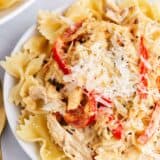 Creamy Chicken Pasta
Tender farfalle noodles coated in a creamy and rich white pasta sauce with sautéed onions, peppers and shredded chicken. Your family will be begging for seconds of this creamy chicken pasta recipe!
Ingredients
1 pound farfalle pasta
2 cups rotisserie chicken
2 teaspoons lemon pepper , more to taste
1 teaspoon creole , or cajun seasoning
1/2 teaspoon dried basil
1 to 2 Tablespoons olive oil
1/4 cup green onion , sliced thin
1 red bell pepper , sliced thin
2 to 3 cloves minced garlic
2 cups heavy whipping cream
1 to 2 teaspoons flour or cornstarch , more if needed
S&P to taste
For serving: Parmigiano and fresh basil if desired
Instructions
Combine chicken, lemon pepper, creole and basil in a bowl. Set aside.

Boil pasta according to package directions and then drain.

In a large skillet, heat the oil over medium heat. Sauté the green onions and the red bell peppers. Add in the chicken. Once peppers are tender, add in the garlic and turn the stove to low.

Pour in cream and sprinkle a little flour over top. Stir until smooth and let simmer until the sauce begins to thicken. Add in another teaspoon of flour if needed. Salt and pepper to taste.

Pour the chicken and sauce over cooked noodles and enjoy with parmigiano.
---
Notes
Chicken: You can also cook 1 pound of chicken for this recipe. Cube the chicken into bite sized pieces and then cook in the skillet with 1 to 2 Tablespoons of olive oil over medium heat. Then remove the chicken and cook the bell peppers. Vegetables: This recipe is easily customizable. You can add in mushrooms with the bell peppers. Sometimes I'll also mix peas or chopped spinach at the end (after the cream is mixed in). Make lighter: If you'd like to make this dish lighter, you can use half and half. I wouldn't use milk, as the sauce will not properly thicken.
Calories: 549kcal | Carbohydrates: 46g | Protein: 25g | Fat: 30g | Saturated Fat: 15g | Polyunsaturated Fat: 1g | Monounsaturated Fat: 8g | Cholesterol: 138mg | Sodium: 240mg | Potassium: 224mg | Fiber: 2g | Sugar: 2g | Vitamin A: 1375IU | Vitamin C: 20mg | Calcium: 59mg | Iron: 1mg
Nutrition provided is an estimate. It will vary based on specific ingredients used.
Did you make this recipe? Don't forget to give it a star rating below!