Jump to Recipe⌄
Easy homemade alfredo sauce with cream cheese
My favorite easy homemade alfredo sauce – smooth, creamy and the perfect texture and flavor!
I don't know about you, but alfredo is my weakness. Whenever we go out for Italian, it's usually what I always end up ordering. Especially this pregnancy. Olive garden breadsticks with a big bowl of alfredo for dipping please. Bring on all the carbs! ;)  Luckily I can make the sauce easily at home whenever the craving strikes.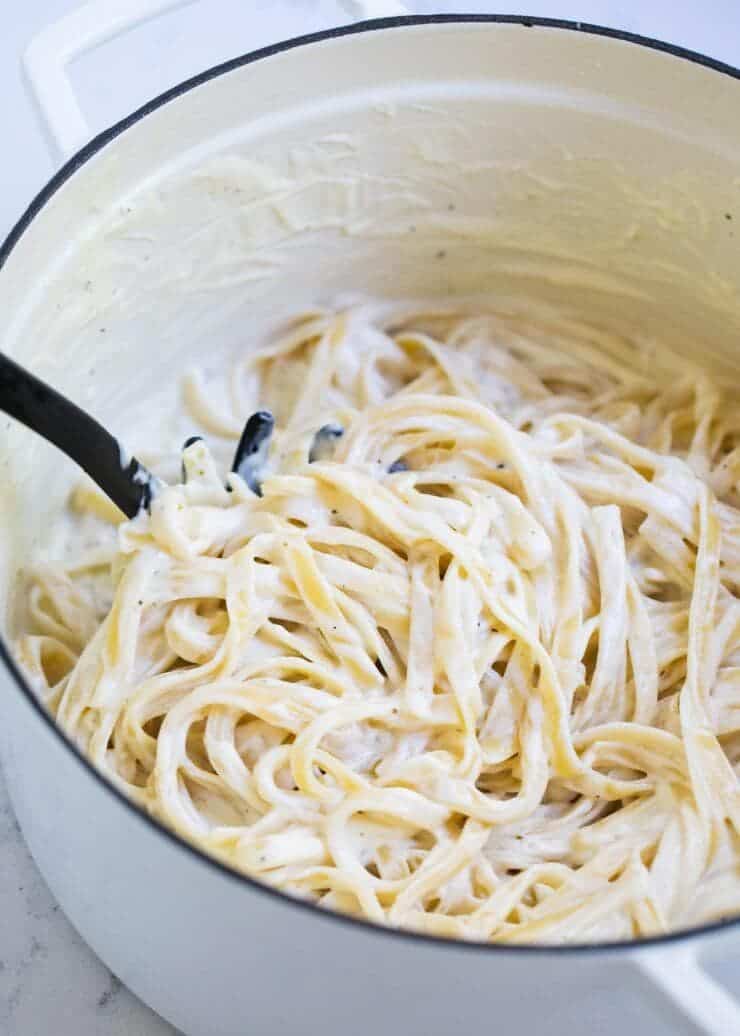 This homemade alfredo sauce with cream cheese is such an easy recipe to make. It comes together very quickly and is always a hit with everyone who has tried it. The cream cheese just adds a smooth richness to the sauce… you can't taste it, promise.
I found this homemade alfredo sauce cream cheese recipe in The Food Nanny cookbook and have been making it ever since. I have tweaked it a little over the years, but it's always my go-to sauce. It is SO easy to make and so yummy!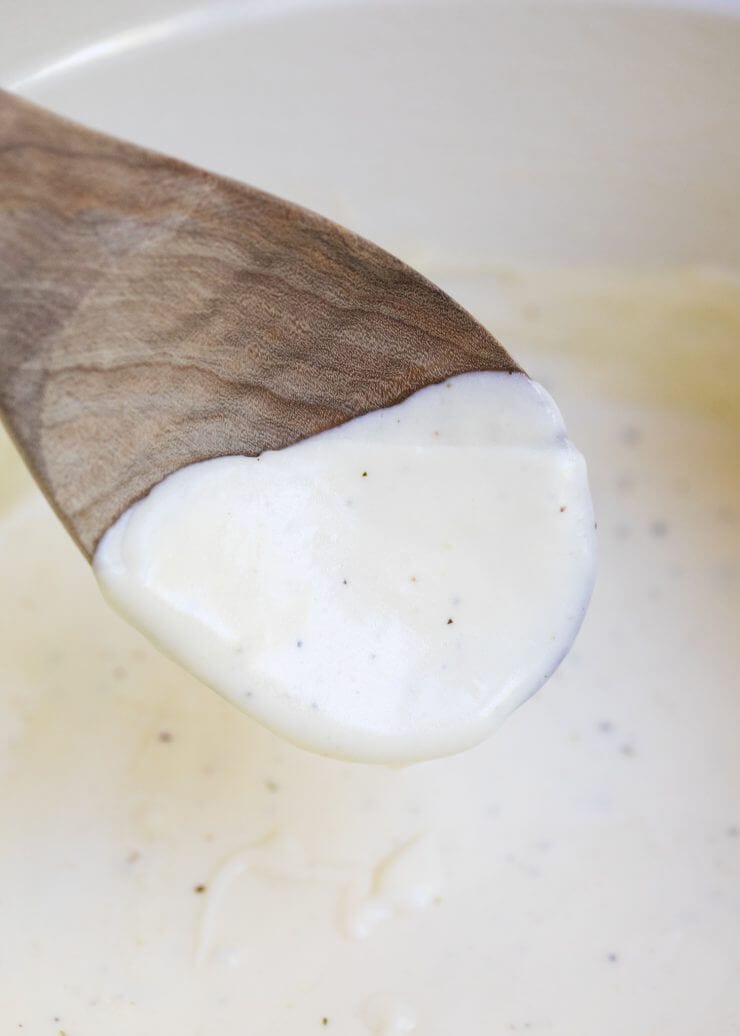 This alfredo sauce uses the key basic ingredients such as butter, heavy cream, garlic and parmesan cheese (freshly grated is best). Plus a few seasonings to kick up the flavor. The key to making this sauce is to have patience when whisking, it will thicken and smooth out as it cooks. Also, make sure not to use too high of heat. I find that medium-low heat if perfect. You don't want to burn or curdle the cream.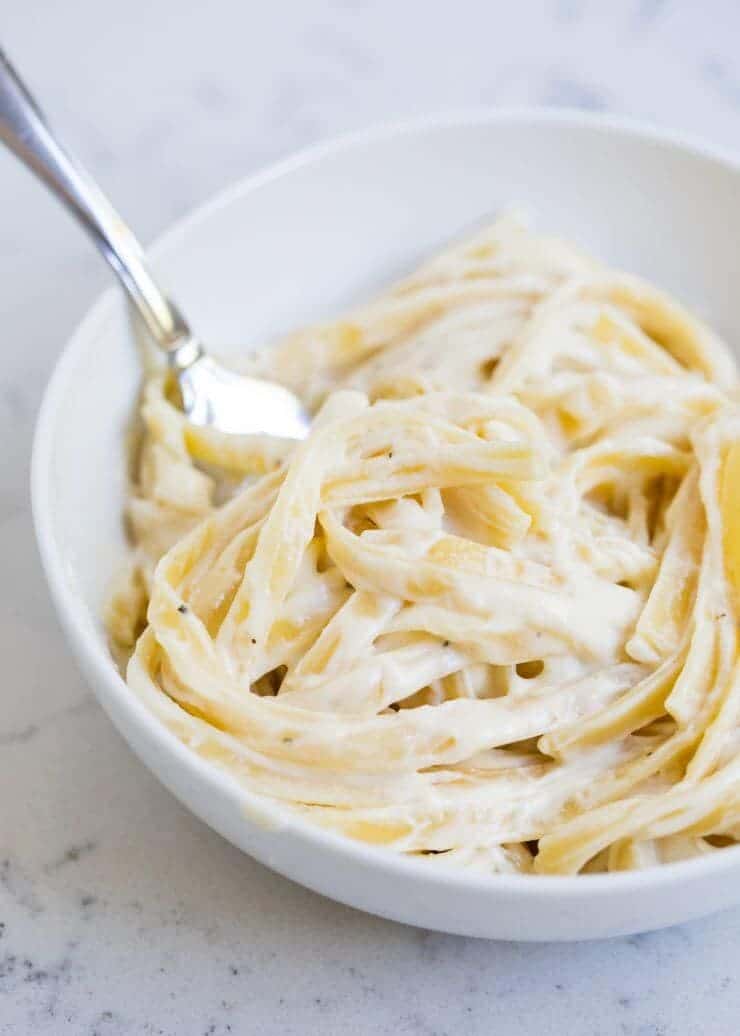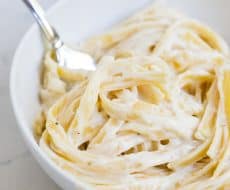 Easy homemade alfredo sauce with cream cheese
Easy homemade alfredo sauce – smooth, creamy and the perfect texture and flavor!
Print
Ingredients
1/2 cup salted butter
1/2 teaspoon minced garlic
3 ounces cream cheese
2 cups 1 pint Heavy whipping cream (could use half and half)
1 teaspoon garlic powder
1/4 teaspoon Italian seasoning optional
Salt and Pepper to taste
3/4 cup freshly grated parmesan cheese
1 pound fettuccine
Instructions
Melt the butter in a medium saucepan over low heat. Add the garlic and cook for one minute. Cut in the cream cheese. Next whisk in the cream and garlic powder. Season with Italian seasoning if desired. Increase the heat to medium low heat and bring to a simmer. Simmer for 5 minutes, whisking occasionally. Stir in parmesan cheese and allow to melt. Taste and salt and pepper as needed. Toss with hot fettuccine and serve immediately.
Nutrition Facts
Easy homemade alfredo sauce with cream cheese
Amount Per Serving
Calories 804 Calories from Fat 504
% Daily Value*
Total Fat 56g 86%
Saturated Fat 33g 165%
Cholesterol 239mg 80%
Sodium 418mg 17%
Potassium 285mg 8%
Total Carbohydrates 57g 19%
Dietary Fiber 2g 8%
Sugars 2g
Protein 18g 36%
Vitamin A 39.7%
Vitamin C 0.6%
Calcium 23.5%
Iron 9.1%
* Percent Daily Values are based on a 2000 calorie diet.
Easy homemade alfredo variations
Serve mixed with fettucine
Serve mixed with penne or bowtie pasta, chicken and broccoli
Serve in a bowl for dipping with bread
Use in place of pizza sauce and top with mozzerella and chicken
Mix with a marina and mostaccioli
Make a skinny version using milk and light cream cheese. Add 1-2 teaspoons flour to thicken.

Looking for more pasta recipes? You'll love these too: