This classic crockpot stuffing has timeless flavors and mouthwatering aromas! Add a little calm to the holiday chaos by making a simple delicious slow cooker stuffing!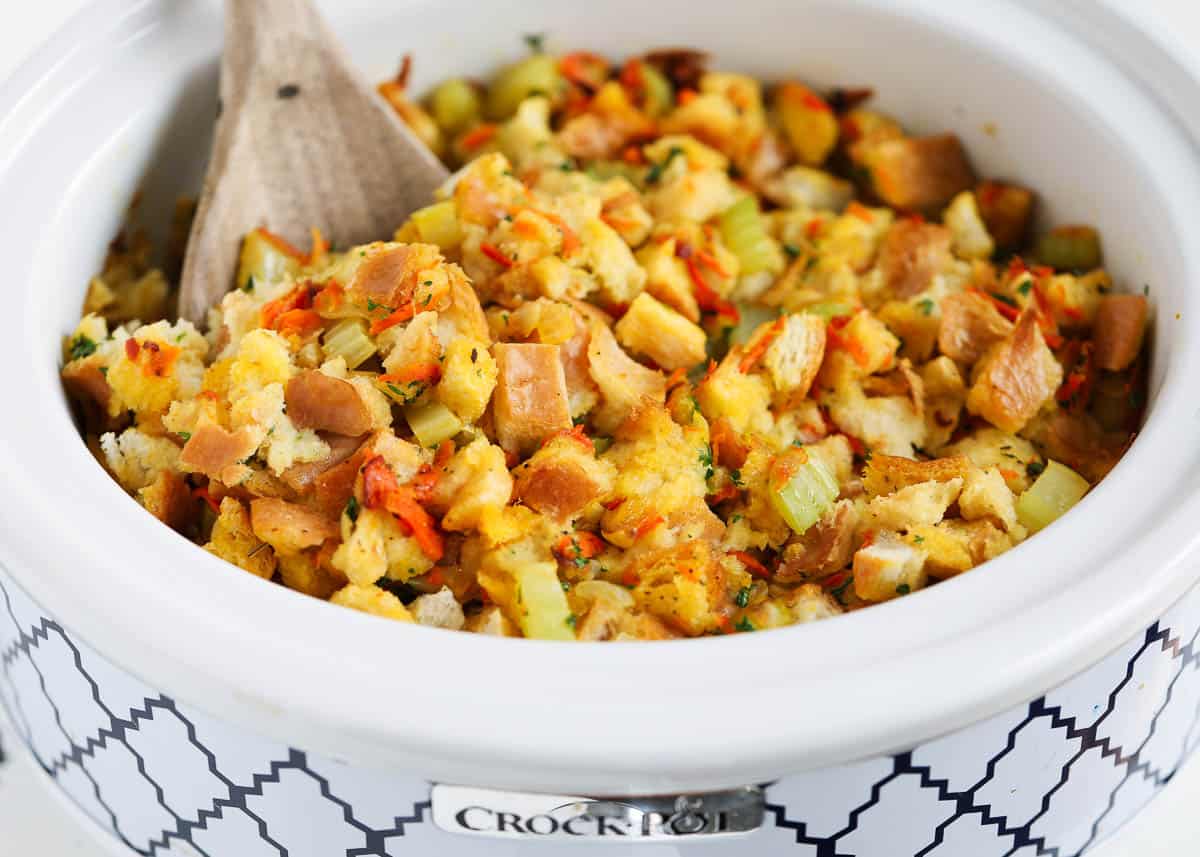 Simple Slow Cooker Stuffing
A humble crockpot stuffing with maximum flavor is what everyone needs on their Thanksgiving menu or at Christmas dinner. It's a no-fuss Thanksgiving side dish that doesn't take up any room in the oven and can be left alone while the oven roasted turkey is being taken care of. That's why this and other crockpot side dish recipes are my go-to for the holidays!
This slow cooker stuffing recipe is simple and inexpensive, especially when you're able to use leftover homemade bread. It's made with a celery, carrot and onion powerhouse of flavors along with the perfect amount of herbs and seasoning. It's moist without being mushy and may very well become your new favorite side dish!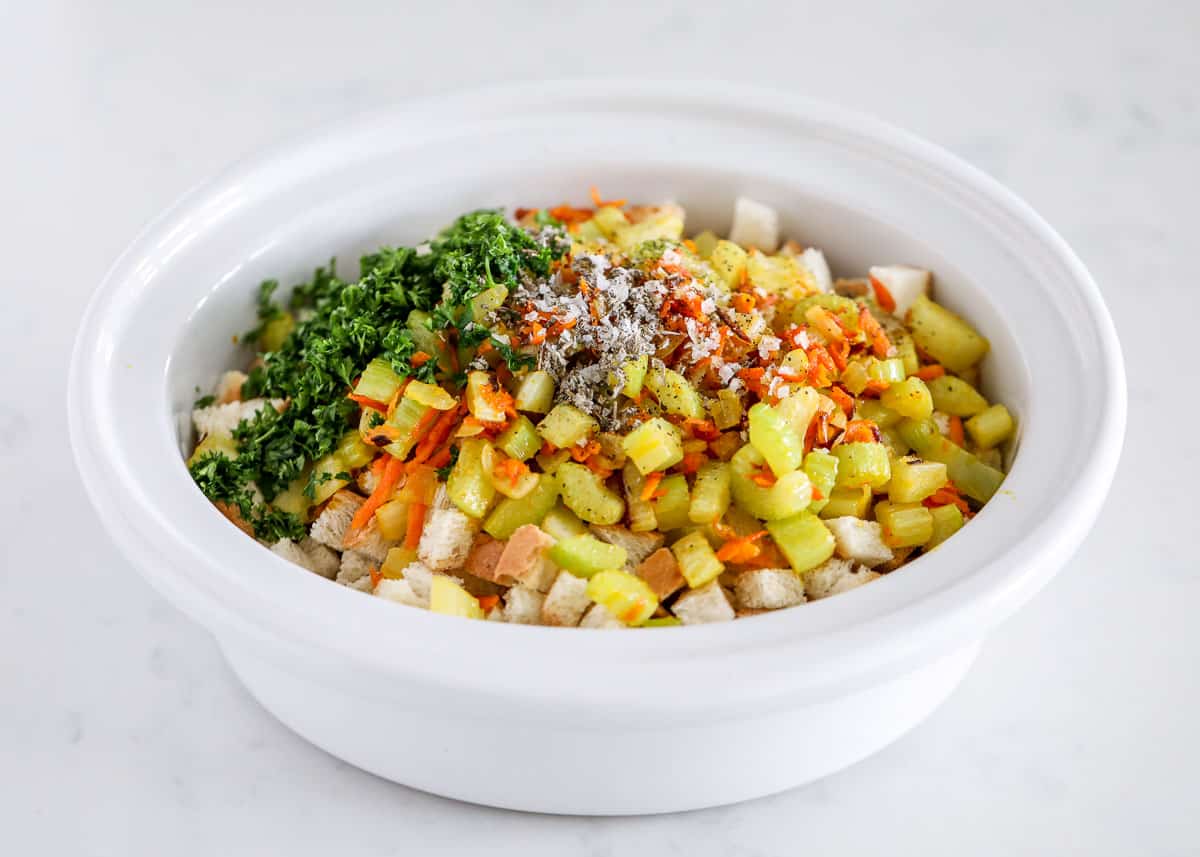 Prepare Your Bread!
The secret to stuffing is making sure the bread doesn't get soggy! Other than your liquid-to-bread ratio being right on the mark, you need to make sure your bread is nice and dry. Here's how:
Place cubes of bread on a baking sheet and allow them to sit out for 1-2 days.
OR
Lightly toast them in a preheated 200 degree oven for 20 minutes. Toss halfway.
Cooking Tips
Store-bought stuffing cubes can be used in place of bread you cube yourself. One way to simplify things even more.
When cooking the mirepoix (celery, onions, carrots) in the skillet, be sure to cook just until the onions are soft. Burnt bits will change the flavor of the stuffing.
Mix all of the ingredients to combine before baking. You want to make sure that all of the bread is coated evenly. No pieces are left dry and none are drenched in the broth.
Make it a completely vegetarian version and use vegetable broth instead.
Variations
Dried apples: Adding in some diced apple for sweeter flavor can be a wonderful addition. Mix it in just before adding the broth.
Dried cranberries: You can add them with or instead of the apples. Add 1/2 cup of dried cranberries or rasisins for a different type of sweetness.
Bread: I love French bread because of how sturdy it is, but you can use sourdough, Italian and regular white bread as well. Take it one step further and make a cornbread stuffing.
Sausage: Cook up some sausage (mild or spicy) and mix it into the stuffing as well. Sausage stuffing is so hearty and a nice way to bulk it up with some extra protein.
Make Ahead Crockpot Stuffing
Just when you thought this stuffing recipe couldn't get any easier, here we are!
Assemble the stuffing ahead of time by placing all ingredients in the crockpot as directed.
Cover with foil and place in the fridge.
When you're ready to bake it, place it directly in the oven and tack on 30 extra minutes.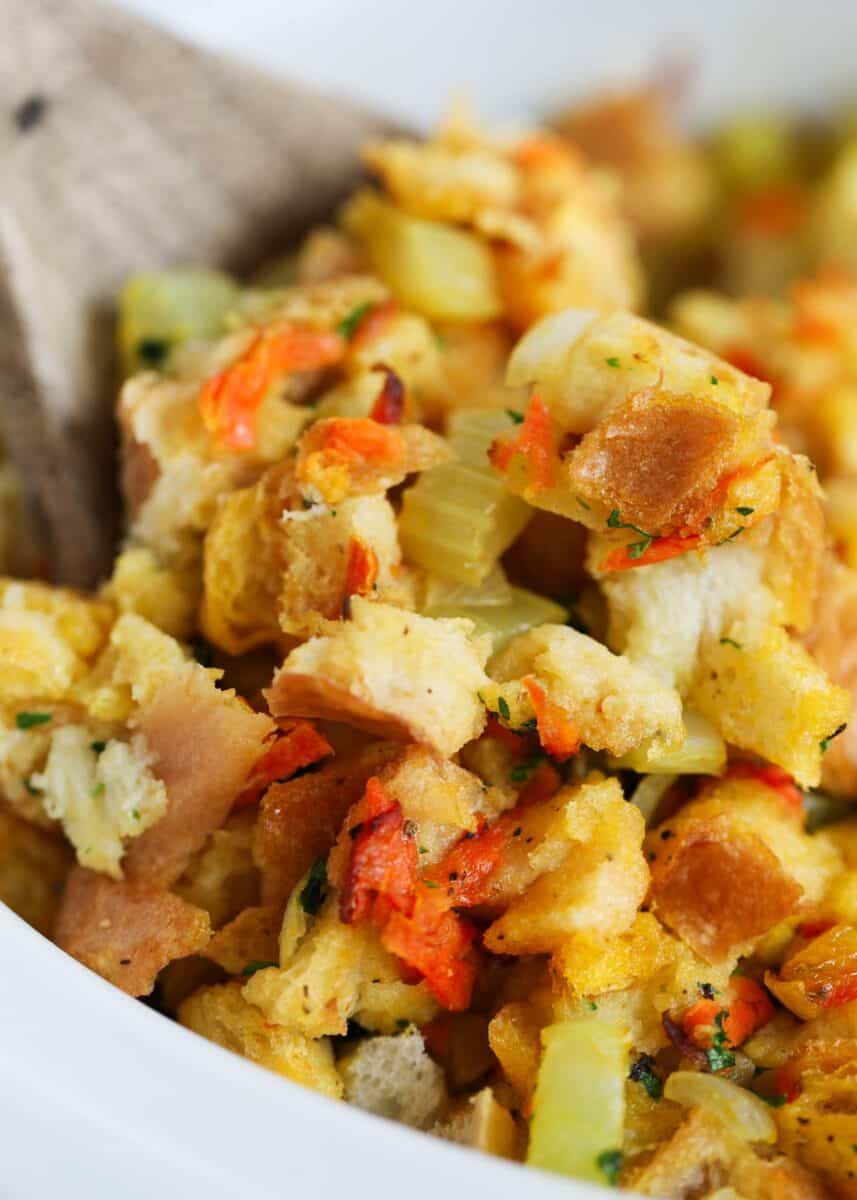 Other Easy Slow Cooker Sides:
HUNGRY FOR MORE? Subscribe to my newsletter and follow on Facebook, Pinterest and Instagram for all the newest recipes!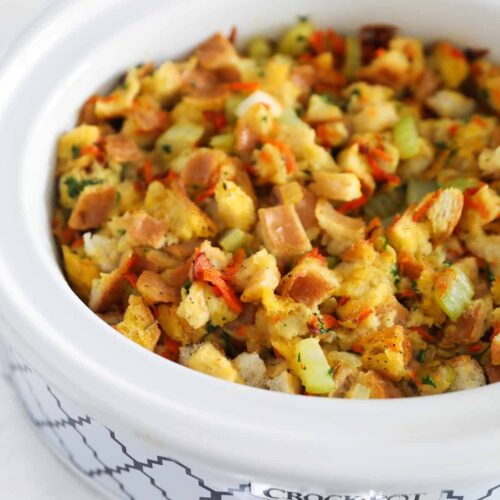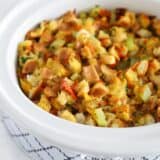 Crockpot Stuffing
This classic crockpot stuffing has timeless flavors and mouthwatering aromas! Add a little calm to the holiday chaos by making a simple delicious slow cooker stuffing!
Ingredients
10 cups cubed and dried white bread , see note
2 cups chopped celery
1 cup chopped onion
1 cup grated carrots
1/2 cup salted butter
1 teaspoon dried sage , or 1 Tablespoon fresh
1/4 cup chopped fresh parsley , more for top
2 large eggs , whisked
2 to 3 cups chicken broth , more as needed
Instructions
Melt butter in a skillet. Add the onion, celery and carrots and cook for 3-5 minutes or until soft. Stir in the sage and salt and pepper to taste. Remove from heat.

Grease the bottom of a 5-6 quart crockpot. Combine the toasted bread, cooked veggies and fresh parsley in the base of the pot. Add the whisked eggs and then slowly stir in 2 cups chicken broth and stir until combined. Add more as needed. You want all the bread to be lightly covered but not drenched. There shouldn't be extra liquid in the bottom. Sprinkle salt and pepper on top, to taste.

Cook on low for 4 hours or until cooked through. Sprinkle fresh parsley on top if desired.
---
Notes
To make this recipe easier, you can buy the store-bought stuffing cubes.
Drying bread:
The first step in this recipe is drying the bread. You can place the bread cubes on a baking sheet and sit out to dry for 1 to 2 days, or you can lightly toast in the oven. Simply preheat the oven to 200°F. Bake for 20 minutes or until lightly toasted, tossing half way.
Make-ahead: Prepare as directed and cover the crockpot bowl with foil and place in the refrigerator. When ready to bake, remove stuffing from the refrigerator cook as directed. You may need to add 30 extra minutes to the cooking time.
Variations:
Diced apples: You can add 1 apple diced for a sweeter flavor. Mix in just before adding the broth.
Dried cranberries: You can also add in 1/2 cup dried cranberries for a sweet kick.
Bread: My personal favorite is French bread, but you can use sour dough bread, Italian bread and old fashioned white bread. You could even mix in some corn bread.
Sausage: You can cook 1 pound mild Italian sausage and mix that into the stuffing as well.
Nutrition
Calories: 279kcal | Carbohydrates: 19g | Protein: 10g | Fat: 18g | Saturated Fat: 8g | Cholesterol: 48mg | Sodium: 583mg | Potassium: 258mg | Fiber: 2g | Sugar: 2g | Vitamin A: 2228IU | Vitamin C: 6mg | Calcium: 35mg | Iron: 2mg
Nutrition provided is an estimate. It will vary based on specific ingredients used.
Did you make this recipe? Don't forget to give it a star rating below!