Juicy and tender oven roasted turkey stuffed with fresh herbs and coated in a flavorful garlic butter. This delicious dish is the best Thanksgiving turkey recipe and will become the star of holiday dinner table!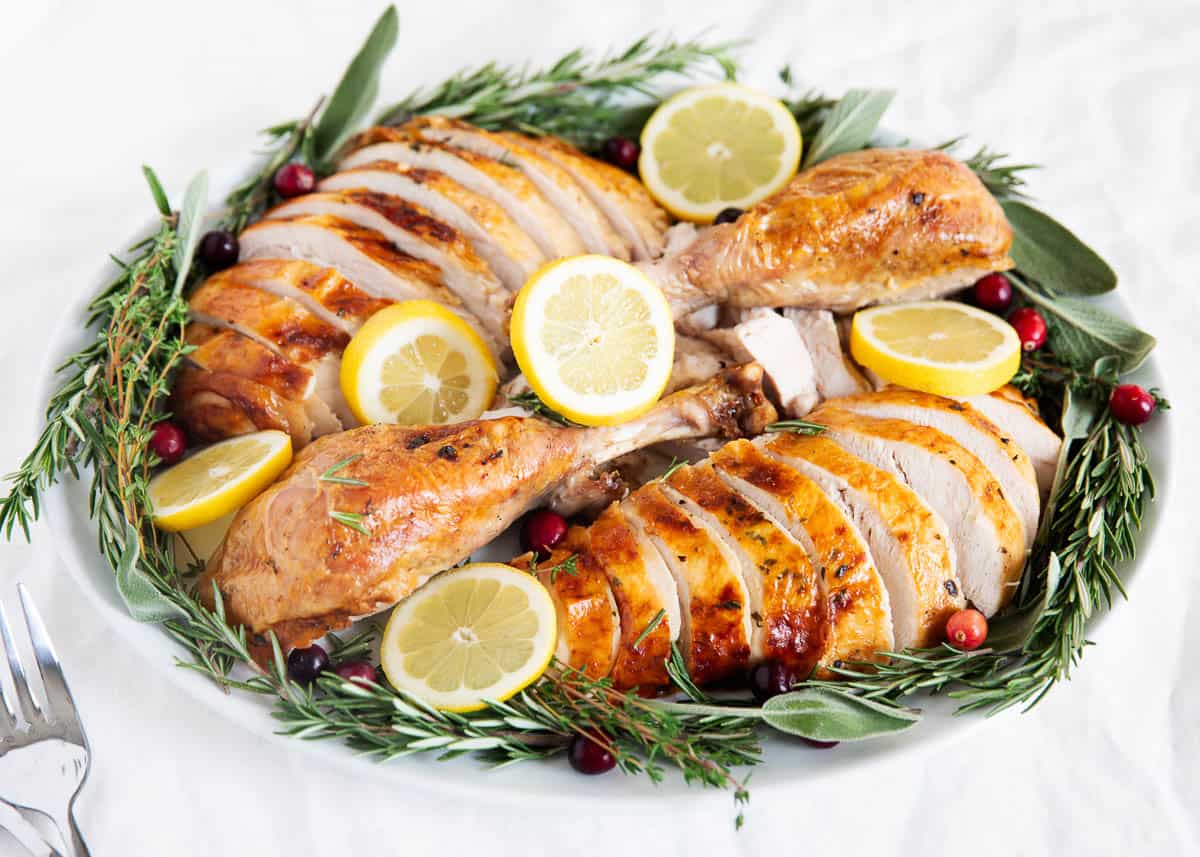 Easy Thanksgiving Turkey Recipe
If an oven roasted turkey is on your Thanksgiving menu, you've come to the right place. I've cooked at least a dozen turkeys over the years and this method below is fast, easy and comes out so juicy, tender and delicious.
Thanksgiving is one of our most loved holiday dinners and this roasted turkey is always the star of the table. The first time I learned how to cook a turkey was during my husband's residency. It was easier than I thought, but there's a few tips and tricks I've learned over the years.
The garlic herb butter gives this turkey an amazing flavor and a crisp, golden and buttery skin. I love to stuff mine with onions, lemons, garlic cloves and fresh herbs which help create the amazing flavor. It's seriously so delicious and tastes amazing served with your favorite Thanksgiving side dishes (like this sweet potato casserole) and an easy pumpkin pie for dessert!
Roast Turkey Recipe Ingredients
Keep this roasted turkey recipe simple with just a few ingredients that will add just enough flavor to enhance the whole turkey. Place in the oven and enjoy this delicious turkey within hours. This easy roasted turkey is tender and juicy every time!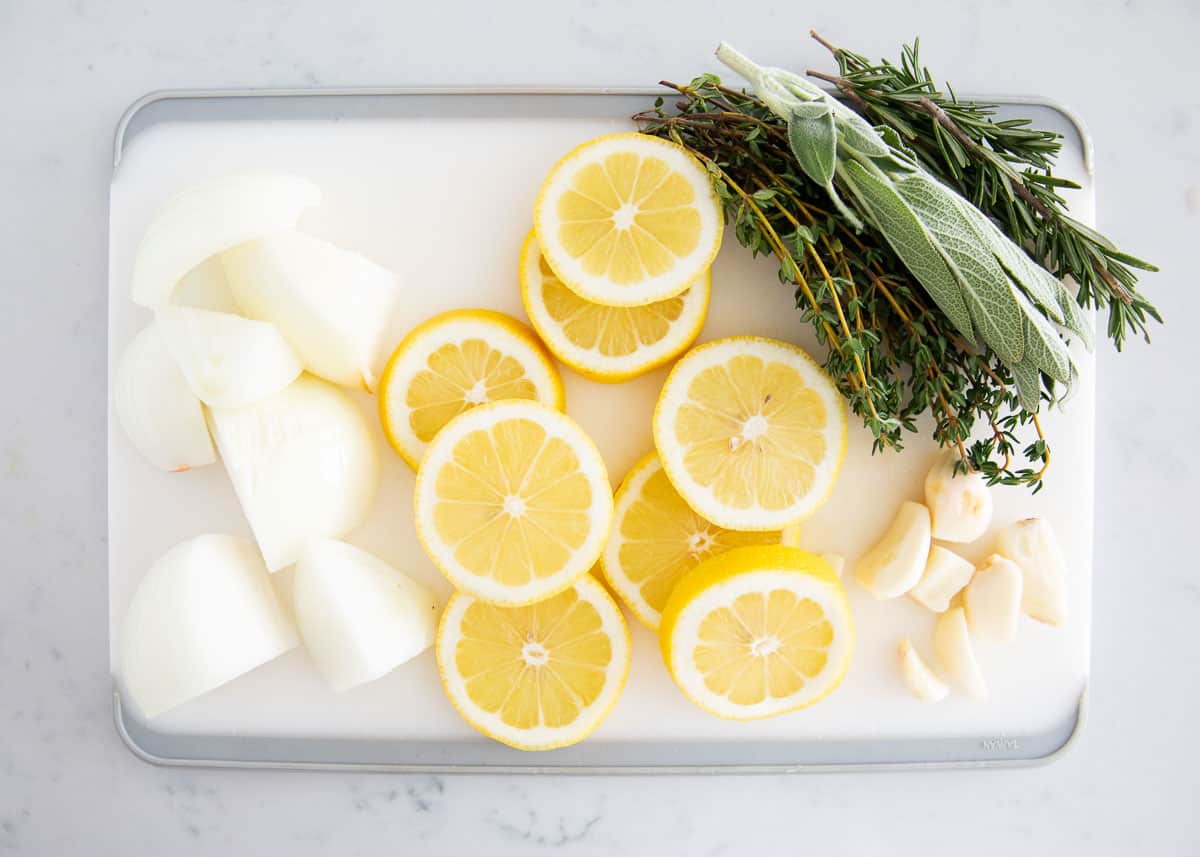 Find the full printable recipe with specific measurements below.
Turkey: You can find a 12 to 15 pound butterball or norbest brand turkey at your local grocery store.
Onion: This will add a bit of flavor and a hint of spice.
Lemon: Quarter the lemon for extra zesty flavor and add it to the stuffing.
Butter: Make a garlic herb butter and cover the turkey meat before baking.
Salt and pepper: To taste!
How to Prepare and Roast Turkey
I know cooking a turkey can seem overwhelming, but it's a lot easier than you think. Just make sure you give it plenty of time to thaw beforehand. Find tips on how to thaw a turkey. Then follow these 8 simple steps and the recipe below.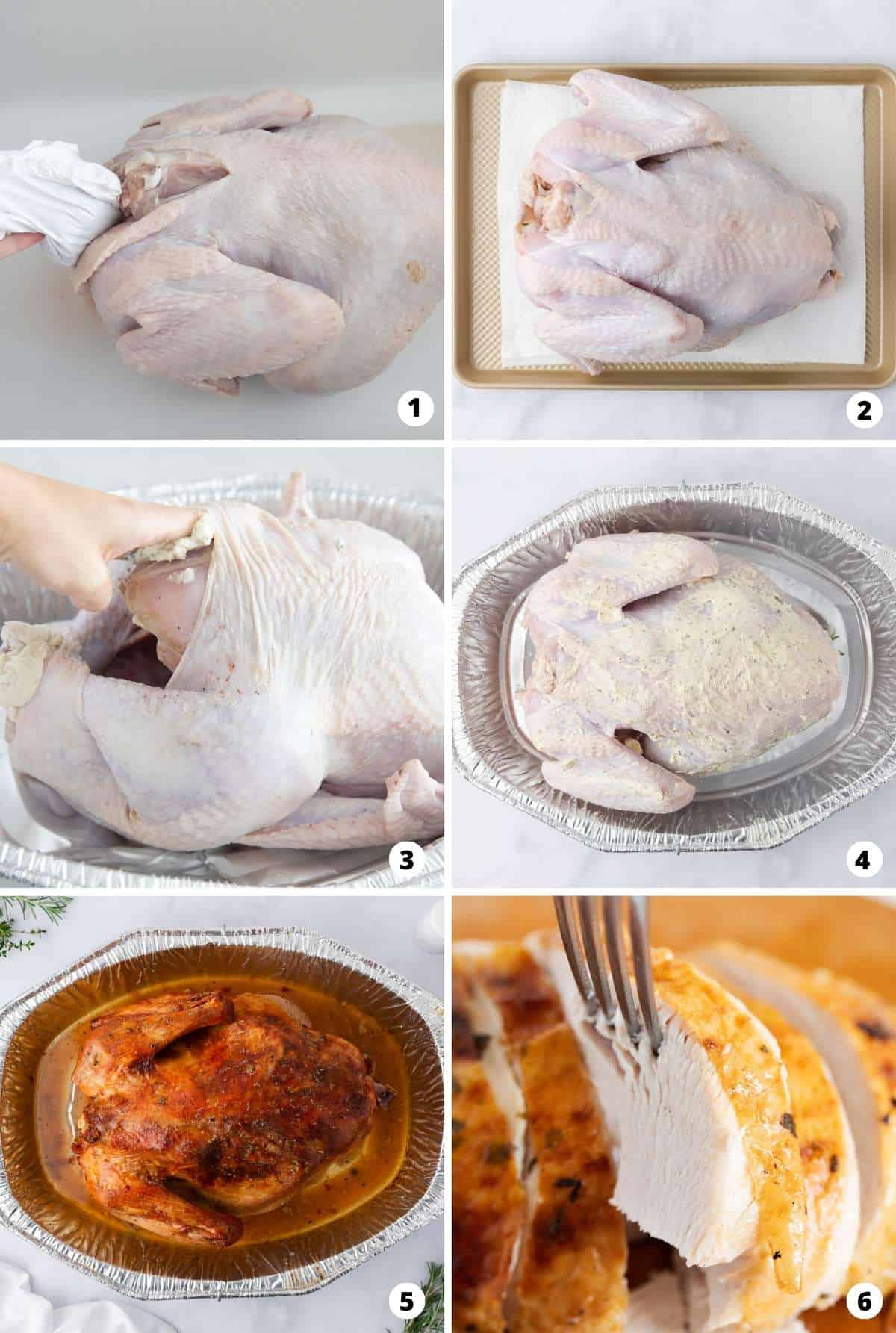 Remove the giblet bag (found in the neck cavity) and the neck (found in the main cavity).
Place onto a baking sheet lined with paper towels. Pat dry. Sprinkle salt all over the turkey and let sit at room temperature for 1 hour before baking.
Once ready to bake, loosen the top skin with the dowel of the spoon.
Rub butter underneath skin and on top.
Stuff with onions, garlic, lemon and herbs.
Place two toothpicks to hold the top pieces of skin and then it's ready to roast.
Free Printable Turkey Roasting Chart
For an easy visual, download this free printable turkey roasting chart. It's so nice to have on hand every year to easily refer to. It also includes a helpful thawing chart as well.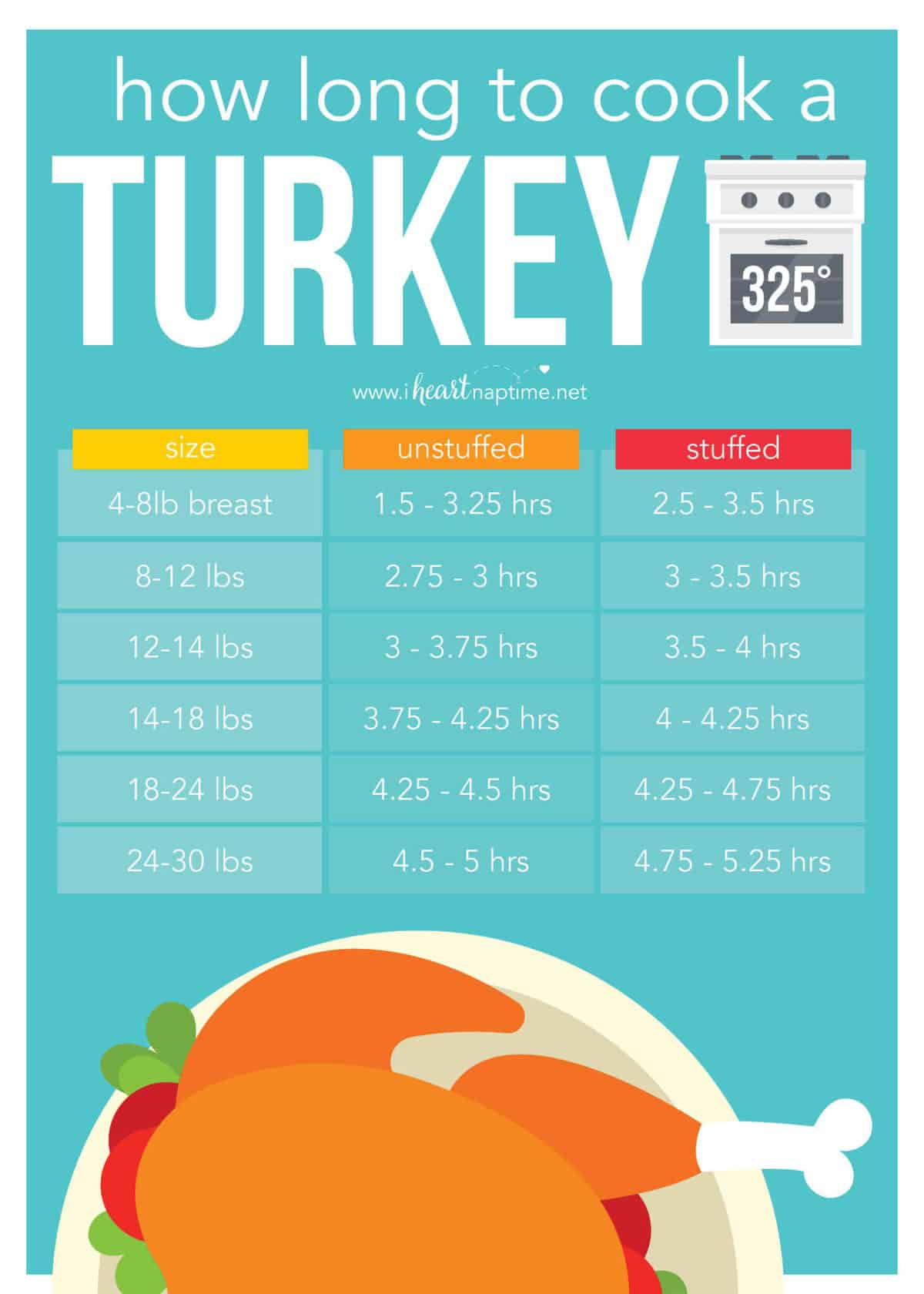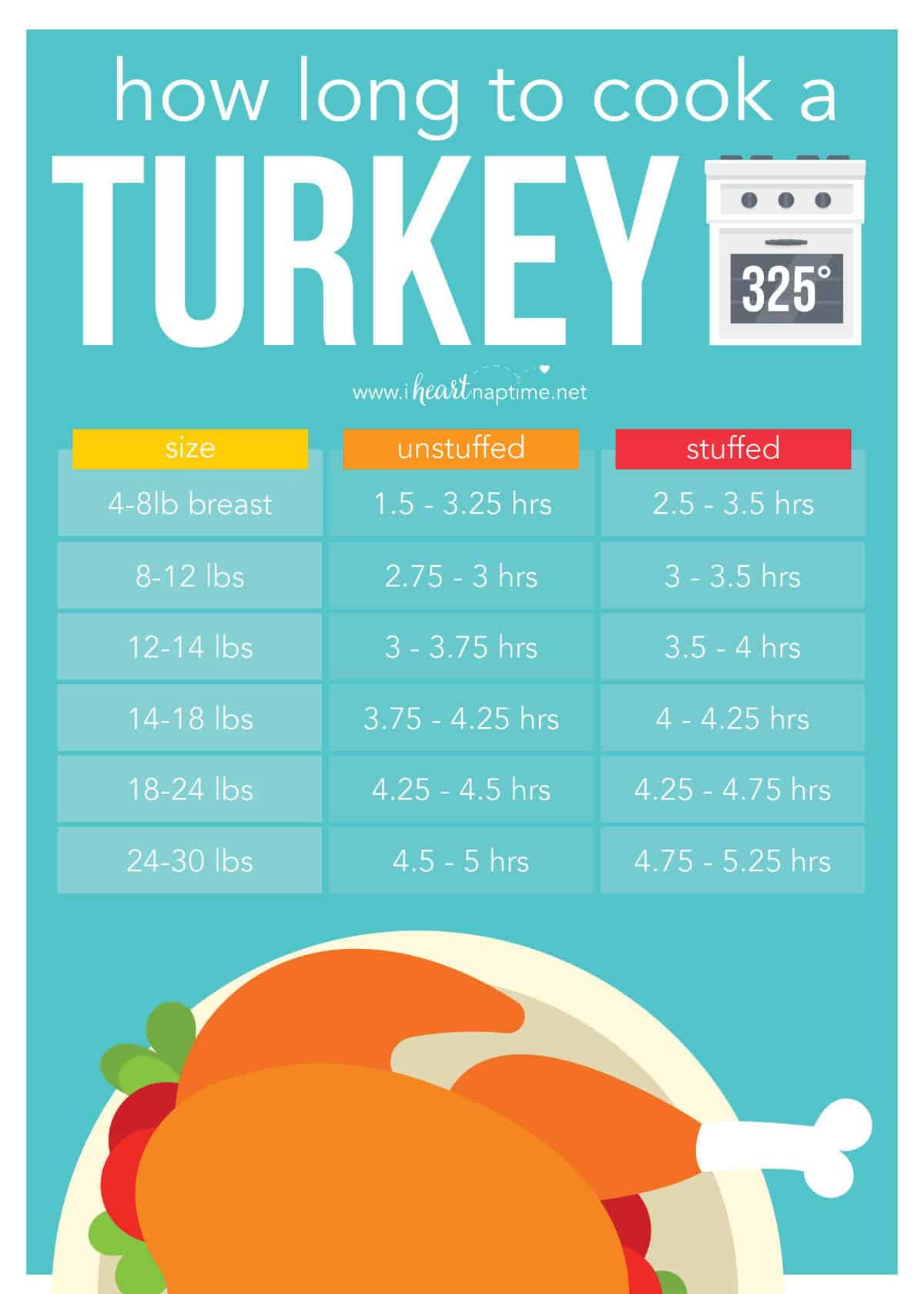 Cooking Tips + Variations
Roasting a turkey is easier than you think! Here are some tips and tricks to help you make the best turkey this holiday season. Impress your family and friends with your amazing turkey recipe!
Amount per person. Plan on 1.5 pounds of turkey per person. Less than 10 people, make this turkey breast recipe. Feeding 10 people, you'll want to buy a 15 pound turkey. I don't like to cook turkey's over 20 pounds, so usually if I'm feeding more than 15 people, I'll do 2 turkeys or add a baked ham as well. Here's a turkey calculator if you need help.
Thaw. Make sure to thaw your turkey several days in advance. You'll need to thaw it for about 1 day for every 5 pounds.
Salt. Make sure to pat the turkey dry, sprinkle with salt and allow to sit at room temperature for 1 hour before baking. This will allow it to cook at a more even temperature.
Stuff. Fill the turkey with your favorite herbs. You can always add oranges or apples instead of lemons.
Brine. You could also use an easy turkey brine to season the meat. You'll want it to marinate in the brine for at least 12 hours before baking.
Don't overcook. Do not overcook your turkey (that is what will cause it to be dry). Make sure to set timers and check the temperature with a meat thermometer.
Let rest. Before carving the turkey, let it rest for about 15 to 20 minutes so it stays juicy and moist.
Smoked turkey. Save room in the oven and make this delicious smoked turkey instead.
Use the leftovers. Use pan drippings and carcass to make turkey gravy or turkey stock. For leftover turkey recipes make these turkey sliders with cranberry or try leftover turkey soup!
Recipe FAQs
How long should you roast a turkey?
The great debate is always how long to cook a turkey. For a general rule of thumb, always aim for about 13 to 15 minutes per pound at 325°F. I'd recommend using a meat thermometer to ensure it is cooked all the way through. It will be ready when the internal temperature reaches 160°F (it will continue to rise to 165°F while it rests).
Do you roast a turkey covered or uncovered?
A little of both! Cover the turkey for the duration of the roasting time. Towards the end of the cooking time, uncover the turkey and let the meat become crispy and hard while keeping the inside tender and juicy.
How long to cook a turkey unstuffed?
4-8 pound breast: 1.5 – 3.25 hours
8-12 pounds: 2.75 – 3 hours
12-14 pounds: 3 – 3.75 hours
14-18 pounds: 3.75 – 4.25 hours
18-24 pounds: 4.25 – 4.5 hours
24-30 pounds: 4.5 – 5 hours
How long should you roast a stuffed turkey?
4-8 pound breast: 2.5 – 3.5 hours
8-12 pounds: 3 – 3.5 hours
12-14 pounds: 3.5 – 4 hours
14-18 pounds: 4 – 4.25 hours
18-24 pounds: 4.25 – 4.75 hours
24-30 pounds: 4.75 – 5.25 hours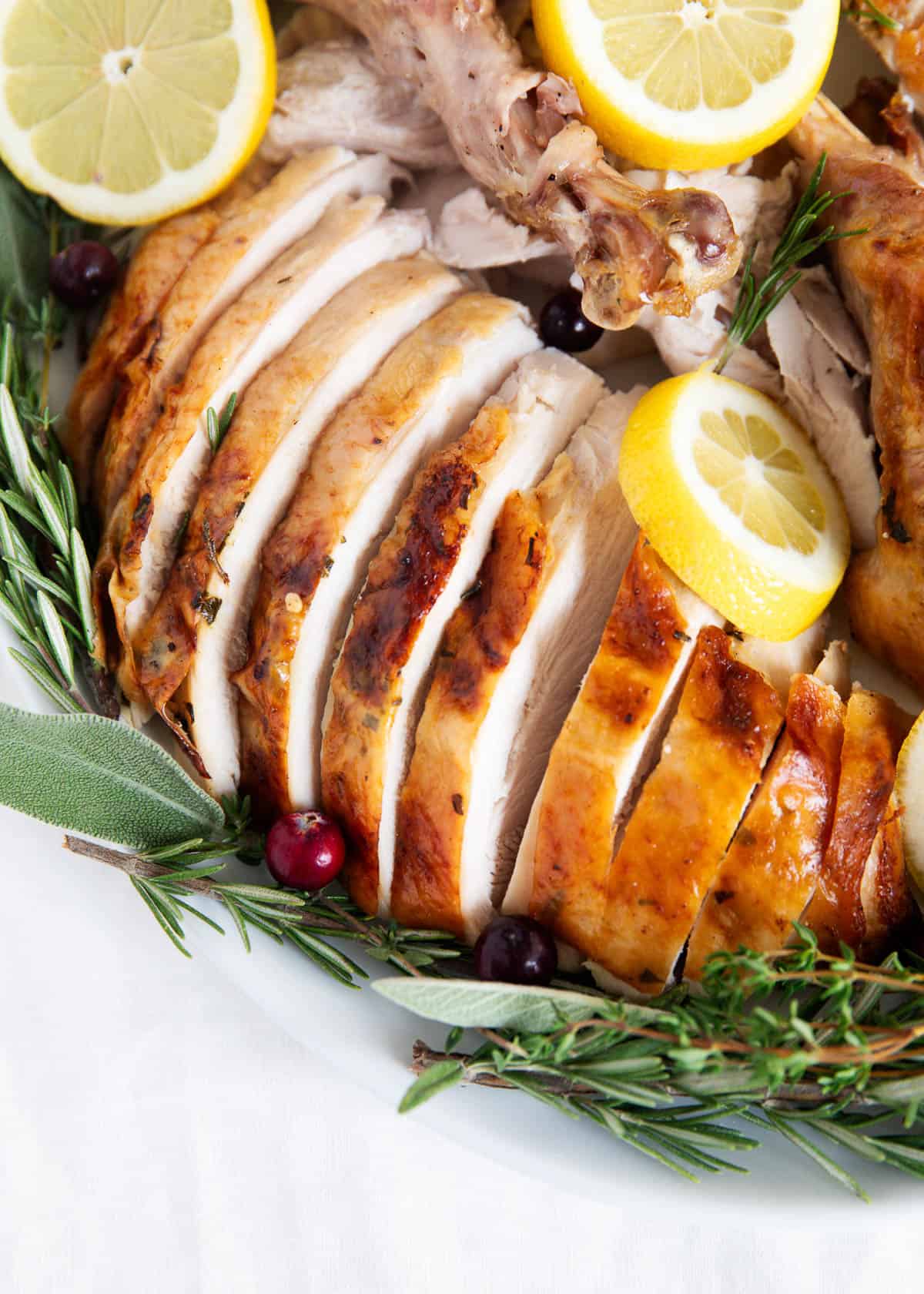 Favorite Sides for Serving
HUNGRY FOR MORE? Subscribe to my newsletter and follow on Facebook, Pinterest and Instagram for all the newest recipes!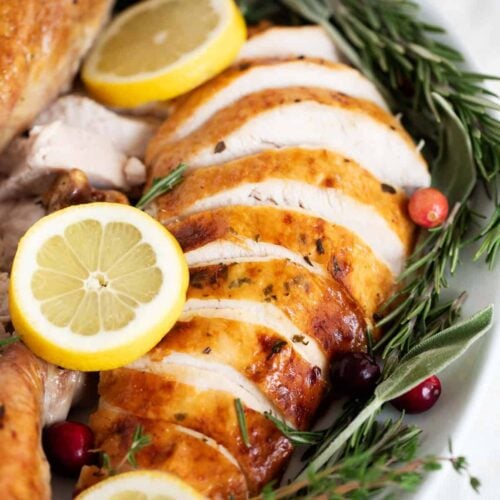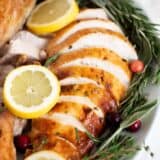 Oven Roasted Turkey
Juicy and tender oven roasted turkey stuffed with fresh herbs and coated in a flavorful garlic butter. This delicious dish will become the star of your holiday dinner table!
Equipment
Non-metallic container or roasting pan
Ingredients
12-15 pound turkey (I prefer Butterball or Norbest)
1 onion (quartered)
1 lemon (quartered)
½ cup softened herb butter (see notes)
salt and pepper
Optional: Lemon slices and fresh herbs for topping
Instructions
Thaw turkey (plan on about 4 days in the refrigerator or 8-10 hours in cold water).

Remove neck and giblets from body and neck cavities, discard. Place turkey breast side down in a roasting pan. Cross the legs and tie with baking twine if they aren't already tied. Pat the turkey dry with paper towels. Then sprinkle with a thin layer of salt. Let rest 30-60 minutes before preparing to bake.

Pat the turkey with paper towels to dry the turkey. Salt and pepper the inside of the cavity and then fill with onions, lemons and herbs. Create a pocket using the dowel of a spoon on the top and then rub the butter under the skin. Then rub the remaining butter all over the top of the turkey.

Preheat oven to 325°F. Adjust rack if needed.

Place turkey with the legs down in a roasting pan. Bake for 2 1/2 hours (about 13-15 minutes per pound), or until the internal temperature reaches 160°F. Remove from the oven and tent with foil. The temperature will reach 165°F while resting.

Let rest for 15-20 minutes before carving. Reserve any drippings to make turkey gravy. Slice the turkey and serve. Serve on platter with herbs and lemon slices if desired.
---
Notes
Butter: Want to take it up a notch? Rub about 1/4 cup garlic herb butter in between the meat and the skin before baking.
Turkey: If turkey is done ahead of time, cover with foil and then place towels over the foil to hold in the heat. Slice just before serving.
Carving: Check out this post for my tips on how to carve a turkey.
Turkey gravy: Use the drippings to make my favorite turkey gravy recipe.
Nutrition
Calories: 345kcal | Carbohydrates: 1g | Protein: 52g | Fat: 14g | Saturated Fat: 4g | Cholesterol: 174mg | Sodium: 271mg | Potassium: 560mg | Fiber: 1g | Sugar: 1g | Vitamin A: 135IU | Vitamin C: 4mg | Calcium: 30mg | Iron: 2mg
Nutrition provided is an estimate. It will vary based on specific ingredients used.
Did you make this recipe? Don't forget to give it a star rating below!