These crockpot cheesy potatoes are tender, creamy and loaded with flavor. An easy dump and go side dish that takes just 5 minutes prep!
Easy Crockpot Cheesy Potatoes
This delicious side dish is always on our Thanksgiving menu. I usually bake my cheesy potatoes (also known as cheesy funeral potatoes) in the oven, but this year I decided to try out this crockpot version instead. It tastes just as delicious, was seriously so easy and is a nice change from this crockpot mashed potatoes recipe. You can't mess it up!
These crockpot cheesy potatoes are the perfect Thanksgiving side dish to make if you want to free up some oven space while you cook your roasted turkey or baked ham. They're super creamy and cheesy, with the absolute best flavor. It's always a tie between these and my cheesy scalloped potatoes or loaded baked potato casserole for my favorite side dish of the night.
This is also a great option to bring if a friend or family member is hosting the holiday dinner. You can simply bring your crockpot filled with cheesy potatoes in the car with you, then plug it back in on the warm setting once you arrive. You won't be using extra oven space and the potatoes will stay nice and warm the whole time!
Ingredients for Comforting Cheesy Potatoes
Cheese and potatoes are the main ingredients for this slow cooker recipe. Add in the creaminess, and all the flavor, then sprinkle more cheese on top for the best side dish your family will love. Bring comfort to the table with this amazing cheesy potato dish!
Find the full printable recipe with specific measurements below.
Hash browns: I buy a frozen bag of potatoes that are already diced or shredded. You will want to thaw these ahead of time before adding them to the crockpot.
Cream of chicken: Any can of cream sauce will work for this cheesy potatoes recipe. The canned cream will add flavor and thicken the sauce.
Sour cream: Every potato needs sour cream in their dish! Sour cream has a tangy taste and brings on the creaminess to the dish.
Butter: Salted butter works well. Melt the butter in the microwave before adding to the slow cooker.
Onion powder: Extra flavor without having to chop up onions.
Cheddar cheese: Shred your cheese or purchase a blended type of pre-shredded cheese from a bag. If you are a cheese lover, be sure to add in a little extra!
How to Make Slow Cooker Cheesy Potatoes
These crockpot cheesy potatoes are perfect for feeding a crowd! Save time and space by making these potatoes in the crockpot. You will love how tender, flavorful, and cheesy these potatoes turn out without having to do all the work!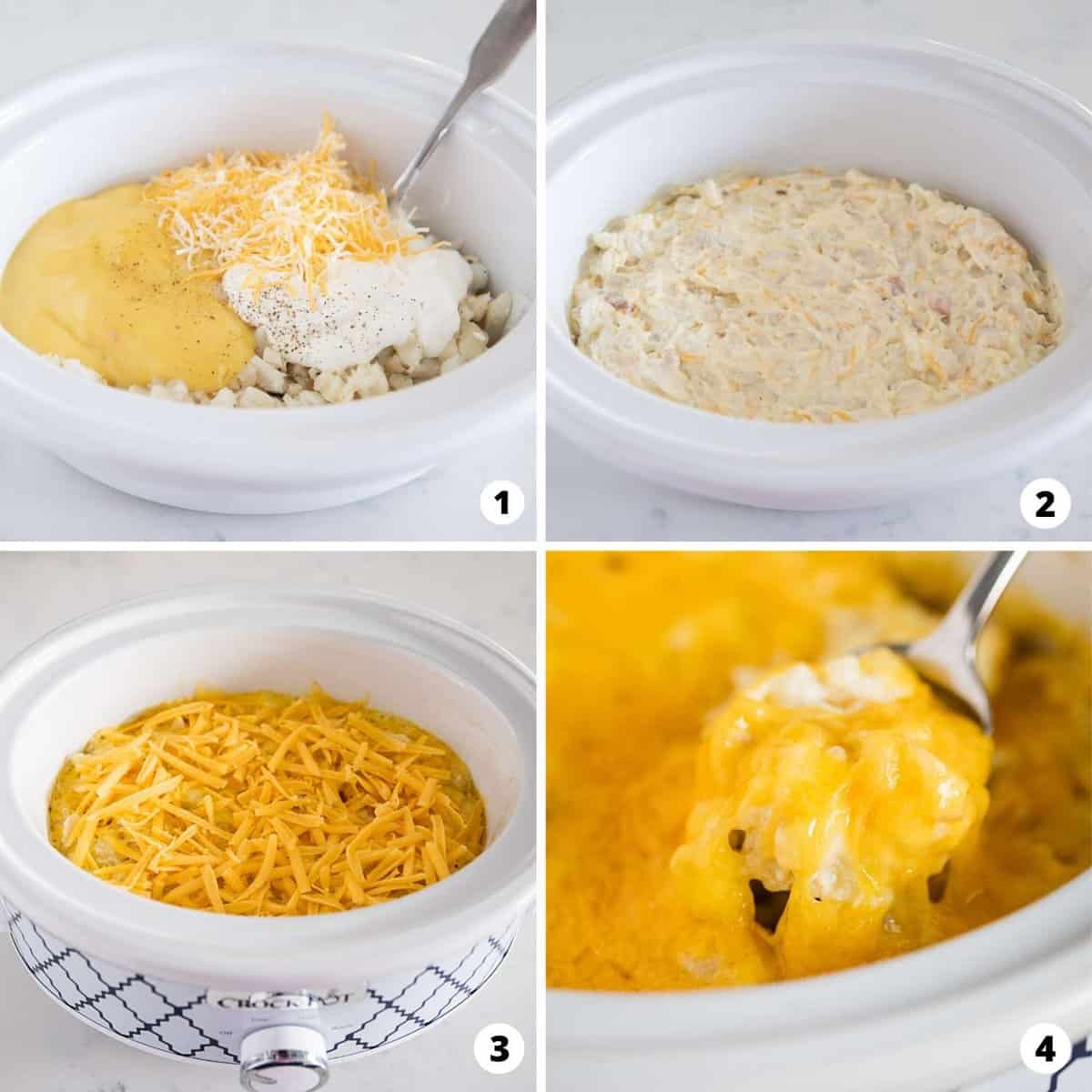 MIX. Add all of the ingredients (only use half of the cheese) to your crockpot. Mix together until combined.
COOK. Cook on low for 4 to 5 hours, or on high for 3 hours.
TOP. When there is about 10 to 15 minutes left on the timer, sprinkle the remaining cheese on top. Cover with the lid and cook until the cheese is melted and bubbly. Before serving, let set for 5 minutes.
Cooking Tips
Make the best cheesy potatoes just how you like them and what is easiest for your family! These slow cooker potatoes are perfect to adjust and make substitutions or variations if needed. Follow these tips to learn more about making easy cheesy potatoes!
Potatoes. Diced or shredded frozen potatoes will both work. Just make sure to let them thaw completely and then drain any excess water before adding to the crockpot.
Cream soup. This makes the texture extra creamy and delicious. You can use cream of chicken, celery or mushroom soup (I prefer the flavor of chicken the best). You can also make a homemade cream of chicken soup if you're not a fan of the canned version.
Grate your own cheese. This makes all the difference. The pre-shedded bags have extra additives that make it harder for the cheese to melt. Grating your own gives the potatoes that gooey, melted texture that's loved by all.
Oven method. If the oven is more convenient, try this easy baked cheesy potato recipe.
Additions. For even more flavor, sprinkle on toppings like crumbled bacon or chopped green onions. You can even mix in some hot sauce or buffalo sauce for a dash of heat.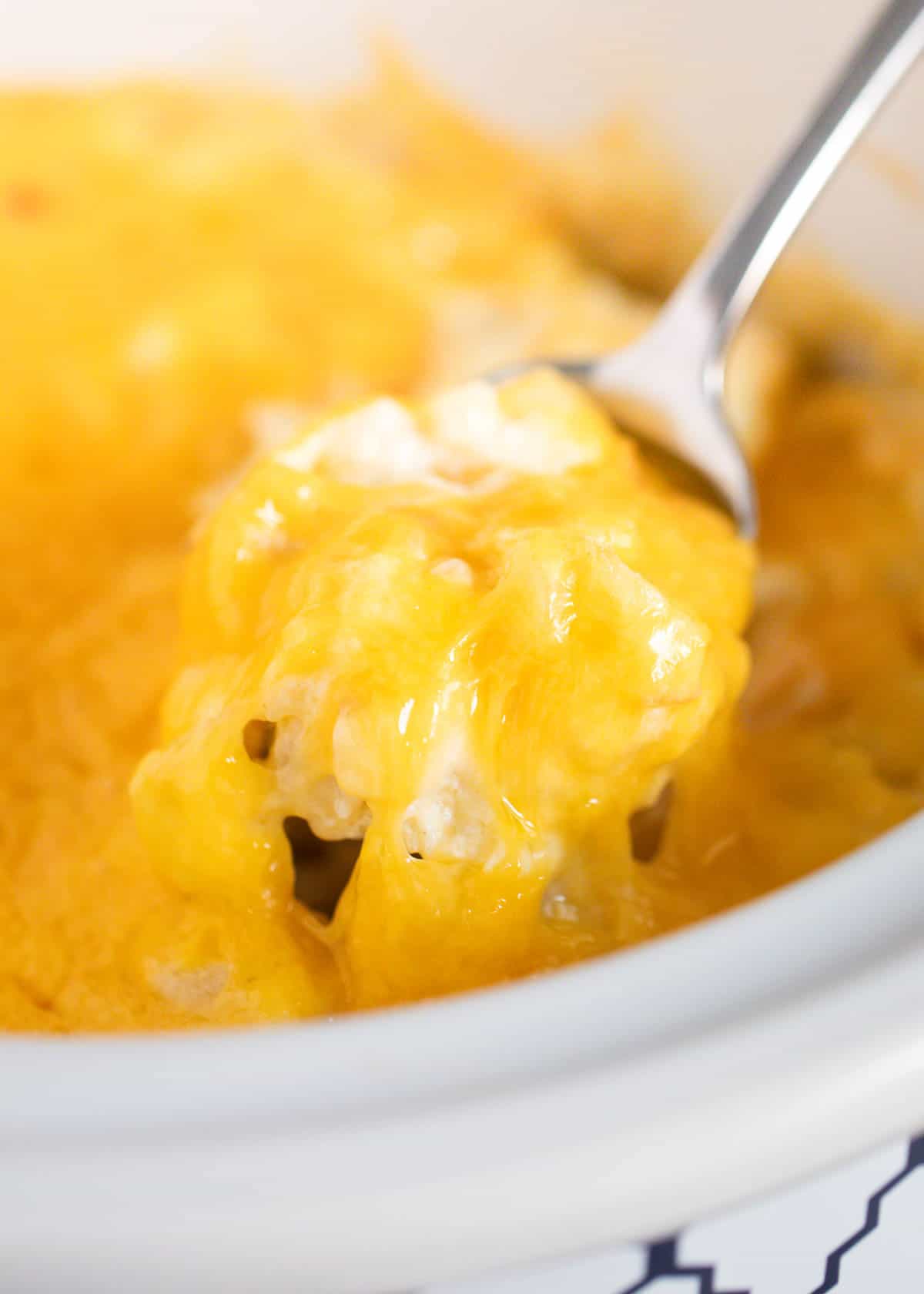 Recipe FAQ's
How long do cheesy potatoes take in the crockpot?
These crockpot cheesy potatoes are quick to make and don't take too much time! Cook on low for 4-5 hours or on high for 3 hours.
Can you use raw potatoes?
Yes! They may take longer to cook in the slow cooker but they will taste equally as good! Peel and dice your raw potatoes ahead of time.
Can you use shredded potatoes?
Of course! You will want your shredded potatoes thawed if they are frozen before adding them to the crockpot.
Be sure to keep a close eye on the shredded potatoes compared to diced potatoes. Shredded potatoes tend to become mushy if they are over cooked.
Storing the Best Cheesy Crockpot Potatoes
Normally there is not too many easy cheesy potatoes left over, but occasionally getting an airtight container may need to happen. It is easy to store leftovers and an even better treat when you get to warm them up the next day. Enjoy these delicious cheesy potatoes more than once!
Refrigerator: Place room-temperature potatoes with cheese in an airtight container for 3 to 5 days in the fridge.
Reheating: When ready to warm up, place the cheesy potatoes in the microwave or on the stovetop to reheat. They are ready to eat once they are warmed through. Sprinkle more cheese on top and stir it in while it is hot to make it extra cheesy!
More Crockpot Side Dishes
HUNGRY FOR MORE? Subscribe to my newsletter and follow on Facebook, Pinterest and Instagram for all the newest recipes!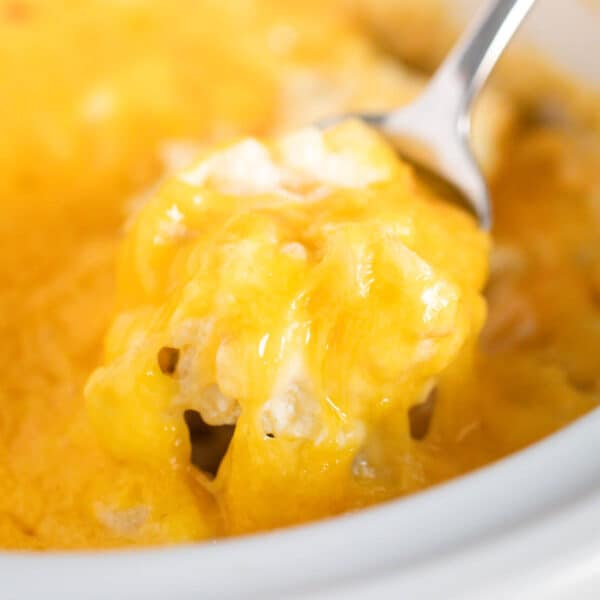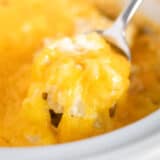 Crockpot Cheesy Potatoes
These crockpot cheesy potatoes are tender, creamy and loaded with flavor. An easy dump and go side dish that takes just 5 minutes prep!
Ingredients
30 ounce bag hash browns (diced or shredded, thawed)
10.5 ounce can cream of chicken (or celery or mushroom)
½ cup sour cream
¼ cup melted butter (I use salted)
½ teaspoon onion powder
½ teaspoon Kosher salt (more to taste)
¼ teaspoon pepper (more to taste)
1 ½ cups shredded cheddar cheese (more if desired)
Instructions
In the base of the crockpot, combine potatoes, sour cream, cream of chicken, melted butter, onion powder, salt and pepper. Then mix in half of the shredded cheese. Stir until combined.

Cook on low for 4-5 hours or on high for 3 hours.

The last 10-15 minutes of cooking, sprinkle the remainder of the cheese over top and cover. Cook until bubbly.

Let rest for 5 minutes before serving. Then enjoy while warm!
---
Notes
Potatoes: Make sure your potatoes are mostly thawed and drain any excess water. You may also use fresh potatoes if desired.
Classic cheesy potatoes: Looking for the classic recipe? Here is my favorite cheesy potatoes AKA funeral potatoes.
Nutrition
Calories: 143kcal | Carbohydrates: 11g | Protein: 4g | Fat: 9g | Saturated Fat: 5g | Cholesterol: 24mg | Sodium: 312mg | Potassium: 181mg | Fiber: 1g | Sugar: 1g | Vitamin A: 273IU | Vitamin C: 4mg | Calcium: 93mg | Iron: 1mg
Nutrition provided is an estimate. It will vary based on specific ingredients used.
Did you make this recipe? Don't forget to give it a star rating below!