This easy make-ahead cornbread stuffing will easily become the star of any festive meal. Slightly sweet cornbread, sage sausage, veggies, and herbs result in unforgettable mouthwatering flavors and textures that cannot be found in a box!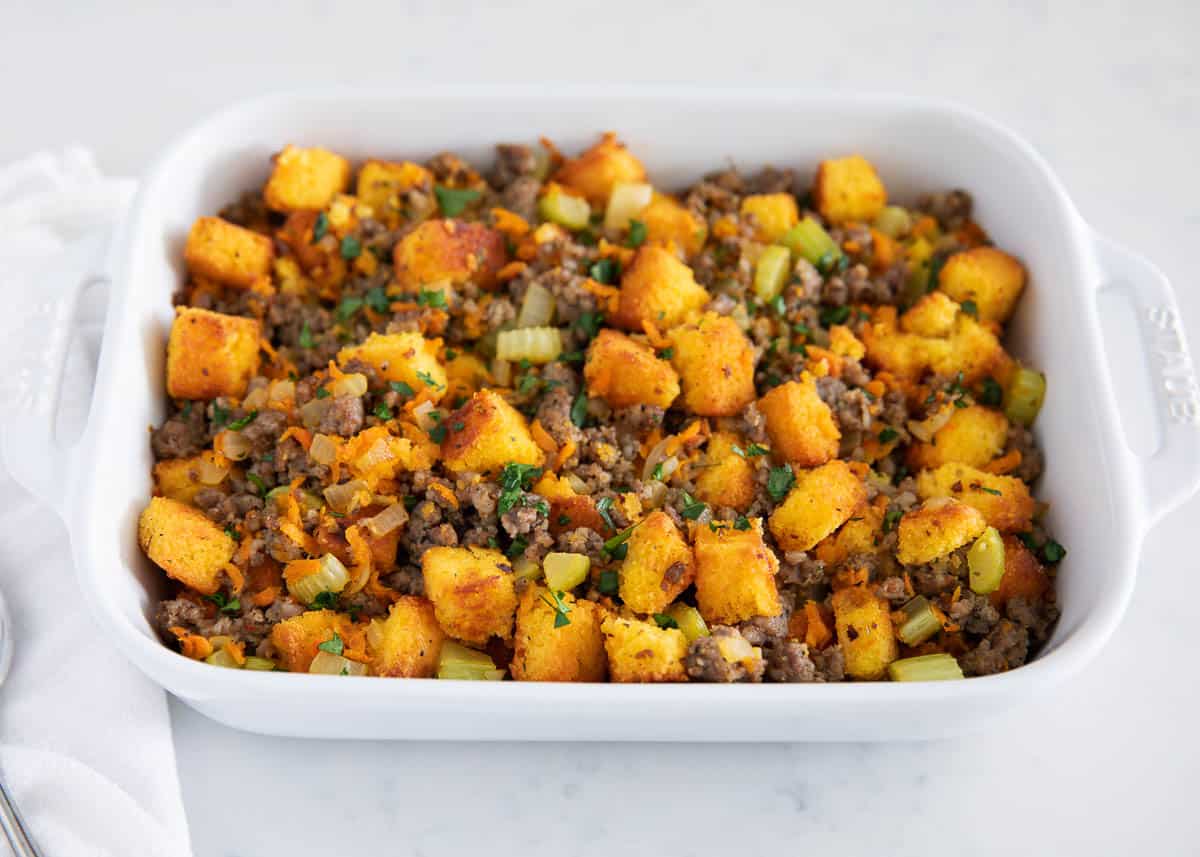 Cornbread Stuffing with Sausage
Stuffing hasn't always been my favorite Thanksgiving side dish, that is, until I made this cornbread version. I love all things cornbread, so it's no surprise that this recipe converted me into a stuffing fan. It's so delicious and tastes amazing served alongside a roasted turkey.
This homemade cornbread stuffing encompasses all that we love about traditional stuffing. Soft moist buttery bread, crunchy textures from the carrots and celery, and warming flavors from herbs and spices which come together nicely balanced with the heartiness of the sausage. It will compliment your entire meal and let's be honest, turkey or not, the side dishes are usually what make or break a meal anyway!
It's so easy to make and tastes so much better made from scratch. Definitely better than anything you'd find at the store. It is a recipe you will come back to again and again. Needless to say, it may very well become your new traditional stuffing!
Recipe Ingredients
One bowl, all the ingredients, and combine! Sounds simple and quick to make. That is just what this cornbread stuffing is all about. Add all the seasonings and delicious flavor from each ingredient and get ready to have one of the best side dishes at your next gathering!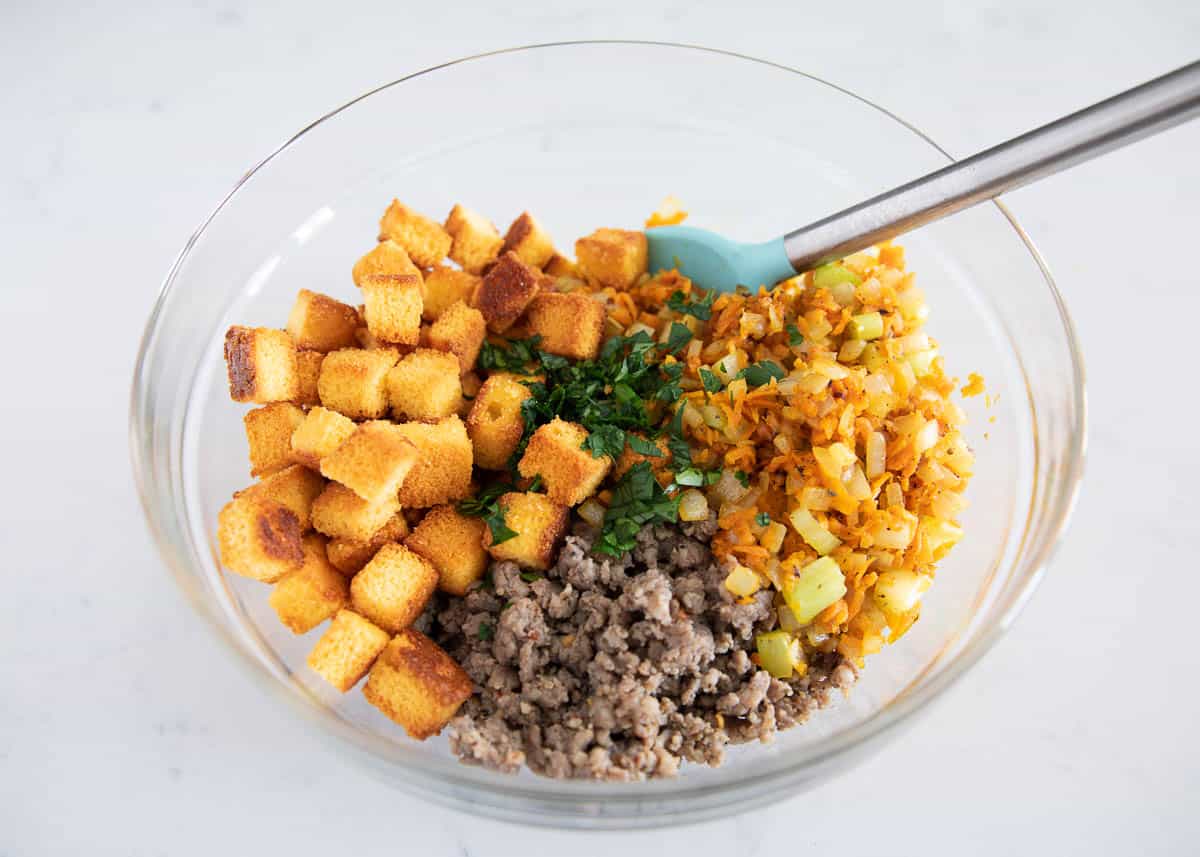 Find the full printable recipe with specific measurements below.
Cornbread: The best cornbread is day old cornbread. It will be slightly crusty on the outside but still maintain the softness on the inside. Cut into 1/2 inch cubes with a serrated knife.
Vegetables: Chop the celery, onion, and carrots evenly. This will help cook them
Sausage: Ground sage sausage by Jimmy Dean is what I used. It has the tenderness but also the flavor enriched into the sausage already.
Butter: Salted butter for this recipe unless you are adding salt then you can use unsalted butter.
Sage: Ground or fresh sage works best! If you are using fresh sage you will need 1 Tablespoon.
Parsley: Fresh parsley chopped up and added in with the other ingredients.
Chicken broth: This adds in flavor and moisture to the stuffing.
How to Make Easy Cornbread Stuffing
Stuffing is one of the traditional side dishes that is loved by everyone! Add in sausage and cornbread to take this stuffing to the next level. This cornbread stuffing with sausage is a family favorite and so simple to make. Enjoy watching this delicious stuffing disappear at your next gathering!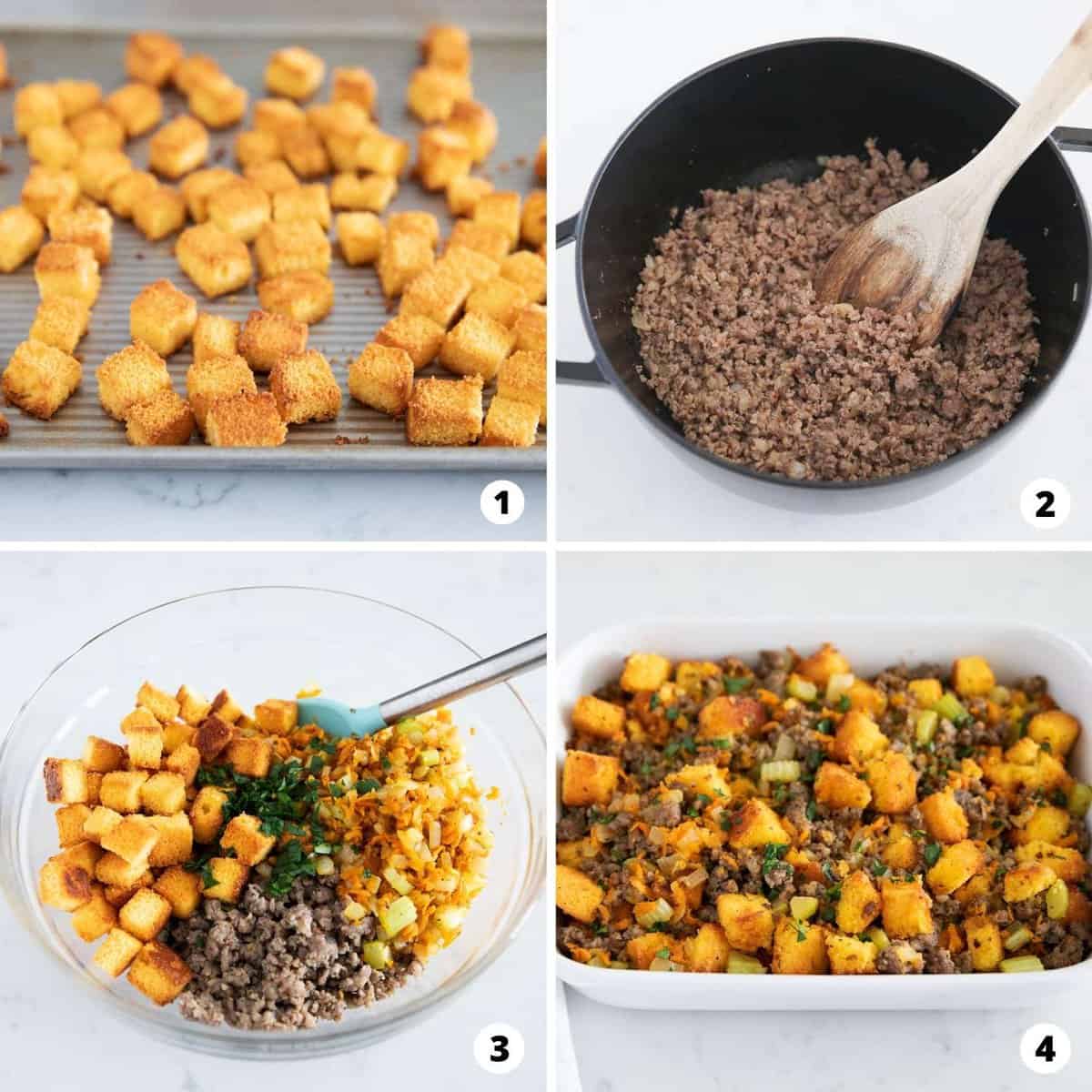 Prep. An important first step is making sure your bread is dry. The great thing about it is it can be done in advance by cutting the bread into cubes and leaving it out to dry for a day. You can also slightly toast the bread in the oven until lightly browned, tossing halfway. This step will help avoid having soggy stuffing! Moist, yes. Soggy? Not so much.
Cook. In a large pan, cook the sausage and break it up with a wooden spoon. You can use whatever sausage you prefer, but I use Jimmy Dean's which can be found in your local grocery store. Set cooked sausage aside on a plate, removing excess grease with a paper towel and then remove the grease from the pan as well.
Combine. Add the toasted bread, sausage, cooked veggies, and fresh parsley to a large bowl and slowly stir in some of the chicken broth. Combine well. Add more broth as needed so that all the bread is lightly coated but not drenched. There shouldn't be any extra liquid in the bowl. Add a little more salt and pepper to taste.
Bake. Place stuffing into a buttered pan, covered in foil and bake. Uncover and bake for additional time until lightly toasted. If you are using it to stuff the turkey, it will bake along with the turkey and soak up those extra juicy flavors.
5 star review
"I made this stuffing last night to go with our pork chops!! Fabulous!!! We all loved it."

-Liz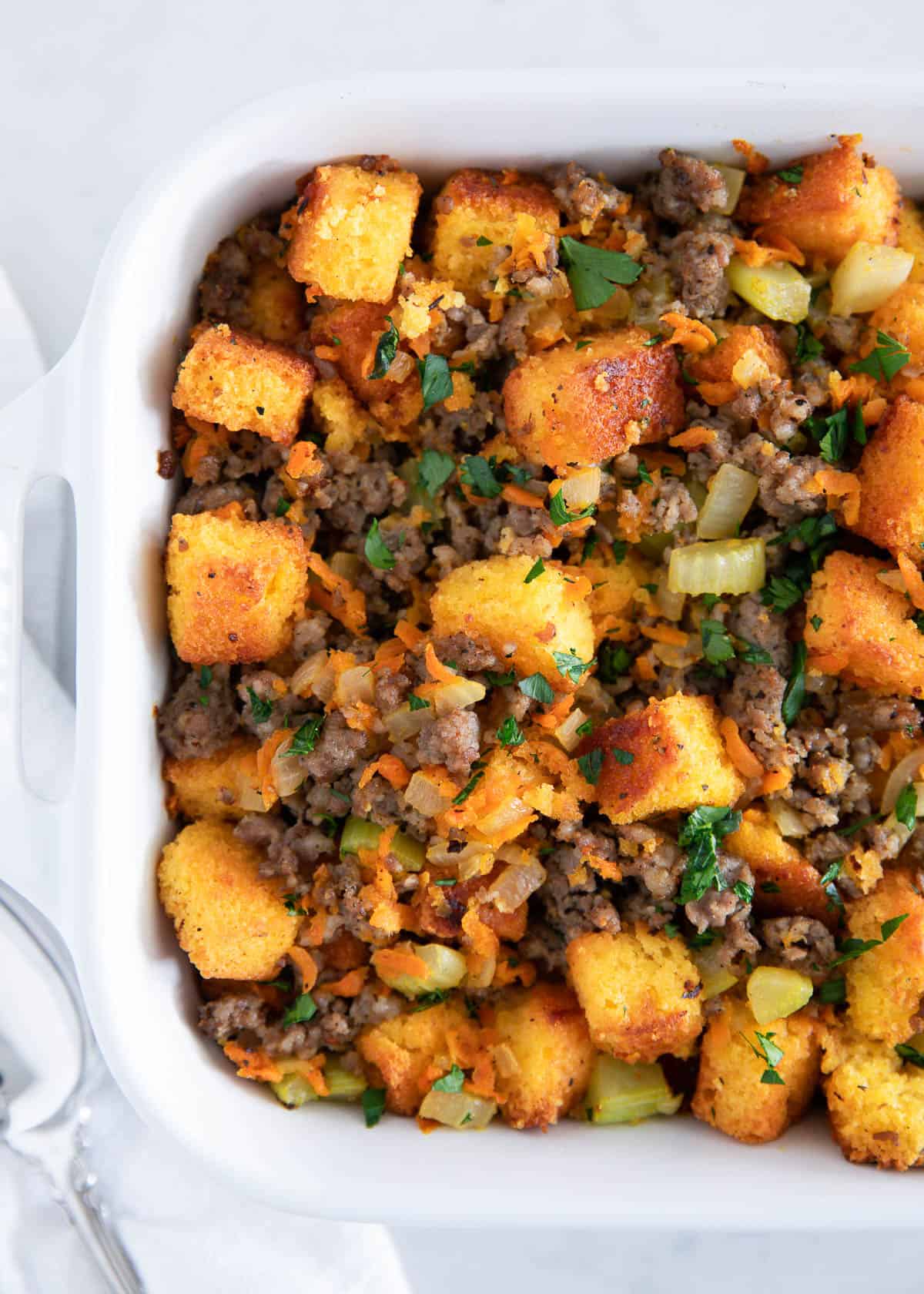 Cooking Tips & Variations for Cornbread Sausage Stuffing
There are so many famous ways to cook stuffing and all the fun and special ingredients to add in it. Here are a few tips and variations that can help with this cornbread stuffing. Make it your own with these ideas to help make your stuffing the best!
Store bought: If you're in a pinch or don't have any leftover or fresh cornbread, feel free to use store bought or mix up a box of Jiffy's for an easy option.
No meat: Going meatless? Instead of sausage try chopped mushrooms.
Diced apples: Add a diced apple for a sweeter flavor and mix it in just before the broth.
Added crunch: Elevate the texture and taste with toasted walnuts, pecans or dried cranberries.
Classic: Turn this recipe back into a traditional recipe by using regular white bread or french bread if you would prefer that. You could also mix the cornbread with french bread. The awesome thing about this recipe is that it is totally customizable.
Recipe FAQ's
What is the difference between cornbread stuffing and dressing?
Stuffing is known to be cooked inside a turkey whereas dressing is cooked on the outside in a baking pan or casserole dish and separate from a turkey.
Should you dry out cornbread for stuffing?
It is best to have dried out or toasted cornbread or bread for any stuffing. If your bread is soft and fresh, it will become soggy and mushy with the liquid and soak it in while baking rather than harden in the casserole dish.
What is the best bread to make stuffing out of?
Any type of high quality bread like French bread, Italian bread, brioche, challah, and cornbread which is one of my top favorites. Try to avoid any soft and fluffy bread like sandwich loaves.
What is the fastest way to dry cornbread for dressing?
You can try putting the cornbread into a plastic or paper bag overnight or spread out cubes of cut up cornbread on a cookie sheet and toast the bread for 20 minutes.
Make-Ahead Instructions
Holidays and gatherings are always so busy and sometimes there is not enough time and space to cook everything that is needed and wanted for the special day. This cornbread sausage stuffing is just what you need to make ahead and be prepared for those special occasions!
Prepare and refrigerate. To make this stuffing ahead of time and add some extra convenience to your holiday meal planning, prepare as directed and just before baking, cover with foil and place in the fridge.
Bring to room temperature. Then, when you are ready to bake, remove the stuffing from the fridge and let it sit to allow to come to room temperature while the oven is preheating.
Bake. Bake as directed plus 5 minutes more.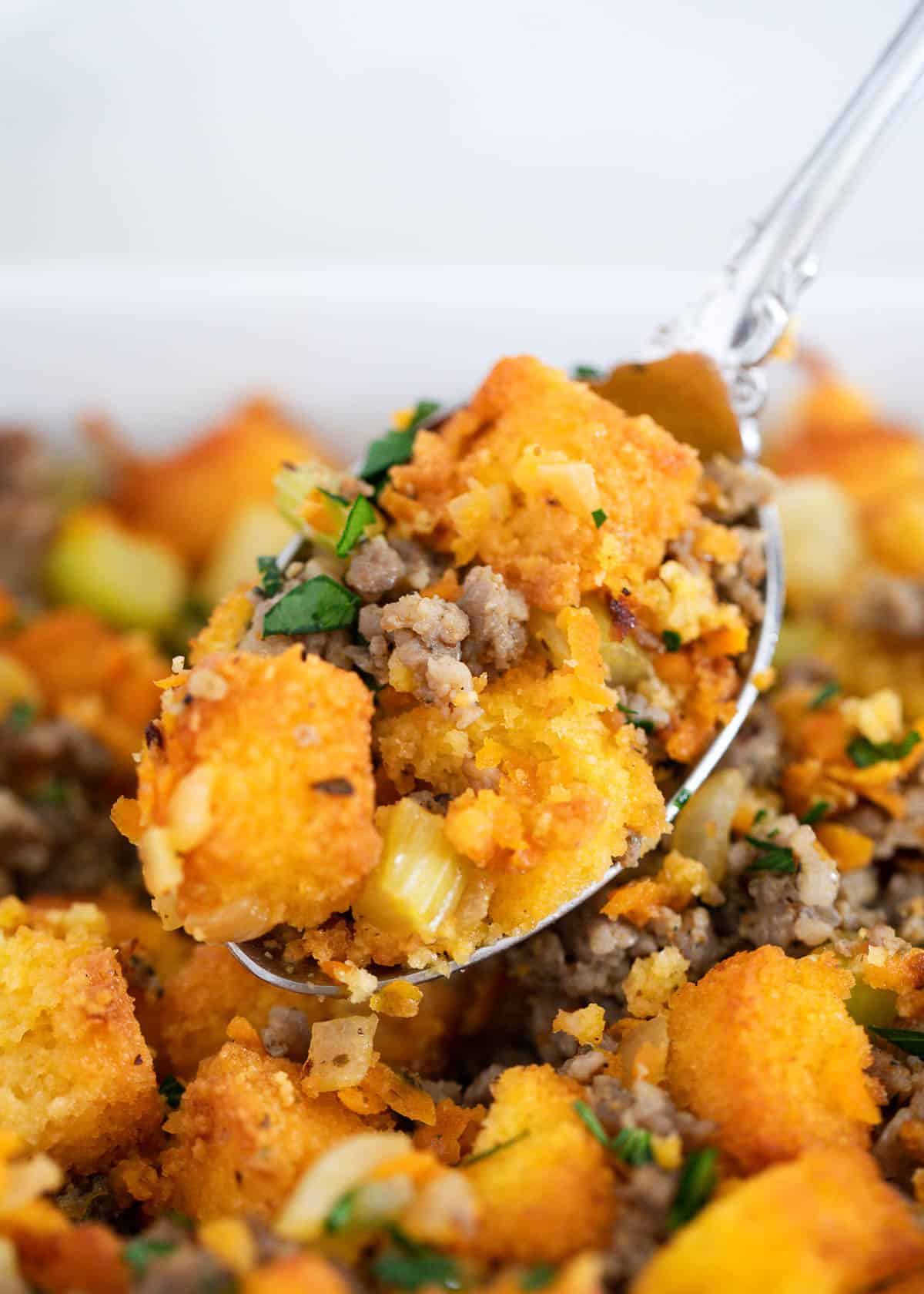 More Holiday Side Dishes You'll Love
HUNGRY FOR MORE? Subscribe to my newsletter and follow on Facebook, Pinterest and Instagram for all the newest recipes!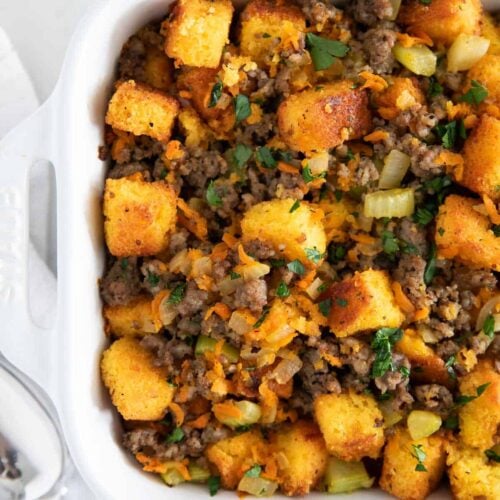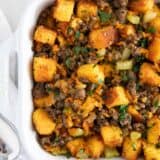 Cornbread Stuffing
This easy make-ahead cornbread stuffing will easily become the star of any festive meal. Slightly sweet cornbread, sage sausage, veggies, and herbs result in unforgettable mouthwatering flavors and textures that cannot be found in a box!
Ingredients
12 ounces day old cornbread (cut into 1/2" cubes)
2 cups chopped celery
1 cup chopped onion
1 cup grated carrots
1 pound ground sage sausage (I prefer Jimmy Dean)
6 Tablespoons salted butter
½ teaspoon ground sage (or 1 Tablespoon fresh)
¼ cup chopped fresh parsley
1 1/2-2 cups chicken broth (more as needed)
Instructions
The first step in this recipe is drying the bread. You can place the bread cubes on a baking sheet and sit out to dry for a day, or you can lightly toast in the oven. Simply preheat the oven to 300°F. Bake for 20 minutes or until lightly toasted, tossing half way.

In a large pan, cook the sausage over medium-heat, breaking it up with a wooden spoon. Place the sausage on a plate lined with a paper towel to absorb the grease. Remove the grease from the pan.

Add butter to the same pan and allow to melt. Add the onion, celery and carrots and cook for 3-5 minutes or until soft. Stir in the sage and salt and pepper to taste. Remove from heat.

Combine the toasted bread, sausage, cooked veggies and fresh parsley in a large bowl. Slowly stir in 1 1/2 cups chicken broth and stir until combined. Add more as needed. You want all the bread to be lightly covered but not drenched. There shouldn't be extra liquid in the bowl. Add salt and pepper to taste.

Turn the heat to 350°F. Place in a buttered 9×13" pan. Then bake with foil for 30 minutes. Uncover and bake an additional 15 minutes, or until lightly toasted. Allow to sit 5 minutes before serving. Then serve with a spoon.
---
Notes
To make this recipe easier, you can buy store-bought cornbread.
Make-ahead: Prepare as directed and instead of baking, cover with foil and place in the refrigerator. When ready to bake, remove stuffing from the refrigerator and let sit on the counter for 20 minutes while the oven preheats. Then bake as directed. You may need to add 5 extra minutes to the cooking time.
Variations:
Diced apples: You can add 1 apple diced for a sweeter flavor. Mix in just before adding the broth.
Dried cranberries: You can also add in 1/2 cup dried cranberries for a sweet kick.
Nutrition
Calories: 273kcal | Carbohydrates: 18g | Protein: 8g | Fat: 19g | Saturated Fat: 8g | Cholesterol: 58mg | Sodium: 590mg | Potassium: 259mg | Fiber: 1g | Sugar: 6g | Vitamin A: 2213IU | Vitamin C: 6mg | Calcium: 60mg | Iron: 1mg
Nutrition provided is an estimate. It will vary based on specific ingredients used.
Did you make this recipe? Don't forget to give it a star rating below!