This Greek salad with chicken is a protein-packed twist on a classic Greek salad! It's loaded with fresh crispy veggies, juicy tomatoes, briny feta, and kalamata olives and topped with slices of grilled chicken!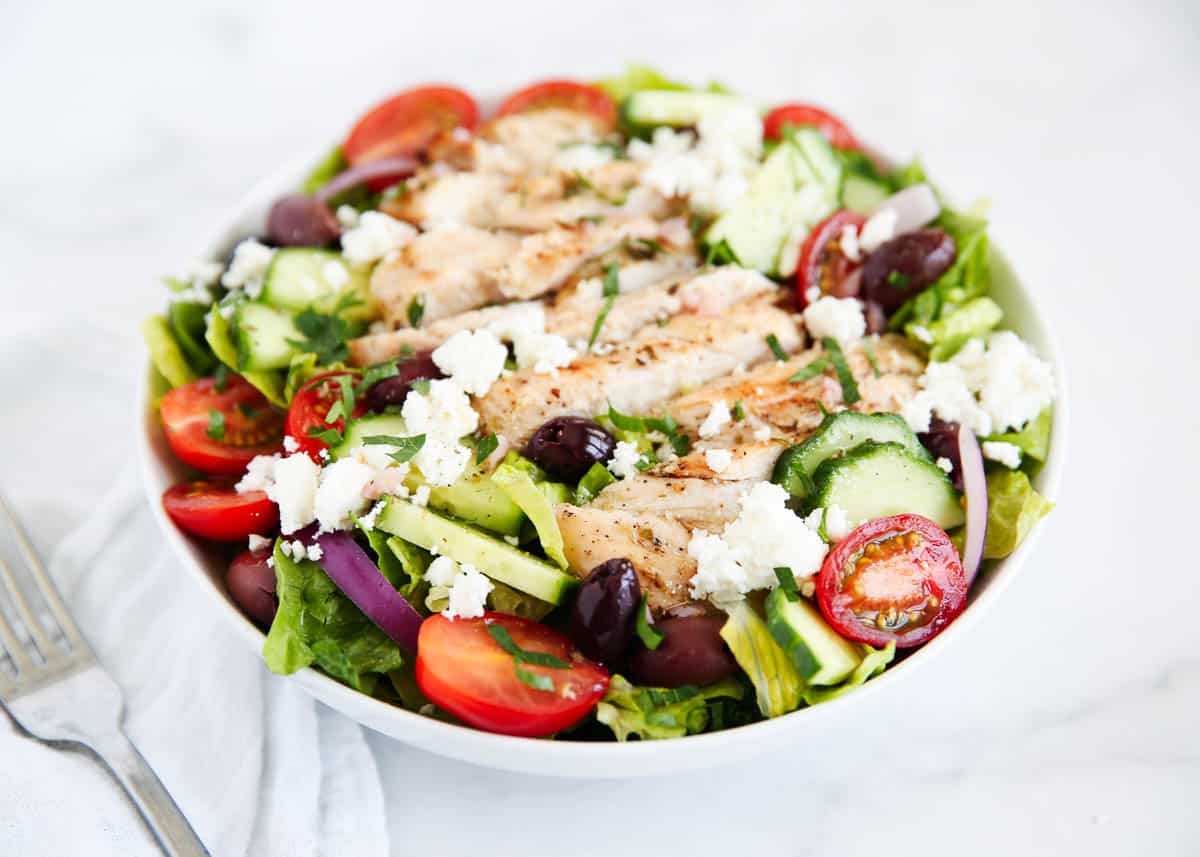 An Easy Greek Chicken Salad Recipe
During the warmer months when we're stepping away from soups and stews it's like my body knows and starts to crave all the salad! There's nothing better than a light salad for lunch or an easy dinner and this Greek salad with chicken is incredible!
Adding protein to any salad is a great way to use up leftover chicken, and doing so makes this salad recipe even easier. Sometimes I like to take Greek chicken kabobs off the skewer and toss those pieces into my salad!
This salad comes together in minutes and all it needs is a drizzle of my tasty homemade Greek salad dressing recipe to finish it off. I think next time I'll try lemon tahini dressing to jazz it up a bit, instead!
Why We Love This Recipe
You can't go wrong with an incredible salad that is crave-worthy! It is an easy salad to make, great for making ahead, and so good for you. All the good things in one salad!
Easy to make. In 5 minutes this salad can be tossed together and ready to eat! It's especially easy when using leftover chicken.
Great for meal prep. Portioning the veggies into individual containers to have throughout the week is super convenient. Wait to add the cooked chicken, olives, and cheese, and dress it just before eating.
Healthy and light. A nutritious salad loaded with leafy greens, fresh vegetables, and protein.
So much flavor. The Greek seasoning boosts the flavor of the chicken and the dressing and gives us all the signature zesty tangy flavors we love about Greek dishes.
What's in This Salad?
Take all your fresh produce and prepare it to toss together! Cut, slice, chop and prepare all the ingredinets for this easy-to-make Greek salad. The chicken is prepared ahead of time making this a simple lunch or a light and tasty dinner!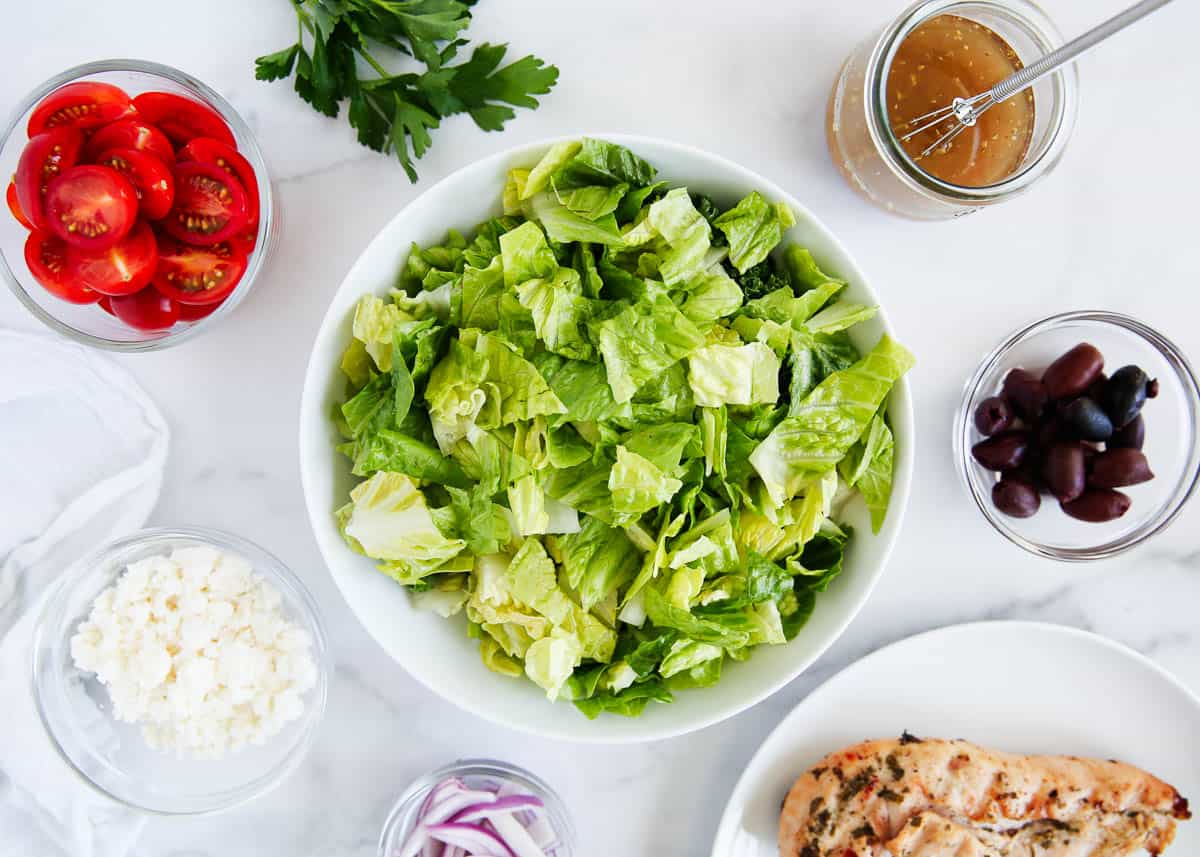 Find the full printable recipe with specific measurements below.
Lettuce: Traditional Greek salad actually doesn't have any lettuce at all! So, because we're playing it fast and loose with the lettuce, it's up to you which you use. I love using Romaine lettuce, but you can decide to use a Spring Mix, Iceberg, or Spinach leaves if preferred.
Cooked chicken breast: I like to use a simple Greek marinade before grilling the chicken breast. The results are tender and juicy meat with intense flavor. Using a rotisserie chicken you have got left over from dinner the night before is also a great idea!
Cherry tomatoes: Juicy, acidic tomatoes sliced in half. I find it easier than cutting up larger heirlooms or Roma tomatoes, but you can use what you have.
Sliced cucumber: English cucumbers have fewer seeds. I keep the skin on for extra fiber, but peeling them is definitely an option. Try this with Persian cucumbers too! They are a little bit smaller.
Sliced red onion: Adds a sweet, mildly pungent, crispy element that adds a ton of flavor to the salad.
Kalamata olives: These addicting little gems are a staple in Mediterranean recipes! Do you pick them out and eat them first? Or save them for last?
Feta cheese: A salty, briny crumble of this cheese adds the right balance and elevates the entire dish! Crumbled feta gives it a soft bite each time.
Dress the Salad
We're using a combination of red wine vinegar or balsamic vinegar, lemon juice, minced garlic, oregano, salt, and pepper, and a good quality extra virgin olive oil.
A quick hop over to my post on how to mince garlic would help make the dressing even easier. Hurry back, we've got some Greek salad with chicken to make!
How to Make Greek Chicken Salad
In just a few steps you will have the best Greek chicken salad! It is fresh and full of flavor from the simple ingredient list. Combined it is the perfect combination!
Assemble the salad. Grab a large mixing bowl, or 4 separate salad bowls, and add in your lettuce. Fill it with enough so that the bowl looks nice and full, but not overflowing.
Make and pour the dressing. Add all the dressing ingredients, except the oil, to a medium bowl or a mason jar with a lid. Whisk or shake everything together. Slowly add the olive oil to combine, whisking along the way. Adjust seasoning to taste.
Add toppings and toss. Pour the dressing over the Greek salad with chicken and toss everything to combine. Garnish with parsley, salt, and pepper, and enjoy!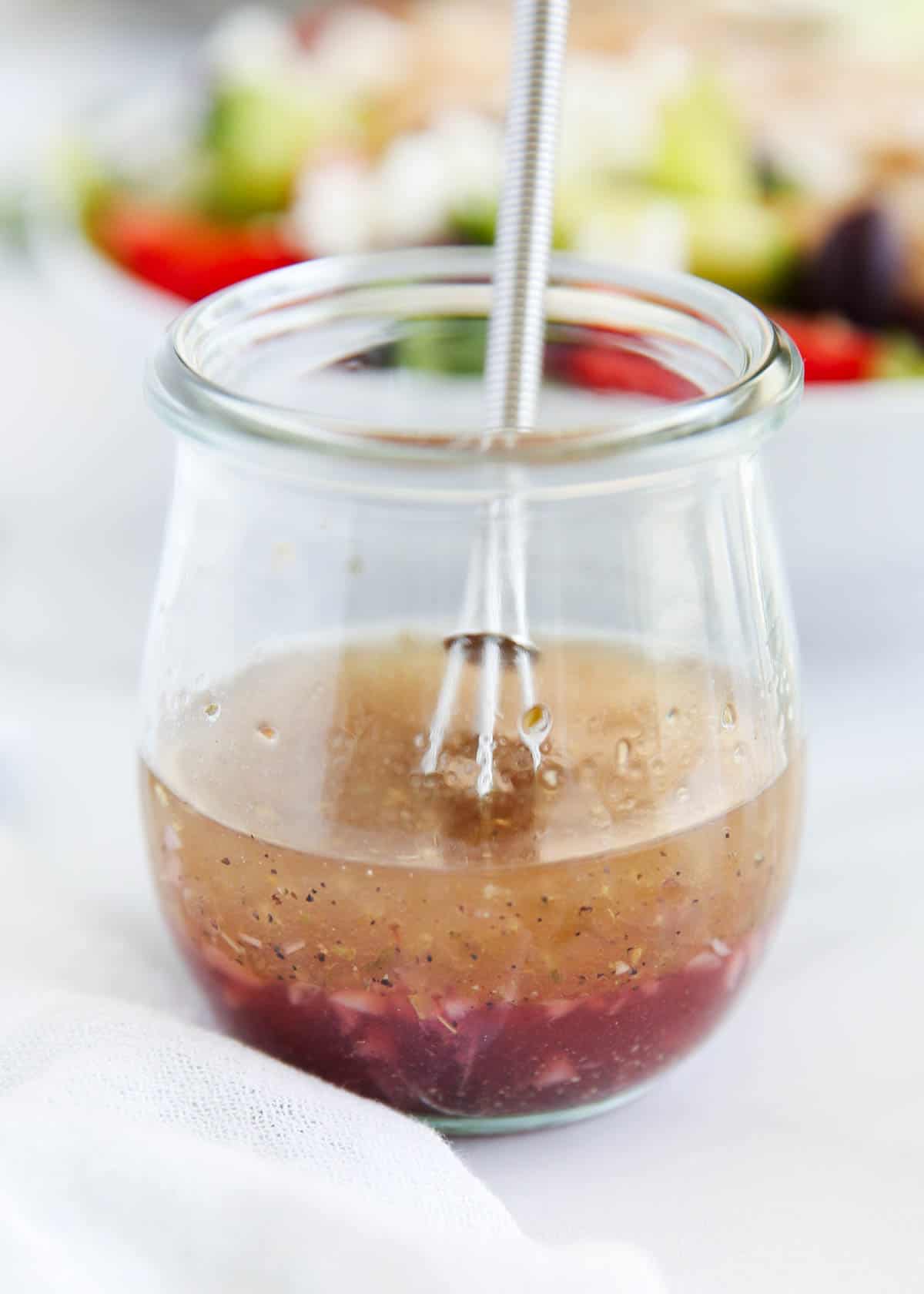 Dressing Tips and Variations
I always love to have variations for more flavors and choices when making a delicious salad. Change and create even more amazing dressing ideas with these variations. The possibilities are endless!
Whisk dressing before serving. It tends to naturally separate. Drizzling the oil slowly while whisking helps to emulsify the oil with the vinegar. Even still, if you are not using it right away, it will once again separate so just make sure to shake or whisk it again before adding it to your salad.
Add extra tang. Mix in 1 teaspoon of Dijon mustard to your dressing for an extra kick.
Make it creamy. A couple of Tablespoons of Greek yogurt is the perfect way to turn it into a creamy dressing.
Extra herbs. Fresh herbs like dill or basil would be a great addition.
No fresh garlic? No problem, just use garlic powder instead.
Lemony flavor. For a more lemony flavor in your salad, use the lemon zest along with the juice for a bit of extra citrus flavor.
Recipe FAQs
Is chicken Greek salad healthy?
It sure is! It's loaded with fresh veggies which pack a ton of vitamins and minerals, including vitamin C, and potassium. The cheese and olives are great for protein, good fat, and calcium, while the overall salad is low in calories and carbohydrates while the chicken also adds lean protein. You can't go wrong!
How do I cook chicken breast for Greek salad?
This is completely up to you. There's something I love about grilled chicken. Those smoky char marks remind me of other Greek dishes like kabobs and souvlaki, but you can cook them how you like them.

Baked, broiled, air-fried, shredded chicken, you name it. You can even not cook it at all and pick up a cooked rotisserie chicken from the store!
Can I make this salad ahead of time?
Yes! First, prep your ingredients and keep them separate a few days ahead of time. You can also assemble the veggies and keep them in a container beforehand and just add the olives, feta, and dressing before serving.

Like any salad, it's best served right away, but some components can be prepped ahead.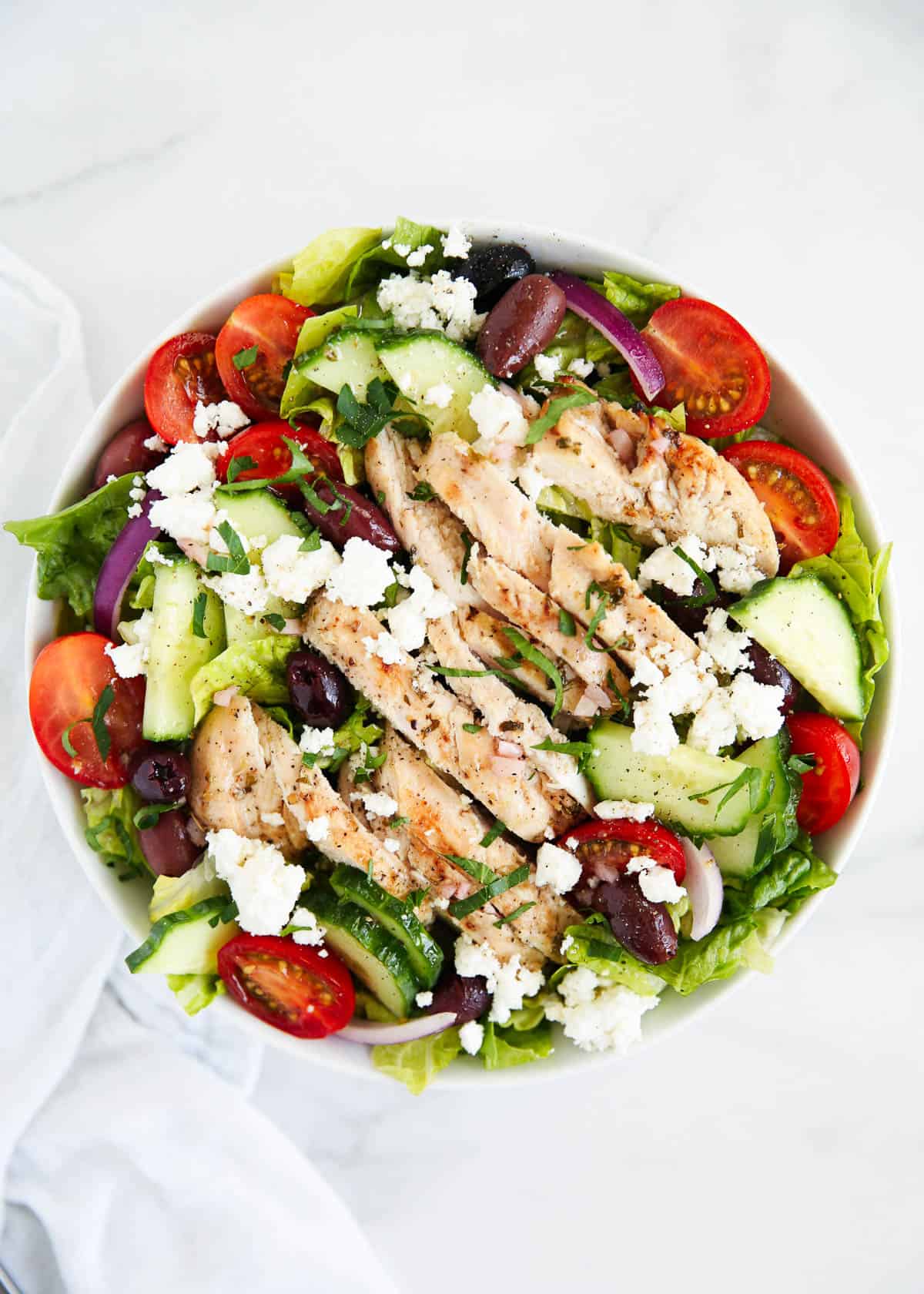 5 star review
"The dressing for this salad is SO good! We love how easy and fresh it is to make. The perfect lunch!"

-Eden
Storing Leftover Dressing
Keep any remaining dressing in an airtight container for up to 7 days. Always give it a shake before pouring.
Check out these other delicious salad recipes that are packed with fresh veggies!
HUNGRY FOR MORE? Subscribe to my newsletter and follow on Facebook, Pinterest and Instagram for all the newest recipes!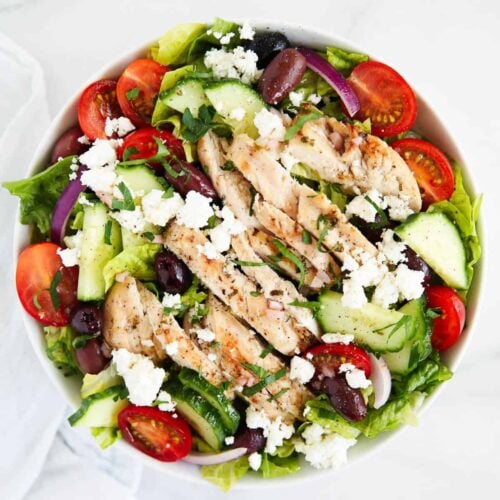 Greek Salad with Chicken
This Greek salad with chicken is a protein-packed twist on a classic Greek salad! It's loaded with fresh crispy veggies, juicy tomatoes, briny feta, and kalamata olives and topped with slices of grilled chicken!
Ingredients
Salad
8 cups chopped romaine lettuce
16 ounces cooked chicken breast , see note
1-2 cups cherry tomatoes , sliced in half
1 English cucumber , sliced
½ red onion , thinly sliced
½ cup kalamata olives , pitted
¼ cup feta cheese , plus more if desired
Greek Dressing
3 Tablespoons red wine vinegar , or balsamic vinegar
1 lemon , juiced
1 clove garlic , minced
½ teaspoon dried oregano
½ teaspoon Kosher salt
¼ teaspoon ground black pepper
¼ cup olive oil
Topping
Chopped fresh parsley
Flake sea salt
Freshly ground black pepper
Instructions
Salad
Divide the lettuce among 4 salad bowls or 1 large serving bowl.

Top with chicken, tomatoes, cucumber, onions, olives, and feta cheese.
Greek Dressing
In a small bowl or mason jar, whisk or shake the vinegar, lemon, garlic, oregano, salt, and pepper until combined.

While continuing to whisk, slowly drizzle in the olive oil to help emulsify the dressing. Whisk until combined. Taste and adjust seasoning, if needed.
Topping
Pour the dressing over the top of the salad and toss until combined. Top with fresh parsley and salt and pepper, if desired.
---
Notes
Chicken: For this recipe I use marinated Greek Chicken. You could also use rotisserie chicken to make it easier. Dressing: It is natural for the dressing to separate but slowly drizzling in the olive oil while whisking helps emulsify the olive oil with the vinegar. Whisk again right before serving. If you like Dijon mustard, feel free to mix in 1 teaspoon. I love to add it in on occasion. Storing: Store salad and dressing ingredients separate. The dressing will keep in the fridge for up to 7 days if stored in an airtight container.
Nutrition
Calories: 407kcal | Carbohydrates: 13g | Protein: 39g | Fat: 23g | Saturated Fat: 5g | Polyunsaturated Fat: 3g | Monounsaturated Fat: 14g | Cholesterol: 105mg | Sodium: 760mg | Potassium: 797mg | Fiber: 4g | Sugar: 5g | Vitamin A: 8589IU | Vitamin C: 30mg | Calcium: 136mg | Iron: 3mg
Nutrition provided is an estimate. It will vary based on specific ingredients used.
Did you make this recipe? Don't forget to give it a star rating below!