These Greek chicken kabobs are tender, juicy, and infused with a flavorful marinade made in as little as one hour before the meat hits the grill!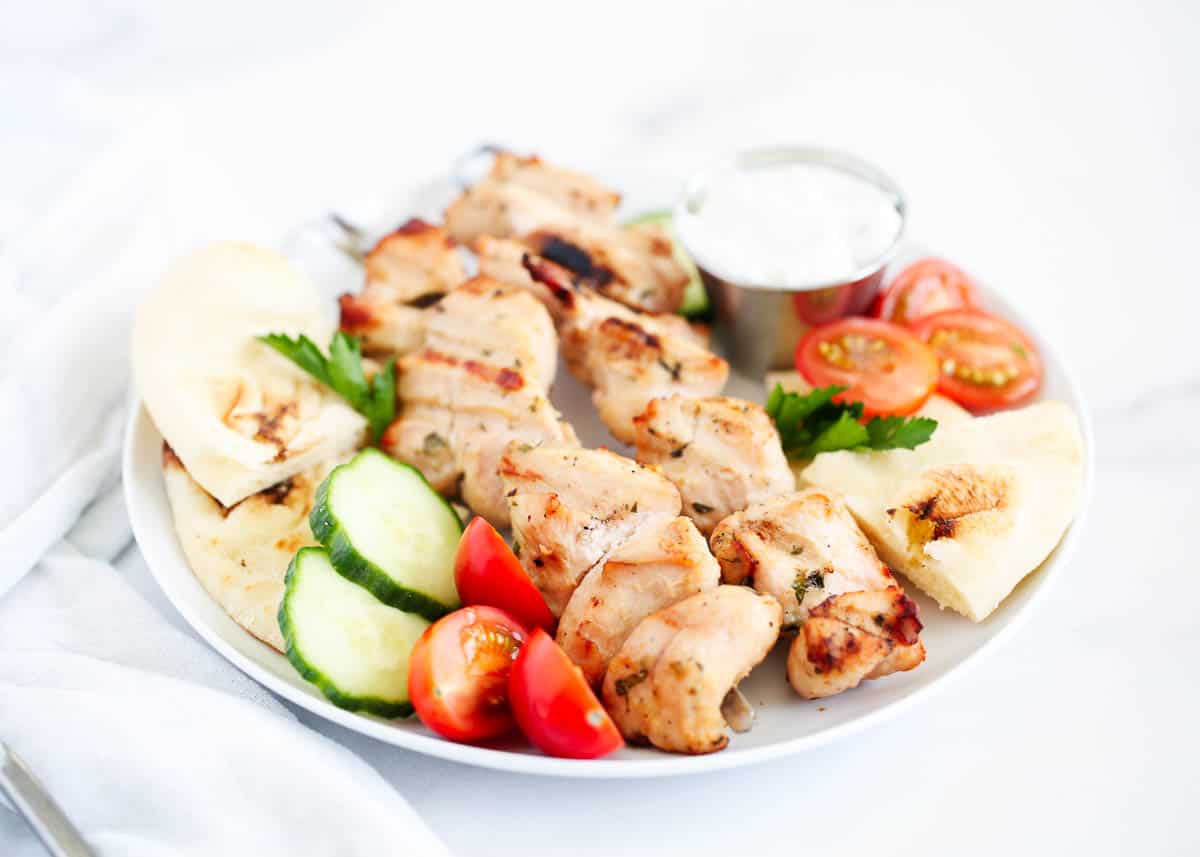 Easy Greek Seasoned Kabobs
These Greek chicken kabobs are made with the best marinade. There aren't words to describe the aroma that happens when that meat sizzles. The marinade caramelizes providing a beautiful char and a smoky aroma.
You know the kind that makes your neighbors want to eat at your house during those summer cookouts! Serve them with this couscous salad recipe and you may have dinner guests all summer long.
I use chicken breast for these Greek chicken kabobs which keeps it nice and lean. The few simple fresh ingredients that go into the Greek chicken marinade are all it takes to keep this chicken light, healthy, and super tasty!
Why We Love Greek Kabobs
It's an easy recipe that comes together quickly using just a handful of ingredients and it's about to become a new family favorite. Greek kabobs are an easy, flavorful, and fun way to enjoy dinner!
Easy. If there's one thing I appreciate about grilling, it's that it's basically effortless. Marinate, grill, and eat. That's it!
Flavor. Lemon and garlic on their own are both flavor powerhouses but together, they're even better. Plus add some herbs and a bit of seasoning, and it's basically why people don't hesitate to ask for seconds.
Fun. Because who doesn't love food on a stick?!
Ingredients
These ingredients are pantry staples that are easy to have on hand and make these often. Greek chicken kabobs have a sweet and savory flavor with a zesty taste. It is a simple marinade that is grilled to perfection!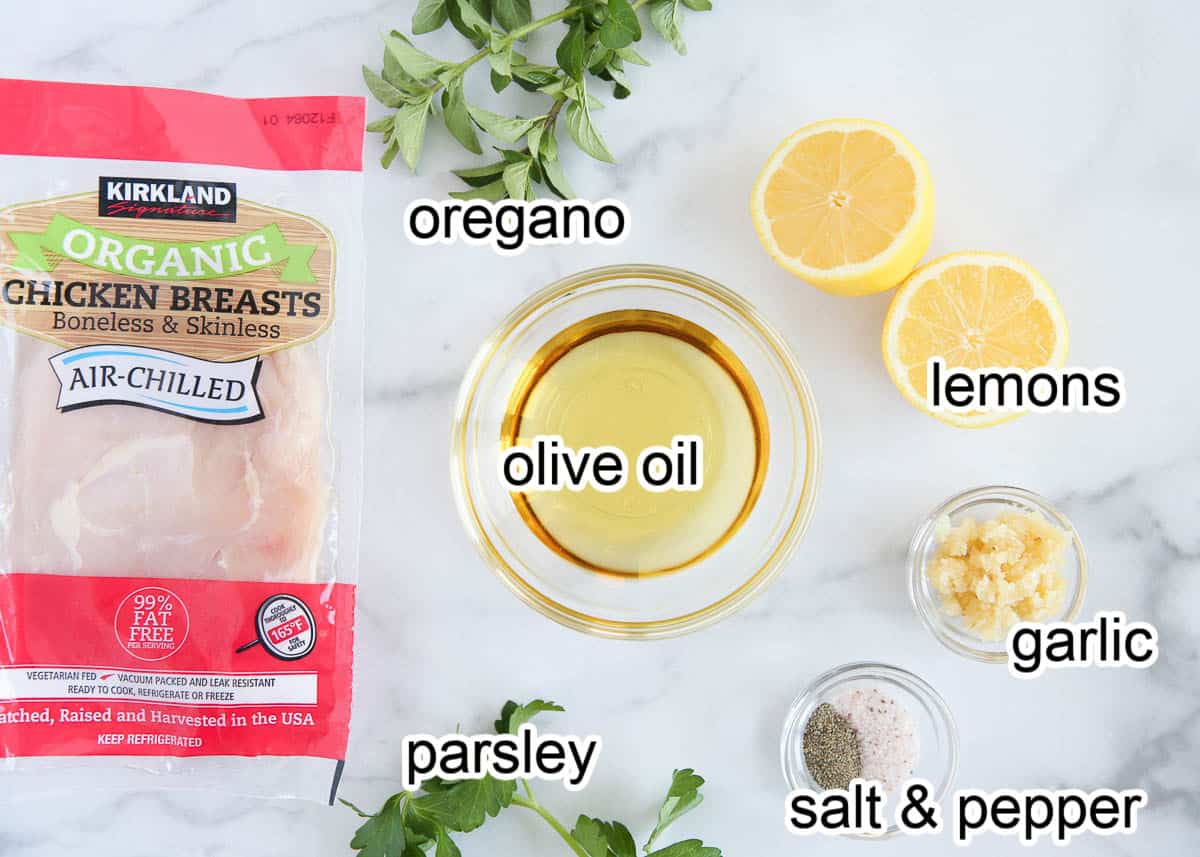 Find the full printable recipe with specific measurements below.
Chicken breast: Boneless skinless chicken breast works best for Greek chicken kabobs. They're plump and juicy and still have enough meat to bite into. Chicken thighs will also work, as long as they're boneless.
Olive oil: Oil is just one component of any classic marinade. The others are acid and seasoning. Extra virgin olive oil is a great neutral flavor used often in Mediterranean dishes.
Lemon juice: Freshly squeezed, please! You can taste the difference when it's out of a bottle and it is not the same. Adding some lemon zest for an even more robust lemony flavor won't hurt!
Oregano and parsley: Dried or fresh herbs, it's up to you. The herbaceous flavor that these give off takes us on a journey!
Minced garlic: Believe it or not, knowing how to mince garlic the right way can save you a ton of time and hassle. Take these tricks with you for so many other recipes!
Salt and black pepper: Just a bit of extra seasoning!
How to Make Greek Chicken Kabobs
Super simple Greek chicken kabobs need a minimum of 1 hour of marinating time and then they are off to the grill! Grill both sides of the chicken and have the best chicken kabobs with a Greek twist!
Mix the marinade. Combine all of the marinade ingredients in a small bowl. Whisk until well combined.
Marinate & chill: Trim the chicken of excess fat. Pat them dry with paper towels so that the marinade adheres to the meat and has a chance to penetrate right through. Cut into 1 1/2″ cubes and place them into a large bowl or Ziploc bag. Pour the marinade over the chicken until well-coated. Transfer the marinated meat into the fridge for a minimum of 1 hour or up to 6 hours.
Thread the skewers. While you are preheating the grill on medium-high, take the marinated cubes out of the fridge and thread them onto the skewers, one piece at a time. Leave enough room at the bottom for you to handle.
Grill the Greek kabobs. These will take about 5-6 minutes per side until they are no longer pink in the middle. The internal temperature should read between 160 degrees F and 165 degrees F on a thermometer. Let them rest before serving!
Recipe Tips
This Greek chicken kabobs recipe is beyond easy, but it's still nice to have a few extra tips handy! These helpful tips and ideas are easy to follow along to ensure the kabobs are perfectly cooked making them tender and juicy!
Type of skewers. If you use bamboo or wooden skewers, ensure you soak them for half an hour before hitting the flame. Dry skewers have a greater chance of burning! If you have metal skewers, I suggest using them instead.
Clean your grill. If you don't remember whether or not you cleaned the grill when you were done using it the last time, it doesn't hurt to give it a scrape. You want to fully enjoy the flavor of these kabobs for all that they are.
No need to oil your grill. Since there is oil already present in the marinade, you don't need to add any to the grill.
Timing is key. Marinating the chicken for 1 hour is plenty! You can do it up to 6 hours, but any more than that and it'll start to get mushy.
Remove the skewers before serving the kids! You may actually decide to remove them for anyone, especially if you're serving them right off the grill. They're hot!
Variations
Variations are fun to make these kabobs just the way you like them! Add in more veggies, use a marinade, or try another seasoning that best fits your family's taste. The possibilities are endless!
Veggies. If you want to add vegetables to your Greek chicken kabobs, you can thread them onto the skewer as well. Add 1-inch pieces of sliced zucchini, bell peppers, and red onion after every couple of pieces of chicken.
Even more veggies. You can also make separate vegetable skewers and have one of each!
Ready-made blend. Replace the herbs in this Greek chicken kabob marinade with a ready-made combination of Greek seasoning for additional flavor.
Different seasoning. If you want to make simple chicken kabobs but don't necessarily have the same herbs, no worries! Basil and thyme are just as great. You could also go in a different direction and use fresh dill!
Ways to Enjoy Greek Chicken Skewers
Remove them from the skewer and add a few bite-size pieces to turn a classic Greek salad into a Greek salad with chicken. You could also lay the Greek chicken kabob skewers across the bowl for an effective presentation!
Roll them up inside pita bread with some homemade tzatziki sauce or homemade hummus, sprinkled with a bit of paprika, and some feta cheese crumbles. Squirt some fresh lemon juice and voila!
Serve them with a dipping sauce. Tzatziki is great, as is plain Greek yogurt.
Instant Pot rice or couscous are two staple side dishes but Greek potatoes are also a favorite!
Putting together antipasto skewers or a Mezze of things like olives, tomatoes, veggies, and crackers is a fun way to feed your crown an appetizer as they wait for the main meal!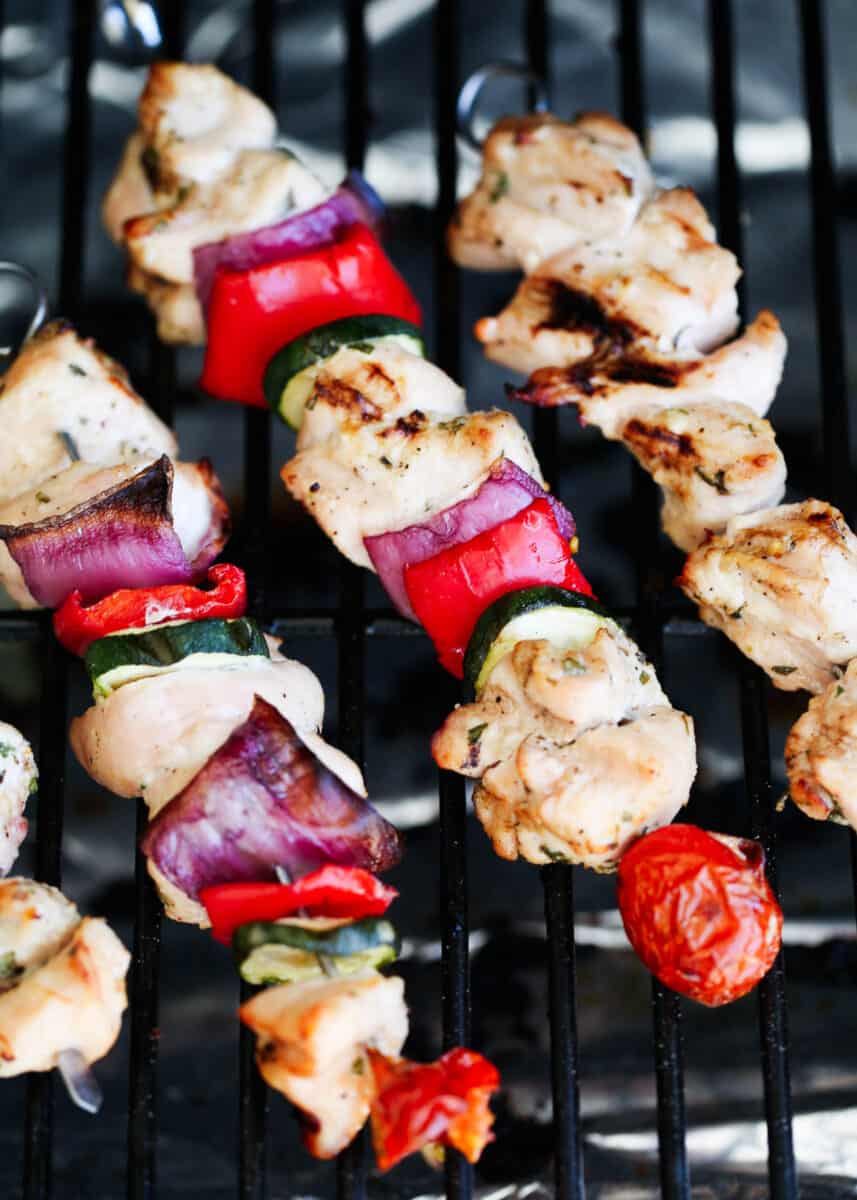 Recipe FAQs
Can I bake chicken skewers instead?
Definitely! There is no change in the prep time. The instructions right up until marinating the chicken remain the same. Place the chicken skewers on a lined baking sheet and place them in the oven.

The cook time for the oven is 15 minutes but if you want that extra char, place them under the broiler for 1 minute at the end.
Does this recipe work with other types of protein?
Grilling chicken is just the beginning! Have yourself some lamb kabobs, pork kabobs, grilled steak kabobs, salmon skewers, shrimp skewers, you name it!
Why are these Greek kabobs healthy?
It's because we're using a handful of simple fresh ingredients. That's it! Quality over quantity allows us to reduce the amount of cholesterol, thanks to olive oil. Avoid high amounts of sodium because we're just using a bit of salt, and no added sugars.

Making a marinade from scratch is always healthier than anything store-bought!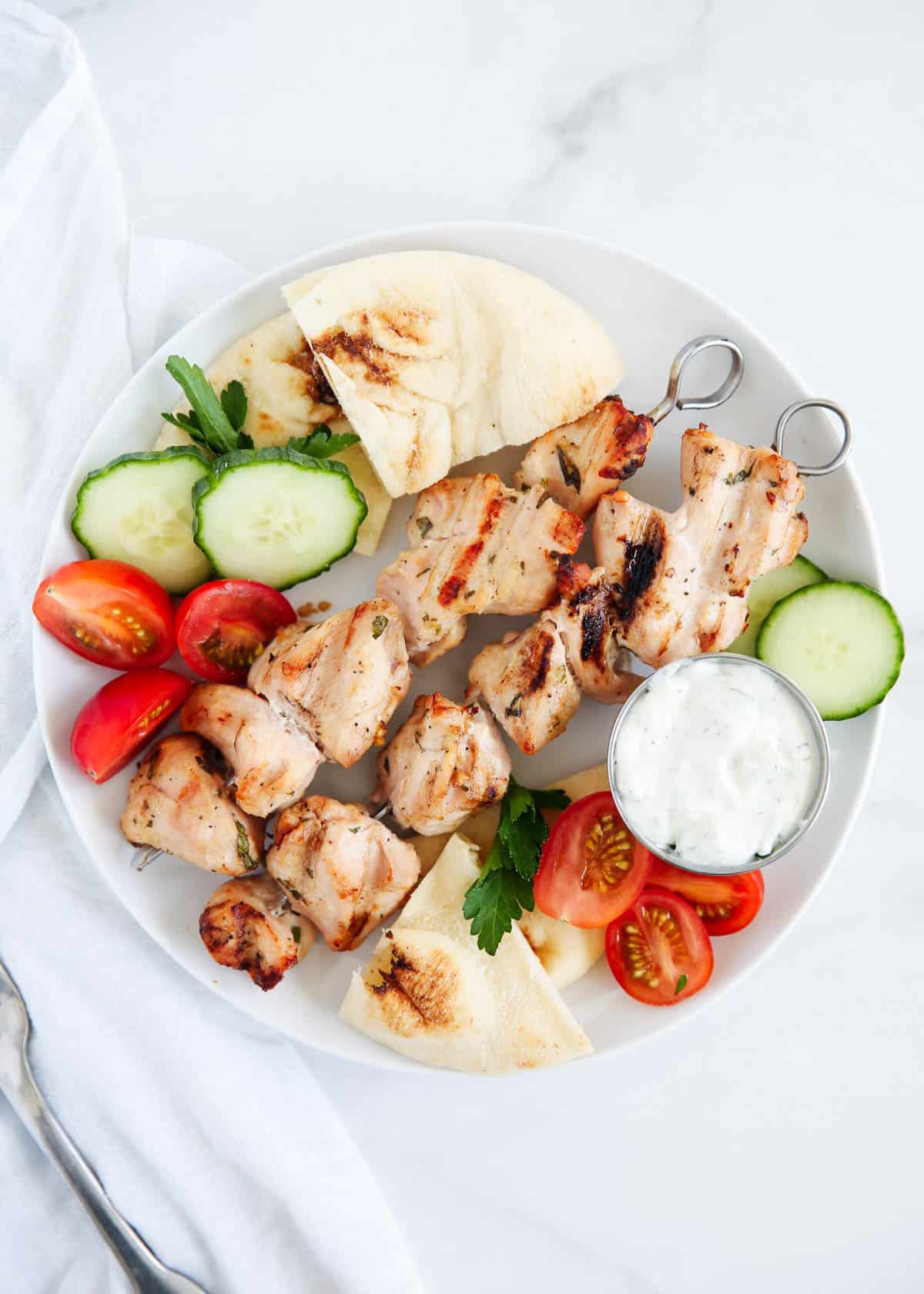 5 star review
"This was a hit! Lots of lemony Greek flavor. This one is going in my favorites file. Nice and simple and would be perfect for pork, veggies, and grilled potatoes too. ❤️"

-Kathy
Storage
Keep any leftover chicken in a covered, airtight container for up to 3 days long in the refrigerator. You can leave them on the kabobs or remove them for easier access to reheating. When ready to reheat, place in the microwave or oven to warm up. Enjoy!
More Grilled Favorites
HUNGRY FOR MORE? Subscribe to my newsletter and follow on Facebook, Pinterest and Instagram for all the newest recipes!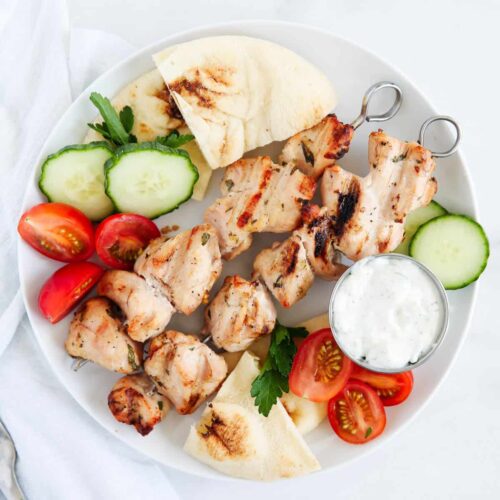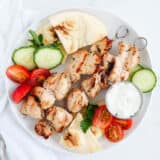 Greek Chicken Kabobs
These Greek chicken kabobs are tender, juicy, and infused with a flavorful marinade made in as little as one hour before the meat hits the grill!
Ingredients
1 ½ pounds boneless, skinless chicken breasts
¼ cup olive oil
2 lemons , juiced
3 Tablespoons freshly chopped oregano , or 1 Tablespoon dried
1 Tablespoon freashly chopped parsley , or 1 teaspoon dried
2 teaspoons minced garlic
1 ½ teaspoons Kosher salt
½ teaspoon ground black pepper
Instructions
Thaw and trim chicken breasts. Pat down with paper towels. Cut into 1 1/2" cubes and place in a zip-top bag or a large bowl.

In a small bowl, mix together the olive oil, lemon juice, oregano, parsley, garlic, salt, and pepper.

Pour the marinade over the chicken. Then place into the refrigerator for at least 1 hour and up to 6 hours.

Preheat the grill to medium-high heat. Thread the chicken onto the skewers (see note).

Grill chicken kabobs for 5 to 6 minutes per side, or until a thermometer reads 160°F to 165°F and the center is no longer pink).

Let the chicken kabobs rest for a few minutes before serving.
---
Notes
Skewers: If using wooden skewers, soak them for 30 minutes before threading the chicken to avoid burning. Vegetables: You can thread your favorite vegetables on with the chicken as well. We like to add sliced zucchini, bell peppers and red onion. Storage: Store leftovers in a covered container in the refrigerator for up to 3 days.
Nutrition
Calories: 248kcal | Carbohydrates: 4g | Protein: 25g | Fat: 15g | Saturated Fat: 2g | Polyunsaturated Fat: 2g | Monounsaturated Fat: 10g | Trans Fat: 1g | Cholesterol: 73mg | Sodium: 714mg | Potassium: 476mg | Fiber: 1g | Sugar: 1g | Vitamin A: 43IU | Vitamin C: 21mg | Calcium: 18mg | Iron: 1mg
Nutrition provided is an estimate. It will vary based on specific ingredients used.
Did you make this recipe? Don't forget to give it a star rating below!