Easy homemade root beer made with just 4 simple ingredients. A flavorful and delicious beverage that's perfect for entertaining!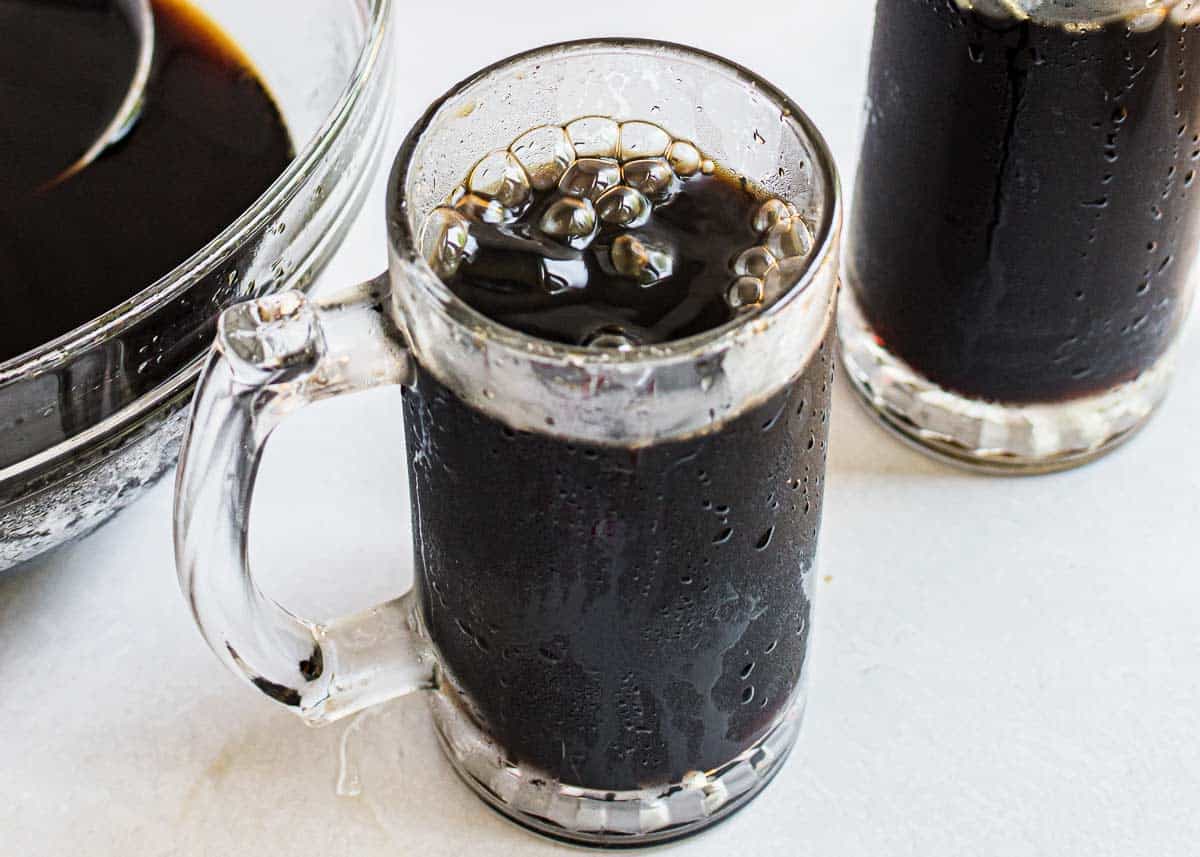 Table of Contents
15 Minute Root Beer
This is one of those recipes that kids and adults both love. Root beer has such a nostalgic taste and the foggy mist from the dry ice is always a show stopper. Whenever we make our own at home, we always save a little to make root beer floats. They are one of our favorites!
There's nothing like homemade root beer with dry ice. I remember when I was little going to a friends house on Halloween and her mom made homemade root beer and doughnuts. I thought it was the best thing ever and loved watching the dry ice send a foggy mist into the air!
Making your own at home is actually easier than it seems. I know dry ice can seem a little intimidating if you've never worked with it before, but it's easy to get the hang of. There are a few tips to consider when handling dry ice (check them out below), but overall it's pretty simple. The end result is a delicious and festive drink that has amazing flavor!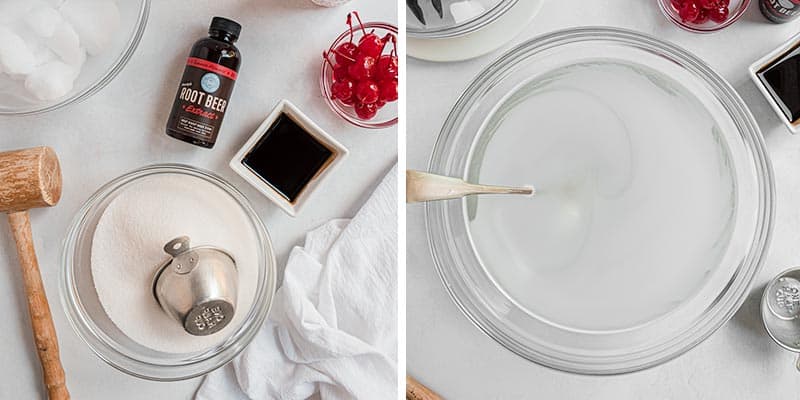 Ingredients
It only takes 4 ingredients to make this delicious beverage from scratch. You'll need the following (amounts included in printable recipe below):
Cold water
Sugar
Dry ice (tips below)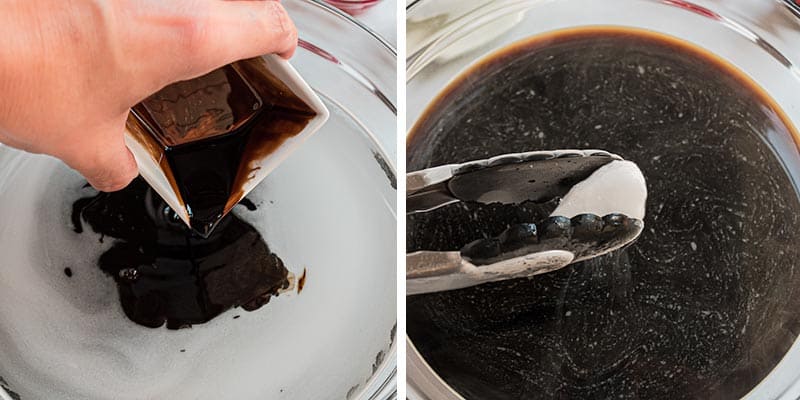 Preparation
COMBINE. Add cold water and sugar in a large mixing bowl and stir together until the sugar completely dissolves. Then mix in the root beer extract. Give it a taste and add a spoonful or two more sugar if needed.
ADD DRY ICE. Use a kitchen mallet to break the dry ice into small clumps. Then use tongs to add the ice to the mixing bowl and gently stir together with a ladle. The mixture will start bubbling and fog will creep over the edges of the bowl. Keep stirring until most of the ice has dissolved.
SERVE. Ladle into mugs and cups to enjoy. You can add a small piece of dry ice into each mug for the fog effect, although it's important to wait until the ice melts completely before consuming.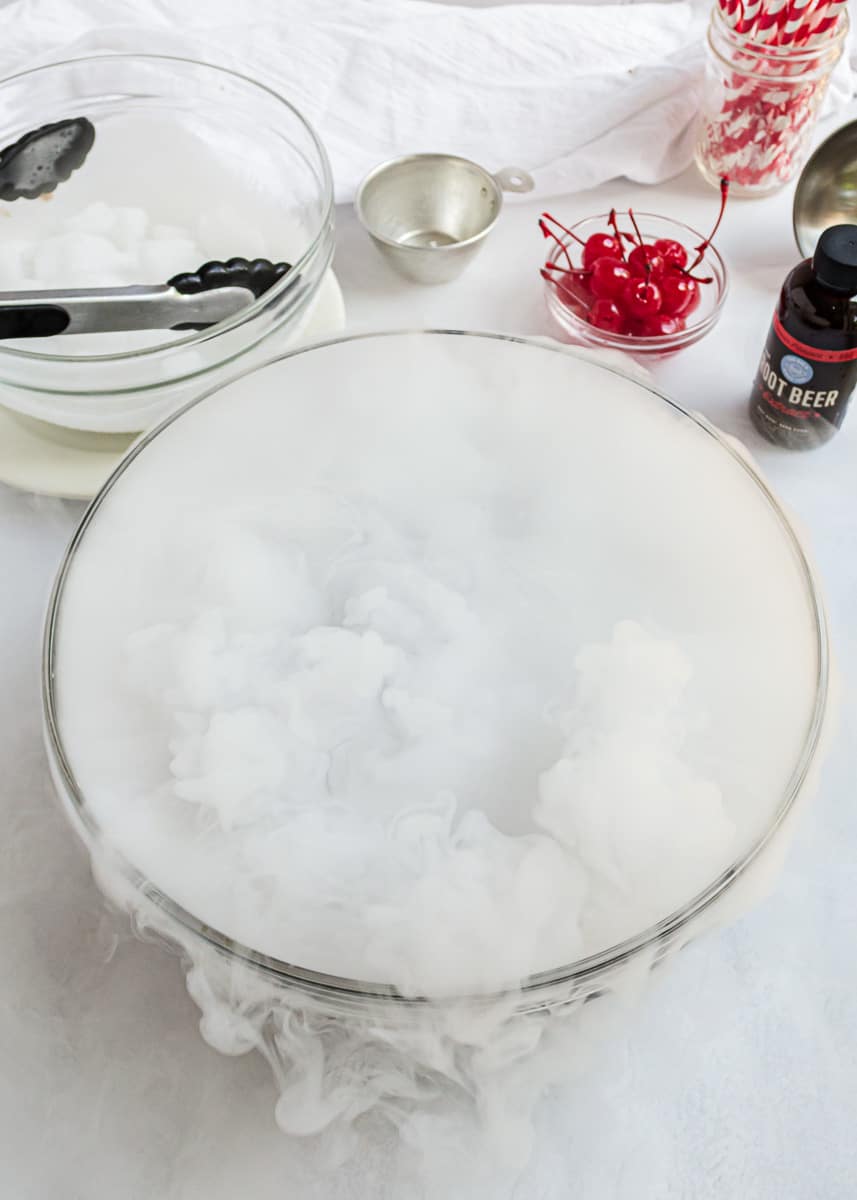 Tips When Using Dry Ice
Dry ice is an unusual ingredient and a fun way to add interest to your root beer. However, there are a few things you should know to safely handle and use it.
Where to purchase: You can find it at some warehouse stores (Costco or Sam's) and some grocery stores like Walmart or Meijer.
It evaporates quickly: It evaporates in a very short amount of time. Buy only what you need and purchase it as close to the time you are going to use it as possible. A 5 pound bag can evaporate in as little as 24 hours.
Where to store: It should be stored in a styrofoam or insulated cooler that isn't airtight. An airtight container, such as a regular freezer, can lead to a build up of gas. Take your cooler along when you make the trip to go purchase it.
Wear gloves: Wear insulated or leather gloves when handling it. Touching it with your bare skin can leave burns. When using it in this recipe, I broke it into pieces in the bag that I purchased it in. Then I transferred it straight from the cooler I was storing it in to the bowl using a pair of tongs.
Don't inhale: While using, make sure you are working in a well-ventilated area. Don't inhale the fog coming from the ice. Use extra care when working with it around pets or children.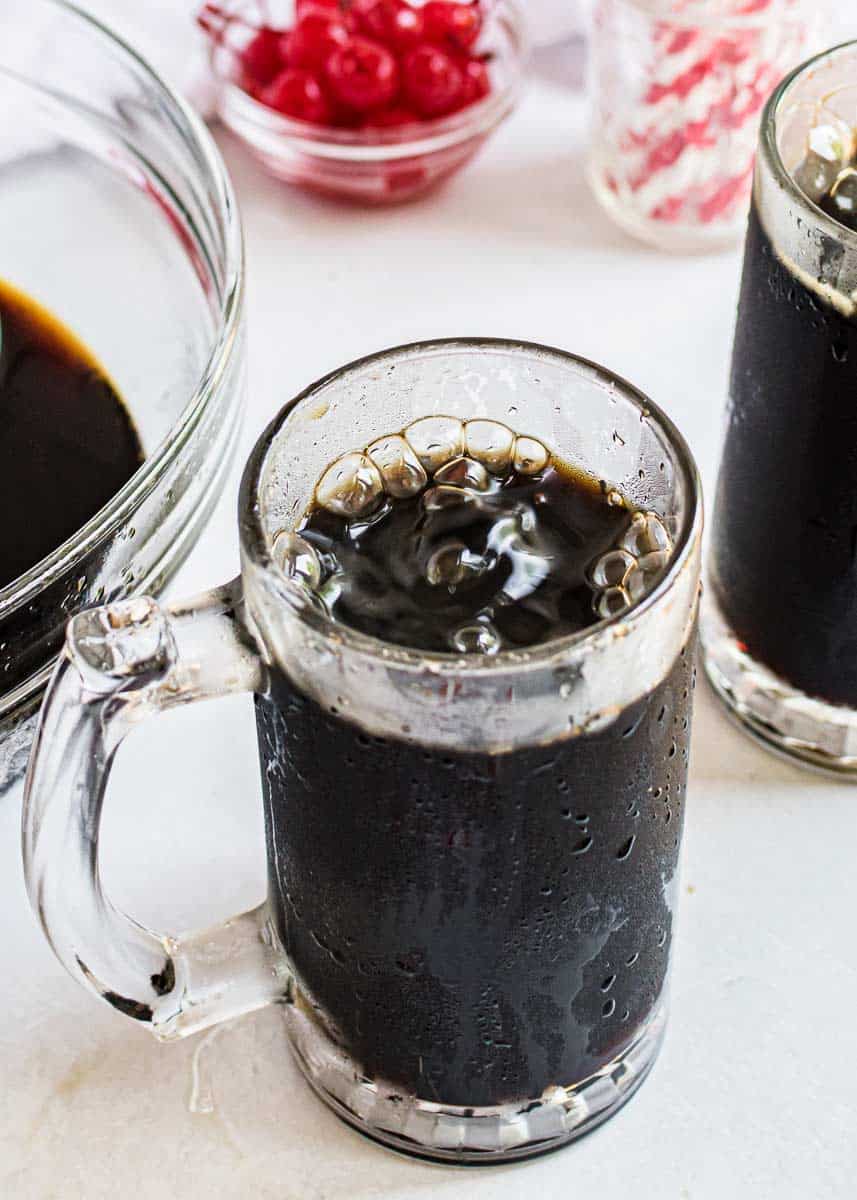 More Delicious Drinks
HUNGRY FOR MORE? Subscribe to my newsletter and follow on Facebook, Pinterest and Instagram for all the newest recipes!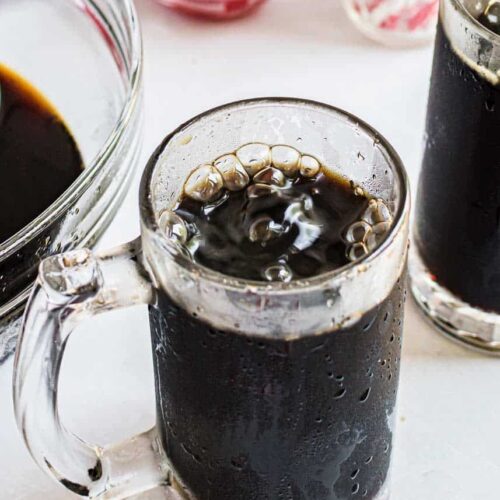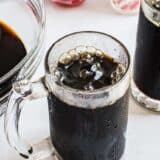 Root Beer Recipe
Easy homemade root beer made with just 4 simple ingredients. A flavorful and delicious beverage that's perfect for entertaining!
Ingredients
16 cups cold water
2 cups granulated sugar , more if desired
2 Tablespoons root beer extract
1 pound dry ice , broken into pieces
Instructions
Pour cold water into a large mixing bowl and add sugar. Stir until the sugar is totally dissolved. If it's not dissolved all the way, the sugar will stick to the dry ice and you'll end up with a big clump at the bottom of your bowl. Next, add the root beer extract. Taste and add a Tablespoon or two more sugar if desired.

Carefully break the dry ice into small clumps using a kitchen mallet. Add the ice to the mixing bowl using tongs. With a long handled spoon, gently stir the mixture together. It will start to bubble and the fog from the dry ice will begin to creep over the edges of the bowl.

Continue to stir the mixture until most of the ice has dissolved.

Serve in a large bowl or pitcher. Ladle into mugs or cups. If you'd like the dry ice effect to continue, you can add small pieces to the individual serving cups. However, it should be melted before the root beer is consumed.
---
Nutrition
Serving: 1cup | Calories: 97kcal | Carbohydrates: 25g | Sodium: 12mg | Sugar: 25g | Calcium: 7mg | Iron: 1mg
Nutrition provided is an estimate. It will vary based on specific ingredients used.
Did you make this recipe? Don't forget to give it a star rating below!