If you're planning a spooky party, this 3-ingredient Halloween punch with orange sherbet is a must! Scoops of sherbet float on this fizzy punch and the vivid orange color are just perfect for the trick-or-treating season!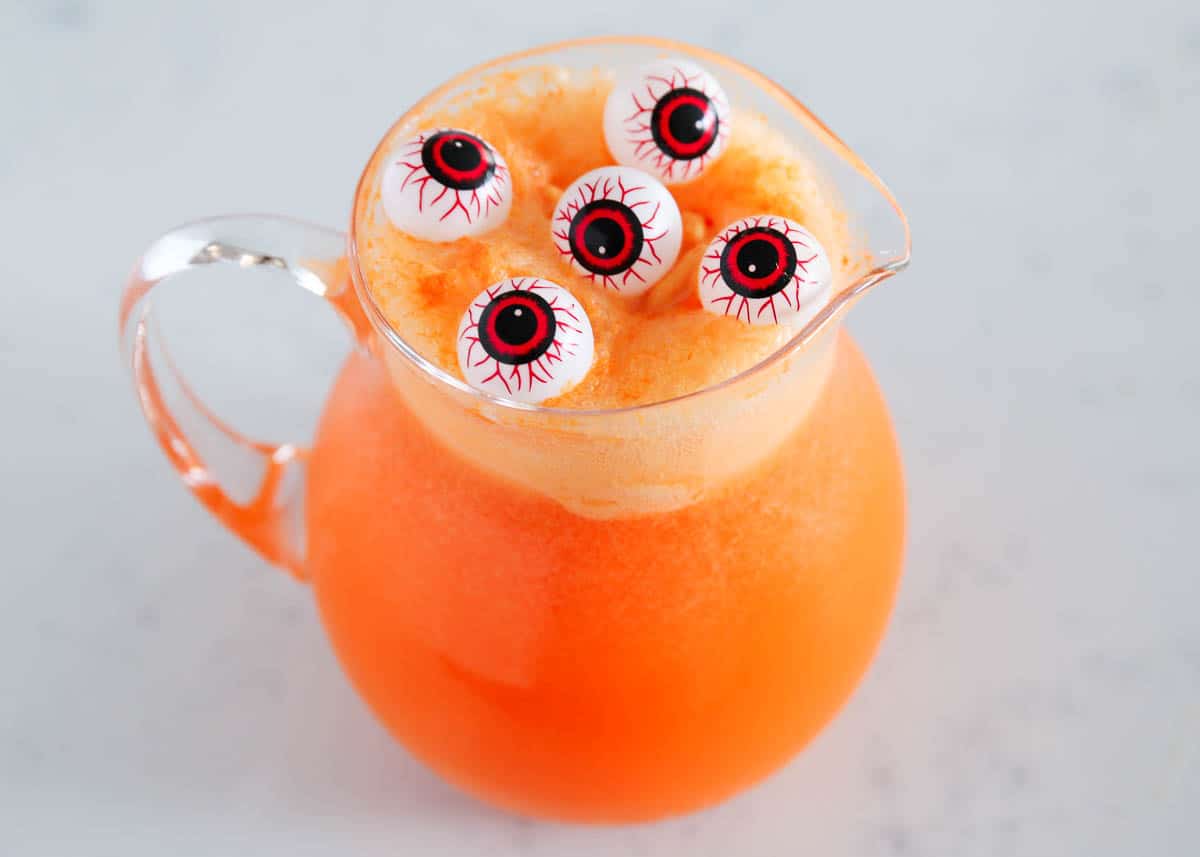 Refreshing, Fun, and Festive!
Now that the weather is starting to cool off a bit, my mind has already begun to think about Halloween. It's one of my favorite times of the year! I really get into planning costumes, decorating the house and of course, making lots of Halloween desserts!
When I'm planning my Halloween get-togethers, I like to make sure there are plenty of kid-friendly options. I also like to limit the stress of entertaining by sticking with easy Halloween recipes. The goal is for everyone to have fun – including the host!
This is one of the best Halloween punch recipes I've tried and it's super easy to make. You just grab a punch bowl, pour in some soda and juice, and top it off with scoops of orange sherbet. For fun, I even add some plastic eyeballs to the bowl!
Serve this punch with some mummy hot dogs, a Halloween veggie tray, and some creepy crawly spider cookies or Halloween oreo balls for dessert and you have the perfect spine-tingling party menu!
Why This Recipe Works
It has only 3 ingredients. You don't have to buy a lot of ingredients you will only use them once for this easy Halloween punch.
It's kid-friendly. It's a Halloween non-alcoholic punch you can serve to kids and the adults will love it too!
It fits with a Halloween theme. The orange-colored punch is perfect for serving at Halloween parties. You can also dress it up to make it even 'scarier'! I've included some ideas below.
Punch Ingredients
All you need are these 3 ingredients to make this fun Halloween party punch: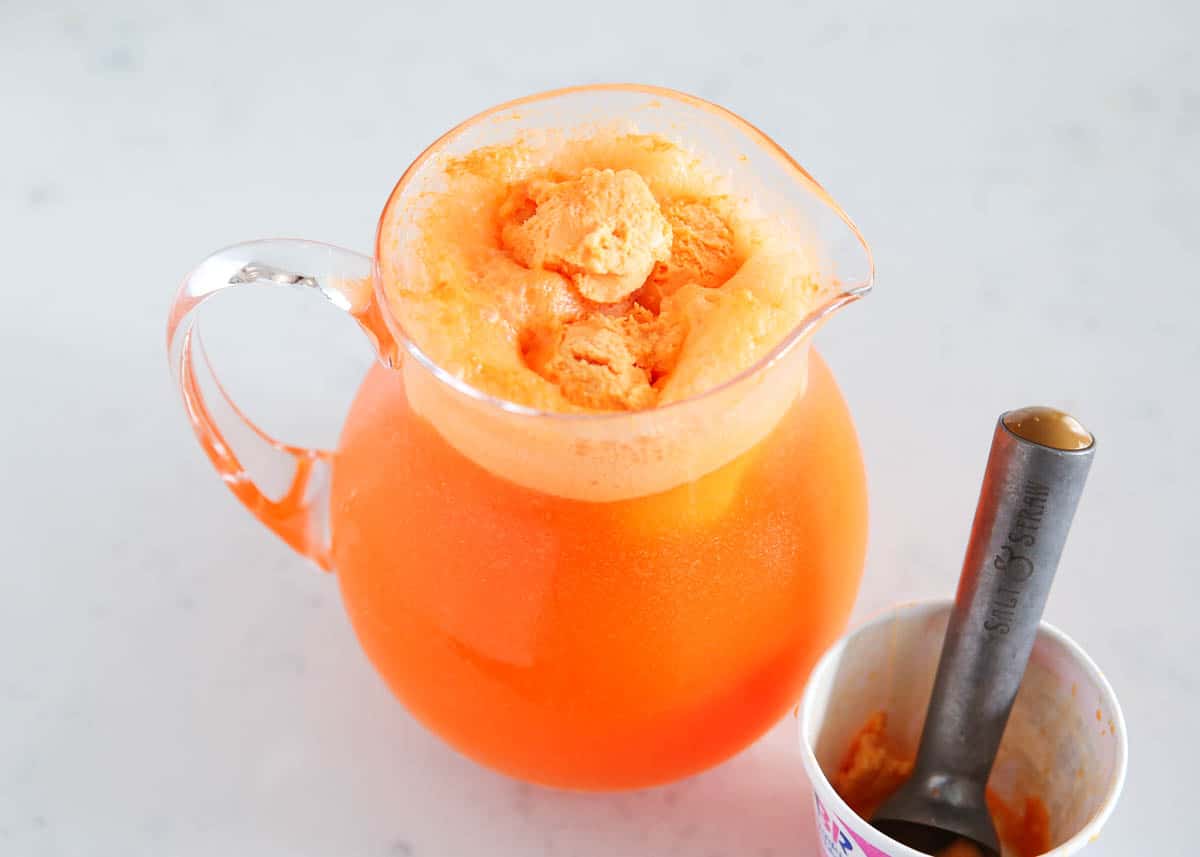 Find the full printable recipe with detailed measurements below.
Sprite or orange soda: You can use either soda depending on what you have. Orange soda will give your punch more color.
Pineapple juice: The tanginess of this juice works well with the sweetness of the orange sherbet. If you don't have pineapple juice, orange juice would make a great substitute!
Orange sherbet: Sherbet usually contains more fruit juice or purée than ice cream so it has a more concentrated fruity flavor.
Variations
Some other types of soda you can use in place of those listed are ginger ale or lemon-lime soda. For the orange sherbet, you can swap with different citrus and make it a lime sherbet punch or whatever different flavor of sherbet you prefer. Raspberry and rainbow sherbet would also be great!
Don't have pineapple or orange juice? Think lemonade concentrate, pomegranate juice, cherry juice, cranberry juice, apple cider, you name it!
We may be veering off course a little bit here, but I like to provide options, especially for a recipe like this that's supposed to be fun and creative! Instead of the sherbet, think of vanilla ice cream and instead of an orange sherbet Halloween punch recipe, you can have a float!
What's the Best Container for Serving Punch?
You want to make sure that your container is big enough to hold all the liquid without splashing out all over your table or counter. Most likely your guests will be helping themselves, so you want to make it easy for them to serve it up!
A large punch bowl is a great choice but if you don't have one of those, you can use a large pitcher, jar or a drink dispenser if you have one. You can also chill the container first if you have room in your fridge.
If you really want to run with the Halloween theme, you can look for a cauldron-shaped punch bowl! I've seen them online and I think they would look amazing on a party table.
How to Make this Halloween Punch Recipe
Start with chilled soda and juice. No one likes a room-temperature party punch!
Pour the Sprite and pineapple juice into a punch bowl or a pitcher and stir gently. Once or twice should do it so you don't lose any of the bubbles in the soda.
Scoop the sherbet into the bowl just before serving.
Expert Tips
Prepare your punch on the serving table so you don't have to carry the bowl or pitcher anywhere once it's ready. If you're anything like me, half of the ingredients would be sloshed on the floor by the time I made it to the table!
Taste as you go. You can add as little or as much of any of the ingredients until you get your perfect Halloween punch.
If you're adding ice to chill the punch, add it to individual cups instead of the punch bowl so it doesn't water down the entire bowl.
To continue with the Halloween punch theme, if you can find plastic eyeballs, add them to your punch bowl!
Have some extra soda, juice, and sherbet on hand so you can refresh the punch as needed. It usually goes pretty quickly in my experience!
5 star review
"Such a great recipe – the kids helped make it because it was so easy!'

– Rebecca
How to Serve it
You can serve this Halloween punch with orange sherbet in a pitcher or a bowl, and it will taste super delicious. To play up the Halloween theme here are a few more suggestions for how you can serve your punch. Party guests of all ages will love it!
Hang gummy worms on the sides of the cups for a wiggly treat
Grab some ghoulish cups from the party store (like plastic goblets or glow-in-the-dark cups)
Add a squirt of grenadine or pomegranate syrup around the bowl to look like drops of blood. Spooky!
Float a couple of candy eyeballs in each cup. Your punch will be staring back at you!
Add blood orange slices to the punch bowl.
Recipe FAQs
How far in advance can you make Halloween punch with sherbet?
You can stir the soda and juice together an hour or so ahead and keep it in the fridge to chill until you're ready to serve the punch. Remember that the bubbles will disappear over time so the earlier you do it, the less fizzy your punch will be.

You can also add scoops of sherbet to a parchment-lined baking sheet and freeze them until you need them. Only add the sherbet right before serving.
Does sherbet contain dairy?
Yes, sherbet usually contains dairy although less than ice cream does. Sherbet gets most of its flavor from fruit juice or fruit purée.
Can I substitute the sherbet for something else?
Sure! If you're avoiding dairy, then you could give frozen fruit sorbet a try.
Can you store leftover punch?
This Halloween punch is best enjoyed on the day you make it! I probably wouldn't store the punch once I've added the sherbet to it. It doesn't really keep well as the soda loses its fizz after a bit and the sherbet melts. If you do want to store it, make sure you keep it cold in the fridge.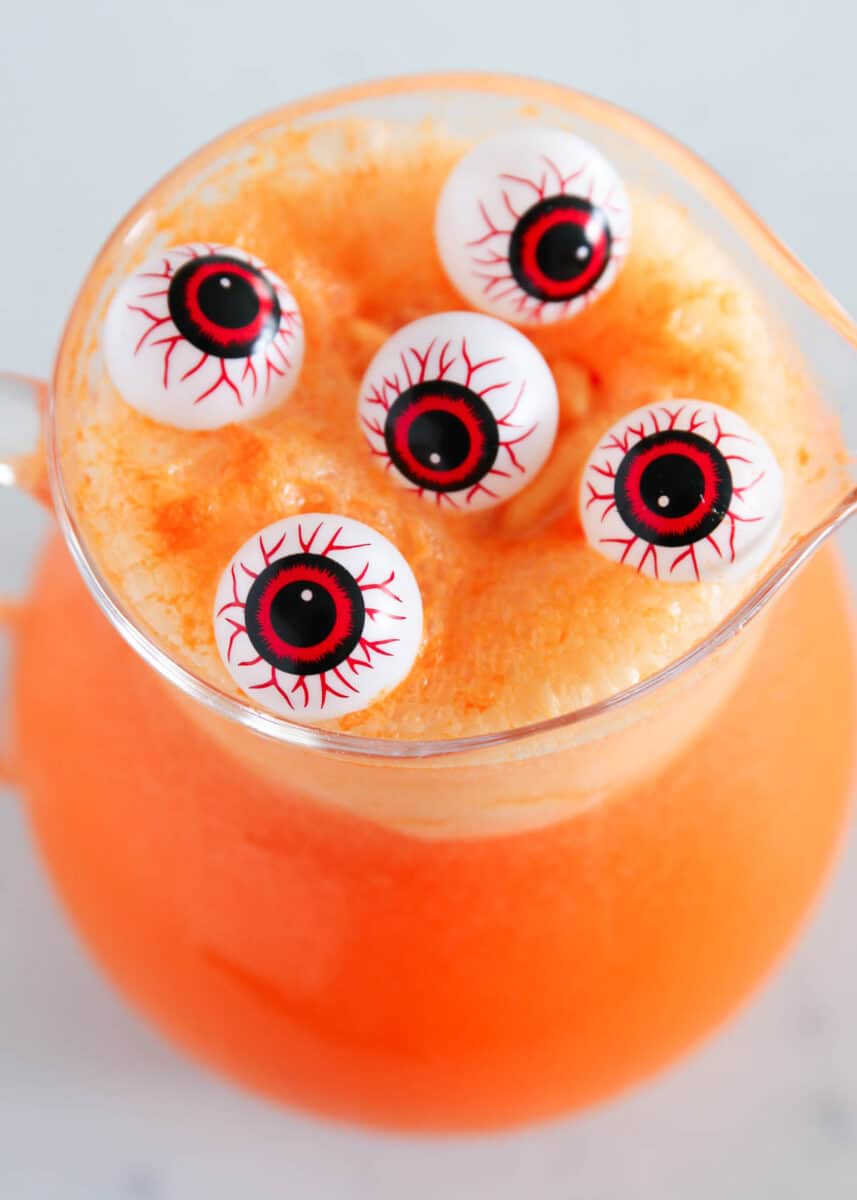 HUNGRY FOR MORE? Subscribe to my newsletter and follow on Facebook, Pinterest and Instagram for all the newest recipes!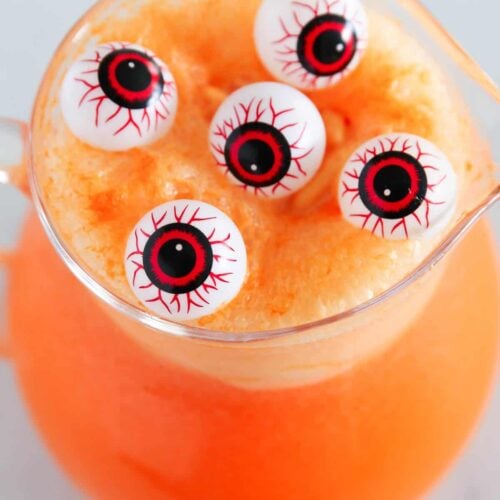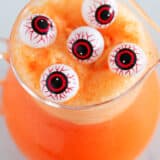 Halloween Punch
If you're planning a spooky party, this 3-ingredient Halloween punch with orange sherbet is a must! Scoops of sherbet float on this fizzy punch and the vivid orange color are just perfect for the trick-or-treating season!
Ingredients
1 (2-liter) bottle Sprite or Orange Soda , chilled
1 cup pineapple juice , chilled
1 pint orange sherbet
Optional decoration: Plastic eyeballs
Instructions
In a punch bowl or pitcher, stir together the Sprite and pineapple juice. Scoop the sherbet into the bowl just before serving.

Place plastic eyeballs or other decoration on top, if desired. Serve immediately.
---
Notes
Make-ahead: Stir the Sprite and pineapple juice together and chill. Add the sherbet right before serving.
Nutrition
Serving: 8ounces | Calories: 135kcal | Carbohydrates: 32g | Protein: 1g | Fat: 1g | Saturated Fat: 0.5g | Polyunsaturated Fat: 0.04g | Monounsaturated Fat: 0.2g | Cholesterol: 0.4mg | Sodium: 35mg | Potassium: 65mg | Fiber: 1g | Sugar: 28g | Vitamin A: 19IU | Vitamin C: 3mg | Calcium: 27mg | Iron: 0.1mg
Nutrition provided is an estimate. It will vary based on specific ingredients used.
Did you make this recipe? Don't forget to give it a star rating below!