Make the easiest Instant Pot steel cut oats for a hearty, wholesome and delicious start to your day. Prep them ahead or in the morning, either way, the Instant Pot does all of the work!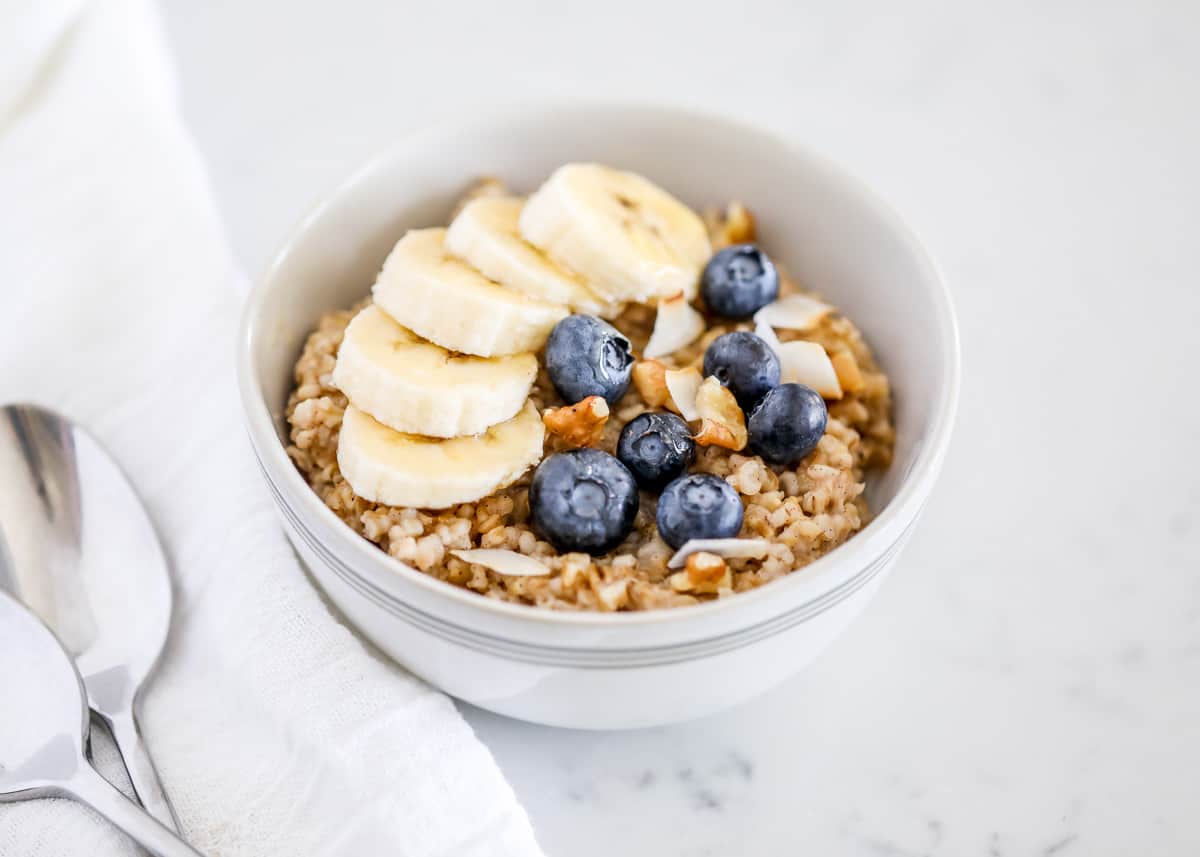 A Quick and Healthy Breakfast
Making steel cut oats in the Instant Pot cuts down the stovetop cook time by a lot! If you've never tried steel cut oats allow me to introduce you to your new favorite way to eat a quick, healthy, and satisfying breakfast any day of the week. If your kids love a big oatmeal bowl as much as mine do, they'll love this recipe! It's a bonus knowing you'll be sending them off to school full of blood sugar balancing, high protein nutrients!
They're much heartier than old-fashioned rolled oats, they've got a bite to them, have a deeper earthier taste, and are overall less processed. Plus, making a big batch at a time is a budget-friendly way of batch cooking and meal prepping overnight oats. Of course, with the magic of the Instant Pot, you can set it up at night and set the timer to start cooking them early in the morning so they're all done for you by the time you wake up.
This easy, foolproof guide on how to cook steel cut oats in Instant Pot will open your eyes to the fact that once you know how to use the Instant Pot in the first place, there's a whole new recipe world out there for more than just dinner!
Recipe Ingredients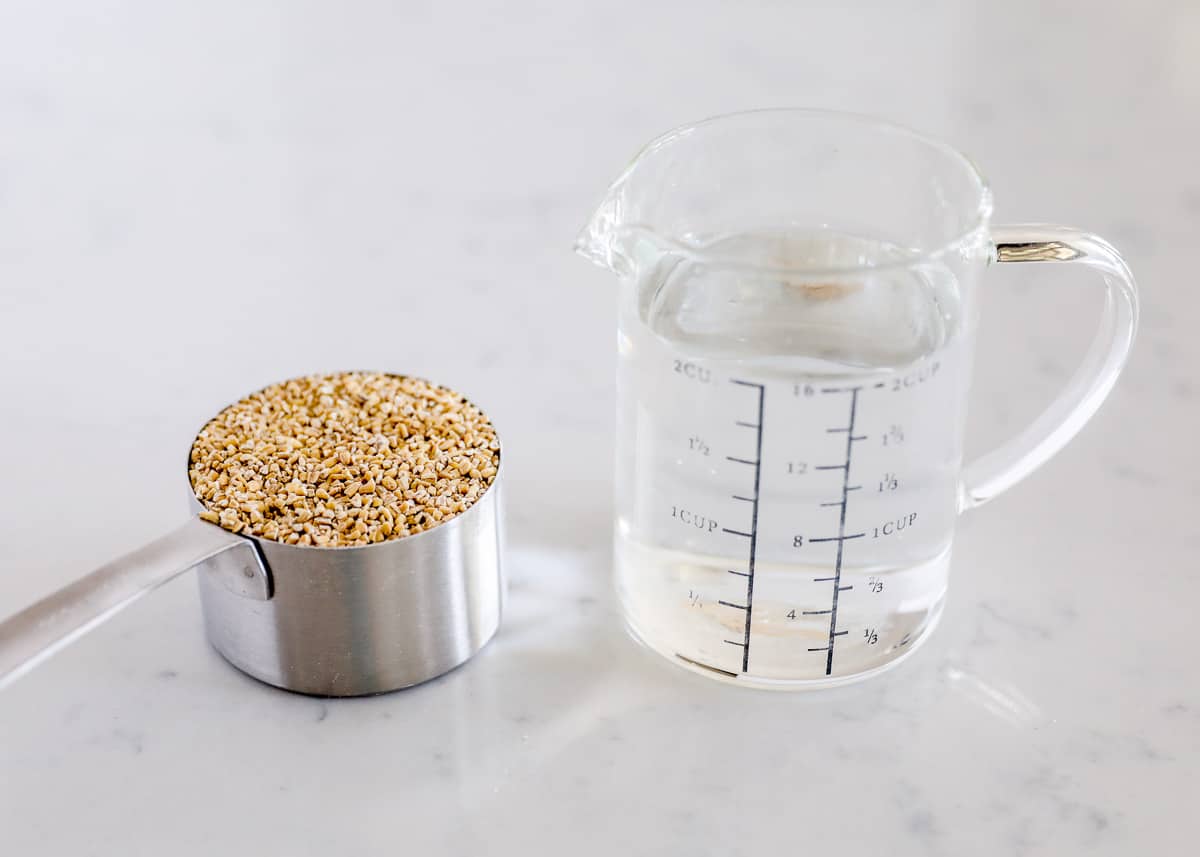 Find the full printable recipe with specific measurements below.
Steel Cut Oats: This hearty grain is ideal for the Instant Pot because it typically takes a long time to cook.
Water: The oats need the liquid to cook properly.
Cinnamon: The perfect spice for any morning meal.
Salt: Just a little bit helps enhance the flavor and the oats cook.
Optional Add-ins
You can season these exactly the way you would rolled oats. A bit of cinnamon and maybe a pinch of nutmeg, and drizzle with a bit of maple syrup or honey. I like to add some chia, flax, and hemp hearts for extra fiber and protein and some fresh berries for added sweetness.
Nutmeg
Vanilla
Almond milk (or really any milk!)
Berries
Sliced bananas
Chia seeds
Flax seeds
Hemp seeds
Cacao nibs
Chocolate chips
Pumpkin seeds
A dollop of nut butter
Raisins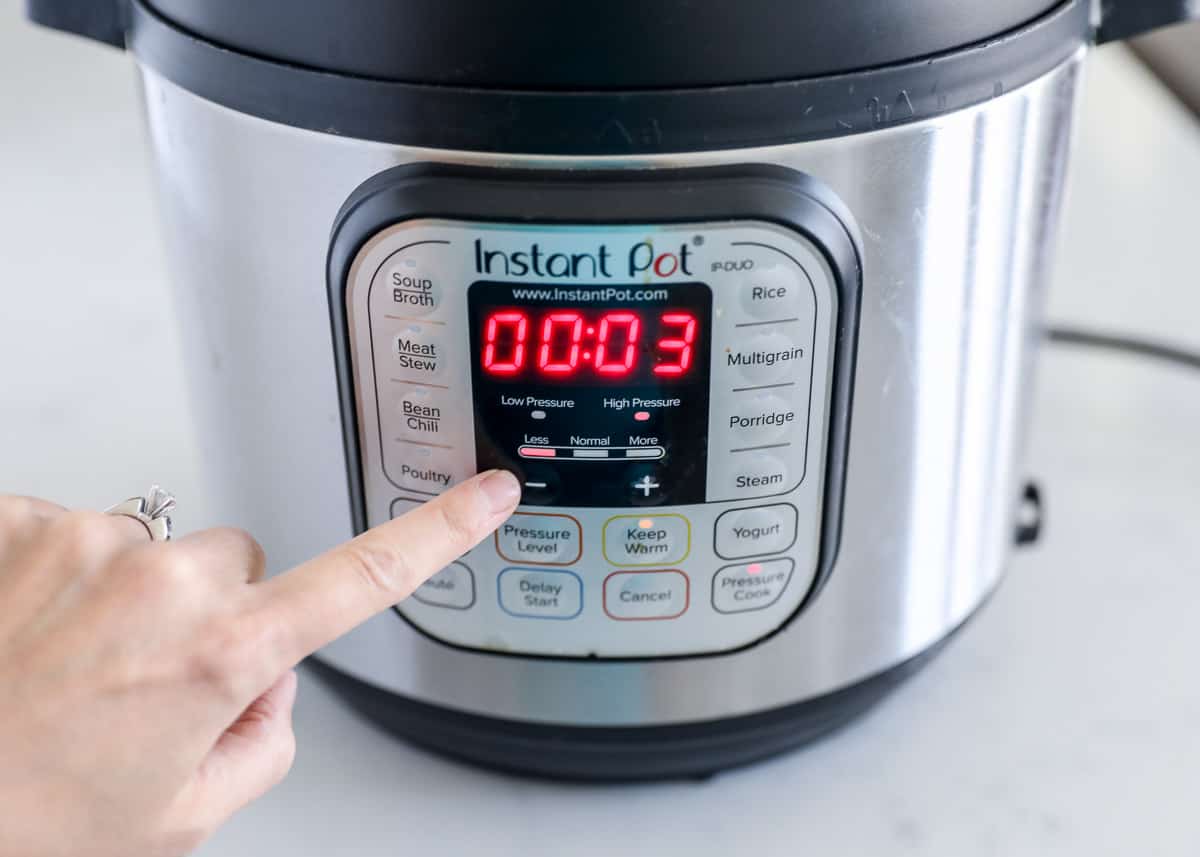 Steel Cut Oats vs Rolled Oats
They both start off as the same whole grain (the groat). It's the different processing methods they go through that allow them to result in a different looking and tasting oat with slightly different nutritional values. Steel cut oats go through less processing, therefore they more closely resemble their original form. This also means they haven't lost as much of their nutritional value. Both types are high in fiber, protein, and low in fat and come with a slew of other vitamins and minerals, the rolled oat has lost more of it.
At first glance, steel cut oats look a bit like quinoa, but when cooked become less grainy and slightly softer. If you've ever cooked either one, you'll know that the rolled oats are much quicker to cook than steel cut. That is why I love using the Instant Pot which cuts the cooking time down to just 3 minutes!
How to Make Steel Cut Oats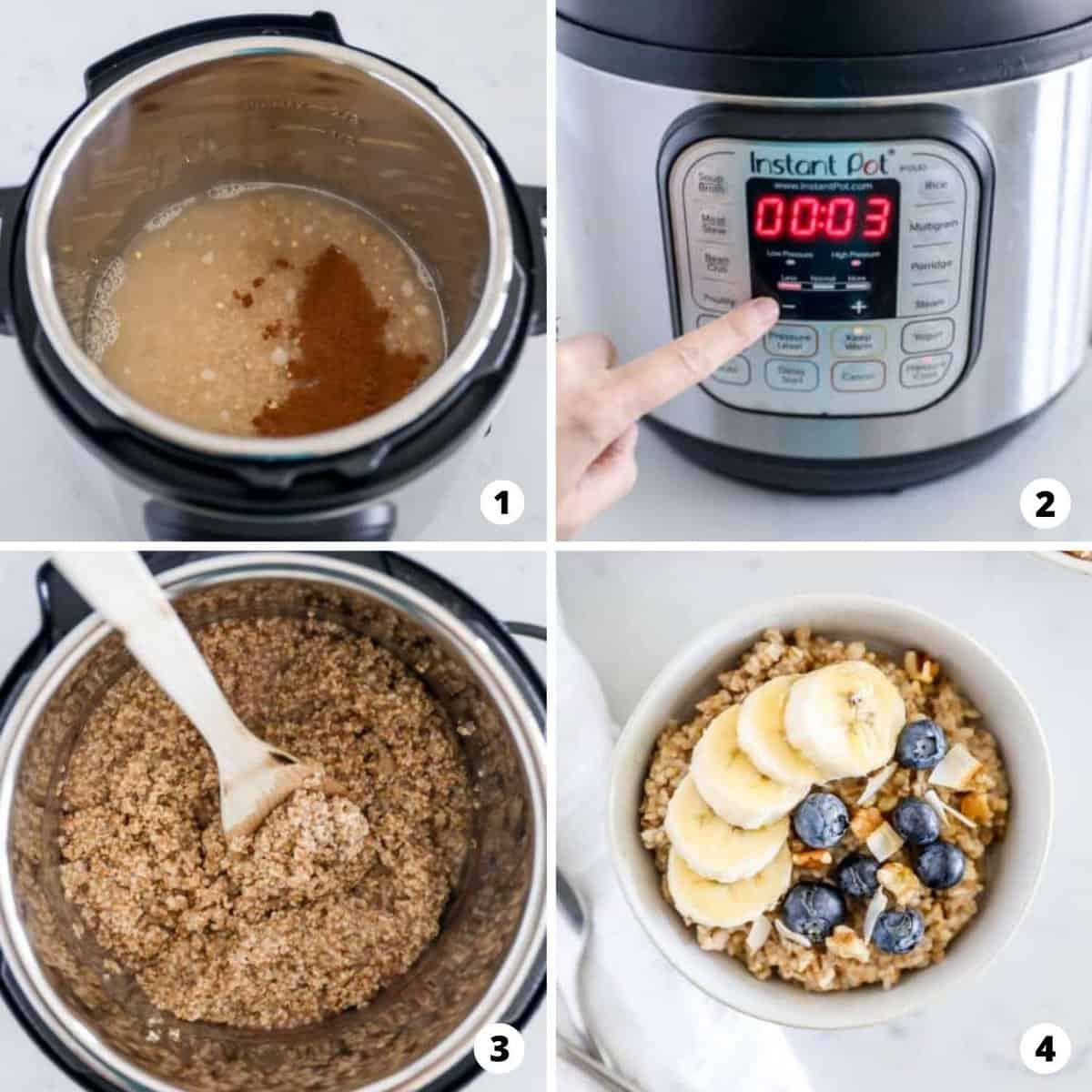 Combine. Add all the ingredients into a 6-quart instant pot. Stir together.
Instant Pot. Set the instant pot cook time for 3 minutes on high pressure. Place the lid on top and seal the pressure valve.
Stir. Using a spoon or spatula, stir together the oats and water. As you stir the oats will thicken up. Add in any more cinnamon, honey, or brown sugar for a sweeter taste.
Serve. Scoop the oats into a bowl and add any desired toppings. Serve it warm or cold.
Tips
Sweeter version: If you prefer your oats a little sweeter, add 2-3 Tablespoons of honey maple syrup, or brown sugar into the pot before cooking. If you decide you want them sweeter after they've finished cooking, just drizzle some overtop before serving.
Serving: This recipe makes 3 1/2 cups of cooked oats. You can double the recipe and keep the cooking time the same for an even bigger batch.
Timing: Although the cooking time is 3 minutes, it does take time for the pot to come to pressure. It's totally hands-off, but keep that in mind on busy mornings. You can always set the timer for when you need them to be ready.
Avoid the other button: If your Instant Pot has a button with "porridge" on it, avoid using it. It's meant for quick-cooking rolled oats.
Keep warm: Steel cut oats in Instant Pot can stay there for a while on the warm function. If you've made them and your family is still asleep or you think you'll want to have some more, later on, keep them warm until you're ready to eat. Then, transfer any leftovers to the fridge.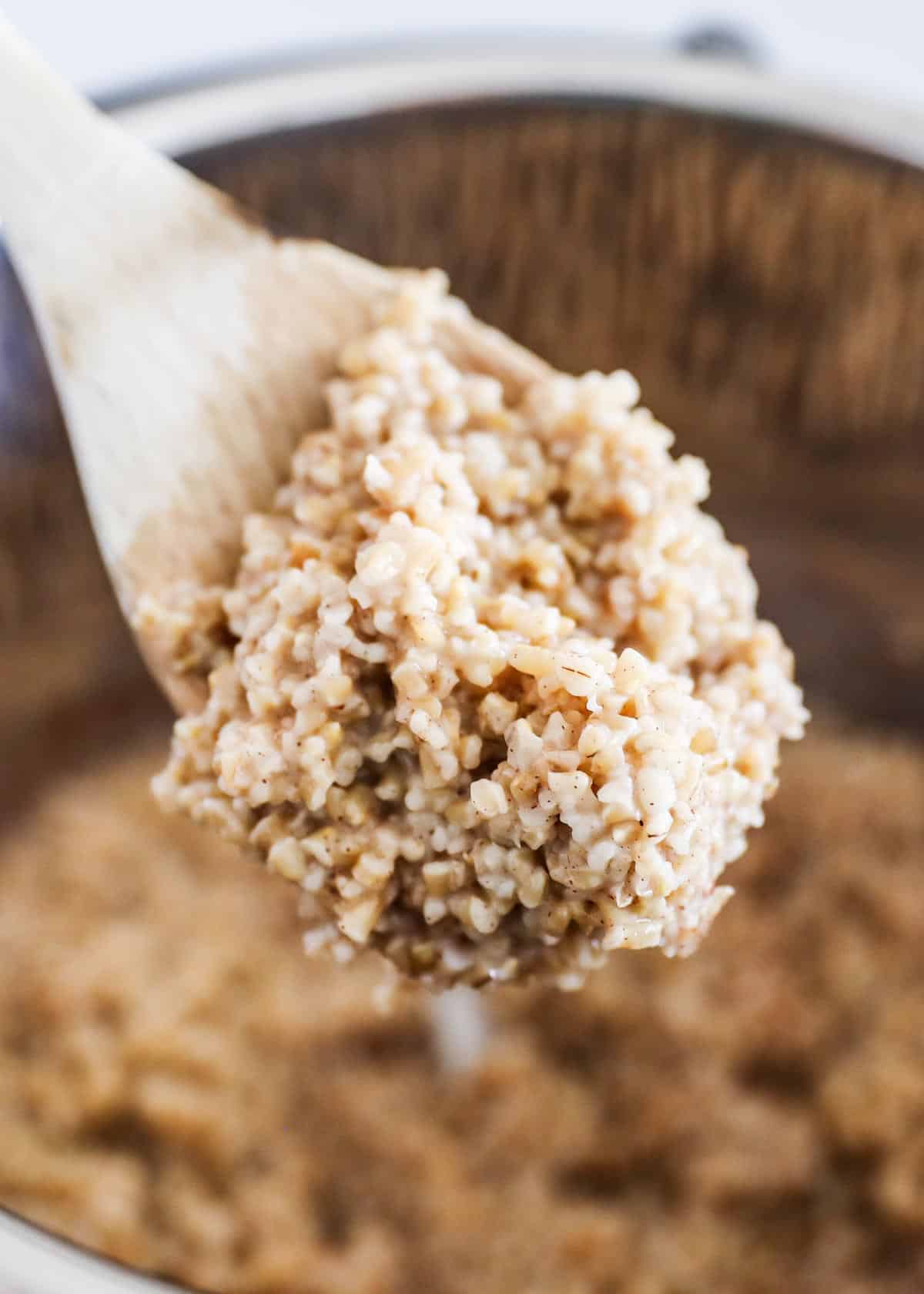 Recipe FAQs
Do I need to soak the oats ahead of time?
Technically you don't need to soak the oats ahead of time, but you certainly can. Some people find it helps with digestion and provides a softer creamier texture. To do this, add the water and the oats to the pot about 6-12 hours ahead of time, and cover with the lid. That's it! You can then drain and use new water or cook right from there.
Why is my oatmeal sticking to the pot?
If you let the oatmeal sit in the pot on the "keep warm" setting, it might start to stick. I suggest transferring the oatmeal as soon as it is cooked.
Storing, Freezing, & Reheating
Make ahead/meal prep: Store leftovers in an airtight container for up to a week. When preparing for the week ahead, portion them out in individual containers. That way you'll be able to grab exactly what you need each morning.
Freezing: In an airtight container, you can keep these oats frozen for up to 3 months.
Reheating: Thaw in the fridge overnight if frozen. Reheat on the stovetop on low until heated through. You'll probably find you need to add a splash of milk to help the consistency and get it a little creamier.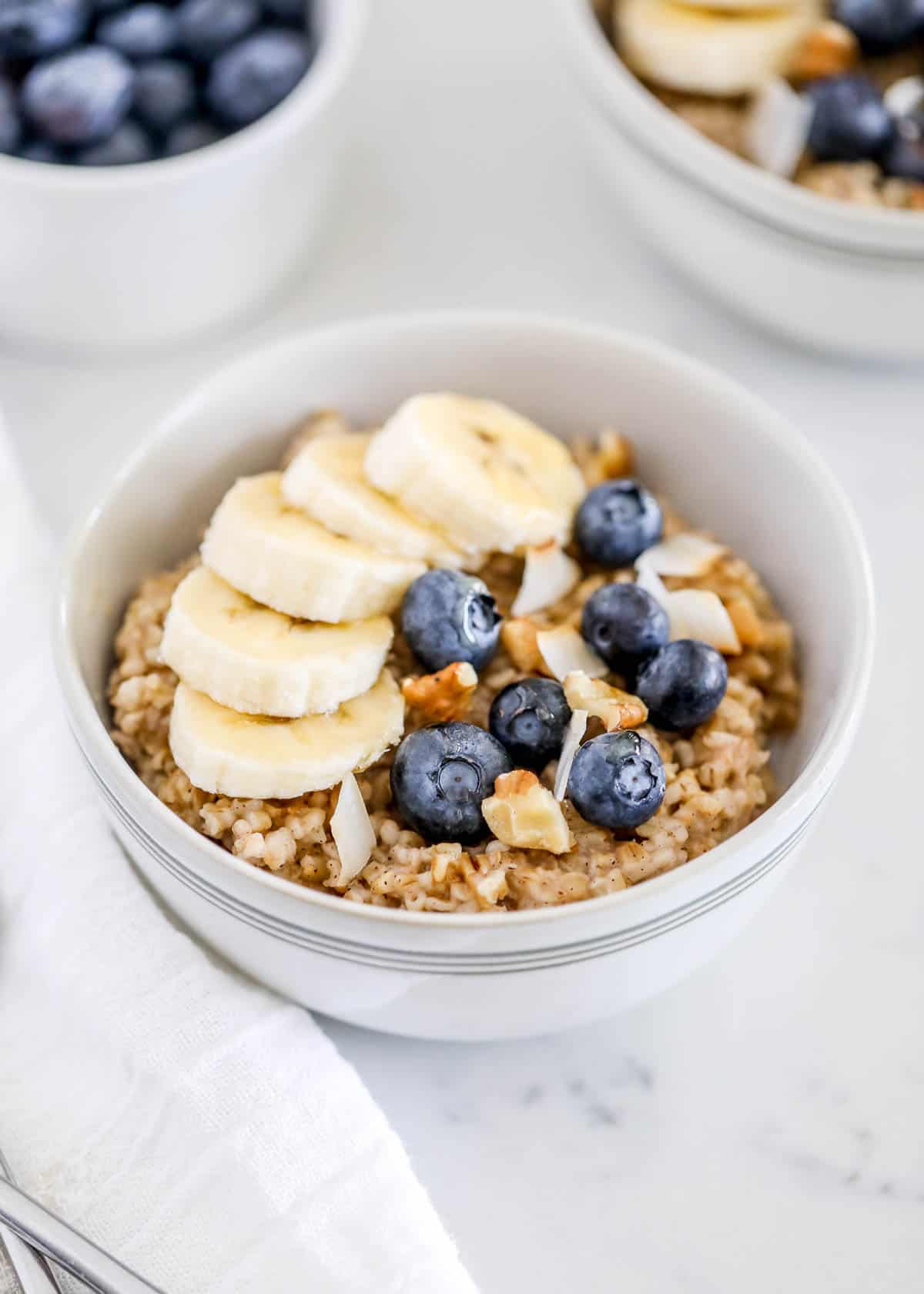 HUNGRY FOR MORE? Subscribe to my newsletter and follow on Facebook, Pinterest and Instagram for all the newest recipes!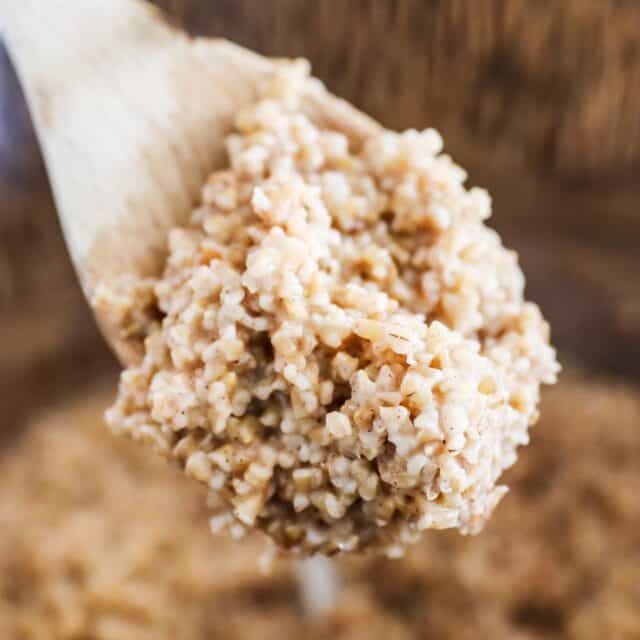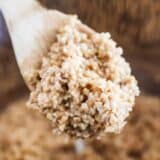 Instant Pot Steel Cut Oats
Make the easiest Instant Pot steel cut oats for a hearty, wholesome and delicious start to your day. Prep them ahead or in the morning, either way, the Instant Pot does all of the work!
Ingredients
1 ½ cups steel cut oats
3 cups water
½ teaspoon fine sea salt
½ teaspoon ground cinnamon
Optional mix-in's: 2 Tablespoons chia seeds, ground flax seeds, hemp hearts, honey, maple syrup, or brown sugar
Optional toppings: Fresh or dried fruit, nuts, nut butter, coconut, chia seeds, honey, Greek yogurt, or a splash of milk
Instructions
In an Instant Pot (I use a 6-quart), stir together the oats, water, salt ,and cinnamon Add in any desired-mix in's.

Place the lid on the Instant Pot and seal the pressure valve. Press the Pressure Cook button and set the cook time for 3 minutes on High pressure. It will take about 15 minutes to reach pressure. When the pot beeps, allow it to naturally release for 10 minutes. Turn the valve to vent with hot pads and remove the lid.

Stir the oats to mix in any of the water that has not evaporated. The oats will thicken as you stir them. Taste and add in more cinnamon, honey, or brown sugar, if desired.

Place in serving bowls or meal prep containers. Add any desired toppings. Serve warm or cold.
---
Notes
Soaking oats: If you prefer to soak your oats, add the oats and water to the pot (and cover with a lid) 6 to 12 hours before cooking. Soaking will improve digestibility and the oats will be creamier. Sweeter oats: If you prefer sweeter oats, I recommend adding 2 to 3 Tablespoons of honey, maple syrup, or brown sugar into the pot before cooking. Meal prep: These cooked oats can be stored in a covered container in the refrigerator up to 1 week. Serving: This recipes makes 3 1/2 cups cooked oats. One serving is a little more than 1/2 cup of cooked oats.
Nutrition
Serving: 0.6cup | Calories: 155kcal | Carbohydrates: 27g | Protein: 6g | Fat: 3g | Saturated Fat: 0.4g | Sodium: 200mg | Potassium: 1mg | Fiber: 4g | Sugar: 0.003g | Vitamin A: 0.5IU | Vitamin C: 0.01mg | Calcium: 25mg | Iron: 2mg
Nutrition provided is an estimate. It will vary based on specific ingredients used.
Did you make this recipe? Don't forget to give it a star rating below!