Recipe for cheesy potatoes
Thanks for stopping by! To get the newest recipes subscribe or join us on facebook or pinterest.
Oh my gosh! If you're looking for a recipe for cheesy potatoes for your Christmas dinner… I've got your back! These cheesy potatoes are to die for! We have them every holiday and they are always a HUGE hit! They are my Mom's specialty…and a recipe passed down from my Grandma. I made them for a church event a few weeks ago and had to call her for the recipe. Of course, now I have to share them with you. Most of the cheesy potato casseroles I have seen call for cream of soup… NOT this one. Sour cream, butter and cheese… what else could potatoes need? ;)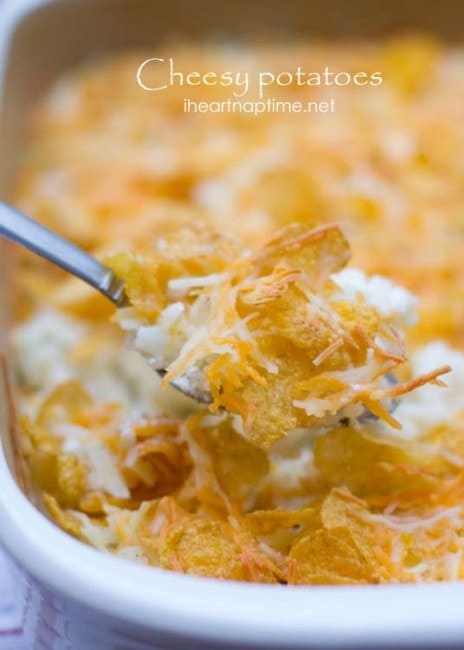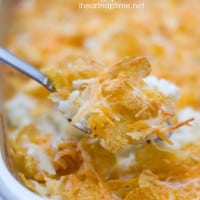 Recipe for cheesy potatoes
Ingredients:
1 (30 oz) bag Ore Ida hash browns (country style shredded potatoes) -Leave them out an hour before to thaw
1 bunch green onions chopped (about 1/4 cup)
16 oz sour cream
1 tsp kosher salt
1/2 tsp pepper
1/4 cup melted butter
2 cups cheddar cheese (shredded)
1/2 cup cornflakes
Directions:
1. Pre-heat oven to 350. In a medium sized bowl combine: potatoes, green onions, sour cream, salt, pepper, melted butter and 1 cup of cheese. Stir until combined. Then spread into a 9x13 greased baking dish. Top with corn flakes and remaining shredded cheese. Bake at 350 for 30 minutes.

MY OTHER RECIPES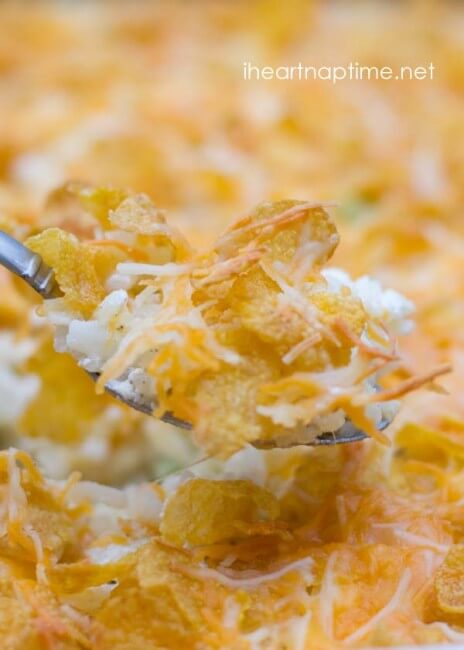 Enjoy!!
If you liked this recipe… you'll love these:
Join in! Leave a comment!
Comments