These cheesy mashed potatoes are light and fluffy yet baked and creamy! Topped with a melted golden cheesy topping, this is the perfect easy side dish to add to your holiday menu!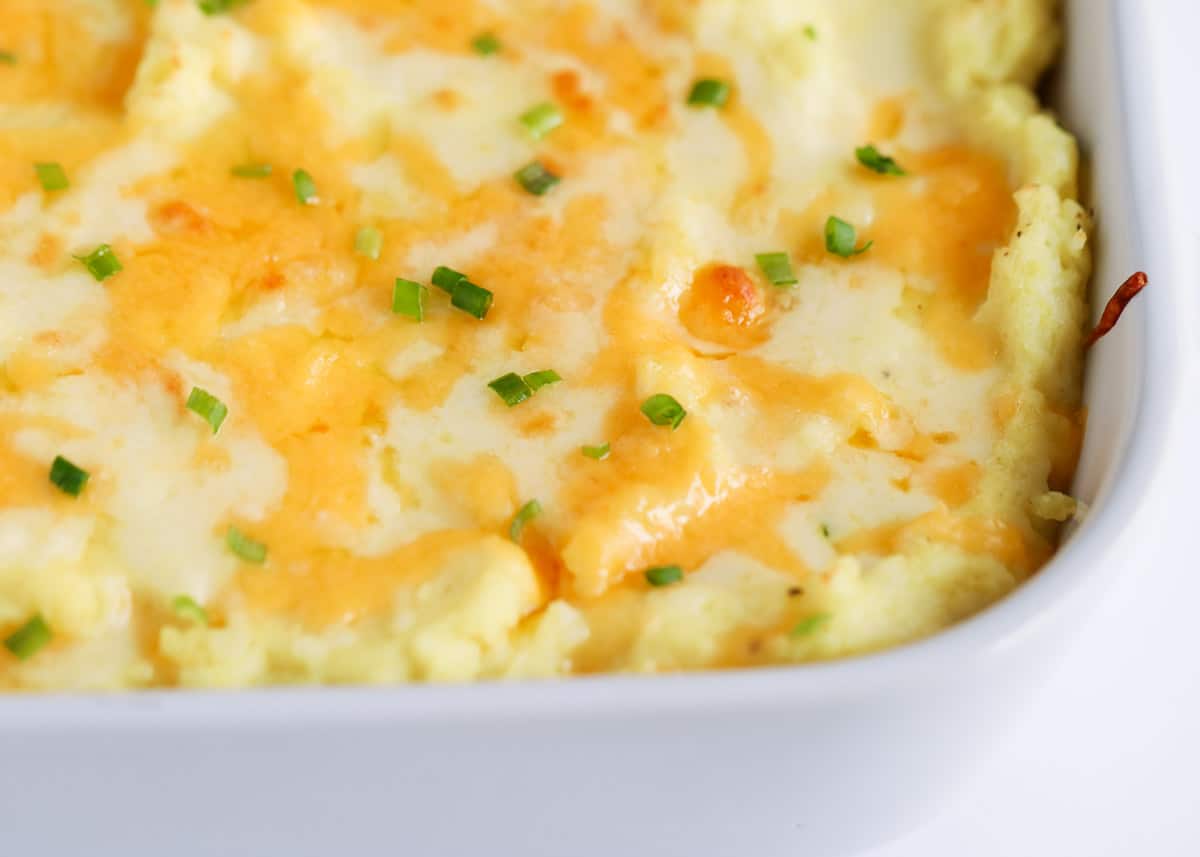 Easy Mashed Potatoes with Cheese
This year jazz up your Thanksgiving menu or Christmas dinner with an elevated version of everyone's favorite mashed potatoes! This cheesy mashed potatoes recipe is always a hit, alongside my best twice baked potatoes and is sure to be a crowd-pleaser with your crew!
This dish is a cross between my creamy mashed potatoes and my cheesy potatoes. They're made by taking the extra step of adding delicious shredded cheese to the top and baking them as you would a casserole until the cheese is golden and melty.
Mashed potatoes are such a classic comfort dish for any main meal it's hard to pick what it pairs best with! I know for our family, we love it as a Thanksgiving side dish just as much as we love it alongside grilled chicken or steak!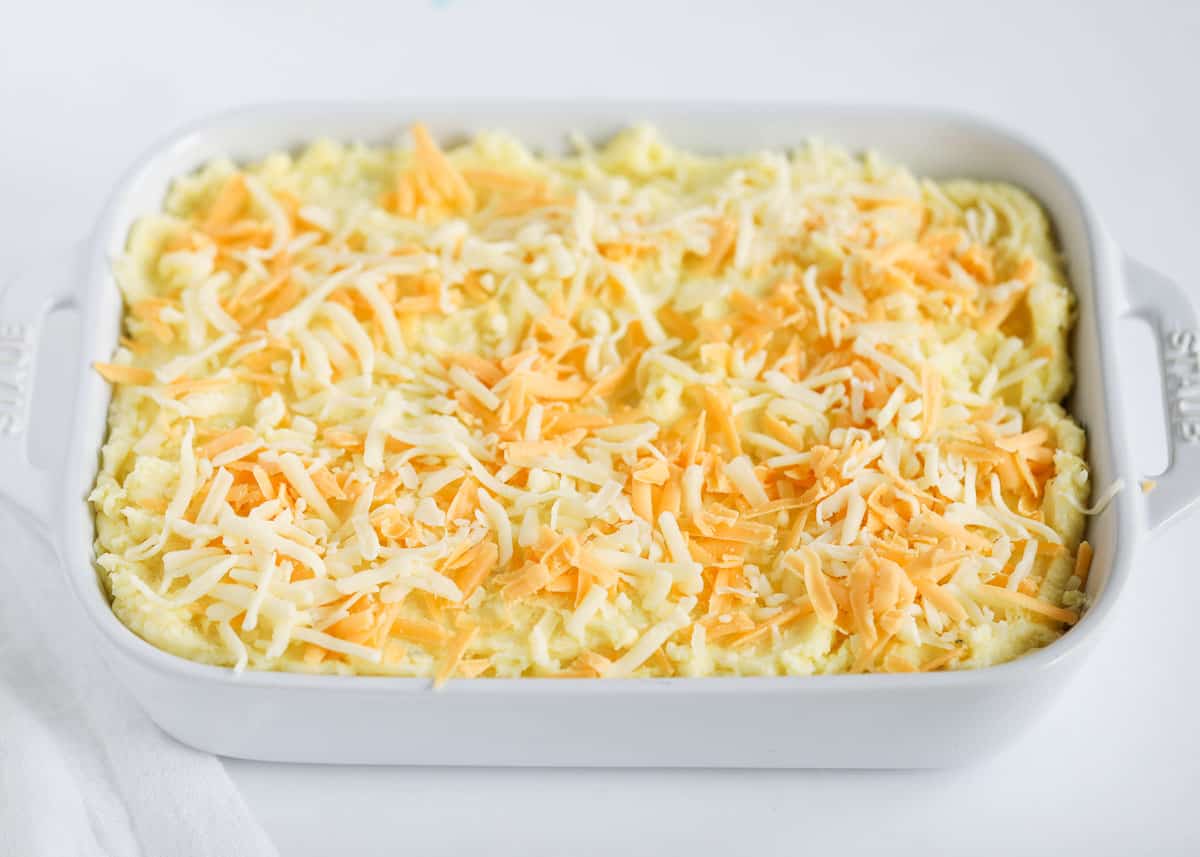 Best Potatoes to Use for Mashed?
I prefer a combination of russet and Yukon Gold. Russets have a higher starch content which results in light and fluffy texture but the slightly waxier Yukon Gold provides added creaminess. So, to get the best of both worlds, I use both!
Tips for Cooking Cheesy Mashed Potatoes
Make these cheesy mashed potatoes just the way you like them! These sweet and simple tips will help you create the best mashed potatoes with cheese. You can even make it in a slow cooker using this cheesy potatoes recipe.
Avoid gluey mashed potatoes: Make sure you don't overcook the potatoes. Also, make sure to not over-mash them.
Add butter, milk, and cream cheese at room temperature. If you add them while they're cold, this makes it harder for the potatoes to absorb.
Make sure to add the potatoes to the water before it comes to a boil, not after. This will help shorten the cooking time.
For a creamier texture, add a bit more heavy cream as you're mashing.
Avoid pre-shredded cheese, if possible. Freshly grated will melt better and give it a better quality taste.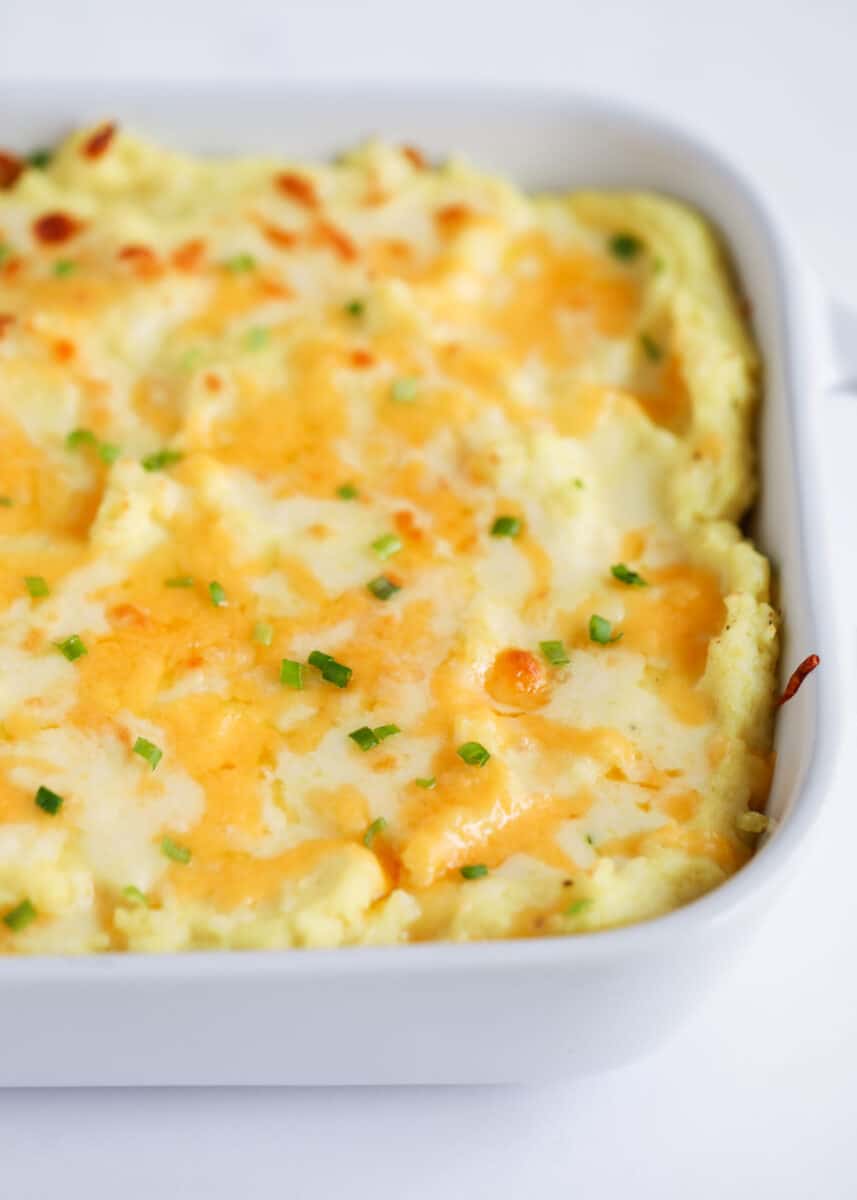 Make Ahead Instructions
Make these mashed potatoes with cheese the day before by assembling until just before adding the cheese. Cover tightly and keep stored in the fridge until you're ready to bake. Swirl in a bit of warm milk and sprinkle with cheese. Bake for an additional 15-20 minutes and remove foil cover for the last 15 minutes.
Storage + Reheating
Store leftovers in an airtight container in the fridge for up to 3 days. Reheat in the oven or microwave until warm. You can even broil the potatoes in the oven for a minute or two, so that the top cheesy layer gets golden and delicious.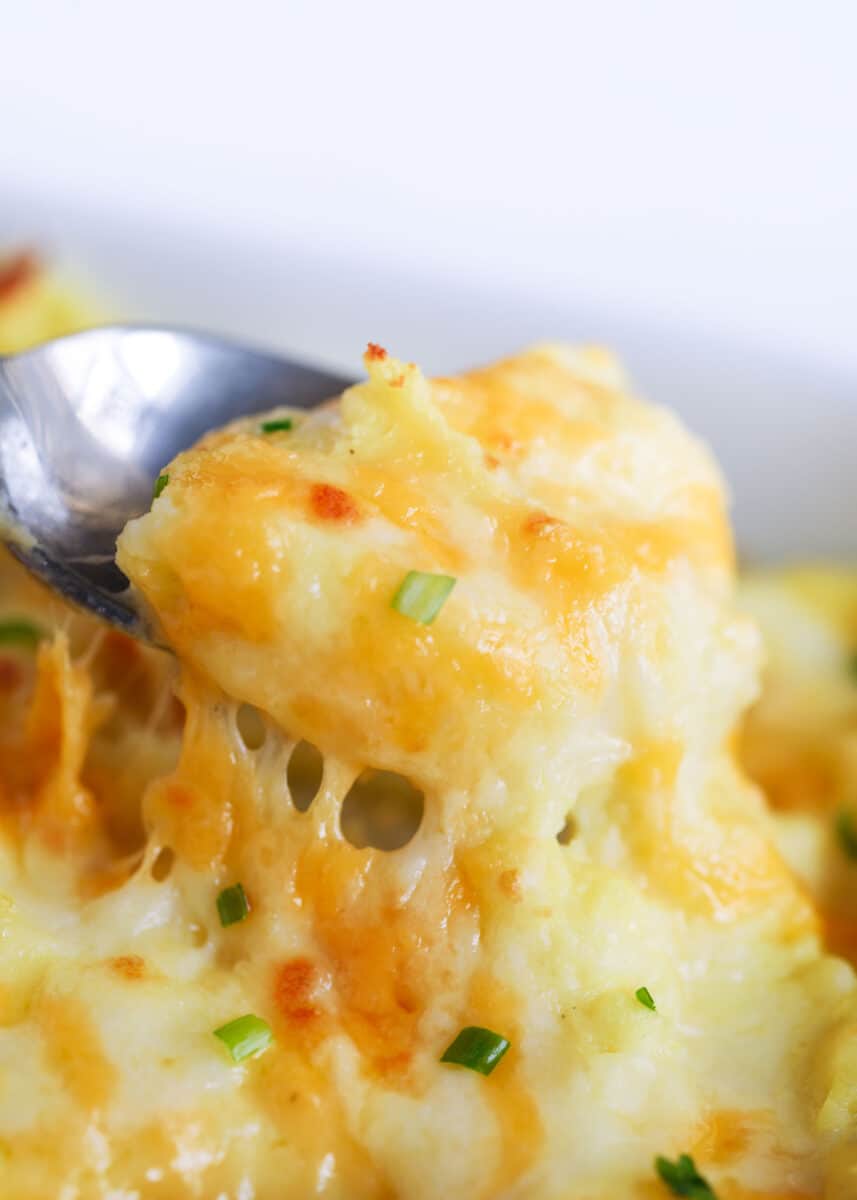 More Delicious Side Dishes:
HUNGRY FOR MORE? Subscribe to my newsletter and follow on Facebook, Pinterest and Instagram for all the newest recipes!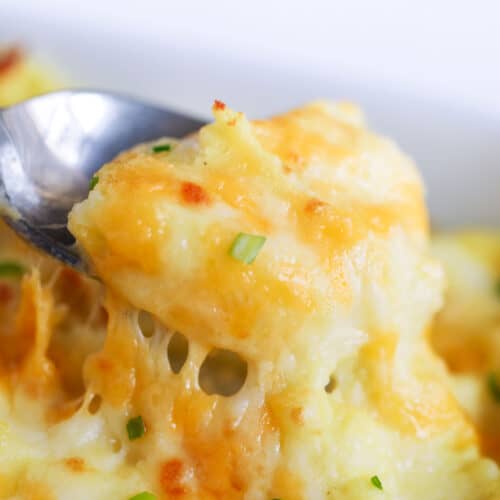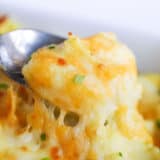 Cheesy Mashed Potatoes
These cheesy mashed potatoes are light and fluffy yet baked and creamy! Topped with a melted golden cheesy topping, this is the perfect easy side dish to add to your holiday menu!
Ingredients
2.5 pounds potatoes , washed and peeled
¼ cup milk , or heavy cream
4 Tablespoons salted butter , more or less to taste
3 ounces cream cheese , softened
1 teaspoon Kosher salt , more for boling
¼ teaspoon pepper , more to taste
½ cup shredded cheddar cheese , more if desired
½ cup shredded mozzarella cheese , more if desired
chopped chives
Instructions
Fill a large pot of water and add 1 Tablespoon salt. Cut potatoes into 2-inch pieces. Set out the milk, butter and cream cheese to come to room temperature.

Place potatoes in the pot and then bring to a boil. Cook for 15 to 20 minutes, or until a fork inserts easily. Be careful not to overcook. Drain and place back in pan. Let steam evaporate.

Add butter, cream cheese, milk or heavy cream, salt and pepper. Mash with a potato masher. If you want them extra creamy, use an electric mixer for 10 seconds (be careful not to over mix or they'll taste gluey). Add a Tablespoon or two more heavy creamy if you'd like them even creamier. Salt and pepper to taste.

If you'd like them extra cheesy, mix 1/2 cup cheese into the potatoes. Then spread into a 4×8" baking dish. Top with shredded cheese. Bake for 15 to 20 minutes or until cheese is bubbly. You can also broil 1 to 2 minutes (watch carefully).

Top potatoes with chives. Serve while warm.
---
Notes
Potatoes: I like to use a mix of russet and Yukon gold for best flavor. Make ahead: This dish can be made the day before baking. Wrap with foil and place in the refrigerator. I like to leave the cheese off until baking and then stir in a couple Tablespoons of warm milk. Then add an additional 15 to 20 minutes of baking. Remove foil the last 15 minutes of cooking. Storage: Store leftovers in a covered container for up to 3 days.
Nutrition
Calories: 236kcal | Carbohydrates: 26g | Protein: 7g | Fat: 12g | Saturated Fat: 7g | Polyunsaturated Fat: 1g | Monounsaturated Fat: 3g | Trans Fat: 1g | Cholesterol: 36mg | Sodium: 171mg | Potassium: 637mg | Fiber: 3g | Sugar: 2g | Vitamin A: 410IU | Vitamin C: 28mg | Calcium: 124mg | Iron: 1mg
Nutrition provided is an estimate. It will vary based on specific ingredients used.
Did you make this recipe? Don't forget to give it a star rating below!