Layers of thinly sliced potatoes smothered in a cheesy cream sauce topped with an extra layer of cheese, and baked until golden and bubbly. Classic potatoes au gratin is made with humble ingredients, can be made ahead, and is a budget-friendly way to feed a crowd!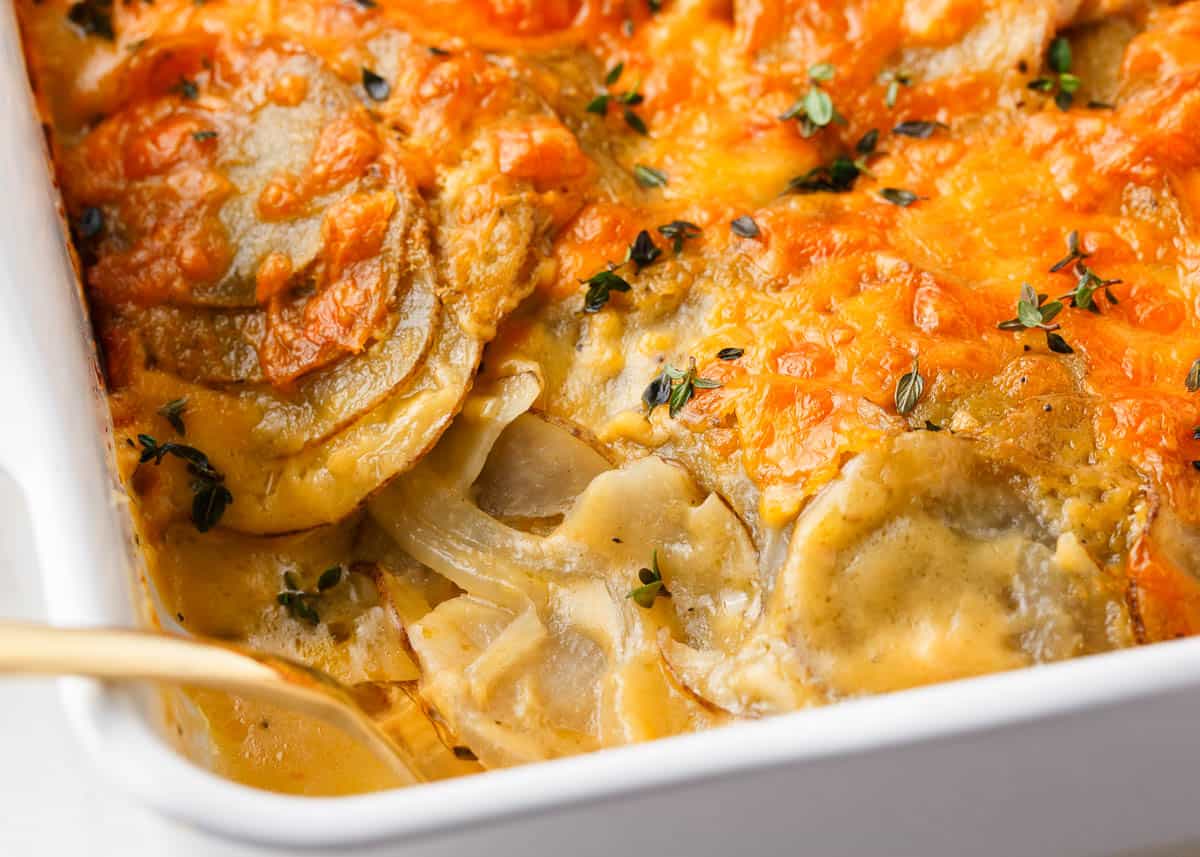 A Classic Potato Side Dish
Potatoes au gratin may sound very french and fancy, but lucky for us home cooks, they're so easy to make and very similar to my scalloped potatoes. As impressive as a dish of baked cheesy au gratin potatoes may appear, they couldn't be any more comforting!
It's a family favorite around the holidays served with everything from pork tenderloin and beef tenderloin to a classic baked ham. If we're not having mashed potatoes or making the perfect baked potato for dinner, easy au gratin potatoes are definitely on the menu.
Scalloped Potatoes vs. Potatoes Au Gratin
The two are very similar, so much so that many of us wouldn't bat an eye if this dish was called scalloped potatoes au gratin!
Both are made with thinly sliced potatoes (although scalloped potatoes are sliced a bit thicker) but the main difference is in the use of cheese. Scalloped potatoes are smothered in milk or heavy cream and herbs, whereas the white sauce in potatoes au gratin also contains melted cheese and I also include onions.
I've got cheesy scalloped potatoes and ham recipe and scalloped sweet potatoes on the blog, so I'm definitely one of the ones who use the terms interchangeably, and you know what? My homemade au gratin potatoes are a hit no matter what!
Recipe Ingredients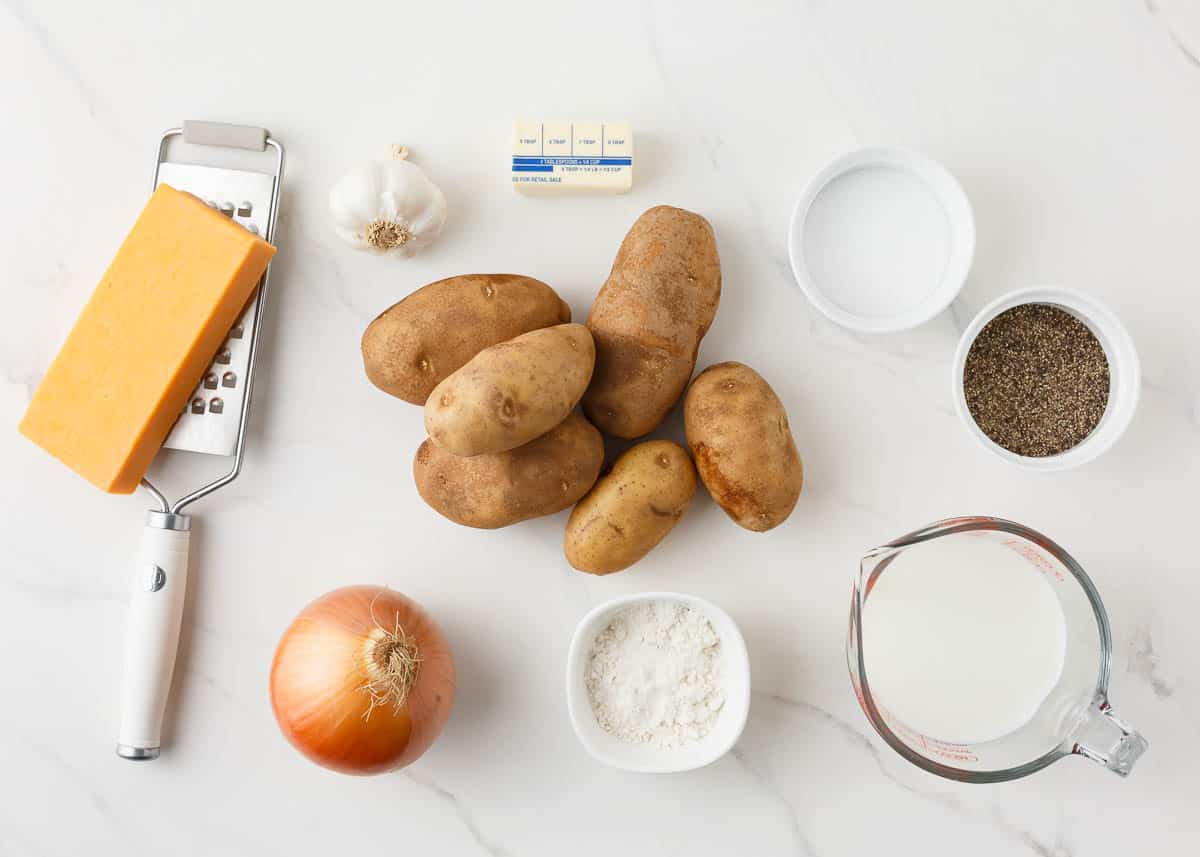 Find the full printable recipe with specific measurements below.
Potatoes: I use about 2 lbs of potatoes which fit into an 8×8 or 7×10 casserole dish that will serve approximately 8 people. Thinly slice them to about 1/8 inch and it's up to you whether you peel them or not. I don't peel mine.
Onions: Sliced into rings. These will soften in the cream sauce as they bake, releasing their natural sweetness and adding loads of flavor and texture to this dish. These could be left off if you don't love them.
For the roux: Butter, garlic, and all-purpose flour come together to make a paste which will help to thicken the milk. Use unsalted butter if preferred and control the amount of added salt.
Seasoning: Salt & pepper are all you need!
Milk: Use any milk you have on hand. Some people prefer to use heavy cream, half and half, or whole milk. Whatever you have will work, but keep in mind the more fat it contains, the richer and creamier the sauce will be.
Shredded cheddar cheese: Freshly grated sharp cheddar cheese will add a delicious flavor, a sharpness, as well as melty gooey goodness.
Variations
There are a few ways to tweak this recipe for different taste buds. Try adding some fresh herbs to the creamy sauce mixture such as thyme or rosemary.
You can also swap the kind of cheese you use from cheddar to Gruyere or a combination of both. Finally, sprinkle on some Panko breadcrumbs or regular breadcrumbs overtop the cheese for an extra crispy crust.
Best Kind of Potatoes for Au Gratin
Depending on who you ask, either russets are non negotiable or Yukon Golds are. I'm team Russet potatoes, but that doesn't mean I won't use either one.
The difference is that Russet potatoes are starchy, which means in liquid and heat they may not hold their shape as well. I've tested this recipe a few times and have always had success using them because the starch ends up helping thicken the sauce and making it even creamier.
Yukon Gold potatoes or red potatoes are waxy potatoes that hold their shape well. Their skin is much thinner and more delicate and definitely doesn't need to be peeled. Russets don't either, however, they're not as thin.
In a nutshell, you can't go wrong with either type!
How to Make Potatoes Au Gratin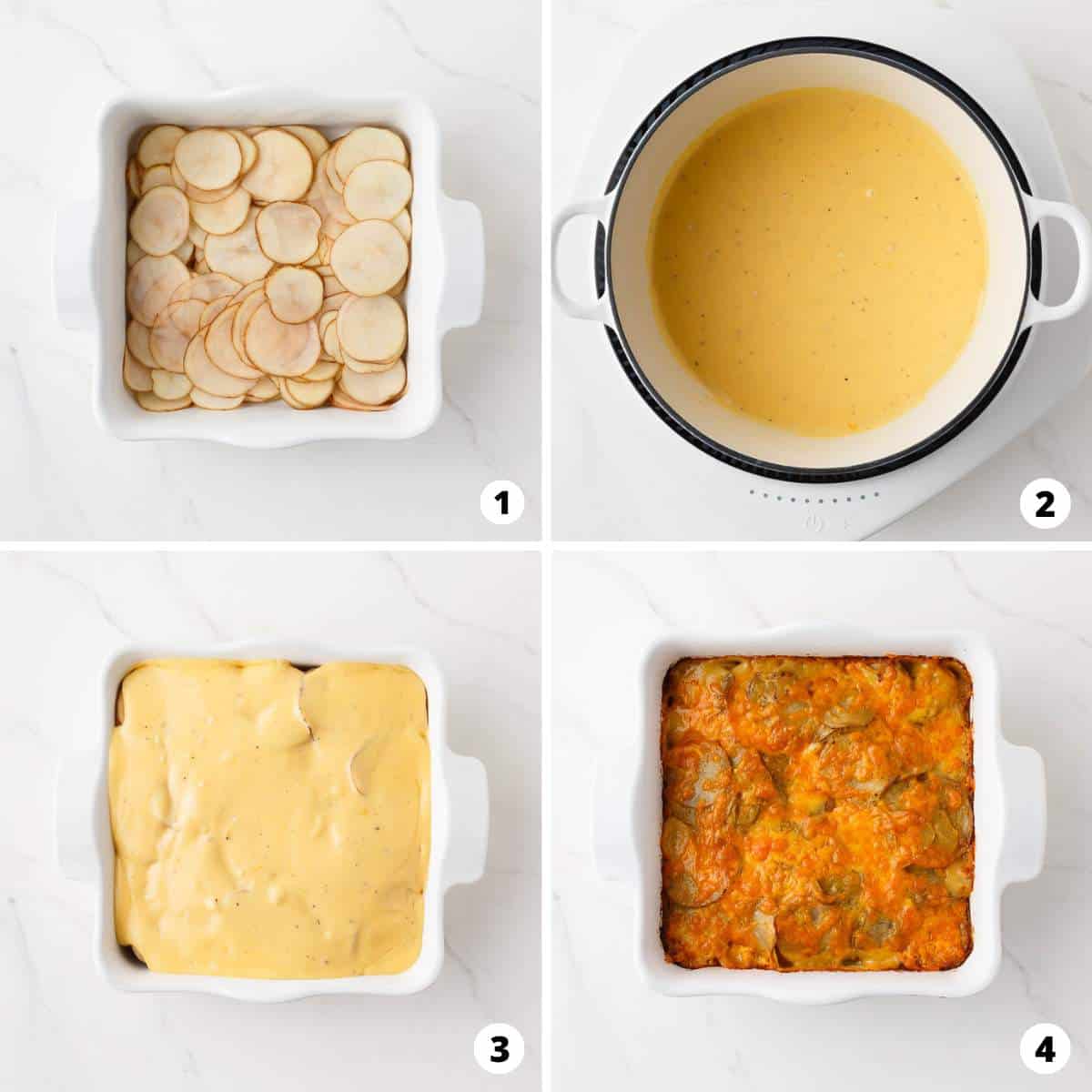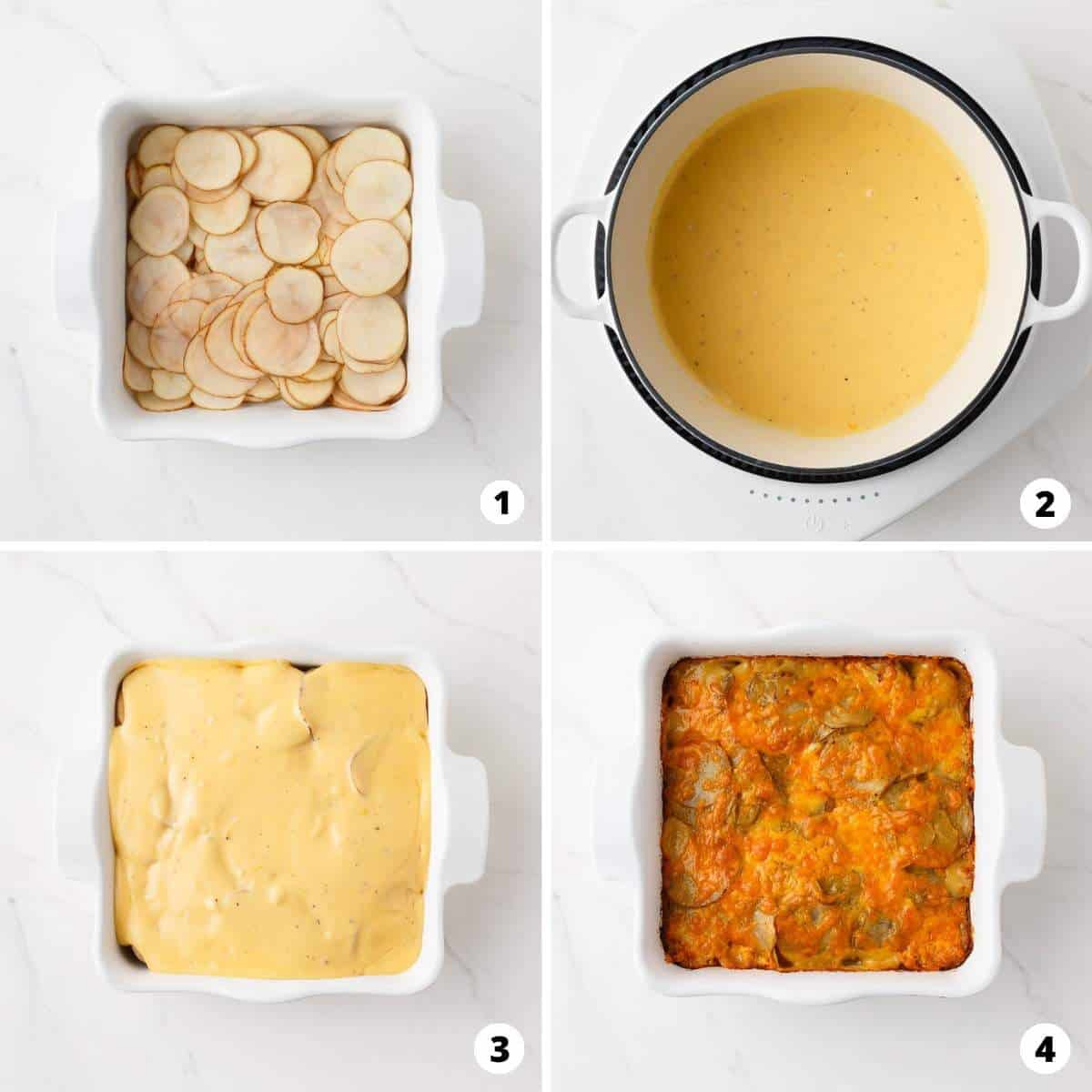 Arrange the potatoes. Layer 1/2 of the sliced potatoes on the bottom of a greased (butter for flavor, but cooking spray works too) baking dish. Overlap them to fit the 8×8 or 7×10 dish, and then evenly disperse the sliced onion overtop. Place the other half of the potatoes overtop and set that aside.
Make the cheese sauce. In a small saucepan, melt butter over medium heat then add the garlic to cook for a minute or two until fragrant. Whisk in the flour, salt, and pepper and cook for a minute until a nutty paste starts to form. Lower the heat and slowly whisk in the milk, getting rid of lumps as you stir. Once smooth, allow it to simmer for a few minutes until thickened. Stir in 1 1/2 cups of cheese until melted and smooth.
Add sauce to potatoes. Pour the cheese sauce over the layered potatoes. Don't worry about the bottom layer, the sauce will drip down through the top making sure to coat everything.
Bake. Spray one side of a sheet of foil with cooking spray and place that piece of foil greased side down to cover the baking dish. Bake in a preheated 400°F oven for 1 hour before removing the foil and adding the rest of the cheese overtop. Continue baking uncovered for another 20-30 minutes until potatoes are fork tender and the cheese crust is golden brown.
Let it sit and cool for 10 minutes before serving.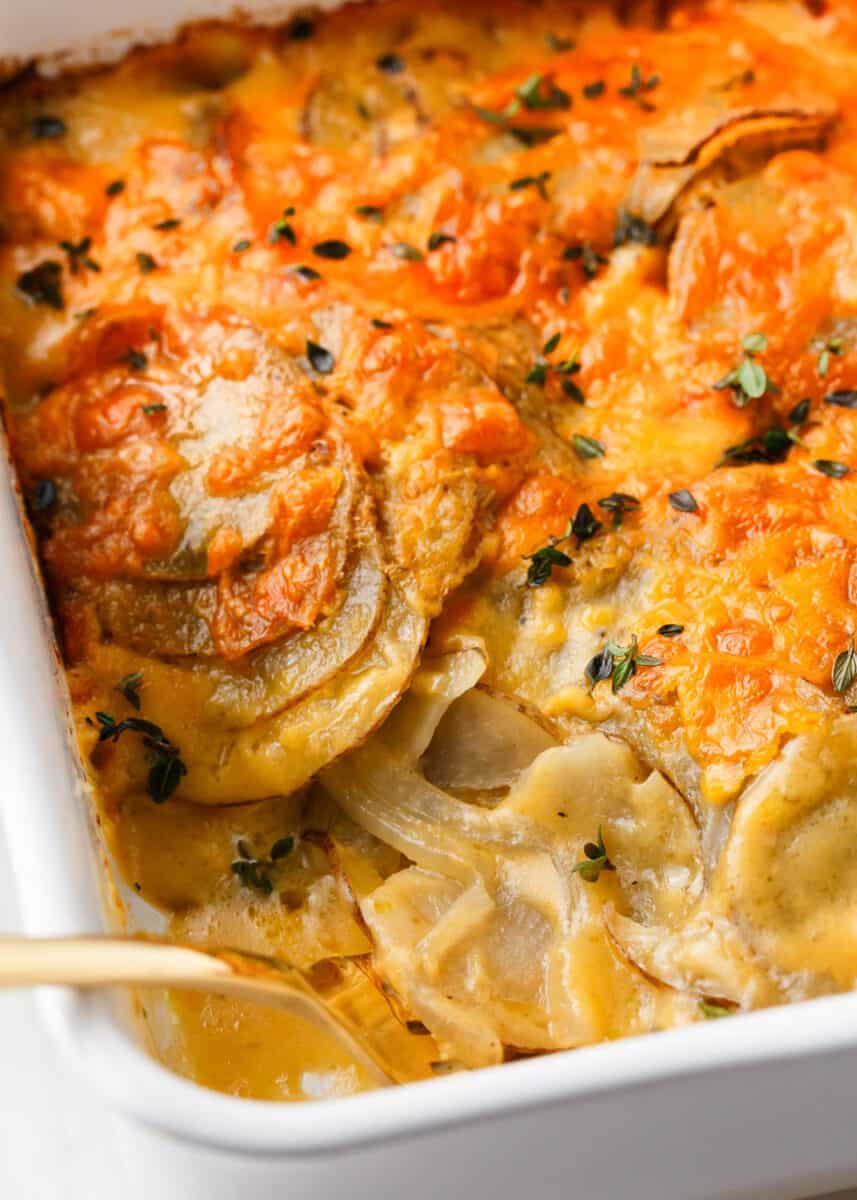 Expert Tips
Use a mandolin. For even thin potato slices, use a mandolin to make your life easier. Otherwise, a sharp knife will go a long way. You can also use it to slice onions.
Freshly shredded cheese. Grate your own cheddar from a block rather than using packaged pre-shredded cheese. It tastes much better and melts much more easily.
Extra brown topping. If you want a little extra brown on your top cheese, place it under the broiler for 1-2 minutes.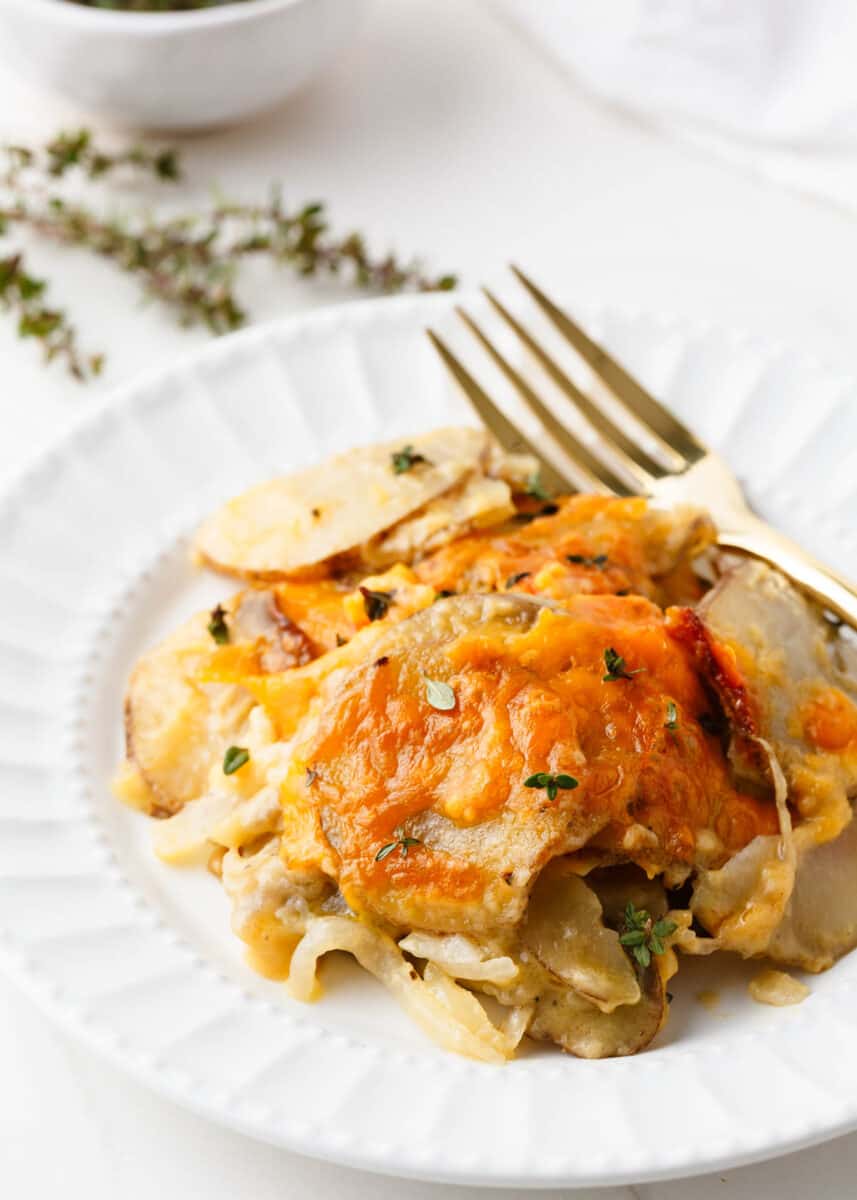 Recipe FAQs
Why won't my potatoes au gratin get soft?
This can happen if you've added an ingredient that contains an acid. For example, if you've gone ahead and used cream cheese, sour cream, or buttermilk. For this reason, I haven't added any of these ingredients to my version and I don't recommend you do either!
How long does gratin potatoes take to cook?
To get the potatoes fork-tender, you'll want to bake them for 1 hour covered and another 20-30 minutes uncovered. All ovens are made differently, so you'll want to check on it as it bakes.
Can I make au gratin potatoes using sweet potatoes?
Absolutely! The sweetness of the potatoes with the sharpness of the cheddar would be fantastic just like in my scalloped sweet potatoes.
Make Ahead
This is a great make-ahead side dish, especially for the holidays when you have so many things on the go. Who am I kidding, it's also great for busy weeknights!
Prep ahead by assembling the potatoes au gratin and baking it for 30 minutes, covered with foil. Allow it to cool completely and keep it in the fridge overnight.
Once you're ready to serve it, bring it to room temperature for about 30 minutes and then bake uncovered for about 20-30 minutes until bubbly and delicious.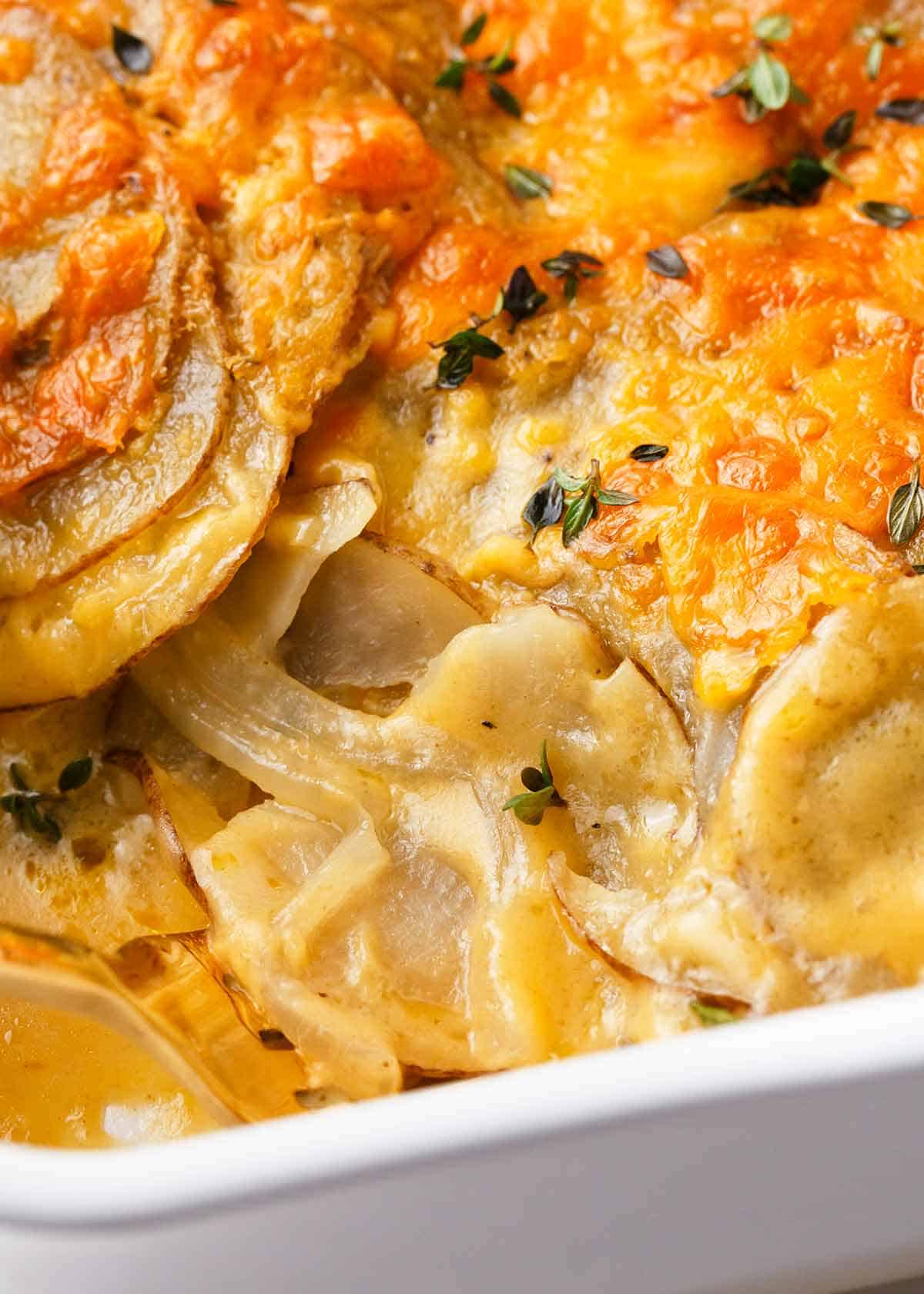 HUNGRY FOR MORE? Subscribe to my newsletter and follow on Facebook, Pinterest and Instagram for all the newest recipes!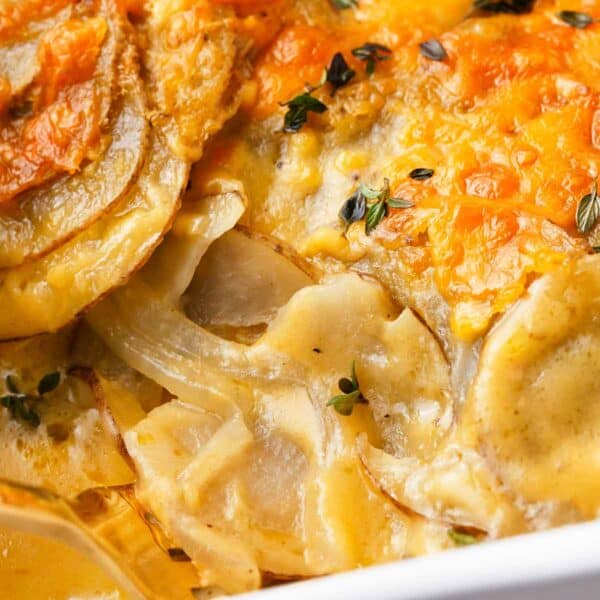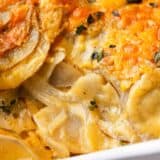 Potatoes Au Gratin
Layers of thinly sliced potatoes smothered in a cheesy cream sauce topped with an extra layer of cheese, and baked until golden and bubbly. Classic potatoes au gratin is made with humble ingredients, can be made ahead, and is a budget-friendly way to feed a crowd!
Ingredients
2 pounds potatoes , thinly sliced into 1/8" rounds
1 onion , sliced into rings
¼ cup butter
1 ½ teaspoons minced garlic
3 Tablespoons all-purpose flour
1 teaspoon salt
¼ teaspoon pepper
1 ½ cups milk
2 cups shredded cheddar cheese , divided
Instructions
Preheat oven to 400°F. Butter a 8×8-inch or 7×10-inch baking dish.

Layer 1/2 of the potatoes on the bottom of the dish. Top evenly with onion. Add the remaining 1/2 potatoes over the onions.

In a small saucepan, melt the butter over medium-heat. Add the garlic and cook 1 to 2 minutes. Whisk in flour, salt, and pepper. Cook 1 minute. Reduce heat to medium-low. Slowly whisk in the milk until smooth. Bring to a light simmer 3 to 5 minutes, or until thickened. Stir in 1 1/2 cups cheese until melted and smooth.

Pour cheese sauce evenly over the potatoes. Cover with aluminum foil (sprayed with nonstick cooking spray).

Bake 1 hour. Remove foil and sprinkle remaining 1/2 cup cheese over top. Bake an additional 20 to 30 minutes, or until lightly until potatoes are fork tender and the top is golden brown. Let cool 10 minutes before serving.
---
Notes
Cheese: Shred your own cheese from a block for the best results.
Variations:
Add fresh herbs (such as thyme or rosemary) to the sauce.
Try Gruyere cheese.
Make-ahead: If making in advance, cut the baking time in half. Cover with foil and bake for about 30 minutes. Remove from oven and let cool. Once cooled, refrigerate overnight.
When ready to serve the next day, remove from fridge and let sit at room temp for 30 minutes. Then bake uncovered for about 20 to 30 minutes, until the sauce has thickened and the cheese is golden and bubbly.
Nutrition
Calories: 269kcal | Carbohydrates: 19g | Protein: 11g | Fat: 16g | Saturated Fat: 10g | Cholesterol: 49mg | Sodium: 547mg | Potassium: 556mg | Fiber: 2g | Sugar: 2g | Vitamin A: 535IU | Vitamin C: 13.1mg | Calcium: 291mg | Iron: 4mg
Nutrition provided is an estimate. It will vary based on specific ingredients used.
Did you make this recipe? Don't forget to give it a star rating below!