Savory scalloped sweet potatoes layered with a creamy rosemary sauce and cheddar and gruyere cheese. The perfect flavorful side dish recipe that everyone will love!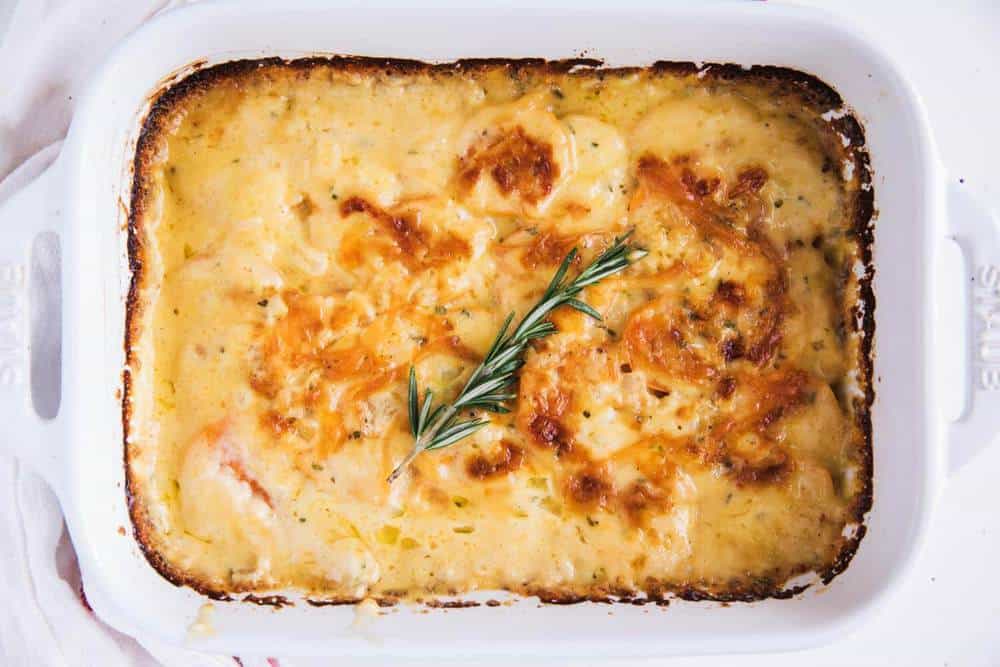 Creamy Sweet Potato Dish
These are different from my classic cheesy scalloped potatoes and have a rosemary cream sauce topped off with cheddar and gruyere cheese. The gruyere (which is a little sweet and salty) really adds the perfect flavor. So comforting and delicious. Yum!
Whenever I'm asked to bring a sweet potato side dish, it's usually my sweet potato casserole with marshmallows or these scalloped sweet potatoes. I LOVE both of them, but sometimes I'm just more in the mood for something savory and other times something sweet. If I'm in a hurry, however, I opt for simple-as-can-be roasted sweet potatoes.
So if you're bringing the sweet potatoes to Thanksgiving this year and you're not a fan of the traditional casserole, give this scalloped version a try instead. Instant pot mashed sweet potatoes are always another nice option, too!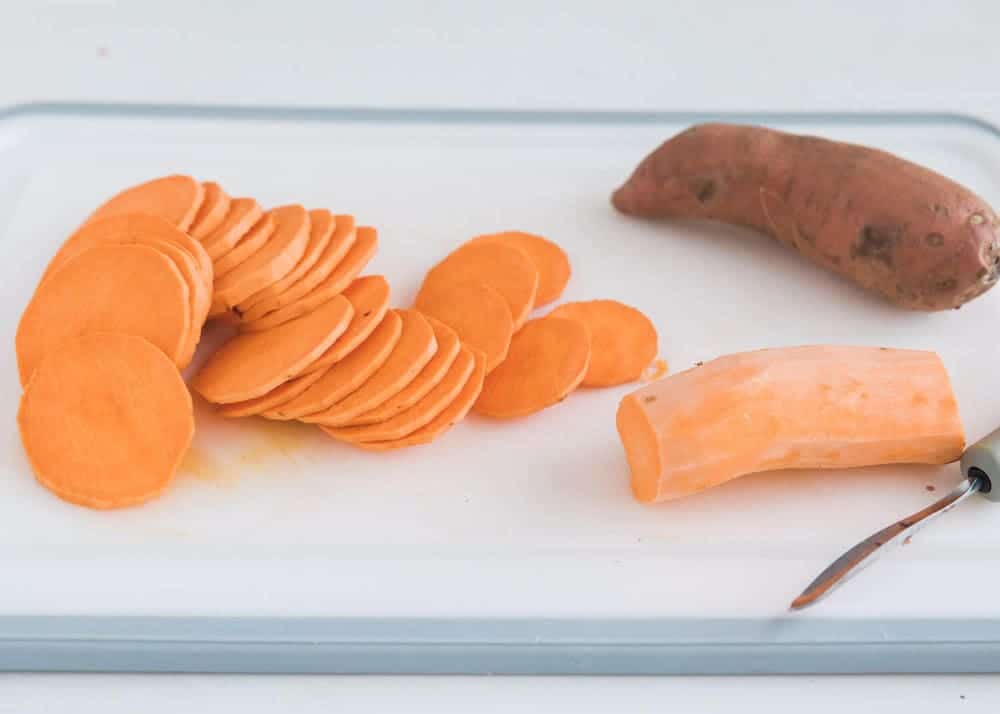 Sweet Potato 101
Choose sweet potatoes that are long, similar in size and not too thick (like in the photo above). That way when you slice them into circles, they'll all be the perfect shape and size.
Wash the potatoes first, then peel the skin off before you slice them.
Cut them into slices about 1/8″ thick. You can use a mandoline or regular knife to do this. Just make sure they're sliced thin, so that they cook evenly and become tender in the oven.
How to Make Scalloped Sweet Potatoes
SAUCE. Cook the fresh garlic, cream and rosemary in a pan over medium. Let simmer for a few minutes, then add 1/4 cup of each of the cheeses. Stir until melted.
POTATOES. Slice the potatoes into thin circles, then assemble them in a 9×9″ baking dish. Place them in a row, only letting them overlap a little bit. Sprinkle 1/2 of the remaining cheese on top, then add another layer of potatoes and cheese. Then pour the sauce over top of the last layer of cheese.
BAKE. Bake at 375°F for about 35 to 40 minutes, or until the potatoes are tender and the cheese is bubbly.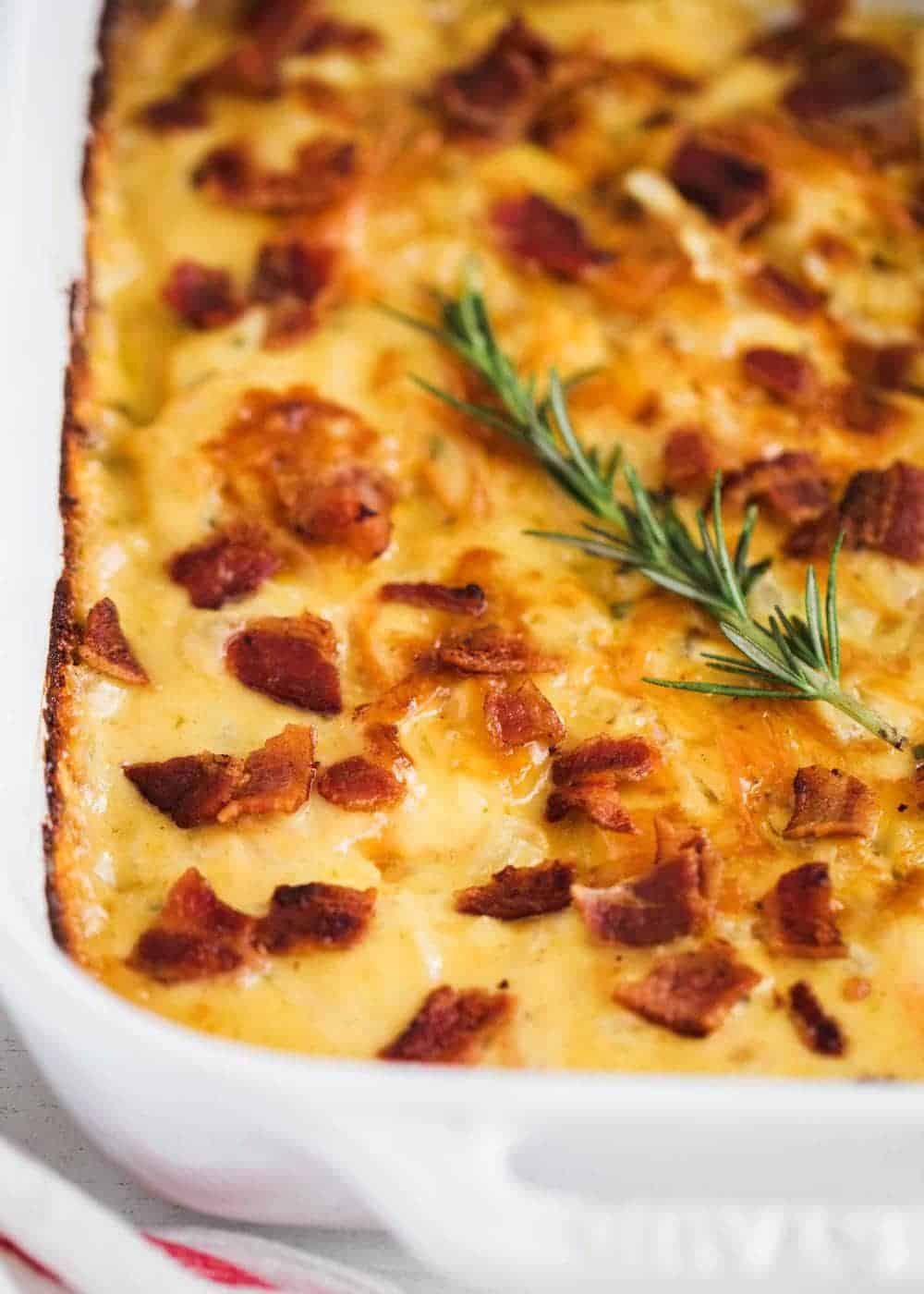 Cooking Tips
Grate your own cheese. This makes a huge difference! Instead of the pre-shredded cheese, buy blocks of cheese and grate them yourself. The pre-shredded bags have extra ingredients added that make it harder for the cheese to melt. Get the perfectly gooey, melted cheese by grating your own.
Au gratin. Scalloped potatoes are typically only baked in the cream sauce (without the cheese on top). I always add extra cheese, which technically makes them a sweet potato au gratin. If you want to make traditional scalloped sweet potatoes, you could leave the extra cheese off the top.
Broil. You can broil the dish for about a minute at the end to brown the top a little more.
Bacon or ham. Now if you really want to take this dish up a notch, try adding crumbled bacon to the top or baked ham in the middle layer like I did in this recipe for scalloped potatoes and ham. I actually used a maple bacon the last time I made these and they were SO delicious. I love the extra crunch and flavor it adds. All you need to do is cook 4 slices of bacon in a pan over medium heat, or cook the bacon in the oven. Then crumble it once cooked and cooled and sprinkle on top right before serving.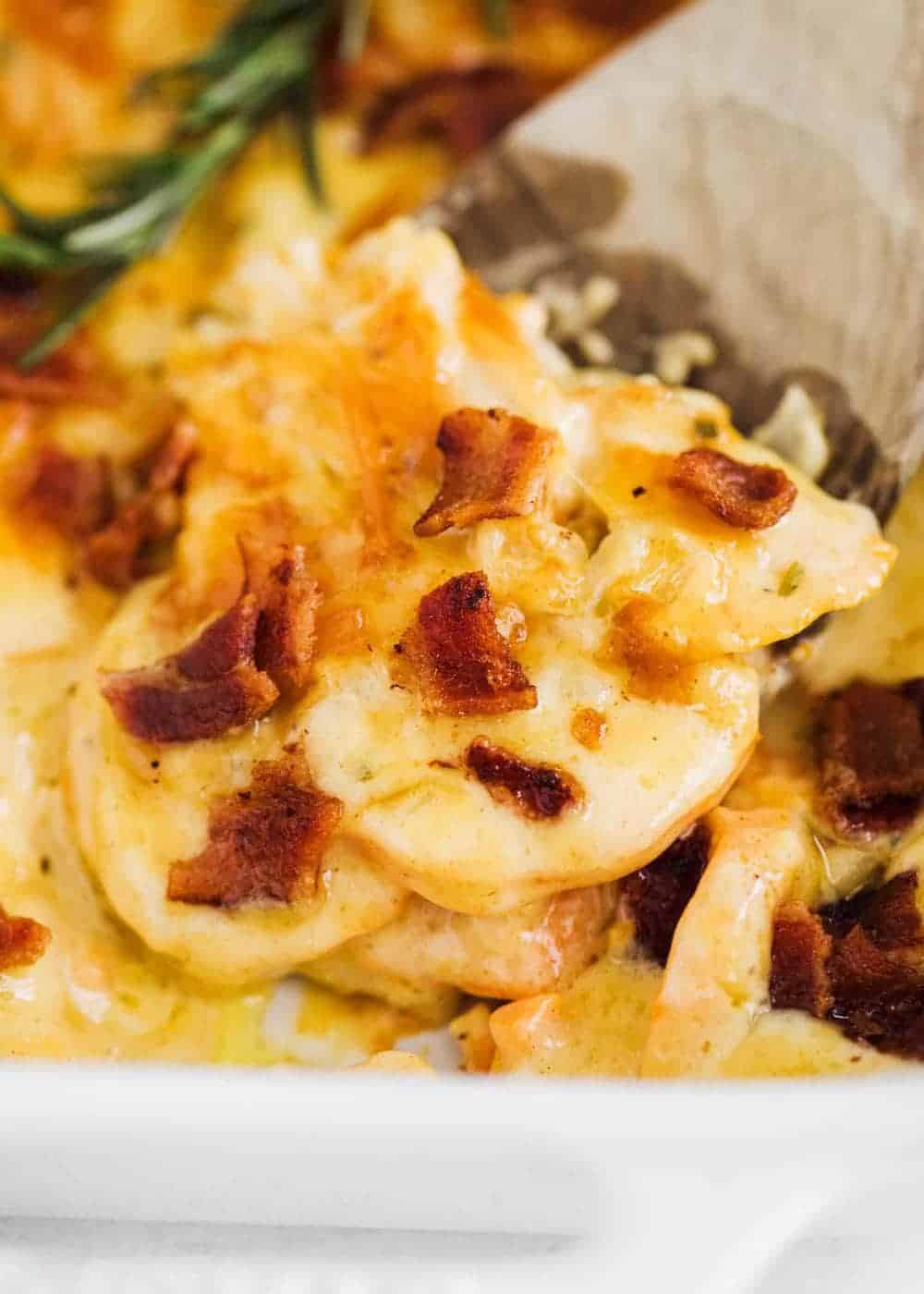 More Holiday Side Dishes
HUNGRY FOR MORE? Subscribe to my newsletter and follow on Facebook, Pinterest and Instagram for all the newest recipes!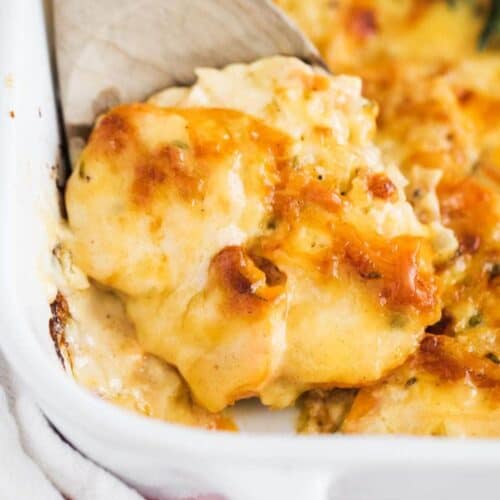 Scalloped Sweet Potatoes
Savory scalloped sweet potatoes layered with a creamy rosemary sauce and cheddar and gruyere cheese. The perfect flavorful side dish recipe that everyone will love!
Ingredients
2 pounds sweet potatoes , about 3 small (washed and peeled)
1 Tablespoon minced garlic
1 ½ cups heavy cream
½ teaspoon Kosher salt
¼ teaspoon ground black pepper
¾ cup grated gruyere cheese , could sub with swiss cheese
¾ cup grated sharp cheddar cheese
2-3 teaspoons fresh rosemary , 1-2 sprigs, finely chopped
Optional: 1/4 cup bacon crumbles
Instructions
Preheat the oven to 375°F. Butter a 9×9" pan and set aside. Combine the garlic, cream and fresh rosemary in a small saucepan over medium heat. Add salt and pepper. Simmer for a couple minutes. Then add in 1/4 cup of the gruyere and 1/4 cup of the cheddar and stir until melted.

Slice the sweet potatoes into thin circles and place in the pan in a row, overlapping a little. Sprinkle about 1/2 of the cheese over top. Then add another layer of potatoes and cheese.

Pour the cream evenly over the top of the potatoes. Bake for 35-40 minutes, or until the potatoes are tender.

Remove from oven and top with bacon if desired. Serve while warm.
---
Notes
If you like onions, you can add 1/2 cup chopped onion in with the garlic and cream.
If you want to take these up a notch, add bacon to the top. Cook 4 slices of bacon in a pan over medium heat and then crumble it once cooked and cooled. Then sprinkle the bacon on top before serving.
Nutrition
Calories: 362kcal | Carbohydrates: 25g | Protein: 9g | Fat: 25g | Saturated Fat: 15g | Cholesterol: 89mg | Sodium: 199mg | Potassium: 445mg | Fiber: 3g | Sugar: 5g | Vitamin A: 17010IU | Vitamin C: 3.8mg | Calcium: 268mg | Iron: 0.8mg
Nutrition provided is an estimate. It will vary based on specific ingredients used.
Did you make this recipe? Don't forget to give it a star rating below!