A creamy, cheesy hash brown casserole topped with crispy buttery cornflakes then baked to perfection! Funeral potatoes are a simple yet classic comforting side dish perfect for holiday menus, Sunday dinners, and anytime in between!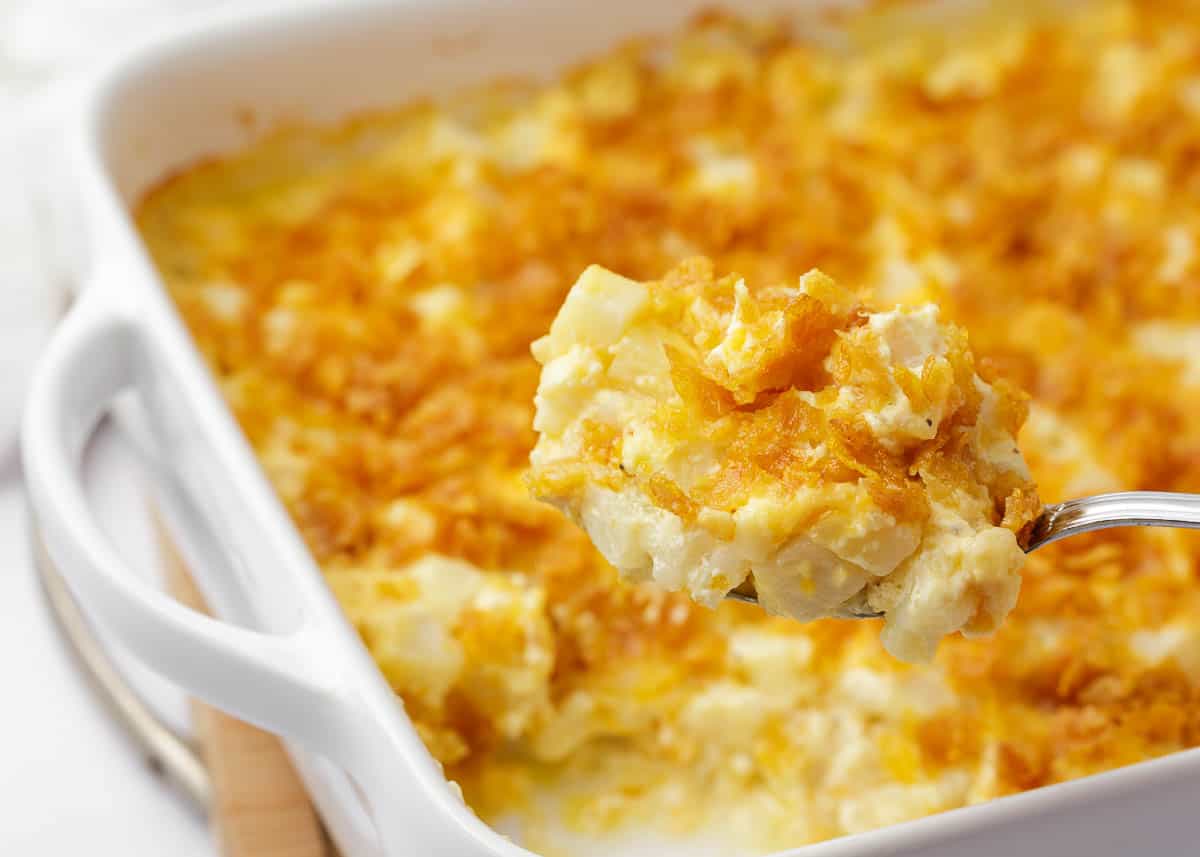 Creamy, Cheesy, & Easy!
These funeral potatoes are by far one of the best Thanksgiving side dishes you'll find on any Thanksgiving menu. I've always said that side dishes make a meal, and along with easy cheesy potatoes, au gratin potatoes, or crockpot cheesy potatoes, this funeral potato recipe is exactly the reason why!
It's made with frozen hash browns and cream of chicken soup for convenient shortcuts because I'm all for simplicity during the busy season!
Originally, cheesy funeral potatoes were served at funeral luncheons to bring comfort when it was needed the most and it has since become a staple at family gatherings of all kinds. This includes potlucks, BBQs, and the holidays but it's just as perfect for easy weeknights.
Sure, mashed potatoes will always have a place on the table, but there's just something special about a cheesy potato casserole!
Make more funeral potatoes than you think you'll need because no matter what, you'll leave everyone wanting more!
Recipe Ingredients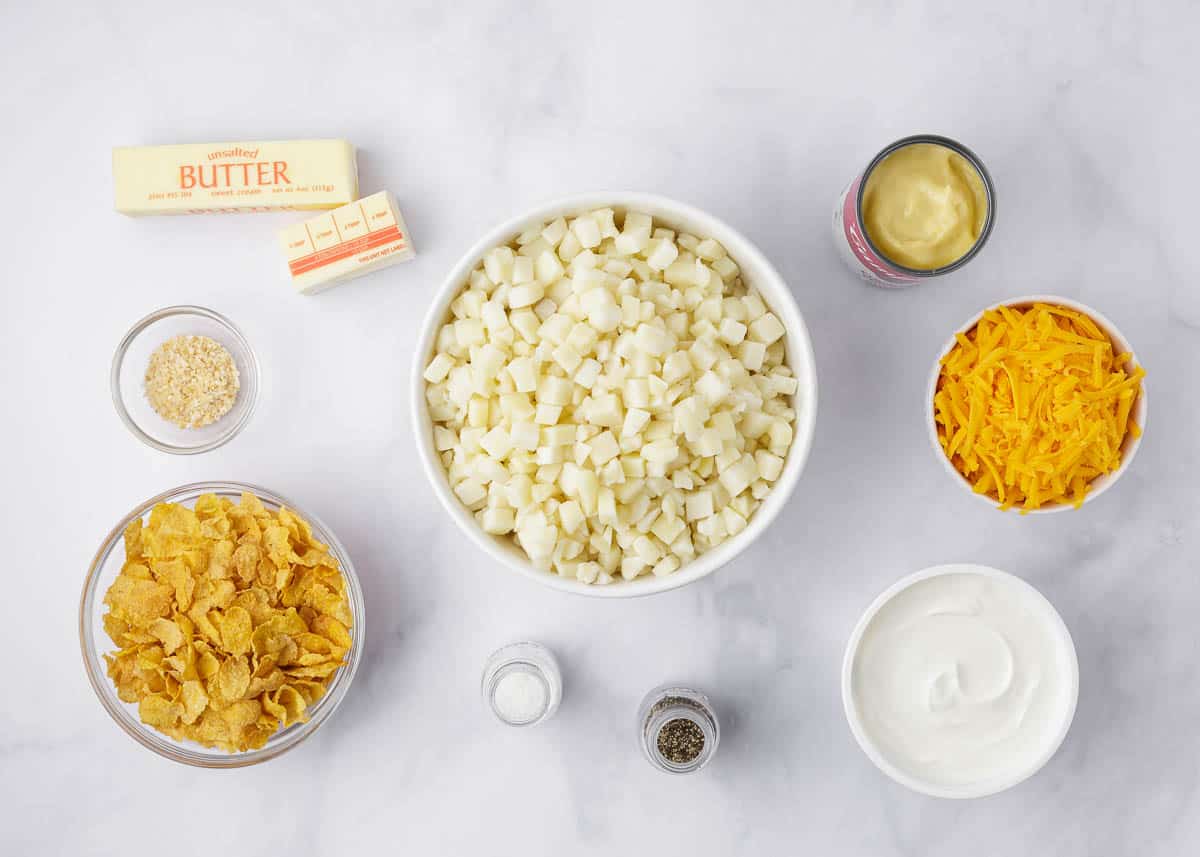 Find the full printable recipe with specific measurements below.
Hash brown potatoes: The idea behind this dish is simple comfort food, so no need to spend time grating potatoes. Unless you want to! I use a frozen bag of diced hash browns from the freezer section. Thaw them before using in the casserole.
Cream of chicken: Using a can of cream of chicken soup adds a ton of flavor and helps to thicken up the casserole without the use of too many individual seasonings. This one-stop shop helps to keep the ingredient list down while delivering taste and texture.
Shredded cheese: I always recommend freshly grated sharp cheddar cheese from a block. I know it might be easier to use pre-shredded, but it just isn't the same!
Cornflakes: Crushed cornflakes are what give these funeral potatoes their crispy crunchy topping. Nice and light and when mixed with melted butter, they're amazing!
Variations
There are a few ways to replace the cornflakes in the topping if you'd prefer to use something else. You can always go the classic route and use breadcrumbs. I'd suggest Panko breadcrumbs because they're lighter and flakier and have more of a crispness to them.
You can also use crushed potato chips or Ritz crackers!
Sometimes I'll make two separate batches and add a bit of protein like diced baked ham or bacon to one of them.
You can use shredded hash browns, but I usually save those to use in this Cracker Barrel hashbrown casserole.
If you have baby potatoes on hand and find they're too small to grate, you can swap the hash browns for a dozen boiled and diced baby potatoes.
How to Make Funeral Potatoes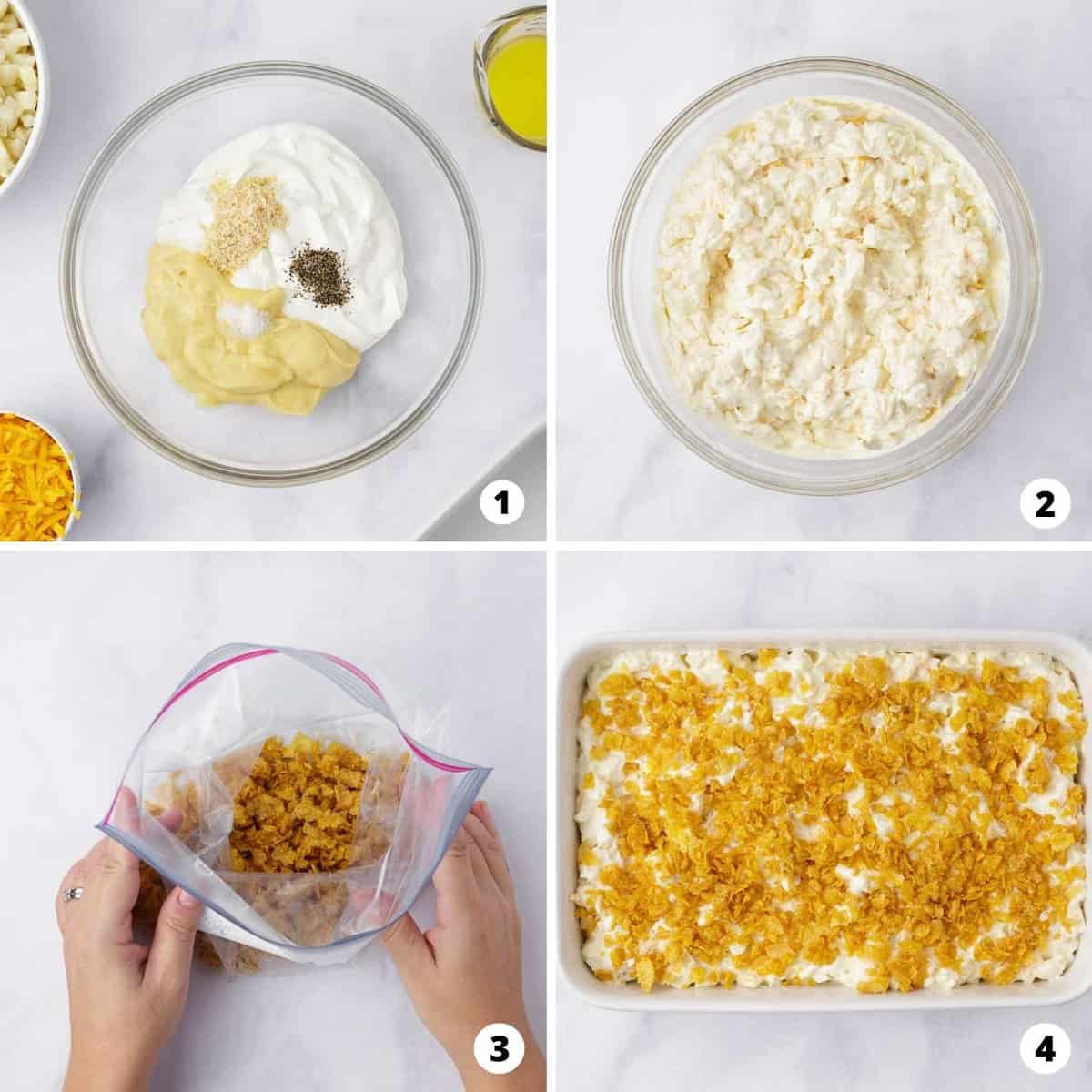 Make the cream mixture. In a medium bowl, stir together the sour cream, cream of chicken, half the melted butter, green onions, salt, and pepper.
Add the potatoes. In the bowl, toss in the potatoes and shredded cheese and stir everything until combined. Spread it evenly into a prepared 9×13″ baking dish.
Make the crunchy topping. Put the cornflakes into a zip-top bag and seal it shut. Then, take a rolling pin and crush the cereal by rolling it back and forth and gently tapping until coarse crumbs are formed.
Bake the casserole. Melt the remaining butter and mix it with the crushed cornflakes. Sprinkle them on top of the potatoes and bake in a preheated 350°F oven for 40-45 minutes until golden brown and bubbling hot. Give them about 5 minutes to rest before serving.
Expert Tips
Squeeze the hash browns. Having too much liquid in your casserole will change the consistency and interfere with the creamy sour cream and cream of chicken, making it runny and unappealing!
From scratch. If you've got a bit of extra time or you've already got what you need on hand, you can make more of this dish from scratch. Freshly grated hash brown potatoes and homemade cream of chicken soup would be great!
Extra seasoning. If you're looking to ramp up the seasoning even more you can use a bit of onion powder or garlic powder if you'd like! Some people might like a bit of a kick to theirs, so a sprinkling of cayenne in the creamy mixture would do the trick.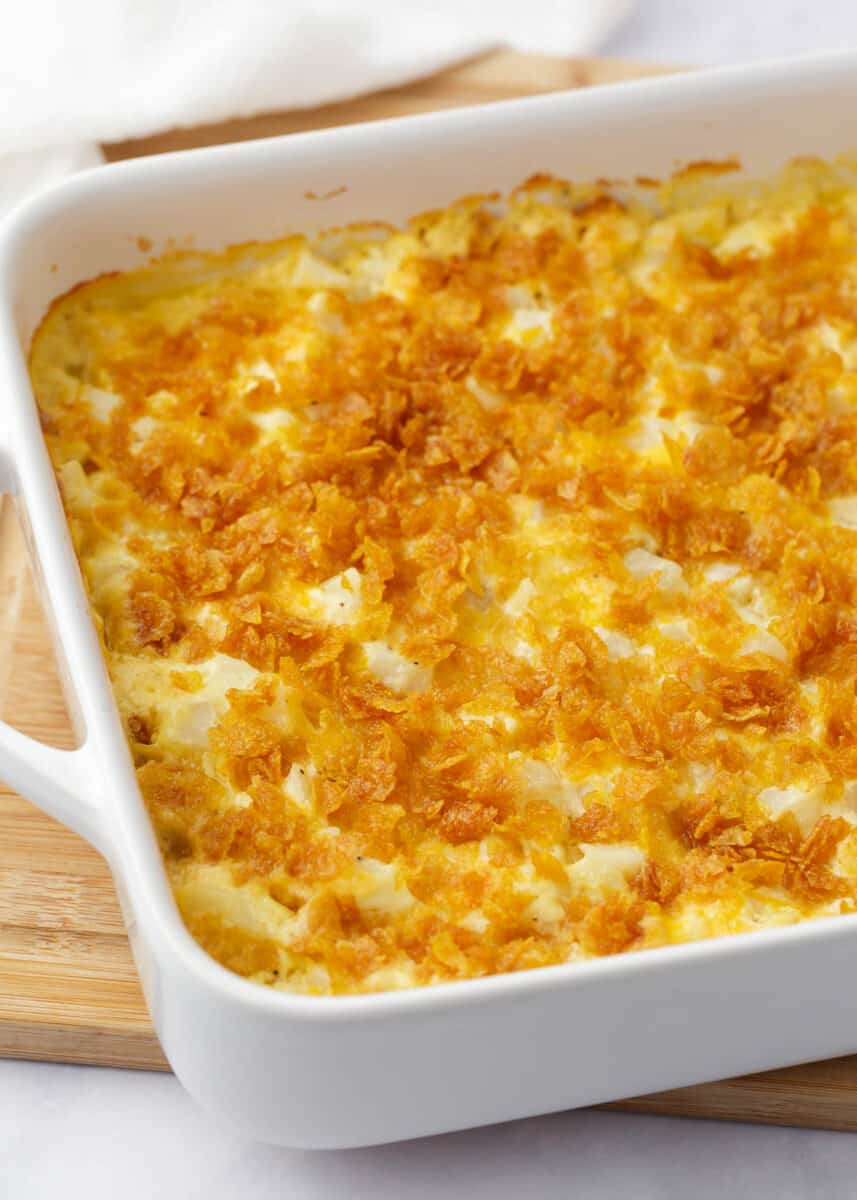 Recipe FAQs
What are funeral potatoes made of?
Funeral potatoes are made of potatoes as the main ingredient, cheese is sprinkled throughout, a cream-based soup gives it that creamy flavor, melted butter, and a crunchy cereal on top. Usually, the topping is cornflakes or potato chips. Layered together it is a savory side dish!
Can I make these ahead?
You can! Just don't add the crunchy topping yet. Make it up until you've spread the mixture in the dish, then cover it and keep it in the refrigerator overnight. When you're ready to bake it, add the topping just before.
Why are they called funeral potatoes?
I admit, it's a funny name agreed! As the name indicates, this cheesy potato comfort food was often included in the meal for the grieving family following the funeral. It's also simple to make, transport, and keep warm. So whether it's served at a potluck or in a time of need, this dish is a delicious favorite.
Can I double this funeral potatoes recipe?
You can! For a large crowd, you can even triple it or sometimes I make this along with my scalloped potatoes and ham recipe, you can never have too many cheesy potatoes! This is partly why this is a staple on my Christmas menu and pretty much all my holiday dinners.
How to store leftovers?
Keep any leftover funeral potatoes in an airtight container in the fridge for up to 3 days.
Freezing & Reheating
To freeze: Once again, if you know you're going to be freezing this dish, I recommend doing so before baking without the crunchy topping. You can freeze it with the topping, but just know it won't ever be as crunchy and the texture will be different.
Either use a disposable foil pan or transfer it to a freezer-friendly container. Keep it frozen for up to 3 months. Thaw in the fridge overnight.
To reheat: Zap a single serving or two in the microwave or place the entire casserole dish in the oven at 350°F for about 10 minutes to heat through.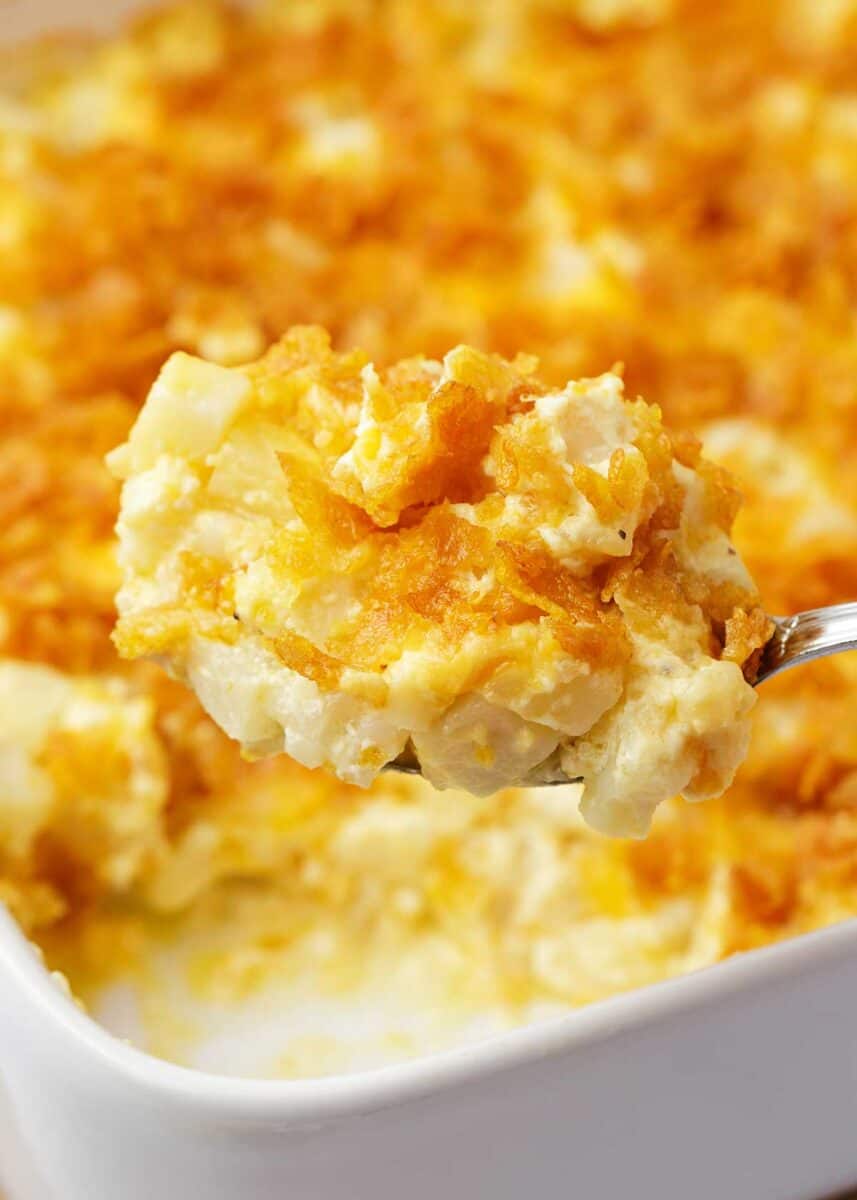 HUNGRY FOR MORE? Subscribe to my newsletter and follow on Facebook, Pinterest and Instagram for all the newest recipes!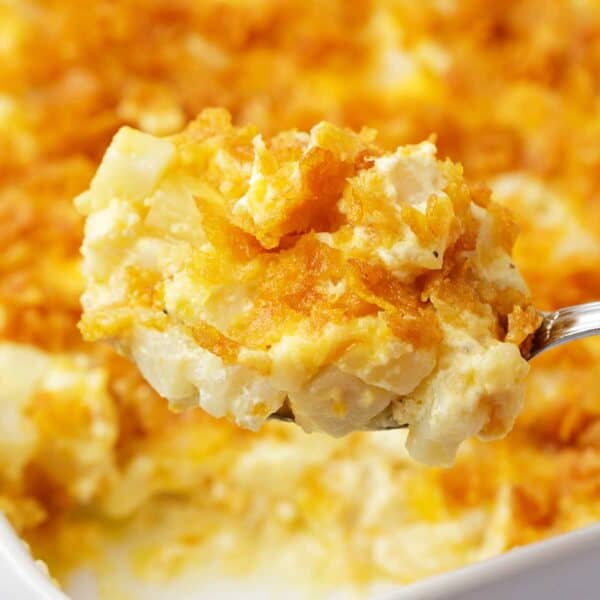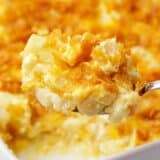 Funeral Potatoes
A creamy, cheesy hash brown casserole topped with crispy buttery cornflakes then baked to perfection! Funeral potatoes are a simple yet classic comforting side dish perfect for holiday menus, Sunday dinners, and anytime in between!
Ingredients
Potatoes
1 (32-ounce) bag frozen diced hash brown potatoes , thawed
1 (16-ounce) container sour cream
1 (10.5-ounce) can cream of chicken
¾ cup unsalted butter , melted, divided
¼ cup thinly sliced green onions , optional or swap with 1 Tablespoon minced onions
½ teaspoon Kosher salt
¼ teaspoon ground black pepper
1 ½ cups shredded cheddar cheese , plus more if desired
2 cups cornflakes
Instructions
Preheat oven to 350°F and butter a 9×13" baking dish. Set aside. Make sure your potatoes are mostly thawed and drain any excess water.

In a medium bowl, stir together sour cream, cream of chicken, 1/2 cup melted butter, green onions, salt, and pepper. Stir in the potatoes and shredded cheese until combined. Spread into the baking dish. Top with extra cheese, if desired.

Crush corn flakes in a zip-top bag with a rolling pin. Add remaining 1/4 cup melted butter and mix until combined.

Sprinkle crushed cornflakes on top. Bake 40 to 45 minutes, or until golden brown and bubbling hot.

Let rest 5 minutes before serving. Enjoy while warm!
---
Notes
Variations:
Swap the hash browns for shredded potatoes
Try it with celery or cream of mushroom instead of chicken
Swap the hash browns for a dozen boiled and diced baby potatoes
Nutrition
Calories: 252kcal | Carbohydrates: 16g | Protein: 5g | Fat: 19g | Saturated Fat: 11g | Polyunsaturated Fat: 1g | Monounsaturated Fat: 5g | Trans Fat: 0.3g | Cholesterol: 52mg | Sodium: 321mg | Potassium: 227mg | Fiber: 1g | Sugar: 1g | Vitamin A: 661IU | Vitamin C: 6mg | Calcium: 116mg | Iron: 2mg
Nutrition provided is an estimate. It will vary based on specific ingredients used.
Did you make this recipe? Don't forget to give it a star rating below!