These spritz cookies are a melt in your mouth holiday classic! All you need is a hand full of ingredients, a cookie press, and your favorite sprinkles to make these festive cookies in under an hour!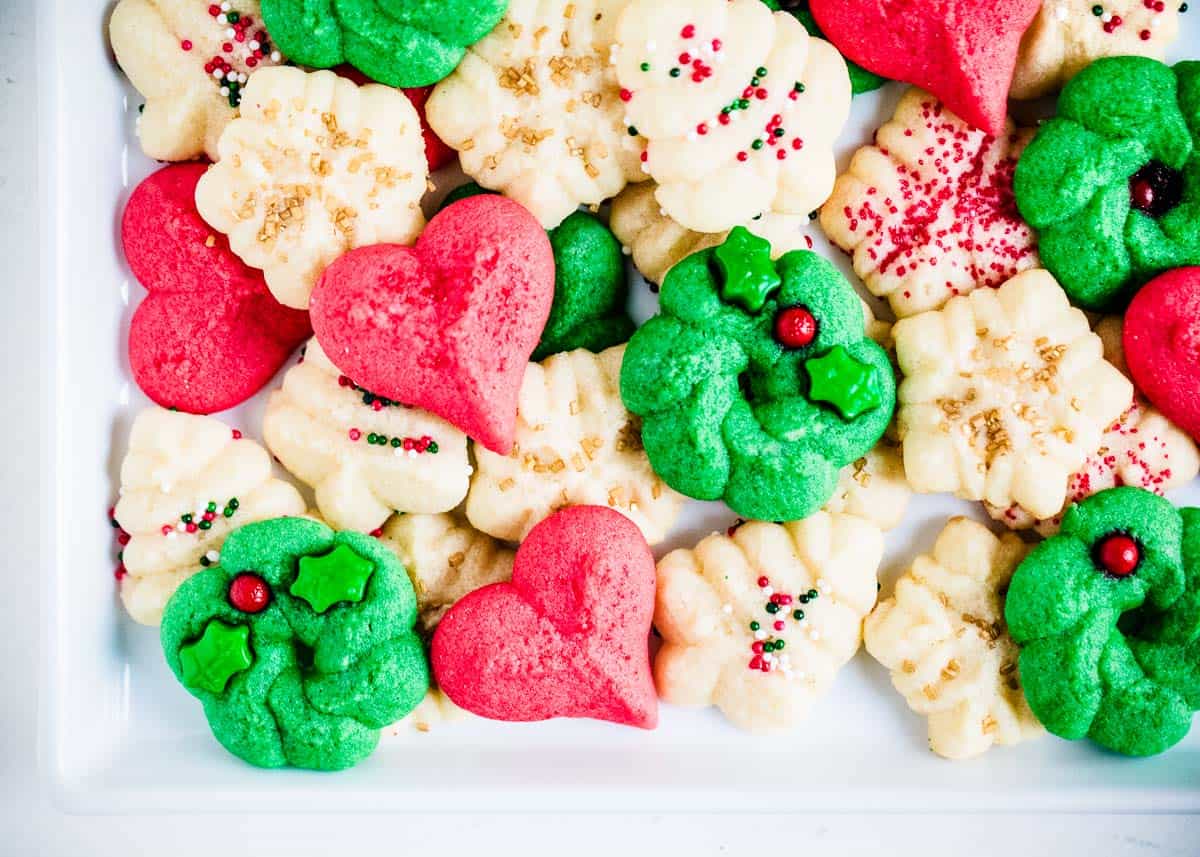 Perfect for a Cookie Exchange
Butter spritz cookies are a variation of butter cookies and are pressed with a cookie press into different Christmas shapes and decorated with different types of holiday sprinkles or colors. The main difference with spritz cookies is they have almond extract and are pressed into shapes.
These traditional buttery and sweet cookies are so yummy and a very pretty addition to any baking tray or cookie exchange. This recipe allows you to choose whether you want a softer or crunchier cookie which makes this the best spritz cookie recipe around. They freeze well and are something everyone looks forward to!
What is the Difference Between a Sugar Cookie, a Spritz Cookie, and a Shortbread Cookie?
All three cookies contain similar ingredients. Sugar cookies are cut out using cookie cutters and usually have a bigger surface for decorating. Spritz cookies contain almond extract and are shaped using a cookie press. Whereas shortbread cookies are more firm because they do not contain an egg and contain more butter than the others.
Top with your favorite sprinkles or dip them in a simple powdered sugar icing. Drizzle with melted chocolate, or add a bit of food coloring for a twist. These cookies are customizable, each one as unique as the next!
If you don't yet have a cookie press, you need one. And not just for this recipe. It's so much fun, you'll be finding any reason to use it all year long!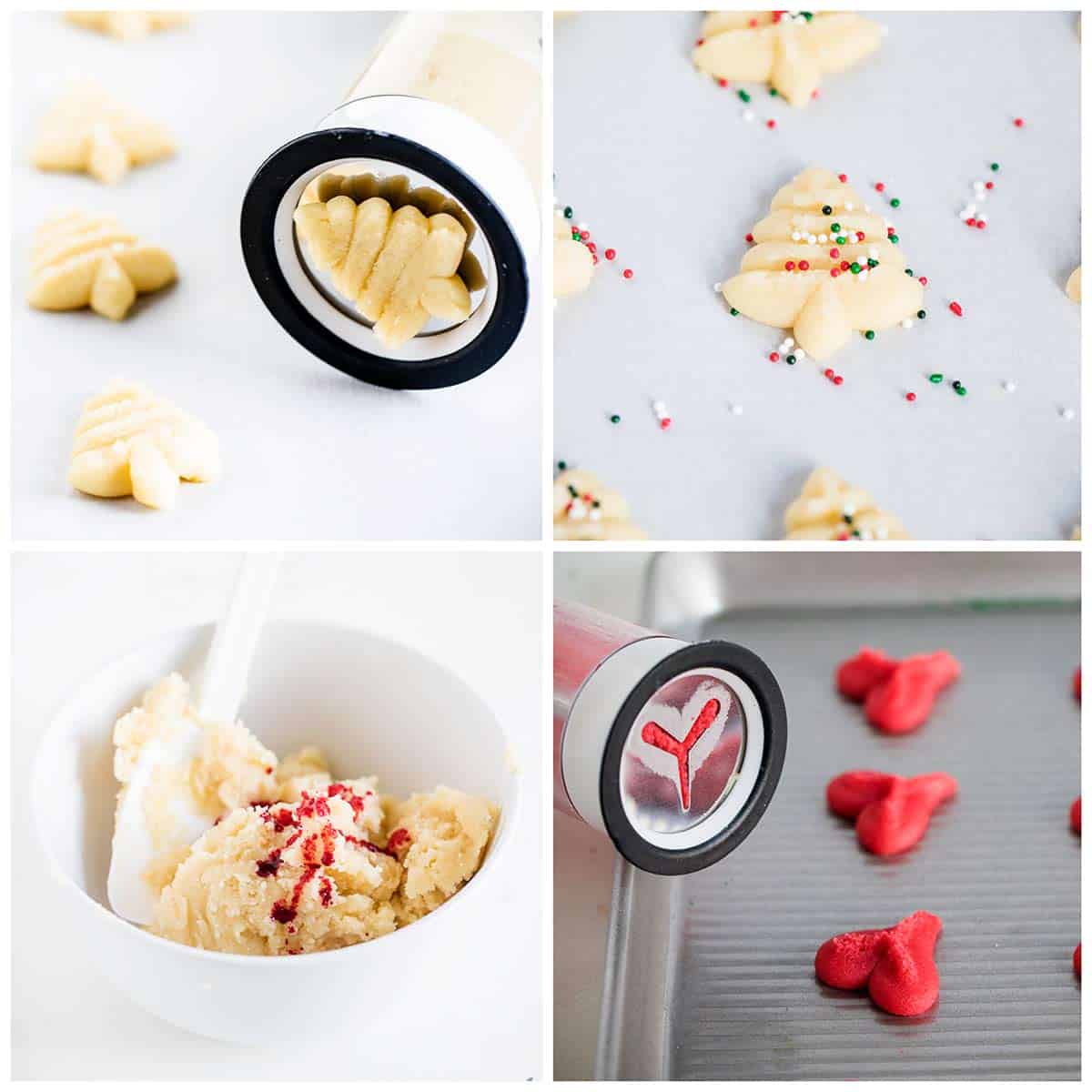 How to Make Spritz Cookies
Prep. Preheat the oven and line a baking sheet with parchment paper. By this time you should have your butter at room temperature.
Cream. In a medium bowl, cream the butter and granulated sugar until fluffy. Beat in the egg, vanilla, and almond extract. Using both the almond and vanilla give these cookies a lovely subtle flavor combination.
Whisk. In a separate bowl, whisk in the all-purpose flour, baking powder, and salt. Once combined, gradually pour into the sugar mixture and mix. If you want to make your cookies stand out even more with some food coloring, now is the time to add it in! Red and green are Christmas favorites!
Chill. Refrigerate the dough for 30 minutes. This step isn't a make or break step. It does help with the consistency of the cookie, but if you know you have no interest in crispy or crunchy cookies and prefer them soft, then by all means skip the chilling time.
Press. Add the dough to your cookie press and follow its directions. Press the cookies straight down on the pan spacing them about an inch apart. If your cookie sticks to the press, not to worry, just gently use your hands to remove it and place it on the cookie sheet.
Bake. Bake until the edges are just barely golden. Now, here's where you get to decide whether you want them soft or crisp. For a crispier cookie, keep them in for a couple of minutes longer. Remove the sheet from the oven and place the cookies onto a cooling rack.
Decorate. Enjoy them plain, dusted with powdered sugar, sprinkled, drizzled, or dipped in sprinkles and chocolate!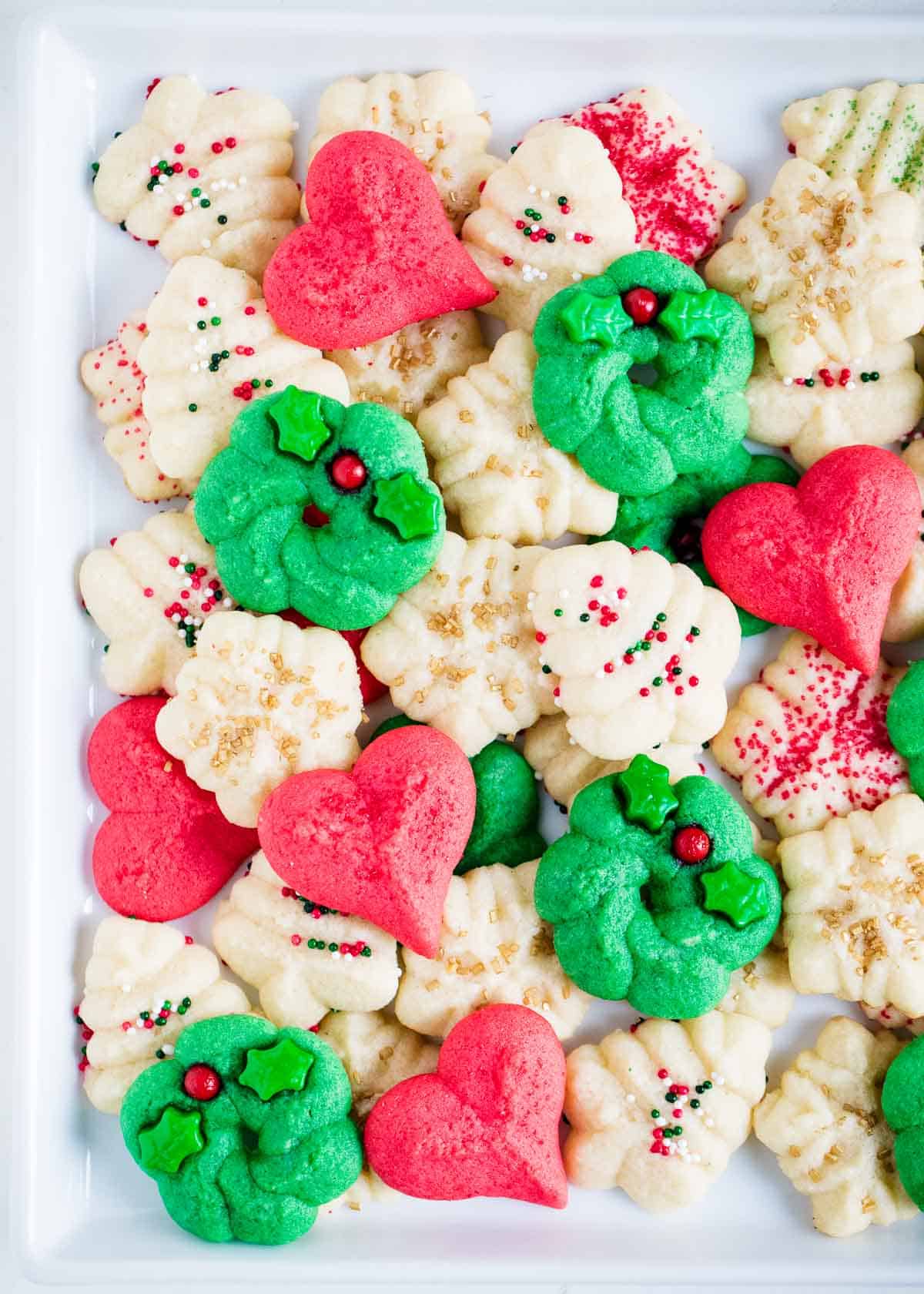 Baking Tips
If you don't have a cookie press, use a piping bag for a similar result. You may need to add a little milk to make it less dense for the piping bag. The word Spritz is derived from the German word Spritzen which means to squirt. So, in essence, as long as you're squirting some dough in some fashion, you've got yourself some spritz cookies!
Parchment paper is added security, but if you don't have any you don't need it. These cookies are buttery enough that they should come directly off the baking sheet with ease.
Using the press takes practice, so the first few might be a trial and error situation. The key is to keep it perpendicular to the baking sheet as well as using even pressure. I'm sure you'll find someone in your house more than willing to eat the test batch!
Storing, Freezing & Shipping
Store. Keep these cookies in a covered container at room temperature for up to 4 days.
Freeze. If you have leftovers, have made a double batch, or were thinking ahead and made some for later, these freeze so well. Keep in an airtight container in the freezer for up to 3 months. Once thawed you would think they were just made!
Ship. Package these cookies up and ship them to a loved one because they travel well! I like to wrap tightly with plastic wrap and then wrap a layer of bubble wrap. Receiving a package of beautifully decorated homemade cookies is one of the very best gifts.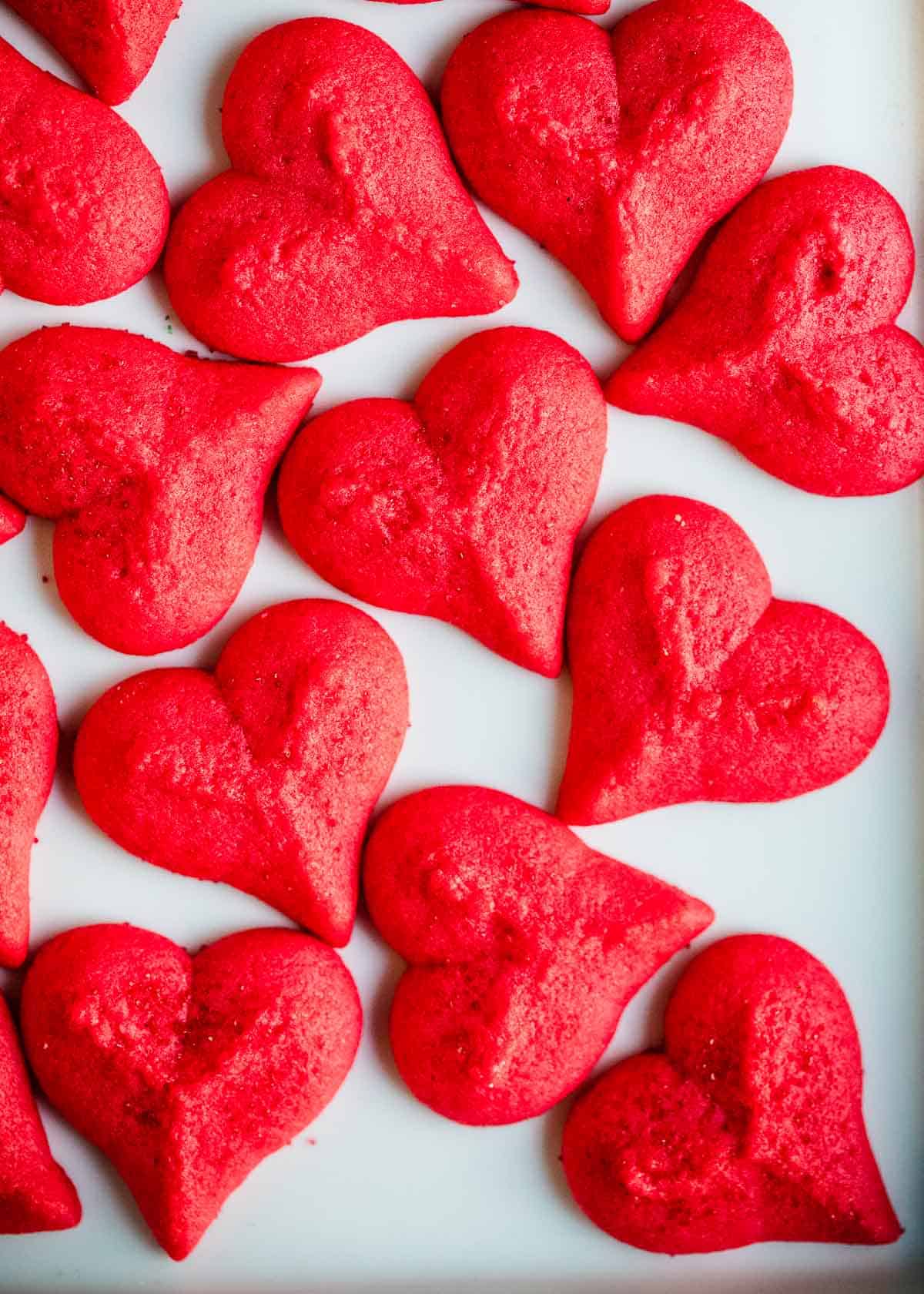 More Cookie Recipes You'll Love
HUNGRY FOR MORE? Subscribe to my newsletter and follow on Facebook, Pinterest and Instagram for all the newest recipes!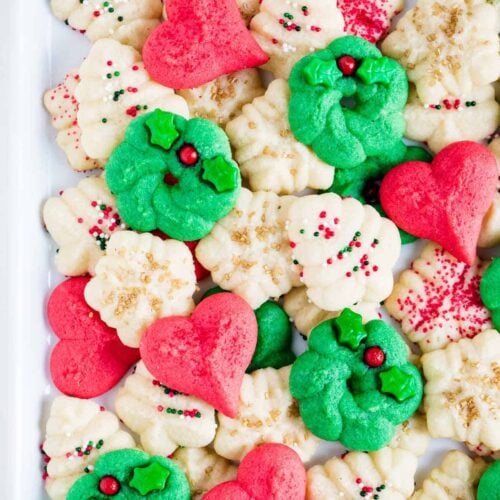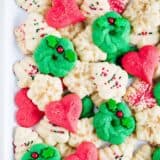 Spritz Cookies
These spritz cookies are a melt in your mouth holiday classic! All you need is a hand full of ingredients, a cookie press, and your favorite sprinkles to make these festive cookies in under an hour!
Ingredients
1 cup unsalted butter
¾ cup granulated sugar
1 large egg
1 teaspoon vanilla extract
1 teaspoon almond extract
2 ¼ cups all-purpose flour
1 teaspoon baking powder
½ teaspoon Kosher salt
Optional: Food coloring, sprinkles
Instructions
Preheat oven to 350°F and line a baking sheet with parchment paper.

Cream butter and sugar until fluffy, about 2 minutes. Beat in the egg, vanilla and almond extract.

In a separate bowl, whisk in the flour, baking powder and salt. Gradually mix into the sugar mixture. If using food coloring, divide dough into bowls and mix in (I did red and green). Refrigerate dough for 30 minutes.

Follow the direction on your cookie press and add the dough. Then press the cookies perpendicular onto the pan. Space them 1-inch apart.

Bake for 5-7 minutes, or until the edges are just barely turning golden. If you want them soft, take them out around 5 minutes or if you prefer a crisp cookie cook the full 7 minutes. Remove from oven and onto a cooling rack.

Enjoy plain or with powdered sugar icing. Store in a covered container.
---
Notes
Storage: Store in a covered container for 4 days or freeze for up to 3 months. When ready to eat remove from the freezer and let thaw on the counter.
Nutrition
Calories: 69kcal | Carbohydrates: 8g | Protein: 1g | Fat: 4g | Saturated Fat: 2g | Cholesterol: 14mg | Sodium: 26mg | Potassium: 17mg | Fiber: 1g | Sugar: 3g | Vitamin A: 123IU | Calcium: 6mg | Iron: 1mg
Nutrition provided is an estimate. It will vary based on specific ingredients used.
Did you make this recipe? Don't forget to give it a star rating below!