Learn how to melt chocolate with all these simple tips and tricks! The perfect way to easily dress up your favorite desserts. You'll become a pro at melting chocolate in no time!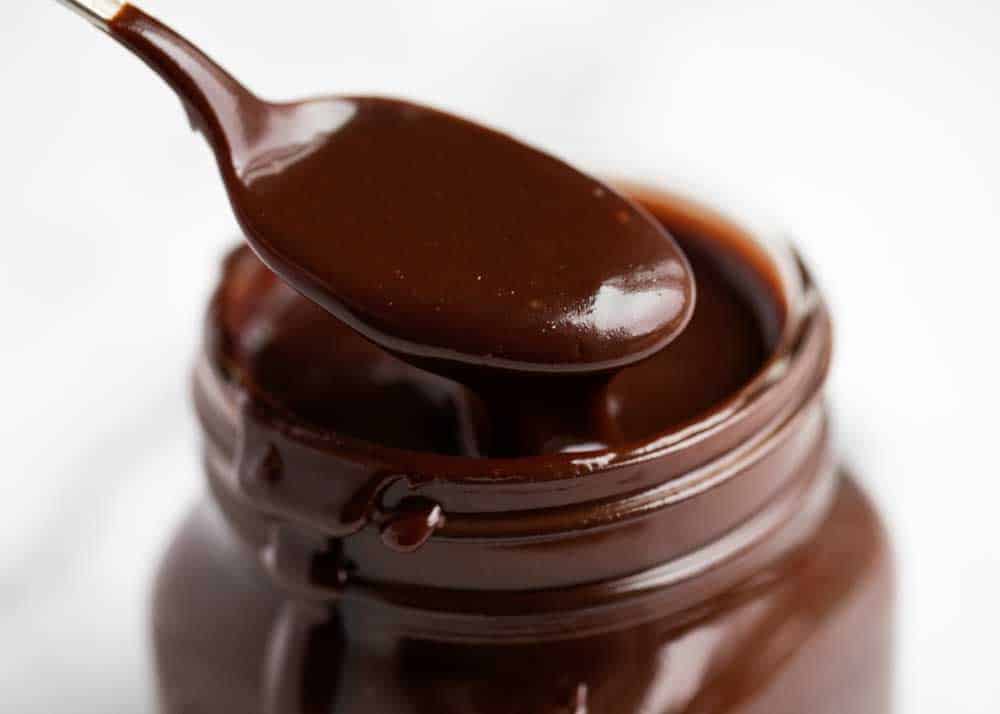 Best Way to Melt Chocolate
I love to drizzle melted chocolate on top of desserts to give them that beautiful wow factor! Plus it adds the perfect touch of sweetness, too. Some of my favorite desserts to drizzle are chocolate covered strawberries, chocolate truffles and Oreo balls.
Ah, melted chocolate is one of life's greatest pleasures. I mean, who wouldn't want to dive into that spoon of rich and creamy chocolate?
Drizzling chocolate is one of the best ways to dress up a simple dessert. It also adds delicious flavor. There are several different ways to melt chocolate. Melting it in the microwave is my favorite because it's so quick, but it can be a bit more finicky (especially with white chocolate).
Best Chocolate for Melting
Ghiradelli melting wafers – These are my personal favorite because they are so easy to use and taste delicious! You can melt them in a microwave safe bowl and they always have a smooth finish. I usually melt half a package at a time and heat at 50% power for 1 minute. I stir and then melt another 30 seconds. Stir again and repeat if needed.
Wilton candy melts – I love using these as well if I'm looking to use a certain color. The red is perfect for the holidays.
Almond bark – This is another great option if you're looking for a substitute for white chocolate. You will chop the bark and then proceed to melt.
High quality chocolate (such as Ghirardelli or Bakers) – Just simply chop it and then proceed to melt.
Couverture chocolate – This is a little fancier chocolate with a high percentage of cocoa butter. You will chop and then proceed to melt it.
Chocolate chips – If you're desperate, you can use chocolate chips, but you wont get as smooth of a finish (if you're using the chocolate for dipping strawberries or truffles), especially with white chocolate chips.
Microwave Method
Place the chocolate in a microwave safe bowl.
Microwave for one minute at 50% power.
Stir and then microwave (at 50% power) in 15 second increments, stirring until smooth.
Stove Top Method
You can also melt chocolate in a double broiler if you have one. You could also use a metal bowl or tempered glass bowl if it will fit on your pan. This is the best method if you are melting chocolate chips because it is less likely to burn.
Add 1″ of water to a sauce pan and bring to a light simmer.
Place the double broiler over top (making sure it doesn't touch the water). Then pour in the chocolate.
Stir occasionally and cook over the heat until it has all melted. Then remove from heat.
Melting white chocolate can be a little harder, as it is easy to burn and turn clumpy. So be sure to keep an eye on it and continue stirring until it melts. If it ends up getting a little too clumpy, try adding a little bit of shortening or butter until it thins out and becomes creamy. I love the melting wafers mentioned above and always get a smooth finish with those.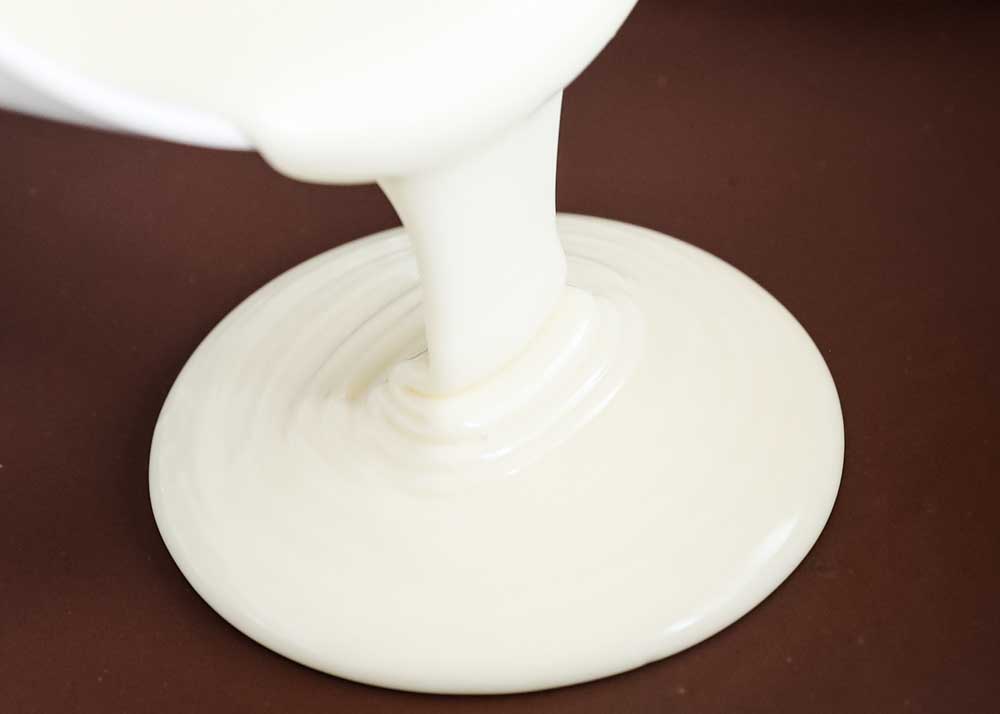 More Helpful Tips
Make sure to use dry tools. It only takes a drop of water to ruin the chocolate.
Don't rush the melting process. If you try to turn the heat too high to melt it faster it will burn and turn grainy.
Once it is mostly melted, remove from the heat. Then you can stir until the last few pieces melt.
Adding a Tablespoon of shortening before melting – it will give it more of a smooth and shiny finish.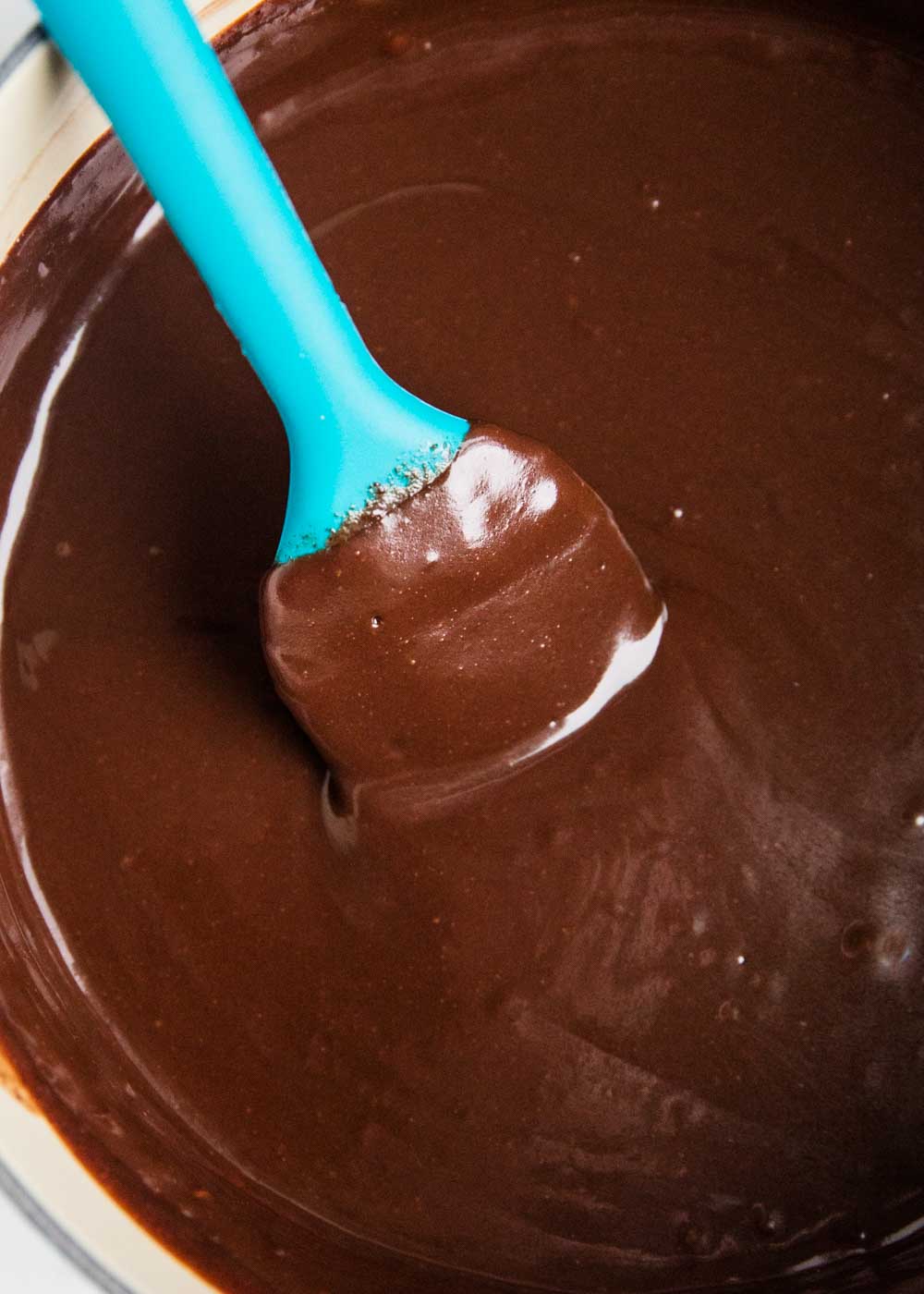 Favorite Ways to Use It
Candies: Candy truffles are one of my favorite desserts to make, especially around the holidays. I love to make all different types using melted chocolate, like cookie dough truffles and brownie truffles.
Fruits: My absolute favorite fruit to coat with melted chocolate is strawberries. There seriously isn't anything better. You could also coat other fruits like cherries, bananas, apples and more.
Cake and cookie Balls: It's so fun to make chocolate coated cake and cookie balls, like cake pops, Oreo balls and sugar cookie balls. They make the perfect bite-sized treat and are so delicious.
Cookies: Chocolate-dipped or drizzled cookies look so much fancier and also have delicious flavor! Some of my favorite cookies to coat are my coconut caramel cookies, gingerdoodles and strawberry cookies.
Drizzling: Drizzled chocolate looks so pretty and adds the perfect amount of sweetness! I love to drizzle it on top of turtle chex party mix, strawberry kabobs and popcorn.