Ring in the holiday season with these easy Christmas sugar cookies! Perfectly soft and fluffy with amazing flavor. The best recipe to use when decorating sugar cookies for Christmas!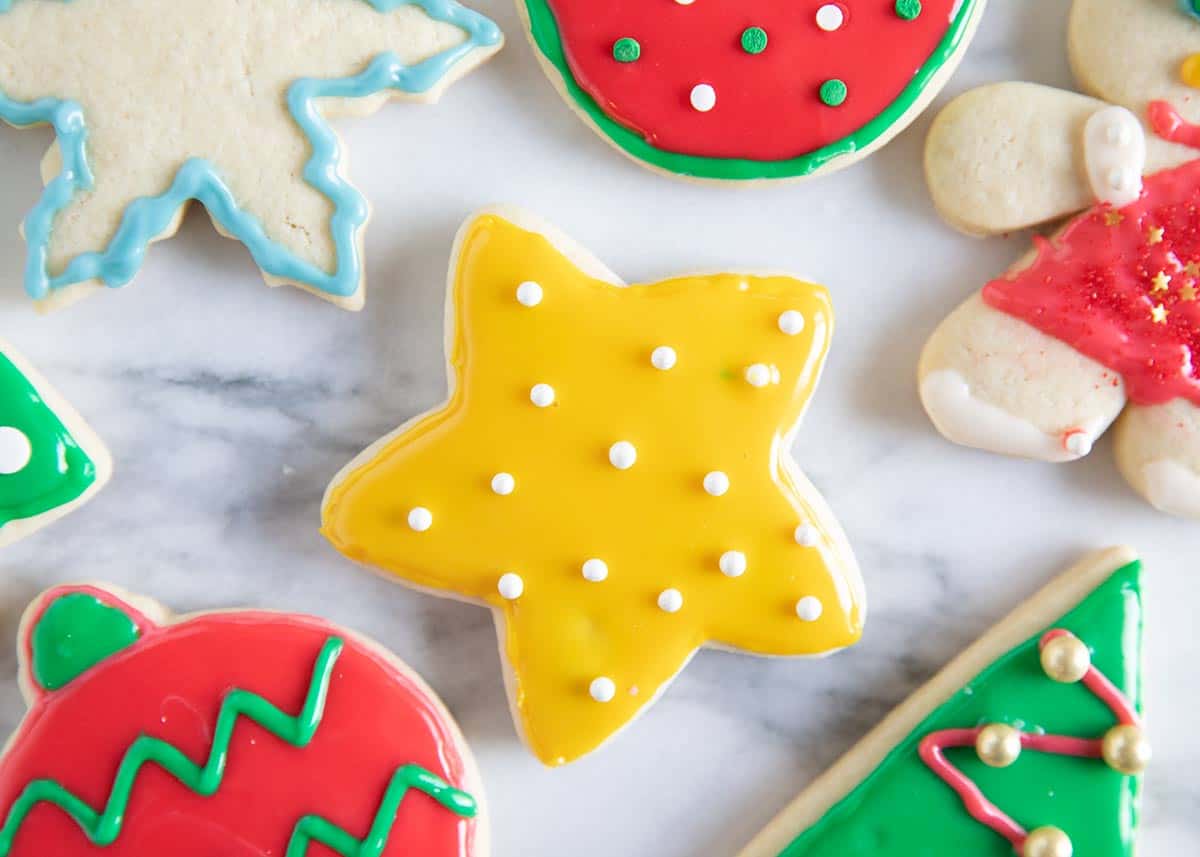 Best Christmas Cookies
These are the perfect Christmas cookies to add to your holiday baking list. They have a great taste and texture and work perfectly with cookie cutters. We love to make all different types of fun holiday shapes like ornaments, snowflakes, snowmen and candy cane cookies. So festive!
We adapted this recipe from my favorite sugar cookie recipe to make these and they turned out so delicious! The dough works great with cookie cutters and they bake beautifully in the oven. They're perfectly soft and fluffy, with a super moist texture from the sour cream.
No matter how you decorate these Christmas sugar cookies, they will turn out so cute and festive! These are the perfect cookies for Santa, to add to a Christmas dessert board or make for a cookie exchange.
Recipe Ingredients
Start the holidays off with this classic Christmas sugar cookie recipe. You can't go wrong with a soft, fluffy cookie shape, and then topped with colorful icing. Bake these to perfection and enjoy the best sugar cookies ever!
Find the full printable recipe with specific measurements below.
Butter: Let the unsalted butter sit out on the counter top until it is at room temperature. Soft to the touch, but not too soft that it will melt the cookie dough when baking.
Sugar: Added a little sweetness to the dough!
Eggs: Use large eggs to get the best consistency.
Vanilla and almond extract: The blend of these two extract gives these cookies the best flavor.
Flour: Binds the dough together, making it firmer and less sticky. You can also use some while you are rolling out the dough on the countertop.
Baking powder: This is an agent that will aid in puffing up the cookies as well as holding the shape of the cookie once it is done cooking.
How to Make Christmas Sugar Cookies
Homemade sugar cookies are always a family favorite dessert! They are always a tradition in our home to make together. This dough is so easy to make and comes together quickly with pantry staple ingredients. You will love how soft and chewy these cookies are!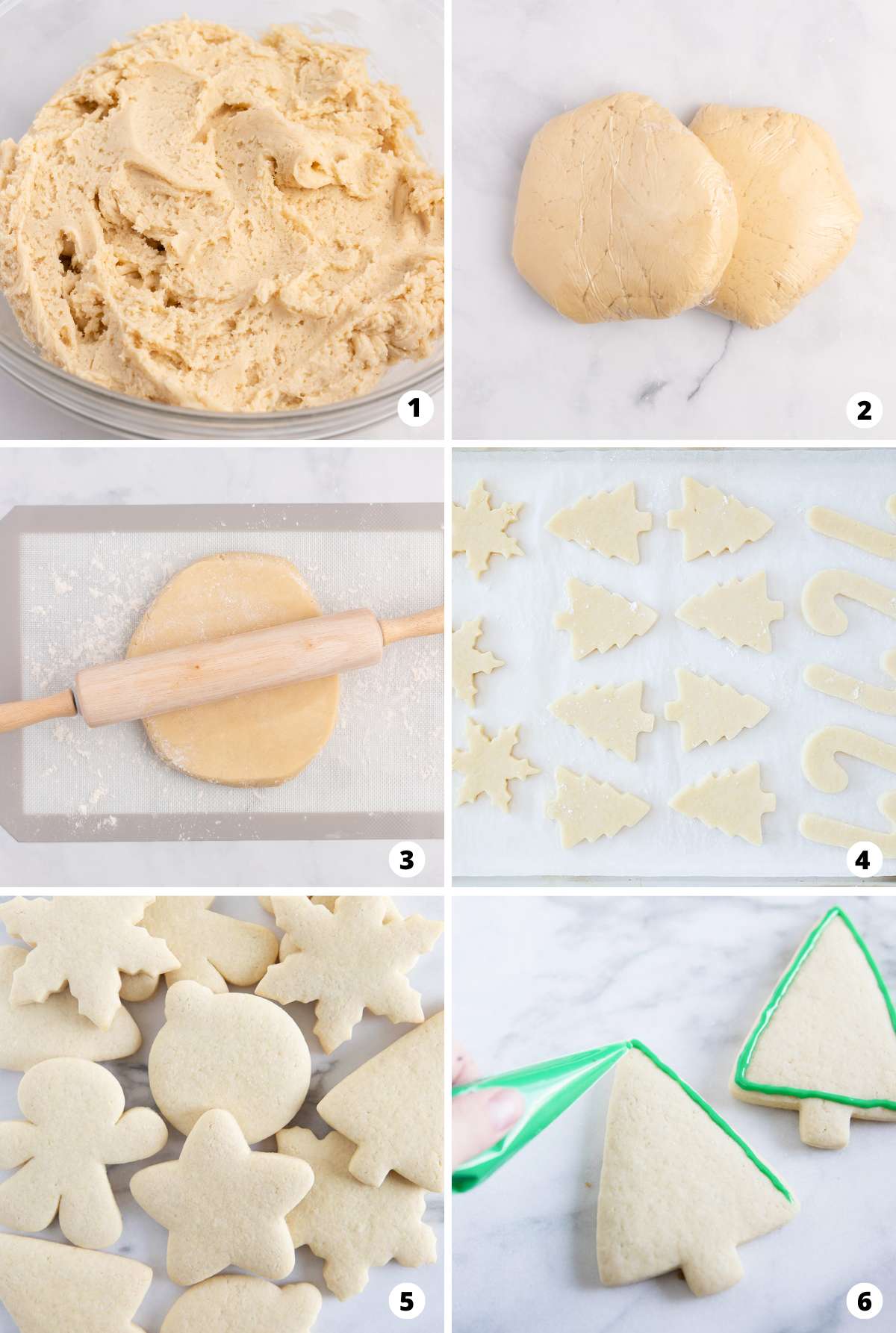 Dough. Cream the butter and sugar together, then mix in the eggs, vanilla, almond extract and sour cream until combined. Mix together the dry ingredients in a separate bowl, then slowly add the dry mixture to the wet mixture.
Chill. Divide the cookie dough in half, then wrap each half in plastic wrap. Then let the dough chill in the refrigerator for 1 to 2 hours.
Roll. Use a rolling pin to roll out the dough. If it feels too sticky to roll out, add another 1/4 to 1/2 cup flour.
Cookie cutters. Cut out the shapes with your favorite cookie cutters and place on the prepared baking sheet.
Bake. Bake in the oven at 350°F for about 8 to 9 minutes, or until the edges are lightly golden. Remove from oven and transfer to a cooling wire rack for them to cool.
Frost. Once the cookies have cooled all the way to room temperature. Start making the frosting and ready to frost each of the cookies.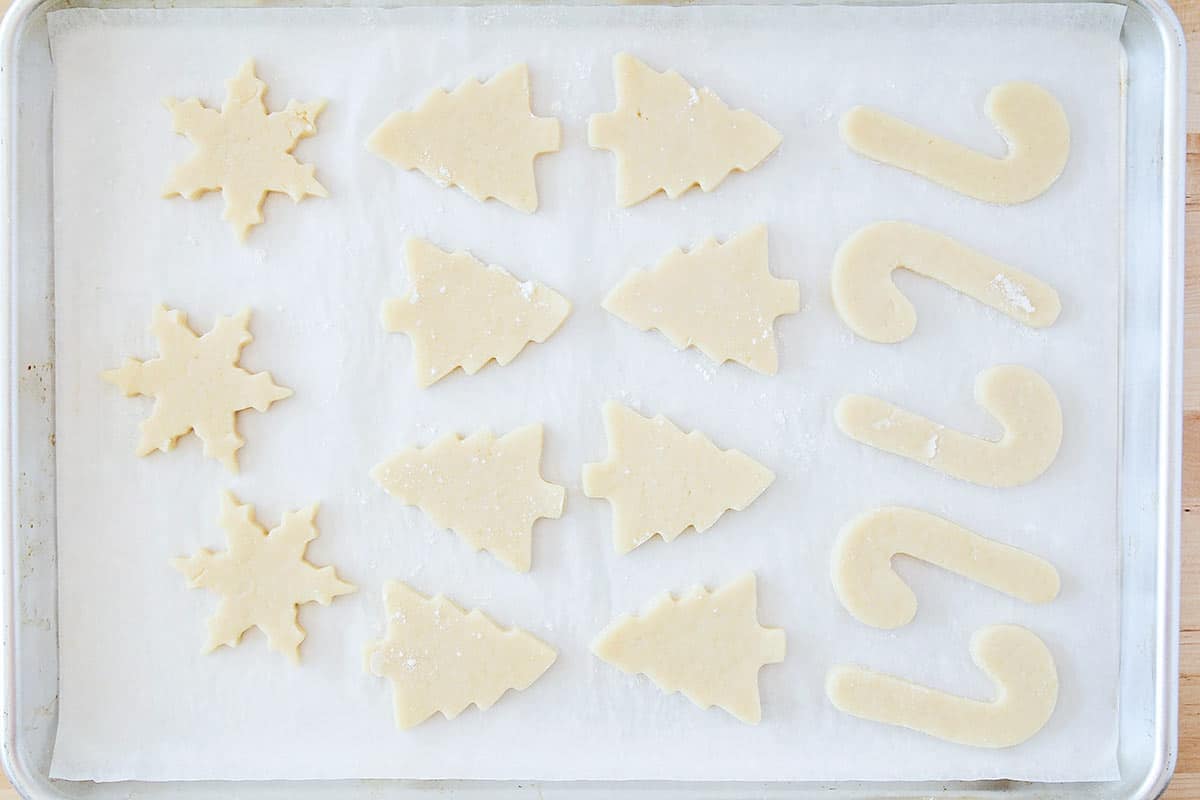 Baking Tips
For the best sugar cookie recipe follow these tips and tricks have the softest, fluffiest, cookies around. Cookies are so easy to make but with these quick tips, your cookies will go to the next level. Take advantage of these extra steps to ensure the best Christmas cookies this season.
Chill the dough. Don't skip this step! Refrigerate the dough for at least 1-2 hours before cutting out your shapes. This helps the cookies from spreading too much in the oven.
Parchment paper. Roll out the dough between two pieces of parchment paper (or on a baking mat). This way, you don't have to peel up the shapes. You can just remove the extra scraps and transfer the parchment paper onto the pan.
Dust cookie cutter. Before using your cookie cutter, dust it in flour or powdered sugar first. This allows for an easy removal and keeps the dough from getting stuck in the cutter.
Bake same size cookies. Because you're using different types of cutters, the cookies will be all different sizes. Make sure to bake similar sized cookies together so that some don't overbake while others are underdone.
Fix the shape. If any of your shapes look a little misshapen after baking, carefully use your spatula to straighten out the edges right when the cookies come out of the oven. They're still super pliable at this point.
Half batch. You can easily cut this recipe in half if you'd like a smaller amount. Or you can follow the recipe and freeze half the dough for later.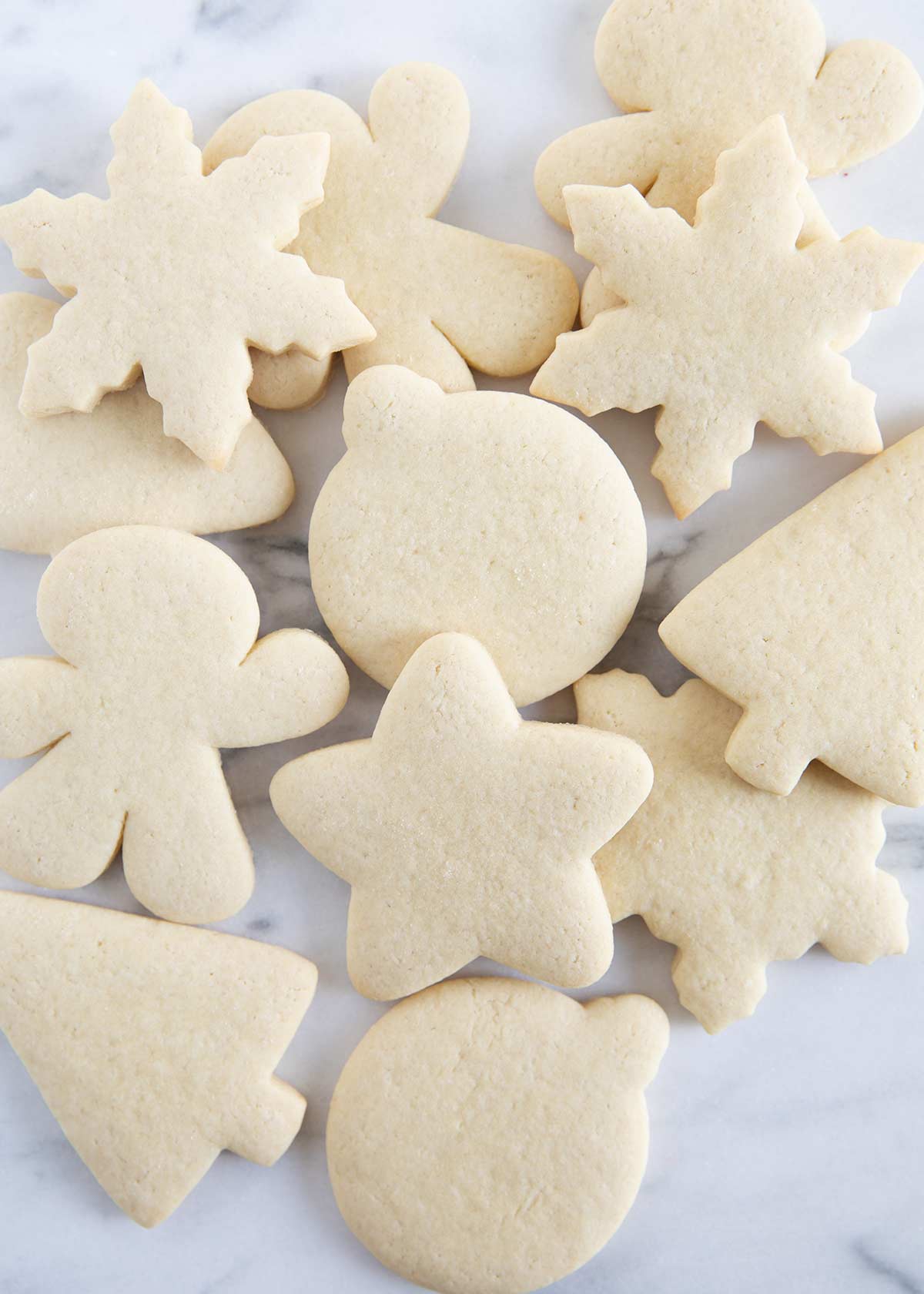 Recipe FAQs
Do you put sprinkles on cookies before or after baking?
If you are using sprinkles in the cookie dough you will want to add them in prior to baking the cookie dough. When adding the sprinkles on top of the frosting, outside of the cookie dough, these can be done when you are frosting your baked cookies.
How to get sprinkles to stick to cookies?
Use an egg wash to help get the sprinkles to stick to the cookies. Also make sure the cookies are cooled off before adding any frosting. The frosting will melt off until they are cooled to room temperature.
What is the most popular Christmas cookie in the US?
I would think sugar cookies because of how simple they are to make but it is actually another favorite peanut butter blossoms. These cookies have the Hershey kisses in the middle of them.
Make Ahead + Freezing
The dough freezes beautifully – so you can absolutely make it ahead of time and freeze it for later. Then when you're ready to decorate your sugar cookies, all you have to do is let it thaw and then bake. Simply wrap it in plastic wrap and place in a freezer bag. Then store in the freezer for up to 6 months. You can also make the dough 2-3 days in advance and store in the fridge until ready to use.
Alternatively, you may also freeze the baked sugar cookies (without the icing). The texture may be a tiny bit harder since they aren't fresh, but they will still taste delicious! Let them cool after baking, then wrap with plastic wrap, add to a freezer bag and then store in the freezer. Then pull them out to thaw a few hours at room temperature before decorating.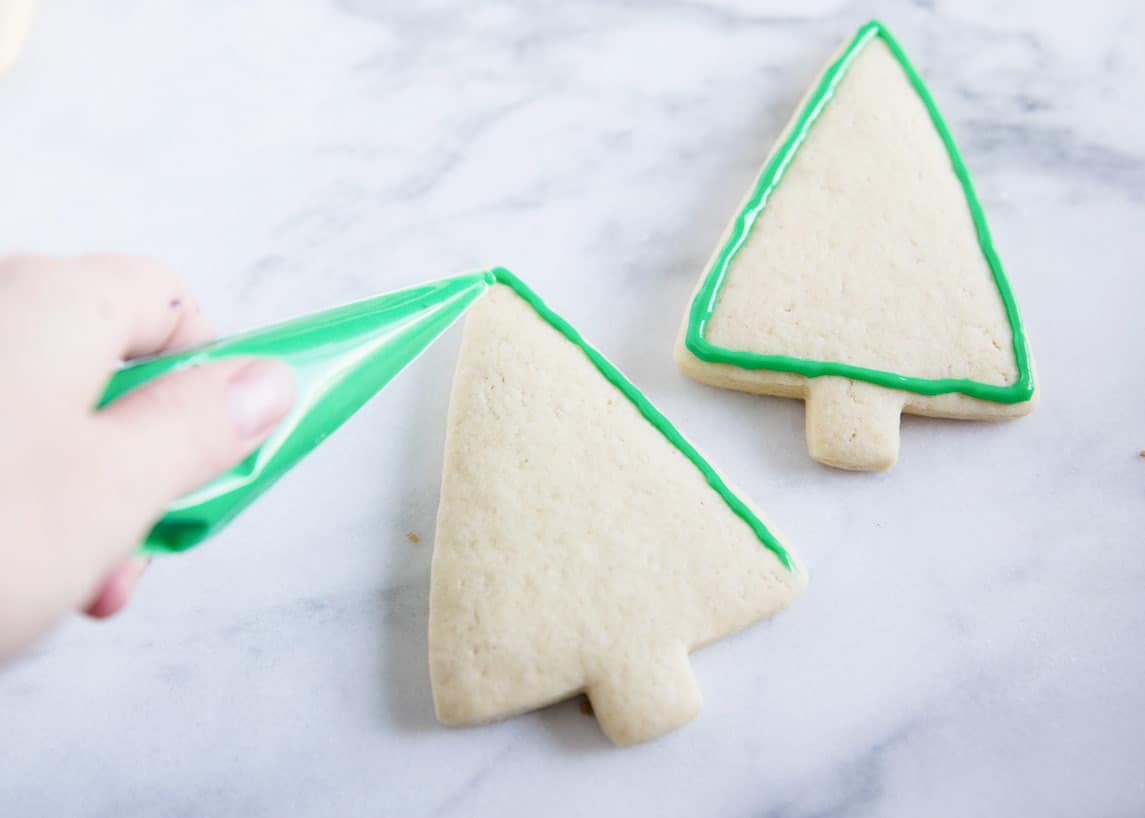 Icing + Frosting
Now for the fun part…decorating with icing or frosting! This gives them that festive holiday cheer and adds some personality to your sugar cookies. If you love to decorate, you will love these soft molasses cookies and Christmas reindeer cookies, too! Below are some delicious options to choose from.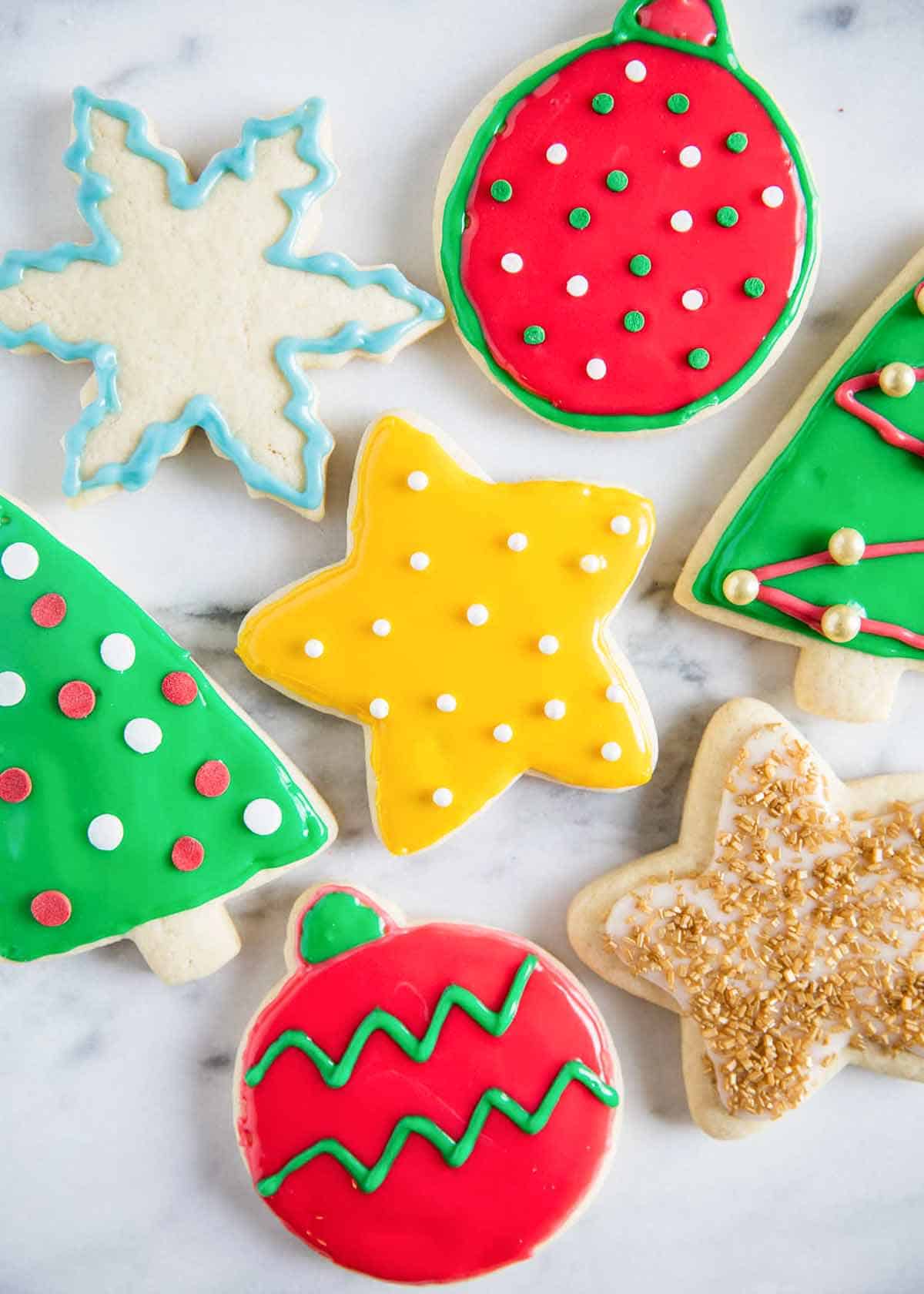 5 star review
"💗 These are the best tasting sugar cookies I've made in a while! Others always spread, but these kept their shape, puffed up beautifully, and the dough was really easy to work with. I had so much fun with my daughter baking and decorating these for Christmas. She mainly ate the frosting and sprinkles, 😉 but we had fun, and that was the point. Thanks Jamielyn!"

-Melinda
More Cookie to Make this Christmas
HUNGRY FOR MORE? Subscribe to my newsletter and follow on Facebook, Pinterest and Instagram for all the newest recipes!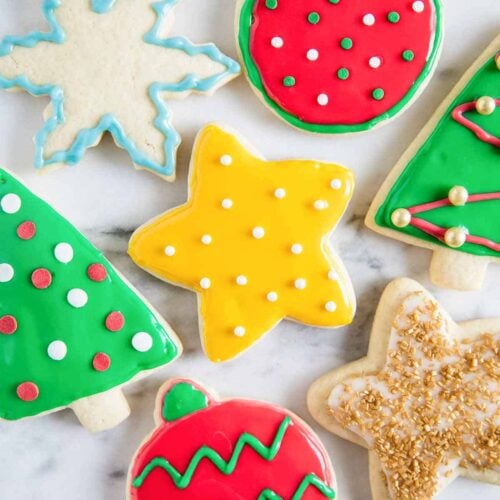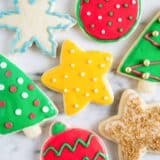 Christmas Sugar Cookies
Ring in the holiday season with these easy Christmas sugar cookies! Perfectly soft and fluffy with amazing flavor. The best recipe to use when decorating sugar cookies for Christmas!
Ingredients
1 ½ cups (345 g) butter , 3 sticks at room temperature
2 cups (390 g) granulated sugar
4 large eggs
1 teaspoon vanilla extract
½ teaspoon almond extract
5 cups (650 g) all-purpose flour , spooned and leveled
2 teaspoons baking powder
½ teaspoon fine sea salt
Cream cheese frosting
½ cup (115 g) butter , at room temperature
8 ounces cream cheese , at room temperature
1 ½ teaspoons vanilla extract
4 cups (520 g) powdered sugar
Instructions
In a large bowl, mix together butter and sugar. Beat until creamy. Add in eggs, vanilla and almond extract and mix together until combined.

In a separate bowl, mix together flour, baking powder and salt. Slowly add dry ingredients to the wet ingredients. Mix just until combined.

Split dough in two and place in saran wrap. Refrigerate for 1-2 hours. Do not skip this step.

Once dough has chilled, preheat oven to 375°F. Roll out the dough about 1/2 inch thick on a baker's mat or a clean counter top. I like to sprinkle some powdered sugar on the rolling pin so the dough doesn't stick.

Cut with cookie cutters and then place onto baking sheet lined with parchment paper about 1-2 inches apart. Bake for 6-8 minutes, or until the center is barely set. Do not let the edges or bottoms brown. Watch carefully the last minute of baking. Allow to cool on the pan for a few minutes and then remove to a cooling rack.

Allow to cool and then frost as desired.
---
Notes
This recipe has been updated. Find our soft sugar cookie recipe with sour cream here: https://www.iheartnaptime.net/soft-sugar-cookies/
Favorite sugar cookie icing: https://www.iheartnaptime.net/sugar-cookie-icing/
Freezer instructions: Place on a pan and freeze cookies for 30 minutes. Once hard you can stack in a freezer container and freeze for up to 3 months. I like to place a piece of parchment paper in between each layer.
Nutrition
Calories: 202kcal | Carbohydrates: 29g | Protein: 3g | Fat: 8g | Saturated Fat: 5g | Cholesterol: 31mg | Sodium: 159mg | Potassium: 55mg | Fiber: 1g | Sugar: 12g | Vitamin A: 253IU | Vitamin C: 1mg | Calcium: 21mg | Iron: 1mg
Nutrition provided is an estimate. It will vary based on specific ingredients used.
Did you make this recipe? Don't forget to give it a star rating below!