Ring in the holiday season with these easy Christmas sugar cookies! Perfectly soft and fluffy with amazing flavor. The best recipe to use when decorating sugar cookies for Christmas!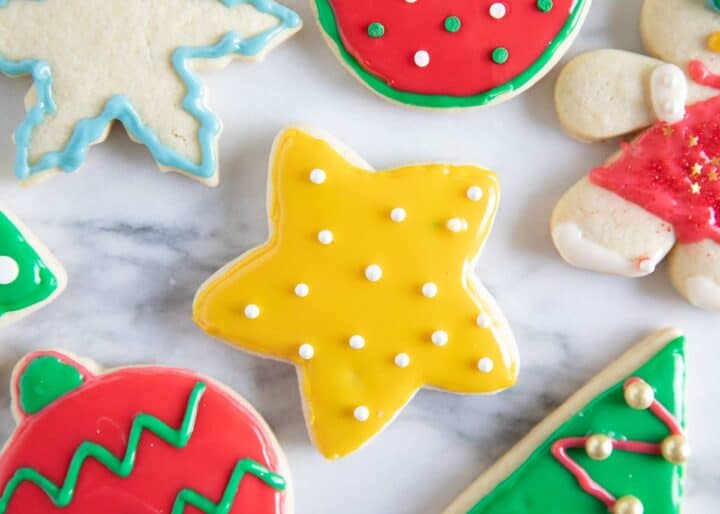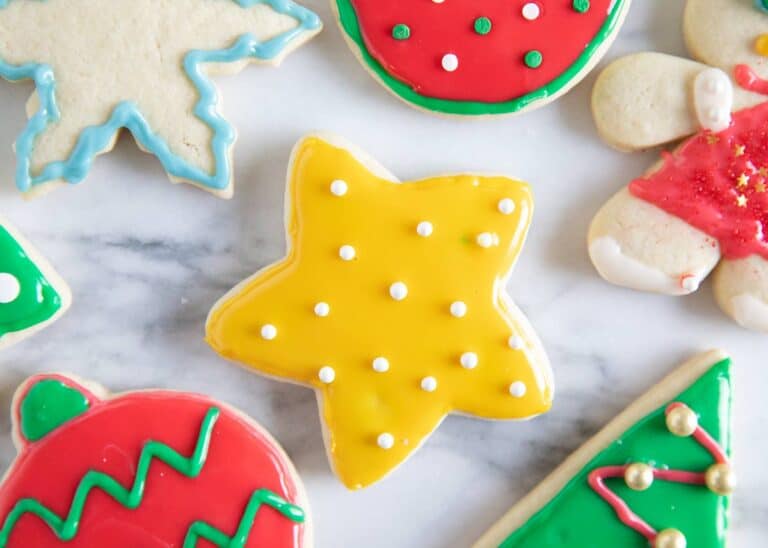 Best Christmas Cookies
These are the perfect Christmas cookies to add to your holiday baking list. They have a great taste and texture and work perfectly with cookie cutters. We love to make all different types of fun holiday shapes like ornaments, candy canes, snowflakes and snowmen. So festive!
We used my favorite sugar cookie recipe to make these and they turned out so delicious! The dough works great with cookie cutters and they bake beautifully in the oven. They're perfectly soft and fluffy, with a super moist texture from the sour cream.
No matter how you decorate these Christmas sugar cookies, they will turn out so cute and festive! These are the perfect cookies for Santa or to add to a dessert platter or make for a cookie exchange.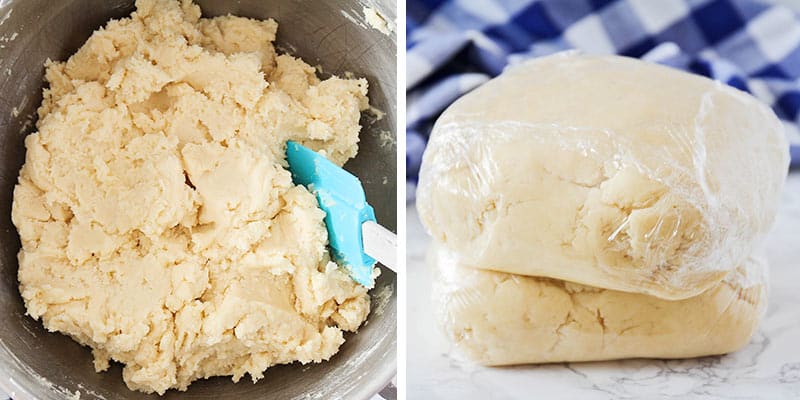 How to make Christmas sugar cookies
DOUGH. Cream the butter and sugar together, then mix in the eggs, vanilla, almond extract and sour cream until combined. Mix together the dry ingredients in a separate bowl, then slowly add the dry mixture to the wet mixture.
CHILL. Divide the dough in half, then wrap each half in plastic wrap. Then let the dough chill in the refrigerator for 1 to 2 hours.
ROLL. Use a rolling pin to roll out the dough. If it feels too sticky to roll out, add another 1/4 to 1/2 cup flour. Then cut out the shapes with your favorite cookie cutters.
BAKE. Bake in the oven at 350°F for about 8 to 9 minutes, or until the edges are lightly golden. Remove from oven and transfer to a cooling rack to cool completely before frosting.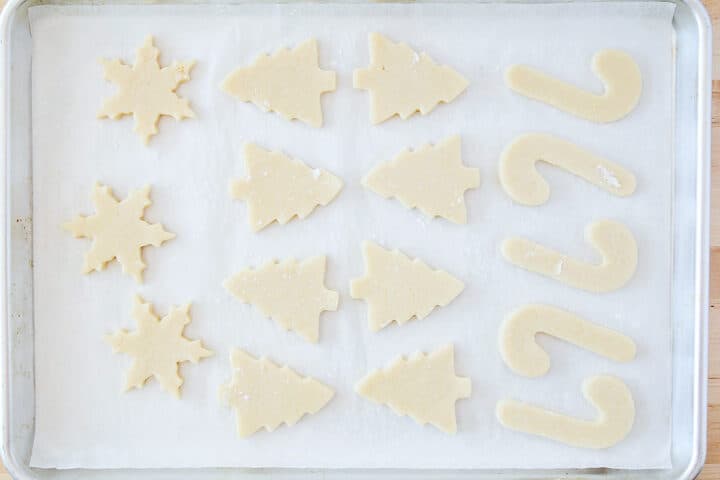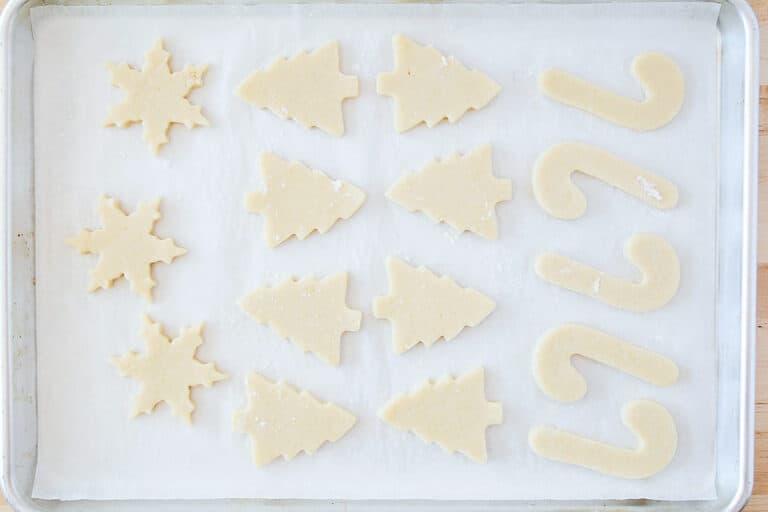 Baking tips
Chill the dough. Don't skip this step! Refrigerate the dough for at least 1-2 hours before cutting out your shapes. This helps the cookies from spreading too much in the oven.
Parchment paper. Roll out the dough between two pieces of parchment paper (or on a baking mat). This way, you don't have to peel up the shapes. You can just remove the extra scraps and transfer the parchment paper onto the pan.
Dust cookie cutter. Before using your cookie cutter, dust it in flour or powdered sugar first. This allows for an easy removal and keeps the dough from getting stuck in the cutter.
Bake same size cookies. Because you're using different types of cutters, the cookies will be all different sizes. Make sure to bake similar sized cookies together so that some don't overbake while others are underdone.
Fix the shape. If any of your shapes look a little misshapen after baking, carefully use your spatula to straighten out the edges right when the cookies come out of the oven. They're still super pliable at this point.
Half batch. You can easily cut this recipe in half if you'd like a smaller amount. Or you can follow the recipe and freeze half the dough for later.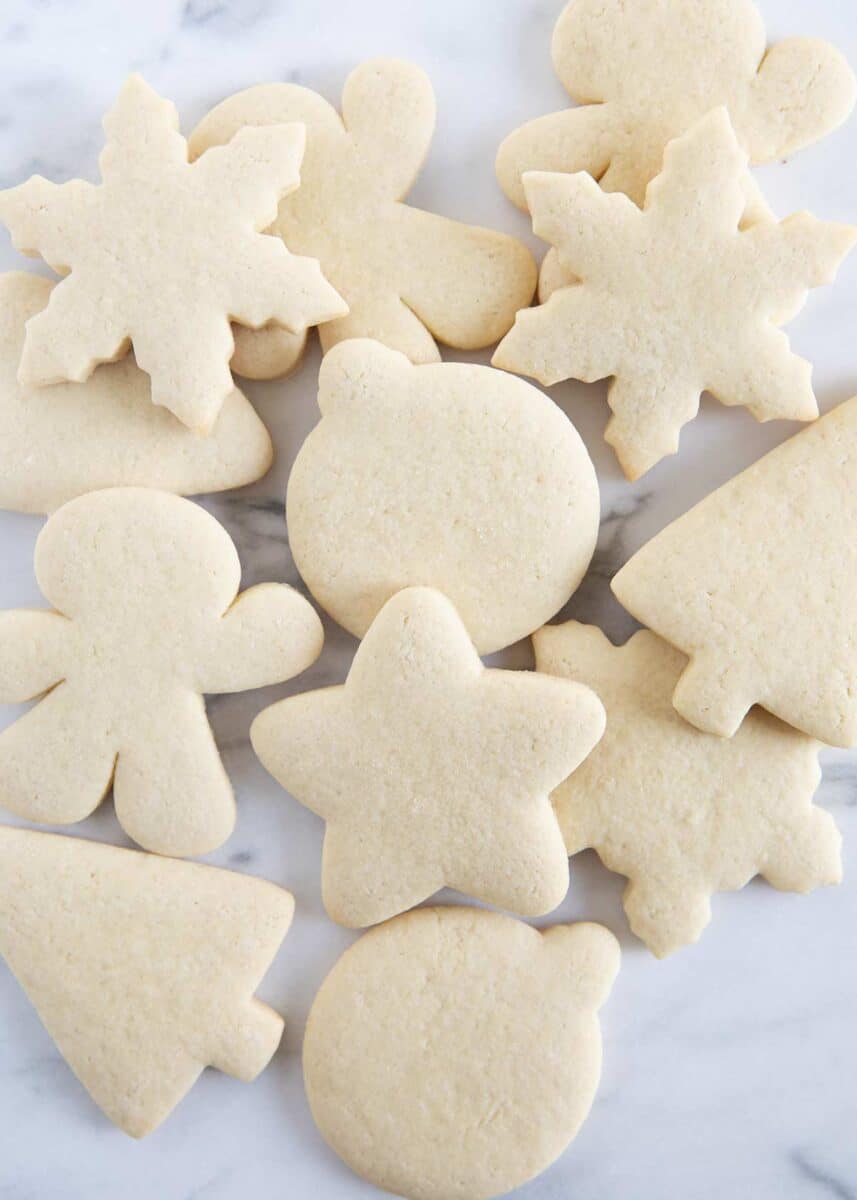 Make ahead + freezing
The dough freezes beautifully – so you can absolutely make it ahead of time and freeze it for later. Then when you're ready to decorate your sugar cookies, all you have to do is let it thaw and then bake. Simply wrap it in plastic wrap and place in a freezer bag. Then store in the freezer for up to 6 months. You can also make the dough 2-3 days in advance and store in the fridge until ready to use.
Alternatively, you may also freeze the baked sugar cookies (without the icing). The texture may be a tiny bit harder since they aren't fresh, but they will still taste delicious! Let them cool after baking, then wrap with plastic wrap, add to a freezer bag and then store in the freezer. Then pull them out to thaw a few hours before decorating.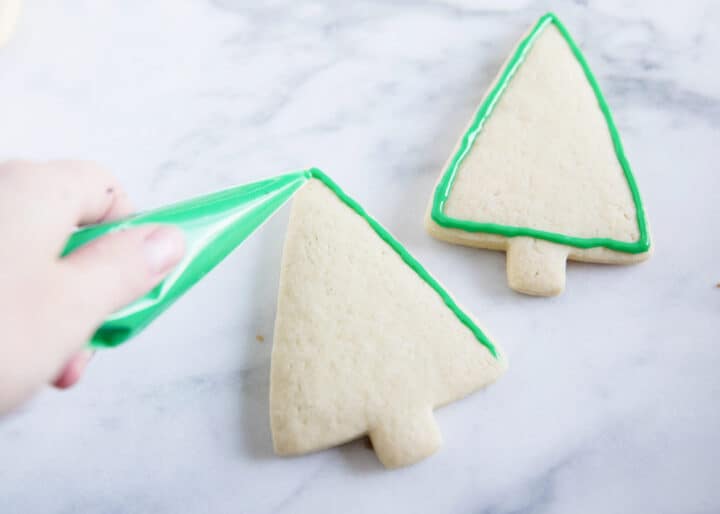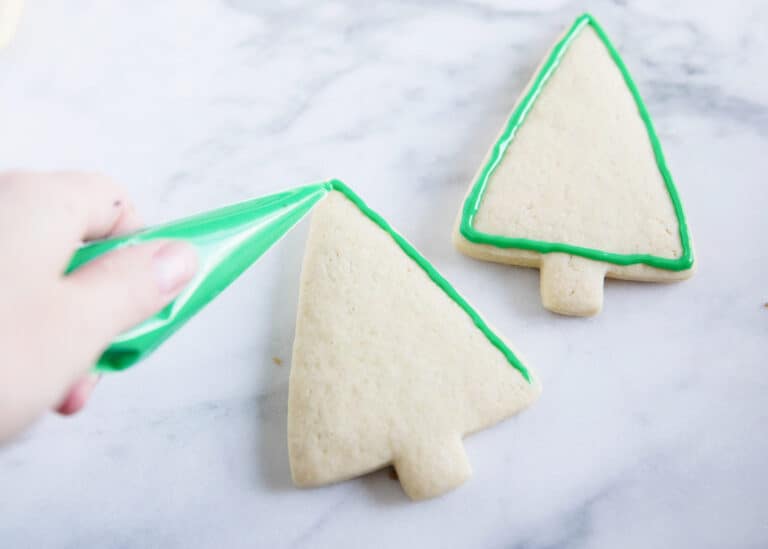 Icing + frosting
Now for the fun part…decorating with icing or frosting! This gives them that festive holiday cheer and adds some personality to your sugar cookies. Below are some delicious options to choose from.
TIP: Make sure to add any sprinkles or sanding sugar immediately after you ice or frost your cookies. If you wait too long, the icing or frosting will dry and the decorations won't stick.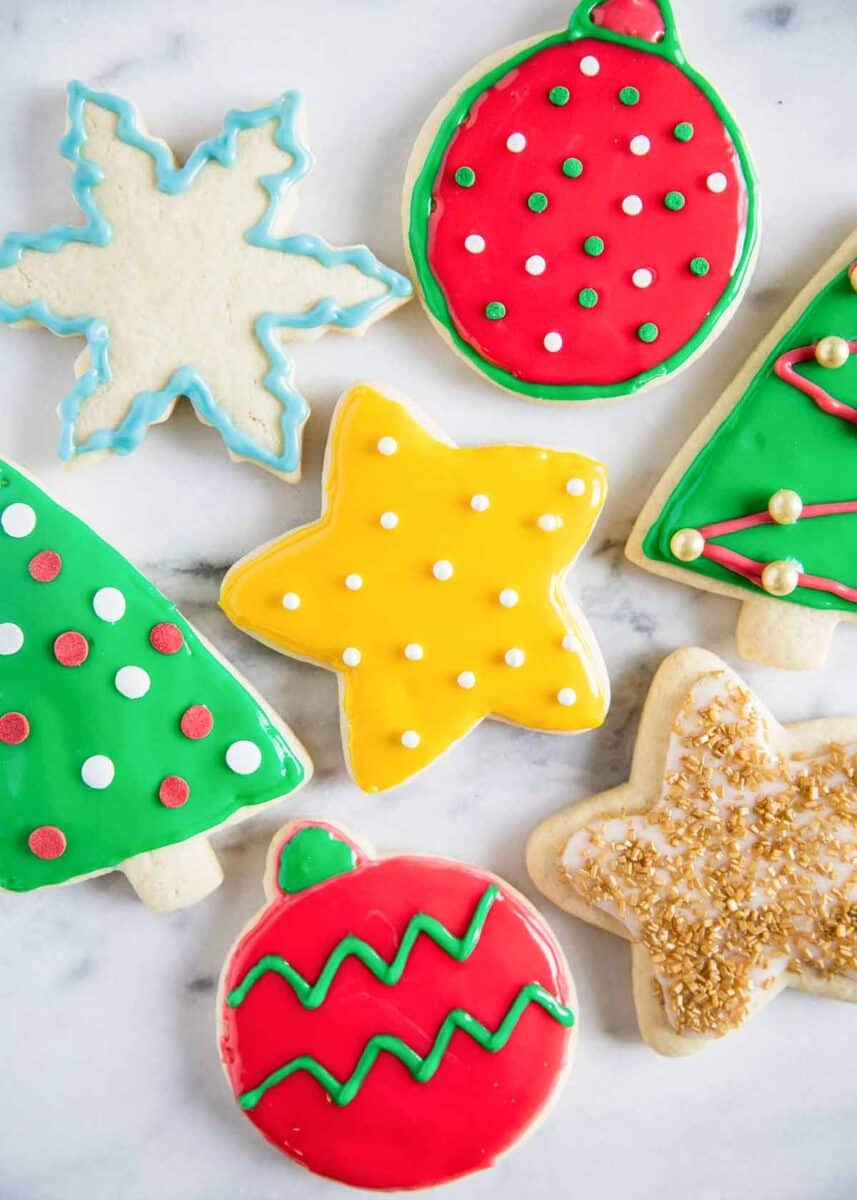 More cookies to make this Christmas: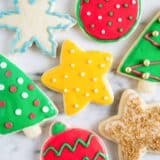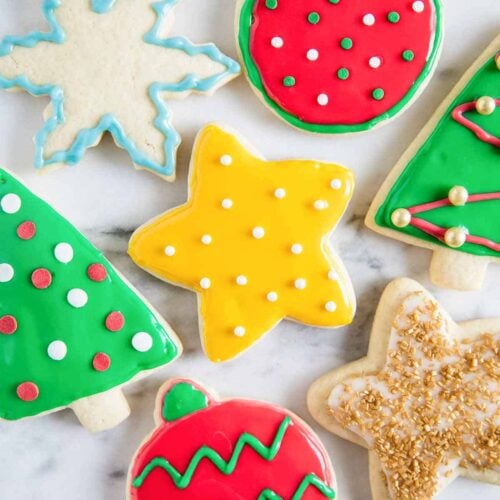 Christmas Sugar Cookies
Ring in the holiday season with these easy Christmas sugar cookies! Perfectly soft and fluffy with amazing flavor. The best recipe to use when decorating sugar cookies for Christmas!
Instructions
In a large bowl, mix together butter and sugar. Beat until creamy. Add in eggs, vanilla, almond extract and sour cream and mix together until combined.

In a separate bowl, mix together flour, baking soda, baking powder and salt. Slowly add dry ingredients to the wet ingredients. Mix just until combined.

Split dough in two and place in saran wrap. Refrigerate for 1-2 hours.

Once dough has chilled, preheat oven to 350°F. Roll out dough on a baker's mat or parchment paper. Add another 1/4 – 1/2 cup flour if dough is still sticky. Cut with floured cookie cutter.

Bake for 8-9 minutes, until edges are slightly golden.

Allow to cool and then frost as desired.
---
Notes
Favorite sugar cookie icing: https://www.iheartnaptime.net/sugar-cookie-icing/
Calories: 202kcal | Carbohydrates: 29g | Protein: 3g | Fat: 8g | Saturated Fat: 5g | Cholesterol: 31mg | Sodium: 159mg | Potassium: 55mg | Fiber: 1g | Sugar: 12g | Vitamin A: 253IU | Vitamin C: 1mg | Calcium: 21mg | Iron: 1mg