Soft and chewy gingerbread man cookies full of ginger spice flavor. This classic Christmas treat is the perfect cookie to decorate with your family this season!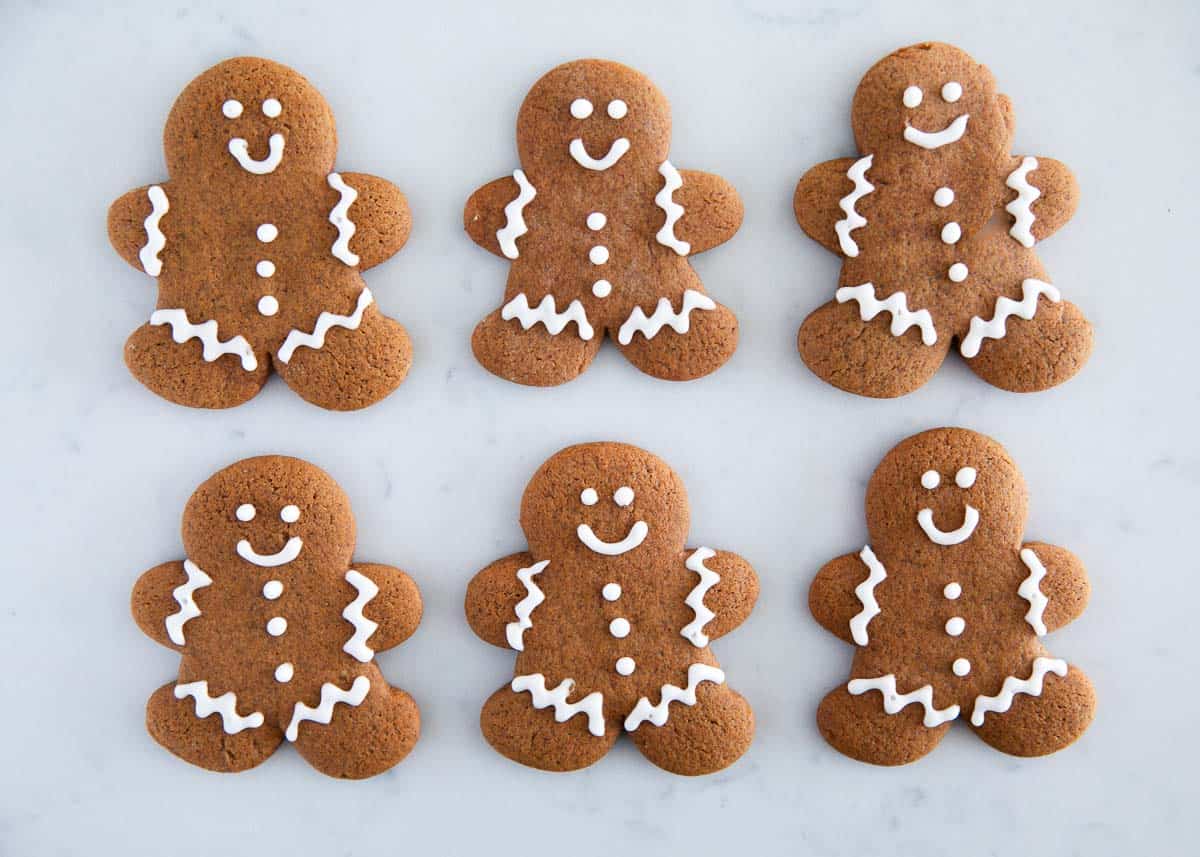 Favorite Christmas Cookie
These gingerbread man cookies are honestly one of my favorite Christmas cookies, right next to my ginger molasses cookies. This recipe is tried and true and one we make every year.
These gingerbread man are super soft (similar to a sugar cookie), chewy and have the perfect amount of ginger spice. A Tablespoon of ground ginger and cinnamon may seem like a lot, but I promise it is the perfect amount!
The week of Christmas my kids and I love to have a cookie decorating day, so I will always make a batch of this gingerbread dough and sugar cookie dough. They could be a fun Elf ideas too if you have one visit your home.
These really are simply the best gingerbread cookies and so easy to make! My whole family absolutely LOVES them!
Recipe Ingredients
Find all your ingredients in your pantry and be ready to make the easiest cookies for your family and friends! These cookies have minimal ingredients and are ready in minutes. Each ingredient plays a key role when making these delicious gingerbread cookies.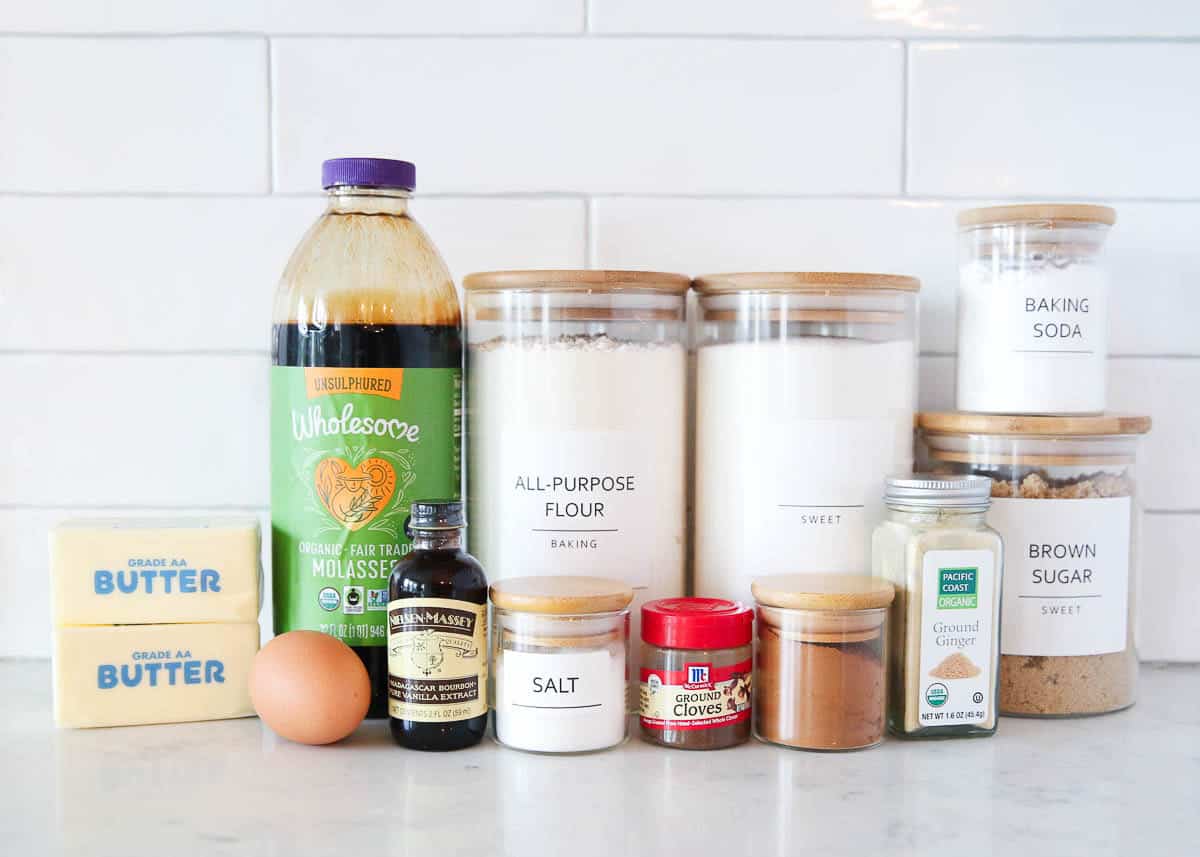 Find the full printable recipe with specific measurements below.
Butter: Unsalted butter can be left out until the butter is soften from the room temperature. This takes about 20 to 25 minutes.
Brown sugar: Adds in the sweetness and combines well with molasses.
Molasses: I like the Grandma sycamore brand best. I have had great experience using this flavor.
Egg: Binds the ingredients together like glue and holds their shape when baked.
Vanilla extract: Just a splash of goodness to help blend the ingredients together.
Flour: Holds together the cookies as well as holds the form for the cookie dough.
Baking soda: Adds the fluffiness and chewy texture to the gingerbread cookies.
Salt: Just a pinch!
Seasonings: Ground ginger, cinnamon, and cloves are all holiday favorite seasonings.
How to Make Gingerbread Cookies
Create the best gingerbread man cookies with these simple steps to follow. Each step comes together quickly and easily. You may need a few extra appliances but it will be well worth it!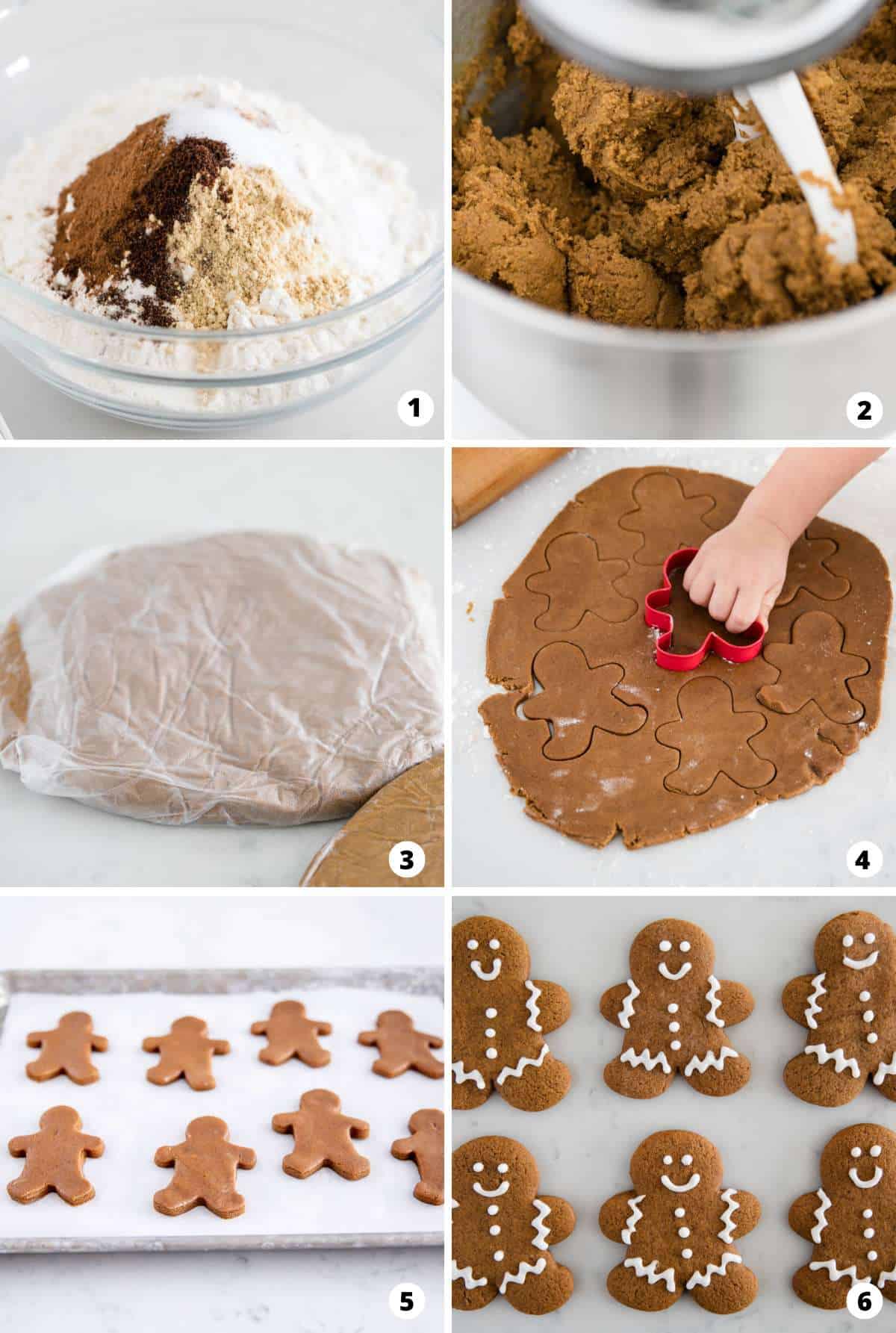 Dry mixture: Combine the top dry ingredients into a bowl. Whisk together until it is a flour mixture.
Make the dough: Start by beating the butter and brown sugar in a large bowl until creamy. Next beat in molasses until smooth, then add in egg and vanilla and mix until just combined. Scrape down the sides of the bowl. Then add the dry mixture to wet mixture and mix on low just until combined.
Refrigerate the dough: Divide the dough in half and cover each half tightly with saran wrap. Press until flat. Then place in fridge for at least one hour or up to 3 days. This will make rolling out the dough easier.
Roll and cut out your cookies: On a lightly floured surface, roll the dough out until it's about 1/4″ thick. Using a cookie cutter, cut the dough into shapes.
Baking sheet: Place the cut outs onto a parchment-lined baking sheet about 1 inch apart. Then bake as instructed below.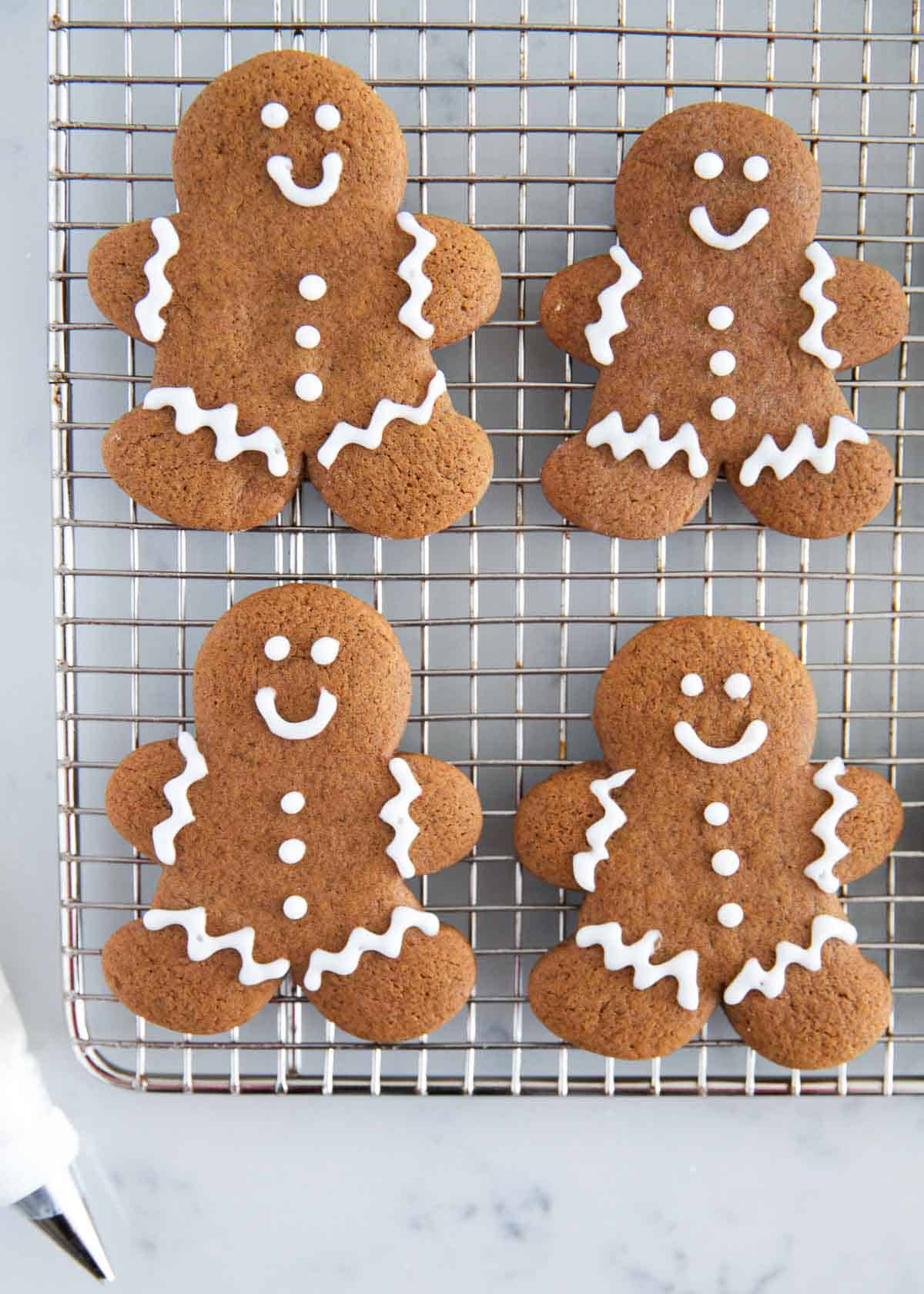 Icing for Gingerbread Cookies
To decorate, you can use a simple powdered sugar icing or gingerbread house icing. Check out my favorite icing recipe below.
You can also use sprinkles, mini M&M's, raisins or red hots to add the buttons down the center.
2 cups powdered sugar
2 Tablespoons milk
1/2 teaspoon vanilla
Instructions: Add ingredients to a bowl and whisk until smooth. The consistency should be thick like toothpaste. For best results, use a #4 round tip to decorate your gingerbread man.
Baking Tips
These are so fun to make and watch the gingerbread men come to life. Try these baking tips to make the best cookies this holiday season!
Use softened butter. When making the dough, make sure to use softened butter and beat until smooth and creamy. This will help the consistency of the dough.
Add flour if dough is sticky. If your dough is too sticky, you can add a Tablespoon or two more of flour. You don't want to add too much, or they will become dry.
Wrap and flatten the dough. Before refrigerating, it is important to wrap the dough tightly and press it down until flat. This will help tremendously when you are rolling out the dough.
Use parchment. Always use a piece of parchment paper or baking mat with this recipe to prevent the bottoms from getting brown too fast.
Keep an eye on your cookies. I like to take my cookies out at around 8 minutes so they are soft and tender. If you prefer your cookies more crispy, bake 9-11 minutes. Just watch them carefully as you don't want them to taste burnt.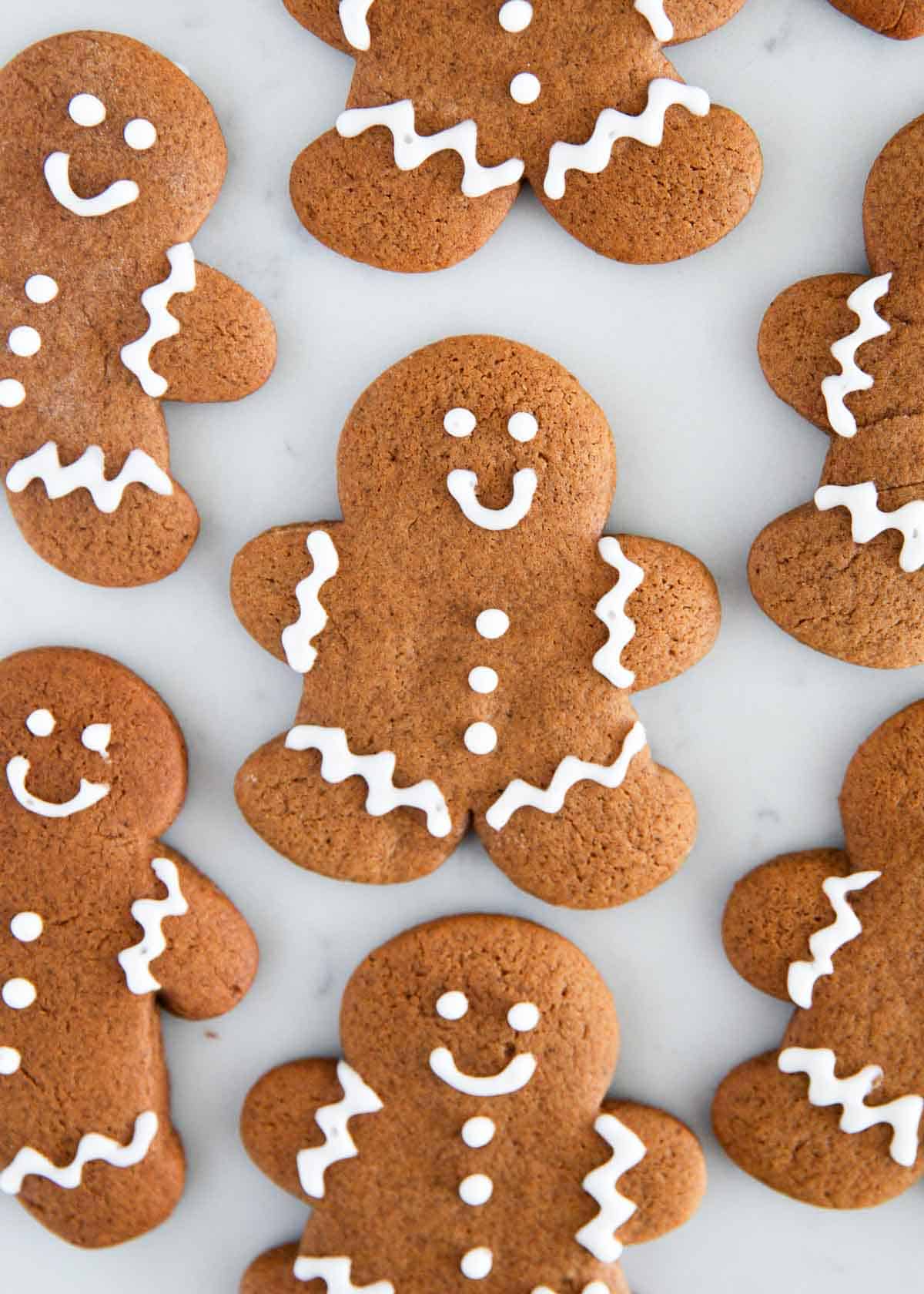 Recipe FAQs
Should gingerbread cookies be hard or soft?
I love my cookies soft and chewy! These gingerbread man cookies are soft. The molasses helps with the softness of the cookies. Gingerbread cookies are a bit different and bend a little more like an elastic form.
What's the difference between gingerbread cookies and ginger cookies?
Both of these cookies are known to be spiced cookies because of the molasses and the spices included in the ingredients. The difference is one is rolled into shapes and the other is rolled into balls. Gingersnaps are sometimes have a harder outside layer compared to the gingerbreads chewy texture.
Why do gingerbread cookies spread?
Having too much baking soda in the cookies which makes the cookies expand when baking.
Storing Homemade Gingerbread Man Cookies
Store in an airtight container ahead of time or the day of! These are perfect for parties and decorating gingerbread cookies together. To stack the cookies place parchment paper in-between each layer. These will last up to two weeks long or freeze for two to three months long.
5 star review
"These are the best most consistent result gingerbread cookies I have ever made. They are the perfect texture. They hold up well yet they are soft and chewy! I will be handing this recipe down in the family for sure!!"

– Susan
More Christmas Cookies
HUNGRY FOR MORE? Subscribe to my newsletter and follow on Facebook, Pinterest and Instagram for all the newest recipes!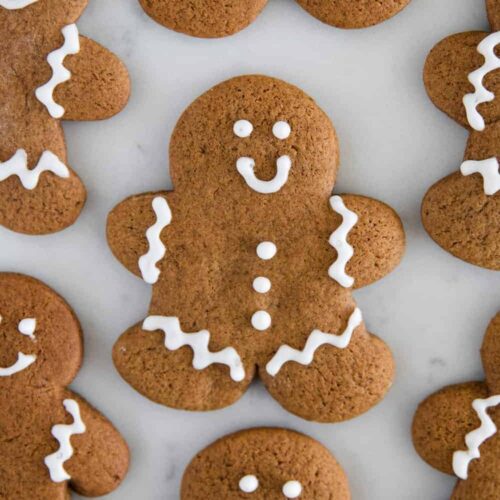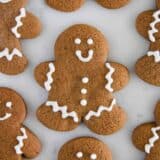 Gingerbread Cookie Recipe
Soft and chewy gingerbread man cookies full of ginger spice flavor. This classic Christmas treat is the perfect cookie to decorate with your family this season!
Ingredients
12 Tablespoons unsalted butter (1 1/2 sticks softened)
¾ cup light brown sugar
¾ cup molasses , I prefer Grandma's original
1 large egg
1 ½ teaspoons vanilla extract
3 ¼ cups all-purpose flour
1 teaspoon baking soda
½ teaspoon salt
1 Tablespoon ground ginger
1 Tablespoon ground cinnamon
½ teaspoon ground cloves
Instructions
In a large mixing bowl, beat the butter and brown sugar on medium until smooth and creamy. Then add in the molasses and beat until smooth. Next mix in the egg and vanilla and mix just until combined. Scrape down the sides.

In a medium bowl, whisk together the flour, baking soda, salt, ginger, cinnamon and cloves. Then add to the butter mixture and mix on low just until combined.

Divide the dough in half and wrap each piece with plastic wrap. Press until flat. Refrigerate for at least one hour and up to 3 days.

When ready to bake, preheat the oven to 350°F. Line a baking sheet with parchment paper or a baking mat. Roll out the dough 1/4" thick on a floured surface. If it's too hard, you may need to let it soften for a few minutes. If it's too sticky, knead in a little more flour. Cut into shapes. I prefer using 3-4 inch cookie cutters.

Then place gingerbread men onto the baking sheets at least 1 inch apart. Repeat with extra dough and roll out as needed. Bake for 8-10 minutes, or until the centers are set and the cookies are fluffy. Be careful not to let burn.

Remove from oven and allow to cool on the pan for a few minutes, then transfer to a cooling rack. Enjoy cookies plain or decorate with icing once cookies have cooled.
---
Notes
Easy cookie icing:
2 cups powdered sugar
2 Tablespoons milk
1/2 teaspoon vanilla
Whisk ingredients in a bowl until smooth. Add more milk if needed. This icing should be almost like a thick tooth paste. I used a #4 round tip to decorate.
Freezing instructions:
These cookies freeze great. Simply allow to cool and then place in a freezer safe container. You can also freeze the wrapped dough for 2-3 months. Allow to thaw in the refrigerator overnight.
Nutrition
Calories: 173kcal | Carbohydrates: 28g | Protein: 2g | Fat: 6g | Saturated Fat: 4g | Cholesterol: 22mg | Sodium: 104mg | Potassium: 188mg | Fiber: 1g | Sugar: 15g | Vitamin A: 185IU | Calcium: 36mg | Iron: 1mg
Nutrition provided is an estimate. It will vary based on specific ingredients used.
Did you make this recipe? Don't forget to give it a star rating below!