Molasses cookies that are soft and chewy on the inside and crisp around the edges. Full of delicious ginger flavor and taste just like Christmas! Drizzle or dip in white chocolate for the ultimate holiday cookie!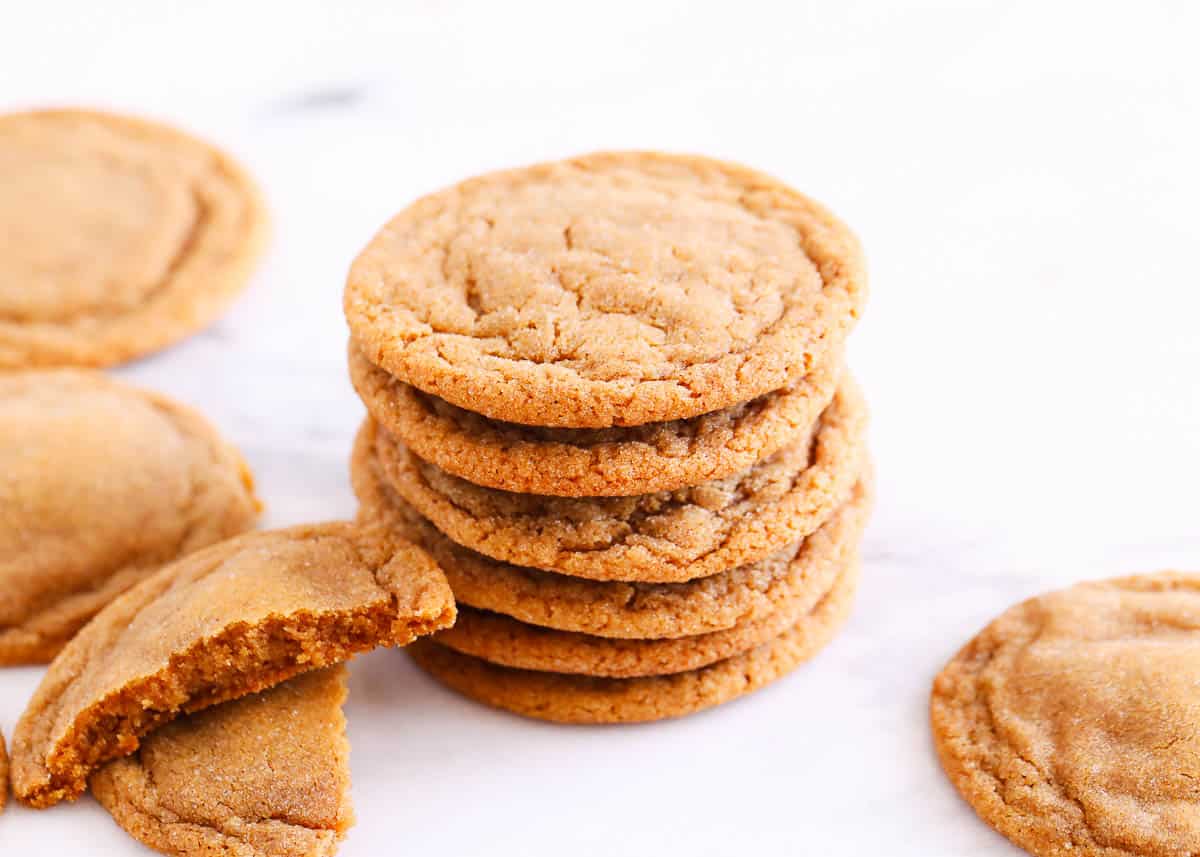 The Best Ginger Cookies
If you're looking for the perfect Christmas cookies for your next cookie exchange or holiday party, these are it! They come together in just 30 minutes and taste incredible. They're everything you want in a holiday dessert!
These soft molasses cookies (also known as gingerdoodles, gingersnaps or ginger cookies) are a perfect treat to share with someone you love this season. They pair wonderfully with hot chocolate and are sturdy enough to mail to friends and family far away!
As much as I love gingerbread man cookies and gingerbread bars, I kind of like that these cookies are a little more mild and less spicy. They're soft and chewy on the inside, crisp around the edges, and overall they just taste homey, sweet and comforting.
These molasses cookies remind me of a snickerdoodle with all the delicious Christmas flavors mixed in. They would be perfect for a cookie exchange or on a Christmas dessert board full of treats at a party!
Recipe Ingredients
Most if not all of these ingredients are all pantry staple ingredients already in your home. Molasses is one that not too many families have but it stores for a long period of time and making these cookies a few times during the holidays will use up most of the jar. You will add these molasses cookies to your favorite cookie recipes file!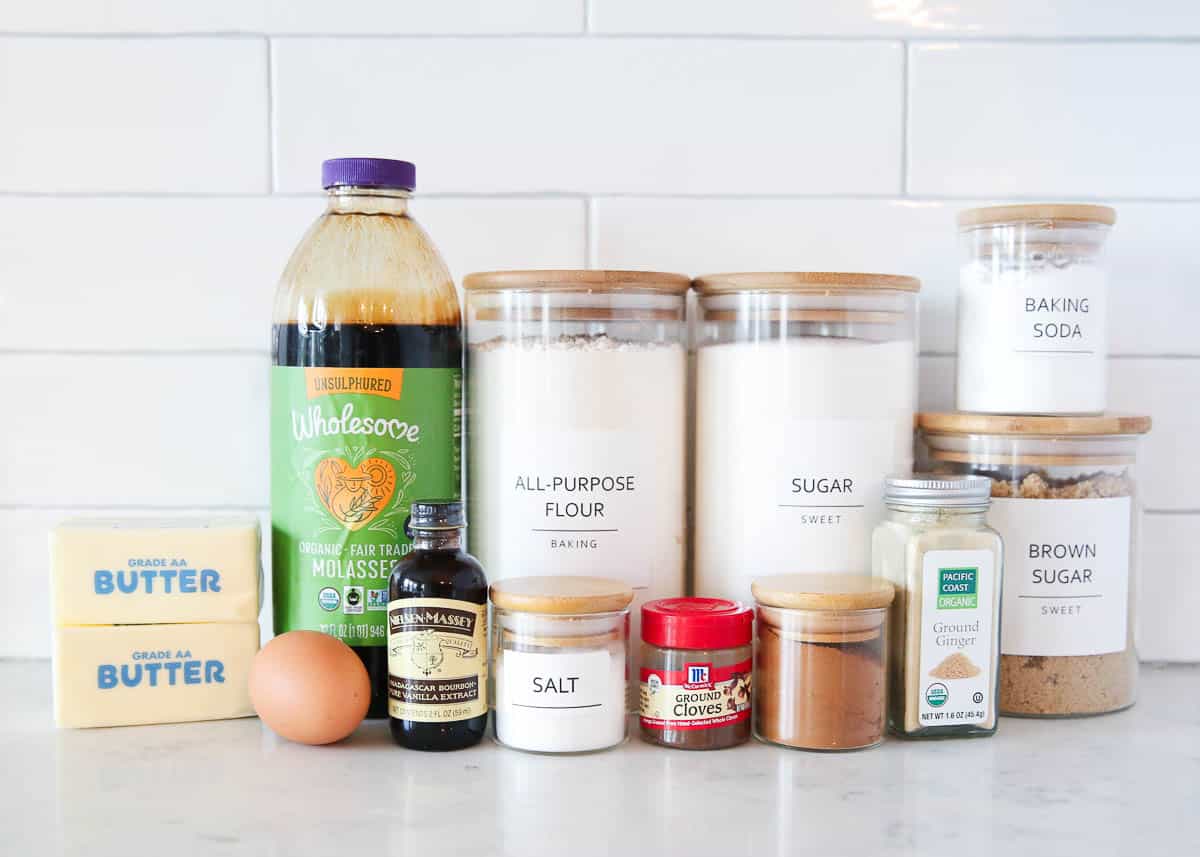 Find the full printable recipe with specific measurements below.
Butter: Soften your unsalted butter by leaving it on your counter top until it reaches room temperature.
Brown sugar: Pack the light brown sugar into the measuring cup to get all the sweetness and softness added into your cookies.
Egg: Large eggs are best but if you have small or medium you can use two. This will increase the softness of your cookies.
Molasses: This is well worth the purchase! There are a few other molasses cookie recipes but you can even store molasses for a few years before it goes bad.
Flour: All-purpose flour worked best for these cookies and helps with the texture when baking.
Baking soda: Adds the fluff on the cookies and helps hold the shape while baking.
Seasoning: Ground cinnamon, ginger, and cloves are always a holiday season you know is going to taste amazing in dishes. Plan to have these seasonings on hand throughout this time of year.
Sugar: Only need a little bit since this is for the end when you roll the cookie dough before placing on the cookie sheet.
How to Make Ginger Molasses Cookies
These soft molasses cookies are always a family favorite during the Christmas season.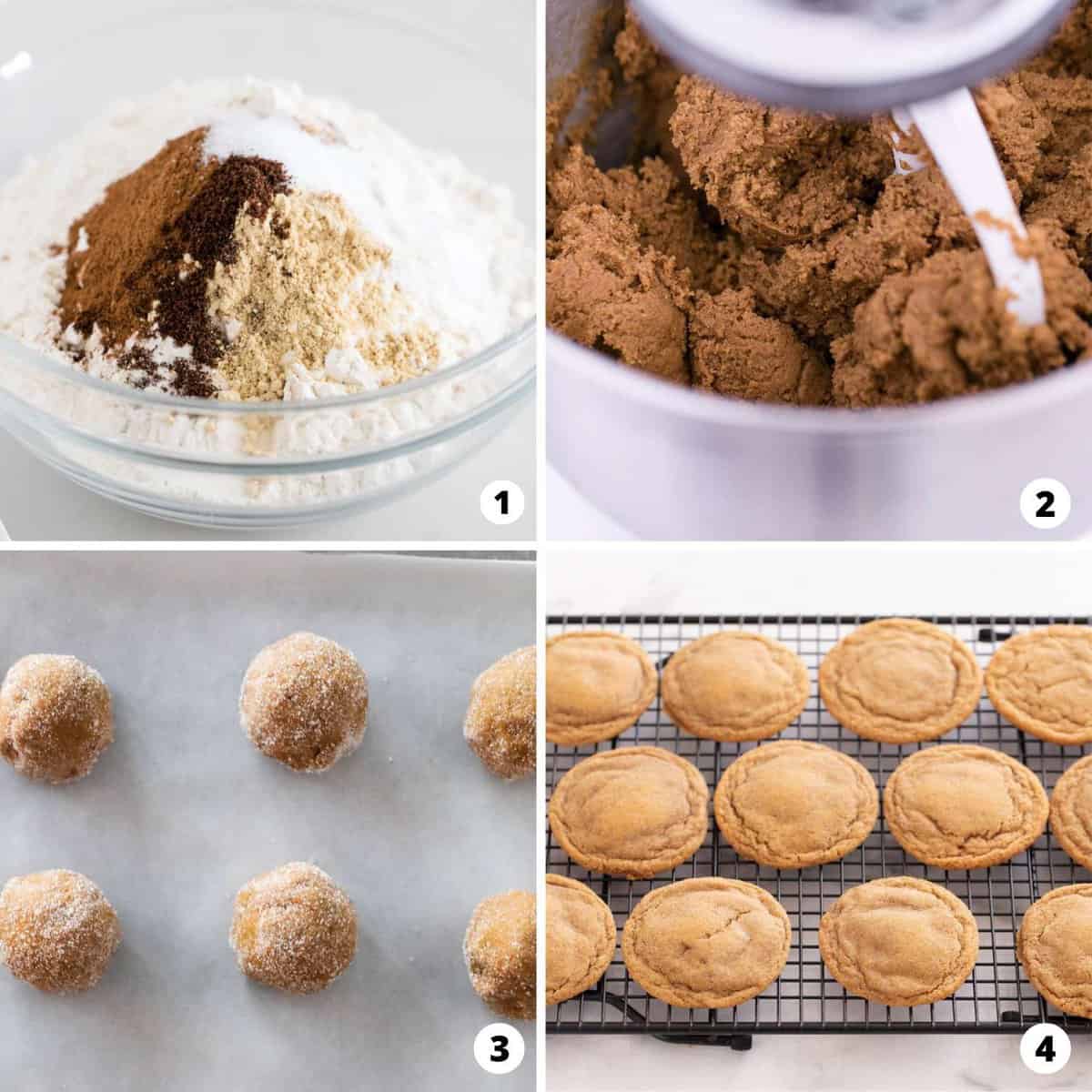 Dry ingredients. Combine all the dry ingredients into a glass bowl. Whisk together and set aside.
Dough. In a large bowl, using a stand mixer or hand mixer, combine the butter and sugar, then cream for one minute. Add in egg and beat until smooth. Then add in molasses and mix just until combined. Place remaining dry ingredients into a sifter (or whisk in a bowl), then add to wet mixture. Mix until combined.
Roll. Using a medium cookie scoop, roll cookie dough into balls. Add granulated sugar to a shallow bowl then roll the balls into the sugar until coated. Place cookie dough balls on a lined baking sheet, about 2 inches apart.
Bake. Bake at 375°F for 8-10 minutes. Let cool on the pan 5 minutes before moving to cooling wire racks.
TIP: If making these plain (without rolling them in sugar), you can put the dough in the refrigerator for 15 minutes before baking to make them bake a little fluffier.
Freezing Classic Molasses Cookies
These freeze wonderfully! You can either freeze the cookie dough balls or the baked cookies. Just follow these simple instructions:
Freezing the dough: Prepare dough as directed, then scoop into balls (and roll in sugar if preferred). Place on a baking sheet and freeze for about 30 minutes, or until they have hardened. Then transfer to a freezer bag or container and freeze for up to 3 months. When ready to enjoy, let thaw on baking sheet while warming up the oven. Then bake as directed.
Freezing baked cookies: I would recommend leaving off the chocolate (or dipping in chocolate the day you plate). Let them cool completely, then place in a freezer bag or container and freeze for up to 3 months. Thaw on the counter for a few hours until no longer frozen.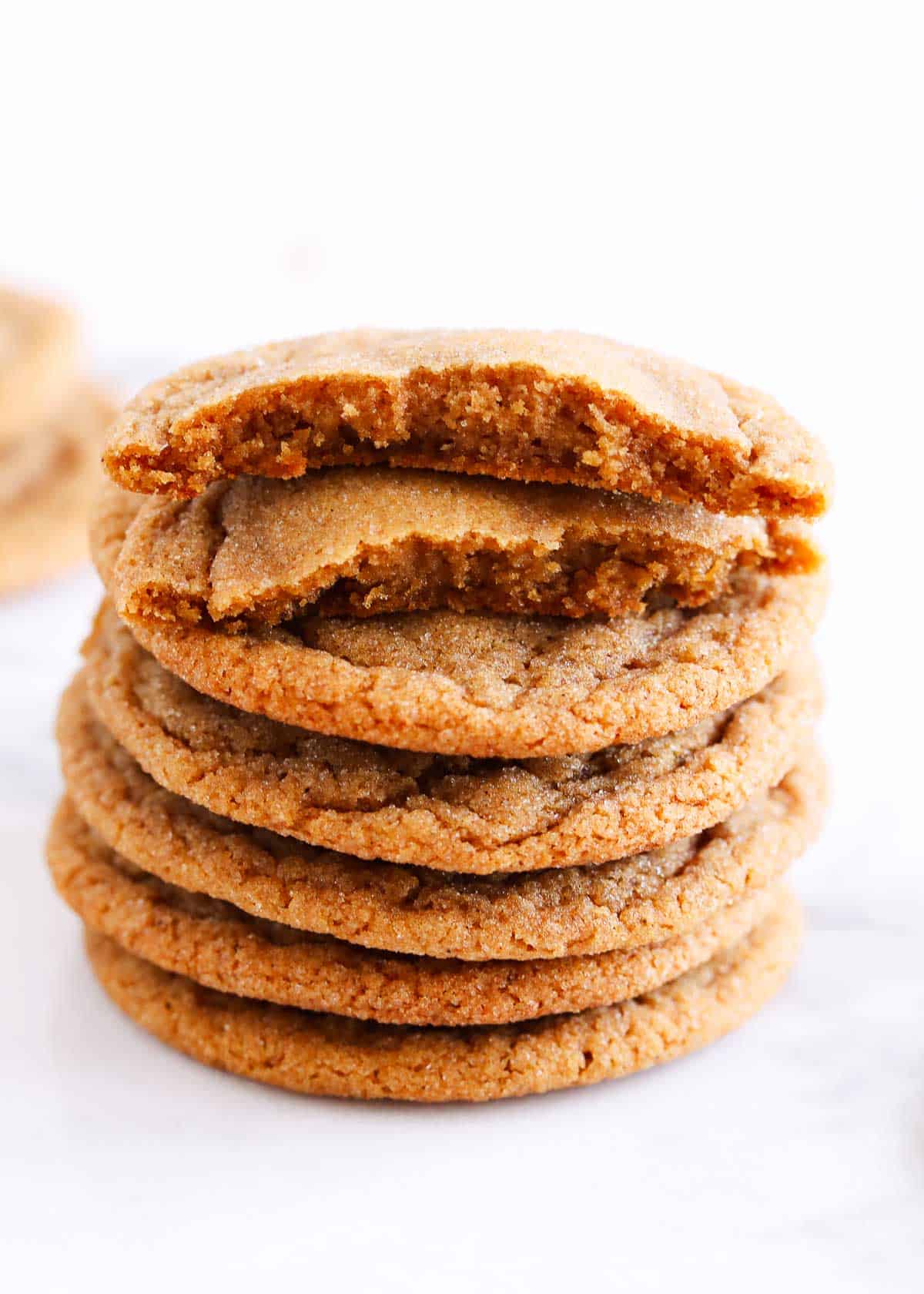 Variations + Decorations for Molasses Cookies
There are lots of fun ways to decorate these ginger molasses cookies. I personally love the chocolate-dipped version and my kids loved the dipped version with sprinkles (of course!). No matter which variation you choose, your guests will be raving over these cookies. They are seriously SO good!
Molasses cookies rolled in sugar: Before baking, you can roll the dough balls in granulated sugar. They taste like a mix between a snickerdoodle and gingerbread. Seriously the best combination!
Chocolate-drizzled: Drizzling the gingerdoodles with white chocolate over the top really takes these cookies up a notch! The melted white chocolate chips adds the perfect touch of sweetness and looks amazing.
Chocolate-dipped: I also love to dip them in white chocolate (and maybe drizzle on even more chocolate). It makes them look a little fancier! It would also be fun to use red or green chocolate candy melts to drizzle over the white dipped portion.
Chocolate-dipped with holly berries: I absolutely love adding holly berries to the white chocolate. They make the gingerdoodles SO fun and festive…don't they look like they came from a local bakery?! Your guests will go crazy over these!
Chocolate-dipped with sprinkles: And of course, how could you forget sprinkles! Feel free to top the chocolate dipped portion with confetti sprinkles. This variation is a big hit with my kids and is so cute!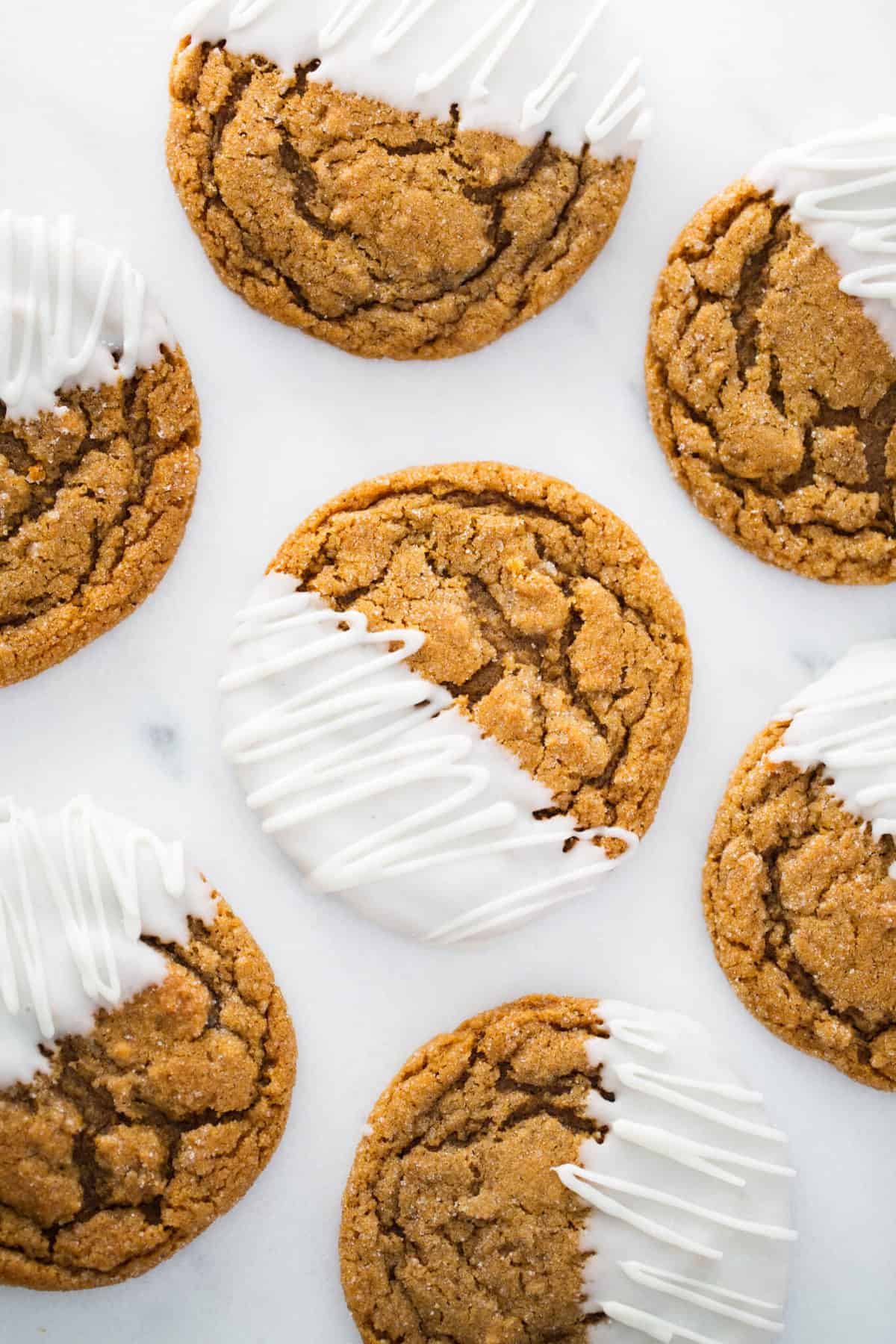 Recipe FAQs
What does molasses do in cookies?
More that anything molasses adds in flavor. It has a mild sweetness that blends well with the sugars as well as helps adds a beautiful brown coloring to the cookies.
What is the difference between molasses cookies and gingerbread cookies?
Molasses cookies are known to be soft and chewy whereas gingerbread cookies are more hard and crispy. Both great types of cookies just different texture.
What is better sulphured or unsulphured molasses?
Sulphur dioxide means it slightly alters the molasses taste. If you are wanting something richer in flavor without the preservatives you will want to purchase unsulphured molasses.
Is blackstrap molasses ok for baking?
You will want to use blackstrap molasses with caution! This type of molasses can and will alter the taste and flavor of the cookies if not used properly. If you can avoid using blackstrap molasses in your baking, I would highly recommend it.
Great for Gifting
Wrap these ginger molasses cookies up in a clear bag with ribbon and pass out to friends and coworkers. They will all love you! These make the perfect Christmas treat.
Bake as directed and let cool completely.
Dip in white chocolate and add decorations if desired. Let harden.
Stack the cookies in a clear plastic bag (or wrap with cellophane) and tie with a ribbon.
Add a festive Christmas gift tag.
Gift to neighbors, friends and family!
5 star review
"These are delicious! I made these for neighbors gifts this holiday season and got rave reviews. Seriously one of my favorite holiday cookies!"

– Lindsay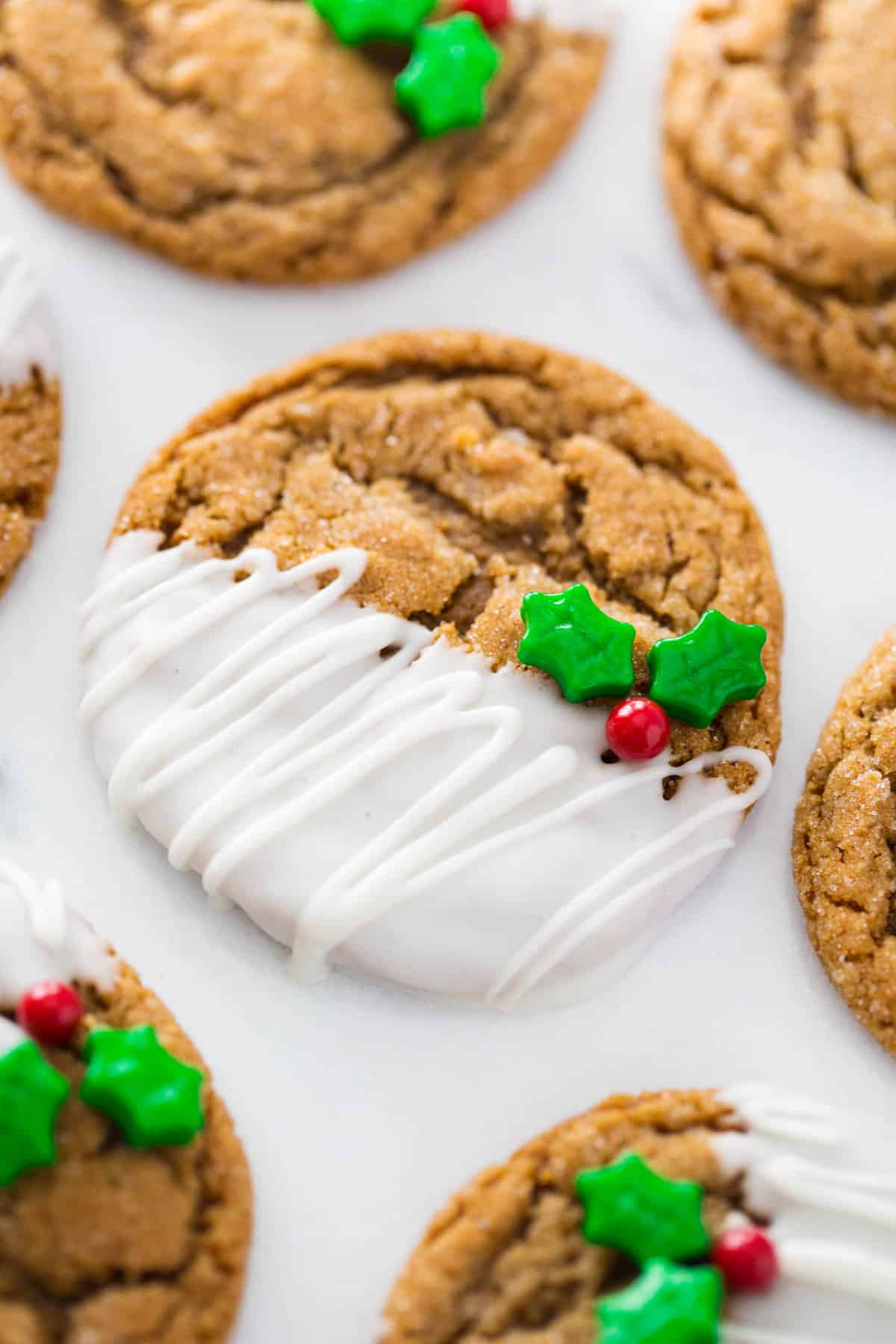 Other Delicious Christmas Cookies
HUNGRY FOR MORE? Subscribe to my newsletter and follow on Facebook, Pinterest and Instagram for all the newest recipes!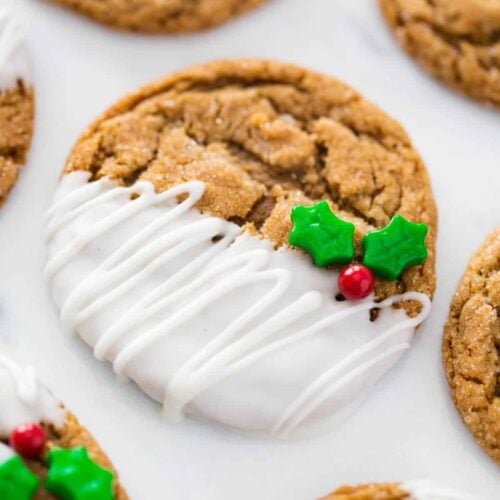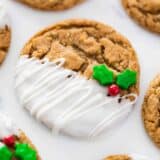 Ginger Molasses Cookies
Molasses cookies that are soft and chewy on the inside and crisp around the edges. Full of delicious ginger flavor and taste just like Christmas! Drizzle or dip in white chocolate for the ultimate holiday cookie!
Ingredients
¾ cup butter , softened (I use unsalted)
1 cup light brown sugar , packed
1 large egg
¼ cup molasses
2.25 cups all-purpose flour
2 teaspoons baking soda
1 teaspoon ground cinnamon
1 teaspoon ground ginger
½ teaspoon ground cloves
¼ teaspoon fine sea salt
¼ cup granulated sugar (for rolling the cookies)
Optional: white chocolate melting wafers (for dipping), sprinkles
Instructions
Preheat the oven to 375°F. Line a baking sheet with parchment paper and set aside. Combine the butter and sugar in a large bowl. Cream for one minute, or until fluffy. Add in the egg and beat until smooth. Next add in the molasses and mix until combined.

Place the flour, baking soda, cinnamon, ginger, cloves and salt into a sifter (if you don't have a sifter, whisk in a bowl), and then add to the butter mixture. Mix with a spoon, just until combined. Be careful not to over mix. Refrigerate dough 10-15 minutes.

Using a medium cookie scoop (or about 1.5 Tablespoons), roll the cookie dough into a ball. Place the granulated sugar into a shallow bowl and then roll the dough into the sugar. Place on the baking sheet, about 2 inches apart. Lightly flatten the tops with the palm of your hand.

Bake 8-10 minutes and let cool on the pan 5 minutes before moving to a cooling rack. Tip: If your cookies aren't cracking as much as you'd like, bang the pan on the stove right after they come out of the oven to crack the cookies. They will settle as they cool.

Once the cookies have cooled, dip half the cookies in melted white chocolate half way if desired and place on wax paper or parchment paper if desired. Allow to harden.
Video
---
Notes
Tip: If I want a good crackle, I typically place them on the top rack of the oven. Then make sure to tap the pan on the counter when you pull them out. To store: These cookies will stay fresh in an airtight container for up to 3 days. Freezing dough: Scoop the dough into balls, then flash freeze on a baking sheet until hard (about 30 minutes). Then add to a freezer bag and freeze for up to 3 months. Baking from frozen: Let the frozen dough balls sit on the baking sheet as the oven preheats. Then bake as directed, adding 1-2 minutes to the original baking time if needed.
Nutrition
Calories: 116kcal | Carbohydrates: 15g | Fat: 5g | Saturated Fat: 3g | Cholesterol: 22mg | Sodium: 172mg | Potassium: 70mg | Sugar: 13g | Vitamin A: 185IU | Calcium: 18mg | Iron: 0.4mg
Nutrition provided is an estimate. It will vary based on specific ingredients used.
Did you make this recipe? Don't forget to give it a star rating below!
They are seriously the best ginger cookies I've ever had. If there is one cookie you make this week, make these! Happy baking!