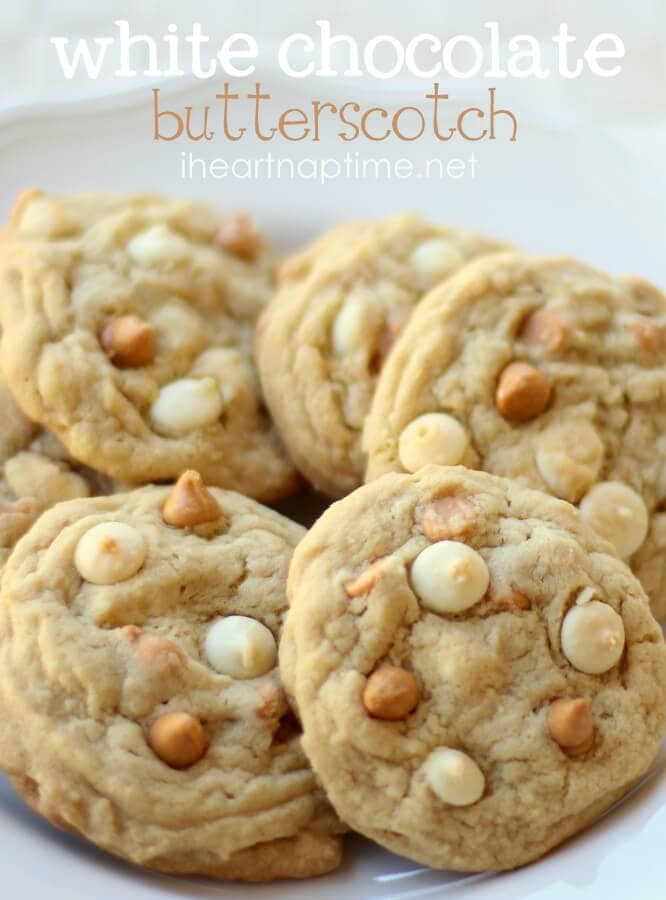 I did some baking over the weekend with my little guy. He LOVES to help me bake cookies on Sunday. It's become a weekly tradition, which has been fun for all of us. Me and my guy bake and the hubs gets to be our taste tester. He definitely doesn't complain. ;)
Yesterday we made my friend
Kristyn's
white chocolate butterscotch cookies. These butterscotch cookies are quite delicious! They are super soft and taste great the next day! Try them next time. It's good to mix up the ordinary
chocolate chip
 every once in awhile.
White chocolate butterscotch cookies
White chocolate butterscotch cookies
Ingredients
1 cup brown sugar
1/2 cup butter softened
1/2 cup vegetable oil
2 eggs
1 tsp salt
1 tsp baking powder
1 tsp baking soda
1 tsp vanilla
1/2 tsp almond extract
3 cups flour
1/2 bag white chocolate chips
1/2 bag butterscotch chips
Instructions
In a large mixing bowl, cream together butter and sugar. Beat in one egg at a time. Mix in oil, vanilla and almond extract.
Mix dry ingredients in a separate bowl. Slowly mix into wet ingredients. Once smooth, fold in chips.
Bake at 350 for 7-10 minutes, or until lightly browned.
http://www.iheartnaptime.net/butterscotch-cookies/
Enjoy! Thanks for reading. Come back soon! :)
If you like this post check out our
recipe box
and these yummy cookies: