Butterscotch Pudding Cookies filled with Chocolate Chips, Butterscotch Chips and Pretzels.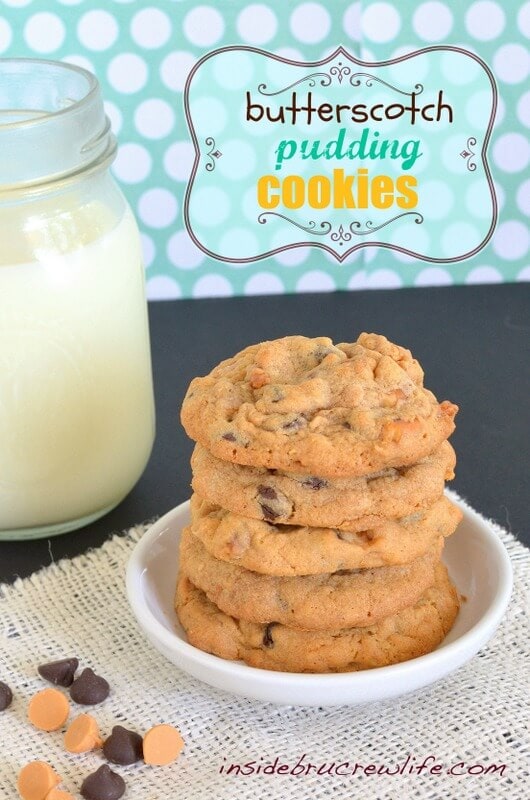 Hi, Naptime fans. Jocelyn from Inside BruCrew Life with you today. I am super thrilled to be here on Jamielyn's cute blog sharing one of my cookies for the Crazy Christmas Event. She has been such a great inspiration to me as I work to grow my blog.
Every year my family always makes about 10 different kinds of cookies each December over a period of 2-3 days. Each of my kids gets to pick their absolute favorite, and then they do all the work for their cookie. It has been so much fun as they get older to see them actually doing everything from start to finish on the recipe. This year I am thinking that I will only need to be in the kitchen for those random questions they have when baking and to keep them company. After we finish baking all those cookies, we put together plates of cookies & candy and deliver them to our friends and neighbors. I am really hoping my kids remember this fun baking tradition that we have done with them each year.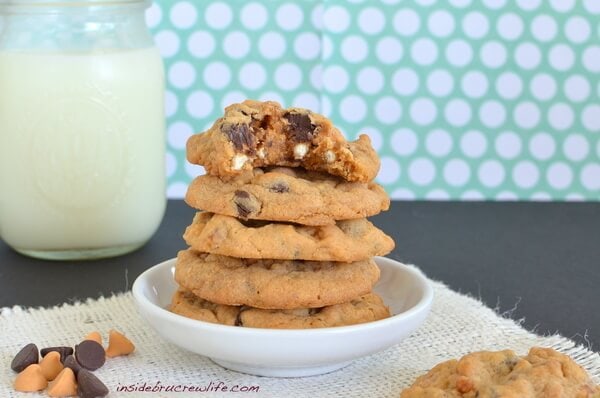 Lately I have been addicted to making different pudding cookies. The pudding mix in the batter keeps the cookies soft, even days later. I have been buying all the different pudding mixes and trying a new one each week. When I bought the butterscotch pudding, I knew I wanted something else to pair with it since butterscotch can be overly sweet. I grabbed a bag of pretzels thinking that the salt from those would balance out the sweetness. I can honestly say these cookies did not last very long at all in our house. Something about the sweet and salty gets me every single time.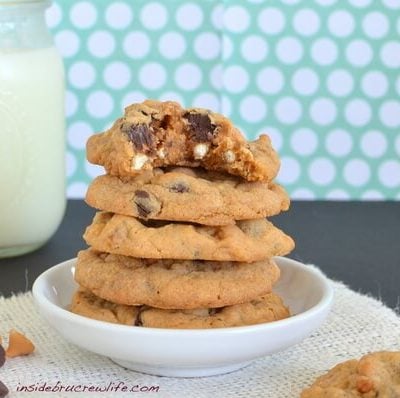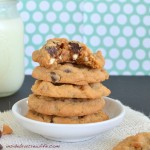 Butterscotch Pudding Cookies
Butterscotch Pudding Cookies - Sweet, salty and absolutely delicious!
Instructions
In a large mixing bowl, cream the butter and sugars until light and fluffy. Add the eggs and vanilla and beat again.

Combine the oats, flour, baking soda, cinnamon and salt. Slowly mix into the butter mixture. Stir in the chips and pretzels by hand.

Drop by small spoonfuls onto a baking sheet. Bake at 375* for 8-10 minutes. Cool on a wire rack. Store in a sealed container.
---
Calories: 196kcal | Carbohydrates: 28g | Protein: 2g | Fat: 8g | Saturated Fat: 5g | Cholesterol: 28mg | Sodium: 201mg | Potassium: 30mg | Sugar: 18g | Vitamin A: 225IU | Calcium: 18mg | Iron: 0.8mg
Thank you so much for inviting me to share here today Jamielyn.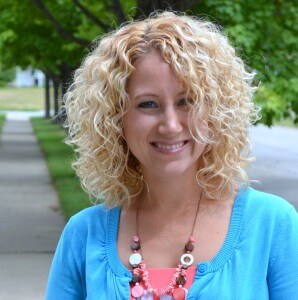 Jocelyn is the baker, photographer, and blogger behind the scenes of Inside BruCrew Life. Here you will find her baking up a storm as she fulfills her motto of Bake. Eat. Repeat. A few of her all time favorite desserts are Pumpkin Cheesecake Brownie Pie, Eggnog Latte Cupcakes, and Reeses Popcorn Munch. You can also find her at some of these other places.