Super soft and tender butterscotch pudding cookies filled with chocolate chips, white chocolate chips and butterscotch chips. These cookies are melt-in-your-mouth delicious!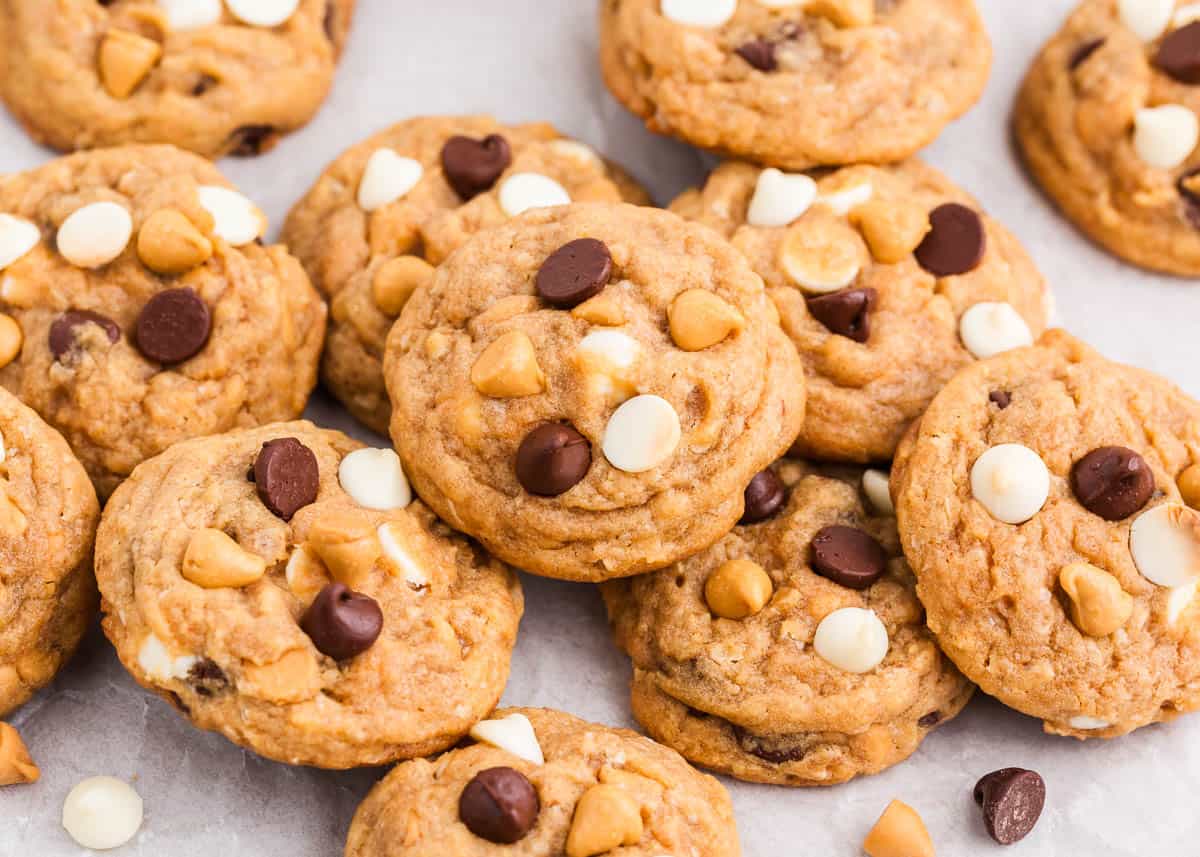 Butterscotch Cookies with Pudding Mix
Lately I have been loving pudding cookies! The pudding mix mixed into the batter adds great flavor and keeps the cookies so soft and tender, even days later. These chocolate chip pudding cookies are usually my go to, but I decided to switch it up with this delicious butterscotch version. And boy am I glad I did!
It has double the butterscotch flavor from the butterscotch flavored pudding mix AND the butterscotch chips and is also filled with both white and semi-sweet chocolate. The texture is moist and gooey on the inside with golden edges, making each bite perfection. These cookies will literally melt in your mouth!
If you love classic butterscotch cookies, it's definitely worth giving this recipe a try. I may even like this version a little more because of the texture that the pudding mix adds. My family went crazy over these and has already requested that I make them again. So yummy!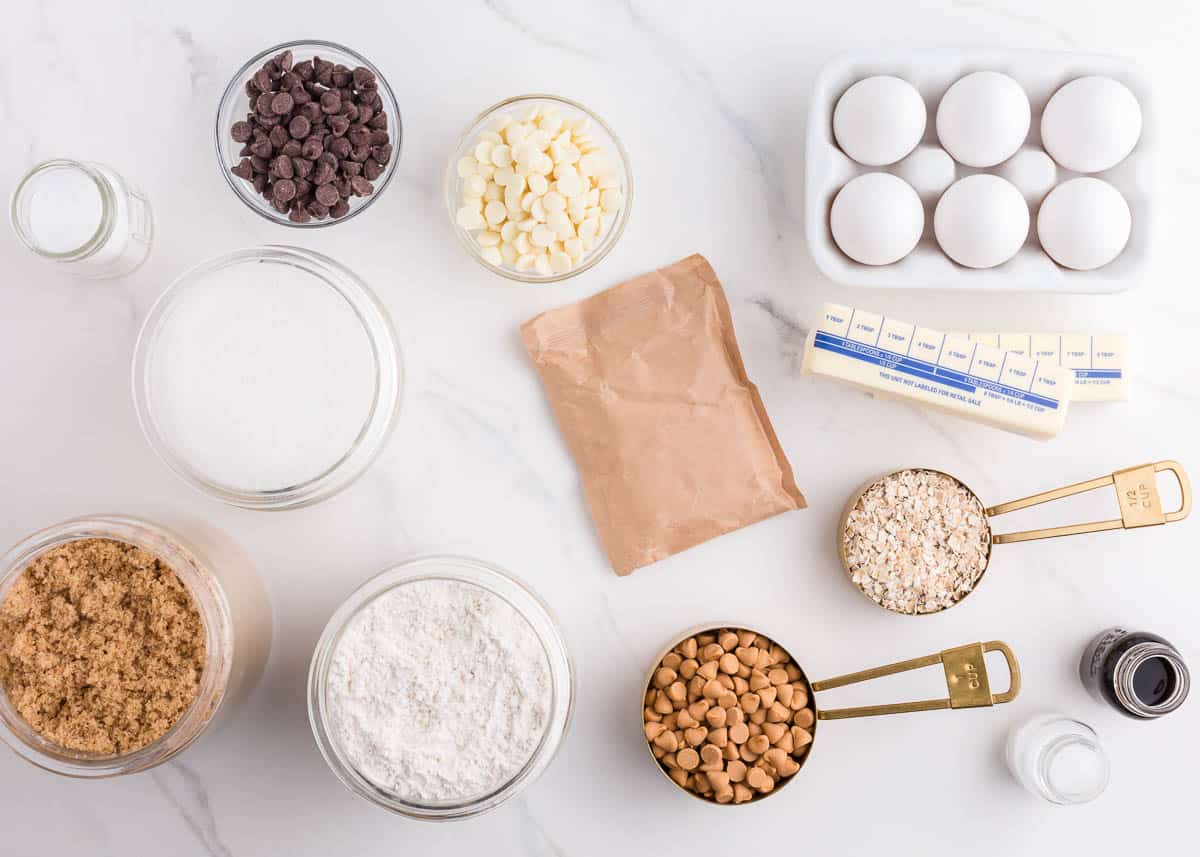 Why is Pudding Mix Used in Cookies?
The key ingredient in this recipe that makes these cookies so delicious is the butterscotch pudding mix. When you add the dry mix into your cookie dough, it makes the texture super soft and moist. It gives them that perfect melt-in-your-mouth consistency that's hard to achieve any other way.
It's important to use the instant pudding mix (not Cook & Serve or any other variety). There is no need to make the actual pudding…just stir the dry mix into the dough along with the other dry ingredients like flour and oats. Once you make cookies with pudding mix, you will never look back!
Tips for the Best Results
Butter: Using unsalted butter allows you to control the amount of saltiness in this recipe. It's helpful to soften the butter before getting started so that it gets light and fluffy when mixed with the sugars.
Flour: Use the spoon and level technique to measure the flour the most accurately. Adding too much or too little flour can make your cookies dry, dense or crumbly.
Chocolate chips: I always like to add a few extra chocolate or butterscotch chips on top of the cookie dough balls before baking. It's mostly for presentation, but it also adds more deliciousness in every bite. If you forget, you can always add a few more on top right when they come out of the oven.
Baking: These cookies won't take long to bake and will be ready in about 8 to 10 minutes. To keep them soft, remove them from the oven when the edges are lightly golden. The centers may look a little underdone, but that's okay! They'll set as they cool, which creates the most gooey and delicious interior.
Cookie Variations
There are several ways to customize these butterscotch pudding cookies. Instead of using 3 different type of chips, stick with 1 or 2 if that's what you prefer or have on hand. You can also substitute one of the chips with 1/2 cup crushed pretzels or nuts for a crunchier texture.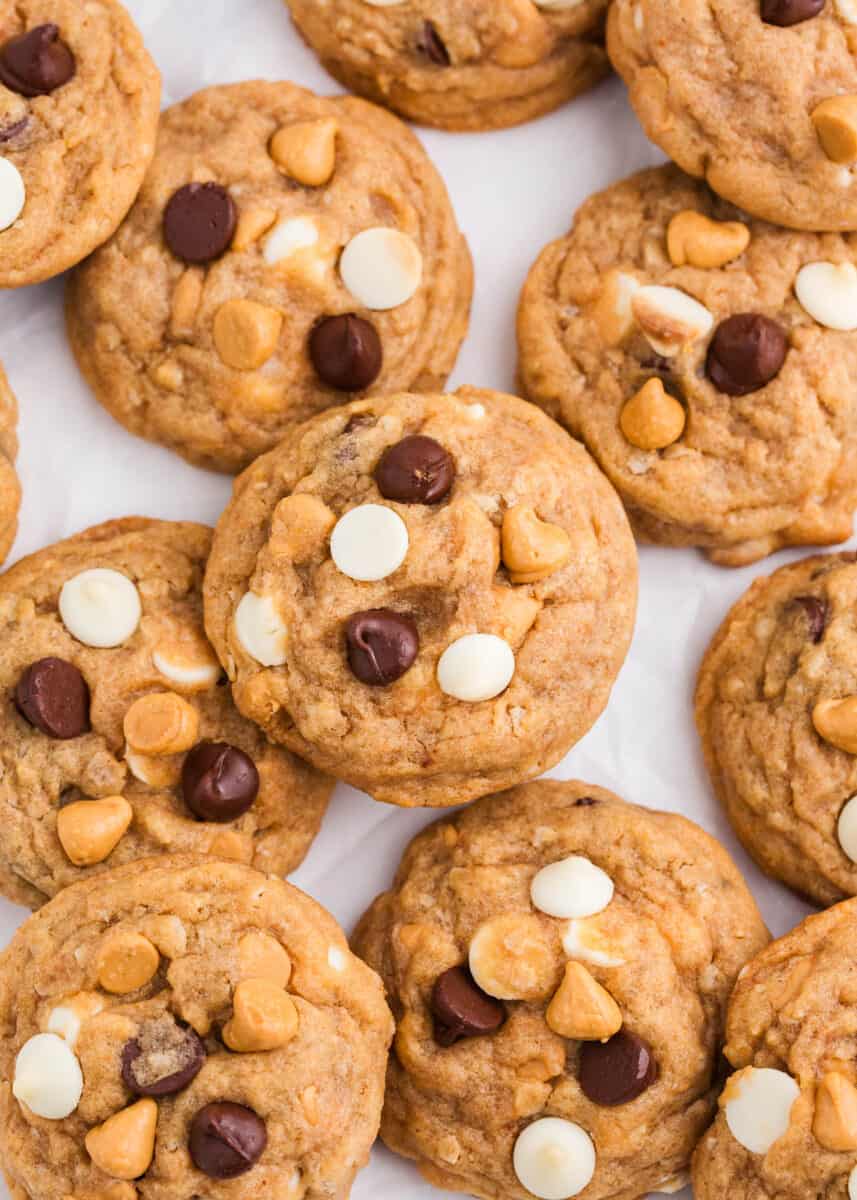 How to Freeze Butterscotch Pudding Cookies
These cookies freeze great and will stay fresh in the freezer for up to 3 months. I like to flash freeze my baked cookies first on a baking sheet until hard, then add to a freezer bag or container and store. You may also freeze the cookie dough and then bake from frozen. Either way, it's always nice to have a stash of cookies in the freezer to curb your sweet tooth!
FAQs
Can I use another type of pudding mix?
Sure! The butterscotch pudding mix definitely adds to the butterscotch flavor so if you use a different variety, the flavor won't be as bold. You can use vanilla pudding mix (similar to my chocolate chip pudding cookies recipe) or even chocolate pudding mix for a richer taste.
Do you have to make the pudding?
No! We're only using the dry mix when making this recipe. It gets mixed in with the other dry ingredients. So disregard the pudding mix package directions and just pour the box of dry pudding into the dough!
Will cook & serve pudding work in this recipe?
No, the Cook & Serve variety requires cooking before eating, so it won't work in this recipe. That's why we use instant pudding mix because there's no need to cook the pudding beforehand.
Do I have to chill the dough before baking?
Nope! No chilling required, meaning these cookies are prepared and baked in under 30 minutes. If you prefer thicker cookies, you could always chill the dough for about 15 to 30 minutes before baking if you have the time.
How long will these cookies stay fresh?
They will stay fresh in an airtight container for up to 3 days. The pudding mix keeps them soft and tender days after baking, so they will taste just as great as they did on the first day!
What size cookie does this recipe make?
This recipe makes about 30 small to medium sized cookies. I like to drop the dough by small spoonful's onto the baking sheet. You could always make larger cookies using a medium or large cookie scoop, however you will most likely need to bake them a little longer so that they cook through. Just make sure to place the dough about 2 inches apart, so they don't spread together!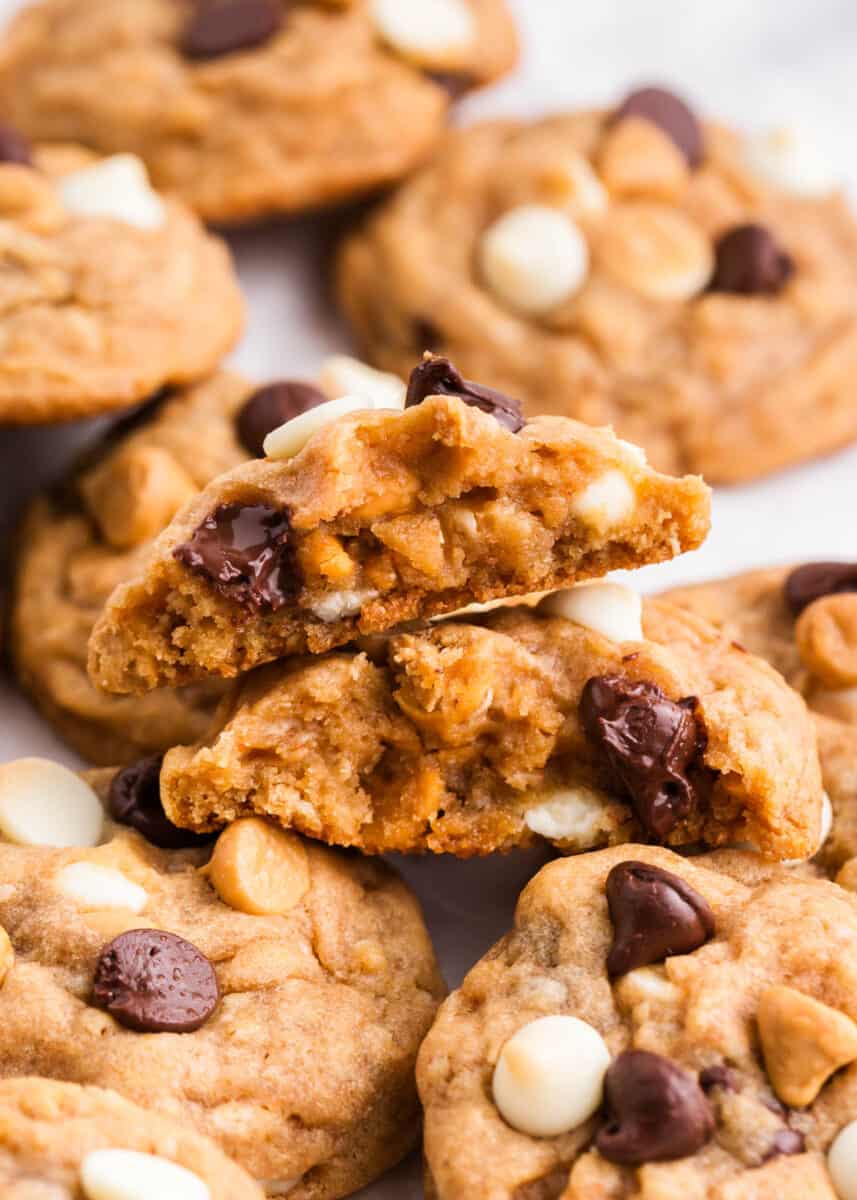 More Cookie Recipes
If you know me, you know that cookies are my weakness. They are probably my favorite dessert to bake in the kitchen! Below are a few more delicious recipes.
HUNGRY FOR MORE? Subscribe to my newsletter and follow on Facebook, Pinterest and Instagram for all the newest recipes!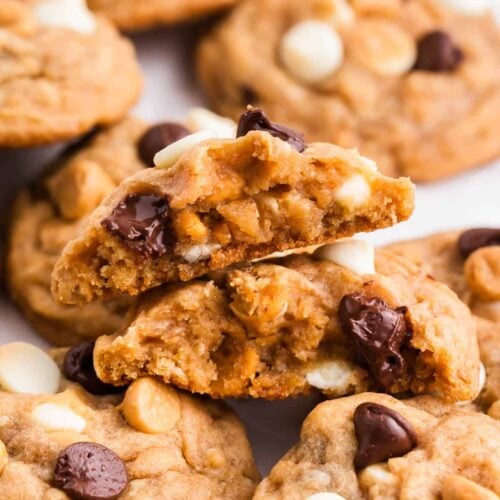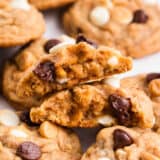 Butterscotch Pudding Cookies
Super soft and tender butterscotch pudding cookies filled with chocolate chips, white chocolate chips and butterscotch chips. These cookies are melt-in-your-mouth delicious!
Ingredients
1 cup unsalted butter
¾ cup light brown sugar , packed
¼ cup granulated sugar
2 eggs
1 teaspoon vanilla extract
½ cup quick oats
2 cups all-purpose flour
1 ( 3.4 ounce) box instant butterscotch pudding mix (add the dry mix)
1 teaspoon baking soda
½ teaspoon Kosher salt
1 cup butterscotch chips , more if desired
½ cup chocolate chips , more if desired
½ cup white chocolate chips , more if desired
Instructions
Preheat the oven to 350°F. Line a baking sheet with parchment paper and gather ingredients.

In a large mixing bowl, cream the butter and sugars until light and fluffy. Add the eggs and vanilla and beat again.

Combine the oats, flour, dry pudding mix, baking soda and salt.

Slowly mix into the butter mixture. Stir in the chips by hand.

Drop by small spoonfuls onto a baking sheet. Press extra chocolate chips on top if desired. Bake for 8-10 minutes.

Cool on a wire rack. Store in a sealed container.
---
Notes
Variation: Add 1/2 cup crushed pretzels or nuts in place of one of the chips.
Make ahead: You can make this dough up to 24 hours in advance and store in the fridge until ready to bake.
Storing: These cookies will stay fresh in an airtight container for up to 3 days. You can also freeze these for up to 3 months. Thaw overnight in the refrigerator before enjoying, or leave at room temperature.
Freezing the dough: You can freeze the cookie dough balls for 2-3 months. Place the dough on a baking sheet and flash freeze until hard, usually about 30-60 minutes. Then stack in a freezer bag or covered container. When ready to bake, place on the pan while the oven is preheating and bake an extra 1-2 minutes.
Nutrition
Calories: 175kcal | Carbohydrates: 23g | Protein: 2g | Fat: 8g | Saturated Fat: 5g | Polyunsaturated Fat: 1g | Monounsaturated Fat: 2g | Trans Fat: 1g | Cholesterol: 29mg | Sodium: 109mg | Potassium: 36mg | Fiber: 1g | Sugar: 15g | Vitamin A: 218IU | Vitamin C: 1mg | Calcium: 20mg | Iron: 1mg
Nutrition provided is an estimate. It will vary based on specific ingredients used.
Did you make this recipe? Don't forget to give it a star rating below!