Caramelized bananas are are an easy 5-minute sweet treat whose tastes and textures will have you swooning. Use this irresistible topping on your ice cream and waffles or enjoy a bowl on its own!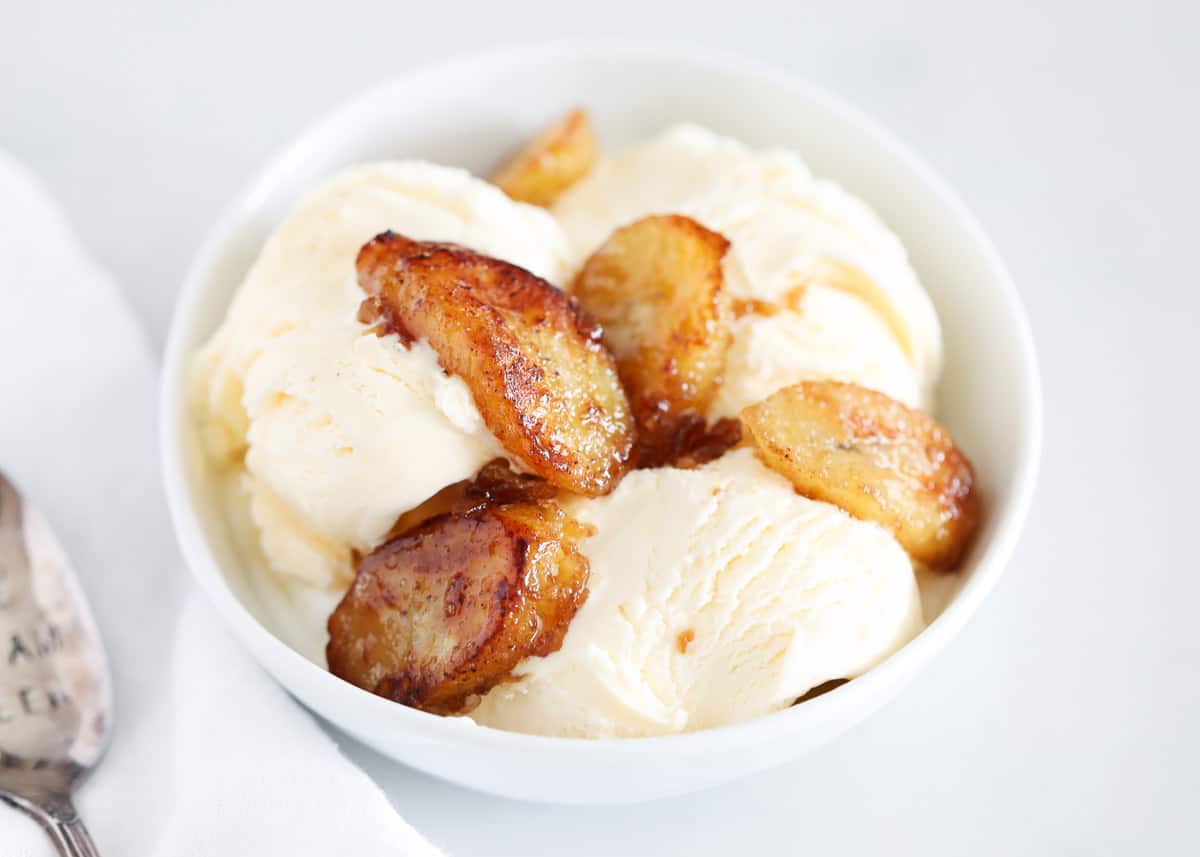 Easy Caramelized Bananas
Caramelized bananas are such an easy treat that shouldn't be reserved just for special occasions. Having a movie night? Top your homemade vanilla ice cream with caramelized bananas. French toast for breakfast? Caramelized bananas on top! Making a cheesecake for dessert? You get the idea!
Bananas are naturally sweet as is, but when you cook them down in butter, sugar, or perhaps a cinnamon sugar blend, you get the crystallized sugary bits that coat the outside of each soft sweet banana.
They're so insanely good you might just find that you've helped yourself to a bowl full without realizing it!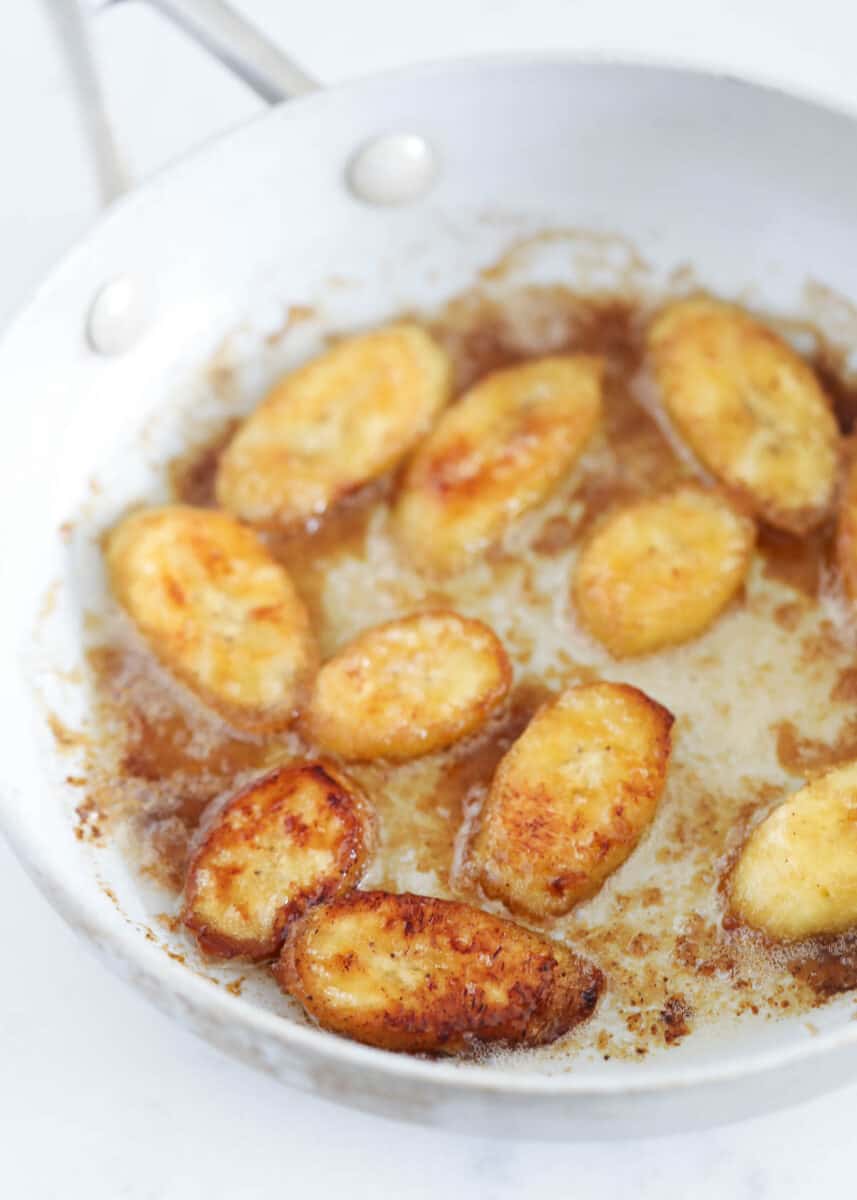 Recipe Ingredients
Minimal ingredients but maximum flavor will make these a favorite that you make again and again!
Bananas: Two perfectly ripe bananas that are yellow work best for this recipe.
Brown sugar: This type of sugar is best for caramelizing and pairs perfectly with the warm bananas.
Butter: Adds a rich wonderful flavor.
Cinnamon: The perfect amount of warmth!
How to Caramelize Bananas
With a quick coating of caramelized sugar your bananas become incredible tasting, and it's so easy!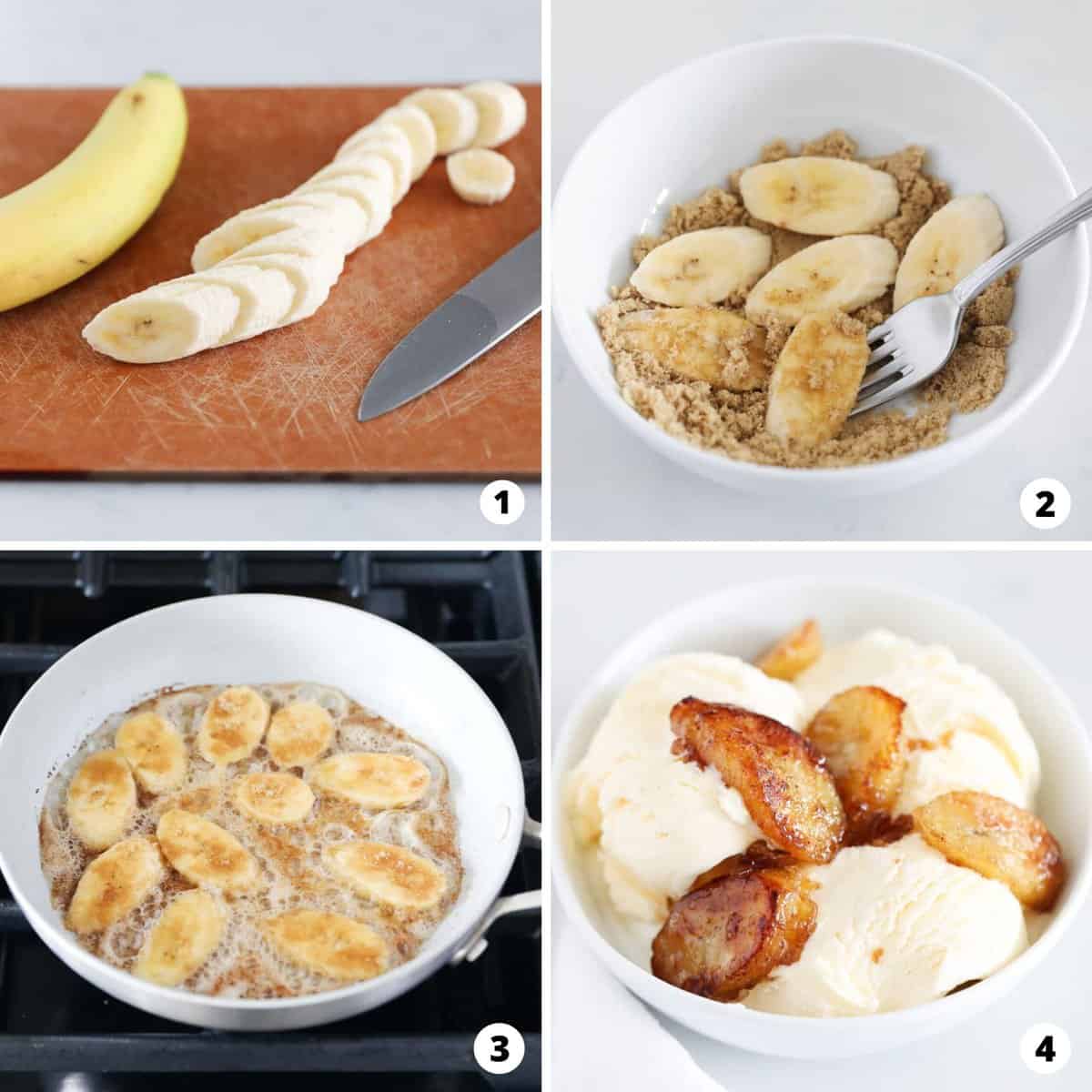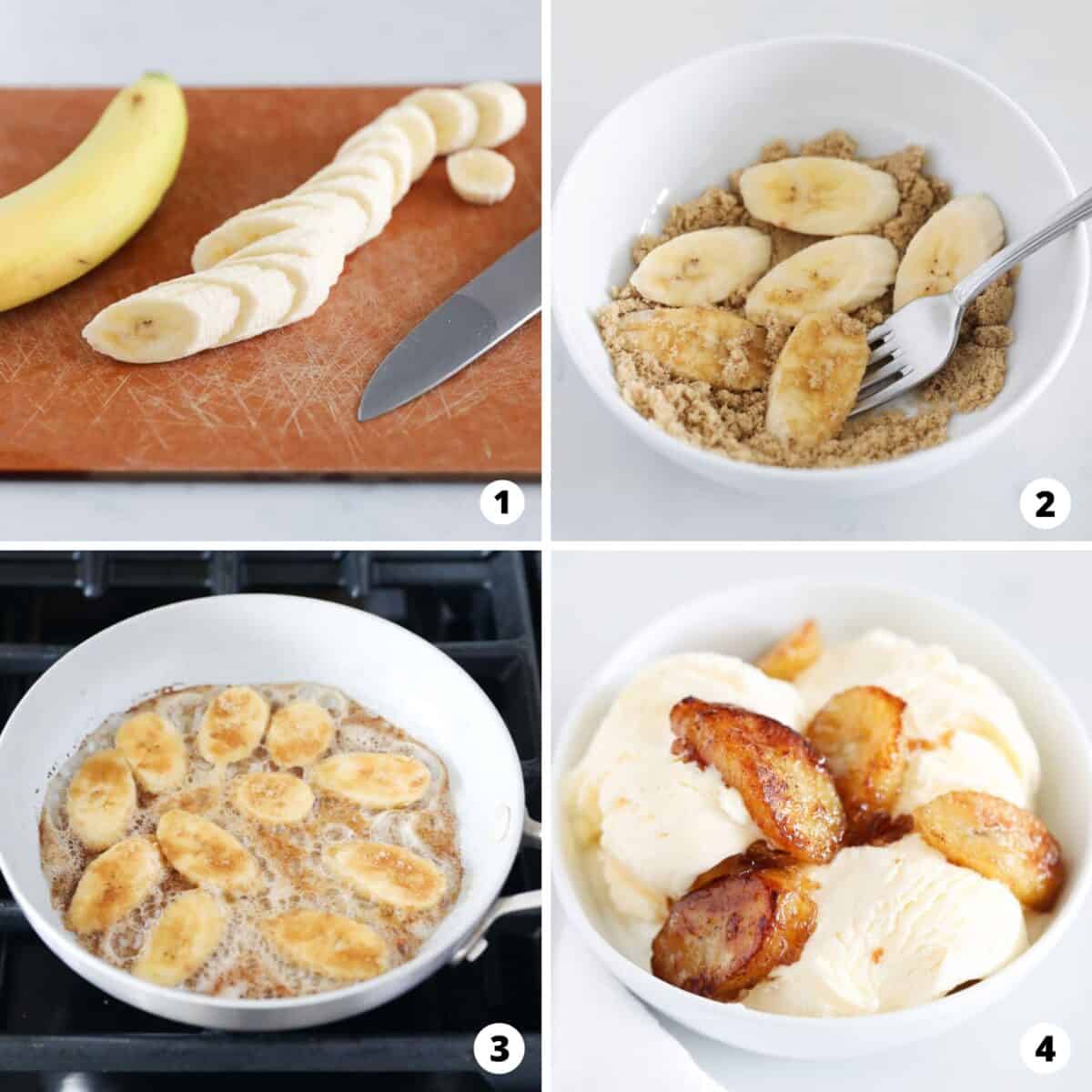 Slice bananas: On a cutting board slice your bananas into 1/4 inch thickness.
Coat in sugar: Roll banana slices into a bowl of sugar.
Caramelize bananas: Melt butter in a saucepan on the stove top over medium-low heat. Add banana slices in a single layer and cook for 2 minutes until golden. Flip and cook for another couple of minutes until both sides are nicely caramelized.
Serve: Sprinkle with cinnamon if desired and enjoy them on everything!
Tips for Best Caramelized Bananas
Use ripe bananas if you have them. The riper your bananas are, to begin with, the softer and sweeter they'll be.
You can use a cinnamon-sugar mixture instead of just sugar or sprinkle a bit of cinnamon over top at the end. Some people also enjoy a bit of nutmeg too.
Keep an eye on the bananas as they cook so that they don't burn. Turn the heat down if needed.
To clean the pan afterward, run it under hot water. You may need to boil the water to remove stubborn sugar crystals.
For a vegan caramelized bananas recipe swap the butter for coconut oil. You won't have the same buttery flavor, but it will still caramelize nicely.
Favorite Ways to Use Caramelized Bananas
Wondering how to serve your caramelized banana? Here are a few favorite ways to use them for breakfast, snack or dessert!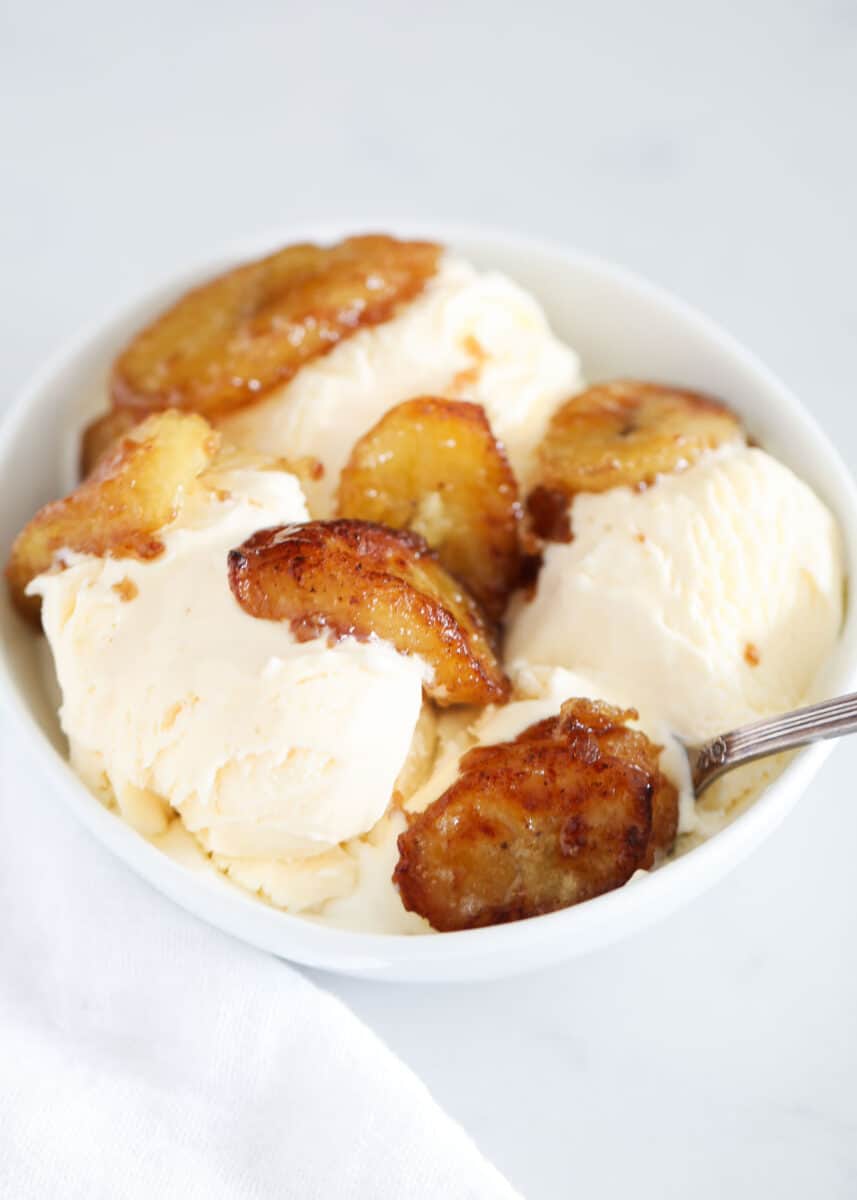 FAQs
How to store leftover caramelized bananas?
Fried bananas can be store in the fridge for up to 2 days and reheated as needed. Try them cold, they are delicious!
Can I use ripe bananas?
Yes, ripe bananas are great, but too ripe won't hold up to the heat. You need your bananas to be yellow with a tinge of green and no brown spots. If your bananas smell 'off', you will want to toss them as they have gone bad.
Can you fry bananas on a pan?
Yes! You can either caramelize your banana by following this recipe or just melt some butter in a pan over medium to high heat, place banana slices in the pan and cook for 1-2 minutes per side. So easy!
Are fried bananas healthy?
These bananas that are caramelized while not a 'health food' would be considered healthier than other heavier desserts when eaten as is! They are a great light snack or dessert! You could even reduce the sugar a bit and still they would taste great.
More Delicious Desserts:
HUNGRY FOR MORE? Subscribe to my newsletter and follow on Facebook, Pinterest and Instagram for all the newest recipes!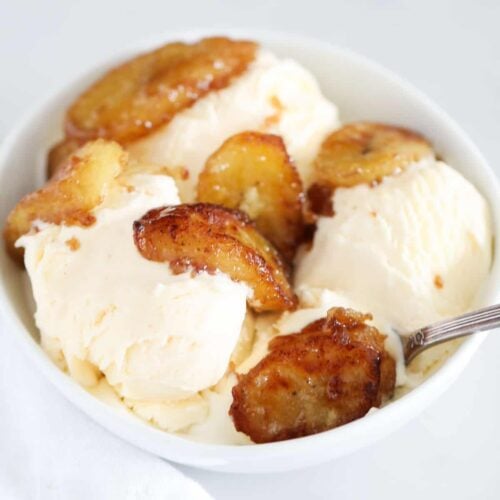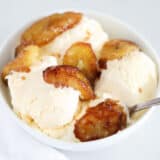 Caramelized Bananas
Caramelized bananas are are an easy 5-minute sweet treat whose tastes and textures will have you swooning. Use this irresistible topping on your ice cream and waffles or enjoy a bowl on its own!
Ingredients
2 bananas
2-3 Tablespoons brown sugar , more if needed
2 Tablespoons butter
ground cinnamon
Instructions
Slice bananas into 1/4" thick circles.

Place sugar in a shallow bowl or plate. Then roll bananas into the sugar.

Heat butter in a skillet over medium low heat until melted. Add sugared bananas in a single layer. Cook for about 2 minutes or until the bottoms are starting to turn golden brown. Then flip and cook an additional 1 to 2 minutes on the other side. Watch carefully so they do not burn. Turn down the heat if needed.

Slide the bananas into a bowl of ice cream, on top of pancakes or inside a crepe. Sprinkle the tops of the banana with cinnamon if desired.
---
Notes
To clean pan: Run hot water into the pan. Bring water to a boil if needed to remove sugar crystals.
Nutrition
Calories: 251kcal | Carbohydrates: 39g | Protein: 1g | Fat: 12g | Saturated Fat: 7g | Polyunsaturated Fat: 1g | Monounsaturated Fat: 3g | Trans Fat: 1g | Cholesterol: 30mg | Sodium: 105mg | Potassium: 442mg | Fiber: 3g | Sugar: 26g | Vitamin A: 425IU | Vitamin C: 10mg | Calcium: 19mg | Iron: 1mg
Nutrition provided is an estimate. It will vary based on specific ingredients used.
Did you make this recipe? Don't forget to give it a star rating below!