Building the perfect yogurt bowl is way more fun than you might think! Load it up or keep it simple, and enjoy a cool creamy bowl of yogurt with just the right combination of flavors and textures for breakfast or snack!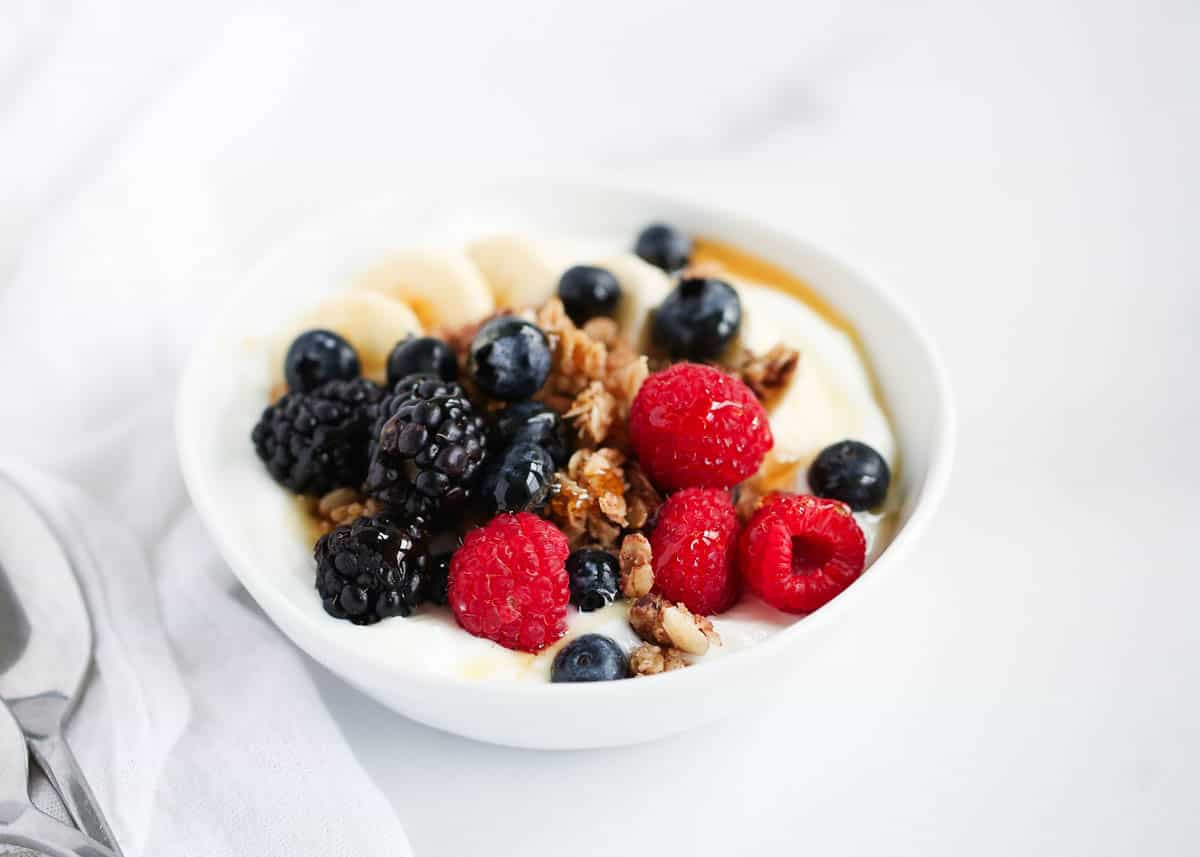 Build Your Own Greek Yogurt Bowl
Since I started making yogurt bowls I've learned that there is never a shortage of ways to enjoy yogurt! When I was a kid, lifting the foil lid off of a little plastic cup was enough to make me happy. As an adult, I'm happy to say, I've introduced my kids to a whole new world of DIY yogurt breakfast bowls!
This yogurt bowl recipe is a delicious breakfast or healthy snack idea that is creamy, rich, and loaded with calcium and protein. Topping it with things like fresh fruit, berries, muesli or homemade granola just adds to the texture, flavor, and nutrients. The kids love when they can pick and choose their toppings which makes building a yogurt fruit bowl all the more fun!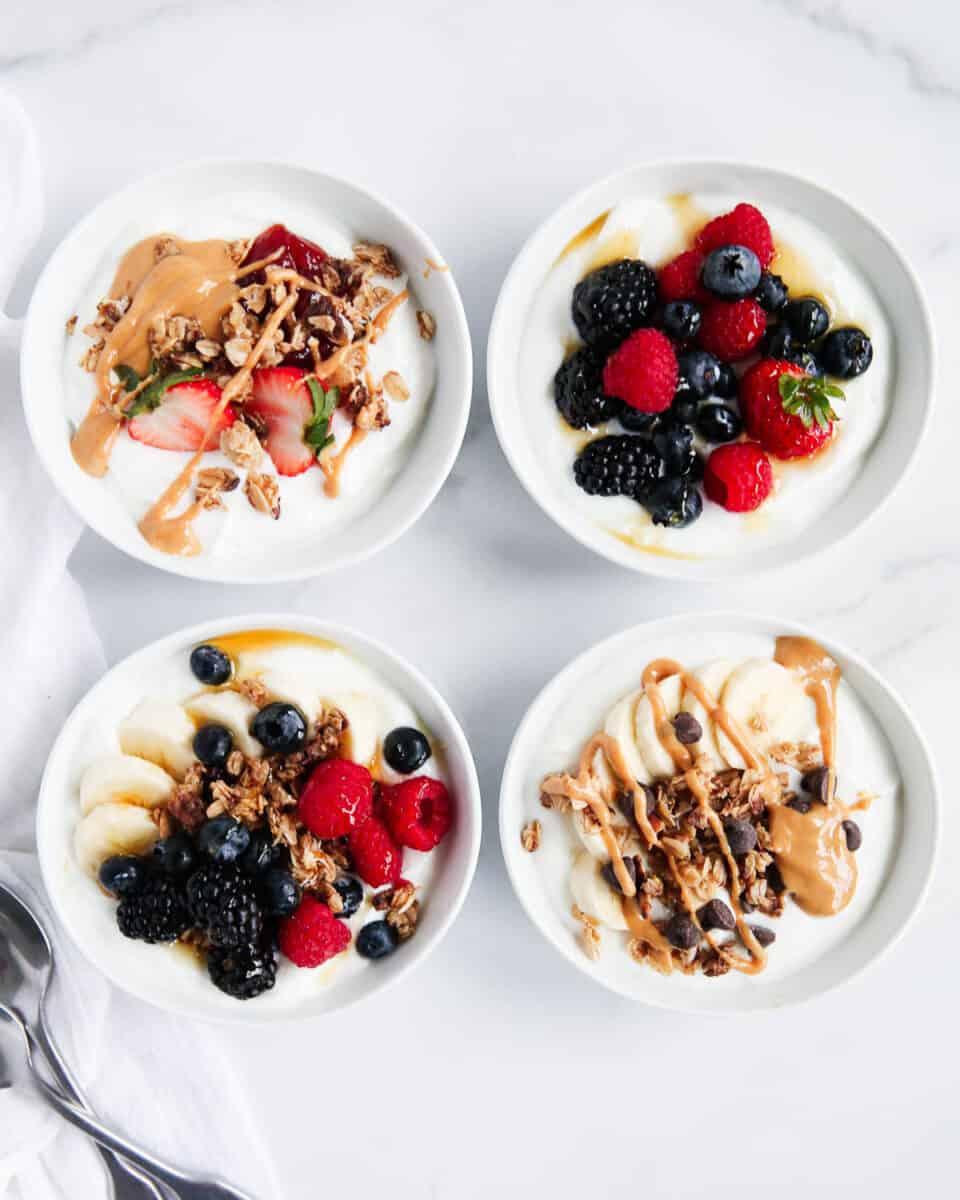 How to Make Granola Yogurt Bowl
Wash and dry your berries. Pick out any debris or stems. Slice your bananas.
Add yogurt of choice to a medium-sized bowl.
Arrange the berries and bananas in the center of the yogurt.
Sprinkle granola on top.
Drizzle with honey or peanut butter overtop.
Enjoy as is or add even more of your favorite toppings.
More Topping Options
Blueberries, raspberries, blackberries, or cherries
Chopped nuts – Almonds (whole or slivered), walnuts, pistachios, pecans, and cashews
Maple syrup
Brown sugar
Coconut flakes
Honey
Chia seeds
Hemp hearts
Flax seeds
Diced apples, pears, or sliced peaches, pineapple, kiwis, or mango.
Cinnamon
Raisins
Seed and nut butters like almond butter, peanut butter, or pumpkin seed butters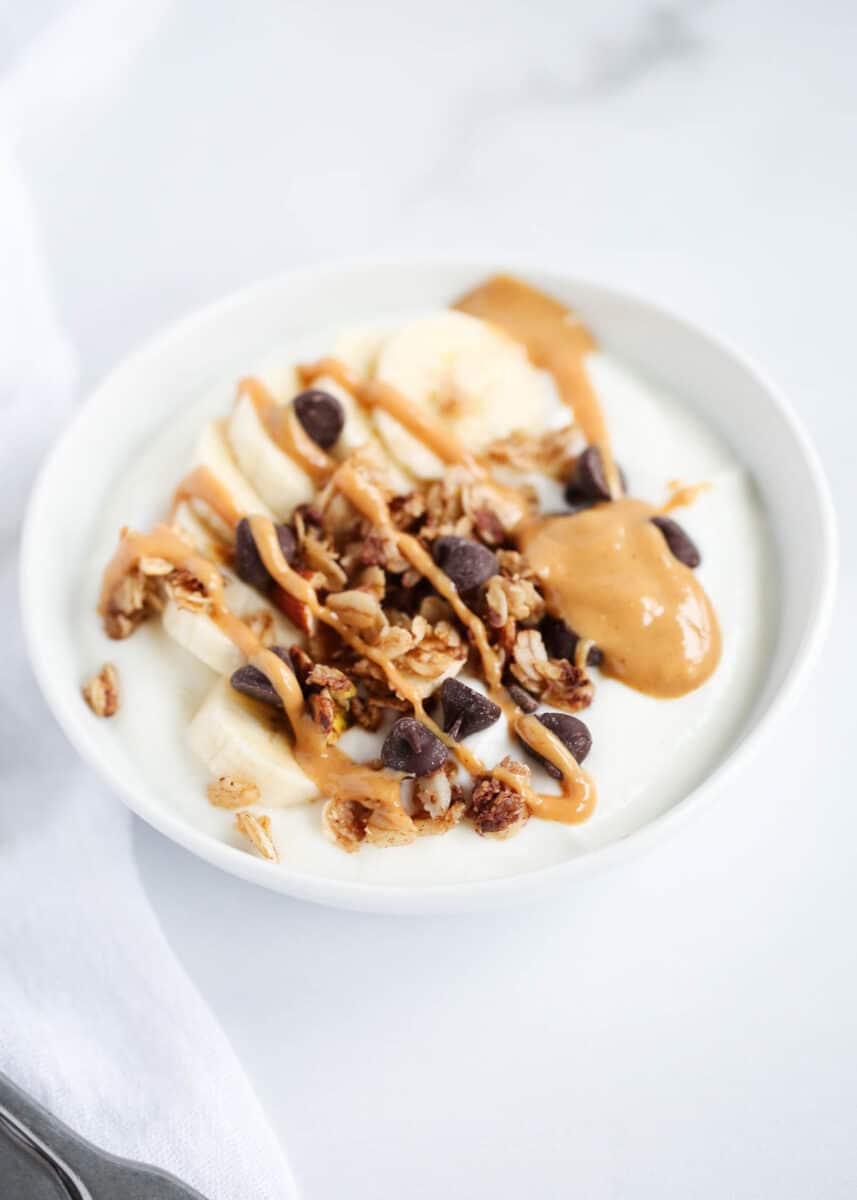 Variations
Banana, granola, peanut butter, and chocolate chips.
Peanut butter, strawberry jam (or your favorite flavor), granola, and strawberries.
Mixed berries, chia seeds, and honey.
Grab a tall glass and layer yogurt with granola and berries and style it like a yogurt parfait.
Skip the yogurt one day and use oatmeal instead and build a delicious oatmeal bowl for a change! You could also pour a thick smoothie into a bowl and use the same toppings to make a smoothie bowl. The sky is the limit!
FAQ's
Are yogurt bowls healthy?

Yogurt bowls are a fantastic way to get in a high protein, high calcium breakfast quickly and easily. With the number of possible toppings, the nutritional benefits are limitless. You want to watch for what you're adding on top. To balance out the sugar, you want to add in good fats and protein as well. For example, if you're adding brown sugar or maple syrup you want to add in nuts or hemp hearts as well. If you're adding fruit, you may want to also add almond or peanut butter.
Can I use any flavor of yogurt?

Absolutely! Keep in mind, flavored yogurt comes with added sugar. The toppings add in a ton of flavor, so I like to keep mine plain, but you do you.
Is Greek yogurt healthier than regular yogurt?

That really depends on what you're after. Greek yogurt is higher in protein and lower in sugar while regular yogurt is higher in calcium but typically higher in sugar. They're both a great choice containing calcium, protein, and probiotics, even if in different amounts, so you can't go wrong either way!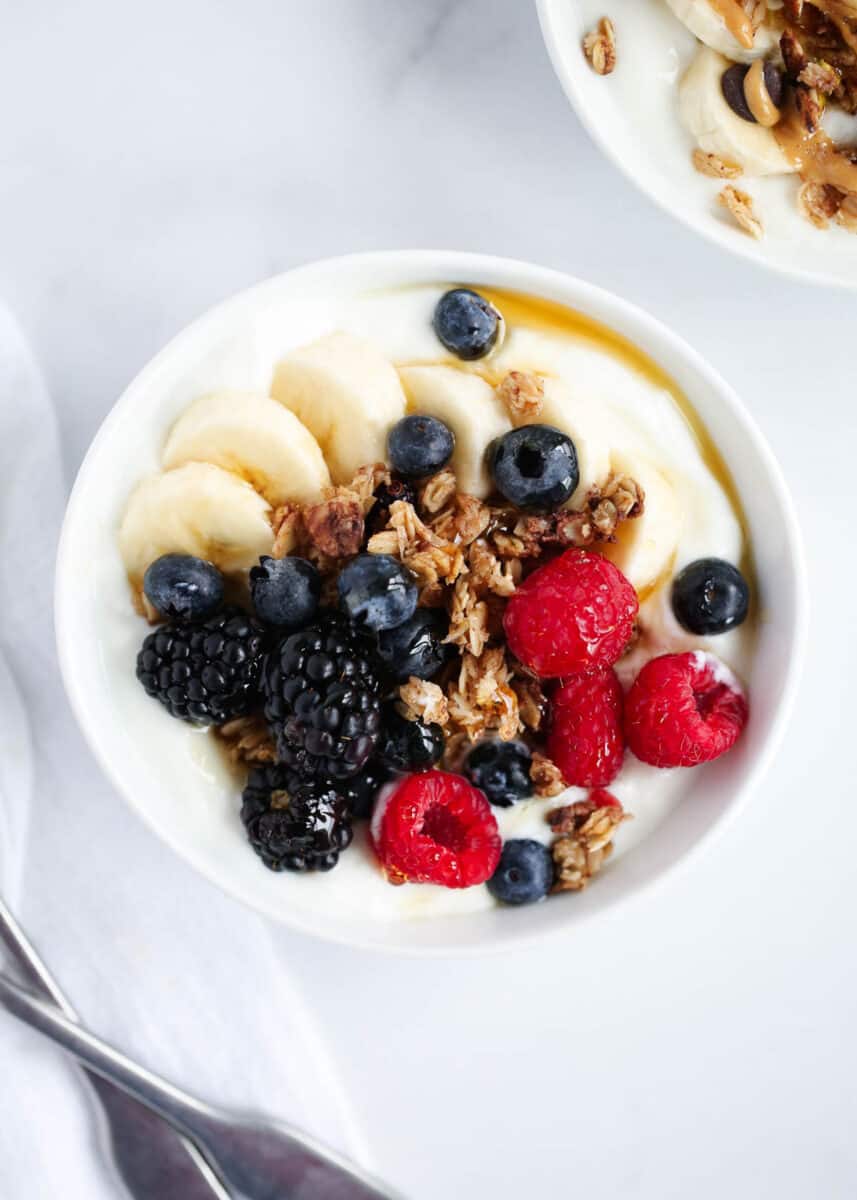 More Healthy Breakfast Ideas:
HUNGRY FOR MORE? Subscribe to my newsletter and follow on Facebook, Pinterest and Instagram for all the newest recipes!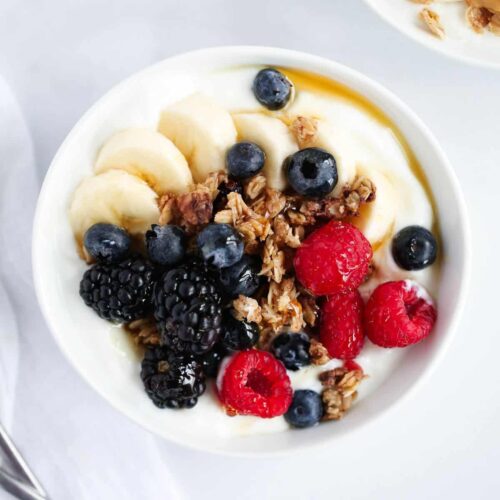 Yogurt Bowl
Building the perfect yogurt bowl is way more fun than you might think! Load it up or keep it simple, and enjoy a cool creamy bowl of yogurt with just the right combination of flavors and textures for breakfast or snack!
Ingredients
1/2-1 cup Greek Yogurt , I prefer Chobani or Greek's God Vanilla flavor
1/2 banana , sliced
1/2 cup mixed berries
1/4 cup granola
Optional additions
peanut butter
chia seeds
chopped nuts
Instructions
Place the yogurt in a medium size bowl.

Arrange the banana and berries on top. Then sprinkle granola over top.

Drizzle with honey or peanut butter if desired. Add any other desired toppings. Enjoy!
---
Notes
Variations:
Banana, granola, peanut butter and chocolate chips
Peanut butter, jam, granola, strawberries
Mixed berries, chia seeds and honey
Nutrition
Calories: 293kcal | Carbohydrates: 47g | Protein: 15g | Fat: 7g | Saturated Fat: 1g | Polyunsaturated Fat: 1g | Monounsaturated Fat: 2g | Trans Fat: 1g | Cholesterol: 5mg | Sodium: 47mg | Potassium: 512mg | Fiber: 5g | Sugar: 23g | Vitamin A: 77IU | Vitamin C: 7mg | Calcium: 145mg | Iron: 2mg
Nutrition provided is an estimate. It will vary based on specific ingredients used.
Did you make this recipe? Don't forget to give it a star rating below!