This chicken stir fry is an easy 30-minute meal that's perfect for busy weeknights. It's loaded with fresh veggies and coated in a delicious stir-fry sauce. Serve over rice or noodles for the ultimate take-out style dish!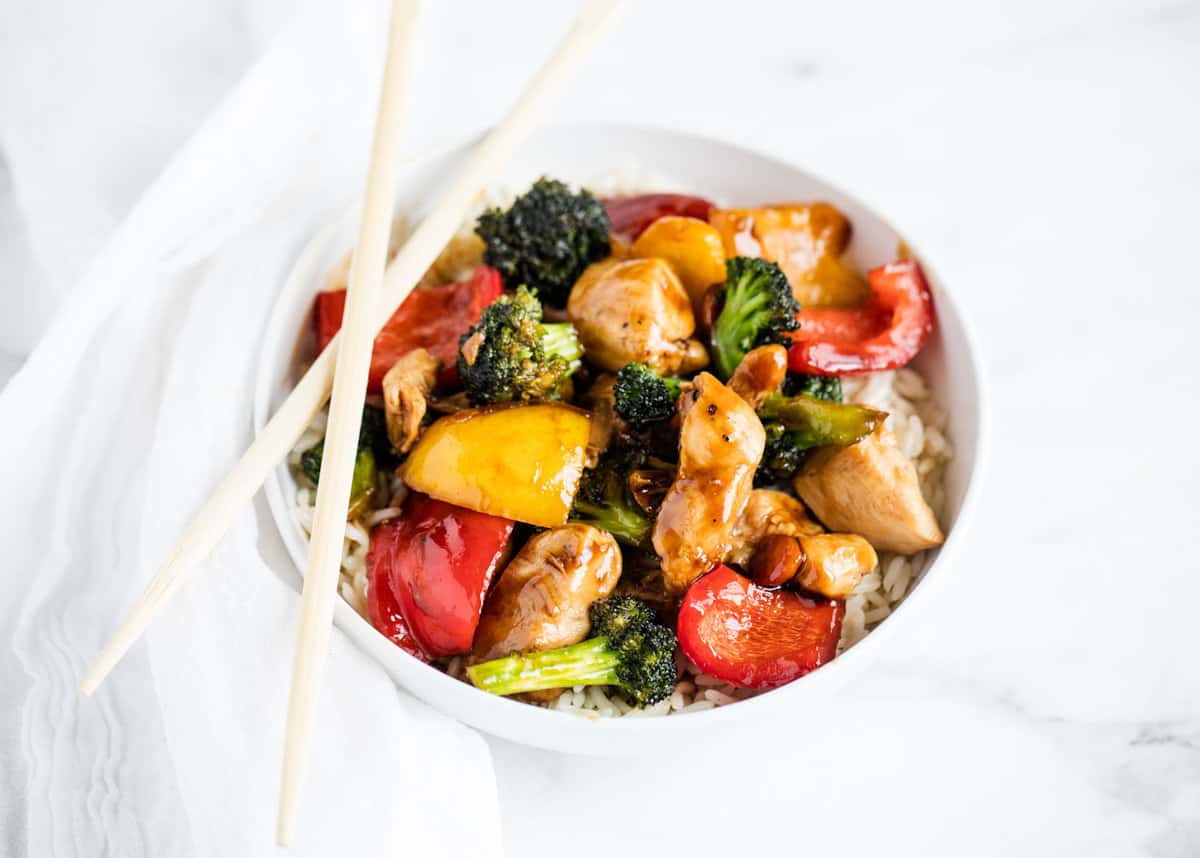 Easy Chicken Stir Fry Recipe
A stir fry is one of my go-to weeknight dinners, along with kung pao chicken, Mongolian beef and Korean ground beef bowls. Not only does everything cook together in just one skillet, but it's super quick too. It's an easy 30-minute meal that's perfect to make when you want to clean out your fridge. This and chow mein chicken are my kind of meals!
This chicken stir fry is super easy and is actually pretty healthy! I love how you can easily make swaps and customize them based on preference or what you have on hand.
Just add in your favorite veggies and serve over rice or chow mein noodles. If I have leftovers of my fried rice with pineapple, that just takes it to a whole other level of deliciousness! Sometimes I even use the sauce from my sesame chicken recipe to toss the chicken and veggies at the end.
You could even keep it low-carb and serve it over extra steamed vegetables, cauliflower rice or zucchini noodles. So many ways to make this chicken stir fry recipe perfect for you!
Key Ingredients
Chicken stir fry is loaded with fresh vegetables, protein, and a delicious sweet and savory sauce that adds all the flavor to this dish! It is minimal ingredients and is made in less than 30 minutes. You will love how quick and easy this is to make!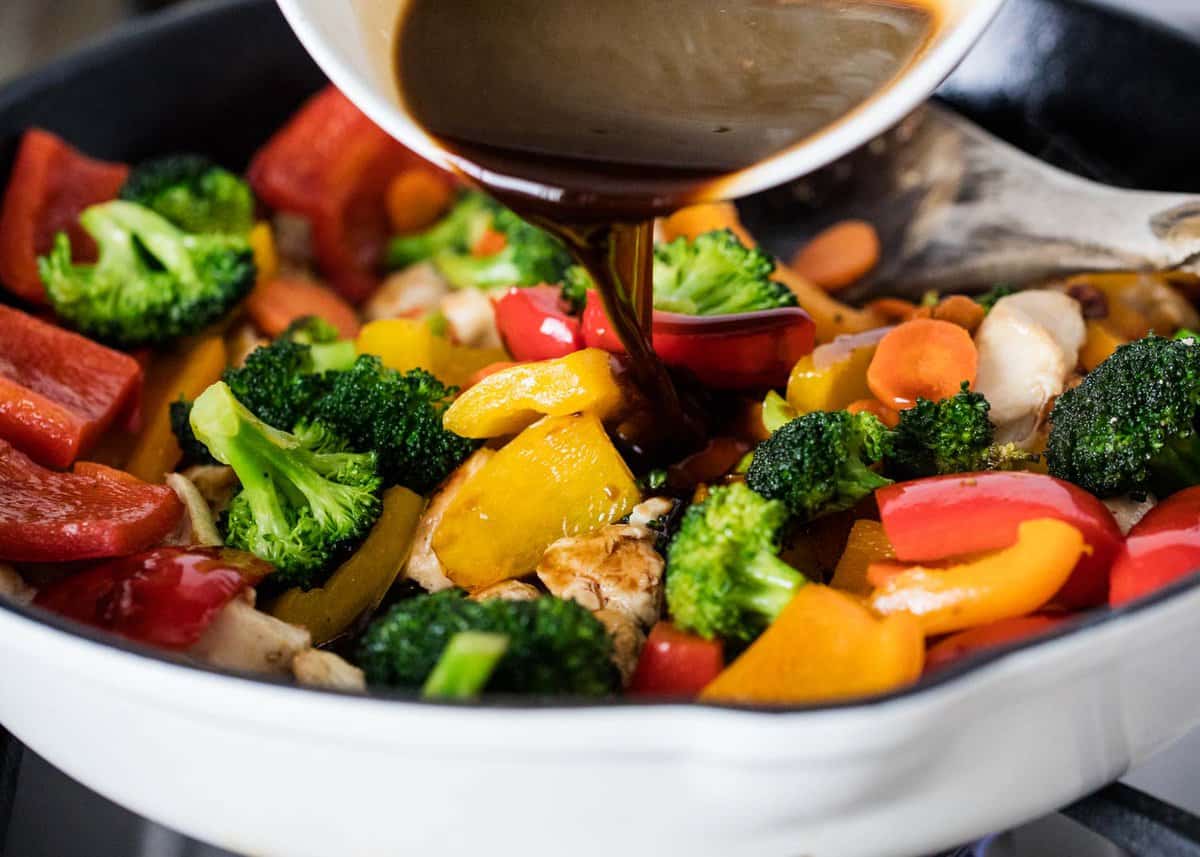 Find the full printable recipe with specific measurements below.
Olive oil: This will heat up in a pan to
Onion: Dice an onion to add to a frying pan.
Garlic: Minced garlic will be added to the olive oil to enhance the flavors. Garlic cloves are best or using already minced garlic from a jar or paste works well too.
Vegetables: Chop and slice carrots, all colors of bell peppers, and broccoli into bite-sized pieces. These raw vegetables bring so much color, texture, and flavor to this easy stir-fry recipe.
Chicken: Cube your boneless skinless chicken breasts into 1-inch pieces that are bite-size to eat easier. This will help cook your chicken evenly.
Yoshida's Gourmet Sauce: There are two types of Yoshida's Sauce; teriyaki and original. I used the original but either one will work great for this recipe!
How to Make Chicken Stir Fry
This simple stir fry with chicken is an easy and delicious dinner! All you need are your favorite vegetables, cooked chicken, and a special sauce that is tossed together. Within 20 minutes you will have a warm and comforting meal your family will love!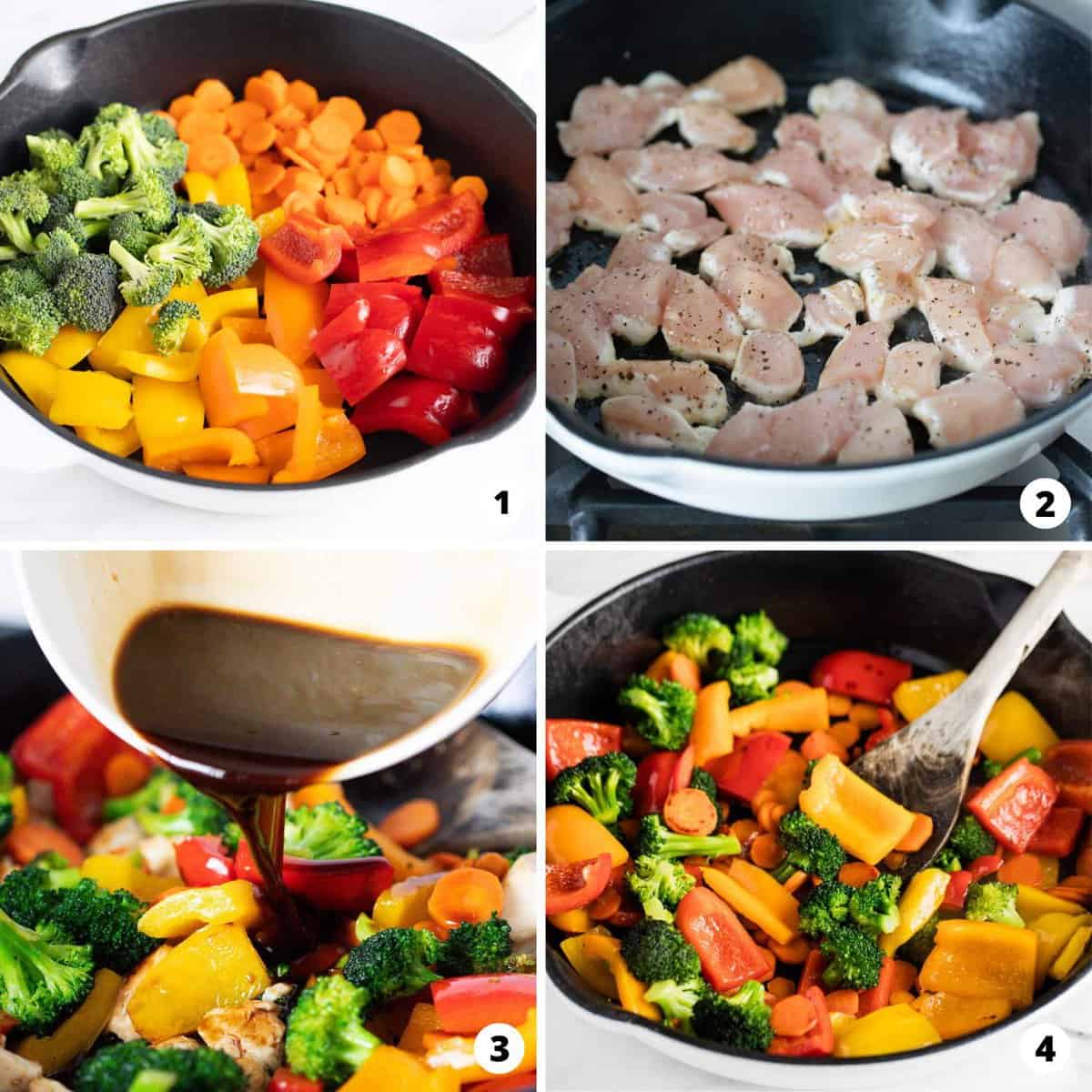 Veggies. Cook the vegetables in an oiled skillet (or wok pan) until tender. You want them to be tender enough to eat but still have a crunch (if you overcook them, they'll be soggy). This usually takes about 5 to 10 minutes on medium heat. Once cooked, transfer to a plate.
Chicken. Add in the diced chicken and cook until the center is no longer pink (about 5 to 6 minutes). Make sure to flip the meat over about halfway through so that both sides get lightly golden.
Sauce. Add the cooked vegetables back into the pan with the chicken, then pour in the stir-fry sauce.
Simmer. Let the mixture simmer for about 5 minutes until the sauce thickens up. Then serve over rice and enjoy!
Cooking Tips
Learn all the ways to stir fry even easier with these quick and simple tips. These tips are helpful and can make this stir fry even better!
Dice evenly. Make sure to cut the chicken and vegetables into similar-sized pieces so that they cook evenly in the skillet.
Cook veggies first. If you're adding in lots of vegetables (like I have above), I think it's best to cook the veggies first. Then set them aside on a plate while the chicken cooks. This way the pan won't be overcrowded and everything will cook evenly. Then once the chicken is done, you can toss the vegetables back in with the sauce.
Don't overcook. You want to cook the vegetables until they're tender, but still have a crunch. If you cook them too long, they'll become mushy when simmering in the sauce and won't have a nice bite. It is best to cook on medium high heat, stirring occasionally.
Rice. If you're making rice on the stove, make sure to cook it prior to cooking the chicken. It takes about 20 minutes to make, so you want it to be done around the same time as the stir fry is done. Alternatively, you can always use microwave rice for a quicker option.
Variations + Modifications
This easy chicken stir fry recipe can have several substitutions, variations, and delicious add-ins to make this dinner just how you like it! Change or add in vegetables, pick your favorite protein, or spice it up for a little heat. Create the best chicken stir fry you love!
Veggies. I like to use a mix of chopped bell peppers, carrots, and broccoli, however, feel free to add any extra veggies like mushrooms, onions, squash, and snow peas. You can even use a bag of frozen chopped veggies to make it easier.
Meat. Feel free to swap the chicken with beef or shrimp (the cooking time may vary depending on what type of meat you use). I would stay away from using chicken thighs or various types of meat with the bone in them.
Sauce. I love to use Yoshida's Gourmet Sauce. It has great flavor and tastes amazing mixed in with the chicken and veggies. You can also make your own homemade teriyaki sauce if preferred.
Extras. Sometimes I'll add in a handful of raw cashews for an added crunch or some diced pineapple for a hint of sweetness.
Spicy. Sprinkle some red pepper flakes or a dash of sriracha into the sauce for a little heat.
Topping it off. Sprinkle sesame seeds, bean sprouts, or chopped green onions on top of the stir fry chicken when you are ready to serve.
Serving. This dish tastes delicious served over coconut rice, fried rice, chow mein noodles, cooked quinoa, or cauliflower rice. Don't forget a side of homemade egg rolls or cream cheese wontons!
5 star review
"I made this stir fry and my family loved it 💖"

-Karen
Recipe FAQs
What are three important steps in a good stir-fry?
Using a wok works the best and heating it at a high temperature. Make sure the chicken and vegetables have room to be cooked so that they are not overcrowded in the pan. Lastly, make sure that your chicken is not overcooked.
How to cook chicken stir fry with frozen veggies?
If you are not able to use fresh vegetables, frozen vegetables work well too. You do not need to thaw the frozen vegetables before adding them to the skillet. Just add them directly to the heated skillet and begin cooking. They tend to cook quicker and maybe a little more soft compared to fresh vegetables.
Why is my chicken rubbery and chewy?
This usually means that your chicken was overcooked. The protein fibers have lost their elasticity and create a rubbery texture on the outside and inside. Using a meat thermometer does help if you are worried about overcooking or undercooking your chicken.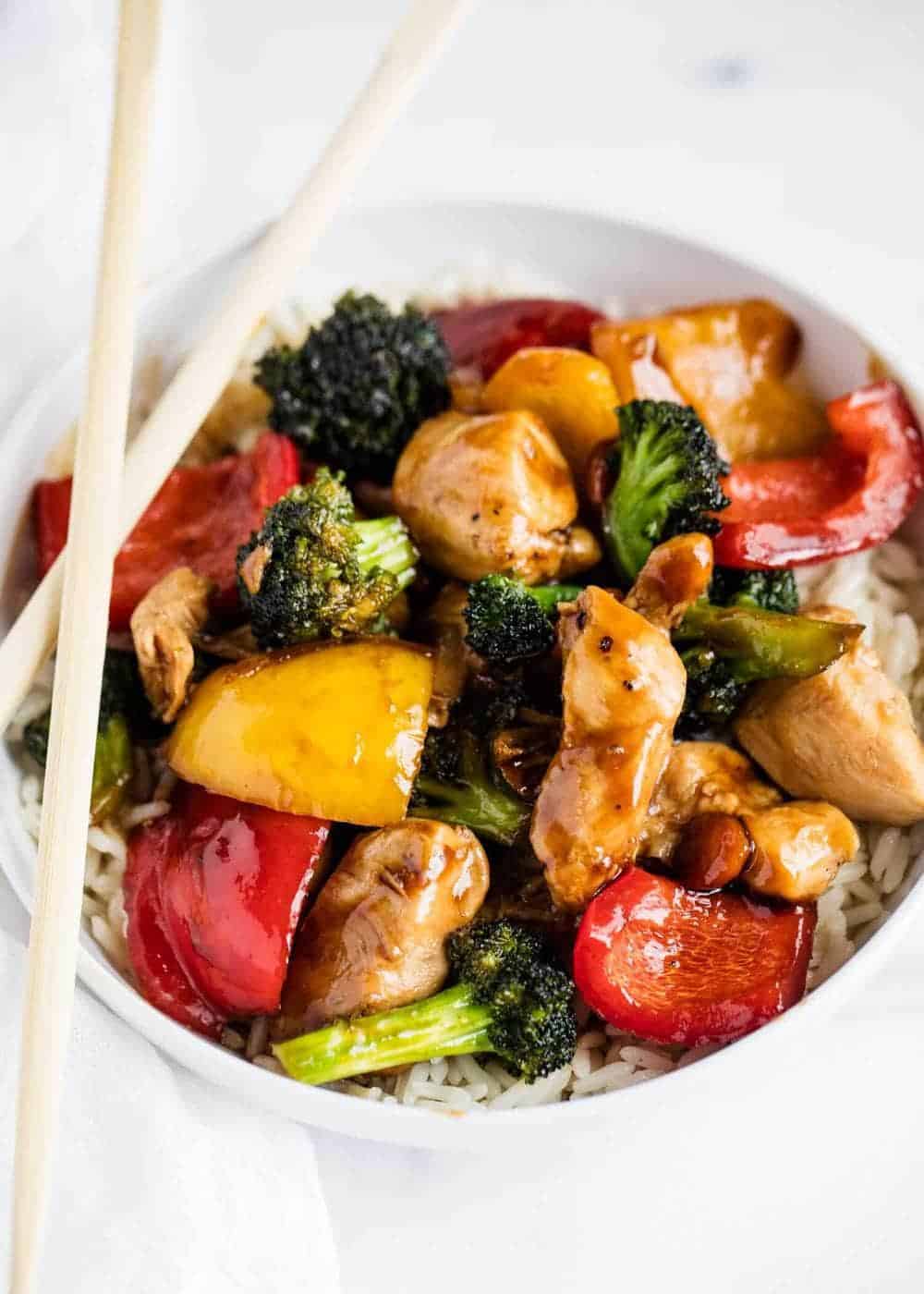 Storage
Store leftovers in an airtight container in the refrigerator up to 3 days. I don't recommend freezing leftovers as the vegetables will become mushy when thawed.
More Dinner Recipes You'll Love
HUNGRY FOR MORE? Subscribe to my newsletter and follow on Facebook, Pinterest and Instagram for all the newest recipes!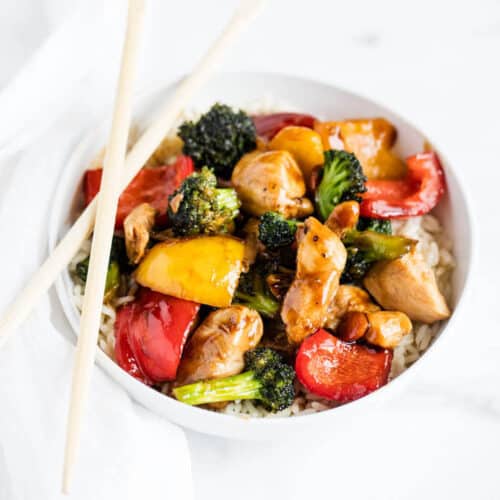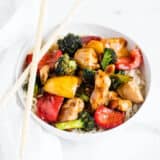 Chicken Stir Fry
This chicken stir fry is an easy 30-minute meal that's perfect for busy weeknights. It's loaded with fresh veggies and coated in a delicious stir-fry sauce. Serve over rice or noodles for the ultimate take-out style dish!
Ingredients
1-2 Tablespoons olive oil (more if needed)
1 small onion (diced)
2 teaspoon minced garlic
1 cup carrots (chopped)
3 bell peppers (chopped, I used 1 red, 1 orange, 1 yellow)
1 head broccoli (chopped)
1 pound chicken (cut into 1 inch pieces)
⅓ cup Yoshida's Gourmet Sauce (more as needed)
Optional: sliced mushrooms, snap peas, bok choy or any extra veggies you want to throw in
Instructions
If serving with rice, start cooking it prior to beginning the chicken since it will take the longest to cook.

Place the olive oil in a large skillet or wok pan over medium heat. Add the onions and cook for a couple of minutes. Add the vegetables and garlic to the pan and cook until tender (5-10 minutes). Place the veggies on a plate.

Add more olive oil if needed. Then add the chicken to the pan, flipping once the bottom is lightly browned. Salt and pepper to taste. Cook until the center is no longer pink, about 5-6 minutes.

Once the chicken is cooked, add the vegetables and sauce to the pan. Let simmer for about 5 minutes over medium heat, or until the sauce has thickened.

Serve over rice or noodles.
---
Notes
Homemade stir fry sauce: Whisk together 1/4 cup chicken broth, 1/4 cup lite soy sauce, 3 Tablespoons honey and 1 Tablespoon corn starch. Add a few red crushed red pepper flakes if desired for a little heat.
Nutrition
Calories: 352kcal | Carbohydrates: 26g | Protein: 23g | Fat: 17g | Saturated Fat: 4g | Cholesterol: 68mg | Sodium: 794mg | Potassium: 808mg | Fiber: 5g | Sugar: 16g | Vitamin A: 7395IU | Vitamin C: 202.6mg | Calcium: 81mg | Iron: 2.1mg
Nutrition provided is an estimate. It will vary based on specific ingredients used.
Did you make this recipe? Don't forget to give it a star rating below!